A love story about living every breath as though it's your last.
Cast: Andrew Garfield, Claire Foy
Director: Andy Serkis
Genre: Drama, Biography
Rated: M
Running Time: 117 minutes

Synopsis: Andy Serkis (War for the Planet of the Apes, Star Wars: The Force Awakens) makes his feature directorial debut with Breathe. Based on a script by twice Academy Award-nominated writer William Nicholson (Everest, Les Misérables and Gladiator), Breathe is an inspirational true story of love without limits.

Adventurous and charismatic, Robin Cavendish (Andrew Garfield - Hacksaw Ridge, Silence) has his whole life ahead of him when he is paralysed by polio whilst in Africa. Against all advice, Robin's wife Diana (Claire Foy - Golden Globe Winner, The Crown, Wolf Hall) brings him home from hospital where her devotion and witty determination transcends his disability. Together they refuse to be imprisoned by his suffering; dazzling others with their humour, courage and lust for life. Breathe is a heart-warming and highly emotional celebration of bravery and human possibility, a love story about living every breath as though it's your last.

Based on the true story of producer Jonathan Cavendish's own parents, Breathe shows how Robin's handling of and reaction to his illness had a huge impact on mobility and access for the disabled. The film's supporting cast members include Hugh Bonneville (Paddington, Downton Abbey) and Tom Hollander (Jungle Book, The Night Manager) as Robin's devoted, long-time friends. Stephen Mangan (Rush) and acting legend Dame Diana Rigg (Game of Thrones) complete the cast with a soundtrack by the acclaimed composer Nitin Sawhney.

The film is produced by Jonathan Cavendish (Bridget Jones's Diary) for The Imaginarium. Financing is from Silver Reel, BBC Films and the BFI, brokered by Embankment Films.

When Robin Cavendish, aged 27, first sets eyes on Diana Blacker at a village cricket match, he knows immediately she will be his lifelong partner. But neither of them could have foreseen the extraordinary, often tumultuous life they would live together.

Soon after their wedding, they set out together for Nairobi, where Robin works as a tea broker. Fascinated by this new, very different existence, Diana travels with him on his buying trips. Diana becomes pregnant, which delights them both; friends from England come to visit, and their life at both work and play seems idyllic. But then comes an appalling blow: Robin is suddenly stricken down by polio, and is rushed to hospital, where he is attached to a respirator enabling him to breathe. The prognosis is gloomy – at best, he only has a few months to live.

When their baby son Jonathan is born, arrangements are made to transport the family back to Oxford, where Robin enters another hospital and has to learn how to talk again. He asks Diana's brothers Bloggs and David to be allowed to die. Diana will not accept this; she wants him to survive and get to know his infant son. He begs her: 'Get me out of here," and she resolves to find a way for him to live outside a hospital.

She organises for Robin to break out of hospital, though one doctor warns him: 'you'll be dead in two weeks." He moves into their new house, and lives in bed, his breathing driven by a respirator. Their brilliant friend, the inventive Oxford professor Teddy Hall, sets about developing a home-made wheelchair for Robin, with a battery operated pump. It means Robin is no longer confined to bed and can enjoy a mobility he thought was lost to him forever.

The couple's wanderlust remains as strong as ever. In order for Robin to travel, an old Bedford van is adapted so his wheelchair can fit in the passenger seat. With a new zest for life, he admits he always wanted to see the sun rise over the Mediterranean. Diana organises the trip, including travelling with racehorses aboard a transport plane to carry the family and their van to Spain. Despite a nailbiting incident when the respirator burns out, it's an idyllic experience for them all.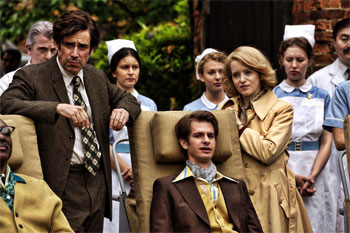 Having already survived beyond the point his doctors expected, Robin wants to forge ahead and help other severely disabled people. He secures financing for more wheelchairs like his own to be built, and attends a conference in Germany where experts on severe disability are astonished by what he has already achieved.

Against all odds, Robin's severe illness has given him a new purpose in life – fighting tirelessly for the rights of disabled people. Diana and Robin's love for one another imbues their pioneering adventures with purpose, joy and laughter.

Written by Academy Award-nominated William Nicholson (Gladiator, Shadowlands), Breathe is directed by Andy Serkis (The Hobbit, War for the Planet of the Apes ). It stars Andrew Garfield (Hacksaw Ridge, The Social Network), Claire Foy (Wolf Hall, The Queen), Hugh Bonneville (Downton Abbey, Paddington), Tom Hollander (The Night Manager, Pirates of the Caribbean) and Stephen Mangan (Green Room, Episodes).

Academy Award winner Robert Richardson (The Aviator, JFK) is director of photography. The production designer is James Merifield (The Deep Blue Sea, Brighton Rock) Charlotte Walter (Pride, Four Lions) is the costume designer, and Nitin Sawhney (Midnight's Children, The Jungle Book) composed the music. Masahiro Hirakubo (Trainspotting, The Duchess) edited the film. The film is produced by Jonathan Cavendish (Bridget Jones' Diary, Elizabeth: The Golden Age).

Breathe
Release Date: December 26th, 2017


About the Production


The Origins

Jonathan Cavendish had always believed that his father's life story would be powerful material for a compelling film. Robin Cavendish had been a trailblazer, a remarkable, largerthan-life figure. He was diagnosed with polio in his late 20s and remained paralysed from the neck down. Totally reliant on a respirator that -breathed' for him, he faced a life confined to a hospital bed. Yet he refused to accept that fate: with the help of his wife Diana, and their inventive and supportive friends, he found a way to live his life in the world, outside of hospital.

With the help of maverick Oxford Professor Teddy Hall, he designed a revolutionary wheelchair with a respirator attached. With the extraordinary support of his wife Diana, Robin became a celebrated campaigner for the disabled, devoting himself to fighting for the quality of life for other paralysed people.

Jonathan Cavendish's plan to make a film about his parents took concrete shape when he went to the theatre to see William Nicholson's Shadowlands: 'I thought not only was it a very good play, but it also had a voice and tone that I recognised, and one I knew would suit a film about my parents and their life. It summed up British understatement and emotional complexity." Jonathan Cavendish already knew William Nicholson well. He had produced Elizabeth: The Golden Age, for which Nicholson had written the screenplay: 'So I took Bill out to lunch and asked if I could tell him a story. When I started talking about my father's life, he had a forkful of food held up towards his mouth. When I'd finished, about 15 minutes later, it was still there!"

William Nicholson remembers that day too: 'Jonathan Cavendish said: -I have a story to tell you. It's about my father.' And as soon as he'd finished, I said: -I'm in. It's incredible.'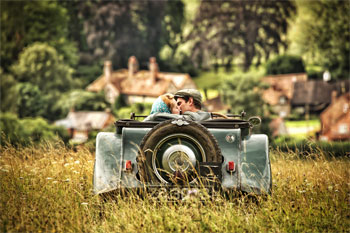 'For a long time now I've been in the position where I only write what I want. And that's exactly what happened with this story. There was no money, no contract and no prospect of it ever being made. But I thought it was great and I wanted to do it."

William Nicholson insisted that he should not take a payment up front for writing the script: 'It was Jonathan Cavendish's own money, and I didn't want to work under those circumstances. It felt like a privilege to be asked. So what I said was: -I will share the risk with you. If the film happens, give me a share.' And that's exactly what happened.'"

Bill started writing, and over the years they continued to hone script and story. Jonathan recalls: 'Bill and I would work on a draft of the script, put it down and then pick it up again. He would ring me when he had a few weeks between films and books, and then we would have a short flurry of activity."

In the meantime, Jonathan Cavendish formed a company called The Imaginarium with actor Andy Serkis, best known for playing -Gollum' in Peter Jackson's The Lord of the Rings trilogy and -Caesar' in the Planet of the Apes films. The Imaginarium is a multi-platform production company, dedicated to 'next generation story-telling", linked to a performance capture studio. It was Jonathan and Andy's ambition also to make films together, which Jonathan Cavendish would produce and Andy would direct. Andy worked as second unit director on Peter Jackson's Hobbit trilogy, and then directed Jungle Book: Origins (currently in post-produciton), produced by Jonathan Cavendish for The Imaginarium, to be released in 2018.

By curious coincidence, when Andy and his wife (actress Lorraine Ashbourne) decided to buy a house in the English countryside near Oxford, it turned out that the property was a few hundred yards from Diana Cavendish's home, where so much of the action of Breathe takes place. 'As a result, Andy Serkis got to know my mother very well," Jonathan Cavendish says.

'I read the Breathe script." says Andy Serkis, 'And blubbed my eyes out. One day I said to Jonathan Cavendish -I really want to direct this.' The Imaginarium had only recently started – and I had only done second unit directing on The Hobbit – so Jonathan could have turned round and said – -well, I don't know' - But he didn't. He said: -I think that's a great idea.'"

The Director

It turned out that Andy Serkis had his own personal reasons for wanting to direct Breathe: 'In my life, I've been very linked into the world of disabled people," he observes. 'My mum taught disabled kids when she was young. Jonathan Cavendish had seen and loved the film Sex & Drugs & Rock & Roll, in which I played the singer Ian Dury - who of course was a famous polio sufferer. Also my sister is an MS (multiple sclerosis) sufferer. She's wheelchair-bound, and has been for 10 years now. My dad was a doctor, so I grew up around a lot of medical issues. Out of my Mum's pupils, I knew a lot with polio, spina bifida, thalidomide, all those older diseases.

I told Jonathan Cavendish: -what's extraordinary about the script, apart from it being the most amazing love story, is that it's both true and humorous.' And I also responded to the fact that Robin and Diana were pioneers.

I thought of it this way: it's hard for my sister to get around in a wheelchair even now. But in 1960, to choose to take yourself out of hospital, where the risk of survival was practically zero, and to invent a life and to invent technology to allow yourself to survive – to choose to be two minutes away from death at all times: it's like an epic climb.

I'm a mountaineer too, and I liken what Robin did to the idea of climbing Mount Everest in your back garden. And then those other people who came after him, who were out of hospitals but also on those machines - they came to be called -responauts.' I just loved that idea - that Robin and Diana were constantly pioneering."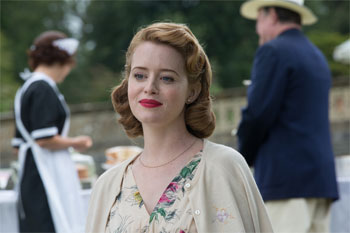 Jonathan Cavendish observes: 'When Andy Serkis and I started The Imaginarium, I knew he would become a great director. I was totally convinced he had it in him. And when he asked if I'd consider him directing the movie, he agreed with me that it's a story about the power of love in overcoming all the difficulties that Robin and Diana faced.

But Andy Serkis also saw it as a story about people doing things no-one had ever done before, and doing them in their own way. Though I'd obviously lived through all of that, I hadn't realised quite the trail-blazing nature of my parents' lives."

For his part, Bill Nicholson was delighted by the choice of Andy Serkis as director: 'He's a wonderful person, a proper grown-up. He has almost no ego. He's been an actor so long, and watched the process so often. Maybe he's seen people having tantrums, so there's none of that. He's pleasant, calm - humble even. And he was very nice to me about the script. In fact, he gets a lot more out of the script than I put in.

Andy Serkis has two big strengths. One is his directing with actors. The acting in Breathe is mindblowing. It's real film acting. He's got wonderful work from his leads, Andrew and Claire.

But then Andy Serkis gets good performances all the way through the cast, down to the smallest roles. He also thinks his way through the movement of each scene in terms of the camera. He often constructs a scene in terms of camera moves – his attention to where it begins and ends is very thorough."

The Writer

In screenwriting circles, veteran Bill Nicholson (Gladiator, Les Miserables) is known as a master of what he calls 'the double ending" – one which has elements of both triumph and sadness. 'I try to do it every time," he jokes, 'but then, so do most good stories. There are very few stories that head towards an unremittingly happy ending. And every ending has to be earned. So I've deliberately selected stories that have that wrench at the end, the up and the down. It feels as if that's actually what life is like."

He found himself genuinely intrigued by Robin Cavendish's remarkable story, 'but the thing I responded to most was that because of his condition he was faced with a choice the rest of us are not faced with – it was forced upon him, this choice.

First he wanted to die. Then he learned he wasn't immediately going to die. And then he made an active choice to live. I felt that for him that choice was renewed every day. So to tell the story of someone who at the beginning of every day might die that day, but chooses to live – it's an extraordinarily strong affirmation of the power of being alive. That was the heart of it for me.

So yes, I was touched and moved and impressed by Robin Cavendish – and I suppose, to be brutally honest, I thought: -I could make a damned good story out of this.' My name would be on a good piece of work, which is what motivates us writers. It's not so often these things come up."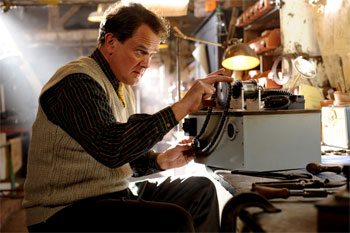 The Lead Actors

Andrew Garfield vividly recalls reading the script of Breathe for the first time: 'I was on my travels, and I was told they needed an answer very soon.

When I read it, I cried so much, I fell in love with it. I was so moved by the story. It felt like a road map of how to live, in terms of following the footsteps of Robin and Diana. -How do you live a life of joy with the hand that fate deals you?' That's what it felt like to me. I was deeply moved by it.

It felt so unique and specific, very different from other true stories one reads. It never felt saccharine or sentimental; it felt honest, specific, and full of wisdom. It answers the question: -how do you live your life?' And there's this whole issue of choosing joy in your life above all other ways, no matter what. I found that very inspiring."

Andrew Garfield swiftly accepted the role of Robin: 'I spoke to Andy Serkis on the phone with a couple of concerns that he allayed very quickly. I wanted to make sure this wasn't just a biopic and that it didn't follow the conventional tropes of a biopic. In script form it certainly didn't. Andy Serkis said: -no, that's not the film we're making.' So I was very happy to hear that.

There's something humble about this story, which I like. There's nothing grandiose about it, it's just people getting on with their lives and living as fully as possible."

For her part, Claire Foy found herself fascinated by the real Diana Cavendish, who she plays in the film and who still lives in Oxfordshire. She is in now her 80s. Claire Foy spent time with Diana before and during filming: 'I felt very fortunate to have Diana to talk to," she reflects. 'She now has three grandchildren and a very full life. But she did this extraordinary thing for Robin, purely out of love. She's just a very strong woman.

Diana would never admit to being anything special or anyone extraordinary. She'd say she did what anyone would do. And she's the sort of woman who, once she'd committed to caring for Robin, would never go back on her vows and pledges."

Andrew was equally impressed by Diana: 'There's no frills and no fuss about her. She has such elegance and grace and kindness. She also has a spine of steel, but in the most loving way. You feel she's holding the walls up."

Both actors were also aware of the unique situation they were in – on the set of a film playing two real-life characters whose son was producing it. Andrew Garfield and Claire Foy both readily admit that not only Diana Foy but also Jonathan Cavendish was an invaluable resource for them. 'I did a lot of research and having Jonathan Cavendish as a main point of contact was incredibly useful for us," says Andrew Garfield. 'Claire Foy and I both fell in love with the story so much, and all we wanted to do was do justice to the life Robin and Diana lived. The best barometer of that was Jonathan, so we would look to him all the time.

It wasn't just their journey and the emotional aspects of it, but also the technical things: how did they practically do this? When Robin's lungs were being pumped, what was he feeling? What kinds of faces would he make? What would be his experience of that and the breathing, all those things. So it was important that Jonathan Cavendish was around and was so supportive. He wanted us to own the parts - but we wanted him to own the parts too." Playing Robin Cavendish from his younger days, when he was a dashing athletic young man, to his long years coping with the deeply threatening ravages of polio, presented a massive challenge for Andrew Garfield.

'It was a lovely challenge and it matched up with what the character was going through, so I could use everything I was feeling while playing Robin: How do you communicate, how do you get a word in edgeways, how do you let people know what you need? How do you stay in control of your reality?

There was a period of depression that Robin went through when he was paralysed, and that was obviously not fun to shoot."

Director Andy Serkis, watching Andrew Garfield playing Robin, reports that he approached playing those troubled periods of Robin's life with steely discipline: 'On set he chose to be very isolated from the rest of the crew. He would sit by himself or just sit alone or lie on the bed. Andrew is such a chameleon – and such a grafter. He really had to study. We had all this footage of Robin and the people around him, and he totally immersed himself in the role throughout the entire period of prep and the shoot.

He studied Robin's journey of learning to talk again with a respirator. He went through different transitional phases, and Andrew Garfield studied furiously how to make that work. Robin's speech was in the rhythm of the respirator, as he had to pause momentarily as it reset, so that made the phraseology very interesting.

And in order to play Robin as a younger, healthy, vigorous man, Andrew Garfield had to brush up on his tennis and cricket skills. He wanted to do it all as Robin, a great athlete, would have done it."

For his part, Andrew Garfield gives full credit to Claire Foy, whose reputation was already high, thanks to her starring roles in two prestigious TV series – Wolf Hall and The Crown. He attributes the successful portrayal of the Jonathan Cavendish' partnership to her.

'It was down to my relationship with Claire Foy. In Robin's relationship with Diana, his mind was active but effectively I think she was Robin's body. There had to be this almost -one person' thing that Claire Foy and I did, which was really beautiful to create – and a strange experience. 'You mustn't get me started with Claire Foy," Andrew Garfield jokes. 'I'd never worked with her before, but thank God it was her, because if we hadn't gotten along it would have been hell."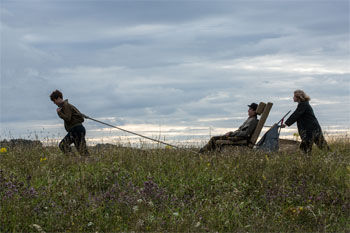 The admiration was thoroughly mutual. Claire Foy recalls that when she first heard about Breathe, 'I was just coming off nine months working on The Crown. I felt as if I needed a rest. But as soon as I heard Andrew Garfield was playing Robin, I felt I couldn't not do it.

'I've admired him from afar! He's extraordinary, there's no other way of putting it. He has an amazing ability to be strong and masculine, but also completely vulnerable and open. It's rare you get all that in a younger actor. He seems older and wiser than his years."

Bill Nicholson confirms that the two actors clicked immediately: 'What's remarkable is that they look as if they love each other. They did get along well, and it was terribly charming. It gives Breathe that old-fashioned notion of chemistry, and you can't have a good film without it. The film's about a loving marriage, and we were really lucky with Andrew Garfield and Claire Foy."

Before and during shooting, Diana Cavendish made herself accessible to Claire Foy – something the actress regarded as a gift: 'The fact that Diana was very much there when we were making the film – that felt like it was a very special thing we were all part of. It was a short shoot, and very hard work, but we did it all together. It felt like we were a family.

'Diana is remarkable, though she would never admit to being anything special or extraordinary. She'd say she did what anyone else would have done. And she's the sort of woman who, once she's committed to something, would never go back on her vows and pledges.'

Playing Diana in Breathe, Claire Foy says, has changed her attitudes to acting: 'I'd always taken the view that my work is my work. I'd never -take a character home.' And I'd find it easy to forget it once I'd done it. That was my idea of myself.

Then I did this film, and it's not like that at all. The way Diana and Robin loved each other and the way they lived their lives really affected me. It's made me realise on a lot of levels that life is so short. I feel they're an example of two people who got dealt a pretty bad hand but were determined to get the most out of life as humanly possible.

I still think about her and them, and the experience of making the film, all the time. It's very rare to be involved in something which is so personal. But it really was personal - Jonathan Cavendish the producer is the Jonathan Cavendish in the story."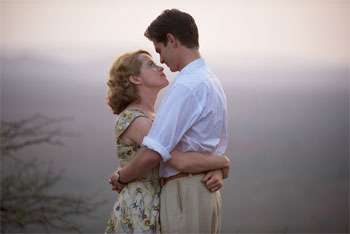 Going Into Production

Jonathan Cavendish recalls: 'The moment I met Andrew Garfield in a restaurant in Los Angeles, I sensed he could play my father. Andrew Garfield is modest and courteous, but also sensitive and fascinated by people.

'There was something about Andrew Garfield's complexity and his softness. I thought: -Yes, that's the quality.'"

Jonathan Cavendish saw an early promo for The Crown, and he and Andy Serkis met Claire Foy immediately. Jonathan Cavendish recalls: 'It was clear within 30 seconds that she was the one."

In the summer of 2016, the film suddenly started to come together. BBC Films decided to back Breathe and London-based Embankment Films agreed to help finance it, along with Silver Reel and the BFI.

Breathe was a relatively modestly budgeted film that needed to be shot on a tight schedule – in England and in South Africa. The action of the film goes from England to Kenya, Spain and Germany.

The problem, as Bill Nicholson recalls, was finding a timeslot in which Andy Serkis and the actors would all be available: 'And then an eight week window emerged in the summer of 2016 in which everyone was available. Shooting had to be in those eight weeks."

This gave only seven weeks to raise the money and prepare for the start of shooting. 'So Jonathan Cavendish had a decision," Bill Nicholson continues. 'Do we pull the trigger and go into preproduction with only seven weeks before the first day of photography? If we don't we'd lose the actors."

Bill Nicholson is full of praise for Jonathan Cavendish's courage in deciding to forge ahead: 'Jonathan Cavendish took an extremely risky decision and pulled the thing together in seven weeks. Sets had to be built, the other actors had to be cast, locations had to be arranged, everything.

But he did it. This was real seat-of-the pants producing. In an odd kind of way, a lot of pressure falls away. You just have to get it done. And as it turns out, the film is extremely polished."

Andy Serkis and Jonathan Cavendish were hugely excited to bring onto the film Robert Richardson, one of the world's most distinguished cinematographers, a three-time Academy Award winner (for JFK, The Aviator and Hugo) and favourite collaborator of such eminent film-makers as Martin Scorsese, Quentin Tarantino and Oliver Stone.

A copy of the Breathe script had made its way to Hollywood, where Robert Richardson's agent read it, and had a hunch the cinematographer would like it. So it turned out: Robert Richardson immediately made his interest in the film known. 'Bob's accustomed to a completely different level of budget," William Nicholson observes. 'For him, this was a relatively small movie. But he wanted to do it."

Tom Hollander was attached to play Diana's brothers, the identical twins Bloggs and Blacker. He is an old friend of Andy Serkis, 'I worked with Tom a long time ago on stage in Jez Butterworth's play Mojo," says Andy Serkis. 'We were old buddies, really. He's in my Jungle Book film too."

Andy Serkis used a mixture of techniques to allow Tom Hollander to play identical twins in the same scene. Andy Serkis says: 'We used a camera with a repeatable head. Tom Hollander would play one of the twins in profile, and he always had a stand-in to act against. Then we'd come round the other side of him and shoot the -other' brother. It required extraordinary technique from Tom Hollander, who really is a virtuoso actor."

The leading cast members were rounded out by Hugh Bonneville, now famous globally for playing the Earl of Grantham in TV's Downton Abbey; he plays Robin's friend, the astonishingly inventive Professor Teddy Hall, who enabled Robin Cavendish to leave his hospital bed, and travel around in a wheelchair specially equipped with a lightweight respirator so he could breathe.

'Hugh Bonneville was amazing and we were lucky to get him," says Andy Serkis. 'We wanted someone special, someone avuncular, but who you could imagine also had an enormous brain, and an eccentricity and directness about him."

Teddy Hall's brilliant career is worth a film in its own right: not only did he invent what came to be known as -the Cavendish chair,' he was also a pioneer in the field of carbon-dating – he authoritatively dated the Turin Shroud, (reputed to have been wrapped around the body of Christ after the Crucifixion). He also devised advanced scientific techniques to examine archaeological finds, and declared the -prehistoric' skull of the infamous Piltdown Man as a hoax.

Another leading British actor, Stephen Mangan (Green Wing, Episodes), plays Dr. Clement Aitken, director of the Disability Research Foundation.

'Stephen Mangan balances a light touch with a serious element," says Andy Serkis, adding that he, Andrew Garfield and Hugh Bonneville relished their scenes together: 'We thought of them as the Three Musketeers, playing characters who lived life to the full. Jonathan Cavendish refers to his father and his friends as -boho toffs.'" There's certainly a sense of devil-may-care adventure about these characters that may be inherited: Diana's father was the first person ever to fly over Mount Everest, as well as living for 20 years in the Hindu Kush.

In other roles, no less than six young actors (including two sets of twins) were needed to portray Jonathan Cavendish as he progresses in the story from toddlerhood to young adult. Dean-Charles Chapman plays Jonathan at age 22, Harry Marcus is Jonathan Cavendish as a 10 year old; Frank and Jack Madigan share the role of Jonathan at 5, while Dallon and Deacon Brewer play him at age 2.

Bill Nicholson's script for Breathe takes Robin Cavendish's story to far-flung places: Spain; a conference hall in Munich, a hospital and the government house in Nairobi; a tea warehouse in Mombasa; various villages in Kenya and country roads in Spain. All these scenes were shot in England and throughout South Africa.

But most scenes of events that took place in Britain were shot at various locations within 50 miles to the north or west of London. The grand Jacobean stately home Hatfield House in Hertfordshire was put to good use for a number of locations: the drawing room of a country house, a ballroom, the car park of an Oxford hospital and the interior of a German hotel among them.

Robin and Diana's home, Furlongs, was represented by a house near Luton: 'We created a version of Furlongs, that wasn't exactly like it but had a similar eccentric quality," says Jonathan Cavendish. Interior scenes at the Oxford hospital were shot at a performing arts school in Tring, Hertfordshire. Englefield in Berkshire was the location for the idyllic game of cricket that opens the film.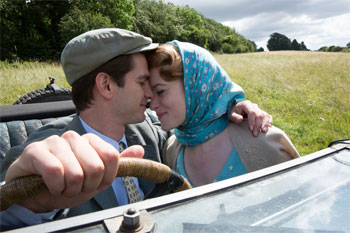 Ready For Release

Bill Nicholson, who has been on a journey to make Breathe with Jonathan Cavendish from the start, speaks of him in glowing terms: 'This was an extraordinary experience for him. He's like a permanent bystander in the real story. And for him to be making the film as well! Jonathan the producer has been ruthless. There was more of Jonathan in earlier drafts of the script, but he cut some of those scenes. He said: -This is about Robin and Diana.' He's focussed on making a film that works."

'I think it one of the most accurate biopics ever made," says Jonathan Cavendish now. 'Many of the conversations in the film actually took place. For example, the consultant at the Oxford hospital did actually say to my father -You'll be dead in two weeks...'

And of course I watched as my mother took constant responsibility of keeping my father alive. And they both took responsibility for providing food and entertainment for all their friends, and all my friends too.

The people around my parents were an assorted cast of characters. My father and mother had a totally equal partnership. She enabled him to break out of his sense of loss, and start to know life with lots of friends coming in and helping. It's amazing what those friends did. I have since learnt that for many of them this was among the best experiences of their lives. And what they all did was to help give my father back his life."

Jonathan jokingly refers to Breathe as 'the most expensive home movie ever made." He explains that just as his father was helped by friends, so was he by the cast and crew on the film: 'They were like a family. Everyone was earning less than they normally do, and giving more than they normally would. It was remarkable.

I feel so proud of what we have done," he adds. 'This film shows what love can do in the most difficult circumstances. If you are lucky enough to love and be loved, that partnership can carry you through the most difficult problems – and to do so with laughter and joy. This is a film made by a family for a family."


Breathe
Release Date: December 26th, 2017