The Witch Is Back
Director: Hiromasa Maro Yonebayashi
Rated: PG
Running Time: 102 minutes

Synopsis: Mary and The Witch's Flower is the highly-anticipated debut film from Studio Ponoc, a new Japanese animation house formed by ex-Studio Ghibli staff: producer, Yoshiaki Nishimura and Academy Award-nominated director, Hiromasa "Maro" Yonebayashi (Arrietty, When Marnie Was There).

One day, while spending the summer with her great aunt, Mary follows an odd cat into the nearby woods. There she stumbles upon flowers which hold a strange, luminescent power that brings a broomstick to life " which then, in a heartbeat, whisks her above the clouds and off to a strange and secret place. It is here she finds Endor College – a school of magic!

Even though the penalties for imposters are harsh, Mary enters the Endor College campus. And despite a complete lack of magical knowledge, she demonstrates surprising abilities. However, she quickly discovers that all is not as it seems at the school – there have been strange experiments taking place behind closed doors, and all too soon, she comes face to face with great danger – and a life-changing choice.

With the English version featuring the voices of Ruby Barnhill (The BFG), Kate Winslet (Titanic) and Jim Broadbent (Paddington), Mary and The Witch's Flower is a stunningly animated fantasy adventure, filled with magic, fun and emotion.

Mary and The Witch's Flower
Release Date: January 18th, 2018
http://www.maryflower.com.au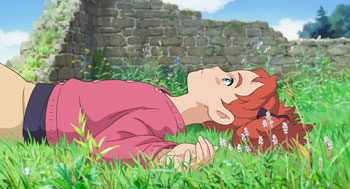 Message from the Director

After Studio Ghibli closed its production department, I left the studio with some of the production team. It was a sad, disappointing moment as a person who loved Ghibli, because after finishing When Marnie Was There, I found myself with one thought: 'As long as there is the opportunity, I want to keep making feature animation."

But nothing was certain anymore. Having only worked inside Ghibli's protected environment, would I be able to start again from scratch and find a way to create an entire feature? With no staff or even a production studio, will I be able to raise funding for production? But despite all my insecurities, I had to continue animating, because I knew it was my job to do so.

Supporters of Ghibli productions and top talent from the Japanese animation industry gathered to work on this new film. We set up a new production company called Studio Ponoc. I spent nearly twenty years at Studio Ghibli, working with directors Isao Takahata and Hayao Miyazaki. The skills and mindset that I acquired while at Ghibli are my treasures. Now, with these treasures close to my heart, I have dedicated all I can to creating this new film with my crew here with me.

We are striving to make Mary and The Witch's Flower an experience filled with excitement and wonder that will entertain the audience. I also feel it's a story about children who must live in the times ahead. It's a story about living in a world where the magic of the twentieth century has lost its power. I hope you look forward to our film's release.
- Hiromasa Yonebayashi (April 13th, 2017)
About The Production
This summer, Mary will find… surprises and joy… mistakes and destiny... and, a bit of courage.
The witch is back.
I am a witch, just for tonight.

Introduction

Hiromasa Yonebayashi, director of Arrietty and When Marnie Was There, now brings to life a dazzling work of animated entertainment, offering everything he has learned during nearly twenty years at Studio Ghibli!

Hiromasa Yonebayashi is a highly acclaimed director of animation, not only in Japan, but worldwide. His Arrietty (2010) was the top box-office-winning Japanese movie in the year of its release, and When Marnie Was There (2014) was nominated as Best Animation Feature at the 88th Academy Awards. His much-awaited first directorial work after his departure from Studio Ghibli is his animated feature Mary and The Witch's Flower.

The film's story is based on a children's novel The Little Broomstick, written in 1971 by the English author Mary Stewart, long before Kiki's Delivery Service and the Harry Potter series. For his newest film he explored the world of 'witches", the same subject matter that his master of animation, director Hayao Miyazaki, chose previously.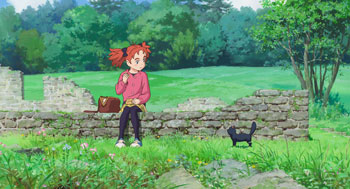 It all started when producer Yoshiaki Nishimura was charmed by one bit of dialogue that he read in the original story: 'And it wouldn't be right to use the spellbook to unlock the front door, either. I'll do it the way it's used to, even if it does take longer…"

While this story is about witches, unlike the usual literatures about magic, its lead character Mary decides to proceed without relying on the magical powers at her disposal. This reflects director Yonebayashi's decision to continue filmmaking as an individual animator, even after losing the magnificent Ghibli magic.

The strengths of director Hiromasa Yonebayashi's films are the beautiful, elaborate background artwork and overwhelming animation. This summer, he will be trying his luck with his film Mary and The Witch's Flower, putting in all of the animation know-how and creative spirit he acquired during his nearly twenty years at Studio Ghibli. Mary and The Witch's Flower will be this summer's major animated production that will entertain and move the hearts of all generations.

The rise of a new witch!

A 'human being, Mary", with no magical powers, will show us what she is capable of with just a 'bit of courage."

Our protagonist is a freckled, redhead girl named Mary. She's cheerful and lively, young and innocent, but her clumsy ways make her unhappy with daily life. Finding the forbidden 'Witch's Flower," Mary is swooped up into an amazing, grand adventure.

Mary transforms into a witch using the magical properties of the Witch's Flower and finds herself praised as a girl with extraordinary powers. But these powers are just temporary. To keep a promise, Mary departs on a journey to find the truth, but this is precisely when she loses all her witch's powers.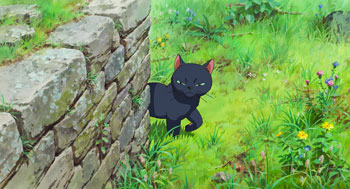 Director Yonebayashi has been portraying the message of 'taking up courage to live" through his films' protagonists. With Arrietty, it was a girl who sets out on a voyage to the unknown, though she is at the mercy of fate. With When Marnie Was There, it was a young heroine facing solitude who takes her next steps. With his newest film, he shows the courage that exists beyond magic through his new heroine Mary.

Set in a magical world, Mary goes through many fun and scary adventures filled with heart-beating excitement, thrills and suspense, flying the skies and travelling beyond the clouds. After these dazzling adventures, Mary finds herself without any magical powers, only a simple broom and a single promise she made. This is when Mary discovers the true strength within her.

Loss and recovery, then hope.

Film's theme song Rain by Sekai No Owari and the mysterious sounds of the hammered dulcimer.

The film's theme song is performed by the talented music group, Sekai No Owari. The song, which opens with the words 'We know that magic will not last forever…," all began from an encounter at the end of 2016, and was delivered after a great deal of discussion between the four Sekai No Owari members, director Yonebayashi and producer Nishimura. This outstanding song instantly feels familiar, as if it has always been there, close by, yet evokes a strong life force of its own. The song is about life and growth through the motif of 'rain," written from Sekai No Owari's very unique point of view. With lyrics that can be sung by all generations, children and adults alike, this theme song matches perfectly the film Mary and The Witch's Flower.

Unusual harmony with one musical instrument is heard throughout the film. It is the sound of the stringed percussion instrument called the hammered dulcimer.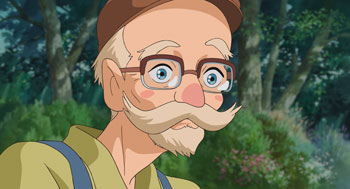 In search of an uncommon musical instrument that could set the tone for the entire film, producer Nishimura consulted animation director Isao Takahata, who has an in-depth knowledge of this subject matter. Learning from Takahata about the hammered dulcimer, Nishimura decided to make it the central instrument for the film Mary and The Witch's Flower. Heard both in the film's background score by Takatsugu Muramatsu and in the theme song by Sekai No Owari, the timbre of the hammered dulcimer symbolizes the 'surprise" and 'joy", 'mistakes" and 'destiny", and 'a bit of courage" all depicted in the film. Prepare to be enchanted by the mystic performance by Joshua Messick, the world's greatest hammered dulcimer player, who flew to Japan for the film score recording.

The hand-rendered background art lauded by the world will not be lost. Background art studio Dehogallery, with Kazuo Oga and Yoji Takeshige

Just as Studio Ponoc was founded, a new background art studio was also born, called Dehogallery, Inc. Working with Kazuo Oga and Yoji Takeshige as advisors, who served as art directors on previous Studio Ghibli masterpieces, Dehogallery, Inc. was formed with eleven artists who have worked as background artists and art directors for feature-length animation, including for Studio Ghibli. Concerned that Studio Ghibli's internationally praised art of hand-painted backgrounds may have been lost when Studio Ghibli closed its production department, DWANGO's Nobuo Kawakami, Khara's Hideaki Anno, and Studio Ponoc's Yoshiaki Nishimura co-founded Dehogallery in 2015. Art director Tomotaka Kubo and his group of artists, who represent Japan's world-class craftsmanship in background art, painted the light and shadows of Mary and The Witch's Flower's real and fantasy worlds.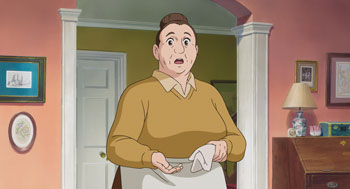 The newborn Studio Ponoc starts!

Graduates of Studio Ghibli, along with new talent from animation and other fields, have gathered to work on director Yonebayashi's newest work.

To continue the Ghibli spirit at the new-born Studio Ponoc, talented artists and creators who worked on past Studio Ghibli productions have come together to work on director Yonebayashi and producer Nishimura's newest work.

Nishimura, who heads Studio Ponoc, teamed up with director Yonebayashi as his producer again following When Marnie Was There.

The screenplay is by Riko Sakaguchi and director Hiromasa Yonebayashi. Sakaguchi also penned The Tale of The Princess Kaguya. The film's score is performed by Takatsugu Muramatsu, his second time working on a Yonebayashi film after When Marnie Was There.

For the animation, Japan's best animators gathered, centering around supervising animator Takeshi Inamura, Ei Inoue, and Akihiko Yamashita, all of whom participated in many Ghibli productions. Color styling was done by Fumiko Numahata, a protégé of 'Ghibli's color artisan", the late Michiyo Yasuda. Visual direction was by Atsushi Okui, who has worked on all of Studio Ghibli's Hayao Miyazaki films and all of Studio Ghibli recent films.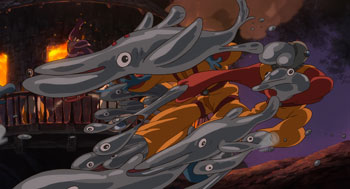 Production design was done by Tomoya Imai, who previously worked in production design for music videos from renowned artists, including Madonna. Susumu Fukushi, responsible for all of the Evangelion: The New Theatrical Edition films, is the director of cinematography, presenting a visual evolution of 'Ghibli" and 'Evangelion".

This film's production has also brought together other Studio Ghibli graduates, who have learned from directors Isao Takahata and Hayao Miyazaki, alongside other creative talent. Under Studio Ponoc's production banner they have come together, ready and determined to create their very best feature-length animation.

This summer, Mary will find… surprises and joy… mistakes and destiny… and a bit of courage.

Mary has moved to Redmanor Village. In a nearby forest she finds a mysterious flower called the 'Fly-by-Night" that only blooms once in seven years. It is also called the forbidden 'Witch's Flower". Acquiring magical powers that last only for one night, Mary is permitted entry into Endor College, the magical world's finest educational institution, towering above a sea of clouds.

However, one lie by Mary causes a serious incident to fall on somebody she cares about. The headmistress of Endor College, Madam Mumblechook, seeks the Witch's Flower. Endor College's scientist of magic, Doctor Dee, conducts strange experiments.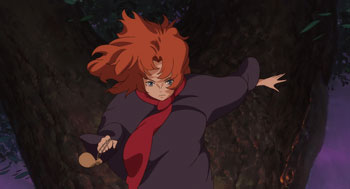 Mary encounters a mysterious red-headed witch and a boy called Peter.

Mary finds a way to escape the land of witches, and that is precisely when Mary loses all her magical powers…

The truth about the 'Witch's Flower" is gradually revealed.

Mary is left with just one simple broom and a single promise she has made.

In a world surging with magic, what is the glimmer of hope that Mary, a powerless human girl, finds beyond the darkness?

This summer, Mary finds…
surprises and joy… mistakes and destiny… and a bit of courage.
An entirely new witch's movie that will move the hearts of every generation.
Mary and The Witch's Flower
Release Date: January 18th, 2018
http://www.maryflower.com.au