PROFILEName:
Andy Grace
Radio Name: Andy GD.O.B.:
24/7/1970
Star Sign:
Leo
This month GIRL.COM.AU caught up with one of Australia's most well-known and respected radio personalities - ANDY GRACE. A self-confessed Nethead, his growing popularity continues to take his website AndyGrace.com to the Number One position among celebrity websites. Combine this with charisma, intelligence, personality and the gift of the gab and you have radio's man of the moment. Read on in the
MY BOY
section for more info on ANDY and the stuff that really matters...______________________________________________________________Girl: What prompted you to pursue a career in radio?Andy G:
I come from a technical background, and while I was at university studying engineering and broadcast engineering, I discovered that it was always the people on the air that were treated better, back then. I aimed from the very beginning to combine the technical side of things with on-air work and it has actually worked out really well. I've ended up presenting a radio show about computers and technology and am currently working on a TV show regarding the same topic of interest.
Girl: How did you get your break in radio?Andy G:
After I completed my university course, I further studied broadcasting for another year. I then sent out tapes to 150 radio stations around Australia and was met with a lot of knock backs, as it is very hard to crack into the business. Eventually some little country radio station, northwest of Brisbane, decided to take me onboard and that was where I got my break.
Girl: What is the best aspect about your job?Andy G:
Without a doubt, it's the great people you meet. It is the best job in the world because you do get to meet such incredible people.
Girl: What has been your most memorable moment on air?Andy G:
Going on air for the first time really stands out in my mind.
Girl: And what was that experience like?Andy G:
Absolutely horrific, it was really terrible! (laughs).
Girl: Which leads us to your most embarrassing moment?Andy G:
There have been some embarrassing moments where I've left the microphone on accidentally and was caught speaking off-air with listeners.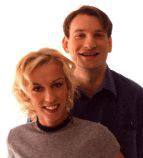 Girl: Now you currently host the show "Melbourne's Most Wanted" alongside Jennifer Bert, weeknights on TTFM. What is the most enjoyable aspect about hosting a countdown show?Andy G:
The music is the most enjoyable aspect as it is very current, which is good because I can't stand old music. The great thing about a countdown is that it is genuine, it is really what people want to hear. It is modern music, it is a lot of fun too and you can go a bit wilder than you would if you were presenting another type of show.

Girl: How much creative control/input do you have on your show?Andy G:
It varies, but generally there is quite a lot of creative control here at TTFM. A lot of stations won't allow you to do anything - they will dictate that all you need to do is play the music and if you talk for more than 15 seconds, you're out! Which can make for a really bland and boring show. Doing a show like "Melbourne's Most Wanted" is great because you do get that little bit of extra creativity to do things. We are moving towards being more creative in what we do and we have the support of the management here, which is a very rare thing in radio these days.
Girl: You also present the Net2Nite show on TTFM, Tuesday nights from 10pm. Prior to that you presented the NetatNite show while employed at FOX fm. Were you the first person to introduce a show of this nature to radio audiences?Andy G:
Yes I was. The NetatNite show on FOX fm started in 1995 at a time when only a few people had or even knew of the Internet. It was the first show of its kind on radio, which I developed.
Girl: Did you feel there was a need out there for this type of show? And just how successful has a show of this kind been?Andy G:
There absolutely was a need for a show like the NetatNite and it made a fortune for the radio station.
Girl: How does the Net2Nite differ from your previous show on FOX fm?Andy G:
I think that the Net2Nite on TTFM is a slightly better show and is currently there in development mode at the moment. The new show which listeners will be able to hear in a couple of months, is completely different to the present Net2Nite - a bit of an exclusive for your readers!! It will be broadcast on about fifty stations around Australia and has been sold to 800 stations across America and there is interest in Europe as well. So we have really been working hard on coming up with a new and improved show.
Girl: Now you are a self-confessed Nethead, what are some of your fave sites? Andy G:
Girl.com.au of course! (laughs) Being a computer-head I like a lot of the computer sites and I visit the CNN site everyday. Being in radio, I read heaps, which is one of the things you have to do if you want to be in this business. And I obviously visit a lot of pop/rock band sites to keep myself informed on the latest news.
Girl: Your website AndyGrace.com currently ranks in the top 10 and in recent times was the number One Australian celebrity website. What can people find on your website? What are the features?Andy G:
People can expect to find news about what we're doing, there are links to every Australian radio station, there is the Bulletin Board where listeners can chat and post their messages which we read out on air during "Melbourne's Most Wanted". Basically the site is a meeting place for the community which we have built through the show. We are actually working on a really big site for the Net2Nite radio and television show that is coming soon.
Girl: Are you working on the TV show at the moment?Andy G:
Yes I am, alongside Jennifer Bert who is also involved. It should be on the air in a few weeks and will be screened on Channel Ten.
Girl: What advice can you offer to budding young radio stars?Andy G:
Firstly, never give up and take 'no' for an answer because there are so many people out there who will give you a thousand reasons why you shouldn't be doing it. You just have to keep on believing in yourself. In terms of technique, practice, practice! Get a newspaper and read out the articles, practice adlibbing and talking. It is a real art to be able to talk on a range of different topics and communicate these thoughts to others. Above all, just be yourself!
Girl: Which cartoon character best sums up your character?Andy G:
Roadrunner because I am always running a thousand miles an hour! (laughs)
Girl: What five people would you invite to a dinner party?Andy G:
Jennifer Bert, Billy Piper, Gwen Stefani, Captain Turntable, and the editors from girl.com.au! (laughs)
Girl: If you could have any three wishes granted, what would you ask for?Andy G:
A future where computers won't make humans irrelevant; peace and I wish for enough money in my life where I can be comfortable and stop working so damn hard!
Girl: What is your view on the whole Popstars phenomenon?Andy G:
From a business point of view, the whole Popstars idea is great but I frankly think that they've hit their peak. As far as the music is concerned, it is nothing special and not as good as I hoped it would be. From the point of the viewer, I think it is looked upon as being a cynical exercise - basically running 15 half hour long ad's for music, but that is the way that the pop music world works and so be it. They did a really great marketing exercise for the girls, the girls are happy because they've got publicity out of it when they otherwise wouldn't have, the network is happy because they had a Number One rating show and the listeners are happy because they like the music. So I guess, what is wrong with that?
GIRL'S 60 SECOND QUIZ Fave Food:
Thai Food
Fave Film:
The Matrix
Fave Band:
No Doubt
Describe yourself in 3 words:
Getting Old - er
Best Feature:
My Voice
Worst Feature:
Lateness
Person you would most like to meet:
Dalai Lama
Hobbies/Interests:
Internet, listening and playing music, basketball and science
A talent you wish you had:
Picking up chicks!
The best advice given to you:
Never give up!
Visit
http://www.AndyGrace.com
for further information
This month GIRL.COM.AU further grilled Andy Grace on stuff that REALLY matters!!! Read on in the
MY BOY
section.
- Annemarie Failla