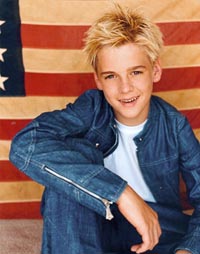 HE wants 'candy' and every girl in town wants a piece of HIM! AARON CARTER is the latest heartthrob to emerge on the ever-growing pop scene. At only twelve years of age, this groovster already has established himself as a major international recording star. Aaron holds the record for being the youngest singer to have four consecutive Top Ten singles in England. Recently in Australia on a whirlwind promo tour to spread the word on his latest album Aaron's Party (Come Get It), Aaron managed to stop by the GIRL offices where he candidly spoke with us about his love for Britney, his brother Nick and those never ending parties!!
Interview:
Aaron, who have been your musical influences?
It changes all the time but probably varies from Metallica to the Backstreet Boys 'cos I was around their music all the time.


How did you find supporting Britney Spears on your North American tour?
I loved it, she is really nice and totally talented and we had lots of fun on tour. BABE!


Do you enjoy filming your music videos?
The dancers in the clips have become my friends and they travel with me so we all have a lot of fun doing the clips although film clips are hard work, they take a long time.


Who decided on the title for the album?
I did.


How do you cope with having so many fans?
As I have been doing this for quite a few years now I guess I am kind of used to it. It used to freak me out a bit but I feel alright now. I love the fans, they have been great to me wherever I go, although they are pretty crazy in Argentina. Australia is really good, everyone has been great. After a gig I just usually totally chill out, do some exercise or get something to eat - whatever - and I feel totally relaxed again.


What message would you like to send to your growing number of fans?
Thanks for all the support, I really do appreciate it.


I believe your mother, Jane Carter wrote a book titled The Little Prince of Pop. What are your thoughts on this book?
I think it's cool, she is an amazing lady, she has achieved a lot in her life.


Will it be available in Australia?
I don't know.


What prompted you to do a cover of the classic track I Want Candy.
I really liked the original track.


Describe the sound of your new album Aaron's Party (Come Get It)?
It's fun pop music with a rap / dance pop element. It will get you up dancing and singing along, it's a party album!!!


Do you still attend school or do you have a private tutor? And if you still attend, how do you cope with all the pressures of schoolwork?
I have a private tutor, I study for five hours a day every morning from Monday - Saturday and then I am free to do promotional work or whatever. I haven't had a day off in quite a while but I am looking forward to going home and spending some time with my brother for a few days in Florida.


Where do you see yourself in five years?
I ultimately want to keep studying a be a marine biologist.


Would you consider recording a duet with your brother Nick Carter from the Backstreet Boys?
Absolutely, Nick and I get along great and we would love to work together if we ever got the time. However I don't think that I would like to go down the boy band road like him though.


It sounds like your brother has given you good advice in the past telling you to not be big-headed and to remain down-to-earth. Has anyone else passed on some helpful advice?
Yes, my tutor always tells me to work hard and stay focused.


60 Second Quiz
Full Name: AARON CHARLES CARTER
D.O.B.: December 7, 1987
Star Sign: Sagittarius
Fave Food: Pizza / Sushi
Fave Film: Stand By Me
Fave TV: Friends
Fave Actor: Sandra Bullock
Fave Pop Star: Christina Aguilera
Fave Band(s): Journey
Describe yourself in 3 words: Down to Earth, Fun, Athletic
Best Feature: Hair
Worst Feature: Scar on head
Person you would most like to meet: Christina Aguilera
Hobbies/Interests: Bike Riding, Rock Climbing, anything outdoors or sporty, also into fish and gameboy
If you were a cartoon character, who would you be? Spider Man
-
Annemarie Failla & Michelle Palmer