What happens when a boy sings into a garden hose at an early age? He becomes destined for success, that's what! AND so begins the story of Melbourne singer/songwriter Jimmy Christo who in just a short period of time, has emerged as one of Australia's brightest stars yet. Charismatic, down-to-earth and a genuine talent, Jimmy caught the public's attention with his first single "Somebody Like You" which featured on the very popular Wog Boy soundtrack and is set to do it all over again with his latest tune "Rainbow Eyes", an infectious, fresh, pop-groove which will undoubtedly put Jimmy straight onto the charts.
GIRL caught up with the man himself where he candidly spoke of his love for music, an impending debut album and THAT garden hose!
GIRL'S 60 SECOND QUIZ

Full Name: JIMMY CHRISTO
Nickname(s): Tarki
Star Sign: Leo

Fave Food: Japanese
Fave Film: Casablanca
Fave Artist: Madonna
Describe yourself in 3 words: Stupid but Funny!
Best Feature: Personality
Worst Feature: Posing for photos - can't handle it!
Height: 180 cm
Your Ideal Woman: Someone who can make me laugh
Hobbies/Interests: I love chilling out at the wee hours of the night with a video and a large pizza.
First Job: Parent's Milk bar, aged 6.
A talent you wish you had: Acting
The best advice given to you: Work really hard at whatever you decide to do and you will reap the rewards.
What cartoon character best describes you? Sylvester the cat - I'm always up to mischief!GIRL: At what age did you make a decision that performing and songwriting was what you wanted to do?
Jimmy: My mum has photos of me holding a garden hose and singing into it in front of the whole family when I was four years old! (laughs) But on a serious note, probably at the age of eleven I knew that I wanted to be a singer.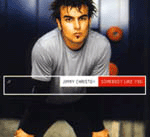 GIRL: You kicked off your career with the first single "Somebody Like You". Were you happy with the response to that song?
Jimmy: It was good because we used the Wog Boy film as a springboard to release the song and it was a fairly successful film, so we were pretty happy with that.
GIRL: How did that all eventuate with the Wog Boy soundtrack?
Jimmy: They were looking for covers at the time and apparently Michael Parisi, who was responsible for putting together the soundtrack with Nick Giannopolous, heard my song and thought that it would be really perfect for the end scene and before you know it, I was sitting there watching it and it was amazing.
GIRL: Now many of your fans may not know this, but you were one of the original members of Taxiride. What prompted you to leave the band?
Jimmy: Just musical differences really. I wanted to do my own thing; I was more of a pop guy whereas the band at that particular time was focusing on a rock/grunge sound. So I thought I had to go my own way, which was a very difficult decision to make but I'm very happy with how everything has turned out.
GIRL: I can imagine it would have been very scary leaving the band not knowing what the future was going to hold next?
Jimmy: Yeah it was scary because we spent about three years writing and developing together and then it was time for me to pack up and go.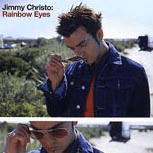 GIRL: Now your second single "Rainbow Eyes" is a very different sound from the first.
Jimmy: "Rainbow Eyes" is more of a true reflection of what I'm really about. Once again it's a feel-good track whereas the first single was more of a power ballad and it worked really well with the film. But "Rainbow Eyes" is probably the first chance that we had to release a song and we thought that this was the one.
GIRL: Is this an indication of what your debut album will sound like?
Jimmy: It is, very much so. Definitely feel-good tracks that you can play in the car and tap along to.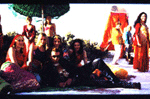 GIRL: "Rainbow Eyes" is a very catchy tune, with a Middle Eastern influence. Do you like experimenting with different sounds?
Jimmy: I do actually and if you've seen the film clip we played with the Middle Eastern theme again. It works really well, it's a different kind of sound - it's really fresh.
GIRL: Who would you list as your musical influences?
Jimmy: I have a few because I write my own stuff as well. I like performers like Lenny Kravitz, Prince, and Shawn Mullins. But then again, my favourites are Michael Jackson and Madonna.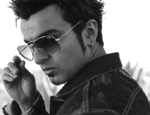 GIRL: Is it important for you to be part of the writing process as opposed to singing somebody else's songs?
Jimmy: Yes it is very important; I mean you get a bigger buzz out of it anyway. If you've got the talent to write and go out there and perform your own stuff, it's so much of a return. It's just a really big buzz especially when you see people dancing and really getting into your song.
GIRL: Not only do you sing and write extremely well, but you also play the guitar. Do you play any other musical instruments?
Jimmy: I also play a little bit of keyboards as well.
GIRL: Any other hidden talents we should know about?
Jimmy: Well I started running my parents business when I was aged six! (laughs)
GIRL: Did you say the age of six?!
Jimmy: Mum and dad had a little Milk bar where I used to serve the customers. I would stand on a milk crate pretending to be the big adult. And mum said I was very good with giving change! (laughs)
GIRL: That is amazing, I am impressed! So tell me, do you prefer the recording process or performing live?
Jimmy: They are both really good as there is magic in both of them. When you're performing live and speaking to people, it's amazing because you have that interaction thing. But in the studio, when you have a song and you want to express yourself, there's lots of little tricks you can use to help you achieve a particular beat, sound etc...so there's magic in that too. When you hear it back in its entirety, you think to yourself, wow this is me!
GIRL: Do you still get nervous before each performance?
Jimmy: I do, there's always those little butterflies floating around.
GIRL: How do you psych yourself up before going on stage?
Jimmy: I do a few little exercises, not vocally wise though. I never vocal train which is crazy because I should.
GIRL: What has been your best performance to date?
Jimmy: Touring with the Vengaboys was really good because they had packed out houses in nearly every single state - we played all the major cities in Australia. One that was really nice too was the Carols in Adelaide last year. That was beautiful, a really good feeling - there was about 30,000 people there, so that was a buzz.
GIRL: Did you get to hang out with the Vengaboys?
Jimmy: We did actually on the last night.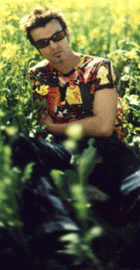 GIRL: What is the most rewarding aspect about being a performer?
Jimmy: The whole magic of writing your own material, going out there, performing it and PRing it. You go to every single state, you might go to different radio stations and perform live, you're speaking to people - it's just an amazing thing, that whole process.
GIRL: Has life changed much for you since the release of your first single?
Jimmy: Not really, but it has confirmed the fact that I am doing the right thing.
GIRL: Who comes up with the concepts for your music videos?
Jimmy: I did for this last video but the first one I just let everybody else have an input. But this one was totally my concept; I sat down with my manager Vince Deltito and put the whole concept together. That is another enjoyment factor - of seeing the idea you've got in your head form into a small film, become reality.
GIRL: It seems that you have quite a lot of creative input.
Jimmy: Yeah, which is good and that comes with being a solo artist.
GIRL: Have you finished recording your debut album?
Jimmy: We've basically had the album ready to go in the last four months but music styles change so we're always adding to it and trying to keep it fresh.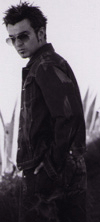 GIRL: What writers and producers did you collaborate with on the album?
Jimmy: On the production side of things, Vince my manager, produced most of the tracks, and then we've also done some co-writing with a heap of other people as well.
GIRL: So when can fans expect the release of your debut album?
Jimmy: We're probably looking at May-June as we still have another single to release.
GIRL: Are you happy with the sound of your album?
Jimmy: Yes I am but we're still writing now so I'm always going to add more tracks and get rid of some. You want to keep your balance down to a minimum.
GIRL: So what is next on the cards for Jimmy Christo?
Jimmy: Heading overseas hopefully to Europe and the U.K. to do some writing there with a few people we've lined up with.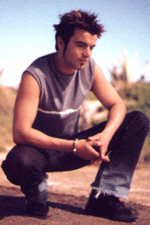 GIRL: Finally, what do you think distinguishes Jimmy Christo from other solo acts? What makes you unique?
Jimmy: Well just my writing style to start off with and basically if you look at the Australian market now, there are not many solo male artists that write their own material. So I think that is a pretty unique thing at the moment. So that is why I am working so hard now because before you know it, there will be eight, then eighteen more acts emerging.
- Annemarie Failla