Writer - Annemarie Failla
Melbourne-based group ilanda exploded onto the Australian music scene in 1999 through their own independent record label APO International. With chart hits like "It's Our Time" and the infectious groove "Tasty", Frank, Lennie and Norman are back to do it all over again with their follow-up single "Breakin: There's No Stoppin' Us" featuring Australian dance artist Joanne. With the release of their forthcoming debut album looming ahead as well as their current Australian promotional tour, ilanda continue to head down the path of success.
The charming boys from ilanda managed to take time out from their busy schedule to hang out with the gals at GIRL. In this candid interview, we put the guys to the test in our 60-second quiz and got the goss on music, life, success and you guessed it - love.
Girl: Firstly, how did you guys meet?
Frank: We grew up together in the same neighbourhood back home in New Zealand. Norman and I have known each other nearly all our lives, we met when we were in the second grade.
Lennie: I've known Norman all my life too! (laughs)
Norman: We migrated about eleven years ago to Melbourne, and hooked up again through the Church choir.
Girl: Now you experienced considerable success as Past To Present, what then prompted the name change from Past To Present to ilanda?
Frank: The name change was a necessity for ourselves to continue on in the industry as we really felt like we had come to a crossroad about three years ago. We just felt that if we were to carry on, we needed a 100 per cent control of our careers and felt like we knew how we wanted to be marketed from the promotional side of things - we'd been in the industry a good five years by then. We sat down with our management one day and decided to form APO records and APO International and then we got together our own production team called Past To Present Productions. A lot of people ask if it annoys us that people refer us back to Past To Present, but the truth is that it doesn't because we don't deny who we are, or where we've come from. Obviously that was all part of a stage to get to where we are today in our careers.
Girl: What is the meaning behind the name ilanda?
Norman: Well it's basically what we are I guess. Although we were born in New Zealand, our parents are from Western Samoa and we are islanders, so that is what inspired the name change.
Frank: If we were to take on the International stage, we felt like we wanted to come across as something that was more personal than try to be another Boyz II Men or the Backstreet Boys. The name is a means that separates us from other groups and gives us our own identity.
Girl: Leighton Hema recently left the group. Were you aware for quite some time that he was going to leave ilanda or did his departure come as a surprise to you?
Frank: We've all had our ups and downs obviously throughout our careers and we knew he was going through some rough times but we just thought that he'd overcome it. But obviously he just needed to step out of the picture and take a look at his life on his own and get away from the band. It was definitely a big shock for us, yet at the same time, being as confident as we are, as performers and as individuals ourselves, we knew the task of carrying on the ilanda torch was never going to be anything other than going forward. We obviously miss him as a brother and will continue to support him.
Girl: Considering your growing fan base and the fact that you have been a quartet for some time, do you think that ilanda will be able to continue successfully as a trio?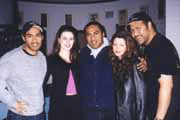 Frank: Yes definitely. Do you know how much money I'm going to make now that I only have to share it with the other two?! (laughs)
Girl: Do you have any plans to find a replacement band member?
Lennie: You can't replace somebody like Leighton and we wouldn't want to replace him.
Frank: It's just something we would never think of doing especially considering the fact that Leighton was with us for the last eight years, so somebody like that isn't replaceable. I'm still getting used to not seeing him on my right when we're performing on stage.
Girl: Your debut album "EXPERIENCE" is due for release later this year. What style of album can we expect to hear?
Frank: It's very eclectic to say the least. Two years ago, we really wanted to write our own style of music and we all grew up listening to different styles which we fell in love with. But then in later stages, we also fell in love with the pop side of things. And as we have obviously evolved as a band and as writers, we've also got a touch of pop music in there as well as R&B, dance, ballads and up-tempo songs - so it's a very diverse album.
Girl: You recently released a new single which you recorded for the Wog Boy soundtrack called "BREAKIN': THERE'S NO STOPPIN' US". How did this collaboration come about?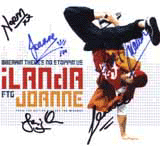 Frank: It was all my idea really! (laughs)
Lennie: It stemmed from the ARIA awards last year when we first performed with Joanne. Nick Giannopolous approached us with the whole Wog Boy project and asked us to record a song and we thought we'd ask Joanne to join us.
Girl: Was it your decision to record this particular track?
Norman: Yes it was. There were a few songs, which were thrown around, but we thought that "There's No Stoppin' Us was the best track to do. I mean we all grew up listening to that song so we'd thought it'd be great to get Joanne involved and we think it came up really well.
Girl: Now you guys sing, write, dance and produce music - is there anything you haven't tried your hand at, but would like to?
Frank: I would like to try my hand at working at KFC but I don't think I will get the opportunity to do so. (jokes) I think we're just happy doing what we're doing at the moment, as there is enough on our plate as it is. And if you throw too much in your plate the other stuff falls off!
Girl: Now who is the practical joker of the group?
Frank: Lennie is the biggest clown!
Girl: And who is the spoilt member?
Frank: Well that is definitely not me! (laughs) We all carry the load pretty evenly.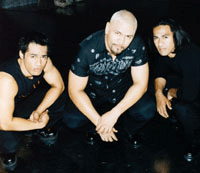 Girl: How long did it take to record your forthcoming album?
Frank: Our writing process started a couple of years ago but we really started honing our writing probably in the last twelve months or so. We really started locking in the recording side of things. The whole process of writing is huge, we wrote 80-100 songs yet it got boiled down to 40, then 20, then 15 songs, then you record them and then you look into them and say, "these aren't the songs for our album!" (laughs) It becomes such a tedious and long process and then you become picky. It takes such a long time but probably the last twelve months was spent on putting the album together.
Girl: What can an audience expect to see at an ilanda performance?
Norman: They can expect a very high-energy show and a lot of dance routines. Once we're on stage we like to get the crowd involved and have them sing along. We want the crowd to walk away thinking "wow that was amazing!"
Girl: You have a website called ilanda.com. What can your fans expect to find on this site?
Norman: Basically fans can read news about ilanda, our bio's, there are always updated pics, tour details, and ilanda merchandise which they can purchase.
Girl: Now do the Keller brothers get to boss each other around?
Norman: No not really. I've tried to but Lennie won't listen! (jokes) We get along really well so we're very fortunate.
Girl: If you could have any three wishes granted, what would you ask for?
Frank: I would purely ask for happiness - that is all I would ask for.
Lennie: No wars, no famine and unlimited McDonalds!
Norman: Tim tams?? (laughs) I'd wish for a number one smash single, number one smash album, and an award for best "island" band!
Girl: And lastly for all the girls out there, we have to ask, are you guys single?
Frank: We're all happily spoken for.
Girl: Well there is going to be a lot of crushed hearts out there!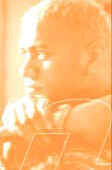 GIRL'S 60 SECOND QUIZ
Name:
FRANK LAGA'AIA
Star Sign: Gemini
Fave Food: KFC
Fave Film: Shawshank Redemption
Fave Band: ilanda and Joanne
Describe yourself in 3 words: So Damn Fine!
Best Feature: Humour
Worst Feature: I can be bossy!
Person you would most like to meet: Michael Jordan
Hobbies/Interests: Spending time with family
A talent you wish you had: To be disciplined like a great musician
The best advice given to you: Don't let the success go to your head and don't let the failings go to your heart.
If you were told you had a minute to live, what would you do? I'd call my mum and tell her I love her.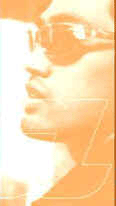 GIRL'S 60 SECOND QUIZ
Name:
LENNIE KELLER
Star Sign: Taurus
Fave Food: Turkish
Fave Film: Rocky
Fave Band: New Addition
Describe yourself in 3 words: You Go Boy!
Best Feature: My Ab's
Worst Feature: My Flabs
Person you would most like to meet: Nelson Mandela
Hobbies/Interests: Sports, sports, sports
A talent you wish you had: To Be Telekinetic
The best advice given to you: Don't judge a book by its cover
If you were told you had a minute to live, what would you do? Start digging!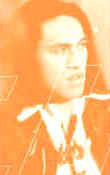 GIRL'S 60 SECOND QUIZ
Name:
NORMAN KELLER
Star Sign: Aries
Fave Food: Mexican
Fave Film: Sound of Music
Fave Band: Depeche Mode
Describe yourself in 3 words: What a Man!
Best Feature: Eyelashes
Worst Feature: Nose
Person you would most like to meet: Antonio Banderas
Hobbies/Interests: Sports
A talent you wish you had: I wish I could act
The best advice given to you: To be the best person I can be
If you were told you had a minute to live, what would you do? I would call all the girls I had on the side and tell them I love them!
Visit the official site
http://www.ilanda.com