It's Young Talent Time!
VINCE DELTITO is no stranger to FAME. He is probably best remembered as that cute little guy singing and dancing across our TV Screens from the days of Young Talent Time. However, he is now one of the hottest music producers in Australia, having boasted working with some of the freshest talent Australia has to offer. Talent including Gary Pinto, S2S, Leah Haywood and Jimmy Christo to name a few. GIRL recently caught up with Vince to discuss life in the Entertainment spotlight and the transformation from being an Entertainer to now Producing and Managing artists himself.GIRL'S 60 SECOND QUIZ
Full Name: VINCENZO DELTITO
Nickname(s): Cenzo, Vinnie D
Star Sign: Libra
Fave Food: Japanese
Fave Film: The Godfather
Fave Artist: Michael Jackson
Describe yourself in 3 words: Understanding, Cheeky and Humorous
Best Feature: I'm very understanding.
Worst Feature: My impatience.
Height: 5'8"
Your Ideal Woman: Someone who is very understanding.
Hobbies/Interests: I would like to try skydiving one day.
First Job: Young Talent Time
A talent you wish you had: I wish I were better at photography.
The best advice given to you: Understand your desires and work hard at making your dreams come true.
What cartoon character best describes you? Pink Panther!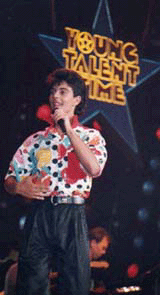 GIRL: Firstly I have to ask, what was it like being part of the hit series of the 80's - Young Talent Time?Vince:
It was brilliant, I had a ball. I was on the show for six years and during that time, I learnt so much of what I am doing today.
GIRL: What do you think was the main appeal of the show with audiences all over Australia?Vince:
The main appeal was that it attracted a very wide audience. Anyone from a 5-year-old to a 65-year-old could enjoy the show, as it was very much a family orientated program. There was something there for everyone. I was a fan of the show myself, before I joined the team.
GIRL: So how did you get on the show? Vince:
I was a student of the Johnny Young Talent School where they approached me. At that time they were looking for a particular type of person. I auditioned and got the part when I was 11.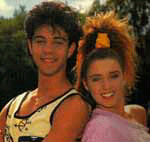 GIRL: Do you still keep in contact with any ex-members of the show?Vince:
Yeah I keep in contact with a couple of them. We're all doing our own thing and some are living overseas, but we keep in contact as much as we can.
I still keep in contact with Dannii (Minogue) from time to time, who is living in London.
GIRL: Do you think there is a need out there for another show like Young Talent Time?Vince:
Definitely, I think that is what is lacking on Australian television at the moment. I think the public is longing for some variety on television, so it's time we get a show like Young Talent Time back.
GIRL: Of course you are now working as one of the top music producers in the country. What made you follow this path of music?Vince:
Even while I was involved with the show, I have always been interested in writing music. The last couple of years I was with the show, the musical director took me under his wing and asked me to work with him on producing and writing songs for the show. So when I left it was really just a natural progression, and that is when I set up my first recording studio.
GIRL: Essentially, what is the role of a producer?Vince:
A good way of explaining it is, a producer is basically responsible to the record companies to deliver the product at a certain time. To coordinate and orchestrate the whole process. Together with the artist, you create the sound they're recording, you may assist with the songwriting, and you make decisions on how the song should be performed. So it's a big creative responsibility and lots of fun too.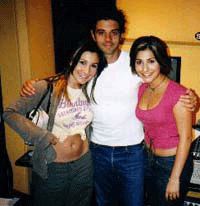 GIRL: You have worked with some fantastic names in Australian show biz, who did you enjoy working with the most? Vince:
Everyone we've worked with so far has been really nice. But S2S stand out in my mind. They are so young but extremely talented.
GIRL: What are you currently working on at the moment?Vince:
We've just completed doing work with Leah Haywood, we're writing stuff with Bardot for their new album and of course we're working with Jimmy Christo.
GIRL: Do you have any plans to cut an album yourself one day? Would you like to get back into singing and dancing?Vince:
I think I've had my day, had my fun! (laughs)
GIRL: You also manage Australian artist Jimmy Christo. How did this partnership come about?Vince:
I've always been really keen on managing but Jimmy came to us when he was in Taxiride, before they got their record deal and he auditioned for myself and my business partner Anthony Dale. Jimmy was the lead singer back then, so when he came and performed for us, I was blown away. After leaving the band, Jimmy approached us again and wanted to work with us.
GIRL: Do you have any plans to manage other Aussie talent, perhaps branch out more into this area?Vince:
We've actually just taken on a new signing - her name is Marie, she's only sixteen and we've started working with her.
GIRL: Is it hard juggling the two, managing and producing? I would imagine it would be quite time consuming.Vince:
It is very closely related though. Quite often when we're working with an artist, just producing, there are many other things we do that take on the role of manager. Even though these artists have their own management, you're always thinking about ways to further their careers.
GIRL: So how do you spot that "special" talent?Vince:
Talent is more than just a good voice, it's got a lot to do with charisma. Let's face it, it's standard to have a good voice and move well, what we look for is that something extra.
GIRL: What does a typical day involve for you?Vince:
Everyday is different - one day I can be in the studio producing and spending 10-12 hours recording. Then on the weekend I could be travelling interstate and coordinating a performance for Jimmy, for example. So it changes from day to day, but that's what I like about managing and producing. Management takes me away from the studio.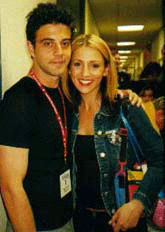 GIRL: What is the best aspect about your job?Vince:
Meeting a lot of different people and becoming good friends with them. And also the variety of my work is quite good.
GIRL: What would you class as a downside to the business?Vince:
Well your personal life can sometimes
take a nose-dive because of the long hours involved and those important appointments that you can't get out of.
GIRL: When it comes to creating music, are you a perfectionist?Vince:
Yeah I am never happy with the work. Whereas Anthony on the other hand, will say "let's just finish there", and I'll be like " well perhaps we can do something else to it"! (laughs)
GIRL: How do you go about creating that perfect sound?Vince:
Well you just have to do the best with every song you're working on, there's no special formula for creating the perfect sound.
GIRL: Do you find you ever come up against a brick wall sometimes?Vince:
Definitely, particularly when you're writing a new song and it sounds really good, only to realise it's a rip off of another song! (laughs) Also when you're working on a whole album, it can become quite difficult to keep it fresh as it takes a very long time to write and record an album.
GIRL: Who are some of your favourite artists at the moment?Vince:
Locally there are so many talented people, but I'm looking forward to the new albums from Leah Haywood and S2S. They're working with some great people overseas. And Gary Pinto who used to be with CDB - I'm really looking forward to his music as well.
GIRL: Finally, where do you envision yourself in 10 years time?Vince:
I would like to continue working as a producer and working with some international artists. Ideally I would like to open up a studio overseas, that would be the biggest thrill for me. Also getting involved in television production is something I'm interested in as well.
To find out more about Vince Deltito, read this month's
MY BOY!
- Annemarie Failla