Dust off your dancin' shoes because DISCO MONTEGO are putting the boogie fever back onto dancefloors everywhere! Having enjoyed success as R&B duo KAYLAN, Darren and Dennis Dowlut's latest creation marks the return of these talented and passionate artists to the forefront of Australian music.

Taking inspiration for their name from a Spanish club, DISCO MONTEGO released popular dance single "We Got Love" mid-2001. Having become two of Australia's most prolific and successful songwriters, DISCO MONTEGO are set to heat up the charts again and get the adrenaline pumping with their self-titled debut album. Boasting an eclectic selection of infectious, groove-laden and dynamic tracks, the album includes the singles "Beautiful" and "Magic", which feature Katie Underwood on vocals.

DARREN DOWLUT speaks candidly to GIRL about the arrival of DISCO MONTEGO, working with brother Dennis and the secret to their success.GIRL: We obviously remember you and your brother Dennis from your days as KAYLAN. Have we seen the last of KAYLAN and will you now only be concentrating on DISCO MONTEGO?

Darren:
I'd have to say no to both of those because while we were doing the whole Kaylan thing and touring, we decided that instead of going back into the studio and doing another Kaylan album, we wanted to start up our own record label. We eventually did that and Disco Montego are the first artists to be released on our label. After Kaylan, we just wanted to learn and improve our skills in producing, writing, A&R and finding new talent as well. We started up a little dance group called Disco Montego and went about finding artists to work with.
GIRL: What sparked the change in music direction?

Darren:
After having the Kaylan album out, Dennis and I were doing a lot of producing and remixing for other artists. We've always been into dance music. When we were living back in Melbourne we'd hang out at the R&B clubs, then we'd hit the dance clubs because we like both styles of music. Eventually we started up our own production company 347 - we were doing dance remixes and it just progressed to "yeah let's cut a dance album".
GIRL: Was it an easy transition to go from R&B to house music?

Darren:
Before a style of music, comes a song and it's just about writing a good song, then you can do anything you want to it. You can make it dance, R&B, country, pop etc.
GIRL: Obviously you are fans of reinventing yourselves?

Darren:
That's right, there's no rules in the music industry; that is what people find hard to understand. Who says you can't be 2 or 3 groups at the one time? Or do an R&B album, then a dance album?
GIRL: Who is the essence of DISCO MONTEGO?

Darren:
It is basically Dennis and myself but we have collaborated with a lot of artists. When we were writing the album, we already had a lot of singers in mind, so we were writing FOR them. We love having different players and we encouraged the artists themselves to write on the album.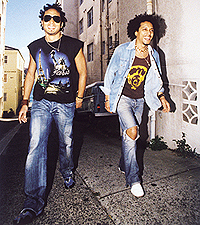 GIRL: We absolutely love the album, how do you think the public will receive it?

Darren:
We've been getting really great feedback so far and it's good to hear that people are saying "well it's really a mix of 70s, 80s and 90s". And that's exactly what we planned to do. We love the 70s and at the moment we're big 80s fans - the hair, the shoulder pads - love it! (laughs)
We wanted it to be a progression from the 70s to the 2000s, and I think we've accomplished that.
GIRL: You definitely have, there are a lot of different flavours on the album. The tracks really flow well - it's almost seamless - was that the intention?

Darren:
The album has got to have a continuity to it, so we didn't want it to stray too far away from what we are, and that is disco. We wanted to keep it simply disco and that is basically the same formula throughout the album.
GIRL: Which audience are you targeting with this album?

Darren:
We like to say "clubbers and house wives" (laughs) Who we're really targeting with this album are friends and people our own age.
GIRL: How did you come across the artists featured on the album. Did you find them or did they find you?

Darren:
We found them through meeting people on the road, while we were on tour as Kaylan. We were scouting new talent all the time. It is always interesting to see and meet new talent that has been overlooked by record companies or have not had a chance to record anything. We went out and saw a lot of bands and made the effort to get their numbers and contact them.
GIRL: You have a wonderful reputation for working well with other artists and obviously you can hear that on the album. Why do you think this is so?

Darren:
I think it's being a little more open-minded to loving music, rather than one style of music. When we first started out, we didn't want to write with anybody, we hated the idea of actually bringing someone else into the studio and trying to write a song with them. But of course you grow and you learn, I think we've learnt quite a lot over the last 2 years. It's great, you don't know what you can come up with when you write with other artists. So you've just got to be open-minded and not take it too seriously! After all you are making music and not atom bombs! (laughs)
GIRL: When will the album be released?

Darren:
The album will be out September 9th.
GIRL: It seems that working in collective groups is becoming a popular thing to do. Why do you think this arrangement works so well?

Darren:
You put much more effort into it when you're working with different people all the time. What our idea was when we first started Disco Montego was to record and make a compilation CD rather than an album. No matter who we work with, whether we record the song ourselves or we get another vocalist to sing on it, the view we have is that we are recording a single and a first single for everybody. That way you don't get three singles and the rest are album tracks. You actually get twelve songs that are kick-ass and I think that's working.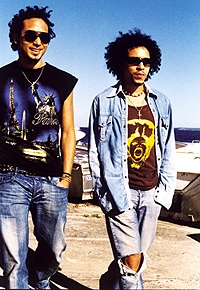 GIRL: Aside from your work with Disco Montego, you also write songs for other artists. Is this something you are still focusing on as well?

Darren:
Of course, songwriting is probably the most important part of what we do. Our main goal for this year was to get as many songs in the charts at the one time. And we are sort of doing that slowly but surely.
GIRL: Do you think you will make a return to your R&B roots?

Darren:
We have signed an artist named Jeremy to our label so our next project will be recording his album which will mean we'll be going back to doing the R&B thing. And we're not killing off Kaylan altogether, the only thing likely to change is the name - we still love our R&B.
GIRL: At this point in time, do you want to work with any other particular artist?

Darren:
Yes - Natalie Imbruglia.
GIRL: Working with a sibling can sometimes be a bad thing. So working with your brother for many years, has this strengthened your relationship?

Darren:
Yeah I think so. It's weird because our relationship has become so much more professional whereas before we were just plain brothers. We hardly have time to actually be brothers anymore; it's more on a professional level. But it's cool; we can live with that, as long as we are together, we're happy.
GIRL: Do you ever get time to relax with all this work going on?

Darren:
NO never! (laughs)
GIRL: Do you prefer to keep busy?

Darren:
I think I'm far too busy for my age, but you know, you've got to work hard and I'll have the rest of my life to chill out. And you know, when we're out on the road, we always have fun.
GIRL: What is your ideal day?

Darren:
Getting up at 7am, going for a run at Bondi Beach, then having breakfast with a beautiful girlfriend that I don't have! (laughs) Working in the studio, cooking dinner, drinking a nice bottle of wine and watching videos.
GIRL: How did your recent performance at the L'Oreal Hair Awards go?

Darren:
That was great, at the moment we are doing the same line-up with my cousin on percussion, Dennis as DJ, myself on guitar and Katie on vocals.
- Annemarie Failla & Michelle Palmer