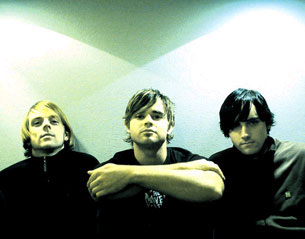 For a band's debut album to score numerous hits and rotation on JJJ, MMM and Fly TV before backing up for a place in the Hottest 100 and a busy festivals season, you know something special is in the air. 2002 has been more than significant for Melbourne based Antiskeptic.
Since their inception in late 1999 the trio have also supported/toured with the likes of Jimmy Eat World, Unwritten Law, Millencolin, Jebediah, Pacifier, Motor Ace, Bodyjar, Midnight Oil, Blueline Medic, Eskimo Joe, One Dollar Short plus many more.
The new album Aurora is slated for release in August to coincide with a second national live assault and is already tagged as one of 2003's most anticipated independent releases.
Band
Andrew Kitchen-Guitar/ Main Vocals
Shane O'Keeffe-Bass/Vocals
Nick Coppin-Drums
Interview:
How did it feel to hear your song played all over the airwaves?
It's a real buzz hey...you sit there thinking about the people all over Australia listening to it. I get really excited and still can't believe that it's us on the radio.


Did you have any pre-conceived ideas about the music industry?
We'd hear stories about people in the music industry that would take advantage of artists and basically leech all their money off them. It's important not to be naive and think that you can trust everyone and even more important that you are involved in the business side of things as well as your music.


Do you write your own songs? What's your inspiration?
Yeah Antiskeptic write all our own songs. Andrew is the lyric writer and he gains inspiration mainly from people he meets and the going-ons of the world around us.


What music/artists do you listen to when you are not playing your own?
Antiskeptic as a collective listen to a varied amount of music ranging from:Counting Crows, Foo Fighters, Helmet, The Police, Jimmy Eat World, Silverchair, Deftones, Dave Matthews Band, Something For Kate, The Beatles etc. We like so much stuff...we are huge music fans! I'm currently listening to AFI-Sing the Sorrow, Cave In-Antenna and the Best of U2.


What's next? Tour/Album/Single?
We've currently just released our first single 'Nothing To Say' from our second album 'Aurora' which will be coming out in August. You can expect us to be touring our butts off around that time!


Was there a moment you contemplated throwing in the towel?
I don't think i've ever really wanted to give up the band. Mainly because I can see the potential we have and it would be a shame to waste all our hard work. I guess our toughest moment in Antiskeptic came when our bass player and good friend Sean decided band-life wasn't for him and it was time to leave. We knew we would keep going and things would be ok, but it just depressed us a little and through a spanner in the works (so to speak!).


Do you prefer performing live or recording?
There's positives to both. I love playing live because it's a huge adrenalin rush and I love recording beacuse you can see your songs brought to life which is really exciting!


What/who was your inspiration to go into the music industry?
I saw silverchair when I was 14 and they were the same age. I thought 'Man...if they can do that, I'm sure as hell gonna give it a shot!'


What is the biggest challenge you have faced along the way to your musical success?
You know, there hasn't been too many that I can clearly think of...I think when you have such a passion and dream to do something, challenges are just little bumps in the road that will pass you by.


What's a typical day like?
A typical touring day is wake up and leave hotel by 10am, drive a long way to next place of gig, load out, soundcheck, eat dinner, warm-up, play, wipe our sweaty faces and have a beer, talk to punters, start packing up gear, load out, go to hotel, chill out then sleep by 2-3am.


What has been your favorite part of becoming a music artist?
I guess people liking us is the cool thing, because if that didn't happen we wouldn't be able to do what we do.


If you could collaborate with another artist, who would it be?
Probably Axl Rose...he needs some good musos to teach him how to rock again!


Are you single? What do you look for in a partner?
I've got a girlfriend. I just look for someone who's cute, down to earth, know's what she wants in life and is funny. We have this theory on girls... they're either campers (they like camping) or non-campers (they hate camping). We reckon non-campers would be too high maintenance... we're all for girls who don't mind getting their hands dirty!


Do you have a website fans can visit?
http://www.antiskeptic.com.au


Can you tell us 5 things required for a happy healthy & enjoyable life?
Faith, Fun, Friendship, Good Food and Love.


What message would you like to say to your fans?
Hey thanks for all your support! Cheers to everyone who writes us emails, comes to shows, votes for us and spreads the word about Antiskeptic... you guy's rock and your support is hugely appreciated... cheers!


60 Second Quiz
Full Name: Nicholas Coppin
Nickname(s): Nick, Nicko
Star Sign: Cancer
Favorite Food: Mexican, Indian
Favorite Film: Back to the Future Trilogy
Favorite Actor: Tom Hanks
Pet: mice
Describe yourself in 3 words: Powerhouse Of Rock
Best Feature: Man-Boobs
Worst Feature: Man-Boobs
Person You Would Most Like to Meet: Daniel Johns
Hobbies/Interests: Music
First Job: Paperboy
Are you a Pub, Bar or Club kind: Pubs or Bar
What Can You Never Leave Home Without: Lip Balm
What is the first thing you think of when you wake up in the morning: Sleeping again