TONY LEE SCOTT ....Take ME Away!!!
I had the good fortune to catch up with Sony Artist, Tony Lee Scott. Now some of you may not know who he is...YET! But you will! Not only is Tony Lee a babe-and-a-half, he is a charmer, very aware of the world around him and he can write music! And Boy can he carry a toon!
Born and raised on a wheat farm in Queensland's Darling Downs by his 'blue eyed Scottish father and a brown eyed Maori mother', Tony was drawn toward the music industry from a very tender age due to his father playing in a country music band. Tony's musical journey has seen him dabble in R 'n' B now to Rock. With a unique music style and a fabulous talent, listen out for Tony Lee Scott, he will be a name households will become familiar with in years to come!
Read our exclusive interview with the Man himself!
Full name: Tony Lee ScottNickname:
Tweet
Star sign:
Leo
Fave Food:
Thai food
Fave Film:
Forrest Gump
Fave Smell:
The ocean and seabreeze
Describe yourself in 3 words:
Spontaneous, romantic, liberated.
Best Feature:
My hands
Worst Feature:
Everything but my hands
Your Ideal Woman:
Strong sense of who she is, confidant, sociable.
Do you prefer boxers or jocks?
I like both, depends on the occasion
Hobbies/Interests:
Surfing
Recall your First Job:
Driving a tractor
A talent you wish you had:
The ability to read a woman's mind
The best advice given to you:
My dad always said to stay real, be true to yourself, be good to your mother and the rest should fall into place.
When you kiss a girl, do you close your eyes?
Open, close, open, close. (laughing)
Which cartoon character best describes you?
Tweety bird
Can you recall a favourite teacher at school, if so what was his/her name?
Yes I do recall her, her name was Miss Buckby.
If you could take just one photo of absolutely anything, what would it be of?
The Greek Islands
Girl: Now we hear that your song "Take me away" was inspired by a Girl who flew in and out of life within four weeks! What else do your draw upon for inspiration when you are writing your songs?
Friends, personal lives and my family and all the experiences I have with these people.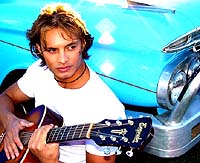 Girl: And I read that the release of your album is due out soon, is that correct?
Yes.
Girl: Can you tell us the name of the album?
I haven't decided on the title as yet.
Girl: You appeared on one of the Big Brother eviction nights? How did you find that experience?
I didn't expect the mayhem and the wild crowd, as I hadn't watched the show. It was a buzz and great exposure for me.
Girl: Your Mum and dad were both entertainers so it seems it was inevitable for you to get the "showbiz" bug, what would you have liked to do if you had not become a singer/songwriter?
Own and run a property and be a farmer.
Girl: So you used to enjoy a bit of boxing and were quite good at it. Do you still dabble in this sport?
I still train although I don't compete anymore.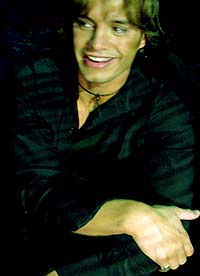 Girl: Now I've read some comments from fans of yours on some various "Tony Lee Scott" fan-sites - are you aware of the effect you have on your female fans? And if so, how does this make you feel?
No I don't, I really focus on my music and wanting to hear great songs.
Girl: Now when you signed you were more R 'n' B orientated, now your music is more of a rock genre - what is your preferred music style?
I feel most comfortable with rock.
Girl: On your writing expeditions you have worked with Steve Kipner, what was this like for you? (Steve Kipner wrote Christina Aguilera's Genie in a Bottle)
He is a successful Aussie legend, he is so down to earth, so Australian and so proud to be, yet he has achieved so much success and is always willing to share his songwriting prowess with everyone.
Girl: Can you tell us, whom do you admire musically?
Jeff Buckley, I admire and respect anybody who can maintain a singing career.
Girl: Now if you were me, what would you like to ask yourself?
How long did it take you to learn how to milk a cow properly? "Well" it takes me 20 minutes!
Girl: Who would you like to thank for helping you on the road to success - anyone in particular?
I'd like to thank anybody who has had a positive influence on my life, which has been almost everybody, especially my family.
Girl: Now as if there isn't enough to you already, what else is there to Tony Lee Scott? Is there some juicy exclusive you can give us?
Well, I play a lot of the old songs on my guitar like Englebert Humperdick songs and I play them at elderly peoples homes.
Girl: The perennial question - what advice can you offer to young artists out there?
Find your passion, work hard to try and achieve it, and when you meet people that tell you you're the greatest or tell you that you're quite the opposite don't take too much of either. Focus on what you've gotta do and at the end of the day you are your best judge and if your happy and it sells then that's great too!
- Michelle Palmer