Ben Stiller Night at the Museum: Secret of the Tomb
Cast: Ben Stiller, Robin Williams, Owen Wilson, Steve Coogan, Ricky Gervais, Dan Stevens, Rebel Wilson, Ben Kingsley
Director: Shawn Levy
Genre: Adventure, Comedy, Family
Running Time: 98 minutes

Synopsis: Larry leaves New York City for London on a quest to save the magic before it is gone forever.

Night at the Museum: Secret of the Tomb
Release Date: December 26th, 2014



About The Production
Get ready for the wildest and most adventure-filled Night at the Museum ever, as Larry Daley (Ben Stiller) travels the globe, uniting favourite and new characters and embarking on an epic quest to save the magic before it is gone forever.

Imagine walking into the world's most magnificent museums, where the wonders and history of the world come to life. That was the starting point for the Night at the Museum motion pictures, which have captivated audiences globally and grossed over one billion dollars. Now, its third installment takes all of its beloved characters around the world for their greatest adventure yet. Ben Stiller reprises his role as museum guard Larry Daley, and Shawn Levy is once again at the helm, producing and directing a pantheon of comic talent.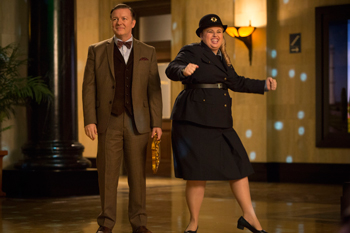 When New York's Natural History Museum's exhibits, which come to life at night, start to behave strangely, Larry, the newly-promoted director of nighttime operations at the Museum, must find out why. The Tablet, which magically brings the creatures to life, has started to decay and the only way to restore it may be at the British Museum. Larry, who'll do anything to save his museum 'family," along with his son Nick and the museum exhibits, travel from New York to London, where they must discover the Tablet's secret.

Night at the Museum and Night at the Museum: Battle of the Smithsonian were worldwide hits, but it took some time before Shawn Levy and Ben Stiller were certain there would be a third Night. 'Ben Stiller and I were looking for a defining principle – a reason to make a third film," says Shawn Levy. 'It was only when we came up with the idea of the potential death of the Tablet that we felt we had finally discovered a core theme and motive for the characters and for us, the filmmakers. In the new film, we aren't just going to a new museum – we are fighting for the life of the magic itself."

Once Shawn Levy locked into a storyline, he couldn't wait to return to the incredible world of which he was a principal architect. 'There's something about the blend of this wondrous -what if" that gets brought to life in these movies," he says. 'The new film also has humor and a warm-heartedness that are winning and compelling. I am very conscious of the privilege to create these worlds and these adventures."

Shawn Levy worked closely with screenwriters David Guion and Michael Handelman to fine-tune the script. David Guion says, 'Shawn Levy is this incredibly enthusiastic guy, with a sharp sense of what's working and what's not working. When it's working, he laughs, leaps up and acts out the character." Adds Michael Handelman: 'Shawn Levy is the most amazing collaborator. He gets seized by an idea and just jumps out of his chair. He's an amazingly gifted source of ideas."

David Guion recalls Shawn Levy telling the writers: 'We want this to be the culmination of the themes of the earlier two films. We want to make it about saying goodbye and moving on. Larry's son, Nick (Skyler Gisondo), is getting older and wants new freedoms and Larry has to let go. And we tried to echo that throughout the movie."

The father-son dynamic is also a key element with several other characters: Ahkmenrah (Rami Malek) works through his relationship with his father (played by Ben Kingsley); Nick develops a surrogate father relationship with Lancelot (Dan Stevens); and Teddy (Robin Williams) is very much a father figure to Larry. Even a new character, the caveman Laaa, calls Larry 'dada." 'That's the fun thing, when you explore those kinds of relationships," says David Guion. 'What are their serious, emotional, heartwarming parts, and what are the difficult, embarrassing and fun parts?"

Shawn Levy calls the Nick-Larry relationship 'resonant, relatable and dynamic. The first Night at the Museum was both a father-son movie and a spectacular adventure. The goal in this movie is to return to that – with a father-son thematic spine, but without question the biggest spectacle we've ever done. This movie is about the difficulty of accepting change and of letting go of those we love. So for Larry, this applies to his teenage son, who may be going away to college or to the world beyond; it applies to the museum creatures that are at risk and may lose their magic; and it applies, possibly, to the job that has defined Larry Daley for all these years. There's a thematic unity to this movie where this concept of letting go is played out through different venues."

Ben Stiller recalls his reaction to reading the script for the first Night at the Museum. 'It appealed to the kid in me," he explains. 'What happens when the museum closes at night? What would happen if everything came to life? I thought that the answers would be a really cool movie to see." In terms of the decision to make a third film, he says, 'People have a connection with the characters, and when the idea came up about everything possibly ending, and there being a finite amount of time these creatures can actually come to life, and how people deal with that, it felt like a story you wouldn't quite expect to see. I really liked that idea.

'I love what these movies are about," Ben Stiller continues. 'They have become a part of our culture. They've affected how people go to a museum and view the museum exhibits. It's really fun to go to a museum and see that they have a night program. I have a lot of people – adults – who tell me, -I had a sleepover at the museum with my kids.' And I'll say, -Great. Did anything come to life?'"

That sense of wonder and fun extended to the production of Night At The Museum: Secret Of The Tomb, which was a wonderland of old-fashioned movie-making, fantasy and history – where the strangest things could be heard, such as, 'Let's get the llamas back to ones," or 'Bring in the triceratops head," and even, 'One of the Neanderthal's ears is coming off!"

While the first two films were set in the U.S., the new adventure takes the team to the United Kingdom. 'It's interesting to finally venture outside the United States," says Shawn Levy. 'It connects us with the world beyond the U.S, it allows us to explore some amusing aspects of culture clash, and there's also this bigger idea, which is that the secret is out. The movie is called Secret Of The Tomb, and, on the one hand, that refers to how do we fix this tablet? What is the secret held in the tomb of Ahkmenrah that can save the tablet and the museum? The other secret, of course, is, this museum comes to life every night and, in this movie more than the other two, the creatures and the magic spill outside the doors of the museum and out into the world at large."

Founded in London in 1753, the British Museum was the world's first national public gallery. Today, some six million people visit each year to see its collection of amazing artifacts from around the world, including the Rosetta Stone and Parthenon sculptures. The production filmed in London for several days, capturing exteriors and filming in the Museum's Great Court, the largest covered public square in Europe.

Ben Stiller Is Larry Daley…And Laaa

Shawn Levy notes that much of the film series' heart comes from Ben Stiller. 'Ben Stiller is not only a phenomenally devoted craftsman and artist, who is always looking for the best possible everything, but he has such a grounded naturalism in his acting style. Ben has given these movies a strong sense of tone and identity."

Shawn Levy and Ben Stiller certainly didn't make things easy for themselves with the new film. Stiller not only reprises his role of Larry Daley, he also stars opposite himself in the new role of Laaa, Larry's Neanderthal doppelganger. 'There's an innocence to Laaa," says Ben Stiller. 'He is like a little kid who just wants Larry's attention and love, but then he also has this very visceral caveman thing going on."

Shawn Levy notes that 'Ben Stiller committed to the character with such a level of devotion, in the same way that he does on so many characters that are so memorable, whether it's in Zoolander, Dodgeball: A True Underdog Story, Starsky and Hutch or Tropic Thunder. He has this ability to fully inhabit a character, where he just builds something apart from himself and wears it like another set of clothing. And that's what Laaa is."

Ben Stiller recalls, 'When the idea for Laaa came up, it made me laugh because I thought it could be a fun element - and I've always enjoyed cavemen and Neanderthals and that whole evolutionary process," he quips. 'When Shawn Levy pitched the idea I thought this could be really funny, and I asked, 'So…who are you going to get to play Laaa?'"

A Pantheon Of Comedy Stars

Beloved actor/comedian Robin Williams, who, sadly, passed away earlier this year, reprises his role as Teddy Roosevelt.

For Shawn Levy, working with Robin Williams on the three Night at the Museum films was an indelible experience. 'I was Robin Williams' fan long before I became his director and I will be his fan long afterward as well. In the process of making these films, it was also my great privilege to become his friend. Robin Williams' heart and humour shone through his performance as Teddy Roosevelt and as such, this character has always stood firmly at the soul of this franchise, something for which I will be forever grateful."

Long before Robin Williams' Teddy Roosevelt became a waxen museum statue, Theodore Roosevelt was the 26th President of the United States who was renowned for his varied interests and accomplishments, and who truly believed in the inherent power of the common man. Here, Teddy is a good friend to Larry, often providing valuable and sometimes fatherly wisdom, as well as some very good impressions.

'Teddy Roosevelt was an amazing naturalist, botanist, environmentalist and hunter," noted Robin Williams. 'He had this sense of the great outdoors, that the wild environment is where you find yourself. And part of his legacy was founding the National Park System, helping get that up and running. He was, truly, an exciting man." In the Night at the Museum films, Teddy Roosevelt is also a true romantic. There's a charge between Teddy Toosevelt and the museum figure of Lewis and Clark's guide and interpreter, Sacajawea. As Teddy Toosevelt jokes, 'I'm wax, she's polyurethane, but somehow it works."

Teddy Roosevelt's relationship with Larry is also central to the films. 'Larry and Teddy have a sort of a father-son dynamic throughout all the movies," added Robin Williams. 'Teddy always considers Larry like a son – giving him life advice but, at the same time, saying, -You don't need my advice, you've grown and you've done this." This film has some pretty subtle and at the same time powerful statements about parenting."

As the destruction of the tablet progresses, the effect on the creatures becomes more physical. 'We start to become more and more wax and more and more frozen. Then it's a little weird," Robin Williams said.

Joining Robin Williams as key returnees to this world are Owen Wilson and Steve Coogan, as the surprising duo of American cowboy Jedediah and Roman Centurion Octavius, both miniatures from historic dioramas. They're the smallest characters with the biggest friendship. Owen Wilson says, 'There has been an arc to our relationship. We started off sort of as adversaries, and now it's evolved into more of a team. We're practically a buddy comedy within a funny family movie."

The friendship is all the more unexpected because the characters come from very different cultural backgrounds and eras. 'There's a brashness to Jedediah," says Robin Wilson, 'that sort of runs up against and chafes the gentility of what Octavius represents." The picture of civility, Octavius is a military leader from ancient Rome. He and Jedediah face their greatest peril yet when they fly through a museum air duct and find themselves in a Pompeii diorama where Mount Vesuvius is about to erupt.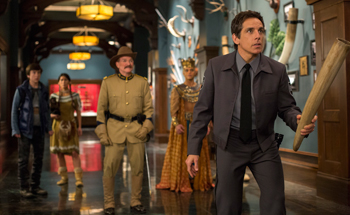 Because they differ in stature to the other characters in the film, Jedediah's and Octavius' scenes were mostly shot without other cast members on set, and many of their scenes were filmed against green screen. Coogan explains, 'Shawn Levy would show us extracts, CGI mock ups of a scene on screen so we could see physically how the action panned out. Or, he'd show us what had already been shot with whomever we're speaking to, so we could judge from that and act accordingly. You get used to it and imagine these things around yourself. In some ways, it was like becoming a child. Even though we have to concentrate and there is hard work, it is like playing. And that's the best thing about the job; you get a license sometimes to not grow up."

Another Museum veteran, Golden Globe® and Emmy® winning British comedian and actor Ricky Gervais returns as McPhee, the head of the Museum and Larry's boss. Awkward, eccentric and blissfully unaware, McPhee doesn't realise that magic is what brings the museum creatures to life. Moreover, he prides himself on a sense of humor that he doesn't really possess. McPhee wants to take credit for Larry's work, but that plan backfires disastrously when a gala showcasing all the 'living" exhibits goes horribly wrong. Ricky Gervais says, 'McPhee thinks everything coming to life is special effects. When it goes wrong, he's shocked and blames Larry. But as McPhee has already tried to take credit for everything, he's the one that gets fired."

When Larry and the gang are cornered in the 'History and Myth of the Middle Ages Exhibit" by the ferocious skeleton of a Triceratops, a knight in shining armor steps in to handily dispense with the beast. Dan Stevens, who captivated television audiences as Matthew in the acclaimed British series 'Downton Abbey," stars as Lancelot, the epitome of chivalry, valor and bravery. The legendary knight of the Round Table, Lancelot loves a quest, and once he understands the importance of the Tablet, he is eager to assist in securing its repair – or is he? Unlike all the other museum creatures, Lancelot has come to life for the first time and doesn't realise that he's an exhibit at the British Museum – or that he's a myth. That poses a huge problem to Larry and the rest of the gang.

'Lancelot sees that Larry and the others are on a quest, and he loves a quest, so he joins them," Dan Stevens explains. 'Lancelot is a man on a mission: he's probably on as many missions as he can take on. He is very much of the old school of going on a quest, which is all about being fairly loud and brash and thinking that a big sword can solve any problem. He's used to killing dragons."

For one of the film's biggest scenes, production closed down London's Trafalgar Square one rainy night in February. 'The first week of shooting was all rainy nights in London, but in the midst of all that, I got to canter through Trafalgar Square on horseback in a full suit of armor," says Dan Stevens. 'Just to shut down Trafalgar Square is a feat in itself, but to have a horse run through it was a little daunting."

Dan Stevens hurtled through Trafalgar Square in full armor and brandishing a broad sword. 'That broad sword stuff is genuinely challenging," he says, 'but really fun, though I would be a little sore afterwards, especially in that suit! When I first tried it on, it was like a dream come true for me. But after four months of filming, I think I'm a couple of inches shorter than when I started. The suit weighed about 50 pounds and it made everything about 30 per cent more difficult to do. It was a workout."

Another new face is Tilly, the night guard at the British Museum. Tilly sits outside the museum, in a small guard shack, chatting on the phone and taking the occasional snooze. She longs for company and wishes she were armed with a weapon more intimidating than just a hammer. The night that Larry and Laaa visit the British Museum, Tilly encounters more adventure than she ever dreamed of, as well as a surprising romantic twist. Australian comedy sensation Rebel Wilson, best known for Bridesmaids and Pitch Perfect, joins the Museum ensemble as the irrepressible Tilly.

Owen Wilson says, 'Tilly has been sitting in her booth for three years, and she doesn't get many customers at her gate. But on this particular night, she gets a lot of action. When Tilly sees Larry, she's like, -Oh my God, another security guard!' and she wants to have a chit chat. And when she feels deceived by him, Tilly goes on the attack with a hammer."

Shawn Levy says, 'Rebel is one of the funniest actors around. She saw an opportunity to come in and just murder it and, in a kind of surprise twist, plays a romantic storyline unlike we've seen Rebel do, and it's a weird one. But it's no less compelling for its strangeness."

Academy Award winner Ben Kingsley stars as Merenkahre, Ahkmenrah's father and Pharaoh of the Nile. Merenkahre had the Tablet created to keep his family together forever, but when a joint American and British archeological expedition in the 1930s discovered his burial tomb in Egypt, Merenkahre and his wife were shipped to the British Museum while Ahkmenrah was sent to New York. Merenkahre has held the secret to the Tomb for 4,000 years and only his knowledge can keep the Tablet, and the museum creatures, alive.

'Since this movie is about a quest to reach Merenkahre and learn the secret of the tomb, we knew that he needed to be formidable, with an extraordinary screen presence," says Shawn Levy. 'Ben Kingsley brings that in spades."

Ben Kingsley enjoyed working with Shawn Levy and acting opposite Ben Stiller. 'Most actors who are well-known for their comedy are usually consummate actors," explains the acclaimed actor. 'If you can do comedy, you can do anything, and I really loved working with Ben Stiller. He's very generous, a great leading man, and I think it's a sign of confidence in the franchise that when you're a new guy on the set, you're welcomed with graciousness. This was a very buoyant set to be on. But it was never complacent, because you can't be complacent with comedy."

It's one thing for Larry to deal with an ancient Pharaoh. It's quite another to wrangle his teenage son. Seventeen-year old high school senior Nick Daley, played by Skyler Gisondo, is at odds with Larry. While his father wants him to go to college, Nick wants to be his own person and pursue his dream of being a deejay in far off and exotic locales. Larry wants to hold on tight to the kid he knows and loves and looks at their adventure in London as an opportunity to bond, but Nick would rather be anywhere else.

Skyler Gisondo says, 'At the beginning of the film, Nick and Larry are in the same situation that a lot of high school seniors and parents find themselves, which isn't an awesome place. Larry wants very much for Nick to go to New York University and succeed in life. Nick wants to take some time off to pursue his dreams of being a deejay, which isn't the most practical thing. But over the course of the film, Nick and Larry try to come to a better understanding of one another, and the adventure helps them grow closer as father and son."

For Skyler Gisondo who was age ten when Night at the Museum came out, working on the new film was an unforgettable experience. 'I grew up with this franchise, so I'm very much like a kid in a candy shop, with all these characters I've come to love and it's so much fun and such an enhanced experience."

Another young man – this one from Ancient Egypt – gives his name to the magic tablet that brings the Museum to life. That would be Pharaoh Ahkmenrah, the young Egyptian mummy whose family holds the secret of the Tomb. Rami Malek reprises his role as Ahkmenrah. Rami Malek notes a special highlight of coming back for the new film: 'Ben Kingsley is an icon and someone I've admired my whole life," he explains. 'I remember Shawn Levy telling me, -Guess who's playing your dad, it's somebody really special.' When he told me I was really taken aback and very happy and the opportunity to work with him was a very special moment for me."

One of the most beloved – and troublesome – of the museum's exhibits isn't human at all. The diminutive capuchin monkey Dexter wreaks havoc way out of proportion to his size, especially when he arrives unexpectedly in London. But the mischievous Dexter is also highly intelligent and resourceful, and he proves himself surprisingly helpful in the British Museum.

Crystal the monkey, trained by Thomas Gunderson, plays Dexter. 'People are obsessed with Dexter," says Shawn Levy. 'In this film we gave Crystal more of a storyline and so many more things to do, and she continued to amaze us. From the moment I put her in the first movie, her personality and charm have been a huge part of our franchise and I'm happy to say we are tapping into it even more in this third adventure."

'There are touching moments with Dexter," said Robin Williams, 'But good luck competing with a monkey! Crystal has just gotten better. She knows exactly what to do at any given moment – and really upped her game – in terms of physicality and very subtle things. She is truly an action monkey and really kicked it up another gear."

Patrick Gallagher returns as Attila, the lovable Hun. The real Attila the Hun was a badass warrior in the 4th century, and legendary for creating one of the fiercest and most-feared armies the world, or any museum corridor, has ever known. But to know our Museum's Attila is to love him, and while Attila is the go-to guy when muscle is needed, he's also a great big teddy bear.

While Patrick Gallagher embodies the look of the ferocious warrior, he did not particularly love being back in the costume. 'Forty pounds of yak fur and leather," he wisecracks. 'It was like wearing a 40 pound winter coat all day long – but it sure was beautiful."

Mizuo Peck returns as Sacajawea, one of the legendary women of the American West. Sacajawea was the daughter of a Shoshone chief whose skills and smarts enabled her to serve as a guide and interpreter for Lewis and Clark's famed early 19th century expedition from North Dakota to the Pacific Ocean. Renowned for her ability to lead and track, in this film her expertise and motherly advice are vital in helping Larry and the gang on their mission to save the Tablet.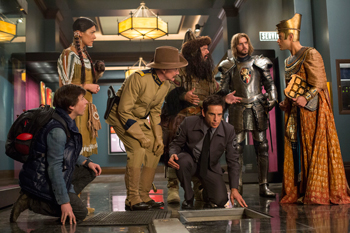 'I'm honored and happy to have played someone who was such an important part of American history" says Mizuo Peck. 'Sacajawea is like the ultimate mother and pioneer, and she's just filled with inspiring notes. It's been great to bring her to life in these movies, but in this one she really gets to shine. Sacajawea is famed for being able to lead an expedition, and her expertise is very important in this film."

Acting legends Dick Van Dyke, the late Mickey Rooney and Bill Cobbs reprise the roles of the original night guards, which they created in Night at the Museum.

Says Shawn Levy: 'Dick Van Dyke, Bill Cobbs and Mickey Rooney brought such a collective charm to the first movie and I wanted to tap that again in this film."

When the Tablet starts to deteriorate, affecting the beloved Museum exhibits, Larry seeks out former security guard Cecil, who may have information to help solve the problem. Dick Van Dyke's debonair Cecil is retired, but hasn't slowed down. Now living in a retirement community, Cecil gives dancing lessons and teaches Zumba class to the resident ladies. The son of a renowned archeologist, Cecil has a long history with the Tablet; it's why he worked at the Museum.

'The Tablet is losing its energy and power, causing the museum exhibits to act a little strangely, so Cecil must explain its incredible mythology," says the acting legend.

A young actor, Percy Hynes White, plays Cecil at age 12, who, while on an archeological expedition with his father in the 1930s, discovers the Tablet by accident when he falls through a hole. 'Cecil's got a kind of history now," says Dick Van Dyke.

When Larry visits the retirement home to see Cecil, he also encounters Reginald, played by Bill Cobbs, and Gus, played by Mickey Rooney. Gus clearly holds a grudge and hurls insults at his nemesis, Larry.

Shortly after completing what became his final film appearance, the inimitable Rooney passed away at age 93. Shawn Levy recalls, 'Mickey Rooney always came to the set prepared, joyous and energetic. Working with Mickey was a reminder to us all that to make a living doing something creative that you love is a life-defining gift. While it's deeply sad to know this was Mickey Rooney's last role, we take pride in that Mickey Rooney and his character Gus are a key part of the film. It was an honor to work with Mickey Rooney and he will be missed."

Bringing The Museum To Life

If all of the creatures in a museum can magically come to life, then just about anything else is possible. Rendering the impossible, possible, is the realm of visual effects, and almost half of Night At The Museum: Secret Of The Tomb involved digital wizardry.

One of the film's most dazzling scenes takes place inside a lithograph by famed Dutch graphic artist M.C. Escher, known for his often mathematically inspired woodcuts, lithographs, and mezzotints, featuring incredible constructions and explorations of infinity. While this scene relied on a staggering amount of visual effects, much of it was actually done in camera and involved the expertise of a cross-disciplinary filmmaking team.

Shawn Levy and the writers wanted to take some of the rules from the previous films and take them to a new level, so they created a sequence where Larry, Teddy and Lancelot fall into one of Escher's lithographs, 'Relativity," setting off what may be the most unique chase sequence in cinematic history. It's a race through an impossible world, with multiple planes, three levels of gravity and endless possibilities.

Shawn Levy says, 'Escher created lithographs, drawings and artwork that take our understanding of gravity and dimension and blow those ideas completely wide open.

-Relativity,' which is arguably his most famous piece, takes three different planes of gravity and brings them together into this dynamic universe that operates with its own laws and rules that have nothing to do with our reality."

To facilitate blocking out the sequence, production designer Martin Whist built a 3-D model that mapped out the geometry and architecture of the print. Shawn Levy and his department heads had a dozen brainstorming sessions over several months to work out the dynamics, and then the pre-vis team animated a rough version of what it might look like in the movie. Shawn Levy recalls, 'We went through at least half a dozen versions before we came up with a shot by shot equation, a kind of language that would tell the story in a way that felt dynamic and cool, but not so tricky that the audience would get lost. In a sequence that's so densely technical, one of the challenges is not to lose sight of what's at stake in the scene itself."

Conceiving, creating and filming the scene was like putting together and solving a complex puzzle. 'Every image had multiple layers and multiple planes of gravity and there were 60 shots," says Shawn Levy. 'Sixty shots times three layers – a lot of elements had to be grabbed and captured individually to combine into something seamless and unified. The sequence required incredible time, mental focus and devotion, but I think that the results will be worth all of that effort and the audience will go on a ride the likes of which they have never taken before."

Nominated for three Academy Awards (I, Robot, Real Steel, Iron Man 3), visual effects supervisor Erik Nash has worked on a slate of huge movies, but he says, 'I'd never seen anything like this. When I first read the script, the Escher sequence really stood out as something that had a lot of potential for being something that an audience had never experienced before."

On Location

While enormous sets were built and filmed on sound stages in Vancouver, British Columbia, Night At The Museum: Secret Of The Tomb also filmed on location in London and New York City.

More scenes were filmed in the actual museums than in the previous two films. Several were captured in the British Museum, including in the Great Court, the largest covered space in all of Europe, and the Gallery of Enlightenment, one of the oldest parts of the museum. 'We brought our characters to the British Museum because the more unreal the circumstance is, the more important it is for as much of the film as possible to be grounded in reality," Shawn Levy explains. 'That means shooting with real people doing real things in real places, with performances staying naturalistic and reactive in a way that feels relatable to us."

After doing some exterior location work in rainy London, the film crew moved inside the British Museum. 'We had access to this incredible place where you would never have a chance to walk around by yourself," says Ben Stiller. 'We'd go to a mark, and start a scene at the Rosetta Stone and finish it in the Age of Enlightenment. There's nothing like being in the real location, that feeling of the hallways and being there at night."

While much of the action in Night At The Museum: Secret Of The Tomb unfolds in the British Museum, it all begins – as always – at New York City's Museum of Natural History. The production re-constructed the Main Hall set, and built new sets for the interior as well as part of the exterior front entrance of The Rose Center Planetarium. While the front entrance is quite similar to its real-life counterpart, the interior of the Planetarium is a re-interpretation of the one found in the museum. Production designer Martin Whist says his concept was that 'you could just walk straight in from street level and have three sides that are open to New York City." And while the Rose Center is part of the Museum of Natural History, the Planetarium is not connected to the Main Hall the way it is depicted in the film.

The stage space at the aptly-named Mammoth Studios in Burnaby, near Vancouver, is equivalent to more than four football fields, and the sets built for Night At The Museum: Secret Of The Tomb took up almost all of it. For Martin Whist, there were myriad creative challenges. 'We were dealing with a known institution, and there were parameters for what we could and couldn't do," he says. The British Museum has a very distinct look, but the art department modified it. 'We maintained the feel of a real, world-class, world-scale museum," states Whist. 'The British Museum is one of the greatest museums in the world, and we needed to keep that scale and volume, which really sells that it's an old, large establishment that millions of people visit every year."

Job one for Martin Whist was 'making sure we'd checked off the box marked, -largest, most impressive museum in the world.' The tools to do that are mainly scale and volume. Then, we modified that to serve the script and become more visually exciting and cinematic."

An army of gifted sculptors and painters worked tirelessly to create the Tomb of Ahkmenrah. Most of the huge sculptures were made of foam, while the hieroglyphics on the pillars and walls were carved out of Styrofoam. After much research, Whist opted for a lot of blue in the Tomb because, 'azure blue was a very popular color, used in certain temples. It was a real sign of wealth and dignity and a high-ranking color because the mineral had to be imported."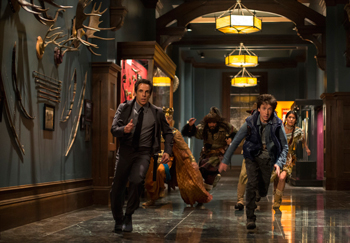 The production also filmed in the Canadian desert near Kamloops, British Columbia, where over 200 crew members travelled to film the film's opening sequence – which was shot over the last two days of production. On a sandy hillside, a 1930s archeological dig site was created, bustling with dozens of workers, dusty vintage cars, ornery burros and even a few camels.

Also making key creative contributions was award-winning costume designer Marlene Stewart, who says working on the Night at the Museum films was 'a chance to do a mixture of historical characters and then add the fantasy element."

For Lancelot's costume, Marlene Stewart researched medieval armor over a 300-year period. She says, 'If one were to wear the armor that was 100 per cent historically accurate, one would probably not be able to move. So certain modifications are made – especially to facilitate flexibility and movement. Each of the many pieces that made up the armor was sculpted out of clay, and molds were made from those, which would then be turned out in plastic. Dan Stevens' body was scanned, and the suit was created around his exact size. While not nearly as heavy as a metal suit would be, the plastic armor was nothing close to lightweight."

Then there was the chainmail (albeit rubber) on top of the suit. While Dan Stevens' costume weighed a challenging 50 pounds, Stewart notes that if it had been made of metal, it would have weighed twice as much, and the chainmail would weigh another hundred pounds. In all, seven suits of armor were made, each serving a different purpose (and having a different weight!), some being more flexible than others.

Marlene Stewart also had to 'dress" the several mummies featured in the film. In researching the ancient process of mummification, she learned that the linen used was sometimes soaked in oils for up to six months before a body was wrapped and placed in a sarcophagus. 'They had many layers," she notes. 'Kind of like Russian dolls, one inside another. Often, a mummy is wrapped in different ways, depending on what layer it was. We took the research, in terms of design and implementation, but our mummies had to walk – and dance!" Preparing the fabric for the mummy costumes was an intricate process. Large linen sheets were over-dyed and cut into strips, and then they were aged to look 3,000 years old.

Marlene Stewart and the wardrobe department were responsible for nearly 4,000 costumes, ranging from pre-historic Neanderthals, ancient Egyptians, ancient Romans and mummies, to New Yorkers at a formal museum gala, cowboys in the Wild West, African tribes, archeologists in the 1930s, modern day senior citizens, Civil War soldiers and medicine men from Fiji.


Night at the Museum: Secret of the Tomb
Release Date: December 26th, 2014