Benjamin Bratt (evil villain, El Macho) Despicable Me 2 DVD Interview
Question: What did you enjoy about playing Eduardo and El Macho, and why did you want to do the movie?

Benjamin Bratt: Oh my goodness, what is not to enjoy? This is probably the most fun I have ever had – ever – performing a character, because he is just such an expansive, larger-than-life persona. And one that is not unfamiliar to me. What I love about it is this really strong Latino presence in the film, which is reflective of part of my upbringing, but is also part of our mainstream society now here in America. He is a guy who is quick to laugh and quick to hug. What we find at the beginning is that he is a simple, modest restaurant owner who is in the throws of middle age, has let himself go a little bit, but still retains a kind of swagger, a step – he is light on his feet as we discover – and he is very charming. That part of it was very appealing to play, and a lot of fun, but when you combine that with the dual persona of El Macho, the world's most ruthless, dangerous villain, then that was a different animal. So that was a different way in to finding something that felt real from him.

Question: With El Macho, to play a villain, do you have to practice your evil laugh?

Benjamin Bratt: You do! When I am in the car driving to the studio, or on my way home after a day of work at the studio, thinking, 'Did that sound right? How does a villain laugh? Huh huh huh? No. Ha ha ha? No. Hah hah hah? No." And you just experiment.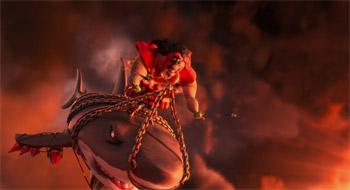 Question: He is a good Salsa dancer, but are you a good Salsa dancer?

Benjamin Bratt: I am just okay when it comes to Salsa. My wife, who is near an expert, says I need work. I have to loosen up a little bit. I fancy that I am a pretty good dancer though, but I like hip hop and R&B – I can dance to R&B – but he is a heavy guy: Eduardo is probably 200lbs overweight! Am I being generous? But he is quite light on his feet.
Question: How about the idea of being macho? He is quite macho: he dives into a volcano with bombs strapped to him.

Benjamin Bratt: He is the most macho man I have ever come across. He is a guy who is thought to have met his end some 20 years before our story begins, riding on the back of a shark dropped out of a cargo plane, mind you, with 250lbs worth of dynamite strapped to his chest, into the mouth of a live volcano and he still survived. So you have to be pretty damn macho to pull that off and live to tell the tale.
Question:Do you feel that you are macho?

Benjamin Bratt: Oh yeah, I got that. Absolutely! Why do you think they hired me? Sure!

Despicable Me 2 DVD
Cast: Steve Carrell, Kristen Wiig, Benjamin Bratt, Russell Brand, Steve Coogan, Miranda Cosgrove, Elsie Fisher, Dana Gaier
Director: Pierre Coffin and Chris Renaud
Genre: Family, Children, Animation
Rated: PG
Running Time: 98 minutes

Prepare yourself for Minion Mayhem! Your favourite yellow troublamkers are back in the highly anticipated sequel to the popular animated blockbuster, and this time they're bigger than ever!

Starring Hollywood favourites Steve Carrell, Russell Brand, Kristen Wiig and Miranda Cosgrove, Despicable Me 2 is the highest grossing Universal Pictures title in Australia. With nation-wide box office figures coming in at $34.8 million and international box office figures at $396,000,000+, Despicable Me 2 is the third highest grossing film of 2013 internationally, behind Iron Man 3 and Fast and Furious 6.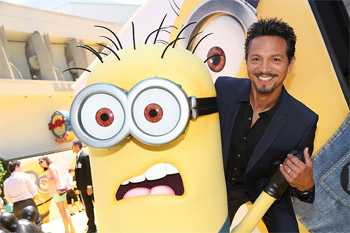 Once again directed by Pierre Coffin and Chris Renaud, Despicable Me 2 finds Gru in the throes of domestic, fatherly bliss tending to his three adopted girls: Margo, Edith and Agnes. But things take an unexpected turn when Anti-Villain League agent Lucy Wilde pays Gru a visit, kidnapping him and two of his Minions in the process.

Gru reluctantly partners with Lucy and together they search for the villain that has stolen a secret Arctic laboratory. While on their hunt, Gru concludes that the prime suspect is the presumed dead super villain El Macho, whose teenage son is also making the moves on his eldest daughter, Margo. Blinded by his overprotectiveness of his children and his growing attraction to Lucy, Gru seems on the wrong tack, even as his Minions are beign quietly kidnapped en masse for some malevolent purpose…

Special Features:
Gru's Girls
Gadgets Galore
Feature Commentary with Directors Pierre Coffin and Chris Renaud

Blu-ray Special Features:
Deleted Scene – Grutiesv Mini-Movies: Puppy, Panic in the Mailroom, Training Wheels
Making Of The Mini-Movie
The Minions
Evil Minions
At Gru-Some Transformation
El Hombre Malo: The Villany of El Macho

Despicable Me 2 DVD
RRP: $39.95
Blu-ray: $44.95