Owen Wilson Free Birds
Cast: Woody Harrelson, Owen Wilson, Amy Poehler, George Takei
Director: Jimmy Hayward
Genre: Family, Comedy, Animation
Rated: G
Running Time: 91 minutes

Synopsis: On a quaint, family-owned farm, a giant turkey flock lives a quiet, complacent, corn-stuffed life. All everyone cares about is feeding time and grazing in the sun with the Farmer, who they swear will bring them to 'Turkey Paradise." Everyone, that is, except for Reggie (Owen Wilson), a whip-smart turkey whose bad-mouthing of the Farmer and disinterest in the mundane, overfed turkey existence makes him an outcast among his flock.

Reggie's life is changed forever when an unexpected visit from the President of the United States lands him the esteemed honor of 'Pardoned Turkey." This means living the plush life at Camp David, complete with TV On Demand and cheese pizza. By being pardoned, Reggie has found his own Turkey Paradise -a place where he (and he alone) calls all the shots! That is until Reggie is plucked from his paradise by Jake (Woody Harrelson), the relentless founder-and only member-of the 'Turkey Freedom Front."

Jake has only one mission: to change history forever and save all of turkey-kind. But he can't do it alone: a mission like this needs brain and brawn, and that's why he needs to induct Reggie into his effort. 'It's our destiny!" he proclaims, much to Reggie's scoffing. Despite Reggie's refusal to abandon his life of luxury, Jake kidnaps him, and together they break into a top-secret government lab and hijack a time machine named S.T.E.V.E (George Takei), taking them back to the year 1621, just days before the first Thanksgiving.

Unfortunately, as soon as they arrive in the past, they find themselves in the crosshairs of Plymouth Colony Commander Myles Standish (Colm Meaney), an avid hunter on his own mission to capture enough birds to feed the colonists and their Native American allies for the upcoming Harvest Feast. Before Reggie and Jake become a main course at Standish's dinner, they are rescued by Jenny (Amy Poehler), the beautiful and fierce daughter of the Wild Turkeys' Chief Broadbeak (Keith David).

Jenny leads the pair to the edge of the forest where the rest of her flock is hiding from the Pilgrims. Jake must teach the wild flock about the future and rally support for his mission to change history, but Reggie is apparently on a mission of the heart: falling beak-over-tail for Jenny.

Inspired by Jenny's bravery, Reggie leads a daring raid on the Pilgrim village to free their captured comrades. However, their rescue plans backfire when Jake's feather-brained scheme actually leads Standish and his hunters to the flock, putting Jenny, her family, and the future of all turkey-kind in jeopardy.

Disheartened, Reggie flees to the present day with S.T.E.V.E., following his long-held philosophy that 'it's better off if you go it alone." But his life at Camp David no longer feels like it's enough without Jenny and Jake around. Reggie finally realizes that Jake's crazy mission IS his destiny, and he and S.T.E.V.E head back to help fulfill Jake's effort to get turkeys off the menu for good!

Free Birds
Release Date: January 9th, 2014



The Filmmakers
The making of Free Birds all began with an original idea from screenwriters David I. Stern and John J. Strauss. 'The initial premise for the film at that time was, -Two turkeys go back in time to the first Thanksgiving and try to take themselves off the menu,'" says David Stern. David Stern and John Strauss felt they had something unique and exciting on their hands, and after spending six months developing the idea, they flew to Dallas in the fall of 2008 to pitch the concept to executives at Reel FX. A long-time digital effects/animation service company for commercial and entertainment clients, Reel FX had been wanting, according to president David Ross, 'to branch out from being just a service company into being a creation company." When executives heard David Stern and John Strauss' idea, they all erupted in laughter. Free Birds felt like the ideal first project for the company, and the two writers got to work fleshing out the story. 'It makes me incredibly proud that Free Birds is Reel FX's first feature," says Aron Warner, executive producer of Free Birds and President of Animation for Reel FX. 'First of all, technically, the film is beautiful. And story-wise, its tone is completely unique."

Free Birds continues the comic tradition of the buddy comedy, featuring two incompatible heroes – in this case two turkeys: brainy, self-serving Reggie and dim-witted, heroic Jake – thrown into a rollicking, and ultimately life-changing, adventure. 'We wanted Free Birds, at its heart, to convey the meaning of friendship, loyalty, and ultimately what it means to -do the right thing,'" says Jake Strauss. Adds David Stern, 'We played with various pairings of personalities to create plenty of comic friction. And once we began researching turkeys, we used actual differences – free-range versus factory-farmed; genetically modified versus natural – to help create a truly mismatched duo."

Pre-production work at Reel FX began in 2009, but it wasn't until the spring of 2011 that writer/director Jimmy Hayward, who previously directed Horton Hears a Who!, came aboard to push the project into production. Jimmy Hayward was joined by writer/producer Scott Mosier and Academy Award®-winning executive producer Aron Warner (the Shrek franchise). 'As soon as Jimmy Hayward, Scott Moiser and Aron Warner came aboard, the movie just shot off like a cannon," says David Ross, President of Reel FX. 'They all have a really smart yet oddball sense of humour, which is what this movie's all about."

Jimmy Hayward's extensive background in animation at Pixar and Blue Sky helped him immeasurably in creating a high-quality product made entirely outside of the studio system. 'Jimmy Hayward is an animator's director," says executive producer Aron Warner. 'He brings such passion to every session we have in editorial and in animation. He acts out the parts in great detail for the animators. He's incredibly good at communicating what he wants to feel in a scene and what he wants to see on the screen."

ABOUT REEL FX Free Birds is the first feature length film to be produced by Reel FX in Dallas, Texas with support from their Santa Monica, CA location. '2013 is a huge year for Reel FX: it's our 20th anniversary as a studio, and we are excited to celebrate this milestone with the release of our first feature and the unveiling of our animation banner, Reel FX Animation Studios," says Steve O'Brien, CEO and Chairman of the Board for Reel FX. For the past two decades, Reel FX has been working for both commercial and entertainment clients, producing animated content for special attraction projects, commercials, interactive projects, and films. After honing their skills and processes on projects for studios such as DreamWorks Animation, Fox, and HBO as well as agencies such as The Richards Group and DDB, the team at Reel FX was primed to pursue the goal of telling their own stories. 'In 2010, we decided to officially take Reel FX in a new direction, branching out from just being a service company into being a creation company," says David Ross, President of Reel FX.

Reel FX was founded in 1993 by Dale Carman and David Needham in Fort Worth, Texas, focusing mainly on commercials and short form projects. In 1999, the studio began to move into the film industry by starting work with acclaimed author William Joyce to craft the short animated film The Man in the Moon. That short-form creative endeavor eventually grew into the feature length film Guardians of Childhood and was finally released by DreamWorks Animation as Rise of the Guardians in 2012. 'We've come a long way, from being two guys in a garage who worked in commercial post production to where we are now," says Kyle Clark, COO of Reel FX.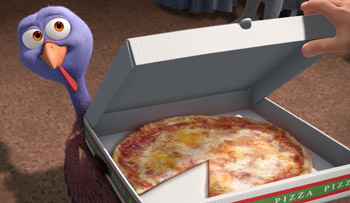 Being in business for more than two decades in the extremely competitive commercial industry, Reel FX built efficient infrastructure and production pipelines that can now be applied to the feature animation process. 'We've invested a lot of time and technology to find ways and systems that essentially think differently about how to approach the animation business, and we're thrilled to be able to apply that to our own content at this point in the genesis of Reel FX," adds Clark. 'It makes me feel incredibly proud for Free Birds to be Reel FX's first feature, as it speaks really highly of the company on a lot of levels. First of all, technically, the film is beautiful. And story-wise, its tone is completely unique," says Aron Warner, President of Animation for Reel FX and Executive Producer.

Free Birds
Release Date: January 9th, 2014