Brendan O'Carroll Mrs Brown's Boys D'Movie
Cast: Brendan O'carroll, Jennifer Gibney, Danny O'carroll, Paddy Houlihan, Fiona O'carroll, Rory Cowan, Gary Hollywood, Pat Shields, Amanda Woods, Eilish O'carroll, Grandad Brown, Martin Delany, Simon Delany, Robert Bathurst, Dermot Crowley
Director: Ben Kellett
Genre: Comedy
Rated: M
Running Time: 95 minutes

Synopsis: Agnes Brown's foray into film is a rip-roaring comic romp, set in the streets of Dublin, starring Brendan O'Carroll and Brendan's friends and family.

When Moore Street market-trader Agnes Brown finds her livelihood under threat from a ruthless developer, and a pant-soiling tax bill, she and her family embark on a campaign to save her stall, aided by a motley troop of blind trainee ninjas, an alcoholic solicitor, and a barrister with an unhelpful affliction.

As daughter Cathy Brown turns her back on the family business, troublesome duo Danny and Buster get in over their heads, and unwanted secrets emerge from Agnes's own past, could the Brown matriarch finally be out of her depth? It's sink or swim for Agnes in Mrs Brown's Boys D'Movie.

Mrs Brown's Boys D'Movie
Release Date: July 24th, 2014



About The Production
In 2011, after Mrs. Brown's Boys was nominated for its first BAFTA award, Brendan O'Carroll's eldest grandson spoke to him on the phone.

"I worked out why you didn't get it and why Coronation Street got their award," said Jamie.

"How come?"

"You don't go outside. You need to film outside, Grandad, otherwise no one believes you."

Jamie will be happy to know that Mrs Brown's Boys has stepped into the great wide open, taking the madcap adventures of the loudest, proudest mother in Ireland, to the streets of Dublin. On stage and in the TV show, Mrs Brown had saucepans and sofas. In Mrs Brown's Boys D'Movie she has a movie budget to muck around with.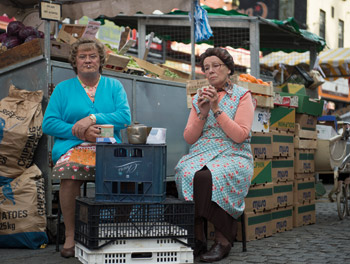 Drama, dance, comedy, music, action, mankinis!

"There are crane shots, helicopter shots, chase scenes. It's Mrs Brown meets 007," says Fiona O'Carroll, who plays Maria Brown.

Between takes, Brendan O'Carroll - who plays loud-mouthed Irish matriarch Agnes Brown - laughs about the antics involved in Mrs Brown's journey to the silver screen.

"We are blowing up a car tonight. You wouldn't do that on a soundstage in Glasgow [where the award-winning television series is filmed]. I swam the Liffey River last Sunday. We held up all the traffic on the quays on a Gaelic Games All-Ireland Sunday. Let me explain that for Americans. We held up the Holland Tunnel in New Jersey. On the day of the Super Bowl! The support we're getting to make this movie in Dublin - from officials, police, government departments - is immense. Mrs Brown has captured a little bit of their hearts."

With record-breaking television ratings, DVD sales, sold out live shows, and a clutch of awards (including that coveted BAFTA, which came in 2012), Agnes Brown has won hearts the world over. While the maniacal mammy conquered the world of radio, books, stage plays, DVDs, and television, she had yet to hit the big screen (with O'Carroll wearing the apron).

"D'Movie came together reasonably easily in that when we were doing the TV series, we had nearly completed a circle," explains Brendan O'Carroll, the story's creator, star, and writer. "It started in radio, went to novels, plays, television. The only part of the circle that wasn't completed was making a movie. We'd even done an animated series. The movie was the only piece that was left. I said, 'Well if we're going to make a movie, let's make some shit up'!"

D'Movie, explains director Ben Kellett, was always part of the master plan: "When we did our first series, Brendan said there would be three series, specials, and a movie, and that we'd win a BAFTA. I kid you not; all those things have come true."

Yet this story is not a homage to the hit BBC show, the radio programmes, books or theatrical plays. Mrs Brown's Boys D'Movie is its own beast. Agnes Brown has never been one to shy away from confrontation, but in D'Movie she's up against grander forces than the usual family squabbles.

D'Plot

"People are selling up their stalls in Moore Street, in Dublin, where Agnes works," says Pat Shields, who plays Mark Brown. "They're under pressure from a developer who is trying to force them out. Agnes doesn't want to get involved until she receives a letter from the taxman saying her grandmother owed tax from a certain date. She says, 'No problem, it's only 15 shillings'. But the bill is from 50 years ago and the interest is exorbitant."

"Everyone is conspiring against Agnes, to pull the stall out from underneath her," says Paddy Houlihan, who plays Dermot Brown.

Fiona O'Carroll (Maria Brown) continues: "She's being threatened with a massive tax bill - I'm sure that will hit home for a lot of people. Russian gangsters are after her - that might hit home too! It looks like she's going to lose her stall - as have some already. You can knock Agnes down but she'll never stay down. She'll always come back. Usually, she comes back smiling. She's surrounded by family and friends who will fight for her and for what's right."

Meanwhile, Agnes's beloved daughter Cathy Brown is in a quandary.

"The stall has been handed down from generation to generation," explains actress Jennifer Gibney. "The stall Agnes runs has been handed down from her grandmother, so it's my turn and I don't want to take over. Cathy Brown has a new job in an advertising agency, but there's conflict because Agnes wants Cathy to take over the stall. It's that constant, 'I don't want to, mammy. I want to make something of myself', which in itself is an insult because it's implying that Agnes didn't make something of herself. That's the conflict between Agnes and Cathy throughout the movie."

Brendan O'Carroll adds: "Cathy doesn't see the value of the stall; she's grown up with it. She probably worked on the stall when she was 10 years old. This is a chance for Agnes to show her, 'I'm fighting for this. It's worth fighting for'."

And after all this time, new truths about Agnes's past emerge.

Brendan O'Carroll nods. "This is a fucking comedy, should I point that out?"

Mrs Brown's Boys D'Movie is a proverbial laugh factory. There are more gags than at a gimp's bondage party, not least on account of chief messers Buster (Danny O'Carroll) and Dermot (Paddy Houlihan).

"Buster usually ruins everything," says Brendan O'Carroll. "In the movie, I give him the opportunity to be the one who saves the day - to be the bigger hero instead of the anti-hero for once. In this story, he's working part time helping Mr Wang, who runs a ninja school for blind people. It's absolutely chaotic but hilarious."

D'Pre-Production

According to producer Stephen McCrum, who worked on the Mrs Brown's Boys television series since its inception, arrangements for D'Movie came together quickly.

"It was just a question of picking the right partners," says Stephen McCrum. "I was keen it should be a BBC film because that's where the television series began. Brendan has a very good relationship with Universal Pictures. In the end, the obvious partnership was Universal and BBC. It was very easy to finance. Last year, Mrs Brown's Boys sold more DVDs than anything else on film or television in the UK other than Skyfall. Mrs Brown versus Bond: there can only be one winner. I'd like to make that film!"

As soon as they got the nod, Brendan O'Carroll got to work on the screenplay.

"Brendan O'Carroll is a fantastic physical comedian," continues Stephen McCrum. "He's also a clever writer. He knows how to write a story that gets you involved from the beginning. The script is a real page-turner. You really want to get to the end. Whatever happens, even though it's funny, it's all about the story. It's really well plotted - it drives you in an emotional way. I wanted to makes sure he had people who could inhabit the characters he had written because he's a brilliant character writer."

The movie, like the television series and theatrical show, is a family affair, with Brendan O'Carroll's close relative and friends working on screen and off. In casting the story's new characters, the production team wanted the best.

Simon Delaney (Moone Boy, Alan Partridge: Alpha Papa) plays Mrs Brown's bumbling lawyer Tom Crews. Robert Bathurst (Downton Abbey) slips into the barrister gown of Maydo-Archer. Dermot Crowley (Luther) plays PR Irwin, the conniving property developer who wants to take Agnes's stall from her.

The choice of location was a no brainer: Mrs Brown's stomping ground, Dublin.

Jennifer Gibney: "When Brendan O'Carroll was writing this movie, he didn't want to do what people normally do with successful TV sitcoms - the Browns go on holiday."

Brendan O'Carroll: "That's usually what you do with a film version of a TV series. You put them on a holiday somewhere outside of their comfort zone. Let's see how Agnes copes with New York! I wanted to tell a story in the family's comfort zone."

Jennifer Gibney: "It's a wonderful story. It really has heart and soul. It's a heartwarming story all of its own that I think you can enjoy if you've never read one of the books, seen the live show, or watched the TV show."

D'Shoot

Mrs Brown's gang took to the streets of the Irish capital for the movie.

Dublin locations included market area Moore Street, Phoenix Park, streets, pubs, shopping centres, churches and bridges. The production even shot in the famous General Post Office (GPO) on O'Connell Street - the first non-factual programme ever to do so.

"We've had cranes, steadicams, handheld cameras, dollys and tracks," says director of photography Martin Hawkins, a veteran of the television show. "We've got a helicopter for aerial shots, and a remote camera that flies on a mini-helicopter and goes to around 800 feet."

Director Ben Kellett, who directs the Mrs Brown's Boys television show, says D'Movie is a big leap from television. "We've got a huge number of locations, a vast cast - around 70 speaking parts, which is nuts," says Ben Kellett. "Dances With Wolves didn't have that amount."

Shooting outside on location has its challenges, admits Helen Cannon, Hair and Make up Designer. "Especially when it's wet. We were shooting on a bridge the other night with Brendan O'Carroll and Jennifer Gibney, and her hair was flying all over the place. We had to spray it solid. Some of the scenes with extras include dozens of people, all on screen at once."

During filming Ben Kellett sits at the monitor, often with Jennifer Gibney by his side. "She's an incredibly talented actress and a fabulous person to have around," says Ben Kellett. She completely gets the whole process of making the film, and is a real brick and an ally in the struggle to get what you want to get. Brendan O'Carroll and Jennifer Gibney are a spirited couple."

Simon Delaney (Tom Crews) says the production has been a hoot.

"Ben Kellett has such an infectious laugh. He laughs like a hyena in labour. You can hear it three rooms down. I've slotted in very well with Paddy and Danny [who play Dermot and Buster]. They're cut from the same cloth as me. They like having a bit of craic on set. At the end of the day, we're not digging holes on the side of the road so we may as well enjoy ourselves."

The best laughs were saved for the screen.

"I've always loved Agnes's walks, but in the studio you can never get more than two or three yards," says producer Stephen McCrum. "Now we have her beetling down the street. You can tell she's had 13 children. It allows Brendan to play on a bigger canvas. There's a bit where he runs away from the Russians, turns a corner far too fast, and dives into a skip. Then he has a whole routine of trying to get out of the skip that he made up on the spot."

Costume designer Leah Archer has her work cut out, getting costumes for Paddy Houlihan's character Dermot, Mrs Brown's wayward son who works in dodgy promotions.

"He's meant to be in fancy dress costumes, so he spends a lot of time as a chicken, a gnome and a gecko," laughs Leah Archer. "He's got a sandwich board too. They're bold and colourful. Big, jolly and bright colours."

Houlihan's humiliation knows no ends: "I was dressed as a clown in the middle of Henry Street getting abused by the locals. The other day when we were filming on the quays, next to the Liffey, I was dressed as a chicken. I took the head off and I was walking across the street when a taxi driver shouted out, "So, why did you cross the road?"

Then there were the horse-riding scenes with Buster and Dermot.

"That horse-riding was hilarious," says Danny O'Carroll (Buster Brady). "I'm dreadful. When I see someone hurting themselves, you have to pick me up from laughing. We were galloping on the horse and Paddy had no saddle. I could feel every bump that he was taking off the horse. He was in absolute agony. He was wearing a mask so he couldn't see where he was going - he was just holding on for dear life, screaming, 'Get me off this fucking horse'!"

Paddy Houlihan shakes his head: "I was sitting on a horse, dressed as a chicken. I thought to myself, 'I should have been an electrician. It would have been so much more straightforward'."

One scene sees Danny O'Carroll and Paddy Houlihan ripping across a bridge, with Brendan O'Carroll as Mrs Brown in the back, on a three-wheeled tuk-tuk.

"Danny O'Carroll was a great driver and wasn't worried about going at great speed either," says Martin Hawkins. "We had a small camera that we locked onto the tuk-tuk, so he was free to go wherever he wanted to go, and as fast he wanted to go. The speed shows in their faces."

In another scene, Russian gangsters chase Mrs Brown's family members through a park. Amanda Woods, who played Agnes's daughter-in-law Betty Brown, volunteered to do the stunt driving herself. "The stunt girl ended up sitting on the set for the whole week," says Pat Shields (Mark Brown).

Alongside the comedy, drama, and action, Mrs Brown's Boys D'Movie has music. The film opens with a musical journey from Agnes's house "through the streets, picking up her friends, and ending up at the market," says cinematographer Martin Hawkins. "When you have music, movement and colour, you can't go wrong really."

Director Ben Kellett described these musical scenes as thrilling: "We had a crane, a steadicam, and a camera on a dolly. We spent a full day in the market for a scene that will be about a minute and a half on screen. Not all of them are professional dancers. Some were local dancers, some were professionals, and some were volunteers from Dublin. There was a real mish-mash of talents and abilities. I was delighted with the way it worked out."

June Rodgers, who plays street trader Fat Annie, was one of those dancers: " I'm very light on my feet don't you know! The first day we did 12 hours of dancing, so I couldn't feel my hips and knees. I think I need a replacement at this stage."

While Mrs Brown's Boys D'Movie is its own beast, Agnes wouldn't be the same without her homestead. The production shipped her home set from Glasgow - where the television series is filmed - to a studio in London. The set for Foley's Pub, where Agnes enjoys a tipple with best pal Winnie, came down too.

Production Designer Simon Rogers and his team also built a courtroom in Wimbledon Studio in London for the movie's legal battles: "We took visual clues from one of the legal training colleges in Dublin where we shot exteriors."

D'Movie

Shooting on location is a lot more challenging than the television show, according to executive producer Martin Delany, who also plays the character of Trevor Brown. "For television, you turn the lights off at night and come back the next day and everything is where you left it. Doing this, you have to move the entire kit from A to B - sometimes a few times a day."

"It's very different to anything we have done before," remarks Eilish O'Carroll (Winnie McGoogan). "I think if we were doing it with anybody other than Brendan, we'd probably be slitting our wrists. You don't get the instant reaction we get from stage, or even when we're doing the TV series, on a film. All of us feed off that lovely audience. But it's extremely exciting also. I still don't believe it's happening and there is going to be a movie at the end of this."

Fiona O'Carroll (Maria Brown) continues: "Film is different because it's not shot in sequence. There isn't an audience. No instant feedback, so you're depending on the director, other cast members and people around you to be brutally honest and tell you, 'That was shite'."

Editor Mark Lawrence, who spliced and diced the footage during the shoot, describes the production as being on a grander scale than the television series: "You need more extras, the sets are more lavish. On the editing side, we get longer so we can experiment with different types of music and different ways of cutting. On television, there's a budgetary and a time scale limit. Either the budget runs out or the time runs out!"

Nevertheless, the freewheeling spirit of Mrs Brown's Boys is alive in D'Movie.

"The family nature, the silliness, the characters," says director Ben Kellett. "Brendan O'Carroll has done a great job in the script of keeping those characters true to their previous forms. In the film we make sure we introduce all those characters in a way that means you'll know who they are, even if you have never seen them before."

And D'Movie will appeal to people who may not have seen the television series.

"It would be very easy to slip into a false sense of security - they've seen the TV series, so let's do a couple of TV things. This movie stands up on its own," says Brendan O'Carroll.

"There have been added dimensions to this film that you would never have seen on TV or in the theatre," says Paddy Houlihan. "In this, Agnes gets to take the shackles off and really go for it. There's a great story. It's hilarious. Nobody is going to go to the movie and not laugh."

Danny O'Carroll adds: "The movie stands out for itself. There's a great storyline. It's good fun. It's very cleverly written as well. My dad's a genius."

Despite his misadventures with the horse, Martin Houlihan pledges to keep smiling. "I'll keep doing the horse riding lessons too. Hopefully I'll survive this movie. If I don't, I'll have fun along the way."

The Making Of A Mammy

Mrs Brown's Boys can be found across stage, books, television series, DVDs, and now a movie. But one common theme connects them all: family.

"In most families at any given time, the mammy and daddy are huddled around the weakest or the most vulnerable in the family," explains Brendan O'Carroll, Mrs Brown's Boys creator, writer and star. "That's what family is about. Parents understand that a family is a group and a group only moves forward as fast as its slowest people, not it's fastest. They always pick up the slowest and give them a bit of a boost. That's what Mrs Brown's Boys is all about."

Born in Dublin's inner-city in 1955, the youngest of 11 children, Brendan O'Carroll knows the importance of family. "We have 42 nephews and nieces," he says. "They fragment because they've got their own lives, places to go, own ways of doing things, but there's always something that unifies them, even when they are fighting. If there's a christening, if someone has a new baby, they all get together and go 'Ahh'. That's what works for the TV series and hopefully the movie. There are points in this movie where the family is at odds with each other, but there are moments where they all gather round together."

Mrs Brown's Boys is as much about family behind the camera as it is in front of it, explains Jennifer Gibney (Cathy Brown).

"We're all family off screen, off stage," says Jennifer Gibney. "We're definitely not the Waltons. We're as dysfunctional as any other family on and off screen. But it is great to be surrounded by family. It can be quite a lonely life to be on the road, but when we travel, we're not away from family. If you do something successful in your career - winning the BAFTA, for example - we were able to share that moment on stage with the whole family."

Mrs Brown's Boys is no overnight success.

Brendan O'Carroll had every job known to man: waiter, milkman, pirate radio disc-jockey, painter-decorator, bar manager. He was always funny, though, says Pat Shields (Mark Brown), who started working with Brendan O'Carroll as a sound engineer at pub gigs.

"I've known him since before he started doing stand-up," says Pat Shields. "He's naturally a funny person. When I first met Brendan, he was doing everything, including managing a couple of snooker players, filling up teddy bear machines where you put a pound in and the crane picks up a toy. He was a bit of an Arthur Daley character."

When Brendan O'Carroll discovered stand-up comedy, he hit his stride.

"Even to this day, I think he's the funniest thing I've ever heard on stage," says Dermot O'Neill, who plays Grandad. "You can keep all your other comedians as far as I'm concerned. Brendan O'Carroll is the funniest man I've ever met in my life. I've been working with Brendan O'Carroll for 25 years. He's a great friend. We've been through good times and a lot of bad times together. It's been a hard old slog. A lot of people think this was an overnight success. Believe me, it wasn't. We used to do pub gigs. I was a roadie and Brendan O'Carroll's minder. I collected money on the door. I did anything that had to be done."

Mrs Brown first appeared on RTE2fm, an Irish radio station, in 1992.

Rory Cowan (Rory Brown), a former marketing manager for EMI records, was working for Brendan O'Carroll as a publicist at the time.

"Because of my background in EMI, I knew all the presenters, DJs, and journalists," says Rory Cowan. "I told him I'd have him in the paper every day for a year. I brought him to RTE. Brendan told the presenter, 'I'm writing a radio soap opera - each episode is only three minutes. It's called Mrs Brown's Boys'. Afterwards, I said, 'I didn't know you were writing a radio soap opera'. Brendan O'Carroll said, 'I wasn't until I said it. I saw an opportunity'."

Brendan O'Carroll's gradual ascent to the top of the showbiz ladder began in February 1993, when he appeared on the Late, Late Show, Ireland's longest running chat show. After that came a series of books, featuring the indomitable matriarch: The Mammy, The Chisellers, The Granny, and The Young Wan. Then came the Mrs Brown's Boys stage shows.

Over the years, Brendan O'Carroll's family and friends picked up roles in the show. Former roadie Dermot O'Neill became Grandad, soundman Rory Cowan became Mrs Brown's gay son, Rory Brown."When Rory Cowan and his partner Dino were broadcast on the radio, it was technically still illegal to be gay in Ireland," says Rory Cowan. "Everyone's idea of gay characters at the time was either Larry Grayson or some dirty old man trying to corrupt kids. Brendan O'Carroll made these two characters likeable, so he pushed the envelope in changing attitudes."

Brendan O'Carroll's children joined the troupe too.

"I've been touring with the shows for about 13 years," says Fiona O'Carroll (Maria Brown). "I came upon the part accidentally. Another girl played the part before me. For one reason or another, she left. I stood in for her. I was in college at the time. My dad said, 'Would you mind doing it for good?' I thought about it and realised this opportunity - to work and travel with my family - may never come again. I thought, 'College will always be there. I can go back and do that anytime'. I put it on the long finger. Thank God I did!"

Danny O'Carroll, Brendan O'Carroll's son, stepped in as mischief-maker Buster Brady.

"The main actors in Mrs Brown have all been accidental," says Danny O'Carroll. "There were different people playing our parts. Some didn't turn up for shows, others were let go. We were backstage every night, so we knew the lines. Amanda Woods [Betty Brown], my wife, was doing merchandising when one of the girls left without telling anybody. She was really thrown in the deep end. My dad came out into the foyer of the theatre and said, 'Amanda Woods, you have to go out tonight'. Amanda Woods nearly wet herself. Now you can't get her off the stage."

Danny's best friend Paddy Houlihan also joined the troupe.

"Paddy's my best mate," grins Danny O'Carroll. "We would have dreamt about doing this when we were kids. Me and Paddy have been best friends since we were about 12. We grew up together, went to the same school, we were in the same class. Paddy came out on the road with us and helped out backstage. We all started backstage on the show. Paddy got pushed in one night when one of the actors fell sick or didn't turn up. He was thrown in the deep end."

In 1999, the troupe left the 500-seater Tivoli Theatre in Dublin for the 1500-seater Olympia. Then Mrs Brown's Boys began selling out shows in England. Mrs Brown had her first filmic adaptation in 2000, with Anjelica Huston playing the title character.

"Agnes Brown was based on my first Mrs Brown book, The Mammy," says Brendan O'Carroll. "It was at a time when there was a huge bidding war going on for Angela's Ashes, which was regarded as the quintessential Irish story at the time. When I wrote the screenplay, I wrote it as a comedy. After 15 drafts of the screenplay, the comedy came out of it and the drama went in. Anjelica was directing it: a dramatic story of a woman trying to hold her family together. It turned out to be a lovely little movie."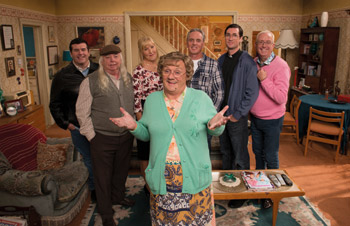 The Mrs Brown's juggernaut continued throughout the 2000s. But no one could have predicted what came next.

One night in Glasgow, 2009, BBC producer Stephen McCrum went to a Mrs Brown's Boys stage show on the recommendation of two friends.

Stephen McCrum picks up the story: "We were about the only men in the house. It was full of 2,000 old ladies between about 60 and 80 having heart attacks in the aisles from the laughter. There was one scene in particular where Winnie and Agnes are discussing women having orgasms. I was worried the women in the audience were going to get ones themselves, they were laughing that much. Then I noticed the ushers were laughing too and I thought, 'That's amazing'. The bit that really took me in was Brendan improvising on stage.

The timing was fantastic. I thought, 'he can write this incredibly moving stuff. You can get all these people to laugh and your timing is amazing. I hadn't seen anyone with that command of a live audience for ages. Few people have got it."

Afterwards, Stephen McCrum went backstage to speak to Brendan O'Carroll.

"I was getting changed and the backstage guy said people were coming up," says Brendan O'Carroll. "I said, 'I'm getting out of my gear'. He said, 'Well, they're suits'.

"'Suits? In what way, revenue?'"

"He sent them up. Stephen McCrum started going on about how wonderful the show was. It slowed me down getting changed. Jenny raced into the dressing room and said hello. She gave me a look that said, 'Who the fuck are these?'"

"Stephen McCrum. BBC. I won't beat around the bush, would you be interested in developing this as a sitcom?"

"Afterwards, Jenny said 'This is really exciting'," Brendan O'Carrollcontinues. "I went, 'Nah, producers don't do that. They don't just come and knock on your door. They'd have their people talk to my people. It doesn't happen like that. He could be a cleaner at the BBC but he's definitely not a producer."

Stephen McCrum phoned Brendan O'Carroll a few days later with news that the BBC commissioned a pilot.

Mrs Brown's creator had received television proposals in the past, but they all involved compromise. "Stephen McCrum ticked all the boxes," Brendan O'Carroll says. "Other companies would come to us and say, 'We want to put this on TV. There's a great actor we'd like to play Winnie'. I'd say, 'No, Winnie is Winnie. She's been the same person for 10 years'. The other common proposal was, 'Once we take out fuck, it will be a great series'. But Mrs Brown never uses bad language. She just speaks the way she speaks. Irish people rarely use language in an insulting way - it's more as emphasis."

Mrs Brown's Boys, the television show, launched the gang into the stratosphere. The series is a ratings triumph. Now the Mrs Brown's stage show plays to arenas of 7,000 people a night.

"We never dreamed of this," says Rory Cowan.

The success does not surprise producer Stephen McCrum. "Brendan O'Carroll had a sitcom on stage. It was playing to full houses all over the country - exactly the same people who watch BBC1. It was obvious to me that it was going to work."

What's the secret of the show's success?

Simon Delaney, who plays lawyer Tom Crews in D'Movie: "Brendan O'Carroll once said that he wrote the show for television's forgotten audience. I think he's absolutely nailed that on the head. A lot of comedy out there at the moment is the Oxbridge kind of stuff - all very clever and observational. Mrs Brown's Boys audience hasn't had a show like this for 15 or 20 years, since the days of sitcoms like Terry and June. He saw a niche and by Christ has he filled that."

Robert Bathurst (Maydo-Archer): "This is borne of 20 years of experience on stage. Some of his routines are like music hall, crazy gang, or Harold Lloyd. Their pay-offs are brilliant. It's not all verbal. A lot of physical gags. If you're trying to sum up the show to someone who doesn't know it, you could say that the centre of Dublin was cordoned off, for D'Movie, so an actor dressed as a chicken could gallop through the streets on a horse disguised as a cow. That sort of gives you the flavour of the show."

This is the result of a lot of hard work, says Fiona O'Carroll. "I'm so proud of my dad for keeping it all going and never giving up. It proves that if you put enough hard work in, it pays off. Never stop believing. There are so many people out there with dreams and aspirations. Life is hard at the moment. Dad powered on and kept us all going. I have huge admiration for him."

As much as the Mrs Brown's troupe respects their patriarch/matriarch, Brendan O'Carroll believes that everyone in the group is of equal importance.

"Whether it's the live show, the TV series, or a movie, nobody in the group is more important than the other," he says. "If someone is loyal to the show, we are as loyal to them as we possibly can be. In front of the camera, behind the camera, in the car park, it really doesn't matter. On Mrs Brown's Boys D'Movie, we have our lighting director, lead cameraman, director, producer, make-up department, all from the TV series."

The biggest reason for the show's success? Agnes Brown herself.

"Everybody can relate to Agnes in some way, whether through the kids, the loss of her husband, through the gay son, the dodgy son," says Paddy Houlihan (Dermot Brown). "Also, Agnes being a hard worker. She'll always find a way out no matter what is going on in her life - she'll find a light somewhere. She'll head for it and bring everyone with her."

"I go to Israel on holidays and I see Mrs Browns there," says Rory Cowan. "She's everywhere. I see them walking up the street. My granny had a tea towel like Mrs Brown's. She used it to open jars, to hit you, to clean the table, clean the dishes. These little mannerisms. She's like a universal mother. Everybody knows a Mrs Brown. You hear that all the time - and you have to keep acting surprised!"

Mrs Brown appears as soon as Brendan O'Carroll puts her shoes on, says producer Stephen McCrum. "When the shoes go on, he's suddenly in character. Suddenly Agnes is there. The spirit of Agnes is in him! I get the impression even he doesn't know where he is going next. She takes over. I think he's channeling something. As much as it's all about the team, he's created a character who means something to all of us. It's a very funny, a rather wonderful and lovely, and a very brutal character. She beats people up, but she loves us all - we're all dancing around her fire. That's why we're here."

Give me Moore

Mrs Brown's Boys D'Movie takes the irrepressible Agnes Brown out of her home, and Foley's Pub, and into her workplace as a Moore Street trader.

An open air fruit and vegetable market in the heart of Dublin, Moore Street is 300 years old and has a place of pride for many Dubliners, Brendan O'Carroll included. O'Carroll credits the Moore Street traders for inspiring Agnes Brown.

As a child, growing up in Dublin, Moore Street feature heavily in his life.

"My great grandmother was born on 31 Moore Street and grew up there," he says. "My association goes back a long, long way. Christmas for me has always been Moore Street. Halloween was Moore Street. Saturday was Moore Street. For anyone of my generation, who grew up in those times, Moore Street was an intricate and important part of our lives'."

During his time off from school, the young Brendan would run errands for the traders, who were predominantly women.

"More of the stalls on Moore Street have been in the family for generations of women," says Fiona O'Carroll (Maria Brown). "You hear stories from people my age talking about their great-grandparents working those stalls. It's part of Dublin history."

June Rodgers, who plays Moore Street trader Fat Annie, recalls her mother bringing her to the street as a child. "Filming there for the three days, you see those women are up at cock crow to get everything sorted. They are there on their feet to try and sell their wares for the whole day. It's a hard life."

Since these women inspired Agnes Brown, it made perfect sense to feature Moore Street in Mrs Brown's Boys D'Movie, explains producer Stephen McCrum: "It's absolutely brilliant to bring Mrs Brown and the family to Dublin, to see her in her real environment, with the real street traders in the Moore Street scenes. There's a fantastic melding of Brendan's friends, families, and the wider family of Moore Street in the show."

Agnes Browne (2000), starring Angelica Huston, was also shot on Moore Street. In the film, Jennifer Gibney (Maria Brown), played fish merchant Winnie the Mackerel.

Two women who run the Moore Street fish stall - Imelda and Margaret - let her work at the stall for a few hours before filming, to get an idea of their job.

"To come back and film scenes in Moore Street again with Imelda and Margaret was amazing," says Gibney. "They've always been so welcoming."

In the story of Mrs Brown's Boys D'Movie, Agnes's stall is under threat from developer PR Irwin. Moore Street vendors have constantly fought for their preservation. In 1998, Dublin City Council planned to demolish the terrace and redevelop the area. There was mass opposition to the movement, due to Moore Street's rich history. People refer to it as "Ireland's Alamo".

"The story of the film mirrors what is happening in Moore Street in Dublin now," says producer Stephen McCrum. "There's pressure on the street because people want to develop there and change it from an old fashioned market into a shopping centre. That's the story of the film."

Brendan O'Carroll continues: "Dublin, like most places, is about the people. British, German, Americans come to Dublin not for the sight-seeing, but for the people. Dublin people are the friendliest and funniest. During the Celtic Tiger, it was every man for himself. I saw my city turn into something completely different to what I knew. Moore Street has shrunk. It's getting smaller and smaller. If the developers get their way, they'd close it down and build a mall."

When it came to filming on Moore Street over a weekend, the production team worked closely with the store holders, who provided stalls and produce.

"We quickly made relationship with the wholesalers, who supply all the vegetables on a daily basis," recounts production designer Simon Rogers. "They gave us help in dressing it. One particular store holder was brilliant - he became our market stall consultant, who cast his eye over all the stalls we were dressing. We relied on him to make it feel realistic. It took a small army of prop men to create the set in the middle of the night underneath a floodlight."

Meanwhile, costume designer Leah Archer designed clothes for the vendors that would fit into the world of Agnes Brown.

"We see all the market ladies, so we tried to make the market ladies like different versions of Agnes," explains Leah Archer. "Like my granny was, or people from Moore Street market were a long time ago. They wouldn't necessarily wear those sort of clothes today - it's a slightly old-fashioned, romanticised version of what they wear now."

In the build up to the Moore Street shoot, McCrum was anxious about Brendan O'Carroll's popularity. What about the crowds that would inevitably arrive? As it turned out, the onlookers respected the film-making process.

"When we were working in Moore Street that first day, thousands of people were watching it," he marvels. "When the first AD went 'Action, quiet please'. They went quiet. There was this unbelievable feeling we have the whole city helping us get this on the way - real solidarity. After the stress of getting it all together, it was a wonderful moment."

Martin Hawkins, director of photography, adds: "It was a great decision to make those the first three days because that kept the style and the spirit for the rest of the shoot."

Having worked with Brendan O'Carroll for so long in the confines of the studio, director Ben Kellett was also taken aback by seeing him "mobbed everywhere he goes and so loved. Everyone wants to come up and have a photograph. He's just brilliant with it. He takes it totally in his stride. He's always willing to have photographs taken and sign autographs. His patience and his love for the city and the people is quite something."

Simon Delaney, who plays lawyer Tom Crews, laughs at the memory. "That was just utter mayhem. You may as well have been walking down Moore Street with Elvis. Everybody knows Mrs Brown. Everybody loves her. There was security on the street that day. There had to be because at points it was like a fucking Westlife concert. How they got the day completed is beyond me."

For Danny O'Carroll (Buster Brady), and the rest of the cast, it's all in a day's work: "We'd never turn anyone down for an autograph or a picture. At the end of the day, those people are paying our wages, our mortgages, and feeding my kids. The least any of us can do is take a picture to say thanks. I don't understand people who say 'Not now'. I wouldn't be here if it wasn't for them."

Mrs Brown's Boys D'Movie is a love letter to the women of Moore Street

"Moore Street has always been special for us," says Jennifer Gibney. "We've always loved it, and now we are getting an opportunity to show Moore Street in all its glory, colour, and vibrancy. We get to show it to the world."

The Characters

Brendan O'Carroll on Agnes Brown
"Agnes is anti-authority. She's very motherly. Family is very important. In this movie, she takes on the banks, the politicians, the developers. She's not just fighting for her living. She's not just fighting for her way of life. She's fighting for Dublin: 'For God's sake, don't lose this last vestige of Dublin'. At the same time, the one thing she cherishes most in life - family values - are threatened by the fact people have found out something about her as a mother."

Jennifer Gibney on Cathy Brown
"Cathy is the daughter of Mrs Brown. As much as Cathy would never admit it, I think she's a mini Agnes. Although the programme and the movie are called Mrs Brown's Boys, Mrs Brown's girls are all very strong characters and they are different versions of Agnes. Be it Betty, the daughter-in-law, Maria the daughter-in-law, or Cathy. All the women are all strong characters and I think there's a little piece of Agnes in all of them. They've got a lot of fight in them."

Paddy Houlihan on Dermot Brown
"Dermot is gentle. He's a reformed thug. He's straightened up and is toe-ing the line. Now he's a father he's a bit more settled, but every time he meets up with Buster all that control goes out the window, and he goes back to his dodgy days. I think he's a hard working, decent guy who just wants to provide for his family and have a bit of fun along the way and not get caught. He's married to Maria Brown, played by Fiona O'Carroll, and they have three beautiful kids."

Fiona O'Carroll on Maria Brown
"Maria Brown is the girl next door. She comes from a family who have done well for themselves - new money - and her mother would have various ideals. She's an only child. After falling in love with Dermot, she has fallen in love with the Brown family and really wants to be a part of the family. She loves Agnes Brown. They have clashes from time to time, although really she wants to be accepted and liked by Agnes. Maria would be there to put Agnes in her place - 'Don't you talk to my husband like that. He might have been your son at one stage, but he's my husband now'. She is a headstrong character."

Danny O'Carroll on Buster Brady
"Buster is stupid. He's not the cleverest lad. Very loveable but very stupid. I think Agnes has adopted him at this stage. She'll never admit it but she has a real soft spot for Buster. Buster is a great character to play - really good fun. Dermot bails him out all the time. It's the same in real life. I'll jump into a fire while Paddy will be walking around it. I'm not as stupid as Buster - I hope. But our relationship on screen is definitely like our relationship off screen."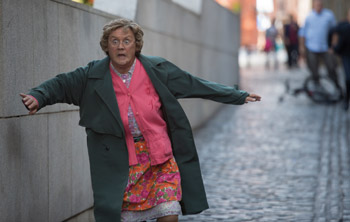 Winnie McGoogan – Eilish O'Carroll
"Winnie is just a lovely old soul. She never lets life get her down. Put downs seem to really go over her head. She bounces back, no matter how many times Agnes puts her down. Because they have a history of friendship that goes back way beyond the storyline, Winnie will take it. She gives Agnes a lot of leeway. She isn't the brightest button in the pack, or the sharpest tool in the box. She is there at Agnes's side through it all. Most of it goes over her head to be honest with you. She doesn't want top see Agnes get into any trouble. Of course, Agnes always gets into trouble, no matter what happens."

Dermot O'Neill on Grandad
"Grandad is devious. He's supposed to be deaf, but only when it suits him. He's living with his daughter-in-law, Agnes, and has been for a long time. He and Agnes have a love-hate relationship. They have a lot of respect for each other, but she is inclined to give him a bad time. When he gets a chance, he'll give her a bad time too."

Pat Shields on Mark Brown
"Everyone in the family is funny in some sort of way. I'm more the stable character - the reliable, serious character. The straight person. In D'Movie, I've got a contract for a shopping centre that is going in place of the Moore Street dealers. Mark's new job could be affected by Mrs Brown's stand. Mark doesn't want to take the job if it's on the dodgy side, whereas Betty doesn't give a shit. She just wants to make money."

Rory Cowan on Rory Brown
"He's completely different to me. Rory would be very gentle. He'd be confident enough as a hairdresser - he knows what he's doing, but he's a bit ditzy. I'm completely different. Everyone in the family knew he was gay except Mrs Brown. Rory was always trying to explain to Mrs Brown that he was gay and she hadn't a clue. It went completely over her head. One day, he came out and said, 'I'm gay'. She said, 'I'm happy too, son'."

Gary Hollywood on Dino Doyle
"Dino is the partner of Rory, Mrs Brown's son. In the TV show they got married in a civil partnership. Rory is Scottish. He's the fiery one. Full of drama. Where there's Dino there's Rory, and there's usually an argument following them. So they have this feisty relationship. But Dino is there to support Rory in his hour of need."

Martin Delany on Trevor Brown
"I'm Mrs Brown's youngest son, a priest. She's very proud of me because I'm off on the missions. He's priestly and dull. The good boy. We've got Dermot, who's always up to mischief with Buster. Cathy is Mrs Brown's rock. Mark is her favourite. Trevor wants everyone to be happy. I'm often talked about but rarely seen."

Simon Delaney on Tom Crews
"Finally, I'm playing Tom Crews in a movie. The casting was obvious, really. Tom is an absolutely inept solicitor. I don't know what he really does in that office. I wouldn't say he practices much law. There's probably a dartboard and a coffee machine. He's a useless gobshite of a lawyer that Agnes takes on to represent him in this case against the big evil developers. He sobers up for the duration of the court case. It's always nice when you read the script and your first line is, 'Oh for fuck's sake, I'm here'."

Robert Bathurst on Maydo-Archer
"Maydo-Archer is a barrister. Agnes has a legal problem in Moore Street from the developer PR Irwin and her solicitor, Tom Crews, recommends me to represent them in court. I have a slight flaw. I suffer from bouts of Tourettes when under pressure. Not great for a lawyer. He's in recovery, but this case exacerbates his problem. He's personal history with this developer. It's a personal campaign, which barristers are not supposed to get involved in. They're supposed to be dispassionate. Maydo-Archer has a score to settle. They are paid for their own opinion; they're not paid to listen to anyone else's. There's a slightly pompous air to them - and they will expound until they pop. Old lawyers never die, they just lose their appeal."

Dermot Crowley on PR Irwin
"Irwin is Mrs Brown's nemesis. Not that he'd stand much chance against Mrs Brown, but he does his best. He is a politician, a lawyer and a ruthless businessman, who puts money before people. His plan is to have a whole new development on the market and sweep away the old world and everything it represents. The thing about being an actor is you can never make judgments on the characters you play, you just play the truth. I don't think of him as a villain. He thinks he's a very nice man, when in actual fact he's a total bastard."

Rab Patel on Raj Ghatak
"I play the street trader Rab Patel. All the other market stall holders are female. He owns an Indian Restaurant on the street called Deli O'Deli. Given the whole property developer interest, I'm the one who rallies the store holders together. I call a meeting. I'm a conspiracy theorist, but I'm also kind of a whistleblower."

June Rodgers on Fat Annie
"Fat Annie is one of Agnes's best friends, from all those years working on the markets. The last film I did with Brendan was called Agnes Browne with Anjelica Huston. I played Fat Annie in that. He asked me to come back and play the same character, which was great. I was delighted to get the call. I really think he was looking for a bit of eye candy. Angelina Jolie couldn't make it. Fat Annie works in Moore Street, selling her tomatoes and her juicy plums. Her stall is right beside Agnes's. She's just one of her friends and she's with her every day at the stall, by her side during good days and bad days. "

Mrs Brown's Boys D'Movie
Release Date: July 24th, 2014