Ryan Guzman and Briana Evigan Step Up All In
Cast: Ryan Guzman, Briana Evigan, Stephen 'Twitch" Boss, Misha Gabriel, Izabella Miko, Alyson Stoner, Adam Sevani
Director: Trish Sie
Genre: Drama, Music, Romance
Rated: PG
Running Time: 112 minutes

Synopsis: Sean Asa (Ryan Guzman), his pal Eddy (Misha Gabriel) and their boundary-breaking dance crew, The Mob, were riding high when they came to Los Angeles as the stars of a high-profile ad campaign. A year later, they can't even get an audition in the ultra-competitive world of professional dance. Most of the group is ready to return to their Miami roots, but Sean is determined to conquer Hollywood, even if he has to do it alone.

Sean reconnects with his old pal Moose (Adam Sevani) through work at a mom-and-pop dance studio. But he soon has his eye on a much bigger prize: 'The Vortex," a reality television series that pits the best dance crews from all over the country against each other, with the winner receiving a three-year contract in a top Las Vegas venue.

Sean and Moose quickly assemble LMNTRIX, a dance crew that features some of their most talented colleagues, including the beautiful and headstrong Andie West (Briana Evigan), whose take-no-prisoners approach to dance matches Sean's own. LMNTRIX puts in a strong performance and qualifies for the final rounds of 'The Vortex," facing stiff competition from top Los Angeles crew The Grim Knights, and Sean's old friends in The Mob. With all three groups putting everything they've got into the winner-take-all fight to the finish on live television, the stage is set for the most innovative and over-the-top performances yet in a series that has become an international box office phenomenon.

Step Up All In
Release Date: September 11th, 2014



About The Production
In 2006, Jennifer Gibgot and her brother Adam Shankman launched a worldwide dance juggernaut with the first Step Up, a high-energy hip-hop romance that paired a street-smart b-boy with an ambitious ballerina. After building on the film's international popularity to create three follow up chapters that have defined a new genre of dance movies, the producers of Step Up once again bring their unique blend of urban grit and classical craft to Step Up All In, the franchise's most compelling chapter yet.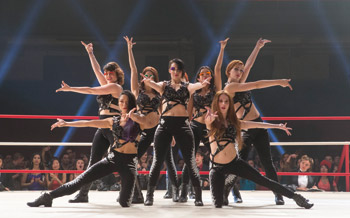 Like its hit predecessor, Step Up Revolution, Step Up All In takes the franchise in a new direction. Where Revolution explored the world of the flash mob and their very public statements, this new film takes a close look at the life of professional dancers. Adam Shankman, who began his career as a dancer before becoming a successful choreographer, director, and producer, wanted to make a movie about the challenges of that life. 'We explore what it's like to be an adult trying to build a career in this world, which is incredibly difficult, and we frame it with fun and sparkle," he says. 'Being able to honestly touch on some of the difficulties of trying to make it as a dancer was very satisfying for me. So this movie is in some ways more personal than the others."

'The stakes have been raised even higher this time," says producer Jennifer Gibgot, who, with Adam Shankman, has produced all five films. 'This movie is about making a professional life as a dancer, so we came up with a story centered around a competition for a show in Las Vegas."

Every Step Up movie has both a great love story and extraordinary dancing, and that is one thing that will never change, according to executive producer Matthew Smith of Offspring Entertainment. 'We have always pushed the boundaries of what you can do with dance in a film," he says. 'We take a different approach this time by focusing on what it is to be a dancer and how passionate one has to be. You don't make a ton of money, so if you want to do it, you have to love it more than anything else in the world."

Sean Asa and his crew, The Mob, have had a rude awakening about the business of professional dance since the last film ended. They're down on their luck and decide to go back to Miami. Only Sean Asa remains behind and he'll have to recruit a whole new crew in order to follow his dream.

With a wide-open roster to fill, the producers decided to bring together favorite cast members from each of the previous movies. 'One of the unique things about the franchise is that, for the most part, each movie has had a new cast of dancers carrying a new storyline," says Jennifer Gibgot.

'It was really exciting to be able to reunite all the fan favorites in one movie. The chemistry is really fantastic and it just feels like a family."

The producers took their cue on casting from the franchise's significant social media presence. 'The fans made it clear that they were hungry to see more of their favorite characters from the previous four movies," says Adam Shankman. 'We want to give our fans what they want."

The Step Up franchise has a tradition of launching the careers of innovative movie directors, including Anne Fletcher (who went on to direct 27 Dresses and The Proposal), Jon M. Chu (GI Joe: Retaliation), and Scott Speer, ('The LXD"). To helm the latest production, the producers brought in director Trish Sie, whose viral videos, particularly the ones she created for the Los Angeles-based band, OK Go, created an Internet sensation.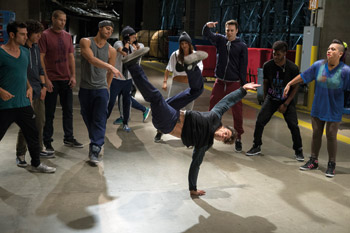 'Trish Sie is a natural-born director," says Jennifer Gibgot. 'When we met her, we were so impressed with how articulate she is, as well as how well-versed she is in our movies. And she has such a great sense of humor. Everybody has probably seen her video with the treadmills, which is so funny. She's brought a great comedic spirit to this movie."

Trish Sie was able to put her own stylish imprint on the film without compromising the franchise's signature energetic, pop culture sensibility, says Adam Shankman. 'From the beginning, Trish Sie wanted the movie to be even more fun than the earlier films. She wanted to showcase the actors' comic skills and unique humour. Not every moment had to be life or death this time."

Executive producer David Nicksay, veteran of two previous Step Up films, says Trish Sie is the complete package. 'Trish Sie brings a unique sensibility to the franchise," he says. 'Her amazing visual sense helped us create beautiful sets and dance numbers. She saw each individual dancer's strengths and utilised them to the fullest."

For Trish Sie, it was an opportunity to make her first feature film with a group of producers she had long admired. 'One of the most exciting things about this project was the people," the director says. 'Adam Shankman is a fantastic choreographer and director in his own right. It's icing on the cake to have someone like that as producer. Jennifer Gibgot birthed this franchise - she knows every character, every line and every backstory. She's a smart and very supportive producer."

The dancing, which is the bedrock of the Step Up world, will continue to dazzle with its adrenaline-charged energy and awe-inspiring scope, she promises. 'It's what the movies are known for and we've taken the dancing to a great place. But we've shaken it up and given this film a fresh spin. The story is about the people"what they go through to be professional dancers and how they learn to connect with the people around them."

Family Reunion

Placing Ryan Guzman, who first played Sean Asa in Step Up Revolution, at the head of the cast of the fifth film is the continuation of a long tradition in the Step Up world, according to Adam Shankman. 'Each new movie brings back a character from the previous chapter to, more or less, pass the baton," he notes. 'Channing Tatum returned for the second movie. We brought back Moose in the third and tWitch in the fourth. In this movie, Ryan Guzman moves us forward as we introduce new characters, including Chadd and David."

Sean Asa has become a bit worldlier during his time in Los Angeles. 'He's a little more complicated this time around," says Ryan Guzman. 'At the end of Step Up Revolution, Sean Asa and The Mob got a deal with Nike and moved to L.A. to be professional dancers. Unfortunately, he doesn't realise how hard that life is at that time. Things haven't gone his way and he has to figure out exactly what he wants to do."

The actor says he shares his character's zeal to succeed. 'Sean Asa and I are alike in that we both have to keep going until we get a -yes'," Ryan Guzman says. 'In this case, that means he has to find a new crew and another contest."

When he agreed to head up the cast of Step Up All In, the producers decided to pair Ryan Guzman with a love interest that would also be familiar to the franchise's millions of fans. 'We knew right away that we wanted Ryan Guzman as the male lead," Jennifer Gibgot says. 'To play opposite him, we decided that Sean would match up well with Briana Evigan's character, Andie West, from Step Up 2: The Streets."

Naturally, the love story between the two headstrong characters does not unfold without some initial conflict. When they meet there are both sparks and considerable friction as they compete for leadership of the group and reluctantly fall for each other. 'Briana Evigan has always been a fan favorite," says Adam Shankman. 'Her character was the most formidable female character from the past films and she had to match Ryan Guzman's sense of rebelliousness and independence to be able to stand up against him."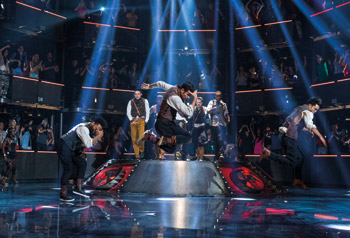 Although Sean Asa and Andie West butt heads at first because they are both natural leaders, Ryan Guzman and Briana Evigan hit it off immediately. 'I had the greatest time working with Briana Evigan. Playing off a seasoned actress like her gave me energy that was great for the film."

Six years had passed since Briana Evigan starred in Step Up 2: The Streets. During that time, she had focused her energy on acting and was happily surprised when the producers asked her to reprise the role of rebellious and resilient street dancer Andie. 'I was pretty ecstatic about it," Briana Evigan says. 'Dancing has always been a little bit intimidating for me. It's tough to feel like everyone's looking at you, judging you, but on top of that it's my greatest emotional release to connect with myself."

One of the reasons she enjoyed playing opposite Ryan Guzman is that neither considers themselves a professional dancer, preferring to be known as actors who can dance. 'Ryan Guzman is awesome," she says. 'I was impressed by his talent and commitment every day. I think we have really fun chemistry and I know we had a great time working together. We felt like we were on the same page a lot and were always there to help each other out."

The return of Adam Sevani as Moose, stand-out fan favorite in three previous Step Up movies, was a given for the producers. Upbeat, charming and a little bit goofy, Moose is a smart kid who can also dance. Now working as an engineer and living with his dream girl, he's still loyal to his old friends on the crew.

'After Step Up Revolution, we got a lot of feedback from people who wanted more Moose," Jennifer Gibgot says. 'He just came in at the end and fans thought it was a tease to see so little of him, so we made him an important part of this story. We had already established that Moose knows Sean and Andie, so he was able to be the catalyst for bringing them together in an organic way."

Adam Sevani was eager to revisit his signature role. 'People always come up to me and tell me that Moose is an iconic figure in these movies," the actor says. 'I never thought of myself that way, but I really enjoyed working on these films. The audience has built a profound relationship with the character, which is surreal and really cool at the same time."

The Step Up movies have always been about having the dancers push the limits of what was done in the previous movies and fans won't be disappointed with this one, he says. 'We've definitely pushed the envelope," the actor says. 'I don't think any dance movie has ever experimented with elements like fire and wind and sand in these ways."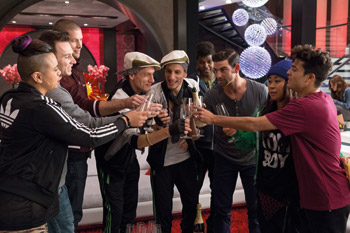 Among the other performers returning to the franchise are Misha Gabriel, Stephen 'tWitch" Boss, Alyson Stoner, Mari Koda, Chadd 'Madd Chadd" Smith, Facundo Lombard, Martín Lombard, Luis Rosado, and Christopher Scott.

In Step Up Revolution, leading choreographer and dancer Misha Gabriel played Eddy, Sean's co-leader of the unruly street performers that make up The Mob. He readily steps back into Eddy's dancing shoes, this time sharing leadership of the crew with tWitch.

As a dancer who has appeared with superstar performers including Michael Jackson, Gabriel thinks the way the film presents the struggle to survive as a professional dancer in Los Angeles is extremely realistic. 'It's very hard to build a career as a dancer. As much as you love it, you are sometimes at the bottom of the food chain in the industry, and the demands it makes on your body guarantee that it's finite."

Mari Koda, who is making her third appearance in the Step Up film series, has become a star in her native Japan as well as the U.S. playing the offbeat tomboy Jenny Kido. 'I grew up dancing in the clubs, but I never studied dance," says Mari Koda. 'So I feel I am very much a representative of the audience. But Jenny is a little different this time - she's more feminine and dances sexy, which is a first for her."

Step Up All In is, in her opinion, the best chapter in the saga to date. 'Even before we started shooting, I could feel it. This installment is like the Step Up All-Stars. I knew that this movie was going to be special."

Along with past stars, the producers have introduced some new discoveries and personal favorites to the cast, including world-class b-boy David 'Kid David" Shreibman, Parris Goebel and a pair of female twins who serve as an amusing counterpart to the Santiago Twins (played by Facundo and Martín Lombard), who captivated fans in Step Up 3D.

'Trish Sie came up with the idea about a ballroom instructor who actually is an amazing b-boy," says Jennifer Gibgot. 'It wasn't originally written for Kid David, but he was a natural fit. We had been wanting to bring him in for a long time - he's just such a phenomenal dancer and so hilarious. He has natural timing, the way that dancers do."
Get Ready To Dance!

After experiencing the electrifying, gravity-defying production numbers created for Step Up All In, audiences will likely be shocked to learn that there are no special effects or computer-assisted stunts in the film, says director Trish Sie. The awe-inspiring choreography is all performed live for the camera.

'The dancing is one of the big stars of this movie," she adds. 'The choreographers are the most important special-effects team we used. They created dance numbers that are so stunning, intricate and innovative that it may be difficult for audiences to believe they are real."

The producers wanted to create unique and fresh production numbers that would enable familiar characters to redefine themselves through dance, explains Adam Shankman. 'The dancing just keeps getting better and better. It's an ever-evolving art form, especially in the urban and hip hop world. We just asked that it be framed in spectacle, which the show within the movie provided great context for."

Their secret weapon was choreographer Jamal Sims, who has worked on all five installments of Step Up. 'Jamal Sims is the connective tissue that links each of these installments together," Nicksay says. 'He attacks the big sequences and finds something original in each one of the numbers."

Jamal Sims and his co-choreographers, Christopher Scott (who also appears in the film as the character, Hair) and Dondraico Johnson were inspired by the opportunity to work with some of the most outstanding performers from all the previous Step Up films. 'It is an all-star team," Jamal Sims says. 'In the finale, we have some of the best dancers in the world performing together in one scene. And there were no egos allowed, just cooperation."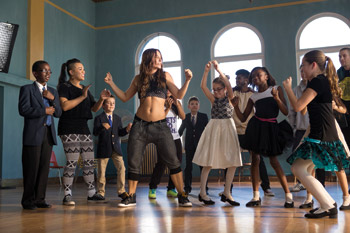 Believe it or not, the choreographers found inspiration for the explosive climax in an unconventional place"Home Depot. 'Big ideas sometimes come from very small steps," he says. 'We found these little trash wheelies at Home Depot that the b-boys wound up using in the finale. We saw sand and fans, which gave rise to the idea of using the elements of earth, air, fire and water for LMNTRIX's final number."

Jamal Sims blasted into uncharted choreographic territory by incorporating blazing fireballs into the sequence, inspired in part by a trip that Briana Evigan had taken to Hawaii. 'I saw fire dancers at a luau and was fascinated," the actress says. 'I thought it would [be] an awesome element, so I showed them a video I took. I danced with two professional fireball dancers in one of the film's most exciting numbers and the result is truly mesmerizing."

Devorah Herbert's production design elevates the already breathtaking dance numbers, especially those set on the massive three-story stage built by Devorah Herbert for the competition scenes. In these exciting sequences, the dance crews face off on the amazing multi-level set crammed with hundreds of cheering extras.

Trish Sie says she and Devorah Herbert were on the same wavelength from the beginning of preproduction. 'We just had a sort of crazy mind-meld," says the director. 'We saw things the same way. Devorah Herbert has this insane eye for detail. This movie is visually stunning because of her."

The rest of the technical team was equally extraordinary, says Trish Sie. 'Brian Pearson, the director of photography, brought the visuals to life. He frames shots almost instantly. He understands action and can see the crossover between stunts and dancing."

The Cameron Pace Group created the film's customized 3D process. 'They invented the fusion 3D technology for the films Avatar, Hugo and Life of Pi," Nicksay explains. 'The state-of-the-art Alexa M cameras we used are smaller and more refined than ever, which allowed us to be so much more mobile and flexible in a space like The Vortex."

Costume designer Soyon An's experience working on 'So You Think You Can Dance" gave her unique insight into the production's needs. 'It was very important to hire someone who had the specific experience of dressing dancers," Trish Sie says. 'It's a whole different world. Dancers move a lot, they sweat a lot, and if they're really getting into the excitement they tear things. They're just very hard on their clothes - there's no way to explain it. Someone either gets that or they don't."

An also created the extraordinary stage costumes worn by The Vortex's Lady Gaga-like hostess, Alexxa Brava (played by Polish-born actress Izabella Miko), including the sumptuous gown with octopus tentacles and countless Swarovski crystals that she dons for the finale. 'I wanted to do something very avant-garde and high fashion," the designer says. 'It's Vegas, so we had to go big or go home."

With dazzling production values, gripping competition, tender romance and awe-inspiring dance sequences, the fifth installment of Step Up is the most fun and upbeat to date, according to producer Gibgot, who credits everyone involved for bringing their A-game.

'We want people to walk out of the theater dancing and full of all those feel-good emotions," she says. 'That's what these movies are really all about"pure fun, romance, great dance and just having a good time for an hour and forty minutes."

'If this film gives audiences the same great feelings of freedom and enthusiasm and joy as the others, I will be very happy," adds Adam Shankman. 'I feel like this franchise has a unique place in our cultural landscape and I am really proud to be a part of it."


Step Up All In
Release Date: September 11th, 2014