New R&B artist Camielle has caused quite a stir with her debut single "Yada, Yada, Yada". Written by hit-maker Dallas Austin (who has penned tracks for the likes of TLC, Madonna, Pink), "Yada, Yada, Yada" is a slicker than slick track that beautifully showcases the sassy vocals of this talented singer. Currently in the studio working on her debut album (due for release next year), Camielle stopped by the GIRL headquarters and gave us the heads-up on how her solo music career is panning out so far.GIRL: When did you first realise you had a real passion for music?

Camielle:
When I couldn't shut up at home every time somebody came over! No matter how many times my mum would say, "be quiet", I'd keep singing and making my own tapes. That's when I think I knew I had a passion for it.
GIRL: Your musical influences are very diverse ranging from reggae and American hip-hop, to Aretha Franklin. What do you like about each of these genres?

Camielle:
With reggae and calypso I love the feel of it, I like the way it sounds uplifting. And I like the fact that the calypso music makes my body wind and move, the spirit of it. I suppose with hip-hop, I love that it reaches deep with what's really going on, things that I can relate to in the messages and the beats. I love the soul that comes from Aretha's singing and just the feel and charisma of it all.
GIRL: Your first single is titled "Yada Yada Yada". Was this a fun song to record?

Camielle:
Yeah it was, every time I had to sing the line "Yada Yada Yada", the head would be bopping; it was very cool.
GIRL: What was your reaction when you first heard the song?

Camielle:
I was like "yeah, this is the song for me".
GIRL: The song was written by Dallas Austin - did you get to meet the man himself?

Camielle:
No I haven't actually personally met Dallas.
GIRL: Your debut album will be released next year, what sort of vibe can we expect?

Camielle:
It will be a journey.
GIRL: You were born in Australia but have lived in Jamaica and America. What was life like growing up in these countries?

Camielle:
There is nothing better than living in Jamaica, nothing better.
GIRL: You are now based in Sydney; do you think you'll need to move overseas in the near future to further your music career? Is this something that is on the cards for you?

Camielle:
I think so, I mean to me, I need to be where the millions are to have a greater advantage and a greater choice of people to work with. It is very small here compared to New York, which has everything. That's the place I'd like to be living in for a minute. I like culture and I like to feed off culture.
GIRL: Do you come from a very musical family?

Camielle:
Yes we grew up surrounded by music; I mean every party we went to we heard music. We grew up with a piano in the house - my mum and brother play the piano and we all sing.
GIRL: As an artist, do you get more enjoyment out of singing your own material?

Camielle:
Yes and no. To be a music artist, means you interpret things too, just as an actor would interpret a script. I do get more fulfilment out of singing a song I wrote because it's more from the heart.
GIRL: Is being a songwriter just as important to you as being a performer?

Camielle:
Yeah they definitely go hand in hand.
GIRL: In the 90s you were a member of the all-girl group Cherry. Was it always your ambition to be a part of a female group or is being a solo artist more your thing?

Camielle:
It was never my ambition to be part of a group. If I were to be a part of a group, I'd see myself in more of a Supremes-type thing.
GIRL: How did you land the Cherry gig?

Camielle:
I am an artist who doesn't like to not work. I'd rather do that [Cherry] than working in a shop. To me it was an opportunity that came and I wasn't about to pass it up because there was no other opportunity at that point. The group was very manufactured, we pretended that it wasn't, and I wasn't really feeling it. But I did it, most of the girls were lovely and we had a lot fun. We got to go on the road and it was my school, I got to learn the industry.
GIRL: And I guess that knowledge is coming in very handy now.

Camielle:
Oh definitely, I learnt so much.
GIRL: What do you think of the R&B music scene in Australia at the moment?

Camielle:
Can we move onto the next question?! (laughs) It's just begun, right now the only acts we have in Australia that you would classify in the R&B genre is Selwyn, Shakaya and Camielle - we are the only ones with a release.
GIRL: Are you looking forward to getting out there and performing around the country?

Camielle:
Yes I've just kinda begun; I'm definitely looking forward to more performances.
GIRL: What can people expect to see at a Camielle performance?

Camielle:
They will see me having some fun and making sure y'all having some fun too!
GIRL'S 60 SECOND QUIZ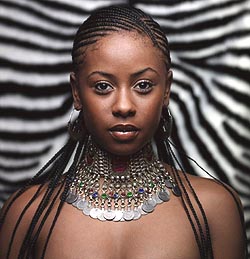 Full Name: Empress CamielleNickname(s):
Empress
Star Sign:
Leo
Fave Food:
Hokkien Swordfish
Fave Film:
Brown Sugar
Fave Actor:
Robert De Niro
Fave Animal:
Monkey
Describe Yourself In 3 Words:
Hot-headed, flirtatious & lively
Best Feature:
My love for people
Worst Feature:
Quick to respond
Person You Would Most Like To Meet:
Chris Tucker
Hobbies/Interests:
Cooking, family & friends
First Job:
In a supermarket
A Talent You Wish You Had:
I wish I could produce
What Can You Never Leave Home Without:
A shower!
If you were a cartoon character, which one would you be?
Bugs Bunny
If you were told you had a minute to live, what would you do?
Go to church and spend that last minute praying and reaching out to God.
What is the first thing you think of when you wake up in the morning?
Oh my god, I am running late!
- Annemarie Failla