Chadwick Boseman Get on Up
Cast: Chadwick Boseman, Viola Davis, Octavia Spencer, Nelsan Ellis, Lennie James
Director: Tate Taylor
Genre: Drama

Synopsis: In his follow-up to the four-time Academy Award®-nominated blockbuster The Help, Tate Taylor directs 42's Chadwick Boseman as James Brown in Get on Up. Based on the incredible life story of the Godfather of Soul, the film will give a fearless look inside the music, moves and moods of Brown, taking audiences on the journey from his impoverished childhood to his evolution into one of the most influential figures of the 20th century.

Academy Award® winner Brian Grazer (A Beautiful Mind, 8 Mile) and Erica Huggins (Flightplan) produce for Imagine Entertainment, with Mick Jagger and Victoria Pearman (Shine a Light) producing under their Jagged Films banner. Under his Wyolah Films label, Taylor also serves as a producer on Get on Up, while Wyolah's John Norris executive produces alongside Trish Hofmann and Peter Afterman.

Get on Up
Release Date: February 5th, 2015



About The Production
There Was a Time: Roots of Get on Up

As befits 'The Godfather of Soul," James Brown's first musical home was one full of gospel. But before long, the gospel group he joined as a teen was transformed by jazz and blues in the juke joints of the 'Chitlin' Circuit," and The Famous Flames were born. The group's first hit single, 'Please, Please, Please," was released in 1956 but credited to 'James Brown with His Famous Flames." It turns out that no one had consulted the Flames about their revised billing status, and they all quit.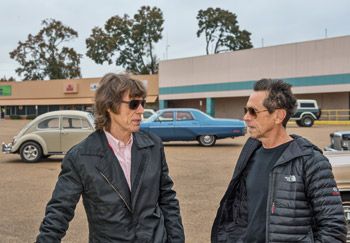 James Brown kept moving forward, mesmerizing live audiences with his signature music, moves and sexual energy. An expressive, emotional soul crooner of the highest order, he could work a ballad"such as 'Try Me" and 'Lost Someone""or shift into foot-stompers like 'Out of Sight" and 'Night Train." His voice swooped and soared, screeched and growled, and he'd pivot from tender to dangerous in a heartbeat. He continued to work with a quartet of revolving Famous Flames as his backup singers (Bobby Byrd returned in 1959), while cultivating a large backing band with lots of horns, christened the James Brown Orchestra.

He was a peacemaker at the Boston Garden after Dr. Martin Luther King, Jr.'s assassination in April 1968 and gave soul power a rallying cry with the single 'Say It Loud"I'm Black and I'm Proud" later that year. In February 1969, Look magazine put his picture on its cover with the headline: 'Is He the Most Important Black Man in America?"

He was a dealmaker, too, and knew how to take care of business. It didn't matter if something hadn't been done before…or hadn't been done before by a black man. As he refined his sound, churning and turning it inside out, funk came into being, and another new era of music swept the world. By 1970, The Famous Flames were gone for good, but Byrd stayed, bassist William 'Bootsy" Collins and his brother, guitarist Phelps 'Catfish" Collins, came on board, and Brown had a new band, The J.B.'s.

When funk eventually yielded its throne to hip-hop, James Brown stayed relevant in a new way. His signature beats were foundational to hip-hop artists, who have sampled them frequently for years. The drum riff near the end of his single 'Funky Drummer" is one of the most sampled beats of all time.

Like many of his generation, producer Brian Grazer grew up listening to James Brown. 'I loved his sound and the beat and everything about him as a kid," Brian Grazer explains, 'but never in my life did I think I'd end up producing the James Brown movie."

It was the hip-hop community that inspired him. 'In the late '90s, while researching the movie that became 8 Mile, I came across many pivotal figures in the hip-hop world," recounts Grazer. 'Chuck D, Dr. Dre, Slick Rick, LL Cool J, all of Wu-Tang Clan"ODB, Ghostface Killah"they all said they were influenced by James Brown. What they said stayed with me, and I decided I had to find a way to do a movie about this figure who inspired so many."

Courting James Brown for the film rights was a lengthy process. When an agreement was finally reached, Brian Grazer commissioned several writers to work on a script. With a final draft in hand from English playwrights Jez Butterworth and John-Henry Butterworth, with a story by the Butterworth brothers and Steven Baigelman, he was ready to hire a director.

On December 23, 2006, James Brown fell ill unexpectedly and died two days later, at the age of 73. His death was marked with a funeral procession that traveled through Harlem and ended at the Apollo Theater, where he'd made history recording his self-financed 'Live at the Apollo" album in 1962.

The film rights that Brian Grazer had worked so long to acquire reverted to the James Brown Estate, and the biopic was at a standstill. In time, the estate needed someone to oversee those rights, and chose Peter Afterman to serve as its arbiter. Afterman, who has also handled music licensing and visual media for The Rolling Stones since 2009, believed that Stones frontman Mick Jagger was just the man to reignite the fire that was the James Brown story.

Mick Jagger has, in his own right, changed the landscape of music over the course of the past half century. But that's only half of his story. In addition to his work producing features and television, the storyteller had recently finished those duties on two documentaries, Stones in Exile and Crossfire Hurricane, and was open to developing a new project with his longtime Jagged Films partner, Victoria Pearman.

The producer is the first to admit that he deeply admired and grew to marvel at his peer's insatiable drive, remarking, 'James Brown wanted to be in the forefront musically. He was a groovemaker and a tastemaker whose grooves have become part of the hip-hop language. I find his life endlessly fascinating and deeply moving, and I was honored to be considered to become one of the caretakers of it."

When Mick Jagger was approached by Peter Afterman about producing a documentary on Brown"one ultimately directed by Alex Gibney and previewed as a work in progress at the 2014 Tribeca Film Festival"he discussed with Victoria Pearman that he was keen to explore the untold story of a man about whom he emulated and actually has firsthand knowledge. Recalls Jagger: 'Then I woke up in the morning and I said, -Well, that's great. But why don't we do a feature film? I could do the documentary as well, but can we do a feature?'"

Mick Jagger learned that Brian Grazer already had a script in play, one written by the Butterworths, who had, in the interim, received the Writers Guild of America West's 2011 Paul Selvin Award for their screenplay for Fair Game. Once he read a copy of the working script, Mick Jagger reached out to Brian Grazer to find out if the producer wanted to partner with one another and produce the biopic. Mick Jagger recalls: 'I read the script by the two English brothers, and it was very good. They're very highly respected playwrights."

After numerous conversations with Brian Grazer's team, Victoria Pearman and Peter Afterman, Mick Jagger could comprehend why this biopic had been such a labor of love for those involved and just how respectfully it should be treated. To encapsulate the seven-plus decades of a man who is arguably one of the most influential performers of the last century was a Herculean task. 'I saw what all the problems were and how they could be surmounted with Brian Grazer," Mick Jagger explains. 'We surmounted them, we re-did the whole thing and got it back into production."

Brian Grazer, still mourning the loss of the project so close to his heart and soul, admits that he was stunned by their initial phone conversation. He recollects: 'To get an incoming call from Mick Jagger, also a global icon in the world of music, is like having an asteroid from outer space land at your house. Mick Jagger said: -I'd like to do this with you.'"

With these two powerhouse producers aligned, it was time for the Brown family to weigh in with their unified wishes for the film that would serve as an intimate look inside the world of the man they called James Joseph Brown. 'They read the script and believed in what we're doing," says Brian Grazer. 'They are aware that we're visiting some of the lows of James' life but also celebrating him and his accomplishments. They've been completely cooperative."

The time had come, again, to think about directors, and this time, things moved faster than anticipated. Relays producer Victoria Pearman: 'We wanted the person most compatible with the material naturally."

Imagine was already interested in director Tate Taylor for another project, and the production company had invited the Mississippi native to the office to discuss that possibility. 'We loved The Help," Brian Grazer explains. 'Tate Taylor had made a difficult subject palatable and beautiful, and it was very successful."

When that meeting ended, Tate Taylor was on his way to the elevator when Imagine executive Anna Culp happened to mention the James Brown script. 'I was leaving town that day and asked to read it on the plane," Tate Taylor recalls. 'Somewhere over Las Vegas, I turned to my producing partner, John Norris, and said, -I know how to do this.'"

Tate Taylor admits that he is fascinated by stories of mastery and resilience, embodied by the subject of the script he was then reading. 'James Brown was not one to rest on his laurels," says the director. 'He had an endless need to move forward."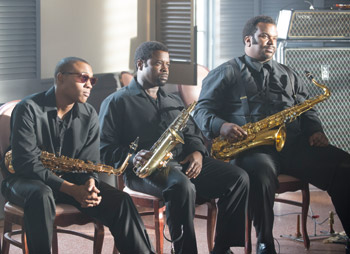 Imagine and Jagged's list-making ended the moment Tate Taylor called to express his interest from Sin City. Finally, this long-gestating project could become an ideal version of itself.

'Tate Taylor brings enthusiasm, sensibility and great understanding of the character," says Mick Jagger. 'The way he tells a story makes for a very dynamic film."

Brian Grazer agrees with the assessment: 'When Tate Taylor loves something, he's unstoppable as an artist."

Say It Loud: Taylor and Brown's POV

Like Get on Up's other key players, Tate Taylor has been grooving to James Brown since before he could drive. 'In the South, he's a legend, woven into our lives," the filmmaker says. 'He was dangerous, sexy, fun. He messed up, but who can say they haven't messed up, too? He's always been part of Southern culture."

Considering that this marks his first project since the success of The Help, which was nominated for four Academy Awards® including Best Motion Picture of the Year, Tate Taylor was naturally selective about his follow-up. He offers: 'There were a lot of jobs I could have taken, but I needed something I loved."

There was also pressure to prove he wasn't a one-hit wonder. 'After getting some notoriety and success, I think James Brown had fear of it all going away," Tate Taylor reflects. 'He didn't want to go back to how it was before, and I can definitely relate to that."

As he began the immersion phase of his new project, he had a realisation. 'You always hear what a control freak James Brown was, but it's also true that he knew how things should be done and insisted on them being done right," Tate Taylor reasons. 'One day, it hit me that he's probably watching us make this film from wherever he is, and I started to wonder what his comments would be."

From those musings, Tate Taylor made a leap. 'The script was unapologetic and had a lot of energy," he says. 'But I thought, if they're willing to go this far, maybe we can take it even further. I wanted to break the fourth wall and let him speak directly to us: tell the truth from the screen, and let you make your own judgment."

The idea excited Tate Taylor for several reasons. 'James Brown gets to give the audience the broad strokes of his life, the way he saw it," he says. 'And I'm free to break the rules"go from 1968 to 1933 and back to '68 in about 10 minutes if I need to do it."

Letting James Brown engage with the audience also freed Tate Taylor from tried-and-true biopic conventions, such as news montages and scrolls of text. He wanted something more dynamic and personal. Because James Brown was in the public eye for decades, as both a showman and a figure in the Civil Rights movement, Taylor was confident that he could capture his voice.

'After saving the city of Boston from riots the night after Dr. King was assassinated, and also recording -Say It Loud"I'm Black and I'm Proud,' he unexpectedly became the voice of Black America," the director explains. 'He went to Vietnam and met with soldiers; he went to the White House and met with presidents. He was recorded in interviews everywhere and was asked about everything. He even co-hosted The Mike Douglas Show for a year."

Tate Taylor crossed his fingers that producers Brian Grazer, Mick Jagger, Victoria Pearman and Imagine's Erica Huggins, who'd been on the project since 2004, would go for his idea.

They did. 'Merging Tate Taylor's work with the Butterworths' has given us a powerful, unorthodox and emotional film," says Erica Huggins.

Mick Jagger adds: 'Tate Taylor has a breadth of vision at developing the characters, the drama and all the explanation of why and how the moments of James' life happen. I found his approach so refreshing. He opens the fourth wall and takes us on a journey that is so unexpected. I imagine that James would quite appreciate the sheer cheekiness of it."

The Get on Up team would grow to include people who knew the man well, such as nephew Darren Glenn, in the music department, and grandson Jason Brown, a production assistant. Both men were on hand for reality checks, and also appear in the film. 'Octavia Spencer is playing my grandmother," says Darren Glenn. 'Viola Davis is playing my aunt. My dad's a character, too [Big Junior], so everybody's come to me to get a little piece of how they were. I'm happy to share because we want to get it right."

Guitarist Keith Jenkins, a member of James Brown's band from 1994 until 2006, was a technical advisor for the drama's musical performances and portrays himself in a concert scene. 'Those of us who worked with James Brown always feel like he's still around," says Keith Jenkins. 'His spirit is here. Being on stage with him all those years, it was surreal to look at him, see the spotlight create that iconic silhouette"and realize I was there, too, standing with him. Now, working with Chad, seeing that same silhouette…it's like being in the presence again."

Tate Taylor adds a caveat, admitting that he doesn't want to overlook the darker periods of James Brown's life: 'No one's trying to paint a picture of a perfect man here, because anyone who's perfect is not going to be very entertaining. James Brown had a crazy life, and we want people to feel it."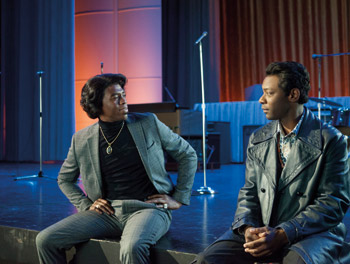 Watch Me Work: Boseman Meets Brown

Among the many qualities Tate Taylor hoped to find in the actor who would play James Brown in Get on Up were Southern country roots"the kind found in people born into a hardscrabble life in 1933s Barnwell, South Carolina. Chadwick Boseman has those roots, and much more, including a deep work ethic.

'Chad just brings it," lauds Tate Taylor. 'He's from the red earth of South Carolina, right down the road from where James Brown was born, and that's exactly what this character needs. You can't just put a pompadour wig on a well-trained actor who happens to be African-American.

'It's an intimidating role," Tate Taylor continues. 'The dialect, the range of ages, the performance sequences. It's a lot to take on. I don't know how he did it, but Chad showed up in Mississippi and he was James Brown. Playing age 17 one day, and 60 the next, he was in it!"

Chadwick Boseman owned the role so completely that crew members addressed him as 'Mr. Brown" every day at work, just as Brown's own team had addressed him. It began organically with one production assistant and grew from there. Chadwick Boseman appreciated the support. 'James Brown is so particular: his movement, his dance, his musicality. You see it when you look at footage of him just talking"that musicality carries over into everything he does," he says. 'I had a short time to get all this right, whereas he was doing what he did for his entire life. I didn't have time to break character."

Besides, Chadwick Boseman is very particular, too, an admitted perfectionist. 'I wanted my performance to be an interpretation, not an imitation," he emphasises. 'I think an imitation makes fun of the person at a certain level, but an interpretation gets to the spirit or essence of who the person is. That's another reason to breathe it throughout the day, so that you're not just playing at it."

The actor didn't actually chase the role. In fact, he didn't even want to read the script. After his breakout performance as Jackie Robinson in Brian Helgeland's 2013 film, 42, Chadwick Boseman thought the last thing he should do was another biopic about a cultural icon. Even if he hadn't played Jackie Robinson, the idea of anyone playing James Brown seemed just about impossible to him. 'James Brown was ahead of his time and we still haven't caught up with him," he says. 'He lived the life of a thousand people in one lifetime."

Still, he talked to Tate Taylor. 'I had a very candid conversation with Tate Taylor and saw how passionate he was about the story, and that he wanted to do something different with it," says the actor. 'He was basically telling me to stop being scared and come in and read. So, I finally went in and did the scenes. I thought nothing would come of it."

But James Brown remained on Chadwick Boseman's mind. 'I wanted to see what it would look like to have the wigs on because I knew there would be a lot of that in the role," the performer shares. 'And dancing. I had to know I could work with the choreographer, and what methodology would inform his teaching."

For this pivotal crew member, the production hired choreographer Aakomon Jones to work with Chadwick Boseman in advance of his screen test. After Jones taught him 'Cold Sweat" and 'I Can't Stand Myself (When You Touch Me)" and wig consultant Robert Stevenson endowed him with a pompadour, the camera rolled. 'I still had to do a lot of soul-searching because I knew it would be such a big deal," the actor says. 'But I like a challenge. And with the people involved, including Aakomon and Robert, I thought we had a good chance of doing something special."

Meetings with Brian Grazer, Mick Jagger, Victoria Pearman and Erica Huggins confirmed it. 'The conversations we had about why they wanted to do the movie were pretty amazing," Chadwick Boseman admits. 'Brian Grazer has made movie after movie, hit after hit, so you know he's going to be involved with quality. Mick Jagger, as a connoisseur of music and an expert in performance and exchange with an audience, brings something important to the table as well."

Once signed on, Chadwick Boseman and Tate Taylor took it to the next level with a road trip to Georgia to meet the Brown family. 'Being with them gave us a sense of his everyday life, when he was off the road, relaxed and not -James Brown,'" says Tate Taylor. 'Chadwick Boseman says these people reminded him of his uncles and granddad, and it started to feel real."

With less than two months to prepare for his first day on set, Chadwick Boseman flung himself into a grueling regimen, ready to give whatever it took to make his performance worthy of the character. The bulk that he'd added for his portrayals of athletes in 42 and Draft Day disappeared during rehearsals, and then, suddenly, filming was underway.

Try Me: Get on Up's Supporting Cast

Although they share just one scene, Viola Davis, who plays Susie Brown, recognized the showman's famed work ethic in Chadwick Boseman's portrayal. 'I believe Chadwick Boseman will surprise people, and I love it when that happens," says Erica Davis. 'He stayed in character the whole time. It was an absolute, courageous, beautiful, magical performance, and a perfect transformation."

Their scene takes place backstage at the Apollo during a night of triumph that takes on a different tone when their characters come together. 'It was a difficult scene emotionally, but easier to do because Viola made it so real," Chadwick Boseman explains. 'She was so comfortable walking into that moment. So much nerve! I felt like I was there, and I was him, feeling what he felt."

Oscar® winner Octavia Spencer felt a kinship to her character, the woman who took in young James when he had nowhere else to go. 'She plays Aunt Honey, and she actually reminded me of one of my aunts. She was simply a joy," says Chadwick Boseman. 'I also love her scenes with the two kids [twins Jordan Scott and Jamarion Scott] who play James Brown as a boy. Those scenes are a great base for the movie."

Get on Up visits James Brown's tempestuous relationships with other women" including those played by actresses Tika Sumpter and Jill Scott"at various stages of his life. However, his most enduring life relationship was with musician Bobby Byrd, portrayed by Alabama-born actor Nelsan Ellis, a star of the HBO series True Blood. Commends Chadwick Boseman: 'I've admired Nelsan as an actor for a long time, so it was great to be able to bounce off him."

James Brown and Bobby Byrd met as teenagers in Toccoa, Georgia, where James Brown was incarcerated. Bobby Byrd persuaded his mother to let the young prisoner live with them when he was paroled, which launched a 20-year musical collaboration. 'Bobby Byrd was his best friend and basically discovered him," says Nelsan Ellis. 'He was the person most in his life until he was ultimately pushed away."

In fact, Tate Taylor originally considered the performer for the role of Brown. After Nelsan Ellis' audition, both actor and director agreed he was meant to play Bobby Byrd. 'Having watched Chadwick Boseman these two-and-a-half months, I can't see anyone else playing him," Nelsan Ellis says. 'He is so in the James Brown zone."

Tate Taylor recalls the conversation: 'Nelsan Ellis said, -I'm sorry, I'm not James Brown. I'm Bobby.' I said, -That's what I want, too,' and that was it. His performance speaks for itself. Much as with Viola, you feel what Nelsan is feeling. You see it and relate to it."

Nelsan Ellis, who had a featured role in The Help, was glad to work with Tate Taylor again and fill the shoes of a bigger character, even when those shoes hurt. 'Tate Taylor's personality sets a tone," says Nelsan Ellis. 'We worked hard, but had fun every single day. I'd say it's the best set I've ever been on."

Chadwick Boseman concurs: 'Tate Taylor has a familiarity with his people on set that makes everyone want to do their best: grip, gaffer, PA. It's partially because he's done a lot of the jobs. He worked himself up through the ranks, and now he deserves to sit in that seat. And he's an actor, so he knows what it's like to go from point A to point Z, and can create the atmosphere for you to get there."


Fellow Southerner Spencer agrees. 'Tate Taylor has a personality that fills the room, no matter the size," she says. 'I made him give me a role in Get on Up, and feel great that I strong-armed my way in. He's my best friend, and he's an amazing actor. Amazing actors make tremendous directors because they understand our process. Tate Taylor's also a Southern man, like James Brown, and understands those sensibilities. He knows that a story like this must include the pathos, the humor, the grit, the glamour"all of it."

Actor Dan Aykroyd, who portrays manager and booking agent Ben Bart, also knew the performer well, and counted him as a friend. They shared the screen in 1980's The Blues Brothers"one of Tate Taylor's favorite films"which featured Brown in a show-stopping sequence as Reverend Cleophus James. They teamed up again in Doctor Detroit and Blues Brothers 2000.

'I'd seen him many times before all that, starting as a teenager, at the Esquire Show Bar in Montreal," says the Canadian-born performer. 'He had his complications and difficulties as a human being, but he loved people. I think the filmmakers are reflecting that love, and he'd be happy with the way he's being portrayed. Especially with Chadwick Boseman's performance, which is on the verge of spiritually channeling him.

'He's got the voice right, and the look"that little edge of paranoia," Dan Aykroyd continues. 'Although James Brown got close to people, there was always a bit of distance. He was almost regal. Chadwick Boseman catches all of that in his performance."
I Got the Feelin': James Brown's Moves

To play James Brown, an actor must move with both control and abandon. His sinewy stage moves gave physical form to the beat that drives his music, but his hand gestures also served a practical purpose. 'He was like a human baton," says executive producer Afterman. 'He was telling his musicians what to do next, like an orchestra conductor."

Mick Jagger's first encounter with James Brown was when he caught his full show at the Apollo Theater in Harlem, and he admits that the physicality and energy he witnessed made him a lifelong fan of James Brown. 'I went to see him a lot of times in different places in that part of my career," Mick Jagger says. 'He was an amazing frontman, and if that's your gig, you're going to want to see the very best."

Mick Jagger was equally transfixed by Brown's physical presence as he was his vocals. 'I watched him do the splits, and thought, -Well, I'm not doing that,' but I'm not ashamed to say I borrowed other moves. He was brilliant. The best mover, amazing voice and amazing grooves. It all really knocked you out."

Indeed, Jagger and Brown actually worked together during filming of the legendary T.A.M.I. Show ('Teen Age Music International") in Santa Monica, California, a concert reproduced in Get on Up. A cult classic, the 1964 film starred the Stones and James Brown"along with Marvin Gaye, Chuck Berry, The Supremes, The Beach Boys, Lesley Gore and others"and included an audience of screaming, rabid fans echoing the energy that radiated from that once-in-a-lifetime stage.

James Brown's incendiary 18-minute set during the T.A.M.I. Show was the first time white American teens felt 'Mr. Dynamite's" heat. As Octavia Spencer, the woman who would become the film's Aunt Honey, notes, 'Hel-lo! Dirty dancing has come to town!"

Keith Jenkins, a 12-year veteran of James Brown's band, was on set to help Chadwick Boseman learn those moves and grooves"ones seen and attempted to duplicate by countless fans over the decades. 'Over the span of James Brown's lifetime, the dances he did changed," says the musician. 'You can't just learn a couple moves and be done with it. Chadwick Boseman's commitment is mind-blowing. In between every take, he was practicing."

Jones had discovered that a few months earlier, when he was hired to prepare Chadwick Boseman, first for his screen test and then for filming. 'Chadwick Boseman had rhythm and could dance, but nowhere near the degree he needed to pull this off," says the choreographer. 'But he's grown faster than anyone I've worked with before. At first, we'd do two-hour rehearsals, like a boot camp, but we beefed up the hours right away and tried to go as hard as we could."

The results impressed everyone on set. 'What he's done is quite an achievement," says Mick Jagger. 'He's not a guy off Broadway. He worked his butt off, and it comes across. He really makes it live for you."

Erica Huggins adds: 'We knew as producers, and certainly Tate Taylor saw as the director that this role is about the performance. We knew Chadwick Boseman would nail that. What he's also been able to do as a dancer is amazing."

Chadwick Boseman and Jones trained for a month in Los Angeles before shifting their regimen to Natchez, Mississippi, where the Get on Up production was based. Already fit and athletic"he'd played Jackie Robinson, after all"the actor was surprised at how hard dancers work. Chadwick Boseman recalls: 'I said, -Five-hour rehearsals?' The dancers said, -We do eight hours a lot of times.' We built up to that, and it was intense. But you know, in the beginning, I could only do the mashed potato in slick shoes. Eventually, I could do it in sneakers because my legs got so much stronger."

Chadwick Boseman's portrayal begins at age 16 and ends around 63. James Brown's music, moves and overall body language changed many times over those years, and Chadwick Boseman had to layer those changes into his performance.

Chadwick Boseman also had to master James Brown's signature splits…and bounce back up. But that wasn't the hardest part of the job. 'To dance like him is much more difficult than you realise," Chadwick Boseman says. 'The parts of your body are moving in different directions, and he's never still at the mic. He's always moving. But there's something about his music that takes you to a different place in yourself. You reach a point where you want to let it drive you."

The choreographer made sure Chadwick Boseman could drive wherever he needed to go. 'I didn't want to marry him to choreography in the beginning," Jones explains. 'I wanted to give him the ability to have freedom in his performance."

Jones had studied James Brown's moves long enough to know the importance of freedom. 'I didn't have to look at anything I hadn't seen before to do this film because that's how big a James Brown fan I've always been," says the choreographer. 'I just went further into the how and why, as opposed to the what. It's about the feeling, and where you're coming from, to be able to move that way.

'You may look at Chadwick Boseman and say that little piece looks very Prince or Michael Jackson or Lenny Kravitz," he continues. 'Or even Mick Jagger. But all those things you're seeing come from James Brown."

Of course, Jones had more than Boseman's moves to worry about. All of The Famous Flames had to be spot-on, as did the dozens of other artists who appear in musical numbers.

Jones portrays Famous Flame Bobby Bennett dancing at the Apollo gig, the T.A.M.I. Show and Ski Party tapings and the nonspecific concert featuring 'It's a Man's Man's Man's World." Assistant choreographer Codie Wiggins danced the role of Famous Flame 'Baby" Lloyd Stallworth alongside Jones, which meant just two Flames in these scenes"the actors playing Brown and Byrd"were not professional dancers. Aakomon Jones was determined to make sure no one would know the difference. Commends Tate Taylor: 'Aakomon Jones is the unsung hero of this movie."

Aakomon Jones thought the casting of Nelsan Ellis as Bobby Byrd was perfect. 'Bobby Byrd wasn't sliding across the stage, going crazy like James Brown," he notes. 'He had that cool groove that's similar to Nelsan Ellis himself: a supersmooth, suave, tinted sunglasses, French leather jacket kind of vibe."

Supercool or not, it was still demanding for Nelsan Ellis. 'I used to have pretty feet," he joked, 'but not anymore. Now they look like dancers' feet."

Nelsan Ellis worked hard with Jones and Wiggins, always game for one last rehearsal on set before takes. He also had his own coach for extra training. 'Certainly in the club, I have a little rhythm," he says. 'But I quickly learned that I needed help when it comes to choreography."

The film's biggest concert sequence is a three-song extravaganza"'Get Up (I Feel Like Being a) Sex Machine," 'Super Bad" and 'Soul Power""from the 1971 Olympia theater concert in Paris. By choosing to set this peak moment in France, Taylor made a point about Brown. 'I thought it says so much about him, that a man from Georgia and South Carolina, born in a shack in the woods, would go on to command sold-out shows in Paris," he lauds.

For Aakomon Jones, the Olympia show meant a lot of moving parts, but he downplays the daunting challenge: 'The horn players are doing their steps, the dancers have their moves, the background singers have theirs. James Brown, Bobby Byrd, The J.B.'s, the conductor"they're all doing their thing. I knew the scope would be big, but I've dealt with large numbers of people on stage before. It's just a matter of giving everyone their part to play and making sure it all goes together."

As for pleasing his director, Jones was happy to meet that bar. 'Tate Taylor loves dance, and knows what he wants: the raw and the real."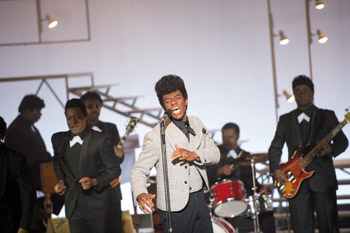 Let the Boogie Do the Rest: Making the Music

The concert sequences in Get on Up offer a thrilling taste of sizzling moments from James Brown's legendary stage career. As Brown himself says in the film: 'You may not know me, but every record you got has got a piece of me in it."

Get on Up audiences will hear James Brown's own voice and the instrumental performances of his band members"including such key players as Alfred 'Pee Wee" Ellis, brothers Maceo and Melvin Parker, Fred Wesley, Clyde Stubblefield, John 'Jabo" Starks, Jimmy Nolen, Bernard Odum, brothers Bootsy and Phelps 'Catfish" Collins and, of course, Bobby Byrd"via original multitrack recordings from the James Brown archive at Universal Music.

They will also see every actor and musician on screen singing or playing every note in real time. A team of music editors and supervisors worked with Taylor, Jones and the performers to keep the audio and visual aspects of these sequences in harmony.

Music production coordinator and supervising music editor Curt Sobel offered a thumbnail description of the process. 'First, of course, songs were chosen," he says. 'James Brown had an enormous catalog with many massive hits, but they had to be right for the time frame, as well as the energy of the scene. We cut medleys together for some scenes. After working them out with Tate Taylor, and then Aakomon Jones, we handed the music over to Chad to learn in advance of performance.

'He had to sing and dance in time with the recordings, and cue with the musicians on stage. It's a tough job when you combine all that with dialogue, but he's been terrific."

Chadwick Boseman's own singing voice is heard several times during the film, in non-gig moments. The concert sequences depict numerous phases of James Brown's career, and various incarnations of The Famous Flames and the backing band. Actors portraying band members include Craig Robinson as saxophonist Maceo Parker; Tariq Trotter as sax player Alfred 'Pee Wee" Ellis; Aloe Blacc as original Flame Nafloyd Scott; and Keith Robinson as Baby Roy Scott, also an original Famous Flame.

Jenkins, Sobel, music supervisors Budd Carr and Margaret Yen, and other members of the music team worked to help the actors get comfortable with their instruments. 'We made sure everyone playing in a particular scene was as close to accurate as possible," says Jenkins. 'The actors came a long way in a short period of time."

Several of those actors had a head start. Trotter, Blacc and Craig Robinson are already musicians, although not necessarily known for playing their characters' instrument. Robinson, for one, enjoyed expanding his musical résumé. The actor-comedian notes: 'Maceo may be the most fun character I've portrayed because in learning his sax solos… I became a little bit funkier."

More than 80 real musicians performed alongside Boseman and the other actors in the course of filming Get on Up. Darren Glenn worked with extras casting to find these players. 'They had to be able to play and dance at the same time. That was the biggest issue," says Glenn. 'We also wanted to use local musicians as much as possible and give them an opportunity they wouldn't ordinarily have. We were fortunate to find very good talent in this area."

The guiding principle was to make everything seamlessly real, and give the audience an experience worthy of Brown's legacy. 'My goal," says Tate Taylor, 'is to have people dancing when these scenes hit the screen."

With access to James Brown's original multitrack recordings, the Get on Up team was able to remix those tracks to create state-of-the-art surround sound for the film's audience"and tailor any given musical performance to the film's dramatic needs.

'They can make something a cappella, or make an instrumental solo louder," Yen explains. 'With the multitracks, we could do whatever Tate wanted for the scene."

Afterman, who promoted a couple of James Brown gigs back in the day"including one at San Quentin"spoke with the fervor of a seasoned impresario. 'This music is going to be booming. I promise you'll think they're live!"

Hot Pants: Costumes, Hair and Makeup

Get on Up follows James Brown as a child when he strays into 'Sweet Daddy" Grace's United House of Prayer for All People and absorbs the ecstatic abandon of gospel music, along with the drama of a flashy cape.

'The Godfather of Soul" always looked sharp, and completely unique. His brilliant smile, elaborate hairstyles and flashy clothes were as important to his identity as the two syllables of his name. Oscar®-nominated for her work on Dreamgirls and Ray, costume designer Sharen Davis dressed Chadwick Boseman for the part. Makeup department head Julie Hewett oversaw the actor's face and physique as he aged from 16 to 63, and wig consultant Robert Stevenson fashioned his fabulous hair.

Sharen Davis served as Tate Taylor's costume designer for The Help, which allowed her to hit the ground running. 'It was great working with Tate a second time," she says. 'He gave me a lot of trust. Viola and Octavia, too. They were fantastic."

The costume designer was also reunited with director of photography Stephen Goldblatt and production designer Mark Ricker for Get on Up's Mississippi shoot. 'We're always on the same page," she says, 'and when you're moving as fast as we did on this film, it's great to know you're with a team you've worked with before."

Sharen Davis dressed dozens of principal cast members and more than a thousand extras for a film that depicts many moods, and more than 50 years. Creating flowery frocks for voluptuous Aunt Honey and threadbare necessities for down-and-out Susie Brown were a treat for Davis. Plus, she had the luxury of designing those looks at her home base in Los Angeles.

'Both Viola and Octavia generously gave me time in L.A. so that we could do their fittings and make their clothes here. Octavia's dresses were fun to make, and she enjoyed wearing them," the designer says. 'The impoverished looks that Viola wears in the beginning of the film are the hardest to do, but I loved distressing the clothes and making them look real."

The band members who appear in Get on Up required a different modus operandi. 'A lot of the musicians were cast on short notice, and we were in Mississippi by then," Davis explains. 'But we decided on the look of the concerts far enough in advance to be prepared. We tried to have every size available."

Designing for Brown raised another issue for Sharen Davis. 'James Brown was the originator of reinventing himself," she says. 'He took big risks in his wardrobe and didn't wear what anyone else was wearing. My challenge was, do I make it outrageous or rein it in?"

After digesting the research, she split the difference. 'I used the silhouettes of my favorite outfits, then let the scene dictate whether to tone something down, or bring it up," tells Sharen Davis. 'For the concerts, I always stuck to the real looks. He has 50 changes in the movie, most made-to-order, and I wanted them all to be exciting. I also wanted to make sure his favorite looks occupied space in the film." She offers that Get on Up's lead was an easy man with whom to work. 'He just put on the costume, manipulated his body and became it. He never complained."

Chadwick Boseman's height, however, presented a design challenge. At 6 feet 1 inch, the actor is five inches taller than the man he portrays. Sharen Davis settled on a solution that worked visually, and also gave Boseman more room to move. 'James Brown wore his pants really tight, but tight pants on Chad emphasize his height and the length of his legs. By making the pants looser, we made him look a little stockier. It was all about the silhouette."

James Brown's hair and smile were also part of that silhouette. As he declared in his 1986 autobiography, 'James Brown: The Godfather of Soul": 'Hair is the first thing. And teeth the second. Hair and teeth. A man got those two things, he's got it all."

Hair and teeth were also important external tools for Chadwick Boseman's interpretation of the man. In an early scene, when The Famous Flames are about to shed their identity as a gospel group, they're together at a Toccoa, Georgia, barbershop, getting their hair relaxed. In the next scene, two years later, they meet Little Richard (portrayed by Brandon Smith) at a juke joint. It's 1954 and the flamboyant musician makes a big impression with his stage style, not to mention his hair. Bring on the pompadour!

Stevenson, a longtime James Brown fan, had nine 'hero" wigs for Chadwick Boseman, plus a few tricks that squeezed additional looks from his inventory. 'Whatever time and place Tate wanted to do, we found pictures and duplicated it, with a little artistic license when necessary," says the veteran movie hairstylist. 'James Brown had a thing about looking good, and changed his hair often," he continues. 'He always wanted to set himself above the band. If they all had their hair straightened, his was still different. He was always out front."

As times changed, that hair wasn't always politically correct, according to some commentators back in the day. 'He was black and proud, but with his hair, he did what worked for him," Stevenson says. 'There are a few pictures of him natural. He tried, but it wasn't his thing. He was a showman, and did his talking with his music."

Stevenson admits that his favorite look is the pompadour. 'It's the hardest to do, but the most fun. We added pieces to the wigs we'd already made to give it more height and body."

Hewett's makeup team focused on doing work that did not call attention to itself. 'We kept it as natural as possible so that it would never distract from Chadwick's performance or the story's dramatic power," she explains.

Natural doesn't mean easy. 'First, James Brown's an icon and has very distinctive features," Hewett continues. 'Second, the film covers many decades, so aging him and collaborating with the hair and costume departments to show the passage of time were a big part of the job."

Chadwick Boseman's smile needed a bit of altering to replicate Brown's. The prosthetics makeup team provided him with a set of removable teeth to create the star's distinctive underbite. 'When you see James Brown, you always see his bottom teeth," says makeup artist Greg Funk. 'We had them made early so Chad could get used to them before shooting started."

As the decades passed in the Get on Up narrative, Hewett's team and Stevenson's team aged most characters 'out of the kit," with wigs and makeup tricks. But Brown needed more, and the prosthetics experts aged Boseman with a neckpiece and eye bags, plus a fat suit that added two inches to his waistline. 'It was hot, extremely hot, with the fat suit and prosthetics," sighs Boseman. 'The wigs were hot, too. You lose weight just sitting still!"
Funky Side of Town: Filming in Mississippi

That Get on Up is a story with Southern roots meant a lot to Tate Taylor. 'When I read the script, I totally knew how to weave in the Southern layers," he says. 'That got me really excited."

That he could film in his native Mississippi meant a great deal, too. In the Magnolia State, he knew he had a seldom-seen canvas where he could re-create locations ranging from Harlem's Apollo Theater to Vietnam. Beyond that, there was the vibe. 'My job's made easier and my actors' jobs are easier because it's an environment ripe with possibilities to draw from," Tate Taylor offers. 'There may be no better place for contradiction, paradox, beauty and pain"old and new"than the real South. It's hot, and it's green. There are bugs, there's road kill, there's religion and there's booze."

In November and December of 2013, the Get on Up shoot was based in Natchez, a small city on the banks of the Mississippi River. After the year-end holidays, the filming unit moved two hours north to Jackson, the state capitol and Tate Taylor's hometown. 'Natchez is a particularly beautiful place with a tradition of preservation," says Victoria Pearman. 'That simple fact allowed us to shoot a movie that took place from the '40s to the '90s without having to build a lot of sets."

One exception was the rural shack where James Brown spent his first years. Young James, played by eight-year-old Natchez twins Jordan Scott and Jamarion Scott, and his parents, portrayed by Lennie James and Viola Davis, endured a harsh, isolated existence in the woods of Barnwell, South Carolina.

Finding the right spot to build their shack was production designer Ricker's first mission when he arrived in Mississippi. It was August, and the goal was to shoot the Barnwell scenes before the trees were bare. Scouting on four-wheelers, he and Taylor found the ideal piece of land in Jefferson County, some 30 miles north of Natchez and adjacent to Taylor's own property.

Cinematographer Goldblatt was also invested in where this humble structure would stand and how it would sit. 'The way the shack is positioned is for the light as much as the setting," he explains. 'In preparation for certain scenes, such as this one, I would go out to the location 20 times just to look at it, to look at the light, and to work out what time of day would be best to shoot."

Principal photography began on November 4, and for a week Taylor and his cast and crew filmed scenes depicting the turbulent childhood of Brown. The woods were hushed, despite the presence of a film crew. The air was chilly and a breeze ruffled the treetops. Particles of special effects smoke lingered in shafts of diffused sunlight. The crew had been warned about diamondbacks and rattlers, but the snakes kept their distance.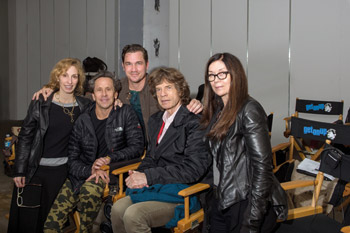 Eventually, the sounds of a woman and her little boy running and giggling filled the woods, and day one of Get on Up filming was underway. 'The leaves were just starting to fall, and floated through the middle of our shots," says Ricker. 'It was a little bit magical out there."

Actor Lennie James appreciated the woods' influence on those scenes. 'The thing about the woods is that they're timeless, and the spot where they built the shack is old land, which added to the feeling," he says. 'In the woods, there's no need to whisper. You're not interrupting anybody, not getting dressed for anybody. Joe and Susie had nothing to hold back for."

Barnwell is about 40 miles from Augusta, Georgia, where Joe eventually took his young son to live. The Get on Up team left the woods then, too, and moved into town.

Natchez aficionados might notice several of the city's antebellum landmarks, including Dunleith Plantation, which stands in for a country club in Augusta. Stanton Hall, a Classic Revival mansion, which enjoyed a bit of fame in the 1985 miniseries North and South, is disguised as a New Orleans hotel. Just down the road, a more contemporary landmark, The Malt Shop, hosted a scene between Brown and Little Richard. It was also where the Scott twins had their initial interview for the role of young James Brown.

'The town is small enough that the distance between most locations was minimal," says executive producer Trish Hofmann. 'It was almost like a back lot."

One low-key, downtown-adjacent block provided Get on Up with two cities and two decades in a single day. 'We literally divided the street with a speed bump," says Ricker. 'On one side, it was an unpaved Augusta neighborhood called the Terry in the early 1940s, and on the other, Toccoa, Georgia, in the mid-1950s."

The production also got double-duty from the Margaret Martin Performing Arts Center, an imposing former high school that was built in Gothic Revival/Tudor style in 1927. Ricker and his team transformed its neglected 660-seat auditorium into an ornate red-and-gold facsimile of Harlem's Apollo Theater. The Apollo sequence included backstage drama, as well as supercharged renditions of 'Night Train" and 'I'll Go Crazy."

The morning after that 'show," all traces of the Apollo had disappeared. The auditorium was re-dressed during the night for a steamy staging of 'It's a Man's Man's Man's World." This time, the building portrayed an unnamed venue on an unnamed night in the nonstop touring schedule of the 'Hardest Working Man in Show Business."

In downtown Jackson, Thalia Mara Hall provided the production with locations for several scenes. Most notably, it hosted the 1971 Olympia theater concert sequence. A six-camera shoot with a thousand extras portraying French fans of funk was the most elaborate of the film's music sequences.

On Martin Luther King, Jr. Day, Get on Up re-created Brown's recording of the soul power anthem, 'Say It Loud"I'm Black and I'm Proud." The sequence was filmed at Jackson's historic Malaco Records, also known as 'The Last Soul Company."

Scenes depicting James Brown's famous April 5, 1968, Boston Garden concert were staged at the Mississippi Coliseum in Jackson. 'There was a closed convention of Seventh-day Adventists when Tate and I went there to scout last year," recalls Goldblatt. 'We just pretended to be part of the group, snuck in, went to the top, took photographs and snuck out again. No stopping us!"

Not surprising in light of all that Taylor and his team accomplished in just 49 days of filming. Perhaps breaking that fourth wall brought Get on Up some extra help from 'Soul Brother No. 1." Concludes Taylor: 'We often say he's producing the movie."

Get on Up
Release Date: February 5th, 2015