Diary of a Wimpy Kid: Dog Days
Cast
: Zachary Gordon, Devon Bostick, Rachael Harris, Robert Capron, Steve Zahn
Director
: David Bowers
Genre
: Comedy, Family
Rated
: PG
Synopsis
: During his summer vacation, "Wimpy Kid" Greg Heffley, the hero of the phenomenally successful book series, hatches a plan to pretend he has a job at a ritzy country club - which fails to keep him away from the season's dog days, including embarrassing mishaps at a public pool and a camping trip that goes horribly wrong.
Release Date
: September 20th, 2012
About the Production
Greg Heffley, the kid who made "wimpy" cool, is back in Diary of a Wimpy Kid: Dog Days, an all-new family comedy in the hit movie franchise based on the publishing phenomenon by Jeff Kinney.
School's out and Greg is looking forward to enjoying the best summer of all time. But when his dad decides that some father-son bonding is in order, Greg must do everything he can to keep him from ruining his vacation. So he hatches a plan to pretend he has a job at a ritzy country club - but even that fails to keep Greg away from the season's dog days, including embarrassing mishaps at a public pool and a camping trip that goes horribly wrong.
From its origins as a series of online cartoons, Diary of a Wimpy Kid exploded onto the pop culture scene when Jeff Kinney's first "novel in cartoons" was published in 2007. Diary of a Wimpy Kid spent almost three years on The New York Times' children's bestseller list - there are 75 million copies in print in 37 languages. The book captured the imaginations of an army of formerly "reluctant readers," and launched countless video reviews, social networking fan groups and parties celebrating the release of each new Wimpy Kid book. Jeff Kinney had originally targeted adults through the book's nostalgic look at middle school life as told through a narrator with Walter Mittyesque-fantasies of greatness, but kids immediately connected to his blending of the subversive and edgy with the fun and wholesome.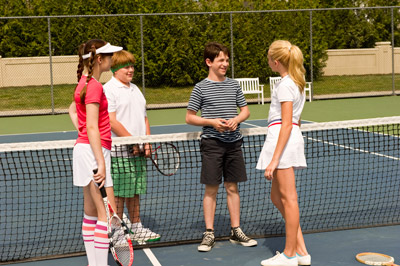 The first motion picture, based on Jeff Kinney's debut Wimpy Kid novel, brought to cinematic life the adventures of wisecracking pre-teen Greg Heffley, who must somehow survive the scariest time of anyone's life - middle school. In the second picture, Diary of a Wimpy Kid: Rodrick Rules, which opened as #1 at the box office, Greg and his older brother and chief tormentor, Rodrick, deal with their parents' misguided attempts to have them bond. In the new film, Jeff Kinney (returning as executive producer), director David Bowers, producers Nina Jacobson and Brad Simpson, and screenwriters Maya Forbes and Wally Wolodarsky, focus on the father-son relationship of Frank and Greg Heffley, as played by Steve Zahn and Zachary Gordon.
Returning cast members also include Robert Capron as Greg's best friend, Rowley Jefferson, Devon Bostick as Greg's brother, Rodrick, Rachael Harris as their mom, Susan, and Peyton List as Holly Hills.
Diary of a Wimpy Kid: Dog Days is based on Jeff Kinney's third and fourth Wimpy Kid books, The Last Straw and Dog Days. Jeff Kinney, who worked closely with the screenwriters, producers and director, says, "We have an obligation to our readers, to make sure we're protecting their expectations and don't stray too far from the books."
At the same time, Jeff Kinney points out the movie adaptations are not carbon copies of the books. He likens the adaptation process to the experience of and expectations for attending a pop music event: "It's kind of like going to a concert of your favourite band. You wouldn't really enjoy it if the band just played the songs from its latest album, in order - why not just stay home and listen to the album? So you try to mix up the playlist a little and play a new song, maybe a cover song from somebody else. That's the same model we have for the movies: we try to give fans enough to meet their expectations, but also add new elements to surprise them."
Brad Simpson notes, "Some fans will ask, what happened to the third book, The Last Straw? We incorporated elements of it into Diary of a Wimpy Kid: Rodrick Rules, and we brought other elements into Diary of a Wimpy Kid: Dog Days. For the latter, this enabled us to get outside of the school and do a summer-themed movie. This was a great opportunity to expand Greg's world. People usually look at summer vacation as a golden time, but for Greg it's just as tough as the school year. Diary of a Wimpy Kid: Dog Days is a really fun book that turns summer on its head, and I think we've done that in the movie. We also have some new elements that feel like they're part of Jeff Kinney's world."
Diary of a Wimpy Kid: Dog Days follows Greg Heffley's summer adventures - from the comfy confines of his living room, where all he wants to do is play video games; to the aquatic frenzy of the local municipal pool; to the plush and leisurely luxuries at a lavish country club; and to a wild camping trip outside of the familiar comforts of suburbia. "Summer vacation and childhood are deeply associated," says Nina Jacobson. "When you're a kid, there's nothing you look forward to more." David Bowers adds, "I think summer vacation is a great source of comedy because often people have plans and look forward to it, but it isn't always as awesome or amazing as you hope it might be. And that certainly is the case for Greg, whose vacation might not be as much fun as he thinks it should be."
Greg would probably call that a huge understatement.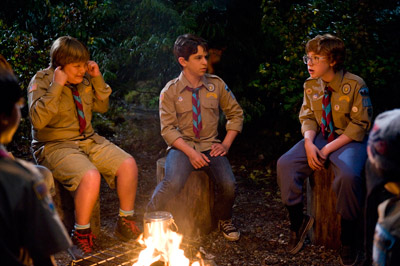 During production of Diary of a Wimpy Kid: Dog Days, Jeff Kinney was putting the finishing touches on the sixth book in his series, Diary of Wimpy Kid: Cabin Fever, which was released last November with an enormous run of six million copies. In addition to writing the phenomenally popular books, creating the hugely successful kids' website Poptropica.com, and executive producing the Wimpy Kid films, Jeff Kinney is also a married father of two, and a Cub Scout leader. To everyone's amazement and appreciation, Jeff Kinney still managed to be on set during much of the shoot.
"Jeff Kinney really is the glue that holds the films together," says Brad Simpson. "His presence on the set was very important to the cast. He helps keep the integrity of the books on the screen. Jeff Kinney is part of the fabric of the films in an intense and amazing way." Nina Jacobson adds: "Jeff Kinney's role has been to be the guardian of the Wimpy Kid voice. He is our go-to guy when we need a great joke, or when we need to check whether a character would really do something."
Steve Zahn believes the success of the books and the films is that "they're told from the perspective of a kid, and Jeff Kinney is still a kid. The stories don't talk down to young people."
Another key filmmaker accessing his inner-Wimpy was director David Bowers, who was asked to direct the new film before he'd even completed Diary of a Wimpy Kid: Rodrick Rules. "David Bowers brought a great sense of life and humour to the previous film," says Brad Simpson.
"David Bowers really thinks in a very Jeff Kinney/Greg Heffley sort of way and has come up with a lot of the really funny moments," adds Nina Jacobson. Jeff Kinney concurs: "Having David Bowers return gave me a lot of comfort, because I knew he'd deliver on the comedy end."
Also delivering the laughs were screenwriters Maya Forbes ("The Larry Sanders Show") & Wally Wolodarsky ("The Simpsons"); their big screen credits include the hit animated feature "Monsters vs. Aliens." "Wally and Maya have a subversive sense of humor that matches these books'," says Brad Simpson.
In addition to the cast, producers and director, a number of creative department heads returned for their second or third Wimpy Kid films, including: production designer Brent Thomas (all three Wimpyfilms), editor Troy Takaki, A.C.E. (the second and third films), and Academy Award®-nominated costume designer Monique Prudhomme (the first and third films). BAFTA-award winning cinematographer Anthony B. Richmond, ASC/BSC was a welcome newcomer to the Wimpy team.
All three pictures were made during consecutive summers in Vancouver, British Columbia, Canada. "These movies have been like summer camp for the actors and the crew," says Nina Jacobson. The kids have really bonded and their friendships have evolved throughout the years. "They came in as bright-eyed, excited kids and they never lost that enthusiasm. We brought back the same crew, year after year, and everyone felt like a family."
Zachary Gordon says, "For the second and third films, it felt like I'd never left the previous production. It was like I'd taken a day off and come back. It really was like a family reunion."
One of the reasons the second and third films moved ahead so quickly was that the young cast was growing up, unlike their counterparts in the Diary of a Wimpy Kid books. When the first movie went into production, Zachary Gordon, Robert Capron and most of the other actors were going into sixth grade - beginning middle school - just like their on-screen alter egos. And like their characters, Zachary Gordon and Robert Capron began seventh grade while filming the second opus. The new film follows Greg Heffley's adventures during the summer before eighth grade - but in between filming the second and third installments, Zachary Gordon had grown considerably and his voice was considerably deeper. Nevertheless, he was still Greg Heffley.
Indeed, the filmmakers are quick to praise Zachary Gordon's achievements in bringing Greg Heffley to life on screen. "I can't imagine anyone else playing this role," says Brad Simpson. "We started out, three years ago, with a stick figure in Jeff Kinney's book, and had many discussions about what that stick figure would look like if it came to life. We decided that it was really about attitude - a little bit of a hustler, a little bit of salesman, and of course, a wimp. Greg is a good kid, but still trying to get ahead the way that kids do. Zachary Gordon has really nailed this role and I think it's hard for kids, when they read the books, to imagine anyone but Zachary Gordon as Greg."
Zachary Gordon's Greg still plays off his friends, including Rowley, and troublemaker older brother Rodrick, but Diary of a Wimpy Kid: Dog Days also sees Greg spending more time with his dad, Frank. Jacobson notes: "This movie is about Greg and his father, and we get a much fuller sense of who Frank is as a character and more of an opportunity to enjoy Steve Zahn, who's played the role in all three pictures. And, while we've had the amazing comedic weapon that is Steve Zahn in our arsenal all along, it's great to finally let it loose." Jeff Kinney says, "In the books, the parents are kind of background characters; Greg doesn't even know what his father does for a living. But Steve Zahn has done wonders with the Frank character, and adds humor to everything he does." Rachael Harris adds, "There are some very laugh-out-loud slapsticky things Steve Zahn does that nobody can do better."
Steve Zahn acted in the Wimpy Kids movies during his summer hiatus from the acclaimed HBO series "Treme." He says, "I've got to be the first actor that has done the same movie and the same TV show at the same time of year, for three years. Now to most people, that's not a big deal, but for an actor in this business, that is very unusual."
Robert Capron again brings his signature charm to the role of Rowley. "He walked in and he was Rowley," Brad Simpson remembers of Robert Capron's audition for the first picture. "He has a huge heart, is excited about life and the world, and has some of the same qualities that Rowley has."
Devon Bostick returns as Greg's older brother, Rodrick, who upon learning that Greg has been sneaking into the country club, wants to get in on the high-class action, as well. "It's Greg's nightmare," says Nina Jacobson. "Rodrick is loud and lazy and Greg is a little embarrassed by his brother in this movie.
"Devon has a great sense of humour, a great sense of mischief he brings to the character," Nina Jacobson continues. "Rodrick's relationship with Greg evolved in the second film, and in this one, they're closer than they've been. But Rodrick's still not the sharpest tool in the shed."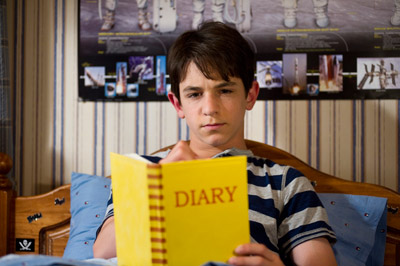 Comic actor Rachael Harris' performances as Greg's much-put-upon mom have also been audience favourites. "Rachael Harris has brought a great comic timing and sensibility to the role of Susan," says Brad Simpson. "There's a sense of a very caring mother, just trying to do her best with all these crazy kids around her. And I think that's probably how Rachael Harris experienced working on the movie - wondering how she ended up in this crazy world with all these kids running around her. But she's embraced it and loved it."
Peyton List is back as Holly Hills, who had moved to town in the last movie and stole Greg's heart. In Diary of a Wimpy Kid: Dog Days, Holly and Greg have become friends, but he wants to take it to the next level - whatever that means for someone in middle school. "Peyton List really glows," says Brad Simpson. "She's a delight to have on set and it feels like any middle school boy would have a big crush on her."
Also back are the oddball Fregley (Grayson Russell), a misfit among misfits, the deadpan, wise-cracking Chirag Gupta (Karan Brar); and Patty Farrell (Laine MacNeil), who is the biggest thorn in Greg's side.
A notable newcomer to the cast - and to the Heffley family - is Sweetie, the clan's new pooch, played by four-year old Labra-doodle Oliver.
And Jeff Kinney, who appeared as an extra in the first two pictures, makes a special cameo appearance, in a "Sweet 16" party scene.
The close-knit cast and crew were thrilled to reunite. For the Wimpy Kid, himself, working on the film series has been nothing less than life changing. "This has been wonderful for me," says Zachary Gordon. "It was so much fun, even though it was a lot of hard work. It was way better than just having a regular summer vacation!"