Francois-Xavier Aubague, Florent Masurel, Ted Ty, Aurélie Dupont and Jérémie Bélingard Ballerina Interview
Cast: Elle Fanning, Dane DeHaan, Maddie Ziegler, Carly Rae Jepsen
Director: Eric Summer, Éric Warin
Genre: Family
Rated: G
Running Time: 85 minutes

Synopsis: Félicie is a young orphan from Brittany with only one passion: dance. With her best friend Victor, who wants to become a great inventor, they devise a madcap plan to escape the orphanage for Paris, the City of Lights where the Eiffel Tower is still being built! Félicie will have to fight like never before to surpass herself and to learn from her mistakes, to make her wildest dream come true: becoming a prima ballerina at the Paris Opera...

Ballerina
Release Date: January 12th, 2017



Interview with Francois-Xavier Aubague
Question: What made you decide to get involved in this project that would involve several years of work?

Francois-Xavier Aubague: Meeting the three producers was decisive. They were creative, audacious and passionate, and also very clear about what they expected: the quality they wanted for their first animated film and the means they had available to achieve it. Reading the screenplay finally convinced me.

With Studio 3D, the Atelier Animation and the team we created, we had the opportunity to do some great things. But it was an enormous challenge.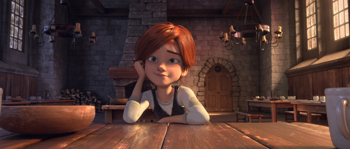 Question: What was your specific contribution to the development of the film?

Francois-Xavier Aubague: The technical and artistic ambition of Ballerina was to achieve an aesthetic quality up to the standards of the American studios' best animated films … with a budget 6 times inferior. That was the greatest challenge. I am happy today because I think that we accomplished that mission, even if it did cost us quite a few all-nighters.

With the producers, we organized and broke down production of the film over three years: one year in France, and then two years in Canada. From the story-board to final delivery to our distributor, Gaumont, we programmed the various stages of development and the creation of the sound and images of Ballerina.

This film is the result of the work of each individual artist and technician involved in the project. Together with the various crews, we evaluated and decided on the best technical and artistic options, considering our expectations and the constraints of our production.

Over those three years, I kept an eye on the whole general process, a little like an orchestra conductor. I learned a lot during production and I had the opportunity to get to know some great artists.


Question: What touched you in the themes being treated, in the spiritual journeys of the characters in the film?

Francois-Xavier Aubague: Dance touches me particularly. And that is something that I share with my family. Developing the art in animation was a particularly interesting challenge. It was marvelous being able to awaken a desire to dance with Ballerina.

Exceeding oneself to make one's dreams come true is a universal theme. It could be even more compelling when treated in animation, where the characters and choreography become even more intense. The characters of Ballerina are very attractive. For some, their dreams already belong to the past, others want to impose their own, while still others may have already forgotten theirs. But each of them, with his or her determination, will weigh on Félicie's future.

The Paris of the late nineteenth century was a particularly fascinating place and time: the city already possessed some of its most emblematic buildings and landmarks.



Interview with Florent Masurel
Question: What made you decide to get involved in this project that would involve several years of work?

Florent Masurel: Passion, the possibility of working on a universe and doing very thorough research into it. It's rare in this industry to be able to explore a universe for such a long time. It can only be done in animation. One of the other important particularities of my work on an animated film is to see that the designs are on a par with the story, which in Ballerina is powerful and packed with emotion. Working with a crew of more than 150 people at the height of production, and seeing that everyone is working in the same direction is an extraordinary experience. It's awesome to see so many different personalities, with different tastes, able to agree and work together.


Question: What was your specific contribution to the development of the film?

Florent Masurel: The artistic direction, which included creating the characters, sets, objects, ambiences and colors. We developed an authentic vision of Paris at the time, a tangible Paris and not just a poetic evocation of it. Our main goal was to situate the characters in a credible environment, rich and palpable. What a wonderful way to pay tribute to Paris, and most notably the Paris Opera, which is an architectural masterpiece! We began with daunting historical research to ascertain Parisians' lifestyles at the time, and to trace the transformation of the city's architecture thanks to the great Haussmann building projects. The real design work began with a synthesis of all those specificities of Paris in 1870, and trying to extract their essence.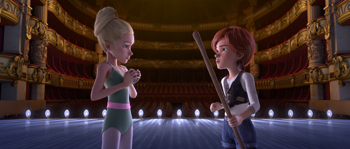 Question: What touched you in the themes being treated, in the spiritual journeys of the characters in the film?

Florent Masurel: Their making their childhood dreams come true, the sense of adventure and exploration. Friendship is also a theme that is very present in the film. Finally, the universe of dance and its stars, with all the rigor and magic it implies.



Interview with Ted Ty
Question: What made you decide to get involved in this project that would involve several years of work?

Ted Ty: First of all, the team at the Atelier and the three chief producers understood that an animated film is an adventure that requires reciprocal trust and respect. I was glad to be able to offer them my prior experience with Disney and DreamWorks, and encourage them to work toward the highest possible degree of perfection. Our collaboration with Aurélie Dupont and the manager of the Paris Opera for the choreography also allowed us to make our dance scenes accurate, coherent and emotionally strong.


Question: What was your specific contribution to the development of the film?

Ted Ty: As animation director, I had multiple roles: achieving effective visual results, making sure that the characters' -acting' looked authentic and appropriate to the feelings they were expressing; ensuring that all their movements and all their displacements looked credible.

I had the pleasure of being surrounded by, and directing a marvelous team of young animators. I pushed them to outdo themselves and they achieved a very high level of work that I am especially proud of.




Question: What touched you in the themes being treated, in the spiritual journeys of the characters in the film?

Ted Ty: I like the fact that the main characters in Ballerina are good but imperfect. Their flaws and doubts make them infinitely human and accessible to us all. Audiences will be able to identify with them. How can you not feel empathy and resist the desire to applaud a young woman like Félicie who struggles so hard to make her dream come true?



Interview with Aurélie Dupont and Jérémie Bélingard
Question: What was the nature of you work on this film?

Aurélie Dupont: Laurent Zeitoun contacted me to talk about the project and the years I spent at dance school. He asked me to do the choreography for the characters with Jérémie Bélingard, so that the team could later model the animation on my movements. The subject of Ballerina touched me, the experience would be unique, fun. And I thought of the pleasure my two children would have in seeing a film like this. Jérémie and I chose the rhythmics and imagined the choreography down to the slightest detail, like the plate that Félicie flings through the orphanage kitchen, or the way she sweeps the stage, while doing pirouettes! I danced all the scenes, for all the characters. Félicie and Camille are the same age, but never express themselves in the same way: Félicie is instinctive, passionate; Camille is technical, cold, at times she even holds her breath.

Jérémie Bélingard: When I saw the entire team at work, I understood that the film was destined for mass audiences and could also touch little boys, thanks to common references like Karate Kid, and I wanted to be part of the adventure. Aurélie and I wondered about how to proceed, and the idea of using a camera to film the choreography was the clincher: taking inspiration from the scenes as written by Laurent and Carol, I imagined the dances, Aurélie learned them, we rehearsed, and then I filmed her in one of the Opera studios. I came up with the shooting angles, worked in the cutting room and on the edit…

We then viewed the scenes with Laurent, who suggested some modifications before handing them on to the artists and animators in charge of breathing life into these moments of the film. The idea was to be as didactic and impressive as we could, because the production was not yet familiar with the subtleties of dance. I didn't want to insist on anything, I just wanted to create a dynamic: I took great pleasure in this part of the creative process.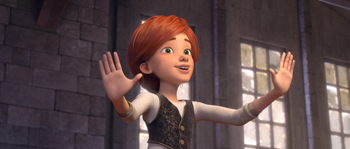 Question: How did animation allow for exalting the vision of the profession in Ballerina?

Aurélie Dupont: Some movements are impossible in real life! For example, Félicie's extraordinary steps do not exist, and a pirouette ending on a split cannot be done by a boy. Ballerina is also about a dream, and the magic of transcending reality.

Jérémie Bélingard: The producers wanted Ballerina to always be marked by a blend of the real world and fairy tales. We jazzed up certain movements by accelerating them, or we filmed leaps in slow motion to prolong the impression of hanging in thin air. We also evoked science fiction films and the role of technology. It was exciting to push the boundaries of animation, guided by the idea that technology can inspire people to reinvent and transcend their art. With Ballerina, we moved on to the era of dance 2.0!

In the great scene of Félicie and Camille's confrontation, it is physically impossible to leap from one chair to the next, or to leap over the steps of the grand stairway. If it looks believable, it's because the story is realistic: Félicie is capable of taking risks because she has gumption. Camille is passionate in her own way, she'll take up a challenge to the bitter end. I really love her: she's a feisty girl who perseveres, and who suffers a lot; she represents the many people who today feel alienated by their condition. Léonore Baulac worked with Aurélie and me to characterize Camille's technique, so different from Félicie's.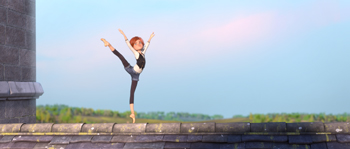 Aurélie Dupont: What Félicie experiences and lives through - even in fast forward - remains rooted in reality. We see her emerge from a group to impose her singularity. That's what I went through, in my own way: the big turning point for a ballerina is to step out of the collective, where you learn to imitate, to become a soloist, indeed a star. You need to feel ready. The first ballet that I danced in as a sujet – two levels lower than a star - was 'Nutcracker", just like in the film. I never expected it to be so difficult: the shock was violent. I was happy with my performance, but I was assailed by doubts. It was at that very moment that I asked myself whether I had made the right decision. I finally figured that I still had a lot to learn and, working even harder, those doubts gradually disappeared.

The film also gives a lighter vision of teaching. In the minds of many people, our professors are harsh, inhuman, and they still use a cane, which is all fantasy! Ballerina is addressed with great tenderness to young audiences, as a lovely example of self-fulfillment thanks to an art.


Question: Did you have to struggle like Félicie to make your dream of becoming a ballerina come true?

Aurélie Dupont: Day after day! I knew from the start that this was where I was meant to be. I didn't intellectualise that, I felt it as strongly as Félicie. My mother helped me along with that desire to dance by asking a professional to evaluate me. No one thought of the Paris Opera until, after my first classes, the instructor encouraged me to participate in a competition… that would be taking place three months later.

Jérémie Bélingard: Félicie is a natural wonder and took advantage of a stroke of luck to impose herself. Anyone who has succeeded in life has one of those little lucky stars, like her little music box. As a little boy, and then as a teenager, I followed the classic dance school courses without ever feeling that it was a struggle, because I was truly made for this profession. It was when I became a professional that I needed to fight: I was a little pipsqueak next to guys who measured 6foot5 and had the ideal silhouette!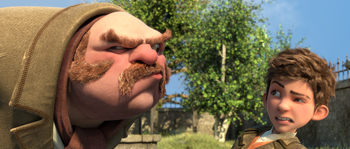 Aurélie Dupont: It was in dance school, where you are formed to become a member of the corps de ballet, that I struggled the most. With only three months of previous experience, which is tantamount to saying I didn't know a thing: I had a few notions– pas de bourrée, saut de chat… - but I hadn't imposed those exercises on my body. Girls who shared my apprenticeship had four years of dance to their credit: I worked night and day to catch up with them, mornings with all the other pupils, and weekends at private lessons.

Jérémie Bélingard: With my classmates, we were allowed to dance in one single great classic per year… as replacements! Dancers who had been there before us, such as Manuel Legris, were so exceptional that finding a place for ourselves was a wager. I was a part of that generation of dancers that was able to make it because of contemporary creators like Pina Bausch and Roland Petit: being noticed by them was the only way to work your way up the labyrinthine hierarchy at the Opera. That constraint nourished our powers of conviction and singularity. Being obstructed finally saved us!

Aurélie Dupont: Everyone fights, even if the terrain is different. Those who do not fit with the 'recommended" physical criteria need to develop a strong personality that will allow them to distinguish themselves; on the contrary, others will work to develop their charisma, because as technically gifted as you may be, what you exude onstage is fundamental.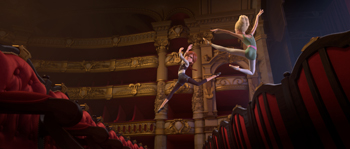 Question: Did you discover the Paris Opera for the first time with the same sense of wonderment as Félicie?

Jérémie Bélingard: I remember the third part of the competition that I had to pass to enter the school. It was a three-month internship at the Opera. I was sitting all alone, near the door, waiting for my class and Nureyev arrived. I greeted him, as is the tradition when you run into a danseur étoile. He stopped, looked at me, and returned the bow. I was 11.

Aurélie Dupont: When we had settled on the goal of entering the Dance School, my mother bought tickets to a performance at the Paris Opera. I was cruelly disappointed, because I expected to see children. No one had explained to me the sequences of a career. I remember a swarm of white tutus, the beauty of the building and the performance, but what dominated was incomprehension: I didn't see the connection with the competition I had to go through, since there was nothing but adults onstage!

In Ballerina, Félicie's dream comes true. In the real world - everyone will admit it from time to time - becoming a prima ballerina was a magnificent gift. But it is onstage that I felt that sense of accomplishment: I had reached what I esteemed to be my own perfection, physically and artistically. The timing in my life as a ballerina and as a woman was perfect!



Ballerina
Release Date: January 12th, 2017