Twisted Pop Single
Multi-talented electronic singer songwriter Mani Blü returns with new "twisted pop" single 'Frankenstein' out now. Following on from the success of his debut single 'Turn Off The Radio' that was premiered through LOTL and received a warm welcome from the music community, Mani Blu is back with a new fusion of electro-pop.

Filled sonically with electronic cadences and a lightly tuned angelic vocal that is reminiscent to a similar register of The Weekend, 'Frankenstein' delivers an up-tempo twisted tale of a broken love story that is as striking emotionally as it is lyrically poetic. Whilst comfortably sitting out of the norm of society with his fashion and grandeur, Mani Blü too chooses to go against the grain with his song writing. Composing a song that runs for a duration of 5:15 that seamlessly transitions between ballad & banger, there is no room to let conservative tradition get in the way of Mani Blü's creativity.

"Frankenstein" was an idea that I had in early 2017, I had a melody idea stuck in my head, and I remember running to the piano as I started to sing it into my phone. I hope that people can appreciate its layers and colours, it is a very emotional song, I wanted to use synthetic vocals and hyper pop sounds to represent an inner feeling that co-existed with the rest of the track, it is super twisted pop, so I hope people can feel that." – Mani Blü

Frankenstein comes coupled with a visually rich music video that features production quality and an esthetic comparable to Troye Sivan, whilst also unveiling an unseen side of Mani Blü. The video extrapolates the lyrics and story of the single as it shows an up close and personal side of Mani Blü that's not afraid to be vulnerable.

With a launch show and more music set to be announced in the nearby future, Mani Blü is an unapologetic, breakaway artist that should definitely be kept on your radar.


Interview with Mani Blu
Question: How would you describe your music?

Mani Blu: I would describe my music as electro synth pop at the moment, I am exploring new sounds and new different ways to push pop music, but also capture the elements of pop music that I love, specifically 80s and 90s Pop chorus melodies and structures. My music is driven by lyrics as much as it by the music, it is very visual pop music, I love creating themes and worlds in songs.


Question: How do you hope to spread your passion for equality with your music?

Mani Blu: Equality is something that I believe is something that would take care of multiple issues in our world, and while I know that I may not be able to single handily create the change I think we all deserve, I do believe in the power of music and art, I want to push societal ideas and try to make more people think more introspectively, I feel like once we are at peace with ourselves it will reflect onto the world.

I also just really want to create a safe space for people who feel like they don't fit in, I have always felt like an outcast and through music and lyrics I found so much of myself, and I would love to build a community of people through that to create a world of fantasy and art where we can all feel safe an equal.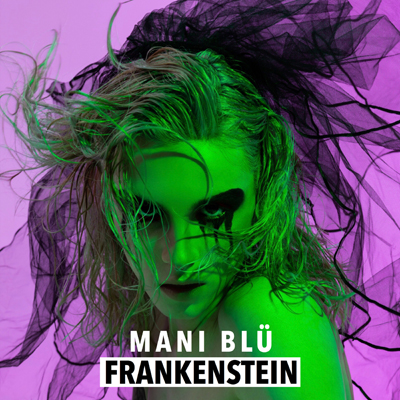 Question: What inspired Frankenstein?

Mani Blu: Frankenstein was inspired by my love of the obscure, I love making music that is heavily thematic, I think that definitely comes from my theatre and art background, I want to be able to represent my ideas and feelings in many different ways. This song is kind of about my own identity and how I feel the world views me, I can sometimes feel like I'm being torn apart, and new parts are trying to be added to me, and I end up kind of being left to pick up my own pieces. So "Frankenstein" is a metaphor for that.


Question: Which is your favourite song to perform live and why?

Mani Blu: My favourite song of mine to play live is probably one of my newer songs "Cyber Heart"(which I will be playing for the first time at my show), it is a pop song with a punk edge to it, I feel like I can get a bit wild when I sing that.


Question: If you could have anyone, in the world, attend your show, who would it be?

Mani Blu: I would love someone like Gaga or Bowie to be at my show, even though Bowie has passed, it was always a dream of mine to meet him one day and tell him everything that he means to me. Those two are big entertainers, and I feel like we would sit around talking about art and the theatrics of show business.


Question: Do you prefer performing live or recording?

Mani Blu: I love recording, being in the studio is like being in a sanctuary, I release so much emotion and I genuinely feel at peace there, but I am a performer at heart and I feel like I belong on the stage entertaining people, it's one of the things I constantly desire the most.


Question: What motivates you most when writing music?

Mani Blu: I think my own personal drive motivates me, I have a lot of dreams and ambitions that I need to conquer, and just thinking about where I want to be and who I want to be, really in itself inspires me to keep thinking ahead of myself and to push my own ways of writing and creating.


Question: Which music/artists are you currently listening to?

Mani Blu: At the moment I am really into SOPHIE, Charli xcx, Lana Del Rey, I've been listening to a lot of ABBA lately, they somehow always make their way back into my most played music once or twice a year.


Question: What or who was your inspiration to go into the music industry?

Mani Blu: From the beginning I don't really know I had an inspiration to want to be in the music industry, I just know that from a very young age I wanted to perform and have people listen, I always have wanted to connect to people on that kind of level, and I guess that kind of led me to where I am now, of course artists like Bowie continued to encourage my need for it, but I think it's something that I have just always known I've needed to do.


Question: If you could collaborate with another artist, who would it be?

Mani Blu: I would love to collaborate with SOPHIE on a song, I am just so into her whole perception of what music is and what it can be, she has no boundaries when it comes to music and you can feel that when you listen to her stuff, it's so organic feeling which is so fascinating.

Interview by Brooke Hunter