Wahlberg Takes on Video Game Movie
Comic Con Mark Wahlberg, Max Payne Interview By Paul Fischer
There's always a genuine sense of boyish enthusiasm when one meets Mark Wahlberg, so it seems that Comic Con is the perfect environment in which to find him. Now starring in the film adaptation of the video game Max Payne, Wahlberg says that the one thing he will never do is play that or any other video game. "I didn't want to play because I have an addictive personality. I got more responsibility now than I've ever had with the kids and everything else, so I don't want to be spending 14 hours on the videogame and then another eight hours on the set. It's not going to work out." Playing a DEA cop in the John Moore-directed actioner, Wahlberg was hooked on the film from the get go. "When I read the script, I was like wow this is awesome. I said where did it come from? They said it was based on a videogame. I said, oh, f--k no, I don't want to do that," he laughingly recalls. "Then they were like no, it's really cool, and so you got to check it out. So I started doing a little research and then when I saw the game, I realized, wow, the story is really elaborate. There's a lot going on there, so I was surprised they hadn't made it a movie earlier."
The actor says that he was able to make a two-dimensional character from a video game more multi-faceted with the help of director John Moore. "I've done characters and I've showed glimpses of what I hope to accomplish in this movie with "Fear" and "The Departed" and "Four Brothers," but I wanted to take this a whole other place. Thankfully John was also in the headspace of doing something that really was layered and you know because I didn't want to do the, I had already done the guy with a few words, you know? That's one note and that's it. I wanted to really kind of go off and push the envelope."
He laughs when asked if this was a tough character for him to play. "After doing "The Lovely Bones" where you know also dealing with loss and a horrific act of violence, but then being able to do something about it was so nice. I remember "The Happening" had just came out and I walked into the editing room with it, the looping stage with John and he showed me some shit and I was just fuc---ing screaming with excitement. I was so happy that my career was saved. My life, my credibility, my ability to walk down the street was in a hood again. I was just like yeah. I really was. I was fuc---ing screaming at the top of my lungs for like five fuc---ing minutes. But this is the kind of thing that I want to go and see. I don't want to be told what I can and can't do, I want to try something different, I want to be able to play a lawyer, play a doctor but I feel most comfortable when I'm in a world like this."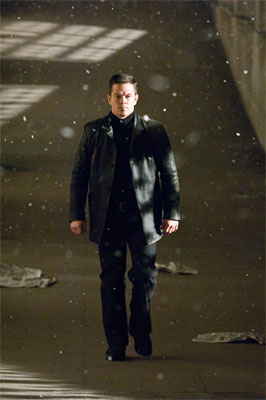 Despite his recent Oscar nomination for The Departed, Wahlberg has no problem choosing pure popcorn movies. He's clearly no snob. "I never expected to get the nomination anyway. You don't do it for that, because otherwise you'd see me doing some fuc---ing crazy English period piece, with a limp and an ascot," he says laughingly. I always try to do something different, but this is really the thing that is most satisfying to me and people like myself: guys want to see some fuc---ing guys kick some ass."
Wahlberg is having the time of his life, kids, impending marriage, acting and producing. He laughs when asked how he manages to juggle all his divergent responsibilities. "Before I couldn't manage to go to school for four or five hours a day and then be able to get my homework done. But once I took out the nightlife part of my life, going out from 10 to three, four, five, six in the morning, there's enough time in the day to do all the stuff I'm doing and then some and get a good eight hours sleep. My family travels with me when I work most of the time, or I go back and forth on weekends. But you know I normally don't do three films in a row, but three really interesting projects came my way and I couldn't see myself not doing them. So I have a good four or five months off and I try to take as much time off as possible."
After all, Wahlberg's private life is a priority with a new baby on the way. "We're having our third in September." And Wahlberg says he's finally ready to marry long-time girlfriend Rhea Durham. "We continue to grow in our relationship. I think we have a much better chance at succeeding and staying together than certainly I wasn't prepared to be married, I don't care who it was at 20 or 30, but committing to really making it work constantly and all the other things that go into you know building a solid foundation."
Professionally, Wahlberg is developing a number of new television shows "but that mostly consists of making phone calls in the morning and chasing the kids around in the afternoon," he says laughingly. He also refutes rumours that his hit TV series Entourage is nearing its end. "No, no, no, Entourage" will go on until 2030 if I have anything to say about it." The actor also has high hopes for Peter Jackson's troubled The Lovely Bones. "Peter's an amazing talent and what a sweet, sweet guy. I hope it's really good and I hope I don't have to come here and lie, because with a movie like this I don't necessarily feel cocky, but I feel confident when you have the materials and you actually have a good movie, which feels good. You don't have to lie and give that wink go see it, because it's going to be really great. If you're lucky enough to have five good ones every 15, 20 movies you make, and then you got a good body of work there. But I think it's going to be amazing. It's a very emotional movie, but I haven't seen any of it. I certainly don't feel like I have to bury my head in the ground like an ostrich."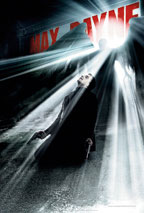 Max Payne
Starring: Mark Wahlberg, Mila Kunis, Beau Bridges, Chris "Ludacris" Bridges, Olga Kurylenko, Chris O'Donnell, Donal Logue, Amaury Nolasco, Kate Burton
Director: John Moore
Genre: Action/Adventure
Synopsis: Rockstar Games' antihero Max Payne gets his own movie with this video game adaptation. Mark Wahlberg (THE DEPARTED) plays the titular cop who is still trying to get over the death of his family while investigating several murders, while... Rockstar Games' antihero Max Payne gets his own movie with this video game adaptation.
Mark Wahlberg (THE DEPARTED) plays the titular cop who is still trying to get over the death of his family while investigating several murders, while Mila Kunis (FORGETTING SARAH MARSHALL) costars as an assassin desperate for her own revenge.