Matthias Schweighöfer Robinson Crusoe: The Wild Life
Cast: Ilka Bessin, Dieter Hallervorden, Matthias Schweighofer
Director: Ben Stassen, Vincent Kesteloot
Genre: Animation, Adventure
Rated: PG
Running Time: 90 minutes

Synopsis: On a tiny exotic island an outgoing parrot, Tuesday, can't stop dreaming about discovering the world. After a strong storm, Tuesday and his friends wake up to find a strange creature on the beach: Robinson Crusoe. Tuesday immediately sees Crusoe as his ticket off the island to explore new lands. Likewise, Crusoe soon realises the key to surviving on the island is through the help of Tuesday and the other animals.

Robinson Crusoe: The Wild Life
Release Date: October 27th, 2016



About The Production
Director's Note

The twist in this new version of Robinson Crusoe was to tell the story from the animals' point of view and to illustrate their contribution to his survival. In terms of staging, it was important to establish complicity with the audience who is already familiar with parts of the story. For example, everything leading up to the foreseeable discovery of the shipwreck was designed so that the audience, in anticipation, can delight at the misunderstandings and bizarre reactions of the animals to the arrival of this 'sea monster". In many animated films, animals have rather human characteristics. In this film, it was extremely important to maintain the difference between animal and human. If Robinson Crusoe gets stranded on an island where animals walk upright, wear clothes and invite him to dinner, we risk losing one of the essential themes of the story: the isolation of a human being separated from his fellow man.

Of course, the idea was neither to make a documentary, nor to limit the liberty of animated films. All the animals speak the same language, for example, a factor that guided many decisions regarding character design and ultimately offered a broader range of characteristics to the bestiary. The animation team also succeeded in finding the perfect balance between realistic movements for each species and the freedom to add emotion or humor. Every department rose to the challenge, surpassing technical difficulties, to create a credible yet styled realm, with memorable and unique environments.
– Vincent Kesteloot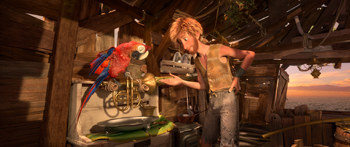 Characters

Robinson Crusoe
Robinson Crusoe is an apprentice cartographer from a good family who sets sail on a merchant ship to discover the world. He is an awkward young man, and his feeble frame stands out among the veteran sailors and seasoned adventurers who tease him for being so naïve. However, Robinson's life changes forever when he is washed up alone, shipwrecked on a tiny island. Our anti-hero must overcome his fears in order to survive. His candor and optimism mean he doesn't give up and his benevolent attitude towards the animals on the island also proves very useful to him – they end up becoming his friends and allies during the numerous adventures that await.

Tuesday (Male Parrot)
Unlike the other animals on the island, eating and sleeping aren't enough to satisfy this moonstruck, curious parrot. He is convinced there is more to the world than a few rocks surrounded by the ocean. Unfortunately, nobody else is interested in the clues he spends his time gathering to support his theory. Then one day, Robinson and the other shipwreck survivors are washed up on the beach. Now, more than ever, Tuesday refuses to follow the flow with the rest of the panicking animals. He helps overcome fears and prejudices, gradually becoming the mediator who approaches Robinson and the animals, eventually forming a family.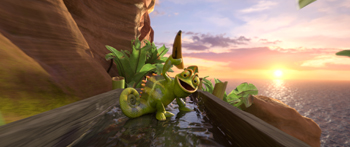 Kiki (Female kingfisher)
Despite her small size, Kiki's role prior to Robinson's arrival was to watch over the group of animals, organizing meals and dissuading Tuesday from leaving the island. Once 'the invader" arrives, her authority is gradually diminished as the influence of Tuesday, May and, eventually, Robinson grows. Kiki opposes these changes but she doesn't want to go against her friends, whom she will never stop loving.

Rosie (Female tapir)
Rosie is the biggest one in the gang and all she thinks about is food. She's always crashing into the others and breaking stuff, but she's also the biggest scaredy-cat around. She's quick to worry if she senses danger, and loses all control and all sense when that happens. She might either decide to hide, or to rush in on the attack. She lacks drive, is a little dumb and always follows the leader. But despite all her clumsiness, the others love her for her generosity and friendliness.

Scrubby (Old man goat)
This old goat is always complaining. He can't see very well and, more often than not, his mind is on lunch. He continually requires saving from risky situations or has to be stopped from doing dumb things. And he's always one step behind the rest of the group, physically and mentally. But despite all his faults, he's still funny and endearing.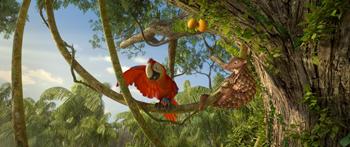 Carmello (Male chameleon)
Carmello is lazy, light-fingered, and sarcastic. But he's also ready to take risks in order to save his friends. His camouflage is so effective that he almost manages to disappear. He also has an incredibly powerful tongue that he can flick out to grab stuff or use to swing like Tarzan. This makes up for his extreme slowness when he walks about.

Epi (Female echidna)
Epi is the youngest of the group, she's flirty, carefree and loves to tease. When danger threatens, she rolls up into a spikey ball. She spends her time with Pango, who loves and protects her like a big brother would. He adores her joie de vivre and child-like laugh.

Pango (Male pangoline)
Pango gets along very well with everybody, but Epi is his favourite. With his strange scaly shell, his roll-up tail and his strong claws, he's an amazing aerial acrobat. He slides down bamboo, climbs up trees and balances along vines. If there's ever a problem, you know you can count on Pango!

Aynsley (Scottish dog)
Aynsley is an old Scottish dog who is Robinson's faithful friend and protector on his travels. He's always on the side of the underdog and never backs down in a fight.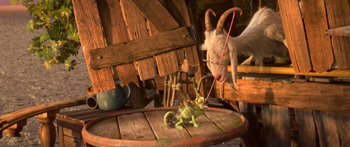 The Captain & His Pirates
This charismatic and elusive pirate will smile and shake your hand one second and make you walk the plank the next! One moment, he is a friendly companion and charming host, the next he's giving way to an explosive temper. He is feared by his enemies and mystifies his friends. When the captain and his crew pick Robinson up, the tale this castaway tells will determine his future.

May and Mal (Cats)
These are no housetrained kitty cats, these are rat-catchers: fearsome predators who are locked in the hold of a ship to keep down the rodent population. Mal attacks head on, with sheer brute force. May is more fluid and silent, slyly slinking around her adversaries to take them by surprise. May dreams of freedom, sunlight and a varied diet of gourmet game with which to feed her kittens. But instead of that, Robinson locked them in the insalubrious hold. As a result, her sole objective becomes seeking revenge on Robinson.

MUSIC

Ramin Djawadi
Composer Ramin Djawadi worked with nWave on their first film, Fly Me To The Moon. Since then, he has been involved with some major projects, including the TV series Prison Break and Game Of Thrones and films including Safe House, starring Denzel Washington, Hotel Transylvania, Pacific Rim and Warcraft. However, he has always remained faithful to nWave, using his immense talent to create the themes for each of the films the company has produced. Robinson Crusoe: The Wild Life is their eighth project together.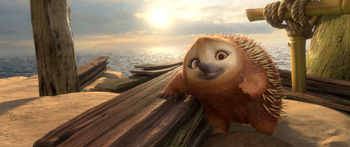 'Themes are always interesting for an animation film because you have to create everything. There is no actor projecting their personality or making the film their own. You start from a blank screen, there's no light, no sound and no music – everything needs to be done. So working with someone like Ramin, who knows how to create themes for different characters or different moods, is important. In terms of the music, whether you are talking about existing songs to which you acquire the rights or orchestral compositions, there are two moments when you can decide upon it: before you start working on the animation, or once the film is finished. For ROBINSON, all the music was written for the visual. For several months, Ramin Djawadi was in his studio in Los Angeles watching the film on a loop. Then he wrote. Sometimes it worked and sometimes he had to rework the composition. The music had to be synchronized with the finished image.

We were totally on the same wavelength and it was a real pleasure working together."
– Ben Stassen

Marina Kaye
Marina Kaye's new track -The World Belongs To Us' (Capitol/Universal Music France) was specially created for the end credits of the film.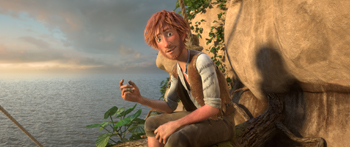 Marina Kaye is a free spirit. It's no coincidence that she chose the wolf to be her totem. She is an astounding blend of strength and gentleness, as well as passion and persistence. Entirely natural, yet mysterious, she's a self-taught artist with a powerful voice. Sixteen years old and just starting to mature, yet demonstrating the self-confidence of an adult, she has a fierce character. 'The reason behind the strength of my voice is that I'm so passionate and just happy to sing! This is my way of communicating with people."

Marina prefers being on her own rather than part of the pack. This characteristic is truly felt in -Homeless', her first song, showing off her vocal repertoire: between a soft whisper and a heartfelt scream, she simply expresses what she feels inside.

Marina is moving forward, instinctively and with confidence. She has what it takes to be huge and she wants to 'build a long-lasting career, regardless how long it takes to do so".


Robinson Crusoe: The Wild Life
Release Date: October 27th, 2016