The Lego Movie
Cast: Chris Pratt, Will Ferrell, Elizabeth Banks, Will Arnett, Nick Offerman, Alison Brie, Charlie Day, Liam Neeson, Morgan Freeman.
Directors: Phil Lord and Christopher Miller
Genre: Animation, Family
Running Time: 101 minutes
Rated: PG

Synopsis: The original 3D computer animated story follows Emmet, an ordinary, rules-following, perfectly average LEGO minifigure who is mistakenly identified as the most extraordinary person and the key to saving the world. He is drafted into a fellowship of strangers on an epic quest to stop an evil tyrant, a journey for which Emmet is hopelessly and hilariously underprepared.

Chris Pratt ('Moneyball") stars as the voice of Emmet. Will Ferrell ('The Campaign") stars as the voice of his primary adversary, President Business, an uptight CEO who has a hard time balancing world domination with micro-managing his own life; while Liam Neeson ('Taken" and 'Taken 2," Oscar nominee for 'Schindler's List") voices the president's powerful henchman, known as Bad Cop/Good Cop, who will stop at nothing to catch Emmet.

Starring as Emmet's fellow travelers are Oscar® winner Morgan Freeman ('Million Dollar Baby") as Vitruvius, an old mystic; Elizabeth Banks ('The Hunger Games," Emmy nominee for '30 Rock"), as tough-as-nails Wyldstyle, who mistakes Emmet for the savior of the world and guides him on his quest; Will Arnett (Emmy nominee, '30 Rock"), as the mysterious Batman, a LEGO minifigure with whom Wyldstyle shares a history; Nick Offerman (NBC's 'Parks and Recreation") as a craggy, swaggering pirate obsessed with revenge on President Business; Alison Brie (NBC's 'Community") as a sweet, loveable member of the team, with a powerful secret and Charlie Day, as the spaceman Benny.

Directors Phil Lord & Christopher Miller also wrote the screenplay, from a story by Dan Hageman & Kevin Hageman and Phil Lord & Christopher Miller, based on LEGO construction toys. It will incorporate some of the LEGO world's most popular figures while introducing several new characters, inviting fans who have enjoyed the brand's innovative toys and hugely popular video games for generations to experience their visually unique LEGO world as never seen before.

The Lego Movie
Release Date: April 3rd, 2014
About The Production
WYLDSTYLE
…The only thing that can stop the Kragle is the Piece of Resistance and, according to prophecy, whoever finds it is The Special. The Special is supposed to unite the remaining Master Builders, storm Lord Business' Octan Office Tower, put the Piece of Resistance onto the Kragle and disarm it forever.

EMMET
Great. I think I got it. But just in case, tell me the whole thing again. I wasn't listening.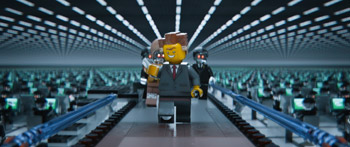 Anyone who ever designed a universe from a heap of parts on their bedroom floor will know what 'The LEGO Movie" writer/directors Phil Lord and Christopher Miller mean when they say that, growing up, they always had buckets of LEGO® bricks. 'We'd build spaceships and all kinds of crazy things, but it wasn't just the building, it was the infinite possibilities of things to make and express that was so irresistible and exciting," says Christopher Miller.
As filmmakers, their interest took a different focus. 'Christopher Miller and I were inspired by the ingenuity and humour that comes out of the international LEGO community," says Phil Lord, referring to such outlets as LEGO Cuusoo, the LEGO Group's fan submission site for potential new products, 'ReBrick" forums where people can share their creations, and the growing number of unique short films, using LEGO bricks and minifigures, that are produced and shared online by individuals from every corner of the world.
Such is the fascination of the LEGO brand, an endlessly evolving and hugely popular construction toy that has cultivated creativity across generations and cultures since its inception. Committed to upholding that principle, Phil Lord and Christopher Miller knew from the start that this could be no standard animation but a virtual build, a feature-length motion picture made entirely of LEGO bricks and elements.
'We both thought," Phil Lord continues, '-Wouldn't it be amazing to make a big, fun, action-packed LEGO adventure that captures the feeling of being a kid putting these pieces together, but on a truly epic scale?' And what if it could retain that handmade quality these little films have that's so engaging. Because part of the appeal of LEGO bricks is how accessible they are as an art form, we wanted to make a film that felt like something anyone could do in their own basement…provided they had a gigantic basement and a few million bricks!"
Actually, closer to 15 million, if you count each brick, character, set piece, and prop needed, as the filmmakers ultimately realized their vision for the film.
Family-friendly with an edge, 'The LEGO Movie" offers not only big action and big laughs, but some big ideas, too.
'I wanted to make a movie I could enjoy with my kids, something that captured kids' imagination and ingenuity," says producer Dan Lin, one of the architects of the project. 'More importantly, I have two boys, and they're really rambunctious, so toys sometimes fall and get broken. What I love about LEGO toys is that not only can something be built, it can be re-built into something even better."
That sentiment is shared not only by the filmmakers but their all-star vocal cast, many of whom similarly cite a strong personal attachment to the material. Will Ferrell, who embodies the role of President Business and his covert identity, Lord Business, says, 'As a dad now, it's really fun to have it come full circle in seeing my kids play with LEGO bricks the way I used to, and it's interesting to see my 3-year-old as engrossed as my 9-year-old. The hard part is to hold myself back from saying, -Here, give me that; let me build this part for you.' I have to resist and let them explore it on their own."
Indeed, 'There are two different ways people play with LEGO bricks," Christopher Miller relates. 'One is to follow the instructions on the kit and put together this awesome thing, whatever it is, which you then set on your shelf and never use so it doesn't break, and the other is to take a pile of random pieces and make something from your own imagination, then take it apart and make something else. -The LEGO Movie' uses these two different approaches as the basis for its story, which is really about innovation and creativity and the importance of change."
Producer Roy Lee calls the directors 'two of the most creative people I know. They did an amazing job on -Cloudy With a Chance of Meatballs,' which was a fairly thin book, and they came in and reinvented some of the characters and really expanded it from what was on the page. With the LEGO concept, we had a blank canvas and they were the perfect guys to come in and invent a whole new world to explore."
But it's a world due for a disastrous end if not for one accidental hero: Emmet.
A construction worker and self-described nobody, Emmet adheres to the rules in every aspect of his life, content in the belief that he is the most ordinary, unremarkable person ever, until a crisis of monumental proportions reveals a surprisingly extraordinary side of him he never knew.
'On day one, we talked about our experiences building something out of LEGO bricks and the frustration we'd sometimes feel when we couldn't find a specific piece right away. That feeling encapsulates who Emmet is to us," says Dan Hageman, who, with writing partner and brother Kevin Hageman worked on the story with screenwriters Phil Lord and Christopher Miller. 'He thinks his happiness is tied to following the instructions yet the fate of the world will rely on him discovering his own creativity," adds Kevin Hageman.
Chris Pratt, the voice of Emmet, says, 'This challenge takes him through LEGO realms he didn't know existed, where everything is just ridiculous but in a good way. It's all beautiful, imaginative, exciting and very funny. There are loveable characters, amazing sets, insane action, a lot of love and a really positive message that you can feel comfortable bringing your kids to see."
'There are several themes, but the central theme is that there is something special inside of everyone," Dan Lin says."
Adds Roy Lee, 'Even though you might think you're an ordinary person, you can still really have a huge impact on the world around you."
Joining Chris Pratt and Will Ferrell in bringing these ideas home through their vocal characterisations are Elizabeth Banks, Will Arnett, Nick Offerman, Alison Brie, Charlie Day, Liam Neeson and Morgan Freeman.
'Everybody had too much fun," says Elizabeth Banks, who recorded some of her scenes as rebel girl Wyldstyle alongside Chris Pratt and Will Arnett. 'We were all just trying to make each other laugh. Phil Lord and Christopher Miller love this world so much and they really designed everything with a focus on funny, and how they could make it as fresh and original as possible, and we had a great time with these characters."
Some of that, Phil Lord believes, comes with the territory: 'There's something very funny about a really cute, bright yellow character with LEGO proportions acting tough, or threatening to destroy the world. It's just so funny to see them take it all so seriously."
What the filmmakers genuinely took seriously were the time-honored tenets of the LEGO brand and what it means to its legions of fans worldwide. Says Phil Lord, 'It was kind of scary to make a movie based on such a trusted and beloved toy. It was a tremendous honor, but a responsibility, too."
Visually, Phil Lord and Christopher Miller sought a photo-real, non-traditional computer animation style resembling stop-motion, to give their characters and settings the endearing homemade aesthetic that defines LEGO construction. Rather than cheat the images with seamless CG backgrounds and drawn bricks, the animators created each individual component and virtually built every scene brick by brick"a technique that proved especially useful when the story called for buildings and other objects to be blasted to pieces and then re-assembled, on the fly, into weapons or high-speed escape vehicles.
'It's easy to make straight lines with CGI, but the look we wanted was tactile and organic," says Phil Lord. 'It's more complicated to do it that way but it elevates the quality of the film and it's more in line with the values of the story. We spent a fair amount of R&D on working in the scuffs and fingerprint smudges, and trying to achieve a realistic amount of variation and irregularity in how the bricks are put together and come apart."
To execute these concepts, the filmmakers worked with renowned animation studio Animal Logic, based in Australia, and welcomed Chris McKay of 'Robot Chicken" fame as animation co-director. Chris McKay orchestrated the efforts of hundreds of artists while also serving as one of the film's editors, maintaining a constant flow of communication and invention between the directors, storyboarders, animators and editors. States Roy Lin, 'Chris McKay served so in many roles on this movie. We couldn't have done it without him."
As Chris McKay recalls, 'Phil Lord and Christopher Miller fostered an almost playful environment within and between all the various departments, so we could run with our ideas and see how far we could take them. It was a very organic, creative flow, from the time we set up the storyboards, to the animation and layout and through the entire process."
For the filmmakers, the physical limitations of LEGO minifigures is their charm, so there was no question of altering that in adapting them to a big-screen adventure. In the movie, the characters move and interact authentically, often as if being puppetted by an unseen hand. Even in their expressions, the mandate was not to stray from the standard minifigure repertoire: flat painted eyes, brows and mouths. But within those guidelines, McKay and his team mined a range of emotion.
What's groundbreaking in 'The LEGO Movie" is its ambitious scale and the extent to which it uses LEGO bricks as a medium to achieve depth, richness and action. 'Everything audiences see"whether smoke or water, rock formations, fire or even explosions"is made of LEGO pieces. We wanted to depict natural elements built out of bricks as they've never been seen before on the big screen," says Lin.
'When you see the LEGO ocean with its waves of undulating bricks, the storm crashing down on the pirate ship and the vastness all around, it's wild," says Christopher Miller. 'We used lighting and camera angles you'd expect on a big-budget action movie, to make it as cinematic as possible."
'My favorite thing is how the story crosses through different LEGO worlds," offers Phil Lord. 'We started by storyboarding an action chase that starts in the city and spills out into the Old West. It turns into a kind of barroom brawl until the cops from the city break into it and then it's like some -70s cop movie, like -Bullitt,' and it's fun to see the elements combine and collide without anyone missing a beat."
'Then Batman shows up and it gets even crazier," adds Christopher Miller.
In addition to favorites like the LEGO BatwingTM, the movie rolls out an arsenal of fantastical new vehicles, enabling Emmet and his friends to evade or face their enemies on the city streets, on the sea, under the sea, or in outer space. It also introduces a cast of brand new heroes and villains, who interact with a diverse group of existing LEGO minifigures drawn from years of history and pop culture.
During the three years of development and production, the directors often relied upon their private stash for inspiration. 'Our offices were filled with LEGO bricks and we were always trying to figure out silly ways to put them together or use them to illustrate a plot point. I'm actually wearing LEGO pants right now," Christopher Miller claims, prompting Lord to add, 'I built my desk chair out of LEGO bricks. And these shoes. They're not the most comfortable shoes, but you get used to it. The trick is, you have to break them in."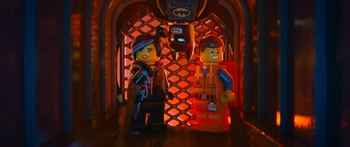 rue fans and true originals, they brought equal parts reverence and irreverence to 'The LEGO Movie."
States Christopher Miller, 'What we always try to do with our movies is create something that would make us laugh, and make our friends laugh. We don't ever want to do something that talks down to kids."
'Obviously, kids and their parents will get it," Phil Lord says, 'but we wanted to bridge the generations and keep in mind that there's a community of adult LEGO fans who make the most complex and incredible creations a kid might not even think of. My favorite films are the ones I can take my granny to, or my parents and my girlfriend, or my nieces and nephews, and know we will enjoy it together. That's the most fun you can have at a movie theater"when people of all ages are laughing together."
WYLDSTYLE
I have a boyfriend, so don't get any ideas.
EMMET
I never have any ideas.
Emmet never met an instruction manual he didn't like. Whatever the rules are, he's glad to follow; whatever song is playing on the radio, he'll sing along; whatever everyone else has for lunch or watches on TV, well, he's cool with that. He even consults a book to remind him to shower and put on his pants (in that order) every morning before joining the Bricksburg citizenry on their orderly commute to work.
'We wanted someone with incredible comedy chops as our lead, but someone who can also be sweet and endearing, and embody this -regular guy' spirit. Chris Pratt was our first choice; right out of the box," says Phil Lord.
Each day on the construction crew, Emmet happily razes any buildings deemed 'weird" and replaces them with ones that look exactly like all the others, on orders from President Business. Says Chris Pratt, 'The city of Bricksburg is this big sprawl where everything looks the same and it's all pre-fab modular homes, and any areas that have any flavor are being destroyed. So it's being built as a kind of homogenous, utopian model, though you quickly sense there's some underlying darkness here; something is controlling the people of Bricksburg."
But life as he knows it is about to change when Emmet accidentally veers off the path at his site, falls headlong into a freshly excavated pit, and meets the trespassing Wyldstyle: the most beautiful and exciting woman he has ever seen. From her graffiti-splashed black hoodie to the turquoise and hot-pink streaks in her hair, to her take-charge attitude, there's clearly nothing ordinary about this woman.
Elizabeth Banks says, 'I enjoyed being an action hero. Wyldstyle is trying to live up to her name. She has a nice rebellious streak in her, which is something I think most kids can relate to, and she's pushing the envelope a bit to establish her own way in life and her own look. What I loved about the character is that she's smart and strong. She has kick-butt powers and a lot of sass and she's no damsel in distress. She's there to save the day."
While recording her dialogue, 'I rarely wore shoes," Elizabeth Banks reveals. 'I was usually barefoot because I like to jump around and move. You can't make noise over your vocals, so I have to take my shoes off, especially in an action movie. There's a lot of punching and jumping and running, and I did all of that behind the microphone."
Wyldstyle is a Master Builder, the first one Emmet has ever met. 'In the story, there are legendary individuals called Master Builders, who are highly creative and can take any pile of bricks, or whatever is available, maybe a stop sign and a dumpster, tear them apart, and rebuild them. They can turn anything into anything else," Christopher Miller explains.
'Our thought was that all of the extraordinary characters from history and literature are Master Builders, so people like Shakespeare and Abraham Lincoln, Wonder WomanTM and Robin Hood would be in that pantheon together, sharing their extraordinary abilities," adds Phil Lord.
But the Master Builders, once revered, have been forced into hiding because President Business, aka Lord Business, abhors their spontaneity and innovation. What's worse, he's not satisfied with driving them underground. He wants to eliminate them and their influence completely with one super, horrible, secret weapon called the Kragle, and Wyldstyle is part of the rebellion trying to stop him before it's too late.
When Wyldstyle encounters Emmet at the construction site, she is there searching for the one thing that can block Lord Business's terrible plan, according to prophecy: The Piece of Resistance. So when that vital piece turns up inexplicably fused to Emmet's back, like it or not, the guy whose only ambition in life is to fit in suddenly becomes The Special, the most important person in the universe. And the most hunted. Before he knows what's happening, Emmet is careening at high speed through the Bricksburg cityscape on Wyldstyle's custom-built motorcycle"which she keeps modifying along the way"with Lord Business's robot assassins in fierce pursuit.
Will Ferrell calls his character 'a real control freak. Lord Business runs everything and doesn't want any creative expression or anyone building anything that's not on the instruction worksheet. He's built the entire universe just the way he wants it, just perfect, and it drives him crazy that people come around and dare to change things."
'He's a frustrated Master Builder, himself, and generally not a very nice person, who becomes a super villain and wants to glue the whole universe together so it can always be exactly how he designed it," offers Christopher Miller.
Lord Business is also remarkably tall for a LEGO minifigure, notes Will Ferrell. 'In his public persona as President Business he has a more pleasant look, very corporate, three-piece-suit and a tie and not a hair out of place. However, when he reveals his true self, the maniacal Lord Business, he wears an impressive cape and 20-foot-tall boots"or, the 20-foot equivalent in LEGO terms"so he can look even more evil and terrifying."
Lord Business's number one enforcer is the alternately intimidating and wacky Bad Cop/Good Cop, a swivel-headed minifigure with a split personality, each of which is voiced by Liam Neeson.
'What's so fresh about Bad Cop/Good Cop is that we literally see both sides of him," says Dan Lin. 'He's Bad Cop whenever he's executing Lord Business's orders, and that's the straight-ahead tough guy we're used to seeing in the movies. Then he's got the Good Cop side too, so he's fighting with himself. One side of his face has the mirrored sunglasses and gritted teeth and is very stern, and the opposite side is much softer, with a smile, and Liam gives each of them their own identity."
'When I saw some of the animation, and bearing in mind the history of New York police, I thought he should be Irish, and specifically from the North of Ireland," says Liam Neeson, who gave Bad Cop that particular accent, while bringing a distinctly different inflection to his better half. 'The Good Cop, he's Irish too, but he's a wee bit more feisty."
Liam Neeson additionally voices Bad Cop/Good Cop's father, Pa Cop.
The actor finds echoes of Arthurian legend in Emmet's journey, saying, 'The basis of all those stories was the quest, going after the impossible and trying to win it and, in the process, bettering the world, and that's certainly the basis for -The LEGO Movie.'" That aside, what struck him most was its humour. 'The witticisms these characters throw at each other is quite extraordinary, this crazy, zany brilliant dialogue."
Liam Neeson and Will Ferrell acted out some of their interactions and improvised together, via headphones, while Liam Neeson was in a recording studio in New York and Ferrell was in Los Angeles. 'Liam Neeson's measured and mostly serious delivery as Bad Cop juxtaposed against Will Ferrell's outsized comedy take on Lord Business is hilarious," says Dan Lin.
In Morgan Freeman's case, it's his famously rich and authoritative voice that makes his characterization of the presumably wise wizard Vitruvius so laughable. Whether in his dramatic roles or noted documentary narrations, Morgan Freeman's delivery unfailingly lends an air of truth and substance to whatever is being spoken. However, audiences will quickly grasp that not everything Vitruvius says can be trusted"or even makes much sense.
An ancient hippie sage clad in sandals and a tie-dyed shirt barely visible under his voluminous white beard, 'Vitruvius talks a good game but he's a little hazy on the details: like the prophecy and how, exactly, they're going to stop Lord Business," Christopher Miller concedes. 'It's almost as if he's making it up as he goes along."
Longtime fans of Morgan Freeman's work will be surprised that this is the first time he has applied his resonant voice to an animated movie.
Once in possession of The Piece of Resistance, Emmet, Wyldstyle and Vitruvius must find a way to use it, but their appeal to the Master Builders for help falls flat when those accomplished individuals are underwhelmed by Emmet's lack of experience"not to mention ideas, skills, confidence, and anything resembling a plan.
Luckily, the trio still has some friends they can count on: Wyldstyle's enigmatic boyfriend, Batman, voiced by Will Arnett; the sweet but somewhat tightly wound Unikitty, voiced by Alison Brie; a remarkably resourceful pirate named Metal Beard, voiced by Nick Offerman; and a loopy, out-of-date Spaceman named Benny, voiced by Charlie Day.
Fearless as ever, dark as ever, and gravelly voiced as ever, Batman demonstrates what a team player he is, ceding the main hero role to Emmet even while Emmet is kind of stealing his girlfriend. But that's OK, says Will Arnett, because, 'as a boyfriend, LEGO Batman isn't the greatest. He's a little self-absorbed and probably not as sensitive as he should be. But, hey, he's Batman; he's got a lot of stuff going on."
Sharing their recording sessions allowed Chris Pratt, Elizabeth Banks and Will Arnett to harmonize their roles in a way rarely realised in animated movies. 'We were able to develop a rhythm to how these characters worked with each other and how they complement each other and that was a real treat that, I believe, pays dividends on screen," Will Arnett adds.
The group's first destination is Cloud Cuckoo Land, a new environment created for the film and described as a realm of no rules, no government, no bedtimes, no frowny faces and no negativity. It is presided over by Unikitty, a kind of fluffy kitten crossed with a unicorn and dipped in sugar. At least on the outside…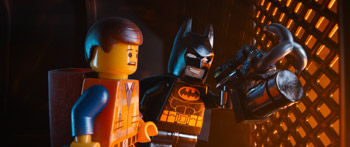 'Cloud Cuckoo Land is a wonderful playground where everything is fun and light, and Unikitty is all about gumballs and cotton candy and happiness. But don't cross her," warns Alison Brie. 'She has quite a temper. You never know when she's going to go off.
'It was fun to play Unikitty because her moods are so extreme," she continues. 'She has some anger management problems. When she gets angry, she still tries to say nice things, only in a mean way, which is a good example of the kind of adult humor that plays through the movie. The kids will be having a good time and the adults will be getting these jokes that the kids will understand later."
That's not so much the case with Metal Beard, who is himself a walking, visual joke. 'He's a crazy pirate who lost his body in an battle with Lord Business and has ingeniously, if haphazardly, replaced all his parts with an assortment of tools and objects that make him look like a Swiss Army knife, with a tiny little head on top," says Christopher Miller.
'One arm is a shark and the other is some kind of cannon," says Nick Offerman, 'which makes him especially salty and crusty and out for vengeance."
For Metal Beard's voice, the actor says, 'I took the spirit of the artwork and animated sequences I'd been shown and tried to capture that flavor, with a notion of whimsy, plus a combination of all the cartoons I've loved in my life, all mixed into a savory goulash that became Metal Beard. You change a lot of pronouns, like, -hand me over me bottle of rum.' For some reason making your pronouns archaic makes them more seaworthy and, of course, you have to throw in the occasional -Arrrgh.'"
The group's final member is Benny, the Spaceman. Along with Batman, the Spaceman is one of two existing LEGO minifigures in lead roles, whereas minifigures Emmet, Wyldstyle, Vitruvius, Lord Business and Bad Cop/Good Cop are newly designed for the film, as are the two brick-built characters, Metal Beard and Unikitty. A space traveler from the early -80s, Benny was a beloved part of Phil Lord's and Chris Miller's childhoods and there was no way they were going to leave him out of the fun.
Benny sports a helmet with a broken chin guard, suggesting that oxygen deprivation may have contributed to his current state of mind. Says Animal Logic CG Supervisor Damien Gray, 'We put a lot of work into aging him, giving him teeth marks, scratches and dust as he's been around for more than 30 years. It's all part of his character. He's a little out of kilter and out of sorts, displaced in time and space."
He's still game, though.Dan Lin says, 'Benny adds a whole new flavor to the group and a heightened energy, and few people can bring energy like Charlie Day. Benny comes into the story after the rest of the team is formed. He's not sure how he can help but he's very enthusiastic, though his grasp of technology is very much of the past and this constantly frustrates him."
ASSEMBLY REQUIRED
'Everything is awesome. Everything is cool when you're part of a team"
Work on 'The LEGO Movie" exemplified the spirit of the film's fun and insanely catchy theme song, which proclaims, 'Everything is cool when you're part of a team."
Production ran more-or-less concurrently in three locations: the Los Angeles hub, where the concepts, story, character and design scheme were developed and where directors Lord and Miller spent the bulk of their time; the physical production, at animation studio Animal Logic in Australia, where editor and animation co-director Chris McKay relocated to work with an in-house team of 250 to execute those ideas; and the LEGO headquarters in Denmark, where top designers under the direction of Design Vice President Matthew Ashton (also an executive producer on the film) offered their expertise to help craft some of the unique characters and props the filmmakers devised.
The process was more cyclical than linear, with ideas and artwork moving in a continuous flow. Filmmakers would travel to Denmark or Australia, and key artisans from Animal Logic and LEGO Group made the trip to L.A. Mainly, though, they relied on daily video conferencing and cineSync software, which enabled them to review and edit together in real time.
It was important that everything on screen was not only assembled out of individually rendered virtual bricks but could theoretically be assembled by hand with actual bricks, so some of the more complex set pieces were put to the test at LEGO HQ for structural integrity. Drawings, ideas and descriptions would go from the Los Angeles production office to the LEGO Denmark operation, where a model was sometimes built and photographed for the directors to review. Adjustments could then be made at both ends, often through multiple iterations, before the final design was given to the animators to create a computer model, which might then spark another round of adjustments.
'The LEGO Corporation was very hands-on," says Roy Lee. 'We showed them what we wanted to do and they gave us a lot of great ideas on how to make it work or work better."
'We'd say, -We need a spaceship, or we need a pirate ship that turns into a submarine,' and they would come back with something amazing that not only looked great but had humor in it," Dan Lin elaborates. 'We'd share those models with the animators and figure out how to translate those designs to the movie."
In other instances, animators originated their own models using the vast library of bricks they had already assembled.
Upon initially reviewing the script with filmmakers, Matthew Ashton says, 'There was a lot of work the animation team could do without our support, but there were some key things on which we felt we could offer some help. I have a team of 60 designers, all with different specializations. Some are really good at classic models; some are good at the futuristic space stuff; and others excel at functionality, trap doors, how to get weapons to pop out of a vehicle and those sorts of things. We took the reference material and executed it in a way that made sense from a building angle and would also look good on screen. The most important thing for us was the story and working with the filmmakers to ensure that when their ideas were translated into material for the screen it looked super-impressive."
'It's truly been a partnership with our film designers and the LEGO designers," Dan Lin concurs, 'because they know the capabilities and the restrictions of the bricks better than anyone but, at the same time, our team was thinking about things in a cinematic way, and they brought a different perspective in how to use a LEGO brick. So you had artists on both sides working together."
'Our core philosophies are in line with what they are trying to promote, as far as imagination and quality and fun, and they let us make the movie we wanted to make," says Christopher Miller of the LEGO contingent. 'We all had the same goal: to make this movie the best it could possibly be. They've been very supportive."
The toymakers' input was especially invaluable for action sequences that required breaking down existing props and structures and re-assembling their parts into new objects, like a building remodeled as a truck, or a truck becoming a plane. CG Supervisor Aidan Sarsfield at Animal Logic explains, 'In the story, a big part of the Master Builders' arsenal is that they can build something out of anything. The elements of an alleyway can be turned into a getaway car, and that posed some interesting challenges for the rigging guys and the designers who built the assets, the individual pieces and props. They had to think of how to build a car out of pieces that could also be used to form an alley set."
'They produced something like 24 different models based on our idea for a scene where coffee shops, cars, dump trucks and ice cream trucks on a city street are repurposed into incredible flying machines that could be used in a dogfight," offers Lord, as one example. 'It was both a focused and an open-ended idea, and the LEGO designers came back with some fantastic things.
'Work like this requires the intelligence of so many different people," he concludes, 'and it reflects what the movie is about, in fostering the kind of environment where creativity can flourish."
Brick by Brick
As Phil Lord and Christopher Miller envisioned, 'The LEGO Movie" would look and play like an action film, and that guided every creative decision, from the earliest stages.
Production designer Grant Freckelton states, 'There were dozens and dozens of sketches made before anyone actually put two bricks together. Every animated movie has to be created from scratch but this one had to be created from scratch out of LEGO pieces, so we had to translate all our ideas into that form."
Gary Freckelton and his team downloaded free, publicly available software called LEGO® Digital Designer. 'We were able to start designing and building from our drawings, using virtual LEGO bricks," he says. 'In addition, they provided us with a parts wall, with every single available part and part number so, as we built, we could refer back to the individual pieces, take photos, and get a sense of the shape and all the fine detailing. There was a lot of macro-photography of real bricks, because what Phil Lord and Christopher Miller were striving for was absolute photo-realism and the feeling that we are actually inside a real LEGO set."
The bricks themselves, separately modeled, were made to show subtle signs of wear, as if they had been tossed around in the normal course of play, rather than out-of-the-box shiny and identical, then presented in such a way as to ensure those gradients were visible on screen. Lighting Department Supervisor Craig Welsh, of Animal Logic, worked closely with Freckelton to achieve this effect. 'We did a lot of photographic reference in different lighting conditions, with different constructions, to develop the shaders, the surfacing and texturing," he says. 'The default shading was fairly bland and we knew we'd need to work little incongruities like scratches and divots in the plastic into our surfacing work to make the light react in realistic ways, as it would if you were holding a LEGO brick very close. Then, we rigged lights for the sets, props and characters to make them look as if they're positioned in a miniature set and lit with actual light fittings.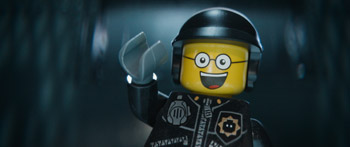 'If you want photo realism it's often not so much a sense of what you perceive as what you'd miss if it wasn't there," Craig Welsh adds. 'One mistake can take someone out of the feeling that they're watching something real, so that's why we put so much effort and attention into it."
That was true of every aspect of the project. Says Dan Lin, 'Every single detail had to be right and exactly as it was envisioned. Chris and Phil really cared about both the big picture and the minutiae. Their approach inspired the rest of the team to do the same. Even a scene as deceptively simple as the opening in Emmet's apartment, we spent hours on end discussing, going back and forth with different iterations."
'The LEGO Movie" contains 3,863,484 unique LEGO bricks. Some are reused and reconfigured in multiple scenes, making up sets, characters and props, for a total of 15,080,330 bricks"the number that a person would need if he or she wanted to recreate the entire film by hand.
The film also features 183 unique minifigures, many of which are particularly special to the directors. On an early visit to LEGOLAND® Billund in Denmark, Phil Lord saw a host of new minifigures and was delightfully re-acquainted with some of his childhood favorites, which he wanted to include. He recalls, 'Whether something was new to me, or a classic that I had forgotten, I took pictures and sent them to Chris Miller, and said, -Is there any way we can work this into the movie, maybe have this guy just walking in the background?' The space-themed pieces from the late -70s, early -80s, have a big part in the movie because we grew up with that, and a lot of adult LEGO fans have a deep nostalgia for that era."
Cinematographer and Animal Logic layout supervisor Pablo Plaisted further defined the live-action sense the filmmakers wanted to give the animation by embracing the unique challenges of filming in a LEGO world. The most important of these, he says, 'was finding a visual language that audiences would instantly recognise as stop-motion whilst allowing us the freedom to embrace what is great about CG. We needed audiences to believe they were looking at something real and tiny whilst also making that tiny thing feel grand and cinematic. Not only that, the unique proportions of the characters meant rethinking even basic assumptions about framing. The end result is a very unique and exciting look."
WYLDSTYLE
'You have the ability to be The Special because I believe in you."
Audiences may be amazed at how much they come to care about the fate of little, yellow, plastic characters with painted-on faces, for which Phil Lord and Christopher Miller credit the Animal Logic animators and the commitment of Chris McKay. 'It's incredible to see how much humanity Chris McKay and his team were able to give these characters, in tandem with the actors performances, based on just our ideas and some drawings," Phil Lord attests.
Chris McKay took on dual roles for the film, serving first as an editor while the story and storyboards were being developed and then moving to Australia to oversee the animation. Best known for his work on the acclaimed Cartoon Network series 'Robot Chicken," his stop-motion/claymation background proved an asset to 'The LEGO Movie," which, while not filmed in stop-motion, was meant to have a similar rhythm.
The intent, Chris McKay says, was not to make the minifigures' actions fluid but to work with them as they really are. 'There are only so many moves they can technically make, to bend and turn, so we had to think all of that through. Sometimes we walk or hop them, and other times it literally looks as if a hand has picked a character up and propelled him forward."
It all comes down to details, offers Story Department co-producer Igor Khait. 'If you're trying to create an illusion of life using little bits of plastic it requires a tremendous attention to detail. There are no simple shots. Even a shot that has Emmet moving across his room and picking a book off the shelf can take many revisions and edits just to sell the believability of it. It means a lot of very nuanced movement."
In maintaining the integrity of the LEGO minifigure, the characters' features had to remain flat, like 2D stickers. As Animal Logic Animation Department Supervisor Alfie Olivier explains, 'It's a 2D face on a 3D character." It was a painstaking process of producing a catalogue of eyes, mouths and brows that were then projected onto the characters to help make Emmet charming, Wyldstyle intriguing, Bad Cop threatening and Lord Business, well, just plain nuts.
'Chris McKay is phenomenal," Alfie Olivier continues. 'I don't think I've ever worked with an animation director who was so vocal in acting out every single little emotion as though he was the character himself. There was no mistaking what we needed to do."
Chris McKay encouraged the animators to imagine what their creations were experiencing and how that could be conveyed not only in their expressions but their body language. 'It was about authentic behaviour," he says. 'I wanted everything to feel as real as possible and that meant understanding what these characters were thinking and feeling. How sympathetic and relatable can we make them?"
There were a variety of ways Phil Lord and Christopher Miller could have approached a LEGO movie, traditional animation being one of them, but that would not have honored the LEGO experience for them, or its intrinsic charm. From the project's inception, the only way they imagined a big-screen LEGO action adventure was the way 'The LEGO Movie" was ultimately conceived and produced: inviting audiences into a LEGO universe both fantastic and familiar, with the promise that any one of them might be able to do the same.
Says Phil Lord, 'People talk a lot about how we're living in a time when a lot of creativity is outsourced to somebody else. But LEGO bricks bring creativity into everybody's home, and that's what really appealed to us as filmmakers"to make a film that's not only entertaining but celebrates innovation and imagination and maybe inspires other people to do original work. So it was a good marriage of an idea with our agenda to make people more creative. That's our evil master plan," he jokes.
'We think of it not as a brand but as a medium, like clay," says Christopher Miller, who, like Phil Lord and like countless people the world over, has priceless memories of lost afternoons immersed in other worlds of their own making. 'It's like clay for telling stories, when you dump out those bricks and try to build a castle or a space station, or whatever you want. And anyone can do it. The possibilities are infinite."

The Lego Movie
Release Date: April 3rd, 2014

Review: We love this movie, a great adventure for Lego fans. "Everything is awsome!"
Break out the lego, I'm feeling like a master builder now.