Ice Age 4: Continental Drift
Cast
: Ray Romano, Queen Latifah, Denis Leary, Sean William Scott, John Leguizamo, Chris Wedge, Josh Peck
Director
: Steve Martino
Genre
: Animation, Adventure, Family, Comedy
Synopsis
: Scrat's nutty pursuit of the cursed acorn, which he's been after since the dawn of time, has world-changing consequences - a continental cataclysm that triggers the greatest adventure of all for Manny, Diego and Sid. In the wake of these upheavals, Sid reunites with his cantankerous Granny, and the herd encounters a ragtag menagerie of seafaring pirates determined to stop them from returning home.
Ice Age 4: Continental Drift
Release Date
: June 28th, 2012 (June 25th for QLD and NT)
About the Production
In Ice Age: Continental Drift, Scrat's nutty pursuit of the cursed acorn, which he's been after since the dawn of time, has world-changing consequences - a continental cataclysm that triggers the greatest adventure of all for Manny (Ray Romano), Diego (Denis Leary) and Sid (John Leguizamo). In the wake of these upheavals, Sid reunites with his cantankerous Granny, and the herd encounters a ragtag menagerie of seafaring pirates determined to stop them from returning home.
This all-new chapter in one of the most successful film franchises of all time brings together the visually epic and the emotionally powerful the humorous and the heartfelt - plus the world's most beloved prehistoric squirrel-rat and the ultimate unconventional herd of this or any Age.
Joining our familiar "Ice Age" friends and family (Romano, Leguizamo, Leary, and Queen Latifah) for the new film are some of the entertainment world's brightest talents, including hip hop sensations Nicki Minaj and Drake, and global crossover star Jennifer Lopez.
The magical ingredient of the franchise is its focus on family. This provides the stories' rich emotional underpinnings, as well as much of their comedy and adventure. "'Ice Age' has always been about family," says Lori Forte, who has produced the entire series and co-wrote the story for Ice Age: Continental Drift. "No matter what the plot is of a given 'Ice Age' film, it still comes down to family - and about how Manny, Diego, Sid and the now-extended clan look out for one another. That kind of storytelling and humour appeals to everyone, everywhere."
"From the very beginning this was a franchise defined by its heroes - three animals from different species, with different experiences. They are strangers when they meet and family when we leave them," adds co-screenwriter Jason Fuchs. "Each film explores what it really means to be a family. Is it just something you're born into? I think all our characters grapple with that question. And I think it's Diego who has sort of the essential line of the film when he's asked, kind of dismissively, what's the difference between a pack and a family? Diego replies, 'We have each other's backs.' And that's what it means to be a family, and that's the heart of this movie and of this franchise."
Interwoven with these epic tales of family exploits are the continuing adventures of Scrat, whose sole purpose in life - whose very existence - revolves around an acorn as elusive as it is cherished. Scrat's quest for the nut has had consequences in the first "Ice Age" Scrat's obsession triggered the Ice Age itself. In Ice Age: Continental Drift, Scrat and the object of his pursuits are nothing less than the catalyst for a cataclysm. Forget what you've learned in geology about the continents forming as a result of massive tectonic turbulence and volcanic eruptions tearing land masses apart. Ice Age: Continental Drift reveals that these seismic shifts came about from Scrat's misadventures.
The film reunites us with Scrat as he's going about his usual business: he has grabbed the acorn, set it down on the ground - and suddenly a mountain is torn apart and the earth itself opens up, separating land masses into the seven continents. Scrat hurtles toward the earth's core, triggering massive earthquakes, which in turn isolates Manny, Diego and Sid from the rest of the herd.
From his introduction as a breakout character in "Ice Age" to becoming a celebrated movie icon, Scrat has brought joy to countless moviegoers - and to the filmmakers who bring him to life. "There's no better or more enjoyable character to animate than Scrat," says director Steve Martino. "Who else can you knock around, smash around - and he just keeps going after that nut?!" Adds supervising animator Nick Bruno: "Scrat is why I'm in animation. His adventure in this movie is like a classic tale, where he sees his goal, goes after it, and gets his butt kicked. But this time, the stakes for him and for the herd couldn't be higher."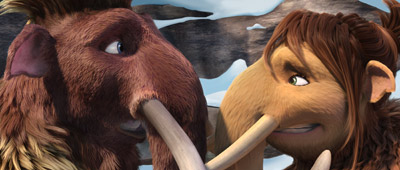 Scrat's continental crack-up has cast adrift Manny, Diego and Sid from the rest of the herd, including Manny's beloved wife Ellie and their teenaged daughter Peaches (who was born in 2009's "Ice Age: Dawn of the Dinosaurs"). Prior to the calamity, Manny and the headstrong Peaches have been quarreling, as dads and their teenaged kids tend to do. Their disagreements are relatable to any parent or teen, or everyone who knows a parent or teen. "Manny's the prototypical overprotective dad," says director Steve Martino. "He's longing to hold onto those days when Peaches was a little girl, but now she's at that age when she wants to step up and be on her own."
"The Pleistocene world is pretty tough for a dad," jokes screenwriter Michael Berg, who has also written or co-written two earlier "Ice Age" films. "There's a lot of danger out there - and a lot of teenage boys."
Ray Romano again voices the much put-upon wooly mammoth. "Ray Romano is the best at what he does," says Steve Martino. "He gives a natural performance that plays to his formidable comedic strengths." For Ray Romano, returning to Manny was like visiting an old friend, though the beloved actor-comedian has unconventional methods of getting back into character. "Before he starts recording, he repeats one of Manny's lines from the first 'Ice Age' - 'I'm not going!'-and for some reason, that line turns him into Manny," explains director Michael Thurmeier.
Ray Romano's reel life (as Manny) and real life (as dad to a daughter approaching adulthood) came together in unexpected ways. He explains: "Just as Manny has to deal with Peaches becoming her own person --- or mammoth, that is - I'm kind of living the same thing, because my daughter just graduated from college. That's a big thing for me, because I still think of her as a kid with a runny nose. The good news is, I've never been stuck on an iceberg."
Manny's better half, Ellie, is an oasis of stability amid Manny's frantic parenting. (Ellie's calm remains unruffled by her two trouble-prone "brothers," possums Crash and Eddie, again voiced by Seann William Scott and Josh Peck.) "Ellie and Manny balance each other," says Queen Latifah, who returns as Ellie, having previously voiced the role in "Ice Age: The Meltdown" and "Ice Age: Dawn of the Dinosaurs." "Manny is overprotective Ellie is a little more relaxed and nurturing because she understands what Peaches is going through, especially with her crush on boys. As a teenager, everything seems like it's the end of the world, and I don't think that's ever going to change."
Despite her mom's best efforts, Peaches, voiced by actress-singer Keke Palmer, rebels against Manny's strict rules. "Peaches is going through some pretty mammoth stuff," puns Keke Palmer. "She's ready to get out there and experience new things - and discover boys." According to producer John C. Donkin, "Keke Palmer has her own attitude, along with some of the sass of Queen Latifah, and the warmth you find with Ray Romano."
Peaches' biggest conflict with her dad stems from the increasing amount of time she's spending with her teenage friends, especially Ethan, the Big Mammoth on Campus, voiced by hip hop sensation Drake. For Drake, working on Ice Age: Continental Drift was akin to joining a new family, and, as he puts it, "being on a big emotional roller coaster ride. I am thrilled to be part of it."
No dad - two-legged or four-legged - will be surprised that Manny thinks Ethan isn't good enough for Peaches. "You know," says Ray Romano, "when your daughter brings home a boy mammoth, you're only going to think bad things and not like him." Still, Ray Romano admits that sharing the screen with Drake gives him "some major street cred," as does working with rapper Nicki Minaj, who plays Steffie, one of the mammoth "It Girls," and Peaches' romantic rival for Ethan's affections and "Glee's" Heather Morris, who portrays another teen mammoth, Katie.
Nicki Minaj, one of today's brightest musical talents, notes that Steffie will do anything to hold on to her mammoth. "When she finds out that Peaches is after Ethan, she does what any stand-up woman would do - be really jealous and nasty," says Nicki Minaj.
Heather Morris' Katie, another cool, Ice Age teen, has a distinctive look. "She is blond-haired and wears flowers in her hair," says the "Glee" star. "And she gets to hang out with Steffie/Nicki Minaj!"
Outside this teenage in-crowd is Peaches' closest friend, a mole hog (a kind of prehistoric meerkat) named Louis, voiced by Josh Gad, who stars in the smash Broadway hit "Book of Mormon." Louis is a loyal pal to Peaches - he wishes it were more that friendship - but as Gad notes, "In the hierarchy of this high school-like environment, Louis would be the one everyone bullies." Even Manny belittles the poor guy, calling him "Wiener," which, adds Gad, "I think is derogatory even in mammoth-speak." But Louis' inner courage could change everything?
As Manny deals with his parenting challenges, his best pals Diego and Sid are experiencing their own challenges. At first glance, Diego seems to be at the top of his game. He remains a confirmed bachelor and, having battled dinosaurs in the previous "Ice Age" adventure, has reaffirmed his place as the herd's tough guy. Diego scoffs at the notion that hanging out with Manny's family has softened him. "I happen to be a relentless assassin!" he roars.But it wouldn't be an "Ice Age" film if big changes weren't in store for our three heroes, including Diego, who meets his match - and maybe more - in a female sabre named Shira, voiced by Jennifer Lopez, one of today's biggest cross-over stars. Given this important new figure in Diego's life, it's not surprising that when asked about the story for Ice Age: Continental Drift, Denis Leary, who returns as Diego, jokes: "The story? Diego gets a love interest, played by J-Lo. I think there's a more intricate plot, but basically that's the most important thing."
Denis Leary insists it's about time Diego found someone to share his life with. "It took only four 'Ice Age' movies for me to get a love interest. Believe me, when making the first 'Ice Age', I didn't look down the road and think, you know, Diego's going to get a girlfriend and it's going to be J-Lo. I would have put that in my contract back then if I thought I could have gotten away with it!"
Love is never simple, especially for sabre-toothed tigers. Shira is a member of a pirate crew that has taken Diego, Manny and Sid hostage, so Shira and Diego's initial encounters are as foes who go toe-to-toe - and sabre-to-sabre - against one another. They are equally matched. "Diego has never encountered anyone like her before," says Michael Berg. Adds Steve Martino: "Shira is a femme fatale she's sharp, fast and intelligent. But they're more alike one another than either tiger would admit, and from their hostility and attempts at one-upmanship comes a shared point of view and ultimately a relationship."
According to Jennifer Lopez, who joins the "Ice Age" family as Shira, Diego and Shira are destined to join forces. "The two characters have a similar backstory," she explains. "Diego left his pack of sabre-toothed tigers in the first film, and Shira had left hers because she didn't like the pack mentality. Shira felt like she didn't belong anywhere until she joined the pirates. Eventually she realises the pirates are out for themselves, and she must make a choice between staying with them or starting a new life with Diego." And as we all know, Diego can be very convincing.
Jennifer Lopez was excited about joining the "Ice Age" team, especially as an empowered figure. "Ice Age: Continental Drift" is a poignant, fun, exciting and sweet story, and I love playing strong female characters like Shira," she explains.
The filmmakers were thrilled to get the multi-talented actress-singer-"American Idol" judge onboard. "Playing a character in an animated film is about more than just the actor's voice," says producer Lori Forte. "It's about the attitude, and Jennifer Lopez really brings it." The film also makes use of Jennifer Lopez's singing talents, as she joins her fellow pirates (including Peter Dinklage, Nick Frost, Aziz Ansari, and Alain Chabat) in a sea shanty, "Master of the Seas," written by Adam Schlesinger (of Fountains of Wayne) and accompanies Nicki Minaj, Ray Romano, Denis Leary, John Leguizamo and Queen Latifah) in the closing song, "We Are (Theme from Ice Age: Continental Drift)," written by Ester Dean.
The third member of the heroic trio, Sid the Sloth, has family problems very different from Manny's. His long-lost clan - including his mom, dad, brother, and hygiene-challenged Uncle Fungus (the name says it all) - have suddenly re-entered his life, and they have Sid's aged Granny in tow. But the visiting Sloths have an agenda that makes the family reunion short-lived: they leave with Sid the impossible-to-live-with Granny, and then once again desert the beleaguered sloth. "When you meet Sid's family, you understand why Sid is Sid," says Berg. "They are a very dysfunctional group. But Sid has a big heart, and he makes the relationship work with his cantankerous Granny."
"Sid's a lovable guy and always wants to do things his way, which often leads to catastrophe," says John Leguizamo, who once again brings his unique vocalizations and performance to the character. This time the catastrophe - his Granny - has come to him. "Sid has long wanted to be reunited with his family because everyone seems to have a family but him," adds John Leguizamo. "And all of a sudden, here they are. They're with him, and then they're not -- leaving him with Granny."
As conceived by character designer Peter de Seve, whose work has unified the entire "Ice Age" universe since its inception, Granny has long, stinky fur, no teeth, wrinkly skin, and an unseen pet named Precious. In short, there's never been a figure quite like Granny, who, says Thurmeier, "provides wonderful and unexpected punctuations of comedy" throughout the herd's adventure. "You never know what she's going to say."
"Granny's comments are always a little off-target, a little off-point, but always on the funny," says actress-comedian Wanda Sykes ("Curb Your Enthusiasm"), who voices the aged sloth. "I love playing characters who speak their mind, and Granny?oh my goodness, she is just out there, you know? There are no apologies with Granny." Adds supervising animator Nick Bruno: "Granny always seems a little bit out of it, but then she can turn on a dime and be this sharp old lady."
Out to Sea
Granny is a surprise castaway when Manny, Diego and Sid are swept out to sea on an iceberg following Scrat's continental crack-up. But her addled antics are the least of the boys' problems. They've been captured by a band of pirates, led by the fearsome orangutan Captain Gutt, voiced by Emmy&reg-winner Peter Dinklage ("Game of Thrones"). A self-styled king of the ocean and pirate of all pirates, Captain Gutt loves being a brigand and living by the strict code of the sea. He's earned the name "Gutt" from having big claws that he's not afraid to use. As Gutt proudly boasts, he can turn your innards into your "outards." You don't want to mess with him.
That is, unless you're Manny, who must challenge Gutt because the pirate captain is standing in the way of the mammoth's return to his family. They are formidable, evenly matched foes. "Manny and the herd beat the dinosaurs in their last adventure, so we knew we had to come up with a bigger-than-life adversary for Manny," says producer John C. Donkin. Adds Thurmeier: "Gutt doesn't like being told 'No,' and Manny, being a strong personality, isn't afraid to take him on."
Gutt is voiced by Peter Dinklage, whose role as Tyrion Lannister in the series "Game of Thrones" has earned superstardom and accolades. The actor's rich, deep voice conveys Gutt's power and gravitas, and Dinklage's comedic and acting skills bring to life the humour and fun. "What appealed to me about Gutt was that I had never before played a pirate orangutan, and I'm not sure I'll get such an opportunity again, so when these jobs come up, you grab them," he jokes about making his animated feature film debut. "I enjoyed playing Gutt's anger management issues. He's quick to remind everyone who's in charge."
Gutt is a dark version of Manny, especially in their views about family. Manny has become the ultimate family guy - married, with a teen daughter, and a father figure to his extended clan, including Diego and Sid. He believes that family gives you strength. Gutt thinks family holds you back and makes you weak, though as Dinklage observes, his "mates and crew are a version of a family." So let's meet Gutt's crew/family:
Shira
: (Jennifer Lopez) is the aforementioned beautiful and dangerous sabre-toothed tiger who battles Diego - only to lose her heart to him.
Flynn
: ("Hot Fuzz's" and "Shaun of the Dead's" Nick Frost) is Gutt's first mate, a jiggly, gelatinous, 4,000-pound elephant seal. When he comes waddling into a scene, and then stops, his belly continues moving forward! He's easily the biggest member of the crew, but, says Martino, "he's also like a kid. Flynn has the enthusiasm of a young child, wrapped in an enormous frame." Adds Nick Frost: "Flynn always sees the best in people, even Gutt, which is quite a difficult thing to do."
Squint
: ("Parks and Recreation's" Aziz Ansari) is the pirate crew's smallest but scrappiest member - an over-caffeinated bunny with a Napoleon Complex. "Squint can't help it that he's got a cute little bunny nose, tail and ears," says Thurmeier. Adds Ansari: "Squint's always ready to fight, but never gets to chop it up with anybody."
Gupta
: ("The Big Bang Theory's" Kunal Nayyar) is a prehistoric badger whose back is patterned with a skull and crossbones - the iconic pirate flag, the Jolly Roger. So he makes for a perfect ship's pennant. Unfortunately for Gupta, his underbelly is white, the color of surrender, which angers Gutt. "Gupta always wants to fly his white side, and nothing ticks off Gutt more than surrendering," says Nayyar.
Raz
: ("Bridesmaids'" Rebel Wilson) is an enormous prehistoric kangaroo and the crew's weapons master. She's tall, tough, and despite her gender, the epitome of a burly pirate.
Silas
: ("Night at the Museum: Battle for the Smithsonian's" Alain Chabat) is an aristocratic French seagull - prim, proper, and possessing a strong posture.
Dobson
: is a silent, salty and curmudgeonly seaman - and a mumbling and grumbling complainer. He's the polar opposite of the cheerful Flynn.
Peter de Seve's ingenious character designs style the buccaneers to look like they're wearing classic pirate garb or facial hair (Gutt's craggly beard, Dobson's mutton chop sideburns, Flynn's wily whiskers), all of which is actually fur that is groomed, coloured and shaped to create the "costumes" and scruff.
This menagerie of pirates, in addition to taking prisoner Manny, Sid and Diego, has forced into servitude guinea pig-like creatures called the Hyrax - cute balls of squishy love that "could very well become the film's breakout characters," says Steve Martino. Realising that the enemies (the Hyrax) of their enemies (Gutt & Co.) could make for formidable allies, Manny, Diego and Sid make a deal with the Hyrax: if they help steal Gutt's ship, which Manny hopes will return him to his family, the herd will free the Hyrax from the pirate's clutches. Helping to seal the deal is the fact that only Sid can communicate with the Hyrax, who have a unique language. Says John Leguizamo: "Sid and the Hyrax speak through a bit of mime and 'click-clack' talk," referencing the creatures' tongue-clicking speech.
Also taking center stage in Ice Age: Continental Drift is Mother Nature herself, via the filmmakers' depictions of: the Scrat-induced continental cataclysm, the ocean upon which the herd is swept away, a vicious storm that puts our three heroes at great risk, and the looming threat of the palisades - an 800-foot wall chasing, and threatening to crush Ellie, Peaches and the other creatures remaining on land.
The word "epic" was at the top of everyone's mind in the design of these environments and natural disasters. "It is epic when you see a mammoth, Manny, look like a tiny dot atop an iceberg being hurtled through an oceanic storm," says Thurmeier. "With each new 'Ice Age' movie, we take major steps forward in putting our characters in larger, more elaborate, and more thrilling environments."
Chief among those environments is the vast and unforgiving ocean. To maximize the scale of the characters' peril - and to sweep audiences along for the ride - the filmmakers employed newly developed technologies. They were successful beyond their expectations: when the voice cast saw some early footage of the storm scene, they thought the filmmakers had filmed an actual ocean, which, they assumed was blended with the animated characters.
The ocean is no less compelling when it's becalmed. Its rich atmospherics - the mist and mystery of being at sea - are an extension of the characters, especially the pirates, as are the vast, open skies punctuated by cloud formations. To capture the environments, the filmmakers, for the first time in the "Ice Age" franchise, shot in the widescreen aspect ratio of 2:35: 1, which enhances the feeling of the characters being dwarfed by their surroundings.
The Ice Age: Continental Drift research and development team also developed new technologies for some spectacular land-based locales, including a cave where trees hang from the ceiling, literally turning the earth under the characters upside-down the ubiquitous threat of crumbling earth and rocks and the icebergs serving as the ships, each possessing a unique "personality" and colour.
Another key filmmaking tool was 3D. Notes Martino: "Our story takes audiences on an adventure, and 3D further immerses them in the story. When Manny, Diego and Sid ride some giant waves during a storm, 3D allows us to place the audience with the characters on the waves, and have them feel like they're part of the action."
"We were always looking for new ways to give the audience a really interesting experience, to bring them into the world of 'Ice Age,' adds Thurmeier. "You will feel like you're experiencing everything with the characters, whether they are swashbuckling aboard a ship, or triggering massive seismic shifts from the center of the Earth."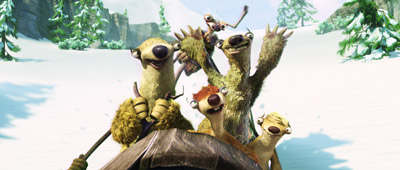 As the animation neared completion, the film's post-production team began its critical work. "Ice Age" veteran and Academy Award&reg winning sound designer Randy Thom created the thunderous sounds of the Earth shearing apart, the concussive force of truck-sized ice chunks slamming into the water, the menacing palisades wall pushing toward the animals, Scrat rattling around inside the Earth's core, and the charmingly incomprehensible vocalizations of the Hyrax.
John Powell composed the film's score, reprising some of the themes from the previous "Ice Age" films, as well as creating beautiful new music highlighting the Manny-Peaches emotional dynamic and Manny's longing to be reunited with his family. Concurrently, finishing touches were put on the songs, including "Chasing the Sun," performed by the U.K. pop sensation band The Wanted the aforementioned Gutt-centric sea shanty "Master of the Seas," and "We Are (Theme from Ice Age: Continental Drift)." Ester Dean, who wrote the latter and who made a dual appearance on the soundtrack for "Rio," notes that the song "sheds a light on the fact that a family doesn't have to be blood-related or look perfect. But family is family - and that is perfect."
Indeed, the "Ice Age" extended family is far from conventional, and it's certainly a distant relative of perfection, but the fact that it is a family is nothing less than ideal. "The message of the importance of family is integral to the 'Ice Age' movies," says Steve Martino. "Audiences around the world enjoy stories about families that work well together. Even though our characters are imperfect, and very different from one another, they always work things out and they're the better for it."
So what began in "Ice Age" as the world's most unexpected herd/family - a prehistoric wooly mammoth, a sloth, and a sabre-toothed tiger - has grown and changed as new members, including a wife, daughter, a pair of "brothers" and a Granny joined the clan. Moreover, Manny, Sid, Diego and the members of their burgeoning group are changing. "They're all evolving, and we're along with them for the ride, physically and emotionally," says Lori Forte. "But however much they change, they're still the characters we know and love."
But what of Scrat, whose only family seems to be the cursed nut he's been after since? forever? "It's always fun to see how he screws up," says Steve Martino. "And his screw-ups in Ice Age: Continental Drift, of which the global crack-up is only the first, are truly epic."