Sam Clark
You may recognise 21 year old Sam Clark from his role on the popular television show, Neighbours were he plays Ringo. Sam was originally signed on for three months of filming, after winning a Dolly Magazine competition; this contract has now progressed to over 300 episodes. Although an amazing actor, music is Sam Clark's first love as he has been writing songs and playing his guitar since he was 15.
Sam Clark is very talented; he is a success in the acting industry but also is a singer, songwriter, guitarist and keyboardist.
Broken is the first single from Sam Clark's debut album. Broken is a classic pop song with soul, the harmonious background music encapsulates the listener and ensures they take in the passionate lyrics. Broken is perfect driving music; a track you will hear on radio stations Australia wide shortly.
Clark is currently recording and producing his debut album.
Interview with Sam Clark
How different is acting from singing?
Sam Clark
: It depends on what acting you are doing... Stage acting is more similar to performing music on stage because of the instant gratification from the audience. You also have to try to see what the audience likes and shape your performance to suit their needs. There are no second chances either - which makes it all very exciting! Acting for TV is quite different in many ways but both are extremely enjoyable!
Did you always want to sing?
Sam Clark
: As soon as I started learning guitar, I wanted to be able to play other peoples songs. When I could play their songs, I wanted to sing and play their songs. When I could sing and play their songs, I wanted to write my own, and since then I have known that singing is going to be a big part ofmy life!
How does it feel to hear your song played all over the airwaves?
Sam Clark
: It is so exciting! It is also very rewarding to see all your hard work is being appreciated!
Did you have any pre-conceived ideas about the music industry?
Sam Clark
: I thought that it was going to be hard, but I never thought it would be this hard!
Do you write your own songs? What's your inspiration?
Sam Clark
: Yes I write almost all of the music I play these days! Life, people, relationships, interactions and all things relating to the effect people have on the world.
What music/artists do you listen to when you are not playing your own?
Sam Clark
: Incubus, Karnivool, The Fray, Fuel, The Kooks and so many more! Too many to name!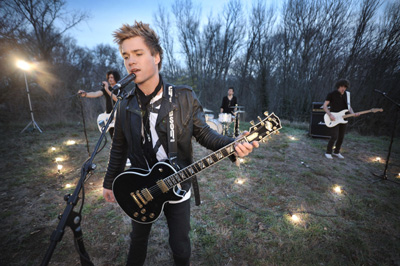 What's next? Tour/Album/Single?
Sam Clark
: I am currently on tour right now, travelling around the country playing three shows a day most days. It is so exciting to finally meet more of my fans! The Album will probably be out next year after a second single!
Was there a moment you contemplated throwing in the towel?
Sam Clark
: Never.
Do you prefer performing live or recording?
Sam Clark
: Performing live
What/who was your inspiration to go into the music industry?
Sam Clark
: Music just made me feel good. Jeff Buckley probably made me realise I wanted music to be a major part of my life for as long as I live.
What is the biggest challenge you have faced along the way to your musical success?
Sam Clark
: Time. There is never enough time in the day to do everything that I want to do. That and the fact that as humans we need to sleep! I want a life of endless energy so I can do everything I want to do!
What's a typical day like?
Sam Clark
: There is no such thing! But I usually work many more hours than sleep. I always have a new song I can write so why not do that!
What has been your favorite part of becoming a music artist?
Sam Clark
: Making other people happy by playing for them live, through my recordings, or even just meeting them or talking to them on Twitter or Facebook or Myspace. If I am a positive influence in peoples lives then I am happy.
If you could collaborate with another artist, who would it be?
Sam Clark
: Brandon Boyd.
Are you single? What do you look for in a partner?
Sam Clark
: I have a girlfriend at the moment for the first time in a long time. I find it hard to find people who I like, who like me - I suppose that's the obvious challenge for everyone. I look for someone with a good heart and soul, someone who I can relate to/converse with, someone who makes me laugh and who I can make laugh. A nice smile helps too.
Do you have a website fans can visit?
Sam Clark
: The best places to get me are:
Twitter - @SamClarkmusic
www.samclarkmusic.com
www.myspace.com/samjclarkmusic
www.facebook.com/samclarkmusic
Can you tell us 5 things required for a happy healthy & enjoyable life?
Sam Clark
: Good, healthy food
A Passion / Goals
Love
Laughter
Somewhere to get away
What message would you like to say to your fans?
Sam Clark
: Never underestimate the amazing things you do for me! A simple hello or a smile and especially a nice comment can make my day! Everytime you listen to one of my songs or appreciate my acting you give my hard work meaning. Never ending thanks.
60 Second Quiz
Full Name: Samuel James Clark
Nickname(s): Sam, Sammy, Sammy J, J, Baby J, Clarky, SJC
Star Sign: Libra
Music Talent: Singer/Songwriter/Guitarist/Keyboardist
Favorite Food: Avocado
Favorite Film: American History X
Favorite Actor: Edward Norton
Pet: Buddy - Mini Fox Terrier x Pembroke Welsh Corgie. He lives with Mum andDad now!
Describe yourself in 3 words: Driven, Loving, Fair
Best Feature: Work Ethic
Worst Feature: I work too much
Person You Would Most Like to Meet: Jeff Buckley
Hobbies/Interests: Music, Films, Cooking
First Job: Paper Boy (I think that one came first)
Are you a Pub, Bar or Club kind: Pub/Bar kind
What Can You Never Leave Home Without: My Phone
What is the first thing you think of when you wake up in the morning:FOOOOD!