The Inbetweeners
Cast
: Simon Bird, James Buckley, Blake Harrison, Joe Thomas, Gordon Anderson
Director
: Ben Palmer
Genre
: Comedy
Rated
: MA
Synopsis
: The Inbetweeners Movie shows what happens when four lads go on holiday with no parents, no teachers, no money and little chance with the ladies. There are many experiences that define teenage life, from the first-ever trip to the pub through to the first-ever fumble, and ranking highly among them is, of course, the first-ever holiday abroad without your parents. And with their time at Rudge Park Comprehensive now drawing to a close, Will, Simon, Jay and Neil, aka The Inbetweeners, are set to embark on a potentially momentous journey to the Cretan holiday hotspot of Malia and its infamous club strip.
Release Date
: 24th of November, 2011
Website
:
www.theinbetweeners.com.au
Production Notes
From the team behind the record breaking and award winning TV program comes The Inbetweeners Movie which shows what happens when four lads go on holiday to Malia with no parents, no teachers, no money and little chance with the ladies. It is written by Damon Beesley and Iain Morris, directed by Ben Palmer and produced by Christopher Young. The film will be the only outing for 'The Inbetweeners' for the foreseeable future.
The Inbetweeners, Simon Bird, James Buckley, Blake Harrison and Joe Thomas, are joined by the show's regulars including Emily Head as Carli, Belinda Stewart-Wilson as Will's Mum and Greg Davies as Mr Gilbert. The film introduces Lydia Rose Bewley, Laura Haddock, Jessica Knappett and Tamla Kari. The film is produced by Bwark Productions and Young Films. It is financed by Channel 4 with Shane Allen as executive producer.
There are many experiences that define teenage life, from the first-ever trip to the pub through to the firstever fumble, and ranking highly among them is, of course, the first-ever holiday abroad without your parents. And with their time at Rudge Park Comprehensive now drawing to a close, Will, Simon, Jay and Neil, aka The Inbetweeners, are set to embark on that potentially momentous journey. The Inbetweeners are off to the Cretan holiday hotspot of Malia to hit its infamous club strip.
'Lads' holidays can be horrible and terrifying things,' begins Iain Morris, who along with Damon Beesley, created The Inbetweeners, and wrote all three TV series and the film script. 'If you're not having a good time - and no one enjoys their whole holiday the whole of the time - you're looking around thinking everyone else is having an amazing time. Which makes it even worse.
'I've been on four or five lads' holidays and things always go wrong, and there are always fights between best friends. Everything is much more intense when you're away, so that felt like a good place to take the boys in the film.'
Indeed, the idea of sending four lads away on an overseas trip has long been in Ian Morris and Damon Beesley's minds. 'Right from the beginning when planning the first series of the TV show we went through storylines and ideas, and we outlined formative teenage moments as well as anecdotal things that had happened to Damon Beesley and me, and we had a subsection on holidays,' continues Ian Morris. 'Your first big trip without your parents is always a big deal.'
Ian Morris and Damon Beesley wrote the first draft of a story set overseas after they had completed filming on the second series of the TV show, although decided that it would be better to wait until the boys finished their schooling at the end of Series 3 before embarking on a full feature-length trip.
'We wanted the film to be about what it means to go away on your first holiday, what the promises are, and then what really happens,' offers co-creator and co-writer Damon Beesley. 'There's this perceived nirvana where you think that you are going to meet all these incredible women, and you are going to have sex with women all the time, and drink, and you dream about all the fun you will have there. Then, actually, when you get there it is terrifying.'
Simon Bird, who plays Will, agrees. 'I don't know why people expect it to be very different from going out in England but they do. The boys think that they're bound to have a good time because its abroad but they're just as pathetic out there.'
At home, the boys only need worry about the likes of school bully Mark Donovan, but in a sun-drenched tourist spot brimming with boozed-up Brits, Will, Simon, Jay and Neil find themselves in a different world, bristling with dangers. 'You realise that being away is full of much scarier people than you meet back home,' continues Damon Beesley. 'There are about 50 boys in your year at school and you have only got to worry about probably ten per cent who might attempt to bully you, and yet when you go abroad there are hundreds and hundreds of very drunk adults who are very comfortable in this environment.'
It is this sense of displacement upon which "The Inbetweeners" thrives, although ordinarily it unfolds in the relatively safe surroundings of the boys' suburban world. 'Out on holiday, it is multiplied by about a million times,' says Damon Beesley, 'and I think that you do a lot of growing up on those holidays. That is a necessity. You can learn a lot in the ten days you go away. Also,' he adds, 'you can of course learn nothing at all.'
Given the nature of the boys' adventures in Malia, they're given plenty of opportunity for new experiences, although not all of them are quite what the boys expect. 'Obviously, the arc in this story is to do with their relationships with each other, and their relationships with girls,' Damon Beesley explains, 'but there's a sense of wherever you might go in the world, and particularly with these four, you always travel with yourself. The boys have got these aspirations to reinvent themselves as players, but they will never be players because they are Will, Neil, Jay and Simon. That said, I hope that you feel that you have gone on that journey with them and there is an emotional depth as well as lots of big jokes.'
A New Chapter
To bring The Inbetweeners Movie to the big screen, Ian Morris, Damon Beesley and their long-time producer Chris Young - who has worked with the writers since the first television episode - turned to director Ben Palmer, who assisted with the editing on the pilot before going on to direct the second and third series of the show.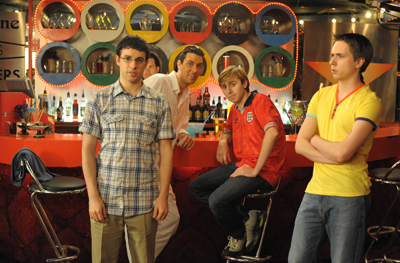 Chris Young explains, 'One of the many fights I have had is to say, "Yes, we know how to make a film and the fact that the director has never made a feature film is no problem here." The argument for that was that we've shot three series with the same team and that team works.'
As a film producer, Chris Young has overseen the likes of Prague (1992), The Final Curtain (2002) and Festival (2005). He says, 'Ben Palmer is a brilliant director. He will go on to be another David Yates or a Danny Boyle. He is very confident. He was never thrown when I was saying things like, "We will need a helicopter for this, or a party boat." He is a very, very talented director and incredibly responsive to the script but he is also creating a film which has its own visual identity.'
The director says that in many ways shooting the film, 'is very similar to shooting the show', although he notes that the filmmakers, 'do want to give it a sense of scale that the series doesn't have. From a technical point of view, I've wanted to see the boys more as a foursome, so we put more emphasis on some of our wide shots and some of our group shots, and running the dialogue in scenes more in group-shots, rather than chopping-in and using lots of close-ups. On a big screen you want to see the four of them together.'
He adds, 'Also, because we're taking the boys out of their comfort zone and the familiar surroundings of school and suburbia, we want to show off the environment and see them in a completely different context, especially as a lot of the film is about seeing them as a group all excited and complete fish out of water.'
For the backdrop to the boys' story, the filmmakers chose the popular party-cum-holiday destination Malia, in Crete, although they shot the majority of the movie on the equally sun-drenched stag- and hen-party hotspot that is Magaluf, in Majorca.
'Going to Malia seemed the natural choice, and having that as the boys' destination helps give the film a sense of scale,' notes Chris Young, 'and there are some definite wide screen moments which I think play well. We are using state-of-the-art digital cameras that Martin Scorsese is using - so we can't complain about that.'
For any filmmaker, shifting characters from the small screen to the big is always fraught with peril. 'It does worry me and it does excite me,' says Ian Morris. 'Sometimes, unless you're making something very intimate, British films can suffer from a lack of scale. So it was important for us to have some larger scale moments, so that when audiences are in the cinema they don't feel as though they're just watching a long episode of the TV show.'
In the show, the camera moved as what the creators describe as 'the fifth Inbetweener', while on the screen they opt for more variety. Ian Morris explains, 'On the TV show the idea was that the camera was looking over the boys' shoulders and was always slightly behind them wondering what they were doing.
Here we try and use the camera in a slightly different way, to keep that feeling that the audience is still in there, but also to scale up certain bits.
'We've never been too self-conscious with the direction in the show,' he adds, 'because as soon as you feel, subconsciously, that there's an adult hand involved it all becomes a bit arch. We never wanted the series to be arch; we just wanted it to be funny and it's the same with the film.'
Damon Beesley concurs. 'The thought behind the hand-held intimacy of the show was that the viewer was there with them. You hang around with them and we want to keep that while they are in Malia, but then also add some more cinematic elements to give it a sense of scale. And it's been great - you can get a laugh out of a slo-mo sequence or a camera move that we never had the luxury of doing on the TV show, because we never had the time or the money.'
The film allows Ben Palmer the chance to vary the pacing more than he is permitted on the TV series, where he is restricted by the 24min running-time, 'There are sequences we wouldn't dream of doing in the series, because we're limited on time,' says Ben Palmer, 'so there it's wall to wall dialogue, while for the film you want to have that sense of space occasionally, and a little breather, without banter all the time.'
When looking to build in scale, the filmmakers explored many options. 'We looked at lots of different ideas with flying cameras and helicopter shots,' says Damon Beesley, 'and then there is a great shot we have where the boys come out of a lift at Gatwick Airport wearing T-shirts that they have made especially for the trip, and it is a slow-mo shot with them walking across quite an empty area at the airport at the departure terminal and every time people watch it they just love it.'
One of the film's biggest sequences unfolds in the final act. 'The whole third act is set on a crowded party boat,' says Ben Palmer, 'and that was the hardest technical challenge - you suddenly realise why not many films are shot on boats at sea! They're very hard to shoot on.'
Party boats are also quite difficult to jump from, and one of the film's major sequences sees Simon (Joe Thomas) launch himself from the crowded vessel into the sea, a stunt that then requires his rescue by helicopter. 'Joe Thomas always does his own stunt work,' says Ben Palmer, 'and you can pretty much bully him into anything, while the others will raise relevant health & safety issues!
'So here he was throwing himself into open water, rescued by helicopter, winched up and flown over the beach all of which he did for real. He did all that in a day and two dialogue scenes!'
Joe Thomas trained for six weeks to ensure that he could dive properly. 'I've had amazing diving coaches,' says the actor. 'Too respected in fact. They should be doing more important work and lavished more attention on me that they really should - I don't think I'm going to benefit the country with my diving!'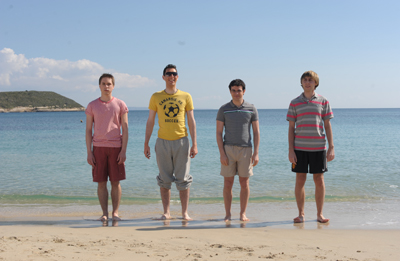 The filmmakers were impressed with his bravery. 'Joe Thoams is game for anything whereas Simon Bird, who plays Will, for example, we found out on the first week of shooting has got allergies to everything,' smiles Damon Beesley. 'We put him on a roller coaster on the Thorpe Park episode that we shot and by the second time he'd got off, crawled to one side and was sick everywhere. Joe Thomas is very game though and will do a lot of his own stunts including showing his left testicle to the world!'
Ian Morris notes that the helicopter scene was hair-raising. 'When the helicopter came to get Joe Thomas out, it was quite low over the water. It was very choppy and he couldn't see. It was very cold. It kind of turned into a genuine rescue. There are a lot of things that actors wouldn't do but the boys do really gratefully. They are amazing.'
Perhaps the greatest challenge facing the filmmakers, however, is ensuring that the characters have expanded narrative arcs that carry the audience through the movie. 'We realised pretty early on that we must give some emotional depth to the film,' says Damon Beesley. 'That's what makes it feel like a film; you care about your characters and their journey and you sprinkle moments in your film where you can have iconic four-shots and imagery that shows what people like about these boys, and what they are feeling, and what they are going through.'
While the film has been eagerly awaited by the hordes of devoted fans, the filmmakers have been conscious of the fact the piece also needs to reach out to those who haven't seen the show. 'One of the things to be very conscious of is that you are not just talking to people who know the show,' says Chris Young. 'The story needs to stand by itself. My kids love "The Simpsons", for example, but I was not really aware of what the characters were like, but then I saw The Simpsons Movie and it made sense.
'For me, The Inbetweeners Movie needs to be like that. A lot of people are thinking, "Well, I have heard about this thing. Let's experience it finally. We will go to the cinema and we will kind of catch up on everyone in one evening."'
Familiar Faces
Whether audiences know the show or not, they will meet the characters of Will, Simon, Jay and Neil just as they're leaving school and embarking on what will likely prove their final adventure together before the foursome head their separate ways.
'We always thought the boys should be a foursome, right from the outset,' says Damon Beesley. 'It is a good number in terms of the characters you need for the comedy because you have one that sits in the middle, the glue of the group and then you have Will who is the outsider bringing a completely different perspective on it all and then you have your loud-mouthed friend in Jay and your slightly thick, guileless friend in Neil.'
It is Simon, of course, who sits in the middle. 'We thought about putting Simon in the middle because at that age you can meet people from a different area and you can be pulled in different ways by different friends,' notes Ian Morris. 'Jay is Simon's oldest friend on one side and Will's his new friend and the idea is that they counter balance each other. The idea was always that Jay is as clever and as funny as Will, but just in a different way.'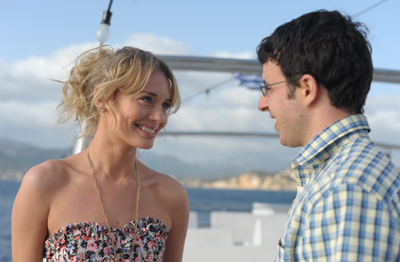 Once the boys are away, however, tensions mount. 'There is a split during the holiday,' continues Ian Morris, 'because from my experience that often happens - you fall out with your mates abroad.'
Indeed, as with the TV show, much of anecdotal incident is drawn from the writers' own lives. 'A lot of what happens to the boys on the holiday - from the state of the boys' apartment to falling asleep in an ant's nest or getting a cock drawn on your back, it's all drawn from experiences of mine, Damon Beesley's or our friends,' says Ian Morris.
Damon Beesley agrees. 'Always, from day one Will's character was very like Iain and Simon's character was sort of based on me and the other two were an amalgamation of people from our past who we knew very well. In the series and in the movie, I think Simon and Will probably get a bit more of the emotional drive. Will wants to hang out with Simon, and Jay and Neil come as part of the deal.
'So Simon is always sat in the middle, the everyman, although the way Joe Thomas has played him over the years has made him much more socially inept and a bigger weirdo than I was at that age, which is great, much funnier.'
When we meet the boys on screen, all four have 'moved on a little bit since the last series,' according to Ian Morris. 'Neil has a girlfriend and when he comes away on holiday he has a quite strict set of rules about what qualifies as being unfaithful.'
Blake Harrison plays Neil. 'The beautiful thing about Neil is that he never has much of an arc as he shrugs things off very easily,' says Blake Harrison. 'He could get the worst news possible and within a few minutes has probably moved on. He very much lives in the now.
'In the film, Neil's in a relationship and is abroad with all these other women around him, and he's happily living in the moment hoping more girls will touch his penis.'
Ian Morris says that because Neil is the one who tries the least, he often has more success. 'I think there is an attractiveness, at a certain age, about people who aren't riven with guilt and anxiety about trying to be something desperately they are not. Neil is who is and that's it. He is the only one who gets the on screen kiss.'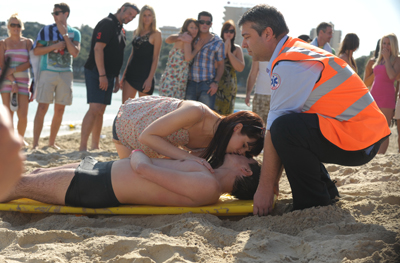 Out in Malia, Neil scores with a school dinner lady. 'And that scene is pretty disgusting,' smiles James Buckley, who plays Neil's close if foul-mouthed friend, Jay. 'As for Jay, he has his usual words of wisdom there's plenty of "gash" and "clunge", although I think one of the best lines is, "This girl's so wet for me I can hear the waves breaking in her fanny."'
While Simon, Neil and Jay obsess about girls - and some familiar faces, such as Carli D'Amato (Emily Head), return - Will (Simon Bird) is keen on exploring some of the local culture. 'Will is worried about being normal, and Will feels this constant struggle that he should be enjoying a normal holiday,' explains Simon Bird.
'And what he think is normal is very different from what other people think is normal. About two-thirds of the way through, though, Will's tried to make the others do the cultural things - visit a Minoan palace - and so just decides that he should just get wasted instead. There's a love interest in there for him, too.'
The film's director Ben Palmer notes that the film feels edgier than the show, 'with its language and some nudity - more than has been seen in the series. Also there's more of a sentimental and coming of age feel that the series never had, because we never allowed sentimentally in the show, except for perhaps the last 15 minutes of the last series. We've had a lot of fun exploring that in the film. And it needed that. You have to have that kind of depth to the characters.'
Unlike the TV show, The Inbetweeners Movie is not all about pulling girls and trying to have sex for the first time. 'There are elements of that in the film of course,' concludes Ben Palmer, 'but there's also a sense that they've grown up a little and will go their separate ways at the end of this and they need to take something from it.
'It is kind of the end of the road for them as a group and that hopefully adds some real poignancy.'