Despicable Me
Cast
: Steve Carrell, Jason Segel, Russell Brand, Will Arnett, Kristen Wiig, Danny McBride, Miranda Cosgrove.
Director
: Chris Renaud and Pierre Coffin
Genre
: Animated, Comedy, Family
Rated
: G
Running Time
: 95 minutes
Synopsis
: In a happy suburban neighbourhood surrounded by white picket fences with flowering rose bushes, sits a black house with a dead lawn. Unbeknownst to the neighbours, hidden beneath this home is a vast secret hideout. Surrounded by a small army of minions, we discover Gru (voiced by Steve Carrell), planning the biggest heist in the history of the world. He is going to steal the moon.
Release Date
: September 9th, 2010
Website
:
www.despicableme.com.au
Space for Comedy: Shooting in 3-D
Not only is Despicable Me Illumination's first film, it is also the first project that the Chris Meledandri team has produced in 3-D. Before the layout began, the producers and directors knew that Gru's world would be further embraced by audiences if an extra dimension was added. They requested that Paul and Daurio look for opportunities to utilise 3-D as they crafted their script, but only when it made logical sense. The screenwriters were guided in their decision making to insert 3-D suggestions in such scenes as when Gru and Vector fire their array of missiles, when airships fly past or when smoke trails from a vehicle float out across the audience.
Whether it be during the death-defying shrink-ray heist, explosions in midair from errant missiles or on the rollercoaster ride on which Gru takes the three girls, the animators aimed to bring the audience into the journey with the characters of the movie. The filmmakers also discovered that they could use the space as an opportunity to create comedic effect. Since this was a relatively new domain for them, it gave them the chance to deliver laughs that come at very unexpected times.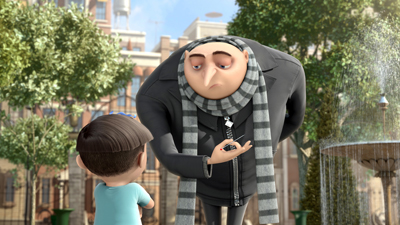 Chris Meledandri was adamant that the team consciously used the space appropriately, as opposed to a simple 3-D transfer of a 2-D look. He reflects: "The utilisation of the dimensional space helps to define the visual look of the film. There are many sequences in the film where we simply take advantage of the dimensional space in subtle ways. Our goal is always to immerse the audience in the film and to make them feel like the film's environment is expanding around them. We also use the action to put the audience right smack in the middle of it. Chris Renaud and Pierre Coffin had tremendous fun in staging and boarding these sequences."
"From the beginning, we envisioned this as a 3-D movie," adds Cohen. "We needed to find someone who understood how to make a 3-D movie and how to tell a story from shot to shot and scene to scene. We found a fantastic stereographer in John Benson, who was 3-D specialist on Coraline. He moved to Paris and worked on this movie from the very beginning."
From the start, the filmmakers knew that they wanted Despicable Me to be in 3-D. They explored different scenarios in which to utilise the extra space, and then began to layer the story with more and more 3D-friendly sequences. The filmmakers even built a model of the entire rollercoaster at Super Silly Fun Land to enhance the way it appears on screen in 3-D. Chris Renaud offers: "We layered 3-D in more and more as the movie went along. We were all seeing the importance of 3-D and how the audiences embraced it. Having an element that is completely built creates a cool experience. The thing with designing in this media is that you can't trick the camera, so everything has got to be there for it to feel like a true experience."
A Global Production: From France to the U.S.
As the team began preproduction for Despicable Me, Chris Meledandri searched across the world to find production houses that would be ideal partners in animating the film. As they built Illumination, they felt it was important to choose the shops that were the best fit for each production in the pipeline. After visiting a number of studios, the producer traveled to France to investigate shops from that country's tremendous traditions in animation.
The filmmaker would find the perfect fit at the Paris-based digital visual effects studio Mac Guff. Chris Meledandri explains: "France has one of the greatest animation schools in the world called Gobelins. They have a sense of comedy in France that has a great connection to our sense of comedy here. I visited a number of studios, and within an hour after arriving at Mac Guff, I knew that these were right partners. I had a tremendous amount of confidence in the people that I met and in the work that I saw."
As Illumination was building its production process, it set out to create a very efficient, streamlined approach to make the first of its films. Considering the technology and artistry that was available, the crew began preproduction in Los Angeles. There, they conducted a good deal of the storyboarding and engaged in the initial editing and designs. As Illumination built up its team in France, it began to transition character animation and computer graphic work to Mac Guff.
Illumination moved about 15 people to France to live full-time. There, they would work on the production under producer Janet Healy's leadership together, they became a very tight group. Offers Chris Meledandri of the process: "The technology that we use to work collaboratively is relatively simple. We used Skype and iChat because there's such an ease of use that we preferred. These are both very low-key and casual, everyday forms of communication?rather than fancy state-of-the-art teleconferencing. We had linked editing rooms and due to the time difference, we had a production working 24 hours. It was a tremendously cohesive process."
Chris Renaud found Mac Guff to be "a world-class studio." He commends: "There's a dedication to craft that is second-to-none. What's interesting about France is that they have an education system that supports animation and the visual arts, which is not easily found everywhere on the globe."
Healy agrees: "We initially looked at studios all over the world, and we recognised that Mac Guff had a uniquely talented crew and a very stable, full-featured set of CG tools. They had just finished a French film that showed a lot of production value. Our instincts were right: the leadership at the studio was amazing to partner with on a daily basis, and the artists have terrific talent and remarkable technical understanding. We are still astonished at how straightforward, good-natured and productive the team is, and how well they collaborate."
The producer explains the process of bringing this international crew together: "Seven Americans came to France as the key leadership. The group included one of the directors, me as producer, the associate producer, the editor and the assistant editor, the stereographer and the production designer. Everyone else we needed was available within the Mac Guff team. We brought decades of feature animation experience from the leading American animation studios, and that experience helped the Mac Guff team undertake more complexity in their images. We understood the paradigm of driving a production with constant story improvements, always rewriting, reboarding, trying versions and making changes-no matter how far into the process we were. This dynamic ability to strive to improve the work at every stage was the key difference between how we were used to working and how European studios have usually worked in the past."
When it came to the process discussions-such as translating artwork to modeling in CG, how rough layouts would get in stereo, or how animation would be approved-the team had similar expectations and a mutual understanding of the workflow. There were about 14 departments that worked in CG, and the artists had unique specialties. As well, the many dependencies between departments made management of the duties complex. Initially, workflow conversations took some time, but the crew members approached the CG manufacturing work similarly and found that their ways of problem solving and past experiences shared much in common.
With the American team taking French lessons and French crew members taking English lessons, it was an education for crew on both sides of the Atlantic. Whenever Chris Meledandri addressed the team as a whole, an interpreter was used. Of the global company, the producer adds: "We've got an American director and a French director. We've had crew working in Canada, New Jersey, Los Angeles and the Midwest. We had numerous nationalities represented on our crew, and in Paris we have people from the U.K. Our philosophy was based on the notion that if you're going to make a movie for a global audience, the complexion of your crew should be a global one."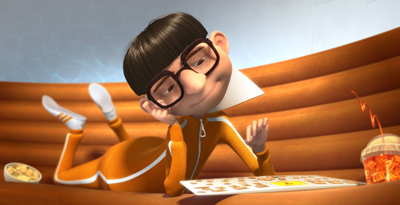 The trans-Atlantic process also extended to the vocal talent, as some sessions were recorded in Paris while actors were in Los Angeles. Explains director Chris Renaud: "We did our first few sessions with each actor in person, so that we could work out who the character is." Once Chris Renaud and Pierre Coffin were in Paris, the filmmakers and actors iChatted or Skyped so they could see one another and try different takes of the dialogue reads. "It was very important to us to read the actors' body language," Chris Renaud notes.
The production crew connected Chris Renaud and Pierre Coffin to a high-quality ISDN audio line so that they could hear each of the actor's performances. The actors recorded the audio in Los Angeles, which was then delivered to the studio in Paris. With the nine-hour time difference, production ran on a 24-hour cycle, as teams worked constantly on two sides of the ocean.
Working with a director via Skype was a new experience for some of the talent. "It was pretty crazy having the director all the way in Paris?strange to work with somebody but not be in the same room with them physically," recalls McBrayer. He laughs: "I think they were nine hours ahead, so they could tell the future."
Having a Bad, Bad Day: Music of Despicable Me
In the past several years, Grammy Award-winning artist Pharrell Williams of The Neptunes and N.E.R.D. has written and produced for such blockbuster global musicians as Gwen Stefani, Justin Timberlake, Usher, Madonna, Kanye West and Shakira. In 2009, Billboard magazine named The Neptunes producers of the decade, and Williams and his collaborators have played an enormous role in shaping the culture of the music landscape. Naturally, the next step for the artist was to explore the interplay between music and movies.
Pharrell Williams has been interested in scoring music for feature films for some time, and he became more eager to work in this realm after observing Jack Johnson's musical involvement in creating the best-selling soundtrack to Universal's animated Curious George. Pharrell Williams expressed his interest to friend and music supervisor Kathy Nelson. He remembers: "I told Kathy Nelson that the very next time something comes your way, you call me and let me know what it is. She said, 'Pharrell Williams, I really like you, but I'm not going to just give you anything. I'm going call you when it's the right thing.' And I got the call for Despicable Me."
A longtime animation fan, Pharrell Williams was eager to take on the challenge of crafting original songs and themes for his first film. "What I like about the philosophy on Despicable Me is that the filmmakers don't make children's films. They make films for humans that use some of the tricks and treats of youthful entertainment, but at the same time, there's an amazing storyline."
Though the task of scoring his first feature seemed daunting, Pharrell Williams was grateful that he was surrounded by Academy Award&reg winner Hans Zimmer as the film's music producer and skilled guitarist Heitor Pereira as fellow composer. Says producer Chris Meledandri: "The moment that we showed Pharrell Williams the imagery, it took him about 30 minutes to say, 'I'll work on this film in any way possible.' He was immediately struck by the character designs, the notion of the story and his enthusiasm never waned.
"Pharrell Wiliams, like our directors, took on the challenge of doing something that he had never done before this is the first time he's scored a feature film," Chris Meledandri continues. "We knew that there was going to be an opportunity in the film for a number of songs that would be used as song score. What's resulted from his songs is a group of musical themes that he's worked on with the talented Heitor Pereira and legendary Hans Zimmer."
Pharrell Williams' collaboration with Pereira began as Pharrell Williams watched preliminary footage of the film and then created musical ideas he thought would fit into each sequence. Heitor Pereira would then expand upon some of Pharrell Williams' ideas and come up with additional creative works. On working with Heitor Pereira, Williams says: "Heitor Pereira took those pieces and songs, and he connected the dots. He is the glue in this house of cards. He scored some incredible scenes and embellished some of the scenes that I scored and took those to the next level."
Pharrell Williams composed several original songs for the film, including the title track, "Despicable Me." The artist was inspired by the whimsical narrative of the lyrics from Annie, and he wanted to write lyrics that were as kid-friendly as that musical, but also as moody as Gru's character. He elaborates: "I've never made a song about having a bad day and being in a super bad mood. So I thought I would make it really fun but, at the same time, if you were to hear it without the lyrics, it would sound like this track that you'd want to hear coming out of someone's truck."
Music producer Hans Zimmer's storied career in film has resulted in his composing unforgettable scores for live-action blockbusters such as Rain Man, Twister and Thelma & Louise, as well as the worldwide hits Sherlock Holmes and films from the Pirates of the Caribbean series. But it was his instantly classic composition for 1994's The Lion King that brought Zimmer an Oscar&reg for Best Original Score and ignited his passion to craft the music behind such modern animated classics as Shark Tale, Madagascar and Kung Fu Panda. His frequent music partner and world famous guitarist, Heitor Pereira, has collaborated with him on many a project. Despicable Me is their latest effort.