Despicable Me
Cast
: Steve Carrell, Jason Segel, Russell Brand, Will Arnett, Kristen Wiig, Danny McBride, Miranda Cosgrove.
Director
: Chris Renaud and Pierre Coffin
Genre
: Animated, Comedy, Family
Rated
: G
Running Time
: 95 minutes
Synopsis
: In a happy suburban neighbourhood surrounded by white picket fences with flowering rose bushes, sits a black house with a dead lawn. Unbeknownst to the neighbours, hidden beneath this home is a vast secret hideout. Surrounded by a small army of minions, we discover Gru (voiced by Steve Carrell), planning the biggest heist in the history of the world. He is going to steal the moon.
Release Date
: September 9th, 2010
Website
:
www.despicableme.com.au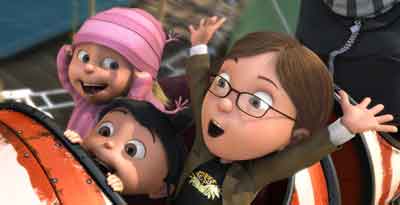 Before the Production
Finding Illumination: Meledandri Joins Universal
In early 2007, Universal Pictures began to build its family and animation film business by bringing aboard blockbuster producer Chris Meledandri to shepherd the initiative. Chris Meledandri had spent many years at 20th Century Fox, where he founded the studio's animation division and oversaw the launch of its blockbuster Ice Age franchise. With the creation of Chris Meledandri's new production company, Illumination Entertainment, Universal would finance and distribute a slate of live-action and animated films that would be led by the successful filmmaker.
Chris Meledandri, who had been an executive at Fox for 13 years, became founding president of 20th Century Fox Animation during his tenure at the studio. He headed that division for eight years, amassing more than $2 billion in global box-office revenue for the studio. The producer oversaw Fox's 1998 acquisition of the East Coast-based, small visual-effects house Blue Sky Studios and its transformation into the studio's successful CG-animation arm, which employs more than 250 artists. While there, Chris Meledandri also supervised and/or executive produced such blockbusters as Robots, Alvin and the Chipmunks, The Simpsons Movie and Dr. Seuss' Horton Hears a Who!
Offers Chris Meledandri about the transition: "I found that I could not turn away from the extraordinary opportunity that Universal offered me: the entrepreneurial aspect, the excitement about a new company, the breadth of the production mandate to include all forms of animation, as well as live action, and the studio's ideas about movies-specifically their commitment to quality, as well as their ideas about how to market movies in an increasingly competitive marketplace."
About the Production
So Despicable: The Project Begins
"The original concept of Despicable Me was pitched to me by Sergio Pablos, who is a Spanish animator based with a small animation studio in Spain," explains Chris Meledandri. "We immediately knew that screenwriters Cinco Paul and Ken Daurio were the team to write the screenplay." The writers had worked with the producer on the global hit Dr. Seuss' Horton Hears a Who!, and Chris Meledandri felt they had just the sensibility to bring Sergio Pablos' original story to life.
Cinco Paul and Ken Daurio had navigated intricate animated worlds before with Chris Meledandri. In their last film together, they gave life to Dr. Seuss' beloved character Horton, telling the story of a gentle elephant who hears a faint cry for help from a dust mote that's floated past. The film, directed by Jimmy Hayward and Steve Martino, was an enormous hit and solidified the two as comedy scribes. For their newest project, they elaborated upon Sergio Pablos' idea of one of the world's greatest super-villains, a man who finds more to life than reveling in wicked deeds.
From the beginning, it was important to Illumination to construct a tale that would put a trademark stamp on the types of films the production house would be creating. That would not involve two-dimensional heroes or antagonists. Reflects Chris Meledandri: "The idea of making an animated film in which the villain is your protagonist is unusual and very challenging. By the end of the film, Gru has undergone a transformation, and it's that transformation that's made possible by starting him in a place where there are aspects of him that are downright unlikable. You would not have a sense of appreciation for the journey he's gone on as a character had we not started him at that point."
Fellow producer John Cohen knew that Despicable Me would stand out by showing the side of our humanity of which we're not always so proud. "For a while, we've wanted to make a movie about a villain told from the villain's perspective," he says. "Chris Meledandri heard this idea that came from Sergio Pablos, who is a terrific animator. Sergio Pablos and Nina Rowan, who are executive producers, brought this original idea to Chris Meledandri, and he immediately fell in love with it. It's a great, clear concept for a movie with comedy built in and a very unique character at the core."
John Cohen liked exploring the notion that each of us has a bit of wickedness inside just waiting to be expressed. He continues: "Gru offers a wish fulfillment. When you're waiting in line at a grocery store-and the person in front of you has 25 items in the express line and decides to pay with a check-that would be the perfect time to use a freeze ray. There's a great deal of comedy that springs from a character who gets to act out some of the things we wish we could do."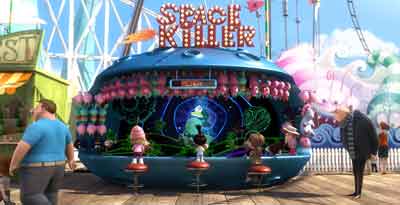 When it was time to select the project's directors, Chris Meledandri turned to Academy Award&reg-nominated filmmaker Chris Renaud and acclaimed Sorbonne-trained animator Pierre Coffin to helm the project. Chris Renaud's years of collaboration with Marvel and DC Comics allowed him to illustrate some of the most iconic characters of the modern era. For his part, Pierre Coffin has created several of the most viewed animated shorts on YouTube, including "The Lion Sleeps Tonight."
"Chris Renaud is somebody who I've worked with for many years, going back to Fox and Blue Sky Studios," Chris Meledandri comments. "He came up through our story department and started out as a storyboard artist, but his experience prior to joining us involved a much deeper level of animation experience. His roots come from the comic book world, where early on in his career he illustrated comic books. Chris Meledandri has a wonderful sense of story and how to translate that into imagery. We had a particularly successful experience with him directing a short at Blue Sky called No Time for Nuts, which was nominated for an Oscar&reg."
Pierre Coffin comes to this side of the industry from his work in such celebrated animated shorts such as Flying Fish Tobby Who Aimed for the Stars and Pings. "He's worked on a number of short animation pieces that are absolutely extraordinary," continues Chris Meledandri. "Pierre Coffin has that gift of being able to capture and define personality with the most subtle of movements. My attention was drawn to Pierre Coffin while visiting Paris and being shown about 15 minutes of his work. I knew that he could bring a sense of personality and character to this film that would be wonderful in defining the character of Gru and finding his vulnerability, as well as his edge."
While Chris Renaud's strength is in storyboarding, fellow director Pierre Coffin's primary work has been in animated performance. Indeed, that is primarily how the two men split their Herculean responsibilities as they crafted Despicable Me. Management of the lighting, compositing and art direction teams would be divided between the two.
Good vs. Evil Who's Who in Gru's World?
While it's initially a bit uncertain who is naughty and who is nice in Despicable Me, all will be revealed as the story unfolds. Below is a guide to the dastardly and delightful players in Gru's world:
Gru (Steve Carell) is a villain who finds great pleasure in doing deliciously wicked things to other people. Whether it's freezing a long queue of customers ahead of him at a coffee shop or creating a balloon animal for a small boy just to pop it, Gru gets to do all of the things we only wish we could. He's on track to become the greatest villain of all time by committing the crime of the century, but Gru's about to face his toughest challenge yet: Fatherhood.
Gru's nemesis, the nerdy Vector (Jason Segel), is way too geeky to be this cocky. Holed up in his sleek house/fortress, Vector can usually be found in his orange warm-up suit, playing video games while plotting his next move. His favorite weapon is a gun that fires live piranhas. Unfortunately for him, Vector has a hard time keeping the carnivores inside the gun's barrel...
The eldest of the three orphans, Margo (Miranda Cosgrove) is naturally protective of her two sisters. Raised without a family, she distrusts most people and knows the only ones the girls can count on are one another. A tough cookie and a strong protector, Margo is not afraid to challenge Gru as he tries to parent the girls. He has finally met his match.
The kid who tests all limits, Edith (newcomer Dana Gaier) might just be the last girl in the orphanage you would run to adopt. Wearing a hat pulled down over her eyes and eager to test out Gru's dangerous weaponry, she is seen as a bit of a scoundrel. Though this middle child needs (and wants) limits, she'll never let you know it.
An innocent little girl who loves unconditionally and wants desperately to be loved, the youngest of the three orphans lives to hug. Agnes (scene-stealing newcomer Elsie Fisher) is obsessed with unicorns and says random, sweet things. She longs for nothing more than parents to make her family complete?and that unicorn wouldn't hurt.
Gru's Mom (Julie Andrews): Behind every great villain is a disapproving mom. Nothing Gru has done has been good enough for his judgmental grump of a mother. While she believes she's quite smart in her parenting approach, the 80-year-old still treats Gru like he's eight years old. Her overly critical attitude has inspired him toward ever-increasing feats of villainy in order to impress his harrumphing mom.
Gru's resident mad scientist, Dr. Nefario (Russell Brand) looks to be approximately 150 years old and vacillates between flashes of brilliance and black holes of spaciness. Always hard at work building his boss the latest in incredible vehicles and weaponry, Nefario is (sometimes) sharp as a tack. His hearing, however? That began to fade at least 50 years ago.
Small, mischievous yellow creatures, the minions (Pierre Coffin, Chris Renaud and Jemaine Clement) form Gru's not-so-bright pit crew. Hardworking and devoted to their leader and his mad exploits, the minions are content to serve as his crash test dummies. When they meet Gru's adopted children, however, they find three little girls who are just as much fun as they are.
Miss Hattie (Kristen Wiig) runs the local orphanage where Margo, Edith and Agnes live before they are sent to live with Gru. A seemingly kind and concerned caretaker, Miss Hattie is actually a stern Southern belle who believes in tough love and big business. If you're not making your quota by selling cookies, you're headed for Miss Hattie's "Box of Shame."
Gru's noodge of a next-door neighbor, Fred McDade (Danny McBride) is, naturally, the president of the homeowner's association. Quick to point out any minor infractions of the neighborhood code, McDade is a constant thorn in Gru's side. He just needs to keep an eye on his dog unless he wants to incur the wrath of Gru.
An unforgiving loan manager who runs the Bank of Evil, Mr. Perkins (Will Arnett) has long funded Gru's wicked plans. A monster of a man who has grown unsatisfied with Gru's imperfect track record, Perkins has reached the end of his financing rope and refuses to give Gru a loan to finance his intricate plot to steal the moon.
The tackiest tourists you'll encounter (Jack McBrayer and The Office's Mindy Kaling), this family is on vacation with their young son. Armed with wild clothes, disposable cameras and bad fanny packs, the tourists are in for a more exciting trip than they could ever dream of when they discover someone has stolen the Great Pyramid.
The Carnival Barker (also voiced by Jack McBrayer) at Super Silly Fun Land has no intention of allowing Margo, Edith or Agnes out of the park with a prized stuffed animal. Calling out taunts like "Someone's got a frowny face!" will only motivate Gru to pull out the big guns to win Agnes her beloved unicorn.
A cross between a bulldog and a piranha with the attitude to match, Kyle is Gru's guard dog. The recipient of many unwelcome hugs by Agnes, Kyle isn't sure whether he wants to swallow the little girls whole, or just cuddle up next to them.
Populating Despicable Me: Casting Comic Talent
When bringing together the cast for Illumination's first animated feature, the directors and producers of Despicable Me were adamant about selecting actors who could not only bring out the humor of their voices, but also channel their comic physicality to inspire the many animators who worked on the project. John Cohen explains: "The way we approached the casting is that we wanted to find the absolute best improvisational comedians out there. They brought a level of spontaneity and naturalistic performances to the film."
To choose the comedy's primary super-villain, a character who is at his wit's end trying to become the best in his profession, the team members had to look no further than a former collaborator. Performer Steve Carell is known to millions of fans through his roles on television's The Office and popular films including The 40-Year-Old Virgin, Get Smart and Date Night, but it was his voice that most interested the filmmakers. He first worked with Chris Meledandri on Horton Hears a Who!, in which he vocalised the role of the Mayor of Who-ville.
"Steve Carell has great pathos in his voice, but his voice also carries his comedy effectively," says Chris Meledandri. "Working with him is unique because he comes to the process as an actor, an improviser and a writer. It's rare that Steve Carell will not give you a version of the scene that everybody agrees has just taken that comic or dramatic sequence and made it significantly better. The process of working with him is one of discovery. You never quite know where he's going, and yet he always takes you to a place that's a more elevated level than where you started."
When the team sat down with Steve Carell to discuss his ideas about a vocal approach to Gru, Steve Carell made the observation that great villains in movies have very memorable voices, and he didn't want the audience to pinpoint the accent. Explains Chris Meledandri: "Steve Carell started to play with different vocals that involved accents, and he came up with one that lands somewhere between Ricardo Montalban and Bela Lugosi. As soon as he started playing with that voice, it began to inform our visual conception of the character."
It wasn't only the opportunity to play a villain that attracted Steve Carell to the project. "The story is really sweet," he offers. "That's what drew me to it. As crazy as Gru sounds and as diabolical and mean and awful as he is, there is humanity to him. It comes out in little bits, all the way through. It says a lot about how people can change, and how aspects of a person can come to the surface, given a different circumstance. People aren't either good or evil... there's always some good to evil and there's always some evil within good. When you see someone who on the surface just seems despicable, and then they're not, that's interesting and fun to explore."
Steve Carell also appreciated how Gru was in competition with Vector to win the title of World's Best Villain. "It's very frustrating for Gru to be the second-best villain in the world, because he's a perfectionist," the actor adds. "He's somebody who takes pride in his work, and he wants to be the best at being bad. But there's someone out there who is upstaging him?and he doesn't like it a bit."
To play Gru's archnemesis, Vector, the team chose comedy actor/writer Jason Segel. A formidable opponent to Gru, Vector is described by Steve Carell as "younger and with a lot of technology at his disposal. He really gets under Gru's skin. When you're competing for stealing the moon, you can't really be friends."
A newcomer to the world of animation, Jason Segel was excited for his first time out. He also had a chance to tap into his geeky side when he came up with the voice for Vector. "I'd never done anything like this," says Jason Segel. "The closest I'd come to it was puppetry, but this was pretty spectacular. I didn't realise that I wouldn't be working with other actors. You read all the lines on your own, so it's a real exercise in imagination. To get into character as Vector, I tried to find my dorky self from when I was really young. I'd left it behind, but I re-channeled."
Just as Gru is struggling to impress his considerably dour mother, Vector will do anything to get attention from his aloof and evil father. Jason Segel explains: "My character's relationship with his father is a bit strained in the film. He doesn't have faith in me and that's actually one of the driving forces, as it is with most villains. It comes down to a weird relationship with your parents."
Teen superstar Miranda Cosgrove of television's juggernaut hit iCarly joined the Despicable Me production as Margo, the eldest of the three sisters whom Gru adopts. A veteran of Nickelodeon since her time on Drake & Josh, Miranda Cosgrove has helped to build her show about an entrepreneurial teen who produces webcasts with her best friends into the highest rated live-action show on the network and the No. 1 series on all of television among kids 2-11. Indeed, an episode of iCarly holds the record as Nickelodeon's highest-rated and most-watched live action telecast in the history of the network. It was Miranda Cosgrove's deadpan vocal timing and inherent knack for physical comedy on iCarly that snagged her the part of Margo.
As the most suspicious of the orphans whom Gru attempts to dupe into doing his malevolent deeds, Margo remains vigilant in protecting her little sisters. The directors and producers knew they wanted Cosgrove to be their Margo the moment they met her. Chris Renaud explains their choice: "The role is a tough role, and Miranda Cosgrove landed something important for us. The girls are the soul of the movie, and Margo-more than even the other two-is the conscience for Gru and she's the big sister to everybody?including Gru. It was an important choice to get Miranda Cosgrove, who has fantastic acting capability and gave Margo exactly the voice we needed, one with weight to it."
What sealed the deal for Miranda Cosgrove was the chance to work with a fellow comic performer she admired. "Steve Carell is one of my favorite actors," she says. "So when I found out he was a part of the film, it was icing on the cake. The whole story's fun. I love that he's the villain, and that the villain is the lead for once. Gru ends up having this amazing heart and being a really nice guy in the end. I love stories like that. I also liked being the oldest orphan, the one who is keeping it all together. I get to say a lot of witty, fun things."
Cast as the middle sister, Edith, was newcomer Dana Gaier. Describing Edith, the young actress says: "She's mischievous and sarcastic. She's really a troublemaker, which is something I can almost relate to because I make trouble with my sister. Edith likes to touch lots of things when she's told not to. She's the kind of person that really doesn't listen, but it's just because she's curious and likes to explore. It's all in fun for me and for Edith. We really love our sisters."
As well, the filmmakers discovered young Elsie Fisher to play Margo and Edith's littlest sister, Agnes. Whenever the directors needed Agnes to dissolve into a fit of giggles, Elsie Fisher was always game to provide the laughs. In fact, some of the biggest laughs of the production came from off-the-cuff deliveries that Elsie Fisher gave. Whether it was when she was asked to vocalise what Agnes would say when she gets the unicorn of her dreams ("It's so fluffy!!!") or how she would deliver one of Paul and Daurio's lines when Gru demands the girls not bother him ("Does this count as annoying?"-before she playfully taps her cheeks), Elsie Fisher never failed to amaze the filmmakers with her natural comic timing.
For Elsie Fisher, she loved knowing that her character would be getting a father of her own. She says, "I have a really great dad, so I know it's important for Agnes to have one too."
One of the greatest finds of the production was when beloved actress Julie Andrews signed on to voice Gru's demanding, never-pleased mother. At every opportunity, she's poo-pooed Gru's many successful diabolical ventures and let him know he's never good enough. Chris Meledandri remembers his first meeting with the legend: "When we asked Julie Andrews to become involved in the movie, her reaction was an initial excitement, and then a resistance when she learned about the character. She plays a character in this film that is almost the anti-Mary Poppins, someone who is a mean and nasty and demanding mother."
Writers Cinco Paul and Ken Daurio had imagined a mother who wants her son to be the best that he can be, but who is also a woman with a quite awful parenting methodology. "Julie Andrew's response was that not only had she never played anybody like this, but that she had never met anybody remotely like this," Chris Meledandri continues. "That initial resistance very quickly turned into her excitement about taking on a challenge and performing a role that was unlike anything she had done before."
When describing our super-villain's often scowling, nagging kickboxer of a mother, Julie Andrews laughs: "Gru's mother is a terrible lady. I was sometimes appalled at what my character was trying to do, and sometimes it cracked me up so badly." However, she loved the project enough to trust Chris Renaud and Pierre Coffin's vision. "The film has such heart," the actress notes. "Ultimately, it's about the power of love and about the wonder that children have. These three little children have no idea that there's such a thing as evil or anything else. They just want to be loved."
Just as Steve Carell adopted a curious accent for his character, so did Julie Andrews find a signature voice. Of Gru's mother's vocals, she explains: "Her voice ends up being a little European and a little bit Jewish, German, Middle European, English white bread. I knew that Steve Carell was going for a very low, slightly halting voice. So I thought, 'Well, where would he have gotten that? Wouldn't he have gotten that from Mum? Maybe they came from a sort of Middle European background, and then came over here.'"
Describing his on-screen mother, Steve Carell laughs: "If there was a less appropriate person to play a nasty, terrible mom, it would be Julie Andrews. But she's fantastic." He deadpans: "Maybe there's a side of her that's really awful, and it comes out in this movie."
Helping to bring Gru's plans to fruition and protect his fortress from interlopers (be they girls selling cookies or overly friendly/nosy neighbors) is Gru's mad scientist-in-residence, Dr. Nefario. Brought onto the production to voice the dotty and hearing-impaired inventor was British comic performer Russell Brand.
Russel Brand explains that he tried different vocal tones with the filmmakers until they found one that fit the character they'd imagined. "I looked at how Nefario walks and how he thinks and tried to have a reaction to it. He sounds sort of like a Ray Winstone-y gangster, but with a mellowness underneath. I also had to add some age to the voice. I made a vocal cake out of vibrations in my throat."
The role of the raging, blustering Mr. Perkins was given to Steve Carell's fellow Horton Hears a Who! comic voice talent, Will Arnett. The actor, who has a number of animated films-from Ratatouille to Monsters vs. Aliens-to his credit, had to delve into his wicked side when he composed the voice for the Bank of Evil's manager. Perkins wants nothing more than to see the loan-seeking Gru grovel at his feet while his own son, Vector, beats Gru in the race to steal the moon.
"I wanted him to have a holier-than-thou, haughty accent that was snobby and moneyed," Will Arnett explains. "I thought he should sound like he was working his way through sentences. He almost eats the words he chews them over and devours every situation that he's in. He's a monster in human form. The writers created such a great moody world, and it was a terrific opportunity to get into a really heavy, awful, growling, animalistic and beastlike character."
Not all of the villains in Despicable Me are male. Perhaps the most evil mastermind of the players in Gru's world is Miss Hattie, the proprietor of the orphanage where we meet Margo, Edith and Agnes. If she is not plunking down girls in her "Box of Shame" for a perceived slight, Miss Hattie may be found sending her orphan army out into inclement weather to hawk minty mints, choco swirlies and coconutties cookies.
When the filmmakers searched for the perfect villainess, they recruited the woman of a thousand faces and voices herself, Saturday Night Live veteran Kristen Wiig. "I grew up watching animated movies they were such a big part of my youth," notes the actress. "I always try to do something different with my voice, especially coming from SNL. It's really exciting to do that and then have my character built around it."
Kristen Wiig met with the filmmakers to discuss the inspiration behind Miss Hattie. "We had an afternoon of finding her voice," she says. "We discussed Miss Hattie sounding sweet, but not saying nice things. We found this saccharine, Southern lady who is not really meant to be trusted?but she sounds nice on the phone."
30 Rock's Jack McBrayer was one of the only performers who provided vocals for multiple characters in Despicable Me. "When I first met the team, they showed me pictures of what my first character would be, which is this larger, Southern gentleman?a tourist. I was also asked to play the Carnival Barker, and both of these characters look exactly like me."
Suburban Gothic: Visual Style of the Animated Comedy
When the filmmakers were determining what the world they had imagined would look like on film, they instinctively knew that Gru should never plot his villainy in a boring, humdrum neighborhood. Explains Cohen: "The look of Despicable Me and the world of the movie is very much inspired by a Charles Addams and Edward Gorey sensibility. The art director of the movie, Eric Guillon, and the production designer, Yarrow Cheney, have come up with a bright and vibrant visual aesthetic that's unlike any other animated movie you've ever seen."
Chris Meledandri elaborates on the film's distinctive design elements: "The characters are largely caricatures of human characters. They've been designed by one of the great CG character designers, Carter Goodrich, who among many other films designed the characters for Ratatouille. There is sophistication to the design language of this film that at first glance might skew a little bit older. The environments are designed by Eric Guillon, who is such a great talent."
Healy, who has worked with designer Carter Goodrich before, admits: "I love how complex, humorous and interesting Carter Goodrich's character designs are. He captures so much about humanity in each of his drawings he is just prolific. What I love about the characters he designed is that there is a huge range of types, but the people all inhabit the same world. Carter Goodrich's work demonstrates the diversity in our world, and he always gives us a unique twist of personality. His people have appeal, and I want to know more about them. That's always a good start for building a character performance."
Reflecting upon the art director, she adds: "Eric Gullion has a sense of fun and humor in all of his designs. His color palette is sophisticated and not overly flashy, allowing the shapes and whimsy to be at the forefront. He can draw in many styles, and all of them have a freshness and a unique appeal. Eric Guillion strongly contrasts shapes in his compositions, and the variety of the linework provides a dynamic movement and interest that is apparent at first glance. But it's his imaginative view of the world that sets him apart. He made a cohesive world for Despicable Me, and I never tire of exploring all the incredible pieces of imagery because they are fun, comedic, inventive and totally his own."
To find inspiration for the film, the team looked to one of its first drawings. Offers Renaud: "One of the first things Eric Guillion designed was Gru's car, which remains identical to the way he originally drew it. We looked at that car and said, 'Wow, I've never seen a car like that before!' The world grew out of that in a weird way. That was the image we first started referring to: 'This is our world. This is Gru's car.'"
When they imagined how Gru would move, directors Renaud and Pierre Coffin were inspired by physical comedians from Peter Sellers to Rowan Atkinson. The super-villain is a towering presence with hunched shoulders and a hooked nose. But when he needs to do so, Gru can move with the grace of a cat. Tonally, the filmmakers created a "Spy vs. Spy" world in which Gru would be subject to all sorts of explosions and attacks-from rocket launchers to domestic sharks-and live to fight again.
It was clear to all involved that they had no interest in creating a universe for Gru and his extended family and foes that had a photorealistic quality to it. They wanted the film to have a unique color palette and a distinct stylisation. But the details within the world would need to be quite striking in their hyperrealism-an incredulous fantasyland for a super-villain that was populated with very true-to-life details.
Gru is deliciously wicked, and his surroundings reflect that. The keen observer of Despicable Me can find elements throughout the film that offer nods to the brooding humor. In a direct nod to the father of The Addams Family, there is a painting on the wall in Gru's lair in which a boulder is falling off a cliff and about to squash a hapless tour bus that is motoring by. Stuffed game mounted on the wall showcase-what else?- predator swallowing prey that is swallowing weaker prey. As well, in the Bank of Evil, as Gru walks through the main corridor, the pillars progressively show hapless victims squished by the columns. These are simply some of the many tongue-in-cheek references inserted by the team.
For the environmental design, Pierre Coffin brought art director Eric Guillon, an artist with whom he has worked for many years, onto the production. "Eric Guillion actually spoke maybe three or four words of English," Chris Meledandri explains. "Pierre Coffin has tremendous confidence in Eric Guillion. From the very first images that Eric Guillion drew, the suggestion of both color and style of the world was absolutely present. His artwork is so extraordinary that when he creates a piece of what we call 'visual development' or 'visual design,' he does it in a way that when you look at it, you say, 'Oh my gosh!' The personality that he places in his design is extraordinary. There's a whimsy to it there's warmth and a distinctive edge."
As they considered creating locations for Despicable Me, the directors and producers knew that there had to be a significant discrepancy between the Gothic lines of Gru's black house (first imagined by production designer Cheney) and the postmodern visuals of the spoiled-rotten Vector's fortress. Offers Chris Meledandri: "The array of styles was designed by Pierre and Chris and Eric to reflect how the characters fit into this world. Gru lives in a black house in this picture-perfect suburban neighborhood where the only blight on the neighborhood is his home, with its hint of a Gothic style. His vehicle is probably the least environmentally conscious vehicle ever placed on Earth. It's all a bit ragged since he's a character who is no longer at his prime."
Conversely, Chris Meledandri explains of Gru's rival's lair: "His nemesis, Vector, is a rich-kid brat who has been denied nothing in life. He lives in a very modern, state-of-the-art massive video game console, which has been paid for by his rich banker father. The dueling styles are reflective of the character conflict that's going on between these two guys."
Adorable Gibberish: Amassing a Minion Army
Born out of the animation process were the scene-stealers the production came to know as Gru's minions. Though not in the original pitch, the adorable (yet incredibly mischievous) minions quickly became favorites for the animators as they built Gru's world. Renaud laughs: "Minions tend to work best when there are at least 20 of them. So that's 20 more characters to animate. Almost every scene with them became a crowd scene, which was technically very challenging."
According to producer Healy, the minions represent "a melding of the wonderful talents of each director." She commends: "They are a result of the special collaboration of two of the nicest and most talented directors one can hope to work with. Chris Meledandri conceived their initial design and their mission as Gru's underground mole people, and Pierre Coffin added the silly animation style and most of the voices. But the directors brought these characters to the screen together and had huge fun defining them. The result is wonderful comedic moments that add another layer of interest and humor, and it came from the deeply funny brains and imaginations of Chris Meledandri and Pierre Coffin. Once they gave them names and special funny hairstyles-and decided who was a monoc or a binoc-the personalities of the minions started to emerge. I had trouble remembering who was Jerry or Dave or Tim, but the directors always knew. The scenes just kept getting more special, and the fact that all minions are similar is what makes them funny."
The voices of the workers were largely the creation of Pierre Coffin. While the team was pondering different vocals they could give the creatures, Pierre Coffin came to work one day with a voice test the entire crew loved. They compressed the sound, and the minions were born. The two men subsequently designed a language for Gru's army that is intended to be an indescribable vocal expression, and the directors and New Zealand actor Jemaine Clement split up the voice work.
Pierre Coffin worked with his fellow director to develop the complex language for the minions. To help us understand them, every once in a while a word of English sneaks out during a scene. Renaud and Pierre Coffin discovered how to compress the sound of their voices so that they were able to tweak slightly both their and Clement's voices for each little guy's vocals.
"The language is much more about sound than it is about any kind of meaning," says Chris Meledandri. "Pierre Coffin works very quickly to present his ideas visually, and not just in a still form. He's much more comfortable communicating an idea by bringing it to life with some limited animation. From the very first time we were introduced to the idea of these characters, they were immediately appealing. We had a sense from day one that the minions were slowly going to try to take over the movie they're irresistible in their combination of innocence and mischief."
Adds Cohen: "They've created this incredibly unique language for the minions, where a lot of times it sounds like it's gibberish. You hear all kinds of languages being incorporated into the way they speak. Then occasionally, you'd hear a word or two of English, and that gives you a sense of what the minions are actually saying."
While the comic actors improvised certain lines in the film, it was Steve Carell who actually helped to name the minions. During vocal sessions as Gru, he would throw out a name to the minions, such as Dave or Tim. Though there were tons of them, and many look the same, Carell knew that Gru would know each of his happy workers by name. Once the directors heard Steve Carell calling them out by name, they thought it was a terrific idea to give several other of the minions names that would match their unique personalities.