Tom Cruise Oblivion
Cast: Tom Cruise, Morgan Freeman, Olga Kurylenko, Andrea Riseborough, Nikolaj Coster-Waldau, Melissa Leo
Director: Joseph Kosinski
Genre: Action, Adventure
Rated: M

Synopsis: Tom Cruise stars in Oblivion, an original and groundbreaking cinematic event from the director of TRON: Legacy and the producer of Rise of the Planet of the Apes. On a spectacular future Earth that has evolved beyond recognition, one man's confrontation with the past will lead him on a journey of redemption and discovery as he battles to save mankind.

Jack Harper (Cruise) is one of the last few drone repairmen stationed on Earth. Part of a massive operation to extract vital resources after decades of war with a terrifying threat known as the Scavs, Jack's mission is nearly complete.

Living in and patrolling the breathtaking skies from thousands of feet above, his soaring existence is brought crashing down when he rescues a beautiful stranger from a downed spacecraft. Her arrival triggers a chain of events that forces him to question everything he knows and puts the fate of humanity in his hands.

Oblivion was shot in stunning digital 4K resolution on location across the United States and Iceland.

Release Date: April 11th, 2013



Production Information
'Is it possible to miss a place you've never been?
To mourn a time you've never known?"
"Commander Jack Harper

Tom Cruise stars in Oblivion, an original and ground-breaking cinematic event from the visionary director of TRON: Legacy and producers of Rise of the Planet of the Apes. On a spectacular future Earth that has evolved beyond recognition, one man's confrontation with the past will lead him on a journey of redemption and discovery as he battles to save mankind.

2077: Jack Harper (Tom Cruise) serves as a security repairmen stationed on an evacuated Earth. Part of a massive operation to extract vital resources after decades of war with a terrifying alien threat who still scavenges what's left of our planet, Jack's mission is almost complete. In a matter of two weeks, he will join the remaining survivors on a lunar colony far from the war-torn world he has long called home.

Living in and patrolling the breathtaking skies from thousands of feet above, Jack's soaring existence is brought crashing down after he rescues a beautiful stranger from a downed spacecraft. Drawn to Jack through a connection that transcends logic, her arrival triggers a chain of events that forces him to question everything he thought he knew. With a reality that is shattered as he discovers shocking truths that connect him to Earth of the past, Jack will be pushed to a heroism he didn't know he contained within. The fate of humanity now rests solely in the hands of a man who believed our world was soon to be lost forever.



About the Production
Oblivion Takes Flight: Production Begins

In 2005, five years before Joseph Kosinski directed his first feature, TRON: Legacy, the director wrote a 12-page story titled 'Oblivion." In his sci-fi adventure set in 2077"six decades after an alien invasion irradiates Earth"we follow the missions of Jack, a repairman on a nearly destroyed planet who is uncertain of his place in the universe.

Though the daredevil pilot serves as the last drone repairman stationed on our planet, Jack questions authority and is curiously drawn to preserving the world he once knew. When a gorgeous stranger crash-lands in front of him and upends everything that he believes, he awakes to a reality-shattering alternative truth that he must accept or reject. Ultimately, he becomes a leader for the remaining people of Earth, a man driven by purpose and a new destiny.

It was a dream of Joseph Kosinski's to turn 'Oblivion" into a screenplay, but the timing wasn't quite right. The delay would prove fortuitous, however, when Joseph Kosinski met Barry Levine and Jesse Berger, co-founders of Radical Studios, several years later. Together, the men partnered to develop the story into an illustrated graphic novel known in the industry as an 'ashcan," written by Arvid Nelson, illustrated by Andree Wallin and art directed by Joseph Kosinski, Barry Levine and Radical Studios art director Jeremy Berger. This would allow them to demonstrate to investors the direction in which they wanted to go with the property.

Joseph Kosinski reveals story elements of his graphic novel: 'It's an action-adventure set in the year 2077 after a massive war has left Earth uninhabited and in ruins. The story centres on Jack, a drone repairman who is an integral part of a larger mission. A wonderful mystery, unbeknownst to him, will be the key element to saving what is left of humanity." What the director focused upon was the brutal honesty of the story. He adds: 'There is a difference between those who ignore the truth and put their blinders on and the people who decide to take the truth head on"regardless of how hard it is to face what it means."

Joseph Kosinski admits that this science-fiction saga was one he'd long been interested in telling. Growing up, he was enamored with such films as The Omega Man, Blade Runner and 2001: A Space Odyssey, books including 'Hyperion" and TV shows like The Twilight Zone. The filmmaker admits that he loved the juxtaposition of a rugged backdrop against the stylish results of imagined future technology. He says: 'I have always liked the '70s sci-fi art by Chris Foss, Peter Elson and Chris Moore and knew that with VFX technology as advanced as it is today, I could combine CGI work and real landscapes seamlessly and create something unique."

Barry Levine and Jesse Berger were inspired by this young director's vision, and Barry Levine recalls his first reaction to the property: 'When I read Joseph Kosinski's story, I found it to be compelling, original and motivating of human nature and character. Oblivion is a great action-adventure, but at its core is that one character you are rooting for, and that is what makes for a great movie."

Organically, this illustrated novel became a pitch for the film itself. There was overwhelming support from fans at 2010's Comic-Con International in San Diego, at which Joseph Kosinski was also presenting footage for TRON: Legacy. Indeed, 30,000 copies of the graphic novel were distributed at the convention from the Radical Studio booth. Recalls Barry Levine: 'There was a line of 1,000 people at Comic-Con waiting for Joseph Kosinski to autograph a copy of the Oblivion ashcan. Along with the story, we created a memorable logo and illustrations that got a response from the get-go. It was a feat to take the leap and make this story into a screenplay. It's an intellectual approach to a high-concept story with great set pieces. No one has seen anything like it before."

Shortly after the team tested the waters with the property at Comic-Con, Universal Pictures came on board to develop the project with Joseph Kosinski, Radical Studios and Chernin Entertainment, and an Oblivion screenplay was in the works. Peter Chernin, the veteran producer who successfully rebooted a storied franchise with his 2011 blockbuster Rise of the Planet of the Apes, brought the lessons learned on that film"one that became the foremost contemporary model of combining heartfelt emotion with exciting, intelligent, speculative fiction. Peter Chernin explains Oblivion's draw: 'Oblivion's story connects with people because, though it is an action film, its essence is a movie about a guy trying to discover his humanity. That's the core, and that is why it is ultimately so satisfying."

For the feature, Joseph Kosinski and Barry Levine were joined by fellow producers Dylan Clark, who had produced Rise of the Planet of the Apes alongside Peter Chernin, and Duncan Henderson, known for maneuvering epic set pieces in films as varied as Master and Commander: The Far Side of the World and Harry Potter and the Sorcerer's Stone.

With a shooting screenplay by Karl Gajdusek and Michael deBruyn, the filmmakers were finally equipped to begin the massive task that would become the Oblivion production.

Dylan Clark reflects upon the design and undertaking: 'Oblivion had this great visual world that Joseph Kosinski presented. It was something that happened to Earth, but it didn't look dusty and dreary and dark. It looked vibrant, had a lot of colours and it felt unique. That's what got us: the conceptual design of this was something we've never seen before."

As his story takes place during the latter part of this century, Joseph Kosinski knew he needed a top design team to create a world that was most assuredly futuristic, but believable 60-plus years from current day. He brought on the key players he had worked with on TRON: Legacy to illustrate his version of this postapocalyptic world.

Duncan Henderson knew that his director would be up for the massive challenge, reflecting: 'Joseph Kosinski's a great storyteller. One of the things that intrigued me to want to do this picture was his original story. It lets an audience follow along in a way where you think you know something and then you discover it doesn't quite make sense. The secrets just keep revealing themselves, like you're peeling back an onion. You discover the story as you go; you get filled in with more facts and get a new picture. It's one fantastic reveal after another."

Repopulating Earth: Casting the Action-Thriller

While many action-adventures are overpopulated with players, one of the many elements that makes Oblivion unique is the film's relatively small cast. As Jack is the last drone repairman on an abandoned Earth, his opportunities to encounter survivors are almost nonexistent. Because the screenwriters had constructed such a tight narrative that relied upon so few roles, the filmmakers knew that casting the perfect actors was crucial to breathing life into Oblivion.

When Joseph Kosinski considered who would be the perfect Jack, Tom Cruise was certainly at the top of his list. Still, the director was surprised when he got a call from Tom Cruise's agent saying that the performer had seen the ashcan from Radical Studios and wanted to sit down and discuss it. Joseph Kosinski and Tom Cruise met at an airplane hangar in Burbank, where Joseph Kosinski showed him the short story and storyboard images for the project. Some three hours later, Tom Cruise told Joseph Kosinski that he wanted to make the movie together. This began the yearlong process of developing the script for Cruise to star in the project.

Joseph Kosinski discusses the partnership: 'Tom Cruise has a fantastic sense of what makes a great movie. It has been an amazing experience working with him, not just on set during production, but developing the script and his character early on."

Tom Cruise reflects upon his interest in joining Oblivion: 'I read the story and I'd seen the commercials that Joseph Kosinski had directed prior, so I called him up. We met, he showed me pieces of TRON and I was amazed by it. I thought, -Wow. This guy's a big filmmaker, and he's very talented.' Joseph Kosinski is someone who creates other worlds, and his vision for Oblivion is what interested me. I've never seen anything like it: the way that he wanted to direct it and all the elements that were involved. Although I haven't made a sci-fi film since Minority Report, I love the genre and I knew that Joseph Kosinski works well in it."

The producers were excited that a licensed pilot would be portraying Jack and flying the one-of-a-kind aircraft designed for the film. Offers Peter Chernin: 'Tom Cruise's a flying junkie. He's a pilot himself. I think he had a lot of fun with the Bubbleship, and you can see it on the screen."

Cast alongside Tom Cruise as Julia and Victoria (aka 'Vika") were Olga Kurylenko and Andrea Riseborough, respectively. Peter Chernin walks us through the production's choices: 'It was important that these two actresses fulfill what goes on in the emotional part of the storytelling. We looked hard to find the right performers. Olga brings great soul and depth to Julia, while Andrea Riseborough is just so fresh and filled with life. They complemented each other so well and took their characters to a level that was beyond the scripted page."

The filmmakers knew that the role of the crash-landing traveller who claims to have a deep bond with Jack and urges him to question things as they are would involve many arduous days on set. They found their Julia Rusakova in a former Bond girl who'd made a scorching debut in Quantum of Solace. Reveals Clark: 'It was important that we cast Julia Rusakova with someone who's as tough as Tom Cruise. That's hard to find, but Olga Kurylenko, a tough Ukrainian woman, was game and has proven to be successful in that. We put her through some things that I don't think she could have ever imagined doing."

Olga Kurylenko admits that she was game for the exhausting tasks at hand: 'Things are not what they seem in this movie. Once Julia Rusakova shows up in Jack and Vika's life, she creates trouble. The perfect, idyllic lifestyle collapses. It's chaos, and it was fun to play. Plus the role is so physical with all kinds of action, which I had never done before."

Until Julia crash-lands in front of him, there had been one woman at Jack's side for years. The obedient and dutiful Vika Olsen is Jack's navigator in his drone-repair mission. Although Jack is stirred by uncertainty, Vika urges him not to question authority and to accept things wholly as they are. The British-born Riseborough reflects upon her role in the story: 'Jack and Vika are at the point of their lives where they're starting to realise they want different things. Vika is a great strategist and a positive, optimistic soul in many ways. Her actions, though controlled, can feel a bit radical."

Dylan Clark explains that Riseborough was the ideal partner for Tom Cruise: 'To play Vika, we had to find somebody who could have a command of language and behavioural action that was trained and precise. Andrea Riseborough came in and blew us away."

When Jack encounters a band of survivors on Earth, he realises that he and Vika are not alone. Brought on board to play Beech, the morally ambiguous leader of the resistance, was Academy Award® winner Morgan Freeman. The performer discusses his reason for taking on the role: 'One of the things that will set Oblivion apart as a movie is its creativity, the costumes, the sets and the machinery. It's a world all its own and Joe's a perfectionist, which makes working with him a joy, as he knows exactly what he wants."

Oblivion marks the first time that superstars Tom Cruise and Morgan Freeman have been paired opposite one another, and the producers knew the film offered the perfect opportunity. Barry Levine discusses their choice for the role of the commander of the resistance, one who knows more about our hero than he knows about himself: 'We knew we needed someone with presence to play Beech. The cast in this film is small; there's nothing to hide behind. You had to bring your emotions, and we were all in awe of Morgan Freeman as we watched him work."

Tom Cruise discusses working with the legendary performer: 'I met Morgan Freeman in 1990 when both of us were nominated for Oscars® I was nominated for Born on the Fourth of July and he was for Driving Miss Daisy. I so admired him, and I remember that night at the Oscars® how I was looking forward to saying hello and telling him how much I loved him in the movie and we both said we should work together sometime. I'm sad it took so many years before this occurred, but I'm happy to have had the opportunity to work with him. He's a wonderful man, and he's an extraordinary actor."

For the role of Sykes, second-in-command of the remaining band of survivors, Coster-Waldau, known for his breakthrough television work on Game of Thrones and the recent blockbuster thriller Mama, plays an accomplished fighter and the right hand to Beech in any battle situation. Freeman describes the character: 'Beech knows what life was like before all this destruction, but someone like Sykes has grown up his whole life in this environment."

Henderson continues with praise for Coster-Waldau: 'Nikolaj's fan base from Game of Thrones just keeps growing. He has a rugged sensibility, yet intelligence that can't help but please audiences."

Coster-Waldau walks us through a key story arc and his motivation for joining the production: 'The survivors have lived this horrible life. They don't know anything different. What that does to a human being is what is so interesting about this story, and I appreciated that no matter how brutal things get, Sykes will fight till the last drop of blood…and he still has hope."

Rounding out the Oblivion cast is Academy Award® winner Melissa Leo as Sally, Jack and Vika's supervisor and the voice of the command centre. Though her voice drips with honeyed compliments, Sally should not be underestimated. She's a company woman through and through, and her only interest lies with getting the job done, no matter the costs. Melissa Leo discusses her interest in tackling the role: 'Joseph Kosinski has combined his immense talents in many fields to create something that is truly unique. As I cracked the script open and understood what I was being asked to do, I could tell that this would be a very special project. The core of Oblivion is a human tale, and it is the marriage of story and technology. It is the future of filmmaking."

Joseph Kosinski remarks that Sally holds the key to many of the answers Jack needs. He says: 'Melissa has this uncanny ability to sound as if she holds all the secrets of the universe. Though Sally only interacts with Vika and Jack via remote, Melissa Leo brilliantly pushes the tension and suspense for our primary characters. You feel that, at any moment, she could help them or destroy them."

Cracking Hardbacks: Building the New York Library

Oblivion began production in March 2012 at the massive Celtic Studios in Baton Rouge, Louisiana. More than two-thirds of shooting would occur on this Southern back lot, as at any given time the production was operating on five of the seven stages built on this 23-acre studio. On Stage 4, Joseph Kosinski and his crew of approximately 350 began re-creating the New York Public Library. This set was an uncanny re-creation of the actual library that resides on 42nd Street and Fifth Avenue, only with a postapocalyptic feel, and the build filled the enormous 30,800-square-foot space.

Even though it was the first week of photography, Tom Cruise and the stunt team, led by stunt coordinator Robert Alonzo, literally dove in full force. From the two-story-high space, Tom Cruise"wearing Jack's light gray enviro suit and with a rifle in hand"repelled 54 feet into the dark cavernous chasm that represented the destroyed underground remnants of the New York Public Library. When Jack's cable is cut, he crashes through a table. For Tom Cruise, that meant slamming into one of the five breakaway tables that were on hand.

As if that wasn't enough, the script called for explosions to erupt and for Jack to be dragged across the floor when an alien trap clamps down around his leg. Burned out periodicals, books and ash lay scattered all over the ground. Take after take, three of Oscar®-winning cinematographer Claudio Miranda's cameras filmed the action as Tom Cruise and Robert Alonzo perfected their stunt choreography. A flying chainsaw rig camera travelled 18 mph above the set on wires as it followed the action.

Robert Alonzo explains that this is par for the course for a film of Oblivion's scope and size: 'This type of shooting and this type of schedule presents a number of challenges. This production, as far as the action is concerned, has been loaded up front. It's been stunt after stunt, which is normal for a Tom Cruise movie. Tom Cruise is one of our own; he is a stuntman, no doubt about it…and a good stuntman at that."

Producer Dylan Clark elaborates: 'It's important for people to understand that Tom Cruise does all of his own stunts, and in a movie like this, you have the low-tech stunts like running and jumping and getting punched in the face. Then you have the high-tech stunts of flying and riding motorcycles. Again, Tom is a trained pilot, trained motorcycle rider and a trained car driver. He can do them all. This movie has many different components. It is an action-adventure, and at the heart of that is putting Tom Cruise in multiple set pieces that are both thrilling and dangerous."

Even the most seasoned stunt people have their limitations. Visual effects producer Steve Gaub explains his role in helping to build sequences that the able crew just couldn't duplicate outside of the virtual world: 'What is not humanly possible in stunts, we create in VFX. There are some great sequences where Jack has to do some amazing aerobatics and aero-maneuvers. We shot pieces of that in Iceland, and we put it together in the virtual world to bring it to the screen."

The New York Public Library set is massive and stunning, and production designer Darren Gilford and his art department team did not spare any attention to detail. Twelve enormous three-tiered chandeliers hang from the ceiling, and approximately 150 handmade wooden light bulbs are mounted in each chandelier. It is a playroom for an action sequence, and Miranda had many curious challenges utilising the space for the sequence.

Joseph Kosinski and Claudio Miranda made the choice to showcase the intensity of performances and sets such as the library by shooting the film with the recently released Sony F65 digital camera. This camera shoots in 4K resolution that offers breathtaking depth and clarity in order for the film to be projected on an IMAX screen. The look is four times the resolution of an HD image, and the F65's flexibility made it a perfect fit for the production. Shares Claudio Miranda: 'We worked at a low light level, and the F65 is great for getting us exposure at these low lights."

Life in the Troposphere: Imagining Skytower

With just two films under his belt, Joseph Kosinski has established himself as one of our generation's leading aesthetic visionaries, a creator of worlds rich with remarkable design and wondrous beauty who also fuses propulsive action, thoughtful ideas and powerful themes into his cohesive design. This is never truer than in Skytower.

In the late 21st century, the world above the clouds serves as stark contrast to the dilapidated state of Earth. As mop-up crew operatives Jack and Vika prepare for the final days before they join the remaining survivors on a new colony, they live in functional comfort and enjoy a breathtaking view.

Gilford explains the inspiration for this universe: 'The contrast between those two worlds"above the clouds and on Earth"was important from a design standpoint. We had to establish this world above, which is a high-tech, clean, synthetic environment. Below are the ruins of Earth and the scavengers' infestation. The cross section of those two worlds and how they collide are important."

Jack and Vika's home, the Skytower, is one of the first locales to which the audience is introduced, and it was crucial to Joseph Kosinski that the delicate structure appeared to be perched 3,000 feet above Earth's surface in the troposphere. Says Gilford: 'We wanted it to feel like it was on the bounds of what practical engineering could hold or withstand. We wanted the Skytower to feel as if it's a futuristic evolution of architecture, that human engineering has evolved to the fact that this would be a stable structure."

This modern residence, with its blue-, gray- and white-colored palette, gives a theoretical glimpse of 60 years from now, complete with the concomitant design and functional possibilities of life in the lower atmosphere. The Skytower living room, dining room, bedroom, kitchen, infirmary, bathroom, workout area and swimming pool all combine imagination and practicality. Gilford shares: 'Jack and Vika live in this oasis above the cloud layer. So there's this great contrast between this peaceful, beautiful world above the clouds and this dangerous landscape and hostile environment when you drop down below."

Five months before principal photography started, construction on the Skytower set began on Stage 5 at Celtic Studios. From cabinetmakers to lighting designers, craftspeople on the production worked around the clock to create a space that is a house designer's dream. Producer Duncan Henderson offers the goal was to keep the set sacrosanct: 'There was a Zen feeling when we were shooting in the Skytower. Nobody wore shoes to keep it as pristine as possible; everybody had socks or booties on."

To achieve the most realistic performances"as well as perfect the reflections" Joseph Kosinski opted to have the almost-entirely glass Skytower set look and feel as if it were actually in the clouds during filming…instead of having it surrounded by blue screen. The VFX team, led by Oscar®-winning VFX supervisor Eric Barba and Pixomondo's VFX supervisor, Bjorn Mayer, had to come up with an innovative way of making this occur.

Joseph Kosinski and Eric Barba knew there was much to be learned from the use of old-school front-projection techniques, similar to the method employed by filmmakers such as Stanley Kubrick for 2001: A Space Odyssey. They would take this method to new heights on the Skytower set, and Eric Barba teamed with Production Resource Group (PRG) to manufacture a realistic projected sky for the film set.

PRG is known for its creation of looks for the Olympics, the Academy Awards® and the Super Bowl, and the company is accustomed to working within the parameters of an enormous venue. But for Oblivion, the team had the challenge of creating the same clear and precise imagery within a much smaller space"one that had an existing set already inside. It took three weeks of loading in and camera tests to get the exact look with which Joseph Kosinski, Eric Barba and Claudio Miranda would be happy.

The plates that made up the look of the projected sky surrounding Skytower were actually filmed by the VFX crew on location in Hawaii. In January 2012, before principal photography began, the VFX crew"over four days"travelled 10,000 feet to the top of Maui's infamous Haleakal─ Crater. There, from dawn to dawn, they used three cameras to shoot dramatically different versions of the sky. These 120-degree panoramic images were shot in 1,920-pixel-high-by-1,080-pixel-wide clips. In the end, 10 distinct looks were selected for use during filming.

The images of the sky captured by these three cameras were seamlessly stitched together, and all the mountains surrounding the crater were painted out. Then details specific to the movie, such as constellations and the destroyed moon, were added to the night shots. The end result was 35 minutes of crisp, clear footage that could be projected flawlessly. In sum, the pristine sky was crafted with 20 HD projectors and 34 video feeds, using 19 different layered image zones that were connected to the 42-foot- high-by-500-foot-long screens. Additionally, two technicians not only ran this projection system, they invented a way to soundproof and cool down the technology.

Offers Zach Alexander, one of the projectionists: 'We had a night sky, a storm, night-time with clouds that was less bright than the other one, two different sunsets, two variations on a sunrise, as well as a blue sky. Then we had about half of those choices for the other room"just in slightly different cloud configurations based on Joseph Kosinski's artistic feeling for what the sky needed to look like in a particular shot."

Crew and cast alike were absolutely blown away by the creation. Offers Andrea Riseborough: 'Living and working inside of the Skytower for weeks on end was like living out a day in your regular life, except with this panoramic glorious view. For Tom Cruise and I not to have to work with a blue screen outside of our window and to be able to catch all of those reflections of the set was incredible."

Her leading man agrees with the assessment. Says Tom Cruise: 'Not acting with green screen does help as an actor. It's interactive, so it was without a doubt the most beautiful and peaceful set I've ever shot on. This natural lighting became our lighting. With the clouds projected all around us, it gave the set a very ethereal, yet organic, feeling."

Of note, extensions of the large Skytower set"such as Jack's workroom, where he repairs a drone, and Vika's hermetically sealed control room, where she receives intel from Sally via com"were also built on different stages at Celtic Studios.

Otherworldly Transport: The Bubbleship

Abutting the living space on the Skytower set is a landing pad for the Bubbleship, Jack's primary form of transportation as he travels to and from Earth's surface. Joseph Kosinski was thrilled to see the vehicle he imagined several years ago"a hybrid of a jet fighter and a Bell 47 helicopter"finally come to life. 'The Bubbleship was the first thing we designed for the film," he offers. 'For everyone who grew up on Top Gun, like I did in the '80s, it is pretty spectacular to see Tom back in the cockpit flying an aircraft like this."

Oblivion features thrilling, vertiginous new heights experienced when Jack pilots the Bubbleship, liberated from linear flight for a freewheeling, 360-degree freedom of kinetic aerobatics and crazily choreographed dogfights.

To,Cruise discusses the experience of being on the Bubbleship: 'Joseph Kosinski showed me the drawings and the concept art, and I just thought, -this is so cool.' I'm a pilot, and I love the way he designed it. It's as beautiful as it is on screen. Every piece of it was so smooth and elegant, and they designed it to fit my body for all the action." He laughs, 'I want someone to build it so we can fly it for real."

Design of the Craft

For more than a year before the beginning of principal photography, the team at Wildfactory in Camarillo, California"led by key designer Daniel Simon"crafted a flying apparatus of the future. Once approved designs were in place, the Bubbleship took four months to build in a warehouse in Los Angeles. Then it was taken apart, shipped off for filming and subsequently reassembled in Louisiana, Iceland and Mammoth, California. Sums Joseph Kosinski of the creation: 'It's this hybrid of a Bell 47 helicopter that's hanging in MoMA in New York City and a jet fighter."

For the design, Daniel Simon was inspired by emergent NASA technology. Still, he knew how critical it was for the audience to comprehend how the Bubbleship might be able to fly. From dials, foot pedals and joysticks to a seat with lumbar support, the cockpit resembles a helicopter, while still evoking a futuristic craft. Made of aluminum and fiberglass and weighing in at 4,500 pounds, the Bubbleship travels in seven containers, with four technicians accompanying the vehicle. It has to be disassembled for air cargo, and it may only be lifted by forklift. It takes five hours to assemble, with a four-person crew working nonstop on all of its parts.

The Bubbleship components include the fuselage, cockpit, tail boom, two engines, flippers and landing gear; all of these parts have small panels that need to be assembled by hand. The landing gear serves as the base of the plane and holds the rest of the vehicle upright, while the two motorised doors to the cockpit open simultaneously.

Daniel Simon discusses the vehicle's structure: 'In the concept of the whole design process, it was a given that the Bubbleship should look insect-like and lightweight. That's why we came up with this finessed and fragile landing gear; it's actually three legs. At the beginning of the design, we had it the other way around: We had the two legs in the back. It's based on a futuristic, compound structure, and it's capable of flying in space and in the atmosphere. It's a combined spaceship plus flight vehicle, completely designed from scratch."

Production designer Gilford expounds that the team needed to build a few incarnations of the Bubbleship. He says: 'We had the complete Bubbleship, which is out on the bubble pad at the Skytower set; then we had just the cockpit on a full-motion-based gimbal. We received all of the flying footage, then in visual effects the rest of the ship was put on the backside of the cockpit. Then we built a couple other pieces. For example, we built a few crashed Bubbleships. It's been more fun than you can imagine."

Visual effects producer Gaub is extremely proud that the team's hard work has paid off. He says: 'The Bubbleship design is impeccable, and it's one of the coolest things I've seen. In VFX we were able to give that thing weight"all those little nuances and movements that make it feel like it could fly and move around. We're familiar with helicopters and we're familiar with planes, and this is a hybrid. So a lot of attention to detail was put in there to make the audience believe that this thing was built and can fly."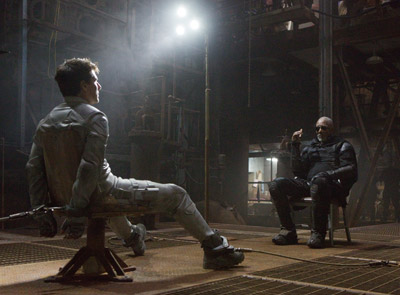 Bubbleship Gimbal

On Stage 6, the Bubbleship gimbal was constructed. Housing an identical replica of the Bubbleship cockpit"though one without glass"this rig was able to simulate air travel with the help of a green-screen background. Indeed, the VFX team later doctored in the landscape details and lighting variations. Similar to a ride at an amusement park, the cockpit (with two seats) was attached to a motion base. On its axis, the gimbal can rotate 360 degrees; therefore, the effects of centrifugal force and gravity on Tom Cruise and Kurylenko are obvious to the audience.

Rams and hydraulics, with accumulators in the middle, made for 1,700-psi storage. When the computer-programmed and -controlled Bubbleship gimbal demanded a move, voltage was sent to command it to go either left to right or up and down. The gimbal's motion base resembles a flight simulator with six degrees of freedom and six cylinders that form a hexapod.

The gimbal rig was bolted to the ground and had the capacity of tilting to a 45-degree angle, 22 degrees up and 22 degrees down. For these moves, the cast wasn't required to wear a full harness, only a seat belt. With the expertise of special effects coordinator Michael Meinardus and stunt coordinator Robert Alonzo, the gimbal created the illusion that the cast was actually flying an aircraft.

The VFX team put in the cockpit glass and the rest of the Bubbleship"as well as environments and landscapes that the craft flew through and across"during postproduction. In fact, the backgrounds plates were shot in Iceland and are actual landscapes specific to the country. These plates were filmed precisely to match the Bubbleship action shot on stage and some were modified with visual effects after principal photography wrapped.

Soulless Killers and Sleep Pods: Props on the Set

Wildfactory and key designer Daniel Simon, in conjunction with prop master Doug Harlocker, designed the mechanical drones, which are as equally intricate as the Bubbleship. The soulless killers of anything that stands in their path, the drones are ridding the Earth of any remaining alien scavengers. Perilously for Jack, the repairman has to constantly be on the lookout that they don't kill him as well. Says Doug Harlocker: 'We decided early on that when the drone is stripped down with its hood up, it should read the way a car does when it is stripped down. When all of the body panels are off the drone, it looks like a raw machine. It has a real Terminator, scary, demonist look to it."

Gilford elaborates that the drones were made with advanced prototype manufacturing by Doug Harlocker, working from designs that Daniel Simon began. He says: 'A lot of the things that we designed in our art department actually started in the computer, and the geometry and the files that we used went straight to a machine where they cut those 3D parts by creating moulds. This let us build incredibly intricate, beautiful automotive-looking props."

The New York Public Library scene is the first sequence in which we are introduced to the drones. In sum, three drones were made from scratch: two white, fully clad ones with their outer shell, and one"stripped down, without cladding"upon which Jack works in the Skytower. All of the drones were equipped with animatronics so that they could spin, move and light up by remote control.

Over the course of production, Doug Harlocker worked closely with illustrators who came up with different concepts of items that appear in the script. After Joseph Kosinski approved a drawing, the prop department scaled it out and made a 2D model out of cardboard. From that point, a 3D model was made. This prop-building process"one that continued throughout filming"usually took a few months to design a specific look for production.

Not only did Doug Harlocker supervise the builds on big-ticket item props such as the Bubbleship (see Skytower section), Moto Bike (see Iceland section) and drones, he also managed the creation of the sleep pods, with their myriad hydraulics and moving parts. In the sleep-pod body alone, more than 30 foam pieces make up the inner shell. The Oblivion props department also designed Jack's and the aliens' weaponry, and it constructed such hero props as Jack's plasma torch, flare and smoke bombs, as well as Vika's medical kit and healant sprayer.

The research that the props department had to do to make things appear as if they could exist in the near future was exhaustive. Even creating perfect packaging for bottled water and food was a challenge. The pod-prop design includes graphics, paint and electronics, right down to the LED detailing. Even the iconic spent shell with a potted flower that Jack gives to Vika prompted a specific request from Joseph Kosinski. The director opted to use a plant he had seen on the ground in Iceland during an early location scout.

Doug Harlocker had a rubber room on site at Celtic Studios where he and his team moulded all of the weapons, and they made lightweight rubber duplicate versions of props that could be used by the stunt team. These came in handy as some of the hero prop rifles weighed up to 35 pounds. Says Doug Harlocker: 'The real guns we had to make lightweight and real, but all of them had 800 lumen flashlights, the strongest and smallest flashlight you could find to put in the front of a gun that lit the entire set. The whole scene is lit primarily by a shaft of light coming down the sinkhole opening and then lit by Jack's gun. It became a festival of changing flashlights and batteries every 10 minutes because they had a strong flashlight but a short burn time."

From fabric and leather to rubber, plastic and steel, the props department used various materials and worked closely with the art and wardrobe departments to make sure all props integrated into the look and feel of the film.

Lightwave designed the scanning lasers projected by the drones. A full-colour laser projector was used, and in addition to the standard red, green and blue projection, it also projected yellow. This technology is new, and Oblivion is one of the first film sets in the world to use it. Safety was key when working with these lasers, as even from 50 feet away they could possibly ignite a fire if they focused on a point for too long. These intense beams of light were rigged onto a hydroscope (meant for a camera) so that they could be controlled and easily moved. Two Lightwave programming technicians were on set at all times to make sure that safety was first and that the colour, size and strength of the lasers were at the specifications that the filmmakers wanted.

Typically, laser effects may be done in postproduction with computer graphics, but Joseph Kosinski liked the idea of the drones coming to life and creating havoc on the Oblivion set. Utilisation on a film production is relatively new ground for this technology, and 90 percent of the business that Lightwave does in the field is for concerts and stadium shows. As any pattern and color could be achieved with the lasers and changes made easily, Joseph Kosinski was pleased with the results.

Flight of the Odyssey: Space Shuttle Creation

On Stage 7 at Celtic Studios, the art department, under the direction of supervising art director Kevin Ishioka, built the interior of the space shuttle Odyssey set. The goal for the team was for the cockpit to resemble that of an actual spacecraft and for Joseph Kosinski and DP Miranda to achieve a natural look of weightlessness when shooting with Tom Cruise and Andrea Riseborough inside of the space shuttle.

The most obvious question was, How could this be done on the practical set? To accomplish this, an opening was left in the top of the cylindrical set from which a 40-foot vertical cable could hang freely from a 70-foot horizontal truss that was connected to the ceiling of the stage that began 30 feet underneath. Its creator, stunt rigging coordinator David Hugghins, who is part of the stunt team, dubbed this antigravity system the 'XYZ flying rig." A similar rig was used in the magnet room for the pivotal scene with Jeremy Renner's character in Mission: Impossible"Ghost Protocol.

Four stunt performers, who doubled as cable operators, were in charge of the XYZ flying rig and the 1,500 feet of cable"strapped to an electric motor with hydraulics"that it required to run all of the lines. Operators controlled the up-down, left-right and the forward-back. Another operator was in command, giving specific instructions and safety checks. For safety and performance, the XYZ flying rig had to be exactly precise. The cast rehearsed in harnesses for weeks in advance and was QuickLinked with climbing industry hooks to the cable.

On the day of shooting, Joseph Kosinski advised Tom Cruise and Andrea Riseborough to grab onto the walls as they dangled in weightlessness in the cockpit. To add an extra spin, the Odyssey cylindrical set was created so that it could rotate counter clockwise for an illusion of more movement.

Joseph Kosinski wanted to be as accurate as possible when re-creating a key scene in the space shuttle. Therefore, he called in astronaut Rick Searfoss to act as technical advisor. Rick Searfoss, a space shuttle commander, consulted on all of the antigravity stunt moves, the look of the Odyssey cockpit and the script dialogue.

Commander Rick Searfoss guided the art department after they laid out the control panels inside the Odyssey set, as well as on the switching of the graphics and video playback. He showed filmmakers and cast how and when each one of these control systems was going to be used for takeoff, pre-flight and landing. Says Rick Searfoss: 'Simulating weightlessness is an interesting challenge, both in the real world of training astronauts and when you are trying to tell a story on film. But with clever camera angles and the athletic ability of the actors, it is possible to make it look realistic. On top of that, add some real cockpit chatter and you are on your way."

Other sets built on stage at Celtic Studios included the interior of the Empire State Building gift shop and a New York City hotel room. Off-stage production was also shot at the local Homeland Security/911 Call Center, which doubled as Mission Control for the center at which Sally gave Vika her commands.

Coming Home: Raven Rock and the Radiation Zone

Early in the shooting schedule, Oblivion headed to New Orleans for a couple of weeks to shoot scenes that included human survivors"led by Beech and Sykes"who are hiding out in an area known as Raven Rock. Says Joseph Kosinski: 'Raven Rock and Earth are the complete opposite aesthetic from what we see in the Skytower."

The company shot at the six-acre Market Street Power Plant, located along the Mississippi River, which has the distinction of being the oldest power plant in New Orleans. It was built in 1885 and shut down almost 40 years ago. This power plant's look could not have been built. The volume, the space, the rust, the detail"everything was unique and became the perfect place for human survivors on an Earth that has been attacked. Relates Morgan Freeman: 'Raven Rock is an underground sanctuary that the survivors have used for many years, built up the best they can to be their fortress."

As there was a good deal of existing dilapidated steel and an entirely open roof, the building was checked for safety before anyone was allowed to go in and work. All cast and crew had to wear hard hats when entering the building. The only access is from the street, which was a challenge getting materials into their correct location. One evening, seven inches of overnight rain flooded the set, and the crew had to wait out the storm and pump out the set before filming resumed. This was just a minor setback, however; the storm didn't stop the constant fireballs and explosions.

Also featured inside the Raven Rock set was the archive room set where the survivors stashed pieces of art and beloved books that told the history of their people, and the place where their children were schooled. To give the illusion that the books in the archive room were very old, they were aged in a cement mixer to look as if they were remnants of the last war on Earth. Additionally, there were works of art such as the 'Liberty Bell," as well as those of Claude Monet and Andrew Wyeth. Of note, rights for the use of Wyeth's painting 'Christina's World" in a motion picture had never been granted before Oblivion.

One of the prize possessions that Jack finds in the New York Public Library is a book titled 'Lays of Ancient Rome." Says Doug Harlocker: 'It turns out that this is a beautiful five-by-six-inch leather-bound book that came in many incarnations. We bought five or six different editions from England, and we found one that we liked and we were only going to make one of those books. Joseph Kosinski decided that it should be actually on fire after the drone attack, so we had to go and manufacture it and make five duplicate copies to set on fire."

For decades, the human survivors and alien scavengers have kept clear of the radiation zone, an area believed to be so deadly that no one could approach it without immediately dying. Jack learns, like so many other things, this is hardly the case. For four days, production shot on the radiation zone set in St. Francisville, approximately an hour outside of Baton Rouge and 15 miles from Angola prison.

Production assistants on the set asked the team to tread as little as possible on the sandy surface, and as they walked, the on-set props department brushed a broom to clear their tracks. Several tents were set up to take cover, and for the actors who were wearing leather, as soon as 'cut" was yelled, they rushed into a cooling tent where they were iced down and given fluids.

These man-made sand dunes were fully exposed in the hot sun, and there was nowhere to take cover as Tom Cruise shot one of the biggest fight sequences in the film. Crewmembers were unrecognisable in hats and face coverings to protect them from the cruel rays. Tom Cruise takes us through one of the hottest shooting days: 'I've never felt such extreme heat in my life. Your body would heat up like that, and then you have to bring your body temperature down. Of course the whole time, I was thinking, -Ten hours to get this, and how many minutes to cool the body down?'"

When shooting exteriors at both the quarry and the sandpit, the ground in Louisiana had to match what might be similarly found in Iceland. This meant creating pools of 'lava," as well as water that bubbled up to the surface, plus smoke and debris.

A few sets in the Baton Rouge region that were used for action sequences are actually huge quarries filled with sand and rock. They were littered with smoke, debris and wreckage of the Odyssey set. The rain and wind helped these sets take a natural shape, as they were exposed to the elements during building and filming. These sets would be extended with background visuals shot in Iceland.

The SFX department was busy filming day in and day out. If it wasn't the Bubbleship gimbal or drones consuming the craftspeople's time, it was the many explosions and gunfire. Mortar and propane, along with titanium used for sparks, created powerful, though contained, fireballs. Different-sized cans of propane were used, depending on how brilliant the effect needed to be, while the mortars were filled with balsa wood, cork and dirt. Some of the sequential explosions, such as those on the Odyssey crash site set, used 15 circuits that were triggered in sequence. Speeds were set, timed and rehearsed for the effect requested to come off very safely.

Maneuvering NYC: The Empire State Building

The cast and crew ventured to New York City to shoot for three days. Two days were shot atop the iconic landmark Empire State Building (ESB) observation deck, and one day was outside the Empire State Building entrance on 5th Avenue.

Oblivion filmed on the top of the deck, in the southwest corner on the 86th floor. The crew set up in 33 feet in each direction from the southwest corner and made that space their home, though the deck was operating as per usual with more than 10,000 visitors on any given day. Many tourists were excited upon their visit to one of America's most popular tourist attractions to catch an unexpected glimpse of Cruise at work.

It was challenging to get equipment up to the 86th floor, but the ESB staff was accommodating and let the crew use freight elevators to load in and out. When shooting on the city streets near 5th Avenue, news travelled fast that Tom Cruise was filming. Crowds of fans from all over the world gathered to takes photos, wave and say hello to the performer on the set. Between setups, Tom Cruise signed autographs and took photos with the onlookers.

The duality of re-creating Manhattan was not lost upon the director: 'We built the observation deck of the Empire State Building in the side of a hillside in Iceland and shot the flashback scenes on the actual Empire State Building in New York City the week before. So we had some very surreal moments where one week we were standing in the middle of Manhattan surrounded by 14 million people, shooting a scene overlooking this incredible metropolis, and a week later we're standing on the exact same set in Iceland…with not a person to be seen for hundreds of miles."

Lensing in Iceland: Exteriors and Aerial Units

Joseph Kosinski long dreamed about shooting Oblivion exteriors on location in Iceland. It seemed like a perfect fit; at the height of summer, there are 22 hours of daylight in the country, conducive to a productive filmmaking day. Says the director: 'The war has thrown the landscape back into the Stone Age, into a complete state of disrepair. Black sand and vibrant colours cling to the rocks, and the landscape is desolate but beautiful." Ironically, the command centre run by Sally is only offline at night, and there was little night sky to be found during the shoot. Says Joseph Kosinski: 'This film mostly takes place in the daylight, so we had it made with the natural, unique light of Iceland."

Oblivion shot for 10 days in Iceland, with approximately half of the crew of 300 being Icelandic. Eight weeks of prep included the shipping of all the production gear and the Bubbleship. Still, that was cutting it close for such an ambitious shooting schedule out in the elements.

As mid-June through early July is the height of summer in Iceland, and therefore the best weather all year long, the team picked this time as its filming window. Nevertheless, rain and extremely cold weather conditions made the building of the set and shooting challenging. Recalls Clark: 'Earth is a main character in this movie. It's what Jack is fighting for, and Iceland shows an Earth coming back to life. It has moss underneath the black sands, it has water underneath the glaciers, and the color and the beauty of the country gives us that character."

About a two-hour drive from Akueyri, 30 miles from Lake Mývatn, the crew first found themselves at Hrossaborg, a 10,000-year-old crater that is shaped like an amphitheater. This crater was set to double for a stadium in the Northeast, post-destruction, and it was the size of a football field and then some. VFX kicked in to fill the barren landscape with stadium seats and a tunnel entrance to the field.

In the Icelandic Highlands, a region known for its black sand, a set was created for the postwar Empire State Building observation deck. The drive to set was more than an hour on black sands and gravel roads, resulting in a base camp of trucks and trailers that was in the middle of nowhere. Here, Joseph Kosinski's crew shot the pivotal scene in which Jack rides his Moto Bike across the unusual landscape in the Icelandic Highlands. The aerial helicopter unit that shot while in Iceland captured these and many other sequences.

Oblivion's VFX supervisor, Eric Barba, and Pixomondo's VFX supervisor, Bjørn Mayer, created a flight plan for the aerial unit consisting of bits and pieces that were needed for background plates. The aerial unit even shot at the world-famous volcano Eyjafjallajökull, known for its 2010 ash-cloud eruption that paralysed European travel. Active lava still flowing from this volcano has created a canyon showcasing both hot lava and glacier walls.

One day of shooting in Iceland entailed helicopter access atop Earl's peak. All crew and equipment had to be transported to a mountaintop by a helicopter to this location close to the world-renowned Icelandic waterfall called Gullfoss.

Transporting all of the equipment to and from Iceland and into remote locations was no easy task. It was transportation coordinator Aaron Skalka's job to ensure that all of the trucks, cars, boats and airplanes, not to mention the shooting gear, moved when they were supposed to and ended up at the shooting location intact. Logistics included chartering a freight aircraft that could ship approximately 70,000 pounds of cargo. In addition to the air shipment, 15 40-foot ocean containers of materials went across the sea to Iceland. That shipment included building materials, finished sets, construction tools, special effects equipment, personal goods, expendables and lumber.

Rapid Transport: The Moto Bike

The Moto Bike was designed and built by GLORY Motor Works of Glendale, California. The company's owner, Justin Kell, had direction from Joseph Kosinski that the bike had to look a certain way, but also had to function like a full-fledged motorbike. Tom Cruise gave input as well on how he would like the bike to perform and his comfort level when riding.

Over six weeks, Justin Kell and his team made three identical bikes, two with one seat for Jack to ride, and one with a two-person seat required for the sequence in which Jack and Julia ride together. Justin Kell chose a Honda CRF450X motor for Jack's Moto Bike, as that motor can withstand most terrain"even the black sand in Iceland"and easily be started and stopped for hours at a time.

The white Moto Bike's carbon fiber wheels were made in South Africa at BlackStone Tek, and the bike was tailored for specific jumps that Tom Cruise would be required to perform. Justin Kell prepared for the ultimate, and the futuristic Moto Bike was designed to jump 50 feet and go up to 120 mph. Says Justin Kell: 'We built this bike to be able to do motocross. Tom Cruise is a good rider to start with, so that gave us a lot of room to play as we built."

A seasoned biker, Tom Cruise reflects on his ride: 'It's a tricky design because when I was riding there were moments that I had to carry Olga Kurylenko. The guys that designed this did a sensational job with not just the look of it, but changing the balance of the bike. Since I was doing jumps and running through Iceland, it had to be safe enough for me to travel at very high speeds without a helmet. I know it was tricky for them to figure out the balance of that bike, and I had a blast riding it."

The performer celebrated his 50th birthday on the Oblivion set in Iceland, and the filmmakers presented him with one of the Moto Bikes as a gift. Says Gilford, 'I am happy about how the Moto Bike turned out. It looks like it comes from the Bubbleship, and Jack actually pulls it out all folded up from the side of the Bubbleship. We aren't quite sure what it is at first, then it unfolds and he pops it into place; then, we realise it is actually a motorcycle."

Aliens on Earth: Stunts and Weapons

After the war to end all wars, the only remaining survivors on Earth (or so Jack has long believed) were the alien scavengers. These creatures were all played by stunt performers, and that necessitated that the alien costumes were both safe and functional. The masks began with the use of a simple, retrofitted flight cap, and from there various items were attached to maximise vision. Lights illuminated earpieces, while pieces of old cameras and plumbing parts went over the eyes of every costume. Each alien outfit was one of a kind.

For many of the action sequences involving the scavengers, a military advisor and retired Navy SEAL, Doug McQuarrie, worked with the 10 hero alien stunt performers and the entire stunt department. Doug McQuarrie ran an alien boot camp with these stuntmen, and one stuntwoman (Zoe Bell, who portrays Kara). Working with the weapons, Doug McQuarrie would instruct the scavengers on how they might crawl, walk or run during a confrontation. Doug McQuarrie did not hesitate to yell at his scavenger trainees, with such commands as 'Look! Shoot! Kill!" motivating the stunt performers.

Joseph Kosinski and Doug McQuarrie felt it was important that the scavengers move like indigenous people of the culture, and not in a militant way. Doug McQuarrie offers: 'The scavengers would do things in a little looser fashion. I worked with these talented and athletically gifted stunt players, giving them some basic military skills and a foundation, and from there we created a specific style together."

Doug McQuarrie had previously worked as military advisor with Tom Cruise on Jack Reacher, and their ease with one another was evident. After Doug McQuarrie and Tom Cruise had multiple discussions about how Jack would shoot, move and interact with others, they worked with the sophisticated weaponry created just for Oblivion. Says Doug McQuarrie: 'These are futuristic weapons, so we have to change movements and adapt to that to make it believable."

Also featured at Raven Rock was the aliens' sled, which they use to transport an unconscious Jack. Gilford explains that the initial item they needed to find was a platform, a working vehicle with which they could tinker. He relays: 'We were looking for snowcats and other tread vehicles. We found a type of snowcat that had steering treads, so we bought one of those in Vermont. It was an old snowcat, and we brought it down here and started taking it apart. We used the drive train and the tread mechanism and started building the platform on top of it. Special effects guru Mike Meinardus tore apart the snowcat for us and built the deck on the platform."

Mike Meinardus and his crew created a tanklike vehicle complete with two operating MK machine guns, and a feed tray with 50 call bullets that are able to fire 100 rounds at once. The sled also featured an MK19 grenade launcher with 40 mm grenades. The turrets on the sled spun, and the hydraulics made it possible to go up and down and in all directions. This was a serious war machine.

Inhuman Precision: Flying the Camera

Oblivion has the honourable distinction of being the first film released in theatres that was shot on the Sony CineAlta F65 camera, a 4K-output camera that provides extraordinarily sharp detail through its implementation of an 8K chip. Knowing that he would be shooting the epic in Iceland, Joseph Kosinski chose this camera for not only its breathtaking take on locations, but its rendering of colour and skin tone. He laughs: 'It literally came off the assembly line just a few weeks before we began principal photography."

This high resolution gave the director everything he wanted. Reflects Joseph Kosinski: 'One of the reasons I selected the camera we used is that it has a very high-resolution sensor. It outputs the footage at 4K, which is still four times the resolution of any other digital camera out there. It provides a level of sharpness and detail where you can not only see the glint in the actors' eyes but also extraordinary detail in landscapes. I knew the detail of the Icelandic landscape would be captured in a spectacular way by this camera and look great on the big screen."

On the exterior Raven Rock set and the Odyssey crash site set on Hooper Road in Baton Rouge, the unique Flying-Cam was heavily used. Weighing approximately 125 pounds, the Flying-Cam is a combination of a gyro head, an HD camera and a small helicopter that is operated by a crew of five people via a remote wireless system through a computer program.

The Flying-Cam gives a perspective of freedom and movement that one cannot achieve with a stationary or cumbersome camera rig. On Oblivion, it was able to give the point-of-view shots of the flying drones, and it was just the right scale to create fast and stable shots. Says Emmanuel Previnaire of the Flying-Cam system: 'The 21st century is about robotics, so you have a computer onboard with a physical model of the machine. This computer can execute exactly what you want with the precision a human being could never reach."

Though the Flying-Cam has been used on the Mission Impossible, Harry Potter and James Bond franchises, new ground-breaking technology was forged on the Oblivion set. The first moment when this was used was when key drones deactivate and drop from the sky. They rolled down the hill and landed in front of the big doors at Raven Rock. The technology enabled Joseph Kosinski to duplicate the action shot after shot, within two inches of each take. This precision is something that the team at the Flying-Cam headquarters in Europe has been working on for some time. This technology"which combines GPS and satellite links together with, of course, digital cinema"could not be achieved until today.

Recalls Haik Gazarian of Flying-Cam: 'All the team members and engineers that we have in Europe are pilots and camera operators, and everyone had been dreaming about this moment, and we just saw it happen on the monitor. So it is a pretty unique concept of technology and cinematography placed in one gigantic set for Oblivion."

Beyond Practical: Visual Effects

VFX supervisor Barba previously teamed with Joseph Kosinski on TRON: Legacy. He viewed his goal on Oblivion to make Joseph Kosinski's vision come to life in post so that the audience will believe the Bubbleship can fly, the Skytower rests 3,000 feet in the air on a platform, and that drones rocket by at warp speeds to chase down scavengers. Says Duncan Henderson: 'There are huge VFX components that go into making a film of this scale. Nevertheless, Joseph Kosinski wanted to capture as much practically on set during filming as he could. We have a good balance of the two and they feed the story, so VFX are not just there to be a spectacle. Rather, they are plot-driven."

The director reflects upon the world his VFX team helped to create: 'From a visual effects standpoint, our biggest challenge was making sure that the digital elements in this movie integrate into the live-action photography seamlessly, because so much of this movie is in camera. We never wanted any of the digital elements to stick out. So when the drones are flying around, they had to feel like they were captured in camera on set."

VFX producer and co-producer Steve Gaub came on board Oblivion early on to work on previsualisation shots with Joseph Kosinski. Says Steve Gaub: 'We had a whole previsualisation team doing early animations. The more we could lock into that, then the earlier on we could set the template of what we wanted to be practical photography versus what needed to be computer-generated, and what we wanted to be half and half."

The VFX team chronicled everything that was happening on set so that they would have the necessary tools with which to work during postproduction (when they created the computer-generated imagery). Through the use of still references, they compiled as much data as possible to record what space and lighting"as well as intricate scene details"were used on each day of shooting.

Approximately 400 computer artists at VFX venues Digital Domain and Pixomondo relied upon the Oblivion on-set VFX team for incredibly specific texture and light data so that 3D models of everything from the set to the Bubbleship to the cast could be created for the VFX shots. Shadows proved to be a particular challenge on this film as most of the action takes place outdoors under bright sunlight…while computer creations need to match the real world flawlessly.

Shades of Gray: Costumes of Oblivion

When she joined the Oblivion team, legendary costume designer Marlene Stewart"who has worked on films from JFK and Terminator 2: Judgment Day to The Doors and Tropic Thunder"was well aware that she was signing up for a completely designed, futuristic world. As well, she appreciated that Joseph Kosinski leans toward a modern aesthetic. Stewart notes: 'Joseph Kosinski wanted everything streamlined, simplistic, and to have a manufactured, technologically oriented feeling. One of the big challenges was to have such a controlled colour palette, and it was shades of gray. We learned that there are an infinite number of shades of gray and created a gray chart, with everything from green grays, brown grays, yellow grays, but it was still tricky because you only had two or three colours to work with."

The enviro suit, Jack's primary outfit over the course of the film, was never intended, according to Stewart, 'to be a superhero suit. We wanted it to feel familiar in some way, and environmentally suited for conditions in the outside world." The costumer and her wardrobe team used more than 250 kinds of fabric and printing to craft the enviro suit. They created sculpts and moulds, as well as a chest plate, and built hard pieces for the knees and elbows that would be used as protective gear for Jack. To finish, they used high-density ink and printed the company logo on the suit.

Because Tom Cruise did all of his stunts in this suit, Marlene Stewart had to make sure the outfit allowed for freedom of movement. Leather, wicking fabrics, polyurethane and elasticized material were all used in the build of the suit to give it the look and feel of a motocross uniform. Along with the shades of gray used to create the costume, the outfit was meticulously aged to create even more texture and history, and its boots and gloves were also made from scratch. To handle all the wear and tear that Tom Cruise would put his outfits through, in sum, 26 duplicate enviro suits were made to be used throughout filming.

The costume designer not only had the challenge of designing wardrobes for Jack, Vika and Julia, her team also created outfits for the residents of Raven Rock, the scavengers and the survivors. Marlene Stewart worked closely with Ironhead Studios to design the wardrobe of a civilisation in rebellion and the only people left after a world war on Earth.

Joseph Kosinski had long had an image of what he thought the scavengers' wardrobe should look like, and he communicated that to Marlene Stewart and Ironhead to create costumes for 10 hero scavengers, plus ones for Beech and Sykes. Each suit consisted of 25 pieces, had three to four layers, and had a built-in cooling system inside. The base clothing was made of cotton so that the cast members would not overheat, and it took 30 minutes to dress each scavenger. Indeed, each of these pieces was dyed and aged to match the on-set environment, right down to the black military boots.

In addition to the wardrobe for those on the Raven Rock set, Marlene Stewart found it challenging to provide a new look for the more than 100 survivor costumes. Marlene Stewart made her couture line by pondering what materials might be available at the end of the world with which to make clothes. Any objects that were lying around were fair game to be incorporated into clothing.

Soundtrack to the World's End: Music of M83

When Joseph Kosinski wrote the story for Oblivion in 2005, he listed in the treatment a soundtrack from the mastermind behind M83, Anthony Gonzalez. He felt that M83 was an artist whose music fit the story he was trying to tell, and knew that when he made the film, his temp score should become his permanent one.

The French native, who has toured internationally with bands from Depeche Mode and The Killers to Kings of Leon, debuted in 2001 and recently released his first double-disc album, 'Hurry Up, We're Dreaming" as his sixth record. Says the director: 'His music is not only cutting edge but it's also very emotional. It felt like a good fit for this movie."

Together with Joseph Trapanese, Joseph Kosinski's orchestrator from TRON: Legacy, they composed soaring, expansive soundscapes that distinguish Oblivion and correlate to its wondrous visuals and action. Continues Joseph Kosinski: 'It's a hybrid score in a way. It has electronics and drum kits that you wouldn't recognise from M83's music, but at the same time, we've got a full orchestra and a choir. Bringing all these different elements together into something that feels cohesive and appropriate for our movie was a fun part of the process, and it blended beautifully. It sounds very original, which is all I wanted for an original film."

M83 walks us through his interest in the collaboration: 'I've been wanting forever to make soundtracks, so starting with such a big, ambitious movie like this one makes me feel very lucky. Joseph Kosinski and I started to work on the project together, and we began talking about ideas for the score, so I started nerding out about science-fiction films and soundtracks." M83 had a number of movie score offers in the past but hadn't agreed to compose for a film. 'I never had the chance to fall in love with the right script or the right story like I have with Oblivion. I feel connected to this story, and to the influences of Joseph Kosinski as a filmmaker, I feel ready to pull it off."

The producers were happy with his choice. Offers Clark: 'Anthony Gonzalez was somebody that Joseph Kosinski had been tracking for some time. All of the albums that M83 had made before this film felt in preparation for Oblivion. Joseph Kosinski is a gifted musician himself, and this was a match made in heaven."

Production wrapped in summer 2012 in the quite tranquil June Lake, California, where Jack's Crater Lake cave, his rustic retreat from Skytower, set was built. There, Jack hoards a good deal of memorabilia from Earth's past. From collectibles that he's found in the Empire State Building gift shop to books he's kept from the New York Public Library, Jack has built a home away from home. In the middle of the valley, the cast and crew spent five days on location at a remote pond surrounded by grassy knolls. On this property are several vacation cabins that date back to the early 20th century, including one owned in the late 1930s by director Frank Capra. His ancestors still enjoy vacationing in this spot today.