Baywatch
Cast: Dwayne Johnson, Zac Efron, Alexandra Daddario, Priyanka Chopra, Kelly Rohrbach, Jon Bass
Director: Seth Gordon
Genre: Comedy
Running Time: 119 minutes

Synopsis: Baywatch follows devoted lifeguard Mitch Buchannon (Johnson) as he butts heads with a brash new recruit (Efron). Together, they uncover a local criminal plot that threatens the future of the Bay.
Baywatch
Release Date: June 1st, 2017
Review

Facebook.com/ParamountPicturesAU
www.BaywatchMovie.com.au
@ParamountAU
@ParamountAU
#BAYWATCH
©2017 Paramount Pictures. All Rights Reserved.
BAYWATCH
Baywatch follows devoted lifeguard Mitch Buchannon (Dwayne Johnson) as he butts heads with a brash new recruit (Zac Efron). Together, they uncover a local criminal plot that threatens the future of the Bay.

Dwayne Johnson (The Fate of the Furious, Central Intelligence) stars in Baywatch opposite Zac Efron (Neighbors, Mike and Dave Need Wedding Dates). Seth Gordon (Horrible Bosses, Identity Thief) directs from a screenplay written by Damian Shannon & Mark Swift, story by Jay Scherick & David Ronn and Thomas Lennon & Robert Ben Garant. Priyanka Chopra (ABC's Quantico), Alexandra Daddario (San Andreas), Jon Bass (Loving), Kelly Rohrbach and Ilfenesh Hadera (Showtime's Billions) co-star. Baywatch is produced by Beau Flynn (San Andreas, Hercules), Ivan Reitman (Ghostbusters, Up in the Air), and Michael Berk, Douglas Schwartz & Gregory J. Bonann, creators of the iconic Baywatch television series, also serve as producers. Executive produced by Michele Berk (Bandits), Mary Rohlich, Louise Rosner- Meyer (The Big Short, The Hunger Games), Tom Pollock (Up in the Air, Old School), Ali Bell (Ghostbusters), Dwayne Johnson, Dany Garcia, David Ellison (Star Trek Beyond), Dana Goldberg (Star Trek Beyond) and Don Granger (Jack Reacher: Never Go Back). Hiram Garcia (San Andreas) and Eli Roth
are co-producers.

ABOUT THE PRODUCTION
NOT YOUR DADDY'S BAYWATCH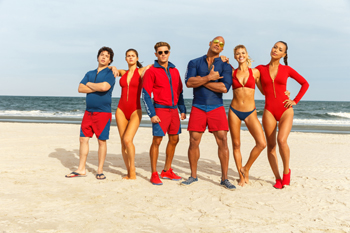 For a generation of TV fans the world over, the name Baywatch conjures up images of sun, surf and statuesque lifeguards, running in slow-motion in form-fitting red swimsuits.

'Baywatch is just about the most successful television show of all time," says executive producer and star Dwayne Johnson. 'So I was drawn to the challenge of reintroducing a beloved property to a new audience who might not have grown up with it."

'It's a fun piece of pop culture," adds director Seth Gordon (Horrible Bosses, Identity Thief). 'People generally know the basics: David Hasselhoff, Pamela Anderson, and slo-mo running on the beach, but beyond that, I felt like we had a real opportunity to redefine the brand."

'The show was pure escapism," says producer Beau Flynn (San Andreas, Hercules). 'It was perfect for people all over the world to unplug from their daily lives and be transported to this world of gorgeous people on the beach. The idea behind the film is to supersize that, and at the same time, have some fun with it."
'Obviously, there was a lot about the original show that worked," says Johnson. 'So we wanted to keep some of the core elements in place while raising the stakes for a feature film. The stunts are bigger, the action is more intense, but we're not taking ourselves as seriously as the show. We worked hard to find the right balance. Seth threaded the needle perfectly. As badass as the action in this movie is, we're all in on the joke. We're all having fun. We're laughing with Baywatch, not at Baywatch."
The creative team agreed on the film's raunchy comedic tone right away. Dwayne Johnson recalls, 'From the beginning, one of my main things was -It's got to be rated -R.' Let's swing for the fences."

'When Dwayne and I started talking about Baywatch, we made a pact that no matter what, we'd take full of advantage of our -R' rating to break people's expectations of the TV show," says Flynn.

'The -R' rating is a great canvas to be as edgy or irreverent as you want, so we really let it rip with the language and nudity, male and female. We're proud of the risqué -wow' moments we had to fight to keep in the movie."

Dwayne Johnson explains, 'We wanted to raise the bar in terms of shocking humor. With comedies, there's -fun', and above that, there's -awesome, I didn't expect to have that level of fun', but way beyond that, at the top of the mountain, there's -filthy fun.' Let me tell you, -filthy fun', that's something. That's the rarified air up there. Baywatch is -lights out, game over, we may have to cancel Christmas' level filthy fun.'"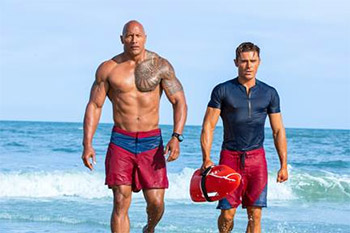 THE AVENGERS OF THE BEACH
In Emerald Bay, no one looms larger than legendary lifeguard, Lieutenant Mitch Buchannon (Dwayne Johnson). As the leader of the Baywatch team, Mitch has become something of a local folk hero. 'Mitch's singular goal on any given day is to protect his beach and the people who come there to enjoy it," Dwayne Johnson explains. 'He cares deeply about the people of Emerald Bay and they love him for it, to the point that the locals have created their own mythology around him. -Did he create Google?'
-Did he help launch the first rocket to the moon, even though he's in his early forties?' He's shrouded in mystery."
'No one else on the planet could have played this role like Dwayne," says Flynn. 'I like to think of him as Poseidon, God of the Ocean. He's so at home in the water, and he fills the screen with the vibe and energy he brings."
'Baywatch is The Avengers of the beach," Dwayne Johnson declares. 'Everyone is highly proficient at what they do, and has their own area of expertise."
From the beginning, Baywatch had been envisioned as a buddy comedy, and the producers knew they'd need an actor who could hold his own against Johnson's larger than life on-screen alter ego. They found a perfect foil in Zac Efron, who is quickly becoming a go-to actor for -R' rated comedies, having recently added Mike and Dave Need Wedding Dates (2016) and Neighbors 2: Sorority Rising (2016) to his already impressive resume.
'I wasn't allowed to watch Baywatch growing up," Zac Efron laments. 'But I do remember sneaking it, late at night, after Howard Stern on a crappy old TV with a dial. One time, I was channel flipping and came across this awesome show full of boats and explosions and I just thought the whole thing was amazing. When the show was over, I realized it was Baywatch, and I was like, -Holy cow. That was amazing.'"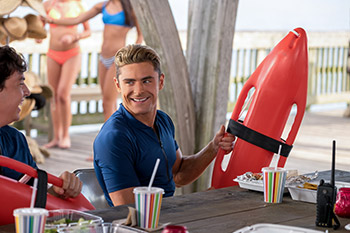 'Zac's incredibly handsome, charming and funny," Dwayne Johnson says of his co-star. 'He's got this great boyish quality at times, and I love him like a brother. He's one of the nicest guys you'll ever meet, so it's that much more fun to have him play a cocky asshole and mix it up with him."
Zac Efron plays Matt Brody, a bad boy Olympic swimmer and two time gold medalist who arrives in Emerald Bay expecting a spot on Mitch's highly competitive, handpicked Baywatch team. 'Brody throws a wrench in things," Dwayne Johnson explains. 'We've got this team that's gelling, but he's this hotshot coming off the Olympics, who thinks he can just join the team without being trained properly."
'At the Olympics, Brody won his solo events, but messed up the team relay because he got drunk the night before," says Zac Efron. 'He did some illegal stuff, and joining Baywatch is part of his parole."
'We drew some inspiration from Ryan Lochte in our approach to Brody, which Zac responded to immediately," Gordon recalls. 'The character was written before the real Lochte got himself into trouble, which ended up being unexpectedly prescient."

'When we meet him, Brody is an arrogant, entitled punk," states Flynn. 'He doesn't understand Baywatch, the value of teamwork, or the family dynamic Mitch has created. He's there to work on his tan, collect his paycheck and go home."
'For Mitch, joining Baywatch is a highly competitive honor that has to be earned," says Zac Efron. 'But for Brody, it's a punishment."
In sharp contrast to Zac Efron's underachieving Brody, Alexandra Daddario, (San Andreas) plays hyper-competent aspiring lifeguard Summer Quinn. 'Dwayne and I worked with Alex on San Andreas and we both fell in love with her," says Flynn.
'She brought humanity and great, flirtatious chemistry with Zac."
'Summer really gives Brody a run for his money because she's smart and tough and really bests him in every interaction," Gordon explains.
'It was exciting to read a script with strong, distinct characters with their own personalities," says Daddario. 'I appreciated that every character gets an opportunity to be badass in their own way." Daddario was thrilled to reunite with Johnson, her San Andreas co-star. 'It's very cool to be able to say I've been in two movies with -The Rock,'" says Daddario. 'Dwayne is one of the most genuine, kind and hardworking people I've ever met, and it's a joy to work with him."
'Alex is a fantastic actress and a beautiful person in every conceivable way," praises Dwayne Johnson. 'She's whip-smart and funny and always in on the joke."
Sports Illustrated swimsuit model Kelly Rohrbach plays free-spirited C.J. Parker, the role made famous of the legendary Pamela Anderson. The character's cultural significance was not lost on Rohrbach, a lifelong fan of the series.
'My sisters think it's hilarious, because Baywatch was the only thing we watched growing up," Rohrbach recounts. 'One of my earliest memories is sucking my thumb and watching Baywatch. It's such an iconic piece of pop culture. Everybody has a memory attached to it in one way or another, and I loved the script's cheeky take on the series."
'Kelly's the kind of girl who's just down to hang out with the guys," says Dwayne Johnson. 'She's an athlete, a phenomenal golfer (Rohrbach attended Georgetown on a Division I scholarship) and has a great self-deprecating sense of humor."
Like Anderson before her, Rohrbach provides many of Baywatch's famous slo-mo running scenes.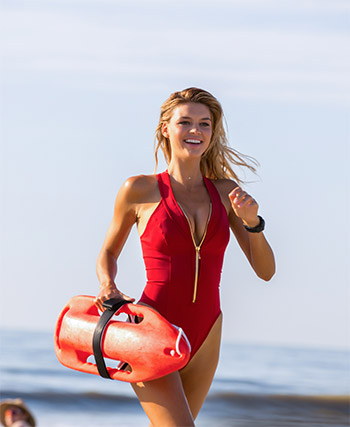 'Something Seth came up with that I think is brilliant is whenever anyone sees C.J. running, she seems to be in slow motion," says Flynn. 'It's one of the best remembered parts of the show, and I have no doubt they're going to be some of the best remembered scenes of the movie."
Ilfenesh Hadera (Showtime's Billions, Spike Lee's Chi-Raq) plays Stephanie Holden, Mitch's highly regimented, by-the-book second in command.
'If Mitch is the group's father figure, Stephanie would be their mom," says Hadera. 'She's a little older, wiser and there to crack the whip, but also takes the less experienced lifeguards under her wing." 'Stephanie runs the day-to-day operations of Baywatch," says Flynn. 'When she read for the role, Ilfenesh immediately popped for us, because she brought this grounded, salt-of-the earth quality which rounds out the team really well."
'Like her character, Ilfenesh is tough and smart, and does her homework," praises Gordon. 'She's a wonderful actress who I think is going to have a breakout year."
The final member of the team is Ronnie (Jon Bass, Loving), an Emerald Bay local with a sizeable crush on C.J. and even bigger dreams of joining Baywatch.
Says Bass, 'Ronnie is this awkward, regular guy who finds himself on a team where everyone else is super hot and extraordinarily cool. He's an average guy who gets this rare glimpse behind the curtain."

'I liked the idea that not everyone on the team has to be a Greek statue – no offense to Jon," says Gordon apologetically. 'We all love Jon. He's a quadruple threat. He can sing, dance and act, and on top that, he's absolutely hilarious."
Whether it's accidently getting his manhood trapped in a beach chair or misunderstanding the rules of the co-ed showers, Bass's Ronnie is often at the center of Baywatch's more outrageous jokes.
'When people talk about the great scenes of cinematic history, I think getting my member caught in a beach chair is going to rank right up there with anything in The Godfather," muses Bass. 'I'm hoping people remember that scene around awards season."
Dwayne Johnson was an early convert to Team Bass. 'I told Jon at the beginning of the shoot, -You're going to steal this movie. I can't wait for audiences to see you in it.'"
In addition to being Baywatch's hilarious secret weapon, Ronnie also provides the unexpected heart of the film.
'We loved the levity that Jon brought to his scenes," says Flynn. 'But also the soul and passion of this character. You know there's nothing he wouldn't do to be part of Baywatch. Being a lifeguard isn't about your athleticism or your physique. It's all about, -How bad do you want it?' If I was drowning in the ocean, if a giant octopus was pulling me under, I would choose Jon to save me, because the guy's got no quit in him."
'Baywatch is like any dysfunctional family," says Dwayne Johnson. 'There's conflict, but underneath, there's respect. If you're going to be working with people for months at a time, you want to get along with them. I'm happy to report that we do."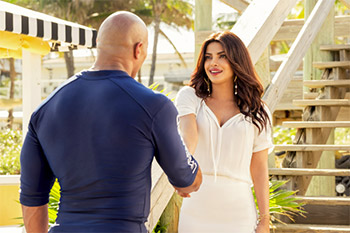 TROUBLE IN PARADISE
The new Baywatch team is put to the test when a dangerous new drug begins washing up on the shores of Emerald Bay. The timing coincides with the opening of The Huntley Club, a high end beach resort owned by the villainess Victoria Leeds, played by Miss World 2000 winner, Priyanka Chopra (ABC's Quantico). Already an international superstar, Chopra makes her American film debut in Baywatch.
'I don't think a lot of people understand what a ginormous hit Baywatch was in India," Chopra says. 'I'm still a huge fan, so when I read the script I was concerned about what they'd do to my favorite characters... but I couldn't stop laughing. I'm thrilled to be playing the antagonist, because it's a completely new character and I could be whatever I wanted to be."
Initially, the film's villain had been written for a man, but Dwayne Johnson, Gordon and Flynn agreed Chopra's casting could bring a new dynamic to the character. 'If you put a strong guy up against Dwayne in the film, you know that guy is going to lose," Gordon reasons. 'But Priyanka brings a certain savvy-ness and sophistication to Victoria that Mitch hasn't reckoned with in an opponent."
Victoria proves to be Mitch's opposite in every way. 'Mitch is an earnest public servant; Victoria is patronizing, super rich and purely evil. He's never out of uniform, she wears couture designer clothes and finds the beach disgusting. As an actor, to be able to play evil is always interesting. You're able to do all the things that you can't do in real life," Chopra explains.
Chopra balanced a grueling shooting schedule, splitting time between Baywatch's Florida and Georgia location shoots and Quantico's New York set.
'Literally, every day of mine was committed to either Baywatch or Quantico," Chopra remembers. 'But I'm grateful it worked out, because I really wanted to do this and was a hundred percent sure it wouldn't happen. I'm grateful they had enough confidence in me to be able to do both."
As the owner of The Huntley Club, Leeds seeks to acquire and close Emerald Bay's mom & pop shops to expand her operation, bringing her into direct conflict with Mitch and the Baywatch team.

'There's only one Emerald Bay," says Johnson. 'It may just be a strip of sand, but it means everything to this team. They'll do anything to protect it."
Mitch's personal investigation into The Huntley Club steps on the toes of Sergeant Ellerbee (Yahya Abdul-Mateen II, The Get Down), the local beach cop.
'Mitch calls himself a Lieutenant for no good reason, and Ellerbee has to remind him he's just a lifeguard," says Abdul-Mateen II. 'So we bump heads. Ellerbee likes order and organization, so an overzealous lifeguard solving crimes is the last thing he needs."
'Yahya is a marvelous actor," praises Gordon. 'He initially read for another role, but I knew he had to be Ellerbee. I think the dorky cop who takes himself too seriously was unlike any other role he'd played before. When you see him in other stuff like The Get Down he plays a murderer addicted to cocaine. His range is amazing."
Comedy veterans Rob Huebel (Transparent, Children's Hospital), Oscar Nuñez (The Office) and Hannibal Buress (Daddy's Home, Broad City) round out the cast.
'Captain Thorpe, Mitch's boss, is played by the phenomenal Rob Huebel," says Flynn. 'He's the micromanaging suit that oversees all the lifeguards and he's also responsible for bringing Brody onto the team."
'Oscar Nuñez plays a councilman who gets on Victoria's bad side," says Gordon. 'He has to play a corpse in a few scenes, but he was such a good sport to lie there while we did all sorts of horrible things to him."
'Hannibal Buress is one of my favorite stand-up comedians," Gordon states. 'He plays Dave, one of Ronnie's friends, a local hacker who has a really dry wit and thinks he knows everything about everything. He did a wonderful job in a couple really critical parts of the movie."
Finally, no Baywatch iteration would be complete without a few familiar faces. 'It was always my hope that we could get some cameos from the original cast to show up in unexpected ways," says Gordon. 'When David Hasselhoff and Pamela Anderson do show up, they each get a nice, meta torch passing moment."
'Pam and David's endorsement was so important to us," Flynn confesses. 'It all comes back to celebrating Baywatch, and we're lucky to have them as part of this movie."
'David gave me one piece of advice when I took the role," recalls Dwayne Johnson. 'He said, -It looks like you're having fun already, but have even more fun. When I played Mitch, I had fun every single day.' I took that advice, and we had fun every day."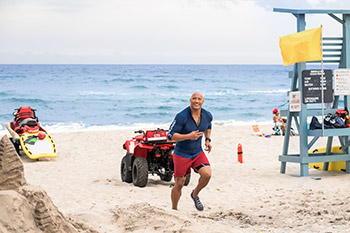 SMOKE ON THE WATER
Balancing out the envelope-pushing -filthy fun', Baywatch also boasts an impressive amount of white-knuckle action set pieces.
Dwayne Johnson's mandate was simple. 'Let's just do some badass action on the water; something you wouldn't typically expect from a Baywatch movie."
'Lifeguards are a lot like firefighters," says Gordon. 'There's a lot of down time to mess around, but when it's time to save somebody, their job becomes incredibly dangerous. They're putting their lives in danger to save the lives of strangers."
Gordon looked to his veteran stunt team of second unit director/supervising stunt coordinator Kevin Scott (Deepwater Horizon) and stunt coordinator J.J. Dashnaw (Avatar) to design Baywatch's death defying heroics.
'We wanted to realistically represent all the different ways people might need to be saved, so we used helicopters, ATVs, and wave runners," says Gordon. 'I'm glad we did, because there was one day were the real lifeguard borrowed our wave runner to help someone because theirs was in the shop."

One major set piece involves Zac Efron racing a motorcycle down a crowded pier in an attempt to save a drowning family.
'Zac's character puts a lot of people in harm's way in an attempt to save a family that's fallen off the edge of the pier," Gordon explains. 'I thought it'd be an exciting way to show how unhinged his character is, and it ended up being a really fun sequence."
'We have a big motorcycle chase that's all one shot," Flynn says. 'I've really never seen anything like it in terms of going through crowds of people and jumping off the pier. It's epic and I think people will love it."
The film's most elaborate rescue involves the entire Baywatch team saving a trio of stranded damsels (Mexican pop singer Belinda, Brazilian supermodel Izabel Goulart and swimsuit model Charlotte McKinney) from a burning ship in the middle of the ocean.
'We wanted our action sequences to be creative and fun," reasons Johnson. 'But it can get pretty intense pretty quick when the ocean and fire are involved."
'In order to save the people on the boat, they had to swim under active fire on the surface," Gordon explains. 'We didn't know what would look like."
'There's no manual or guide to do something like this," laments Flynn. 'You really have to figure it out on your own. There's a lot of planning and safety issues, engineering and mathematics, which I love. You want the actors to be doing as much of it as they can without putting them in any danger."
'So much of this movie takes place on the surface of the water or underwater that we built a series of tanks to make it possible," Gordon adds. 'It's awesome to create and figure out how to do this safely with the actors and embellish it later with visual effects to really put you on that boat. I think that elevates this beyond your average action comedy."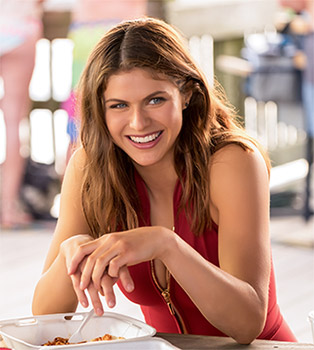 BUILDING BAYWATCH
Production on Baywatch began in February 2016, in the metro Miami area as well as Boca Raton, the adjacent beach towns of Deerfield Beach and Hollywood, before moving to the coastal Georgia town of Savannah and the nearby beach mecca of Tybee.
Production designer Shepherd Frankel, who had previously teamed with Gordon on Four Christmases, Horrible Bosses, and Identity Thief, was responsible for creating the Emerald Bay's 'Anybeach, USA" esthetic.
'We wanted Emerald Bay to be another character in the film; familiar and relatable, but not tied to any one place," Frankel explains. 'So we stitched together shoots in Miami, Savannah and some other beach communities."
'Shepherd proposed we could make one composite beach out of a bunch of different beaches in two different states over multiple months and infinite kinds of weather," says Gordon. 'But it all felt like a single beach when the film is finally put together.
'It's seamless," says Flynn. 'To me, it's just Emerald Bay."
'The world we build around the actors is designed to support and elevate the story," explains Frankel. The critical test is: If there was no dialogue, how much could you glean, just based on the environment?"
Frankel worked extensively on a massive sand sculpture that depicts Mitch as Poseidon, a visual expression the community's admiration for the stalwart lifeguard that appears early in the film. 'We researched classical Roman marble sculptures and sent some drawings to a team of professional sand-sculptors in the Miami area," Frankel explains. 'It was a three-day build, and ended up being about seven feet tall and fourteen feet wide with a lot of detail. It was the spitting image of Dwayne Johnson and we're really proud of it."
To highlight the difficulty of joining Baywatch, Frankel's team designed a punishing obstacle course for the lifeguard tryout scenes. The gauntlet combined elements of a triathlon, Tough Mudder, American Ninja Warrior and World's Strongest Man.
'What I love about the obstacle course is that it's super clear being a lifeguard is no joke," says Frankel. 'After the 5K and the swimming and the climbing wall, you realize that you haven't even seen the course yet. There's still a three story jungle gym of insanity, telephone poles, truck-pulling, refrigerator-lifting and tractor-tire flipping. The course is so big and elaborate; it starts in one state and ends in another."
Every hero team needs a distinctive headquarters, and Baywatch is no exception. 'We needed Baywatch Headquarters to be a prominent building in Emerald Bay," Frankel recalls. 'The most important part was its proximity to the beach. Looking out the windows, we needed to see the water, Lifeguard Tower #1, and have the tryouts right in front of the building."
After scouting several other Miami area locales, Frankel found the perfect 'big, empty, beautiful, modern building" on South Beach's Collins Avenue. 'We fell in love with this place," Frankel explains. 'So we immediately started sketching things out: the captain's deck, where our bullpen could look out over the water, and Mitch's office, front and center."
The sprawling Boca Beach Club in tony Boca Raton stood in for Victoria Leeds' ultra-swanky The Huntley Club.
'If Emerald Bay is the community that we want the audience to connect with and feel a part of, The Huntley is exactly the opposite," says Frankel. 'We wanted its exclusivity to read on film. The colors of Emerald Bay are bright and warm, but The Huntley Club is decked out in a recurring black and white pattern that sets it apart."
The surrounding property provided sandy white beaches, majestic palm trees, service roads, to winding waterways for multiple other scenes throughout the film.
'If the film took place in a city, the grittier moments would take place in a dark alley, with steam coming through and maybe a cat crossing the frame. On the beach, your alleys are service roads, water ways and sand dunes."
DRESSED TO THRILL
To reinvent the iconic swimsuit uniforms of the Baywatch team, production turned to costume designer Dayna Pink (Focus, Crazy Stupid Love).
'When you think Baywatch, the red bathing suit is the most obvious thing," says Pink. 'I wasn't sure if Seth would want to keep the original suit, but asked him, -Can we change it? Can we make it darker? Add a zipper?' Seth was totally on board, and I liked the challenge of taking that familiar look and modernizing it, while giving each character their own look and silhouette."
'It's all about the uniforms," Pink continues. 'They have to be functional, but also interesting and different, while still being recognizably similar to that original costume, which was really iconic already. We had big shoes to fill."
Each uniform was customized for each cast member. 'Every piece of clothing is part of the storytelling process: what they're wearing, and how they're wearing it," says Pink. 'How far do they unzip? C.J. is more flirty, so she wears a halter top and her zipper is very low. Summer has a vest, and the zipper sits a little higher. Stephanie is more conservative, so she zips higher and wears long sleeves."
'I'm thankful for any bit of extra coverage I can get on the beach," says Hadera with a laugh. 'Dayna did a remarkable job capturing the essence of these characters with their bathing suits."

The high-end style of Chopra's Victoria Leeds allowed Pink to step away from the beach into the posh marble-floored interior of the Huntley Club.
An avowed fashionista herself, Chopra worked closely with Pink to devise the effortless look of the smoky-voiced villainess.
Says Chopra of her partnership with Pink, 'Dayna and I talked a lot how Victoria should be a complete contrast to all the other girls. She's all about stilettos and tight dresses, a blow-out with meticulous make-up. Not what you see on a beach. Our style guide was Jessica Rabbit, but evil."
Pink worked closely with Frankel to develop the visual branding of the Baywatch team, to insure the uniforms, headquarters, vehicles, and lookout towers were on the same page esthetically. Pink appreciated the collaborative atmosphere on the Baywatch set. 'Shepherd Frankel would come into my office and we'd make changes accordingly. He adjusted the color of Baywatch headquarters to match the red I was using on the team costumes."
Frankel says, 'I wanted to know how the actors looked their best and adjust accordingly to make everybody look about as cool and sexy as possible. That's what's most important." 'It's such a satisfying moment when they all walk out in their uniforms and you hear, -Action!'"
Pink recalls fondly. 'The months of work, the color, the cut, the design, the details; everything's been considered and reconsidered and approved so they can go out and do their job and feel great."

A DAY AT THE BEACH
This summer, Baywatch will provide the world with a refreshing beach getaway, free of sunburns, swimmer's ear and sand in their shoes.
'I think everyone, especially right now, after this really crazy year, needs to laugh," says Gordon. 'We hope Baywatch let's them unplug for a moment and have a good time. That's the goal."

'The world has had to live without Baywatch for such a long time, so I couldn't be more excited to be bringing it back," says Efron enthusiastically. 'We're building on one of the greatest TV shows of all time, and Dwayne, Ilfenesh, Jon, Alexandra, Kelly and Priyanka are all so amazing and talented. It's going to be hilarious and action-packed. I'm really stoked about it."
'It's great escapism," Flynn promises, 'I guarantee, after you see Baywatch, you're going to want to try out for next year's team."
Johnson sums up: 'The number one thing you can expect when you see Baywatch is FUN. We're talking next level, life-changing, filthy, awesome fun. You're going to laugh your ass off."
Baywatch
Release Date: June 1st, 2017