Ansel Elgort Baby Driver
Cast: Ansel Elgort, Kevin Spacey, Lily James, Jon Bernthal, Eiza González, Jon Hamm, Jamie Foxx
Director: Edgar Wright
Genre: Action, Crime, Thriller
Running Time: 115 minutes

Synopsis: 'He's a good kid, and a devil behind the wheel."

That's Baby (Ansel Elgort), an innocent-looking getaway driver who gets hardened criminals from point A to point B, with daredevil flair and a personal soundtrack running through his head. That's because he's got his escape route plotted to the beat of specific tunes that go from his well-curated iPod straight to his ears, and which translate into expertly timed hairpin turns, gear shifts and evasive maneuvers that leave his passengers on the ride of their lives.
Which makes Baby Driver, with its mixture of mph and music, the newest explosion of genre-crossing excitement from writer-director Edgar Wright, an action thriller unlike any other.


Baby works for Doc (Kevin Spacey), a kingpin on a lucky streak of brash daytime bank heists, thanks in part to his faith in Baby's auto acumen. Doc's go-to professionals include former Wall Street type turned outlaw Buddy (Jon Hamm), Buddy's young, lawless and scandalous partner in crime Darling (Eiza Gonzalez), and the impulsive, gun-slinging Bats (Jamie Foxx), whose suspicions about Baby – from his attitude to his aptitude – begin to create a dangerous rift in an until-then smooth-running operation.


Baby's outward appearance – the sunglasses, the aloofness, the ever-present earbuds - may suggest a kid in over his head, but his catch-me-if-you-can skills are second to none. And yet the encroaching demand for his talents, and what he's doing with them, begin to weigh on his sense of right and wrong, especially when he falls for a sweet, kind-eyed diner waitress named Debora (Lily James), and a doomed job threatens his chance at love and happiness away from his perilous profession.

Full of reversals, rewinds, fast forwards and heart-stopping skips, and inspired by the types of crime-and-chase movies that have thrilled moviegoers since Steve McQueen in a revved-up Mustang changed car pursuits forever, Baby Driver is a game-changing, lanechanging, hard-charging blast only Wright could have dreamed up.

Baby Driver
Release Date: July 13th, 2017
About The Production
Who Is Baby Driver?
Cool but a little naive. Young but with an old soul. goofy at times, but all business when it counts. Thrillingly good at his given task, but not always aware of the consequences of what he does. That's Baby, played by Ansel Elgort, a character Edgar Wright created as a way for moviegoers to live vicariously through a criminal, but also experience the very real fallout of that world.
'The movie is structured so it opens with the dream of being a getaway driver, and very quickly turns into the nightmare of being a criminal," says Edgar Wright. 'The opening chase is sort of positioned as a clockwork act of precision. Everything goes right. Then very quickly, with subsequent situations, things start to go wrong, and very visceral consequences start to bear down. The storm clouds have been gathering during the movie. At some point, Baby's luck is gonna run out."
The Baby we meet at the beginning of the movie – hidden behind sunglasses, dialed in to his iPod playlist, then a hellion at the wheel – is like the greatest gang apprentice ever.
'This kid's a hotshot, but he's also on the fringes of the gang," says Edgar Wright. 'He literally sits as far away from them as he can, because he really doesn't want to be part of the group. He thinks, wrongly, that he can be a getaway driver but not be a criminal Like, -I'm just the courier. I don't have anything to do with the bad stuff.' The action scenes are kind of like Baby's day job, and I think a lot of people that work in a job sometimes shield themselves in a different persona. Then when they're home, they're a different person."
When Edgar Wright was dreaming up the role, he envisioned a riff on the strong silent type personified by Clint Eastwood and Steve McQueen, but with the tension that it might all be a front. 'You meet him, and he's a badass in his profession, and then immediately afterwards you start to meet the real kid. It's an interesting dichotomy, that he's really good at a job that he should not be doing."
The music that drives the Baby Driver is, to Edgar Wright, indicative of his twofold persona. Blasting his favorite tunes while he does his job looks cool, but it masks a defect tied to a tragedy. 'He has this hearing defect, tinnitus, a whine in his ear caused by being in a car crash when he was young," says Edgar Wright. 'It has the effect of him not wanting to talk too much, because people with hearing defects can feel more self-conscious talking. But the other aspect of that is to listen to music, to drown out the whine. It becomes a security blanket, and then a full-blown obsession. He literally has to soundtrack his entire life because he can't really do things without the right music playing."
Baby is encouraged by his elderly deaf foster father (CJ Jones) to get out of his life of crime. Meeting the friendly, beautiful waitress Debora (Lily James) further articulates for him how misdirected his life is, and how much better it could be. But Baby has to make that leap, and cut ties with his profession. What will it cost?
'I just like the idea of a character having to choose between what he does very well, and what he ultimately wants to be," says Wright.
Strap In, Turn On, Hit Play
Edgar Wright was himself a Baby Driver-ish 21 years old when he was listening to 'Bellbottoms" by the Jon Spencer Blues Explosion and thinking, 'This would make a great car chase."
Years later, Edgar Wright made his chase, and the movie around it, what he now calls 'a labor of love and a dream project. Two of my great passions brought together in one movie. I always wanted to do an action movie that was powered by music." With producers Nira Park, Eric Fellner and Tim Bevan on board, everyone was excited to take the cleverly crafted themes behind Edgar Wright's action thriller and fuse them into one uniquely choreographed cinematic experience.
'There might be music, and there might be choreography, but this is not your everyday musical," laughs Edgar Wright about his upended, re-imagined heist movie. 'At the same time, we had to maintain the right sense of tone that is both intense and suspenseful, but most importantly fun and exciting."
Says director of photography Bill Pope, Edgar Wright's longtime collaborator, 'It's a postmodern musical. So there's not singing and dancing in the street, but the world acts to music."
Known for his innovative films, Wright revels in challenges that lead to one-of-a-kind visions on screen. Continues BillPope, 'Edgar Wright's movies are always challenging. His movies are complex, especially this one in particular, where you don't just have a bank robbery scene with gunfire and squibs and cops showing up on time and cars crashing. You have rain. You have lightning. And the kicker, it's all set to music, so the windshield wipers act to tempo. People die to tempo. The gunfire is on the beat, and it's all usually in one shot. And it's daring to have all of that choreographed."
Choreographer Ryan Heffington describes the first day of shooting, which involved one of the largest pieces. 'It was a street scene, where Baby would travel three blocks within the city in one take. We had to choreograph pedestrians. We had to choreograph café workers, children, dogs walking. It's like this great play on reality, where it looks like a realistic scene, but everything happens to be in time and in rhythm."
Says producer Nira Park, 'The film is not just set to music because Edgar Wright loves music. It's a way of inviting audiences inside the mind of the main character, and to see the world through his eyes or ears. In coping with his traumatic past, Baby drowns out the world around him by always listening to music through stolen iPods."
Continues Park, 'It's an action thriller executed in a way that's never been done before – there are car chases, intense action sequences, shootouts, all to the beat of over 30 songs that Edgar put together before finalizing the script."
Four years prior to the start of principal photography, Edgar Wright sat down with editor Paul Machliss and accumulated a playlist of over 30 songs that would inspire the script. 'It's something that's very much a part of my previous films, and I thought of this idea of how to take that a stage further by having a character who listens to music the entire time."
Ansel Elgort, who plays Baby, recalls how singular the project was from very early on. 'Initially the script was given out on an iPad that had little -Baby Driver' emojis that you could click, and the music would play as you read the script. The music drove the script, which is very much how this movie works. When you read it, you could feel the rhythm of the scenes already."
Says Jon Hamm, who co-stars as heist man Buddy, 'The musical element to it, which is very interesting, allows Edgar to really play with his incredibly developed skill set."
The film's second unit director and stunt coordinator Darrin Prescott says, 'Edgar Wright is such a visionary and his style is so unique, this project is a true testament to his creativity. I've said since the beginning that it would be a great film school exercise to take a mainstream song and choreograph anything to it, like a fight scene or a car chase. It's not easy what we're doing here. There's a lot of nuance in this. I think you can watch this film a dozen times, and each time you'll pick out something new, or some intricacy that's innate in an Edgar Wright film."
Edgar Wright even cared enough about the heists to meet with a technical consultant named Joe Loya, who in the early 90s was convicted for bank robbery and served a seven-year term. Joe Loya wrote a book called The Man Who Outgrew His Prison Cell: Confessions of a Bank Robber, which inspired Wright to meet Joe Loya. 'Joe Loya helped solidify the authenticity of each heist," says Park. 'With all the added elements, Edgar wanted to make sure the heists felt very real and believable."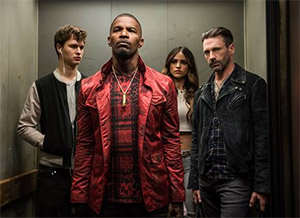 Assembling The Perfect Heist Crew
Edgar Wright had been thinking about how to cast Baby Driver for years before it went into production. Though he initially imagined Baby as short – 'because I'm short," he adds, laughing – he says meeting Ansel Elgort made him realise nobody else could play the title role.
'The thing that really charmed me about him was the fact that he's very musical, and he can play lots of instruments," says Edgar Wright. 'One of my favorite scenes with Ansel Elgort, he has his headphones in and he's listening to Dave Brubeck, and starts playing piano on the table. There was something so beguiling and hypnotic about watching a 21-year-old actor play along to some jazz from the -50s. Ansel Elgort is fascinating in that regard."
Ansel Elgort explains that it was his and Edgar's mutual love for music that connected them upon their first meeting in LA. 'Edgar Wright and I met in Los Angeles and we had lunch, and all we talked about was music," says the actor. 'At the time I didn't even know what this film was about, but we both shared a love for music."
Says Edgar Wright, 'Ansel Elgort is actually obsessed with music, which the lead character in the movie is. His life is completely governed by music and living to the rhythm of the music he's listening to, and Ansel Elgort has a dance background. And also he's a great actor and a nice guy."
Ansel Elgort was excited to take on the role of Baby, explaining, 'I loved how eclectic the role was. He's the getaway driver so I had to learn to drive, he has a deaf foster dad who he signs with, so I had to learn to sign, and his life moves through music so there's the dance and choreography challenges too."
Explains his co-star Jon Hamm, who plays fellow criminal Buddy, 'Baby is constantly having to prove himself to the different criminals that Doc recruits. You have these various lethal and dangerous people coming together to complete this one job and they are shocked when they see this young kid."
Jon Hamm continues, 'Buddy's take on Baby is that he sees very early on that he's incredibly capable. And these crews that rob banks for a living rely on the guy who has to get them to the job and away from the job as fast and effectively as possible - and Baby has to prove that he is very good at that and very quickly."
'Ansel Elgort has a very tricky challenge I think throughout this entire film," explains Jon Hamm.
'Baby is a character that is very much in his own head and he wears his sunglasses and has his earphones in and he doesn't talk much, it's an interesting challenge trying to portray a character through his music selections in various situations. The first bank heist you see him rocking out in the car while we have guns in the air and people are screaming. There's almost this weird humor to his character but also a dark ability to carry on with these criminals," continues Jon Hamm.
For Lily James, who plays Baby's love interest Debora, Ansel Elgort makes it easy to sympathise with Baby. 'You root for Baby because he's got such a good heart and you see him at home with Joe, his foster dad, and there's this beautiful relationship. He's doing this to get a better life for Joe and himself, and so you want him to succeed, and you don't want him to get totally corrupted in this horrible world. I think he's got such a big heart and that shines through in Ansel Elgort's performance, which I think is so beautiful and kind of vulnerable but cool."
When it came to casting the rest of the movie, Edgar Wright says he always intended Baby Driver to be an ensemble movie, if only because as much as Baby might like to escape his work colleagues, he can't. 'The idea is, take this loner, and put him in a gang that he really doesn't want to be in," says Edgar Wright.
At the head of the heist crew, the mastermind assembling the troops is kingpin Doc. He needs guys who aren't doing this for the thrill – they're doing it because it's their job, and they take their job seriously. Who better to fill out that deadly serious crime boss role than Academy Award® winner Kevin Spacey, who of late has been delighting audiences as the scheming President Frank Underwood on the hit Netflix series 'House of Cards."
'I had in my head a practical list, and then Kevin was on the pie in the sky list," says Edgar Wright, a fan of Kevin Spacey's since he burst onto the movie scene with 'Glengarry Glen Ross," 'Seven," and 'The Usual Suspects." 'And I was lucky enough to get one of my pie in the sky choices. I flew to Baltimore and met him while he was shooting -House of Cards,' he said yes, and I was like, well this is amazing! I got very excited about him ripping through all this dialogue I'd written. It's just fun to watch Kevin being bad. You love him no matter how mean he is."
'Doc is a no-nonsense guy, the team leader. I suppose if he weren't robbing banks, he'd be an incredible coach, because he manages to bring together these rather over the top, crazy, sociopaths, psychopaths, nut jobs, and Baby."
'Kevin Spacey's character Doc is sort of the puppet master and Kevin Spacey plays it so well with so many different layers," explains Jamie Foxx, who costars as fellow heist man, Bats. 'He's such a gifted artist who can bring so much life into a character like this."
Though Doc has a stranglehold on Baby's services, he isn't entirely unsympathetic to the kid. 'He's like one of those awful father figures who can be great in rare moments," says Edgar Wright, 'but then most of the time he's a corrosive influence."
With the kingpin and driver in tow, next came the rest of the heist crew, a team that had to be threatening, but also move to the rhythm. 'Casting an ensemble is very difficult," says producer Nira Park. 'Here, we had to cast seven heist men and women including Baby as the getaway driver. We wanted certain contrasts with menacing to level headed and gun slinging, but we also needed a cast that could move to the beat of the music."
Only one part was written with an actor in mind, and that was Buddy, whom Edgar Wright envisioned for Jon Hamm. The Emmy® winning 'Mad Men" star had been at the first table read for Baby Driver, back in 2012, and was the only actor to see it through to production.
'I've known Edgar Wright and have been a fan of his for quite some time," explains Jon Hamm. 'I was asked by Edgar Wright to do the original table read for the early version of the script and was on board immediately and that was about five or six years prior to filming. I really liked the script right away and knew it was an interesting idea that could become something really cool."
Jon Hamm was thrilled to join Edgar Wright's team and play on the flipside of the law after costarring as FBI Secret Agent Adam Frawley in The Town. 'It's kind of fun to play an unrepentant bad guy," explains Jon Hamm.
Best known for his iconic role as mid-20th-century adman Don Draper on 'Mad Men," Jon Hamm says his role search since has been toward different types of parts. 'I look for things in my post -Mad Men' career [that are] the opposite or at least something different from Don, who was very clean cut, well buttoned up, even though he certainly had a dark side. But this opportunity was definitely an example of the change I was looking for."
For Jon Hamm, Buddy is also a case of someone eager to change things up. 'Buddy's back story is that he was a very successful stock broker who then made a series of bad decisions which landed him on the other side of the law. He now uses his intelligence and charm to find success on the flipside of legal money making."
Jon Hamm continues, 'Buddy meets his girlfriend, Darling and they are living that thrilling kind of romantic, although inevitably doomed, life of crime with all of the excitement that goes along with it as well as the danger."
Darling, the brown-haired bombshell, was handed to Eiza Gonzalez, who came recommended by Edgar Wright's friend, director Robert Rodriguez. 'He was like, -This girl's going to be huge, you should meet her.' And he was right. The thing about Eiza Gonzalez is she's a total knockout, and very sweet, very funny, but when she turns her edge on, she's terrifying. It's a similar thing that you get with Jon Hamm and Eiza Gonzalez in the movie. They seem like the nice ones, but when they themselves are threatened, their lashing out is really scary to watch."
Says Eiza Gonzalez, 'I loved how Darling was such a unique character who is crazy and a little disconnected with reality, which I think every criminal has to be able to accomplish dangerous activities like bank heists or killing people. You definitely have to be a little bit disconnected. But I loved how she was still very feminine."
To prepare for the role Eiza Gonzalez explains, 'I really wanted to represent a woman who understands this world, so I got into researching Candice Martinez, dubbed -The Cell Phone Bandit' for always talking on her phone during her robberies. It was important for me to try to understand someone's motivations behind choosing this lifestyle, so I read a lot about her and listened to her story and her background and where she was coming from."
Representing another temperament entirely on Doc's rotating team of robbers is Bats, a watchful hardcase whom Edgar Wright calls 'probably my most fun character to write. He is probably the baddest guy in a roster of very bad guys." Taking on the mantle of the darkest end of the movie's spectrum was Academy Award® winner Jamie Foxx.
'I was so excited," says Edgar Wright of Jamie Foxx's casting. 'He plays him as extremely charming, but this charm is an attempt to reel you in. He's one of those guys who brings you in closer so he can stab you. Jamie Foxx's very magnetic, and Bats is a smiling, laughing sociopath, somebody who cannot be trusted. Baby can see that Bats' arrival is bad news, and sort of does everything he can to stay away. I just like the idea of Jamie as this agent of chaos, who just enjoys wreaking havoc."
The multi-talented Jamie Foxx says, 'I had never seen something like this before and was impressed at Edgar Wright's willingness to take a chance with something really fresh and unique. When it comes to Bats' character, he is really simple. He wants to get money and he doesn't want to have to get to know anybody or make any friends. If there are any loose ends or weak links he deals with it in his own special way."
Before Bats enters the picture, though, the muscle on the first heist team is Griff, played by Jon Bernthal. Embodying the other side of the law from Marvel's crime-fighting vigilante The Punisher, which he plays for Netflix, Bernthal embraced the unique challenge of Griff.
'Griff is a pain in the ass," says Jon Bernthal. 'He's a tough guy to deal with, and I think the only thing better than not dealing with him at all would be to have him on your side. You'd rather have him on your side than against you. These guys are part of this criminal underworld where you're known by your reputation. These guys are by no means petty criminals."
Rounding out the group of heist men are Lanny Joon, and bassist for The Red Hot Chili Peppers, Flea, who had known Wright and was excited to join the director's team. Flea explains, 'I read the script and was blown away. It's such a wild, unique and cool vision that Edgar Wright had for this thing and the combination of music and action and poignant feelings is rare."
In addressing the musical elements to the film, Flea says, 'Music is the most important thing in my life and Edgar Wright has made music such a crucial part of this film.
It's such an interesting and exciting concept and it's been a fun process to watch Edgar bring this thing to life."
After such a formidable cadre of criminals, finding the sweet spots in the cast carried its own challenges. Who could bring to life Debora, the kind-eyed, friendly waitress who gives Baby hope that his life could mean something more? Wright found her in British actress Lily James, the Cinderella of Disney's recent hit movie.
'I was incredibly charmed by her," says Edgar Wright. 'She basically did in the audition what she does in the movie. She inhabits this character, this new ray of light in Baby's reasonably introverted life. I sent the video of her audition to Bill Pope, my cinematographer, whose opinion I really trust, especially on actors and actresses. I didn't tell him why I was sending it or what I thought of it. Maybe half an hour later he replied with a two-word email saying, -Hire her.'"
Says James about her character, 'Debora works a dead-end job and it becomes clear that she has no ties to where she is at this point in her life. She has no family and is a bit of a wanderer who wants to escape. She's a dreamer and she loves music, which is why she and Baby really connect."
With so much music and rhythm and percussive excitement, there's one beat in the movie that's only ever heart-like, and that comes from CJ Jones as Joe. Baby's foster father and fervid conscience, Joe is there to share his joys, but remind him that crime doesn't pay. The filmmakers knew that Jones, a world-renowned Deaf entertainer, was perfect for this crucial role.
Says producer Nina Park, 'CJ has so much amazing positive energy and he really has great chemistry with Ansel Elgort, who has been challenged with learning to sign because CJ's character in the film is actually deaf. This detail adds a very special element to the Baby and Joe relationship since Baby develops tinnitus after a traumatic accident and he's pained by constant background noise. So, it's nice that he has this very intimate relationship with someone that has a profound but quiet and comforting presence in his life."
Edgar Wright says working with Jones was an emotional, heartwarming experience, but also 'very funny. CJ's a deaf standup comedian, and is very, very funny." An unexpected result of directing Jones, says Edgar Wright, was an improvement in his own communications skills. 'If you're working with somebody who is reading your lips, you very quickly start to realise that 50 percent of what you say is nonsense. I had to be much more succinct, and get to the point. I adored working with him."
Edgar Wright also assembled a team of rock star cameos including Jon Spencer – whose 'Bellbottoms" is prominently featured - Big Boi, Killer Mike, Sky Ferreira (briefly seen in a flashback as Baby's mother) and Paul Williams to name a few. 'I thought it would be a fun thing to have musicians in the movie," says Edgar Wright, 'because it's such a music-driven movie."
'Edgar Wright, is a fan of Outkast and my work and he reached out to me directly and me being a huge fan of Edgar, I of course was excited to hop on board," says Big Boi.
Killer Mike echoes Big Boi's excitement to join Wright's project, especially because of the musical element. 'I love movies that are set to music, it's always cooler, and it moves the action along. And I'm a musician, so, of course, I love it. It's a real treat to be a part of something like this."
Turn It Up
For a movie whose pump is primed by music, and specifically music chosen by its lead character, it's not surprising that Wright had songs picked out before he'd ever written a word of Baby Driver. Tunes like 'Bellbottoms" from The Jon Spencer Blues Explosion, 'Neat Neat Neat" by The Damned, 'Brighton Rock" by Queen and 'Hocus Pocus" by Focus gave Edgar Wright the inspiration to dream up highly choreographed sequences. 'The form of those songs starts to shape the scene," says Edgar Wright. ''Bellbottoms' has a long two-minute build before the rock really kicks in, so that's perfect for a getaway driver waiting outside a bank. Then at the two-minute mark, the chase starts."
But it's not just car action that's choreographed to music: Baby gets his own flat-footed, coffee-errand 'number" on the streets of Atlanta, to the sounds of 'Harlem Shuffle," and even gun battles find themselves in synch with certain tracks. 'The very first germ of the idea was how could I do an action movie that's completely driven by music?" says Wright. 'The music is the motivating factor."
To that end, finding the right choreographer was as crucial as any other job on the film, and that meant hiring Ryan Heffington. Best known as the choreographer behind the music videos for Sia's 'Chandelier" and Arcade Fire's 'We Exist", Ryan Heffington gladly embraced the challenge to join Wright's team for the first time to choreograph talent and crew in his feature film debut. Ryan Heffington's partner in the process was assistant choreographer, Ryan Spencer, who has been involved in the arts since the age of 3, becoming an independent at 15 years old performing and choreographing talent nationally and internationally.
'Edgar Wright is very specific about what he wants and he knows every single detail about the film but he puts his trust in the team he's assembled and he really let me go to work which makes him a great collaborator and an amazing director," says Ryan Heffington.
'I think the story mostly determined what we were doing. And Edgar Wright had a lot of say in what he wanted in terms of movement and timing and the mood of it all. I did get to come up with a lot of original, ideas and movements. I think that along with Edgar Wright's direction it's something that's going to be really rich for the film."
Ansel Elgort, like his six fellow heist co-stars, had some experience with music and choreography, something producers contemplated when casting the seasoned actors. 'In casting these heist men we knew it would be necessary to have talent with experience in rhythm and who could pick up the choreography that was so vital to making this movie work," explains Nina Park.
'The actors all worked very hard to choreograph their scenes, but hopefully it'll come off looking easy. I think that's my job to help make it look natural and pedestrian," adds Ryan Heffington.
Wright calls Ryan Heffington 'an amazing genius," who helped the actors think in counts, like dancers do. 'Say for example people are shooting guns in time with the music, he would get them to memorise this part of the rhythm. Ryan Heffington would go up to Jon Hamm and say, -This next bit is you going da, da, da, da, da, da.' Then you get that in your head. Then it cuts together with the song. It really works."
Explains Ryan Heffington, 'We started with rehearsals with Ansel Elgort back in LA about six months prior to filming to get an idea of what Ansel Elgort's movement style was and his natural character without adding too much of Baby in it so we could determine where we could take this character."
At the age of nine, Ansel Elgort's mother took him to try out for The School of American Ballet, where he began his official dance training. He later attended the Professional Performing Arts School, Fiorello H. LaGuardia High School and Stagedoor Manor summer camp, further establishing himself as a dancer and stage performer. When he is not filming, Ansel Elgort lends his talents to producing electronic dance music under the name 'Ansolo."
Ansel Elgort says, 'I started with regular dialogue auditions before Edgar asked me to start dancing since Baby is always moving to the beat, whether it be in his own mind or dancing in front of a mirror like no one's watching."
The other cast members were challenged with on-the-fly choreography lessons as production went day by day. 'There's just so much going on that we really had to move fast with this, but they are all professionals and they can really nail it in front of the camera," adds Ryan Heffington.
Echoes Nina Park, 'We moved fast which is another reason it was imperative that our cast had some experience with music and rhythm so they could catch on quickly and nail it."
Eiza Gonzalez, who plays Darling, reveals that it was a challenge to look comfortable shooting guns. 'In my case, in heels," she adds, 'and at the same time doing it to the beat of the music."
For Ansel Elgort, the film's music becomes a character extension of someone who operates in his own world. 'Baby doesn't have a computer. He's totally off the grid. So the music he gets is from a bunch of different people's iPods. And because of that he sort of has a soundtrack that's really unique and different," says Ansel Elgort.
Ansel Elgort explained that a lot of the music he'd never heard of, but that the encyclopedic knowledge of music Wright brings to the film gives it extra entertainment value. 'Musically the film goes all over the place and that's really fun. It'll keep audiences on their toes," says Ansel Elgort.
Tapping into his experience as a DJ, Ansel Elgort says, 'A really good DJ is one who can make people move without just playing hit records, and this soundtrack is not just a bunch of hit records put together. It's a lot of really eclectic records that are really cool."
Edgar Wright says Ansel Elgort contributed his own song, which grew out of his audition, 'I said, -What song do you know by heart, all the lyrics to?' He said -Easy,' by the Commodores. I said, -Really? That's amazing, cause I have that on my iTunes.' I played it there, and we just improvised the bits of the song. It actually became part of the film."
It wasn't just the leads who had to get their movements to music just right.
Choreographer Ryan Heffington also held auditions for the background actors in each scene, as well as assisted the camera team in learning how to move around the action.
Wright also kept his longtime editor Paul Machliss nearby on set to cut in real time, so that the gunshots, lighting effects, actors and camera movements, and car hits, all happened to the beat of the prescribed music. 'With the exception of one song, we were working with popular music that we could not alter or speed up or slow down," says Paul Machliss. 'We were challenged to make sure each sequence fit in the time frame of the song, as well as went to the cadence of each beat."
Ryan Heffington says, 'It's going to be a film like no other. It's not a musical. It's a new genre that is a love story with action, car chases, violence and dance. It's for everyone in a way, and to top it off the actors are brilliant."

Behind The Wheel
With high-gear, precision driving essential to the heart-pounding fun of Baby Driver, the right action choreography, the right cars and the right stunt team had to be in place. Edgar Wright and three different storyboard artists began the process by drawing the car chase sequences, then turning them into animatics that provided a rough animation of how they would play out. 'Those animatics are pretty close to the finished movie," says Edgar Wright.
'The next stage is working with a cinematographer, a stunt team, and a physical effects team. Which parts need a stunt driver? Which parts can be the actors? What rigs do we use?"
What Wright didn't want to do is 'hose the scene down," meaning shoot with multiple cameras, grab millions of feet of film, then figure it out in the editing room. 'The animatics became a great roadmap, because you knew how many shots you needed for a sequence," says Edgar Wright. 'It's getting the maximum bang for your buck."
Another important aesthetic for Edgar Wright was an emphasis on daylight chases, which create an extra air of collision tension. Besides, bank robberies are typically sunlight affairs. 'It's probably easier to do a freeway chase at night, because it's easier to get those street closures. Doing it in broad daylight is a lot tougher, but I just felt it would be more impressive."
When it came to deciding what cars to use, Edgar Wright didn't want expensive, or tricked out - he wanted practical for a bank robber's purposes. Sean Ryan, the film's picture car coordinator, says of any given chase onscreen: 'It had to feel big, but most importantly it had to feel real. Edgar Wright researched the most stolen cars in America and determined our heist cars with that concept in mind. There are over 150 cars on this project and every single car has a specific function and the whole car selection process took on a character development of its own through Edgar Wright's vision."
Says Edgar Wright, 'Real bank robbers would steal a car that's not going to be missed. Then they're going to ditch it, and drive off in another nondescript car. The idea is, and this came from interviewing real getaway drivers, get a car that will blend into traffic. White and gray and red, the normal colors on the street."
To determine the stunt capabilities of each vehicle, the stunt driving team assembled by second unit director and main unit stunt coordinator Darrin Prescott and stunt coordinator Jeremy Fry had to test the vehicles and communicate with Ryan to tweak the cars so as to accomplish everything mapped out by Wright, keeping safety at the forefront.
Says Darrin Prescott, 'This was such an exciting project to take on, it's so different in regards to the driving for a couple of reasons. Edgar Wright is incredibly collaborative and has allowed and welcomed our stunt team to develop and choreograph these stunts and driving sequences with a lot of freedom. We've also tried to keep all the driving real. There have been no visual effects in our driving."
For the first heist, a red Subaru WRX was decided upon. Says Ryan, 'Edgar Wright was dead set on using this car because it is notorious for its maneuverability – it's quick and agile. This is the kind of car you want to get you away from the scene the fastest." Adds Edgar Wright, citing his research, 'For gearheads, it's a secret rally car."
Ryan continues, 'Once we decided on the heist vehicles, we had to determine what stunts the cars would be doing to then determine how many of the vehicles we'd need with different mechanical functions. For instance, we had four Subarus. One of them had to be all-wheel drive to complete a 270 stunt where the rear had to be locking, but it had to have the ability to unlock the front so when the driver comes out of reverse he can then pull away." Ryan laughs. 'It's all very technical."
Says Fry, 'These cars come stock all-wheel drive, which means when you give it gas, the power goes to basically all four wheels. So if you have enough power and you get on the gas hard enough, you'll spin all four wheels. On a rear-wheel drive car, which is not how these cars come from the factory, when you get on the gas it just spins the rear wheels. That makes drifting. Drifting's different in a rear-wheel drive versus all-wheel drive. So we have some moves that are definitely all-wheel drive moves that we want to do, and then other moves that are a lot easier and a lot more dynamic in a rear-wheel drive."
For the other heists, Wright was just as particular, choosing a Chevy Avalanche for the second heist, which required driving up a brick wall, and a Mitsubishi Galant for the final heist, which also employed spectacular stunts. Says Ryan, 'We had a lot of technical rigging to do with these cars so they could perform the way Edgar wanted them to."
For Kevin Spacey's character's car, the Mercedes-Benz S550 was chosen, a prestige model befitting a crime boss, although it winds up in Baby's hands. To make the car do what they wanted, though, the computer systems had to be modified, because the car is engineered to correct itself when it gets out of control. Says Ryan, 'We do some serious drifting in a parking structure in downtown Atlanta. There's a lot of action done in this car, some incredible stuff."
Whenever possible, the actors would be behind the wheel. Prior to the start of production in early 2016, Ansel Elgort, whose character Baby is the primary driver of the movie's heist vehicles, and Jon Hamm began driving training under the supervision of Prescott and Fry, to prep for the scenes where audiences can see the actors' faces. Says Ryan, '[They] worked together on and off for about a month trying to condition Ansel Elgort and show him what the cars will do and how they drive."
After his time behind the wheel, Ansel Elgort joked that while he drives a Tahoe in real life, he's ready for a Subaru – now that he knows what he can do with one!
More than just expert driving, though, the movie's special nuance was choreographing car chases to music. Says Darrin Prescott, 'It started with the pre-viz, which entails us actually measuring the space at our actual locations and then laying them out in the parking lot at the Atlanta Motor Speedway, and then carrying out the actual driving bits in the actual cars that Edgar wanted to use because we had to know the exact choreography of the cars including how they move and their timing."
'The car hits, and maneuvers had to hit the beats of the songs used in the scene and that song was not going to get any longer or shorter, so we had to get it just right," continues Darrin Prescott.
As for the 'gags" the stunt drivers had to pull off, done on location in Atlanta, some had never been seen before on film, including a risky, daring move known as a '180 in and 180 out." 'Most filmmakers would do this kind of move in a giant parking lot and create fake buildings in a CG world, but of course Edgar wanted to do this stunt practically," explains Darrin Prescott.
The man behind the wheel for that stunt was Fry, who has driven in some of the top chase scenes to blaze across the big screen, including those in John Wick, Hit and Run, and Drive. 'We completed this maneuver in a narrow alley in downtown Atlanta that had no room for things to go sideways. The stunt required the car to speed down the narrow alley and pull a fast 180 in between two buildings and then quickly 180 right back out of it, and he nailed it," brags Darrin Prescott.
Actor Jon Bernthal, whose heist crew character finds himself in a handful of these hairraising situations, puts it succinctly: 'It's better than a roller coaster ride," he laughs.
Costume Design
Courtney Hoffman may have been a newcomer to Edgar Wright's creative team, but she's no beginner when it comes to bringing sartorial heft to a movie, having earned accolades for her work in Quentin Tarantino's The Hateful Eight and Matt Ross's Captain Fantastic. From her first experience meeting Wright, the sense of a fruitful collaboration was in the air. 'It's so rare that you get a script that is this vibrant on the page," says Courtney Hoffman. 'After my first interview with Edgar Wright he said sit down read the script and listen to this playlist - I was drawn to the uniqueness of the whole experience once I pressed play."
Producer Nira Park applauded the decision to bring on Hoffman: 'We knew the costumes were going to be an essential part in helping define our characters, and Courtney Hoffman brought a level of boldness, enthusiasm and expertise to our team. She really helped bring these characters to life."
It was a collaborative experience from the start. Says Courtney Hoffman, 'Edgar Wright is one of the few directors that wants to be at every fitting to give input and suggestions on costumes with the actor while they're trying on their clothes for the first time."
It led to a level of detail that enhanced each character. 'Moments into the script, the action begins and one of the things Edgar Wright wanted audiences to see right away in the opening was our robbers in a pair of sneakers walking by," says Courtney Hoffman. 'They're ready to do a robbery with sneakers on and black trench coats because this group of people are here to do business. But one of the things I was really excited about was being able to explore the details in those moments that define the uniqueness of each of these characters."
'So even though they're all wearing black trench coats and they're all wearing white sneakers if you take a moment and you pay attention, we added elements of each person's character into their costume. You'll see Eiza's sneakers are platformed for instance, so I wanted there to be traces of their characters even when they are trying to hide who they are," continues Courtney Hoffman.
Building on the idea that Atlanta got to be Atlanta onscreen for once, Hoffman says that the city was a readily embraceable source of inspiration for the apparel in Wright's colorful story. 'Edgar Wright really wanted this to be a story that represented Atlanta," explains Courtney Hoffman. 'I think that that was a really exciting choice."
'I was excited that we were using the people and the streets as our inspiration for our palette, and one thing that you'll notice when you're in any part of the city is men wearing very vibrant pops of color. That really got us thinking about Bats, played by Jamie Foxx, and what are the colors that represent these characters. So we assigned each character a color and more or less tried to explore things within that color," says Courtney Hoffman.
That meant bold choices, something Edgar Wright and Courtney Hoffman agreed was necessary if they were going to create dramatic contrasts between, says Courtney Hoffman, 'who the characters actually are and who they're pretending to be in those environments. And that was really exciting as a designer for a director to give you the permission to go there, put a character head to toe in red in a scene -- put him in a ridiculous sweatshirt and take those chances." Equally important to Hoffman's work aesthetic was honoring Wright's approach to pop culture.
Courtney Hoffman continues, 'If you think about Scott Pilgrim and if you think about these other movies of Edgar Wright's, Shaun of the Dead, there's a simplicity to their costumes and from that simplicity there's an iconic nature to them."
When it came to clothing the title character, says Courtney Hoffman, 'We wanted Baby to feel flat and like he had nothing rich about the way he looked.
He's a young boy, but he's not hip nor is he subscribing to any trends. We wanted Baby to be contemporary, but without being fashionably contemporary."
After Ansel Elgort tried on over eighty jackets, Hoffman and her team Frankensteined multiple jackets together to create Baby's iconic look. A more subtle but profound addition to Baby's attire was his undershirt. 'We wanted to illustrate Baby's gradual transition from being a victim and starting out light with a white t-shirt, but as his hands get dirty (literally and figuratively), he starts to come more toward the dark side," she explains.
In the subtle way that maybe only eagle-eyed costume designers would recognise, Courtney Hoffman notes, 'We dyed his tee shirts from white to gray over the course of five different shades."
Asking Courtney Hoffman to pick her favorite character to dress is like asking a mother to choose her favorite child; in this instance, however, Hoffman couldn't help but gush over the costumes for Darling, played by Eiza Gonzalez. 'Eiza Gonzalez is literally wearing a lilac fur coat in a shootout - who else can say they've done that!" laughs Courtney Hoffman. 'Darling's costume was something that I really wanted to play around with."
The tackiness that comes with new money also informed what Darling and her beau Buddy wore. 'Not to mention, no matter what Eiza Gonzalez and I decided the higher the heel the better," adds Courtney Hoffman.
The gang's threads had to ultimately reflect the fact that these heist men and women wore what they'd wear in their everyday lives. 'It's your job to be a criminal, you're not dressing to be a criminal, and you're dressing for whoever you are," says Courtney Hoffman. 'So for characters like Buddy and Darling, they're going to Atlantic City or Vegas between heists."
She details the thinking behind Buddy's clothes. 'Buddy is Darling's boyfriend and he's a fair bit older than her and you can tell he's trying a little too hard to hold on to his youth. He wears jewelry and he's dating this younger girl who is probably picking out what he wears and encouraging him by saying -you look so hot in that'," says Courtney Hoffman.
'There's a level of superficiality going on with him and he's left this world where he's been really corporate and wearing only neckties and dress shirts, but now he's living this rock lifestyle of a criminal," adds Courtney Hoffman.
Courtney Hoffman's sense of Jamie Foxx's character Bats is that he represents the Atlanta figure whose taste pops, so they made his color red. 'I really wanted to make sure that I was approaching it the same way I would a period film, which is, know the history, know what's real, know where it comes from, know who actually wears it," says Courtney Hoffman. For research, Courtney Hoffman hit the malls, stopping locals to discover their preferred brands. Then she went shopping. 'One of the first pieces I found that perfectly represented Bats was this playing cards sweatshirt that says King on it," recalls Courtney Hoffman.
'Bats thinks he's the king and has this arrogance about him, so the first time we see him in the film I wanted audiences to see that he always had an element of flair whether he was performing a crime or not."
When it came to Debora, played by Lily James, the director's affinity for the -50s came into play. Says Courtney Hoffman, 'We gave Debora an aesthetic of living in this 1950's ideal. So we see her mostly in her diner waitress uniform, but she's also a free thinker and should have her own opinions. So I convinced Edgar Wright that we should put her in beat-up boots. These boots show that she's not committed to this life of being a waitress and she could take off anytime."
Though Courtney Hoffman says the movie's prominent soundtrack didn't directly influence her costume choices, she says something about Edgar Wright's use of music did. 'The music did not dictate my choices other than inspiring me to not box myself into anything. Edgar Wright's musical choices are so across the board, from classic rock to hip-hop to old songs. The range was so wide, I knew if Edgar Wright is pulling from all these different places for his musical inspiration, I'm not going to limit myself in any aesthetic."
The Beat Of Atlanta
Production designer Marcus Rowland (Shaun of the Dead, Scott Pilgrim vs. the World, Hot Fuzz, The World's End) says the prospect of collaborating with Edgar Wright for the fifth time on a feature was something he could not pass up. It started at the drawing board. Says Marcus Rowland, 'Over the last couple of years Edgar Wright's been finessing the animatics and storyboards which we all referenced to then start researching the key locations."
Marcus Rowland continues, 'It's a heist movie with three major heists, and we wanted all of the locations to feel different. So stylistically we tried to juxtapose them against each other. And tonally they needed to feel like very different style banks, and in one instance a post office."
An additional factor that played into deciding locations for the film is the performance aspect. 'The music and the performance sometimes leads a location, so when deciding on a location, Edgar Wright would spend a lot of time trying to think through how that performance would be played out in that space, which can sometimes take more time in some instances than finding the look of the place."
In the title scene, Ansel Elgort struts out of the historic 1913 Healey building located in downtown Atlanta. This building served as the façade of Doc's loft apartment. It was a beautiful building but in deciding on the structures to use in the project, Marcus Rowland explains, 'The buildings are important but what is really important is what surrounds it. Most of the film is set in cars, so it's really about the road and the vista you get from the building and the junctions that we drive through, in terms of how the performance goes and where the car drives from that moment on."
'We would close roads and shoot one part of the chase sequence and plan for the getaway route to be one direction, and then Edgar Wright would say let's shoot in that direction, so we'd all scramble to change road signs and trash cans … It's not always the most glamorous job but it's not every day you get to work with a mastermind like Edgar Wright. It's a fun process and he always keeps us on our toes," laughs Marcus Rowland.
'One of the most labor intensive sets we put together was the diner that Lily's character Debora works in. We converted an old abandoned Denny's located near the Atlanta airport into a beautiful classic old school American diner," explains Marcus Rowland.
With an affinity for 50s style, Edgar Wright incorporated fantastical references to that decade when possible. 'Debora's character daydreams of being in the 1950's and you see her in a classic 50's waitress uniform so we wanted this to be a really stylized, nostalgic-feeling diner, idealistic and classic old school American, but also very genuine," says Rowland. 'We shot Atlanta for Atlanta, so a lot of locals and those familiar with the city will really get a good taste for the landscape of Atlanta. We were really all over the city, and we reference their streets and parts of town as well as their restaurants. A few restaurants identified in the film are Goodfella's Pizza, Bacchanalia, JCT Kitchen and the locals' favorite coffee shop Octane," adds Marcus Rowland.
Production also made use of the iconic record store Criminal Records, which serves as one of music-minded Baby's frequent stops.
Says Baby's portrayer, Ansel Elgort, 'Atlanta is really great for this story because it's a very eclectic place. In some neighborhoods, there are gorgeous houses with greenery, then there are these broken-down warehouses. It's both urban and country at the same time. And it's sort of a melting pot of people, which really works for the heist crews coming together. You have people like Bats and then you have people like Buddy and then kids like Baby."
Says location manager Douglas Dresser, 'After reading the script for the first time my initial thought was this is going to be amazing a really exciting project. Then after meeting with Edgar Wright and going back over the script I thought oh my god… how are we going to pull this off? It was exciting and terrifying all at the same time."
Dresser immediately picked up the phone and started what would be a long and collaborative relationship with The Georgia Department of Transportation. 'We closed over 40 streets throughout the production. The most monumental closure was when we shut down the northbound portion of the popular interstate 85. Despite our hefty requests, the Atlanta city officials were extremely collaborative and supportive throughout the entire process," says Douglas Dresser.
Artists like Jamie Foxx found it comical that even some of the closed-down streets had ties to the music world. For the chase sequence after the second heist, production sealed off State Route 9, now known as Gladys Knight Highway. The road formerly known as West Peachtree Street NW now pays homage to the 'Empress of Soul" who was born in Atlanta. 'We're here in Atlanta, shutting down roads, tearing things up and who knew we'd be shooting on Gladys Knight's road," laughs Jamie Foxx.
Says Douglas Dresser, 'The important thing we had to consider while planning this project was the road closures and the possible inconvenience this could have on the already traffic-ridden city. Knowing we were encroaching on a downtown environment because of businesses and because of the sheer amount of people that come into the city during the week, we determined it would be impossible for us to do our work during the work week so we structured our shoot around a Wednesday to Sunday schedule with most of our road closures happening on the weekends."
Adds Marcus Rowland, 'Atlanta itself is a really inspiring city, and Edgar Wright wanted to reference the urban landscape including the local graffiti artists whose work is displayed all over the city as commissioned murals on the side of businesses and highways."
To that end, Wright hired local graffiti artists to help transform his sets into the vibrant city that is Atlanta. Says the film's art director, Nigel Churcher, 'We hired local artists to paint the mural with a trumpet player in the title scene that Ansel Elgort struts by on his way to the coffee shop. So you're really going to get a good overall taste and feel for Atlanta and its roots in this film."
With all these ingredients, and under the helm of a visionary filmmaker, Baby Driver is sure to leave a lasting impression on anyone who takes a seat on this wild ride.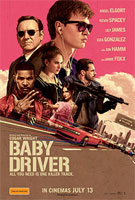 Baby Driver Soundtrack Tracklisting:
1. Bellbottoms - Jon Spencer Blues Explosion
2. Harlem Shuffle - Bob & Earl
3. Egyptian Reggae - Jonathan Richman & The Modern Lovers
4. Smokey Joe's La La - Googie Rene
5. Let's Go Away For Awhile - The Beach Boys
6. B-A-B-Y - Carla Thomas
7. Kashmere - Kashmere Stage Band
8. Unsquare Dance - Dave Brubeck
9. Neat Neat Neat - The Damned
10.Easy (Single Version) - The Commodores
11.Debora - T. Rex
12.Debra - Beck
13.Bongolia - Incredible Bongo Band
14.Baby Let Me Take You (in My Arms) - The Detroit Emeralds
15.Early In The Morning - Alexis Korner
16.The Edge - David McCallum
17.Nowhere To Run - Martha Reeves & The Vandellas
18.Tequila - The Button Down Brass
19.When Something Is Wrong With My Baby - Sam & Dave
20.Every Little Bit Hurts - Brenda Holloway
21.Intermission - Blur
22.Hocus Pocus (Original Single Version) - Focus
23.Radar Love (1973 Single Edit) - Golden Earring
24.Never, Never Gone Give Ya Up - Barry White
25.Know How - Young MC
26.Brighton Rock - Queen
27.Easy - Sky Ferreira
28.Baby Driver - Simon & Garfunkel
29.Was He Slow (Credit Roll Version) - Kid Koala
Baby Driver
Release Date: July 13th, 2017