New Australian talent BJ Caruana's debut single, the infectious disco-tinged "Dance All Night", is an instantly enjoyable slice of pure pop pleasure. GIRL spoke to this exciting new artist and we give you the inside scoop in this candid interview.GIRL: You grew up in a musical family. Did this influence your decision to pursue a career in music or was it just a genuine love you had?
BJ: My parents were retired from the music industry before I was born, so there was none of that going on when I was growing up and started doing all that. So when I showed an interest in it they were like "Oh, alright. That's good" I guess it was just in the genes.
GIRL: What was your first ever gig you performed at?
BJ: My first gig was when I was 13. I sang "Let Me There" by Olivia Newton-John and I was dressed in a little country and western outfit. That was in a pantomime in the city. I started out doing country because I was so full of nerves my voice had that really fast vibrato. A little bit Dolly Parton (laughing)
GIRL: What major steps have you taken in life so far to get to where you are today?
BJ: Moving to Melbourne to work with Ashley who produced the whole thing. And another major step was I began writing my own stuff. I didn't know I could do it until I had a go and did it - so taking that step and realising I could do it was a big thing. I went into my first song writing session I walked in there, didn't really know what I supposed to do and the guy just played me some music and said "can you write me some lyrics?". I went in there with the attitude like "I'll pretend like I've done this all my life" and it worked.
GIRL: You are signed with Destinova Records. How did you secure this deal?
BJ: That was by working with Ashley, that's Ashley's company and I guess I was really lucky to be there at the right time and at a time when he was just getting it all started.
GIRL: "Dance All Night" is your debut single and is a very funky dance track. Is this the style you are most comfortable with performing?
BJ: I think my style will always be pop/dance sort of stuff - but I do love my soul. But I don't want to confuse the audience. It will predominantly be disco stuff for now and the album will be consistent with that although there will be a couple of really soulful tunes on there.
GIRL: How did the idea for "Dance All Night" originate?
BJ: It happened when we decided to sit down for a couple of weeks and write some songs. We went in to the studio and the night before we had been drinking some wine, playing some records and dancing around the lounge room listening to some old rock stuff that they just have to bring back! So what I am really doing is disco but it's being done electronically so therefore it's called dance music rather than disco. We popped on the disco light that my Mum gave me for Christmas and created the mood and that's how we came up with the song.
GIRL: What is the most satisfying thing to you about being a performer?
BJ: The songwriting process, performing and doing something I love & enjoy.
GIRL: "Dance All Night" was co-written by yourself and songwriter and producer Ashley Cadell. Did you enjoy writing with him?
BJ: Oh yeah, absolutely. We're really good friends. I moved to Melbourne 2 years ago and I met Ashley through a mutual friend. Ashley heard a demo of mine and he liked what he heard. I came down for a weekend and wrote some stuff with him and it's all moved on from there. So it's all really exciting.
GIRL: How many songs have you written in total so far?
BJ: Ooo, probably about 30 - We've got the album all written, so that's done. There will be 11 tracks on the album I think
GIRL: What topics do you like to write about?
BJ: Definitely other people's experiences, you know like people who have cried on your shoulder. Also my own experiences, although funnily enough the first 2 singles are about dancing. When in doubt, write about dancing [laughing]
GIRL: What are your plans for the next 6-12 months?
BJ: Complete the album, work on the whole performance thing like my dancing and then prepare for the next album. Also we want to work with and produce another act as well.
We have a couple of people in mind for this.
GIRL: Which performers do you look to for inspiration?
BJ: Definitely Prince and for overall performance definitely Madonna and Kylie and Stevie Wonder is my all time favourite vocalist and songwriter.
GIRL: Do you think you would follow in those particular artists' footsteps, or do you have your own ideas?
BJ: I'll probably never be quite "the Dancer" but to be able to get a performance to a level that I am totally comfortable with, that's my ultimate goal.
GIRL: What is your definition of success?
BJ: I guess when you're happy and you have achieved what you have set out to do and you can live comfortably but not meaning that you have to be loaded. To be able to have time off when you want to and take a fabulous holiday once a year
GIRL: Has your record label been quite flexible in allowing you to take direction of your music career?
BJ: Yes, it's totally up to myself to direct my music and my image. We like to all discuss the direction we might take and we usually like to sit down over a bottle of wine and say, "ok well tomorrow lets do this. And let's try something SClub7 or let's try something Desiree". We always like to try different things and different styles.
GIRL: Would you like to work with other Producers in the future?
BJ: Yes and Ashley does too. I'd really love to do that overseas.
GIRL: Who living or dead would you most like to invite to dinner?
BJ: Jimi Hendrix - I'd love to get inside that crazy mind! And I think he was one of the most amazing singers and very unrecognised for that as well.
GIRL: Which song transports you to another place when you hear it and why?
BJ: "Greatest Dancer" - it takes me to when I first heard it. I was having a fantastic time in a fantastic club on a fantastic dance floor and was surrounded by beautiful friends of mine and I heard that song. Every time I hear it I think of that brilliant night.
GIRL'S 60 SECOND QUIZ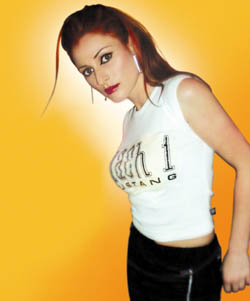 Full Name: Rebecca Jane CaruanaNickname(s):
BJ, Bec, Becstar
Star Sign:
Taurus
Fave Food:
Tepanyaki
Fave Film:
Breakfast at Tiffany's
Fave Actor:
Dudley Moore
Fave Animal:
Horse
Describe Yourself In 3 Words:
Silly, Entertaining, Loyal
Best Feature:
My Calves
Worst Feature:
My Nose
Person You Would Most Like To Meet:
Stevie Wonder
Hobbies/Interests:
Water skiing, surfing, sleeping.
First Job:
Sandwich Maker at a Coffee Shop
A Talent You Wish You Had:
To be able to play the piano
What Can You Never Leave Home Without:
Lip Gloss
If you were a cartoon character, which one would you be?
Bugs Bunny
If you were told you had a minute to live, what would you do?
Ring My Mum
What is the first thing you think of when you wake up in the morning?
When's my next meal and when can I go back to bed.
What do you think of when I say John Howard?
Bald
- Michelle Palmer