Dougie Baldwin Nowhere Boys Series 2 DVD Interview
Cast: Dougie Baldwin, Joel Lok, Rahart Adams, Matt Testro
Creator: Tony Ayres
Genre: Adventure
Rated: PG
Running Time: 338 minutes

Felix (Dougie Baldwin), Jake (Matt Testro), Sam (Rahart Adams) and Andy (Joel Lok), have returned from a parallel world but soon discover the adventure isn't over. As they experiment with their new and unpredictable powers, the boys realise they aren't the only ones who crossed back to this universe.

Nowhere Boys Series 2
RRP: $29.95


Interview with Dougie Baldwin
Question: What originally attracted you to the scrip of Nowhere Boys?

Dougie Baldwin: I remember when I first read the character breakdown for Nowhere Boys and the logline said 'Four boys lost in an alternative universe - who have to find their way back". I knew it was cool and it wasn't something I'd read about before or seen, especially on kid's television. Nowhere Boys was different and unique; it was in its own world which was awesome.


Question: Can you tell us about your character, Felix, in Nowhere Boys?

Dougie Baldwin: In series 1, Felix is stuck in a place of guilt with what happened and he feels as if he deserves the guilt but he is also angry at people at school and his family who ridicule him for that guilt. Felix also feels as if he deserves the ridicule which is why he's stuck and not really sure how to feel about it which results in him being sarcastic. He turns to learning about the magic world.

In series 2 Felix learns to trust other people and that he can rely on the people around him and that he doesn't have to take all the responsibility. Felix has a lot of character growth in series 2.


Question: How are you similar to the character of Felix?

Dougie Baldwin: No, Felix is very logical, cynical and realistic whereas I am native and positive. There are obviously similarities but I think the main difference is that I like to think I'm a positive person.


Question: What should fans expect from the second series of Nowhere Boys?

Dougie Baldwin: In rehearsals when we got the script for the second series of Nowhere Boys we were all very chuffed because it is so interesting. Series 1 was awesome but the second series has really been kicked up a notch because Nowhere Boys has become a family show, now. Series 2 has so much more threat and the show becomes a lot more intense and dangerous.


Question: What was it like working with Rachel Griffiths?

Dougie Baldwin: That was great! Rachel Griffiths is an Australian icon, everyone knows her from Six Feet Under and Muriel's Wedding. Being an actor, Rachel Griffiths understood what we worried about and what we had trouble with; she also noticed the tiniest of things such as facial expressions which may give away something different to what we're trying to portray. Rachel really worked us hard to make sure we gave the best we could and that was great!


Question: What was the best part about being on set for Nowhere Boys?

Dougie Baldwin: The best part is being able to play dress-ups and running around being children, pretending to have magic powers. It's all very fun especially as we've become so close with the cast and crew.


Question: Who or what inspired you to begin acting?

Dougie Baldwin: Since I was four-years-old I was always performing and wanting to be in the limelight. The need for attention is what got me started. Then, my sister, who is older than me, started auditioning and acting which made me realise that pretending to be someone else and dressing up was a career, from that moment I knew that's what I wanted to do.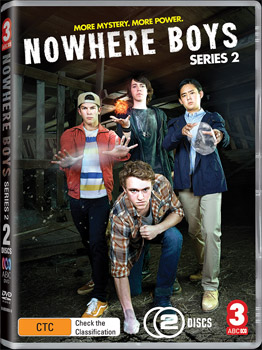 Question: If you could work with any actor or actress; who would you like to work with?

Dougie Baldwin: If I'm dreaming big? There are so many Australian actors like Dan Wyllie and Claudia Karvan who have built a career here and it'd be awesome to work with people like that.

And then there are actors like Daniel Day-Lewis and Robert De Niro… let's not get excited.


Question: What's next, for you?

Dougie Baldwin: I'm going overseas to seek other opportunities and see what else is out there, in other places around the world.


Interview by Brooke Hunter