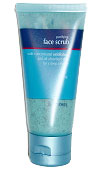 David Jones - Purifying Face Scrub
David Jones Men's Purifying Facial Scrub is concentrated with exfoliators and oil-absorbent clay for a deep cleanse. It is formulated with natural walnut granules to remove dirt and dead skin and reduce roughness and blackheads. Another active ingredient is Kaolin Clay, which absorbs excess oil and impurities to prevent breakouts and shine, and the essential oils of Geranium, Lavender and Peppermint refresh and invigorate.
---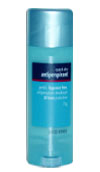 David Jones - Quick Dry Antiperspirant
The David Jones Men's Quick Dry Antiperspirant works to protect and deodorise. It is gentle, fragrance free and will protect for a whole 24 hours. It glides on smooth and will guard against odour and wetness without clashing with your fragrance. It is best used daily after bathing, or when needed.
---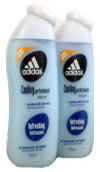 Adidas - Cooling Performance Body Gel
Adidas Performance is a clear gel that leaves a clean, fresh feeling. Enriched with minerals, it revitalises the skin without disturbing the natural pH balance. The fresh aquatic fragrance is intensely refreshing and revitalising. No matter what challenges your body experiences - physical or mental - adidas works hard to deliver a revitalising and energising feeling that lasts and lasts.Adidas knows the world of competition - on the field and off. It's for everyone and every day.
---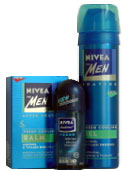 Nivea - Men's Fresh Pack
FRESH COOLING GEL
Quickly massages into a rich lather that ensures a closer, smoother and gentler shave, leaving skin feeling smooth, supple and invigorated. Protects the skin against razor burn, irritations and moisture loss while shaving. Enriched with Menthol and Vitamin F, it cools and invigorates the skin and leaves skin smooth, refreshed and looking healthy.
FRESH COOLING BALM
Gently soothes, refreshes and conditions your skin after shaving. The light, non-greasy and quick absorbing balm, will leave your skin feeling smooth, refreshed and relaxed long after application. Protects your skin against irritations and inflammations that can occur after shaving. Enriched with Menthol, Vitamin E and Provitamin B5, delivers immediate cooling and invigorating skin sensation. Provides the skin with valuable moisture and keeps it looking healthy, supple and refreshed.
FRESH ROLL-ON
24 hour performance ensures all day effective protections from dampness and odour as well as caring for your skin. The Anti-Perspirant Deodorant formula combines caring ingredients that guarantees effective protection and mild care, with a fresh, masculine fragrance. Containing no alcohol, preservatives or colorants, as well as being dermatologically approved, NIVEA Deodorant Fresh Roll-on ensures effective care and protection all day long.