Dorota Kobiela and Hugh Welchman Loving Vincent Interview
Cast: Jerome Flynn, Saoirse Ronan, Aidan Turner
Directors: Dorota Kobiela, Hugh Welchman
Genre: Mystery, Art House, Biopic
Running Time: 94 minutes

Synopsis: France, Summer 1891. Armand Roulin (Douglas Booth), a feckless and directionless young man, is given a letter by his father, Postman Joseph Roulin (Chris O'Dowd), to hand-deliver to Paris. He is to deliver it to the brother of his father's friend Vincent van Gogh who, they have just heard, killed himself. Armand is none too pleased with the mission: he is embarrassed by his father's association with Vincent, a foreign painter who cut off his ear and was committed to the local asylum.

In Paris there is no trace of the brother. Armand's search leads him to the paint supplier, Pere Tanguy (John Sessions), who tells him that the brother died shortly after Vincent, apparently destroyed by the death of his older brother.

Pere recounts how the brother helped Vincent on this incredible transformation from a down-and-out at 28 who had failed at three careers and was living in a barn in the mining district of the Borinage in Belgium with a bunch of books and no idea what to do next, to the new artistic sensation of Paris at the time of his death 10 years later. After hearing this story Armand believes he may have misjudged his father's friend, and really wants to know why, after such struggle, Vincent chose the moment of impending success to take his life: Pere has no answer to this.

Armand journeys on to Vincent's final destination, the quiet village of Auvers-sur-Oise, an hour outside Paris, to meet Doctor Paul Gachet (Jerome Flynn), Vincent's doctor in his final weeks, to find the answer. The doctor is away for couple of days. Armand resolves to wait, during which time the villagers tell him different theories of why Vincent took his life and who is to blame.

While in Auvers-sur-Oise Armand stays at the Ravoux Inn, where Vincent stayed for the last 10 weeks of his life, and where on 29th July 1890 he died of a bullet wound to his abdomen. Here Armand meets the Inn-keeper's daughter, Adeline Ravoux (Eleanor Tomlinson). While he awaits Doctor Gachet's return, Armand also interviews Doctor Gachet's housekeeper, Louise Chevalier (Helen McCrory), the Doctor's daughter, Marguerite Gachet (Saoirse Ronan), and by the river where Vincent often spent his days he meets the Boatman (Aidan Turner).

Armand gets the sense that the truth is being hidden from him, and feels like a pawn in overlapping village feuds. Armand is determined to root out the truth, for his father, for Vincent's memory, and for himself. A run in with the local police, an unexpected encounter with a second Doctor, and finally his much-anticipated meeting with the mercurial Doctor Gachet, lead to unexpected and heart-rending revelations, but also to Armand understanding and appreciating the passionate and surprising life of Vincent van Gogh.

Loving Vincent
Release Date: November 2nd, 2017
LovingVincent.com
Trailer

Interview with Dorota Kobiela, Writer and Director
Question: How did the idea for Loving Vincent originate?

Dorota Kobiela: I decided I wanted to combine my two passions - painting and film - and make a painted film. I was 30 when I came up with the idea to do Loving Vincent, the same age that Vincent was when he started painting. More than his paintings, which I do love, it was the example of how Vincent lived that inspired me. I have battled with depression all my life, and I was inspired with how strong Vincent was in picking himself up from similarly terrible life setbacks as a young man in his twenties, and finding, through art, a way to bring beauty to the world. His letters helped me at a low point in my life, and inspired me to make this film.


Question: Why did you decide to make a feature instead of the originally planned short?

Dorota Kobiela: When Hugh had to queue for over 3 hours to get into a Van Gogh exhibition he persuaded me that we should at least look into seeing if the film would work as a feature. I decided it could be possible if it was done as a series of interview with Vincent's paintings, alongside some painting animation transitions based on his landscape paintings. So I developed the script in this direction, and put together a concept trailer to work out the production method I had in mind. The reaction we got to the concept trailer gave me the confidence that this would work with audiences: total strangers; film professionals; artists; animators and members of the public all loved our visual approach.


Question: What challenges did you come across while making the film?

Dorota Kobiela: By far the hardest challenge was re-writing the script as a feature film. I saw myself as a director, not a writer. I felt that my project had most in common with feature documentaries so I was watching as many of these as I could get my hands on. I wrote the first draft in Polish, so then we had to get it translated, which was expensive and time consuming, so seeing as we were going to shoot the film in English I decided I would write future drafts in English. So at this point I drafted in the help of Hugh and coopted him as my co-writer.


Question: How did you choose which part of Vincent's life to focus on?

Dorota Kobiela: I wrote many stories: stories taken from his life; stories that started from particular paintings; stories exclusively from his Dutch period; stories when he was deep in the bohemia of Mountmartre in Paris. But the first concrete script that emerged was set during his last days. This resonated, and also I loved the paintings involved, and the fact they included paintings of people who he had regular contact with at the end: the mecurial Dr Gachet; his mysterious daughter, Marguerite Gachet, painted three times, yet her face always concealed; and the spirited daughter of the owner of the Inn where Vincent died, Adeline Ravoux.


Question: Why did you choose to include the flashback scenes in Black and White style?

Dorota Kobiela: There were two main reasons. Firstly we thought that it would be too much for audiences to have Vincent's intensive colour for ninety minutes. The fact that we structured the film with a lot of flashbacks, meant we had the opportunity to introduce a different style for these sections. Secondly, we didn't want to make up Vincent paintings that didn't exist. Most of the flashbacks involve Vincent in life situations that he didn't paint, so if we did them in Vincent style we would be imagining from scratch how

Vincent might have painted those scenes, which we felt was straying too far from his work. The reason we chose black and white was because a lot of our research involved sourcing black and white photographs from the era, and these inspired our approach to the painted style of the flashbacks.


Question: Why the title -Loving Vincent'?

Dorota Kobiela: Several reasons. This project has been a labour of love. I've worked on it a total of 7 years full time, my love of Vincent's work, his letters and my respect for his struggle sustained me through those 7 years. And it wasn't just me that had to love Vincent. Our team of painters were painstakingly painting [65,000] frames of oil painting, spending up to 10 days painting a second of film, moving each brush-stroke frame by frame. That takes a lot of commitment, a lot of respect for his work. Thirdly it is a reference to how he often signs off his letters to his brother -Your loving Vincent'. And perhaps most importantly we only decided to take the risk of making the world's first fully painted feature film because of how much people around the world are already loving Vincent. I hope this film will inspire people to find out more about Vincent, read his letters, see his paintings in the flesh. I hope I will have, in some small way, helped introduce Vincent to more people. I think he deserved that. I want everyone to be Loving Vincent!



Interview with Hugh Welchman, Co-Writer, Co-Director and Producer, BreakThru Films
Question: Why did you want to make a film about Van Gogh?

Hugh Welchman: Vincent's popularity has been growing ever since his death, and his influence is bigger now than at any other time. His paintings seem to speak directly to people, even people who have little or no interest in painting. He was a down-and-out who had failed at several professions by age 28, and out of this position of despair he started working as an artist, he picked up a paintbrush for the first time at 28 and 10 years later was a genius of art. In 10 years he willed himself through incredible hard work to give a body of work to the world which has been emotionally uplifting and consoling people ever since. We felt that the story of Vincent can only really be properly emotionally told if it is intimately connected to his paintings, and in our case we use the medium of paint, and his paintings to form the very fabric of the world of our film.


Question: How did you choose which Van Gogh paintings to feature?

Hugh Welchman: We wanted to use his mature style, so we set the film in Arles and Auvers, and briefly in Paris too. We chose portraits of people who were close to him at crucial points during this time: Postman Roulin; Lt Milllet; Dr Gachet; Margaret Gachet; Pere Tanguy; Adeline Ravoux, alongside interiors and landscapes from these places. We tried to include as many of his best known paintings as possible; in all we feature over 130 of his paintings.


Question: How did you prepare for making a film about Van Gogh?

Hugh Welchman: We had read around 40 different publications about Vincent: biographies, academic, essays and fictional works. Over 4 years we visited 19 museums in 6 countries to view around 400 Van Gogh paintings. We also watched the major feature film and documentary productions about his life and interviewed experts at the Van Gogh Museum.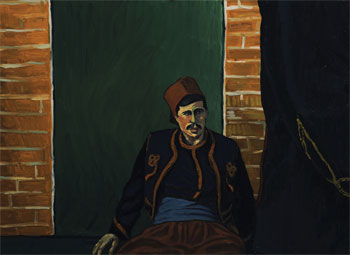 Question: Why did you decide to shoot with real actors?

Hugh Welchman: One reason was creative, and a second was practical. The creative reason was that Vincent worked from real people when he did his portraits, and wanted to convey the emotion of the real person in front of them. Likewise we wanted to have real people in front of us, and feel their emotion. Conveying real human on human faces has always been a challenge for animation, that is why the majority of the great animation films are about non-human characters or very simplified and cartoony human characters. The practical reason is that by shooting live action with actors we could create material in days that would take months in animation. However we weren't convinced if the technique would work until we did our concept trailer. When we saw the results of our first rough low budget test I knew we were onto something.


Question: What were the biggest challenges on the project?

Hugh Welchman: Getting people to believe it was possible- it wasn't easy to find the right partners, most film funding specialists were too cautious to risk being part of something so new. Thankfully we found some special and courageous individuals who believed in us, and believed that we could hand-paint [65,000] individual frames on canvas at the size of 103cm by 60cm. We were, without a doubt, coming up with the slowest method of making a feature film ever devised, so I can understand why some people had their doubts, as to whether we could do it.



Interview with Saoirse Ronan
Question: What did you know about Van Gogh before you've signed up to do this project?

Saoirse Ronan: I knew a little bit, obviously I knew that he was very influential when his paintings were eventually discovered. I've learnt a lot from the script, I have to say, a kind of an intimate solid to an artist, a painter is always really interesting, especially when someone is long gone. It's lovely to learn more about him as a character, because beside the 'Starry night" we don't know tons of stuff about him. I got all of this in my head now [pointing at Van Gogh biography], I feel like a little encyclopaedia.


Question: And what did you know about 'Loving Vincent" before you've signed up?

Saoirse Ronan: I knew that the whole concept was new and that it's something that hasn't been done before! That's why I wanted to become a part of it, I was really interested to see what the process was going to look like. I knew we we're all going to be painted in these Van Gogh paintings. I'm really excited about this!


Question: Any favourite paintings of Van Gogh?

Saoirse Ronan: Apart from this one of Marguerite Gachet, something like 'Starry night" is so mysterious, there's also this simplicity, which I really love. With that painting and knowing a little bit more about him now, his character and those dark places that he could find himself in, I think that painting resonates with me more now.


Question: How was it to take a first step to become one of the Vincent van Gogh's paintings?

Saoirse Ronan: It was great! I always like when this technical side of the film meets the artistic side and this time the team managed to balance it perfectly



Interview with Eleanor Tomlinson
Question: Before joining the Loving Vincent team, what did you think the production will look like?

Eleanor Tomlinson: I had absolutely no idea what to expect on joining 'Loving Vincent"! I was amazed and excited to be a part of the project that's the very first attempt to do something – for everyone of us it's the first fully painted film. I was amazingly impressed when I came here – I had no idea that it's going to be on this scale, we're working on this huge green screen which you normally see in the American multimillion dollar film's plans. It was a pleasure to work with Hugh and Dorota – they have such control over the set, such a vision of everything!


Question: And what did you know about Van Gogh himself?

Eleanor Tomlinson: I knew very little about him, only things I have learnt in school as a kid… I knew about his ear – probably the most famous thing? But I had absolutely no idea about him surprisingly killing himself, or that there was ever any question around how he died. It's been fascinating to explore all of these in the script and also to read different accounts from the different characters!


Question: So Eleanor, now that you've been working on 'Loving Vincent", do you have your favourite painting?

Eleanor Tomlinson: I think it's 'Wheatfield with Crows". There's something incredibly dark in this one, which I really like.



Interview with Chris O'Dowd
Question: So, what did you know about Vincent van Gogh before this film?

Chris O'Dowd: Not much, but I feel like I know even less now! I knew some of his paintings, I knew that he was a troubled soul, a little bit about his time in Brixton – after seeing a play about this at London's National Theatre…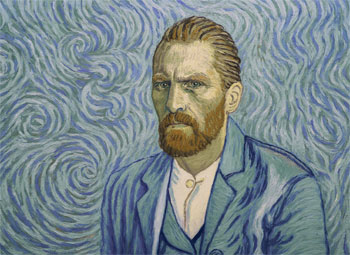 Question: And what did you know about this film before you've signed up for it?

Chris O'Dowd: Nothing! But I saw a little bit of the footage from what's been made here and I thought 'I have never seen something like this before", so I found it incredibly interesting! If only I knew about this beard I have to wear… [laugh]


Question: What's your favourite Vincent's painting?

Chris O'Dowd: I love 'Starry Night", I feel like I had it in some wall in my childhood, but now I have my new favourite one and it's 'Postman Roulin". He almost looks like one of those old times croquet players.


Question: What did it feel like to bring Vincent's painting to life?

Chris O'Dowd: That's interesting, because if you're in the middle of it, you don't necessary feel like you're doing it. That's probably something I'll feel proud of later, because right now, we're working in this giant bank of green! And for me it's almost something the least artistic you might do actually – standing in front of the green box. All of the magic is to paint it now, to make it art.


Loving Vincent
Release Date: November 2nd, 2017
LovingVincent.com
Trailer