Reiner Holzemer Dries
Director: Reiner Holzemer
Running Time: 89 minutes

Synopsis: For the first time Fashion Designer Dries Van Noten allows a filmmaker to accompany him in his creative process and rich home life. For an entire year Reiner Holzemer documented the precise steps that Dries takes to conceive of four collections, the rich fabrics, embroidery and prints exclusive to his designs. As well as the emblematic fashion shows that bring his collections to the world and have become cult 'must sees' at the Parisian Fashion week.

This film offers an insight into the life, mind and creative heart of a Master Fashion Designer who, for more than 25 years, has remained independent in a landscape of fashion consolidation and globalisation.

Dries
Release Date: Sepetmber 2nd, 2017


About The Production
The Director's Statement

My interest in making a documentary about the fashion world goes back to the year 2011. I had read an article about John Galliano, forced to leave Dior after expressing anti-Semitic ideas in public, obviously under the influence of alcohol and drugs. The article stated that the increasing pressure under which fashion designers have to work might have been the reason for Galliano's nervous condition. Luxury concerns have taken over traditional fashion houses such as Dior, McQueen, Jil Sander,… and have since then almost doubled the amount of collections a designer has to create within a year.

Increasing at the same time the amount of work and pressure which are difficult to endure.

Aware of this, I kept my eyes open to find the right angle for a film about the fashion world. By a (welcomed) coincidence, I met Dries Van Noten around the same time. He was hosting the American Vogue team and the photographer Juergen Teller planning to make pictures of the designer's latest collection. I was directing a documentary about the photographer at that time.

Entering Dries Van Noten's house and garden, I had the impression to enter another world. A sanctuary untouched by any unwelcome external influence. I was as touched as amazed and fascinated by our host. I was intrigued by his heightened sense of perfection and razor sharp concentration.

All I witnessed was as enigmatic as it seemed contradictory, as novel as it seemed reassuringly familiar. How could a man dressed daily in an almost uniform of plain marine blue or beige chinos with a white shirt be at the origin of such internationally and creatively acclaimed, colourful collections? This brand new world I was entering conjured as much wonder as apprehension for the elusive freedom of beauty combined with the rigour of obsession.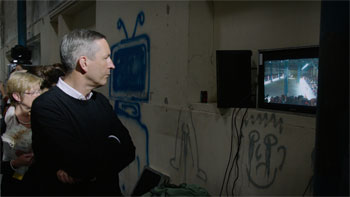 My instinct told me that Dries Van Noten was that interesting man to be portrayed in a documentary. And I was even more convinced of it after having done some research on him and his eponymous brand. I found out, that he plays an outstanding role in the fashion world. He does not advertise and nevertheless is being praised for his collections by the entire fashion press. He is not the usual fashion character who lives an exotic, dramatic or scandalous life. Always even tempered, he is the opposite. Neither does he follow the trends of the fashion market (e.g. conceive more collections a year, sell more accessories, shoes, bags and perfumes than garments). These trends might be leading to more sales and margins but, most of the time, also go along with a loss in quality and creativity. And this is not what Dries wants. He truly loves his craft, which is the creation of garments. He feels the need to remain the main actor in the creative process of his collections – choosing fabrics, inventing shapes and prints - instead of only being the art director of his company. My encounter with Dries and the things I read about him whet my curiosity. I wondered why nobody had ever made a film about this man before. I soon found out hat he had turned down all prior invitations.

I guess there are mainly two reasons, for that. First of all, Dries is a perfectionist who only wants to show the achieved perfection as a result of his work. Filmmakers want to follow the creative process, through all the phases when, precisely, nothing looks perfect. Taking the risk to maybe destroy the magic of a collection in the eyes of an uninformed public. Then, Dries is the most discreet person I have ever met in my life. Being followed by a camera is at the antipode of what he stands for and the sole fundament to shoot a film under these conditions, is trust. Dries had to learn to trust me as a filmmaker. Otherwise, there would have been no film.

It took three years for the designer to agree on my proposal. He was cautious. Patience brought its reward. We met a few times and discussed the way I work, my hopes for the film: I explained that I sought something more pared down than the other more elaborate portrayals of his peers I had seen.

I committed to shoot alone with an occasional sound-man and agreed to test shoots to see how things felt. Our first foray into documenting this life was backstage of a fashion show and a fitting session at his Antwerp studio. With time Dries forgot the camera was rolling, settled into being himself.

In the end I followed him for a whole year. Sometimes I felt very welcome sometimes really not. But, having all that in mind, I think I came as close to him and his world as it is possible. And I hope that the result is a very personal insight into the life and career of a unique fashion designer of our times.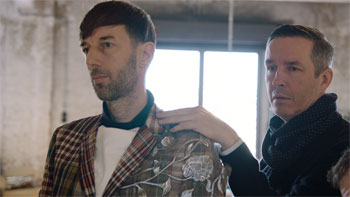 Dries Van Noten - biography

Born in Antwerp in 1958, Dries Van Noten is the third generation in a family of tailors. Between the two world wars, his grandfather reworked second-hand clothes by turning them inside out and introduced Antwerp to the concept of ready-to-wear. In 1970 Dries' father opened a large upscale fashion boutique in the outskirts of Antwerp followed by a second outlet in the city centre where he sold collections by Ungaro, Ferragamo and Zegna. At the same time, his mother ran a Cassandre franchised store and collected antique lace and linen. From his education at a Jesuit school, Dries acquired great moral strength and a very practical outlook on life. His family background ensured that he was introduced to the world of fashion, its rites and traditions from the youngest age.

As a boy, he went with his father to see the shows and collections in Milan, Düsseldorf and Paris where he learned all about the commercial and technical side of the profession. However, he soon decided that he was more interested in designing fashions than selling them. In 1976, at the age of 18, he entered the fashion design course of Antwerp's Royal Academy. While continuing his studies, Van Noten began to work as a freelance designer for commercial collections for a Belgian manufacturer. This practical experience would prove invaluable when he started to produce and retail his own designs. The same year he met Christine Mathys who would be his business partner and tireless champion until her death in 1999.

After graduating, Van Noten continued to freelance before going onto producing his own collection of blazers, shirts and trousers. The line met with almost immediate success on its launch in 1986 selling to prestigious customers like Barneys New York, Pauw in Amsterdam and Whistles in London.

In September of the same year, Dries Van Noten opened a tiny eponymous boutique in Antwerp's gallery arcade. Here he sold his men's and women's collections, which were initially made from the same fabrics.

In 1989, he quit his modest boutique for a five-storey former department store in the Nationalestraat, then a down-at-heel district with little promise. Ironically, this listed historical building had once housed his grandfather's greatest competitor. Van Noten set about restoring it, retaining many of the original fixtures and fittings, including the name Het Modepaleis. Today the area is noted for its upmarket boutiques.

With the company expanding quickly, Van Noten opened a Parisian showroom and press office in a former art gallery in the heart of the Marais. His first foray outside Antwerp was quickly followed by the opening of a second showroom in Milan.

In July 2000, Dries Van Noten moved into the 60,000 sq ft warehouse on Godefriduskaai, Antwerp, which had billeted both German and Allied troops during the war. This six-storey industrial space now houses the showroom, design, marketing, production, accounts and distribution departments and archives to reflect the logical order of a collection. The top floor is thus given over to the showroom which enjoys breathtaking views across the entire city.

In January 2007, Dries Van Noten opened a boutique in Paris. Here, Dries Van Noten set out to preserve the soul and history of the listed 17th century building in the very heart of Paris. Number 7, Quai Malaquais is an old bookshop which stands between rue Bonaparte and rue de Seine, close to the Académie Française, the Institut, and the Académie des Beaux-Arts de Paris.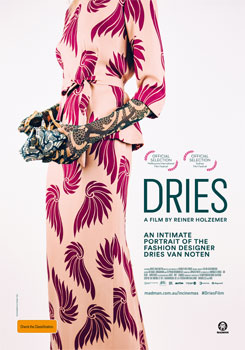 March 2009 will be punctuated by a new boutique opening in Tokyo. Dries Van Noten has been entirely self-financed since the beginning of his career and now sells his Men's, Women's and Accessories collections all over the world. In addition to his boutiques in Antwerp, Paris, Singapore, Dubai and Hong Kong, Dries Van Noten works in partnership with some four hundred boutiques in cities such as New York, London, Milan, Berlin, Kuwait, Qatar, Moscow, Tokyo...

Dries Van Noten – His work

Dries Van Noten is very different from other designers because of: His singular creative process - He doesn't make drawings of his creations, he drapes them on living models. Working as a sculptor who would wrap up his figure in fabric layers and applications until he is satisfied with its final shape.

His inspiration sources and the way he twists the original idea to give it a brand new look - he often finds his inspiration in artists work like for example the abstract paintings of Gerhard Richter, Pina Bausch ballets, Marcel Proust's novels or Azuma Makota blown up photographs of flowers.

His way to consider business and customers - Dries Van Noten wants to emphasise the personality and individuality of a person with his clothes. He likes to see them considered as lifelong companions and combined to pieces of other brands or designers. He calls them 'Fashion with a Soul" and differentiates himself radically from other brands gathered into conglomerates.

He is a 'master of deconstruction". His collections are most of the time a surprising mix of unmatchable elements. The basic inspiration source is very often twisted, intertwined with other ideas in order to make the final result less obvious. We may say that he turns ugliness or imperfection into beauty and perfection.

Dries
Release Date: Sepetmber 2nd, 2017