Stephen Irwin Australia Day
Cast: Burgess Abernethy, Will Allen, Elias Anton
Director: Kriv Stenders
Genre: Drama
Rated: MA
Running Time: 98 minutes

Synopsis: Australia Day takes place over a 12 hour period on our most controversial national holiday, interweaving the stories of three Australians from diverse backgrounds – 14-year-old Indigenous girl, April (Madden); 17-year-old IranianAustralian boy, Sami (Anton) and 19-year-old Chinese teen, Lan (Wu).

Whilst the nation celebrates with beach /backyard barbeques and Hottest 100 / pool parties, these three individuals find themselves alone and facing issues of racism, oppression and violence – each terrified for their own life. When their respective paths cross with police officer Sonya (Sebbens); Australian teen Jason (Webber) and failed farmer Terry (Brown), all must make choices and sacrifices. All will find there is a heavy price to pay, but heart and hope will help them to create meaningful change.

A fascinating take on the cultural tension that lurks beneath the surface of our country's modern society, Australia Day has been called 'provocative" (The Daily Telegraph) and 'energetic" (Screendaily), with Variety likening it to 2006's Oscar®-winner, Crash.

Australia Day
Release Date: September 21st, 2017
Interview with Stephen Irwin
Question: What's been the development process of Australia Day?

Stephen Irwin: The genesis of Australia Day [took] a little bit of time but there are a lot of elements that were already in play in my head like a couple of the storylines. Sitting down with Leigh, Nathan and Tracey at Hoodlum and realising we had the opportunity to tell a feature length story. We realised that telling a multiple storyline would be just a fantastic, unique opportunity. We're big fans of films like Traffic and Crash, which interweave those storylines so we came together, pitched a couple of the ideas, which were very embryonic at that stage, things just started to coalesce into this really engaging story that got us all excited and it just carried through from there. It's been a really fun process.


Question: How have the three separate narratives affected your work?

Stephen Irwin: The idea of multiple storylines was one that appealed to us straight away. I had a couple of ideas, which I pitched in to Leigh and Leigh had some terrific ideas as well. What became the Terry and Lan story was something that was floating around in my head. We had also discussed the idea of this almost vigilante justice story, which became the Patterson and Sami storyline. But we hadn't really nailed the emotional glue, which could bind these together and in the room we developed this fantastic story of Sonya and April, these first Australian people who are on their own journey and that one is really for me one of the strongest emotional spines in the piece. It's really delightful. So when we got those three working together we've got first Australians, we got new Australians, we got fourth generation Australians, it felt like we had the story at last.


Question: What's been the biggest challenge of this film?

Stephen Irwin: Well there's an old axiom that says write what you know and even though I don't really know and I haven't lived the perils that our characters in Australia Day are going through, I certainly know Brisbane – I've grown up here so in terms of writing what you know I think if you ground a story in a real place it just instantly allows the story to bloom and grow if you've got solid foundations. So for me it was really about writing from the heart about a place that I really know well and the story itself is I think quite universal and will be understandable by people now just in Australia but anywhere. I'm excited about this – that Foxtel has given us the opportunity to tell this story here in Brisbane.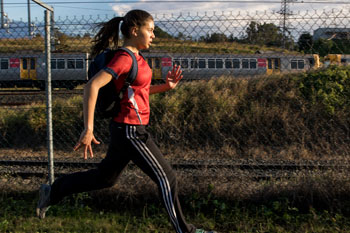 Question: How would you sum up the story of Australia Day?

Stephen Irwin: Australia Day is about a lot of different characters who on this one particular day are faced with a real moral choice about whether to stand up and help someone else. And knowing that that was the emotional thrust of this story for all of our characters really made it a lot easier to always refer back and go 'are we being true to the story?".


Question: How was working with Kriv Stenders?

Stephen Irwin: Kriv is a fantastic and passionate director and it was such great news to know that he was on board with this. I know Kriv from working with him on other projects as well and he is absolutely indefatigable – he is just a powerhouse of energy. If I had to sum up Kriv it would be that he always looks for the truth in things and for a film like Australia Day, which is a very grounded, very real, very intimate story, I can't think of a better director.


Question: Why should audiences watch this film?

Stephen Irwin: Australia Day is quite a small story in some respects. The main characters are not famous people, they are very much everyday folk who find themselves in extraordinary circumstances and I think that is ingredients for great storytelling – to have ordinary people in extraordinary circumstances and I think that we've been able to follow that through with our interweaving storylines quite well. We started off with people that find themselves in a terrible situation and the stakes for them just keep ratcheting up until at the end for all of them it is a matter of life or death and they are faced with these important moral choices where they at cost to themselves can actually help someone else. And I think that's what I hope people will take away from it – that if we can put our wants aside for a little bit we can actually improve other peoples lives and I think that is kind of what Australia Day should be about to – it's taking the opportunity to think yes we've achieved some great things as a country but we can do better and if we are just that little bit less mindful of our own wants and needs, we're a little bit fairer and kinder, we can absolutely make this the best country in the world.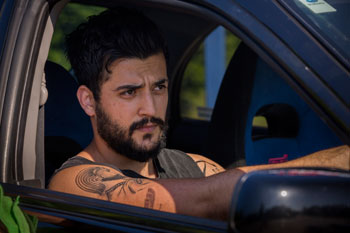 Question: What does Australia Day represent to you?

Stephen Irwin: I don't usually celebrate Australia Day. It is a day that I think is a difficult one for a lot of us for us to get our heads around because it does mark the dispossession of our first people. However it is also a really important day where we do have opportunities to reflect about individual achievements in science, in arts, in humanities, how we collectively are able to improve our society so I think that even though there is a lot of contention to the day, for me it is also the opportunity to think about the great things that we are able to achieve together. I hope that that kind of means that Australia Day the film has actually found the right day to tell its story. And also get a chance to sleep in.


Question: What makes someone Australian to you?

Stephen Irwin: What makes someone Australian is I hope someone who is egalitarian, who is able to put aside the notion of borders and actually embrace Australia as a state of mind, which is we are open people who look after each other.



Australia Day
Release Date: September 21st, 2017