SHE is the undisputed Queen of night time radio, a role model to thousands of youngsters, a down-to-earth, inspirational and charismatic gal - she IS JACKIE O'! Best known for her co-hosting role on the Hot30.com heard on all major radio stations across Australia on the Austereo Network, she is currently filming the second Popstars series in a quest to find the next big "pop" act. Combine that with other television commitments and promotional appearances, and you have one very busy woman!
GIRL spoke with Jackie O' recently where we got the inside scoop on co-host Kyle, her future career plans and the secret to her success!
GIRL'S 60 SECOND QUIZ

Full Name: Jackie Ellen Last
Nickname(s): Yo Yo
Star Sign: Aquarius

Fave Food: Popcorn
Fave Film: Gone With The Wind
Fave Artist: Amel Larrieux
Describe yourself in 3 words: Generous, Impatient and Caring
Best Feature: Eyes
Worst Feature: My Bum!
Height: 5'6"
Your Ideal Man: I've already got him!
Hobbies/Interests: Films, catching up with friends and just relaxing at home because I don't get to do it very often.
First Job: Office Assistant
A talent you wish you had: To be able to sing.
The best advice given to you: What goes around comes around.
What cartoon character best describes you? Wonderwoman

GIRL: All of Australia will of course remember you as one of the judges in the hugely successful TV series Popstars, where the group Bardot was born. What was that whole experience like for you?
Jackie: It was really good actually because it gave me a chance to get out and see what talent there was around Australia and it was the first time I had ever done something of that nature. I knew through the radio show I'm involved with that there was a lot of talent out there because I deal with a number of our listeners on a regular basis and there is no avenue for them to really get out there and show people what they've got because they don't have the contacts. So it was a great opportunity for them and myself.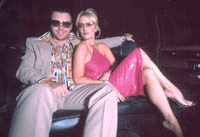 GIRL: How did you get approached to be a judge?
Jackie: It was actually a day before they were leaving on the tour that they needed a third judge, a female and I believed they tried a whole heap of females doing screen tests and couldn't find anyone. Then one of the directors mentioned me and they came into the station and did a quick screen test and they told me that night that I was off the very next day. So I had no idea what it was about, it was all very new to me. I was just going along with it and I'm glad that I got the part.
GIRL: Do you still keep in contact with the girls from Bardot?
Jackie: Yeah I do. But it's really difficult for all of us to catch up because we have very busy schedules and they're off travelling quite a bit, so it's hard for us to keep in contact. We mainly do it by phone.
GIRL: Now you're currently involved in the second series of Popstars where the search is on for a mixed group. Can you tell us a little bit more about that?
Jackie: Well we just completed the auditions and basically we're after something a little different from last time. It wouldn't be wise to do another Bardot, you have to try and do something completely different, that is partly where the guys come in but that's not enough, there has to be another element. So we don't have a specific thing in mind and we won't sort of know until we're down to the last twenty-five where we're going to go with it, exactly what sort of band we're going to make from this. But the amount of guys and girls that have been turning up this time around has been incredible and I think that's because they know what to expect. Last time no one had heard of Popstars and we only had a few hundred who auditioned in each state. This time they came by the thousands, so the response has been fantastic.
GIRL: When will the new show be aired?
Jackie: It will be aired in February on Channel Seven.
GIRL: In the past year or so, you've branched out into other areas namely TV. Has it always been your plan to try your hand at TV presenting?
Jackie: TV was something I've always wanted to do but it's never really been a major ambition of mine. It's something I always thought, if it came along that would be fantastic and I'd grab it but I'm not one of these people that has been sending my CV and tape out to every network for years and years waiting for this gig to come along.
GIRL: Of course you have been presenting the nightly countdown show on the Austereo Network for a number of years now and it is rating really well. What do you think is the appeal of a show of that nature?
Jackie: I think it's just keeping in touch with your audience really. The minute you become complacent about it, is when you lose them and they're always changing. Their tastes are always changing month-by-month, what bands they're into and what things they like. So I think the minute you lose touch with that, you lose your audience. So we try not to - we stay in touch by reading their letters and talking to them.
GIRL: Now give us the goss Jack, what is it really like working with Kyle? Is he as cheeky as he comes across to his listeners?
Jackie: Kyle is lovely actually; he is just a big pussycat off-air. He comes across all macho and egotistical on air, but off-air he really is lovely and a pleasure to work with.
GIRL: So what is the best aspect about working in such a live medium?
Jackie: It is the enjoyment you get out of it, you're not doing a nine to five job and you don't have to sit at your desk. You are free to do what you want as long as you get on the air and you do your job properly. You're always having a lot of fun doing it because part of the job is having fun - that's what people want to hear. So definitely that is the best part about the job.
GIRL: In comparison, what is the worst aspect?
Jackie: I don't really think there is a downside, which is great. But I think like any job, you can get bored. It's not like everyday I look forward to going into work, it gets repetitious sometimes and there are days when I don't want to do it just like anyone else.
GIRL: Do you still get nervous before going on air each night?
Jackie: No that went away. The first year I started, for about a period of 3 months I was nervous every night before I went on air but it disappears very quickly. You forget that you're talking to all those people. Place me in a room with ten people and I'd be nervous but in this room with just Kyle and myself, you don't even think about the people listening.
GIRL: So how did you get your break in radio Jackie?
Jackie: I just started out answering phones, working in reception then I went to the 'community switchboard'. I just did anything I could really to get in there. My major plan was never to get on air it was just to work within a radio station.
GIRL: What do you think has been the secret to your success?
Jackie: I think it has been not actually going to radio school, I think for a lot of people that is a big mistake. The minute you go to radio school you're trained to sound a certain way and people don't want that anymore. They don't want that polished sound, they want someone on the air who is just talking like you and I would in the lounge room. I think that is where I was fortunate, in that I just fell into it and kind of got into it that way as opposed to being taught how to talk on air. You're talking to the general public so it needs to come across as being very personal.
GIRL: Out of all the people you have interviewed throughout the years, who has stood out in your mind the most?
Jackie: Drew Barrymore was the most genuine and nicest person I have had the pleasure of meeting. She and Adam Sandler came into the studio one night and they were just really lovely - the most beautiful people.
GIRL: So in your spare time, do you hang out with any of the other radio personalities heard on the Austereo Network?
Jackie: I hang out with one of the guys who works on the show doing all the stunts called Donkey - we're very good friends.
GIRL: So how do you feel knowing that you are a role model to many young people?
Jackie: I think that is a wonderful thing; you know I never imagined that I would be a role model. I hope I'm a good one?! (laughs) But you do have to be careful at the same time though, you really have to watch what you do.
GIRL: Do you have any immediate plans to give up radio?
Jackie: No I think radio is the one for me, it is the most stable industry out of all the mediums, it's my bread and butter so I wouldn't actually leave it behind.
GIRL: Where do you see yourself in the future?
Jackie: I'd like to think that I'd be continuing to do what I'm doing now. Having said that, I place more importance on my personal life and whether I'm happy at home as opposed to what my career is doing. So if I am as happy in five years as I am now, then I'm okay with that.
GIRL: So what else is there to Jackie O'?
Jackie: What else? (laughs) I have a great love for animals - I try and help out at the pound and I'm a vegetarian.
GIRL: What advice can you offer to budding young radio stars?
Jackie: Persistence is the key and that is where it paid off for me. Be prepared to volunteer for the first year even if it's only part time work at night just to get yourself into the radio station and always remember what goes around comes around. Half my luck has been because I do unto others what I would like them to do unto me.
GIRL: And just out of curiosity, what five people would you invite to a dinner party?
Jackie: My boyfriend Lee, mum and dad, my best friend Natasha and Donkey!
- Annemarie Failla & Michelle Palmer