Josh Gad A Dog's Purpose
Cast: Britt Robertson, Josh Gad, Dennis Quaid
Director: Lasse Hallström
Genre: Adventure, Comedy, Drama
Rated: M
Running Time: 100 minutes

Synopsis: Based on author W. Bruce Cameron's beloved best-selling novel, A Dog's Purpose, from director Lasse Hallström (The Cider House Rules, Dear John, The 100-Foot Journey), shares the heartwarming and surprising story of one devoted dog (voiced by Josh Gad of Frozen) who finds the meaning of his own existence through the lives of the humans he teaches to laugh and love.

Over the course of five decades, a single voice – that of an indefatigable dog – takes us along a riveting and uplifting path that speaks to the heart of anyone who has ever loved an animal. Although he is reincarnated in the bodies of multiple canines through the years, it is his unbreakable bond with a kindred spirit named Ethan that carries and inspires the dog throughout his journey to find a true purpose for his boy. In 1962, eight-year-old Ethan Montgomery (Bryce Gheisar of Walk the Prank) and his mother (Juliet Rylance of The Knick) rescue a Golden Retriever puppy they discover suffering inside a hot car. Despite the reservations of Ethan's father (Luke Kirby of The Astronaut Wives Club), the family adopts the pup they name Bailey, and the friendship of a lifetime ensues.

Bailey is wholly the responsibility of Ethan – who feeds, walks and trains his puppy, as well as teaches him unforgettable tricks along the way. As Ethan becomes a teenager (KJ Apa of Shortland Street), he finds his first romantic love in the charming and caring Hannah (Britt Robertson of Tomorrowland), while remaining inseparable with his faithful Bailey.

Fresh off of a football career-ending injury and a devastating breakup with Hannah, Ethan heads to college to begin his next chapter. Unable to bring Bailey with him, he has to leave his trusty companion at home. While away at school, the aging Bailey becomes sick, and Ethan makes it to the veterinarian just in time for their final goodbye. Ethan is inconsolable. Just as we think that is the end of their bond…Bailey is reborn in the body of Ellie, a German Shepherd K-9 first responder with the Chicago Police Department. Indeed, no one is more surprised at this turn of events than the wiggly puppy who knows he is still Ethan's best friend. The audience next meets reincarnations of Bailey as a Corgi named Tino, then an Australian Shepherd/St. Bernard mix named Buddy. Though Bailey is unsure why his soul keeps returning again and again for new adventures, he will discover that the purpose of his many lifetimes is more crucial to his boy than he could have ever imagined.

Joining the talented cast of A Dog's Purpose are Dennis Quaid (Far From Heaven, The Rookie) and Peggy Lipton (When in Rome, Twin Peaks) as Ethan and Hannah as adults; John Ortiz (Silver Linings Playbook, American Gangster) as Carlos, Ellie's police officer owner; Kirby Howell-Baptiste (Love, House of Lies) as Maya, Tino's human; Pooch Hall (Ray Donovan, The Game) as Al, Maya's love interest; and Nicole Laplaca (Another Cinderella Story) and Primo Allon (The Age of Adaline) as Wendi and Victor, Buddy's neglectful owners, whose carelessness will ultimately lead our hero home.

A Dog's Purpose
Release Date: May 4th, 2017


About The Production
A Joyous Concept: What Is a Dog's Purpose?

After its publication in 2010, 'A Dog's Purpose" became an enormous hit, finding an audience with animal lovers across the globe who were charmed by its tender, poignant and humorous take on what our animal companions think of us and why they are truly here.

The No. 1-New York Times Best-Selling book spent more than one year on that list and has been translated into 20 languages, and published in 29 different countries worldwide. It even spawned a sequel, 'A Dog's Journey," which was published in 2012 and achieved similar acclaim.

The series author, W. Bruce Cameron, is well known as the writer of the best-selling humour tome '8 Simple Rules for Dating My Teenage Daughter." The book was adapted into a hugely popular ABC sitcom, which starred the late John Ritter, and Katey Sagal and introduced the world to The Big Bang Theory's Kaley Cuoco.

W. Bruce Cameron was moved to write the novel when the woman he was dating lost her dog and she was having a difficult time processing her grief. He explains the inspiration: 'We were driving up the California coast on the 101 freeway, and I was hurting for her. Out of nowhere, as if I downloaded it off the Internet, this story came into my head about a dog who doesn't actually die, but is reborn again and again and again, and develops the sense that there might be some purpose why this is happening."

The passenger W. Bruce Cameron was consoling was his future wife – as well as one of his fellow A Dog's Purpose screenwriters – Cathryn Michon. Michon remembers the day quite fondly: 'On our way to the Bay Area, we stopped to get a latte, and when I came back to the car W. Bruce Cameron told me he had a story to tell me…and that it was going to be his next book.

He told this story for 90 minutes straight, and by the end of it I was completely in a puddle I was crying so much."

For W. Bruce Cameron, watching dogs interact with each other and analyzing their behavior was the most helpful research he did before crafting his novel. The writer explains: 'The most important thing I did in researching the book was not reading about dogs, but going to the dog park and seeing how they behave. Dogs have a crazy social structure. Two dogs will be best friends, but when a third dog comes in the dynamic changes instantly." He laughs. 'It is 10 times worse than middle school."

According to the story's creator, the most difficult part of writing the novel was keeping it simple: 'I'm dealing with a dog, and a dog isn't going to be thinking in complicated metaphors. A dog is going to be mostly about nouns, much less about adverbs. Its vocabulary is generally limited to around 40 or 50 words, and I wanted to write from the perspective of a real dog and not a dog that could understand English."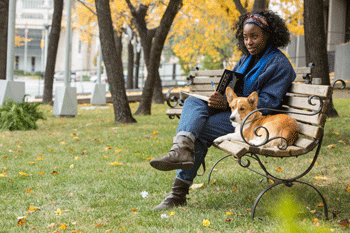 Producer Gavin Polone read 'A Dog's Purpose" while it was still in galley form, and at the request of W. Bruce Cameron and Michon, he would shepherd it through the development process. During this time, it drew the attention of Amblin Entertainment. 'We wanted to find a producer to take the book to the next step, and Gavin has such a great reputation for protecting writers, so we sent the book to him," reveals Cameron. In their mission to find a champion to take the book to the next step, they needed a director that would have the same goal in mind.

Given Lasse Hallström's track record of inventive filmmaking, and having already directed an Amblin Entertainment (then DreamWorks) film, The 100-Foot Journey, it was a unanimous decision that the filmic version of this story could not be in better hands. The director claims it is no accident he was attracted to the material: 'I made two movies about dogs previously – My Life as a Dog and Haichi – so this is my third dog story. If you have an interest in outsiders and emotions that seem irrational to humans, you can certainly relate to a dog's feelings and a dog's life."

While Cameron and his fellow script writers had to create rules for our story – in terms of what the dog was thinking and could process – Lasse Hallström also had to keep things logical…on what some might say is an illogical notion.

'Ultimately, the one rule we had was that the dog could not speak on camera," offers Lasse Hallström. 'With the narration, the dog's thoughts have human elements to it, and I have become more and more caught up in the idea of reincarnation because of this film. But whether the possibility is real or not…who knows. The point is to be open to the magic that there is something going on in the universe that we cannot yet explain."

Lasse Hallström felt his most important task as director was to ground the actor's and dog's performances in reality. His goal was not to stylise anything nor reach for the comedic aspects. 'I wanted a tone that feels authentic and has a light touch to it, while being rooted in real emotions – of both the dogs and the humans. It was a fun challenge."

Meet Our Dog Lovers: Casting the Film

Lasse Hallström looked to Dennis Quaid for the role of Adult Ethan, who he directed over 20 years ago in Something to Talk About. Known for his portrayals in both comedic and dramatic roles over the years, Quaid was the ultimate choice for Lasse Hallström.

'In the years since we last worked together, there has been a wonderful change to Dennis Quaid," lauds the director. 'He mellowed as a man, and was much looser. He got to improvise, and I was happy to have him contribute. He has the ability to queue the cameraman when he is finished with a take, and it made it enjoyable to work with him again."

For Dennis Quaid, it was an easy decision to reunite with Lasse Hallström. The actor adds, 'I love the story and that is what Lasse Hallström is so good with. He is a great storyteller who knows how to tell a story by language, in pictures and with sound. There are three of us playing Ethan at different times in his life, and I just loved what this movie is."


The performer continues, 'My character is the original owner of our dog reincarnate, and I play him later on in life. He is at a personal crossroads, and this dog comes back into his life and it reminds him of his true self."

For Young Ethan, 18-year-old newcomer KJ Apa was selected. Hailing from New Zealand, Apa starred in the local series Riverdale and The Cul De Sac. Brand new to the world of feature films, Apa was in for a treat when he joined forces with Lasse Hallström. 'This was my first film, and I did not know you could suggest different ideas to the director. In my television work previously, I did exactly what was on the page," says Apa. 'Improvising came pretty easy for me."

Lasse Hallström echoes Apa: 'I was happy to play around with KJ and give him the opportunity to improvise. He could have a career as a leading man anywhere in the world, I would say."

Apa elaborates on the challenges he faced while playing Young Ethan: 'The hardest part of the job was perfecting an American accent, and learning how to throw a football. I play rugby, and the throwing motion could not be more different."

As for the youngest Ethan in the film, another impressive newcomer was selected. Known for his role in Disney Channel's Walk the Prank, Bryce Gheisar sent in an audition tape that Lasse Hallström immediately responded to. 'We found Bryce pretty early in the casting process and I saw right away that he was the man," says Lasse Hallström. 'I did not want too trained of an actor because they tend to get a little too polished for my taste, and are not typically what I want out of a kid on screen."

Bryce Gheisar reflects on his experience in the role of Ethan, 'The first scene I filmed was when my character introduces Bailey to his grandma and grandpa. Bailey jumps out of the car and runs after the chickens, and it was so funny. That was my favourite scene to film." For the role of Ethan's Mom, Juliet Rylance was cast as the woman who jump-starts our whole story by breaking a suffering puppy out of a truck. Rylance – recognised mainly for her theatre work and her starring role in the horror film Sinister – entered into a new type of genre in A Dog's Purpose. Rylance explains: 'When Bailey comes into their life, my character immediately sees that it will be wonderful to have this puppy as part of their family. She makes a plea with her husband to keep Bailey, and he begrudgingly agrees. Ethan then grows up alongside Bailey, and the audience gets to see his life through his dog's eyes."

The performer reflects on working with both Gheisar and Apa: 'KJ has watched Bryce and has been able to see himself as Young Ethan, which was extremely helpful. It was great that they got to spend a good amount of time together, and they are both open-hearted and great fellow actors."

Luke Kirby was cast as Ethan's Dad – the alcoholic that wants nothing to do with their new dog Bailey. Like Rylance, Kirby was majorly involved in the theatre before delving into feature film work such as Take this Waltz, Touched by Fire and Rectify. The performer explains: 'Ethan's Dad is the bread-winner of the family, but he has his faults that can be more extreme than the average family."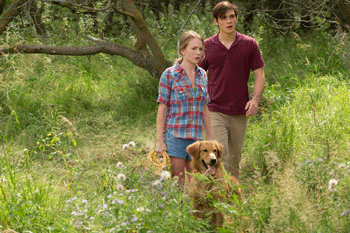 Apa reflects on the intense scenes between him and Kirby: 'There is a scene where Ethan finally stands up to his dad after years of watching him virtually abuse his mom, and I had to shove Luke. We rehearsed a few times, but Lasse Hallström told us to just go for it – and we did."

For the part of Adult Hannah, Peggy Lipton – famous for her unforgettable work in The Mod Squad and Twin Peaks – was selected. Quaid offers praise for his leading lady: 'Who didn't have a crush on her? Peggy is fantastic, and we are both only here for a couple of weeks. We were thrown in together and it is great to be working with her."

Lipton shares her experience reading the script for the first time: 'Everyone I talk to has the same reaction to it; they are all moved by this story." The performer comments on her choice to take on the role of Hannah, 'When you have a director like Lasse Hallström and get to work with an actor like the formidable Dennis Quaid, it was impossible for me to say no."

Britt Robertson was selected to play Young Hannah, Ethan's first love. Robertson got her start in the feature films Dan in Real Life and Scream 4 before landing roles in The Longest Ride and Tomorrowland. Hallström reflects on seeing her previous work: 'I saw her in The Longest Ride and loved her subtle performance."

Robertson reflects on her character: 'Hannah meets Ethan at a fair and she falls in love with his dog Bailey as much as she does with him. They have a pure bond and they truly have a ball with each other. Hannah hopes to build a life with Ethan and Bailey, but the story takes a different turn."

For the role of Carlos – Ellie's owner and companion – the filmmakers chose John Ortiz of Silver Linings Playbook and American Gangster to play the police officer who is devoted entirely to his work and his dog. Ortiz expands on his character: 'Carlos is alone and is dedicated to serving his community. Privately, he is pretty lonely, but there are hints that he had a relationship in the past that meant a lot to him. Ellie is his partner that quickly becomes his everything."

Kirby Howell-Baptiste of House of Lies and Love was cast as the socially awkward Maya – Tino's owner – and the performer reflects on the movie-within-a-movie feel of her character's arc: 'Lasse compartmentalized each of the stories and gave each of them their own vibe. They almost feel like different movies and you definitely felt that when we were shooting."

Howell-Baptiste recalls the emotion she felt reading the book and script of A Dog's Purpose: 'I have read the book twice and I cry every time. I cry every time I read the script as well. This story cannot help but get you right in the heart."

For Maya's love interest, the filmmakers cast Pooch Hall in the role of Al. Known for his roles in the long-running television series The Game and Ray Donovan, the performer reflects on his experience with Howell-Baptiste: 'Kirby and I were given total freedom from Lasse Hallström to let go of the standard structure and just perform, and it felt like we were creating magic."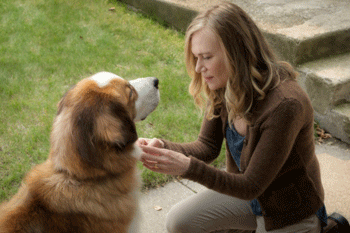 Howell-Baptiste adds: 'Pooch and I had a blast filming together. When we met each other for the first time, he just gave me the biggest hug. There was no ice to break. That was amazing because our part of the movie is essentially just the two of us, so it was great that we connected immediately."

For the abusive owners of Buddy, Nicole LaPlaca and Primo Allon were cast as Wendi and Victor, respectively. It is not long before Buddy ends up abandoned and finds himself at an all-too-familiar farmhouse, with his true purpose soon to be found.

The Perfect Narrator: Finding Bailey

With the human and canine cast assembled, production began in August 2015 in Winnipeg, Manitoba. Production wrapped at the end of October 2015, but it certainly was not close to being finished, as the real star – the heart and soul throughout the entirety of the movie – the voice of Bailey, had not been cast.

Lasse Hallström and Amblin reached out to Tony Award-winning actor Josh Gad with high hopes of finding their star. Known to tens of millions as the voice of Olaf in Frozen, Gad came to fame as Elder Arnold Cunningham in the multi-Tony Award winning 'Book of Mormon", which launched his career.

His unparalleled vocal abilities are just as melodic as they are humorous and emotional, and the filmmakers were certain he would be the production's perfect Bailey. 'After hearing what Josh Gad did with Olaf in Frozen, I had a pretty good sense of his talents and why he would be great for the role of the narrator. But when we started our work, I was truly moved at what an amazing match he was for the visuals of the dog and how he connected to that character," says Lasse Hallström.

Josh Gad was under the impression that he was being asked to consider doing voiceover work for a talking dog, but soon realised the part encapsulated so much more. Josh Gad reflects on the casting process: 'I have always been a huge fan of Lasse and have been longing for the opportunity to work with him. I got a call one day saying there was a new movie that he directed and wanted me to be a part of. I got extremely excited and was told that the movie was shot already. I did not understand."

The performer continues, 'My initial reaction was that I did not want to do a talking animal movie, but Leslee Feldman (VP of Casting at Amblin) told me to watch the film before I made my decision. She handed me a tissue box and said, -Here, you are going to need this.'" 'I watched the film – realised it was not a talking dog – and was so moved and blown away by it that I felt compelled to be part of it. If someone walked in, they would have thought I was robbed at gunpoint and watched a family of squirrel's burn down because I was sobbing. After completing the part, I can honestly say that I have not felt this way about a project I have been involved in since Frozen. Anyone watching this is going to be in awe of the beauty, the truth and the entertainment of what Lasse Hallström has put together," says Josh Gad.

Four-Legged Actors: Dogs of the Film

The true leads of A Dog's Purpose are the four canines that bring the soul of Bailey to life. The Retriever Trip is the original Bailey, the German Shepherd Shadow plays Ellie, Mailo the Corgi plays Tino and the mixed St. Bernard and Australian Shepherd Bolt plays Buddy.

Given that the dogs had to do specific actions in the script, Lasse Hallström left it to lead animal trainer Mark Forbes to select the breeds.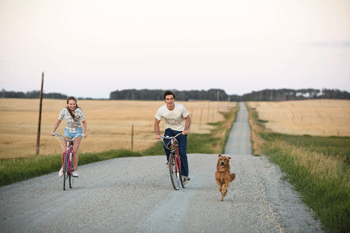 Finding the dogs – as well as doubles and puppies of the breeds – was quite the journey. Forbes started on the Internet locating rescues, shelters and breeders and after a month or so had enough candidates for the parts.

Forbes searched all over the country to find the perfect dog to play Bailey. The trainer clarifies: 'Once it was decided that Bailey would be a Red Retriever, we looked all over the country for one who had both the temperament to be trained and a special look that showed some great character. We finally got lucky and found and acquired Trip from a Gun-dog Breeder in Arkansas."

'I had to wing it with the dogs sometimes but every now and then I was able to impose a performance on the dogs and make it work for how I saw the scene," says Hallström.

'The true credit for that goes to Mark Forbes and his team; they were truly remarkable on what they could get the dogs to do."

To find the canine to play Ellie, Forbes explains: 'Ellie was played by a German Shepherd named Shadow. We found Shadow through an ad in the paper in Orlando Florida." Ortiz reflects on acting with Shadow, 'Working with a dog taught me so much; it forced me to stay in the moment and allow things to happen beyond my control."

Forbes lauds over the rags-to-riches story for the dog he found to play Tino, 'Tino is played by a wonderful little Corgi named Mailo. Mailo came to us through a Craigslist listing from a gentleman in Los Angeles who could no longer keep him because of his living arrangements. So, we adopted him and turned him into a movie star."

Howell-Baptiste shares her favourite day on set: 'Those corgi puppies are the most adorable animals I have ever seen. There were four on set and I fell in love with all of them." But it is the dog that plays Buddy that has the most interesting backstory. 'We rescued Bolt from a Dog Zoo in Japan where an Australian Shepherd had jumped his fence and spent the night in the next pen with a female St. Bernard. A short time later, there was a litter of mixed Australian Shepherd and St. Bernard puppies that the zoo did not want. We took in little Bolt, as well as his brother Lewis and his sister Hena," says Forbes.

For Forbes, it was an interesting challenge – maybe the most interesting of a long career training animals – to have four dogs convey the soul of one animal. 'Four completely trained breeds to play this one soul was an interesting challenge," says Forbes. 'There was a script which was based on a book, so we had some guidelines as to the look of the dog. Once we found the look of the various dogs, the second most important thing was the temperament of the dog. Is it trainable?"

Since a dog was present in almost every scene, Forbes' team was on set nearly every moment of shooting. 'A movie set is controlled chaos, so we have to get the dogs used to the environment. We took them to different locations: a park, a shopping mall and anything with people and equipment. We then spent the first eight weeks just working on the basics with the dogs. After that, we started rehearsing specific actions that were called for in the script."

The key element for the trainers was to build absolute trust with the dogs. When complete trust is established, their bond with the trainer tells them they are always going to be safe. Forbes notes, 'Lasse Hallström absolutely understood the parameters we are faced with and when he first met the dogs to see what they could do, you could see the wheels in his brain working on how to adapt the script."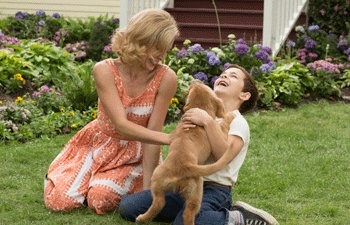 'This production was totally unique," says Forbes. 'Lasse would literally let the dogs improvise if it was within the parameters of what we wanted from the scene. Normally, dogs and improvisation do not go together, but we learned not to go rushing in if the dogs were not doing exactly what we planned because Lasse Hallström might like what the dog was doing differently."

Lasse Hallström discovered that Trip actually had his own instincts for acting, he explains: 'It sounds crazy, but Trip did things that were unexpected for both the trainers and me but like a good actor, his choices worked."

Robertson echoes the praise for Trip: 'KJ and I were constantly fighting over Trip. He is truly the most special dog in the world; do not tell Buddy and Clyde." Gheisar adds, 'Trip is such a loving dog. He does not lick too much, and he cuddles. He is exactly what I would like in a dog."

From Winnipeg to Chicago: Design of A Dog's Purpose

Lasse Hallström – always a pioneer for granting freedom and creating minimal restraints for his cast and filmmakers – continued this style in the production design, cinematography and costumes of A Dog's Purpose. Known for his affectionate portrayals of dysfunctional families in such films as My Life as a Dog, What's Eating Gilbert Grape, Salmon Fishing in the Yemen and Chocolat; the director enlisted an A-list team to bring these aspects of the film to life.

Production Design and Location

Once the family farm was located, production designer Michael Carlin reimagined the inside of the house. That – as well as the other parts of the movie – is more a homage to photographer William Eggleston's work of Americana.

The location for the Montgomery family farm was found three hours west of Brandon in Manitoba, Canada. The inspiration for this remote location was the famed 1948 Andrew Wyeth painting 'Christina's World," which was the template for finding the location. While on the hunt for flat land to become the home for the farm, nearly all of the farms in Winnipeg planted trees that created huge windbreaks. Finding the gently rolling ground without trees was not easy, thus the trip to Brandon.

The director felt the location found in Brandon was perfect and decided to have fun with the period piece nature of the story. 'This farmhouse had a magical look to it. It felt right," says Lasse Hallström. 'It is great fun to work with a period piece and, in particular, the Americana of the cars and clothes from the 1960s and beyond."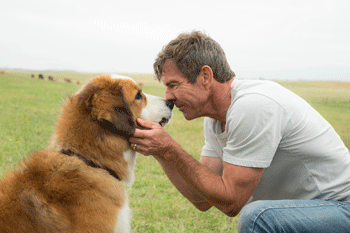 The production utilised the downtown street of Virden (west of Brandon) to re-create 1962 by altering the storefronts; it then contacted local car clubs for some period automobiles. Rylance reflects on the extraordinary farmhouse setting: 'Everything was so flat, but you get these huge open skies. That is something the scenes by the farm utilize, and a green screen just would not have done that justice."

After the work near Brandon, the production moved back to Winnipeg for the balance of the movie. 'It is not a huge shift going from the farm to the suburbs, and then to Atlanta and Chicago, but the viewer will know it is a different story and a different time," notes Carlin.

Truly, A Dog's Purpose was unique because it consists of three small movies, bookended by a big movie. Carlin expands: 'We wanted to start and end with a real but idealised world. When the movie switches gears to Chicago and beyond, we wanted the audience to feel a difference."

The Exchange District in Winnipeg proved to be a perfect stand-in for Chicago in the '70s. Winnipeg, long ago, was considered the Chicago of Canada, as it was the centre for the national rail lines and the grain crop ran through Winnipeg. 'It does not have the massiveness on the horizon that Chicago has, but up close the individual buildings worked out perfectly," says Carlin.

Since Carlin and Lasse Hallström collaborated on Salmon Fishing in the Yemen, he was no stranger to the improvisation nature of his directing strategy. 'Lasse improvises a lot. He has this uncanny way of finding part of a scene that a lot of us did not even notice was there until he points it out – it instantly becomes the most natural thing in the world. That is what makes him special," says Carlin.

Given the challenge of four different stories and three different time periods, there was a decision to be made on how the audience would see each of those settings tie together – or not. Carlin explains, 'We did not necessarily want to tie all of the stories together. We utilised colours to create the shift in stories when we moved to different time periods and locations."

Cinematography

Director of photography Terry Stacey and Lasse Hallström decided to create subtle differences for each period and each dog. 'When we tell the story of Bailey's life during the 1960s and 1970s, the camera work is more traditional with the longer takes and the gently moving camera. When we go to Chicago in the 1970s, it is rawer," explains Stacey. 'It is more handheld and more like the police shows. We are back to a more traditional way of telling the story when we reach present time. There are subtle differences only in the style we are telling it."

The movie marks Stacey's fourth collaboration with Lasse Hallström, so he realises being nimble is paramount. 'Lasse Hallström is organic in his process and molds the scene in unique ways. He does formulate the scene much like a musician creates jazz," says the DP. 'The process always turns up that extra magic that was never initially apparent to any of us…except him maybe."

Like the other filmmakers, Stacey had to approach this movie in a unique way. 'I did a lot of research as to what dogs see and what their field of view is, as well as the colours," he notes. 'But I realised that would be bit boring as everything would be blue and grey. So I took a bit of poetic license with the dogs' point of view, but I did keep things wide for their shots."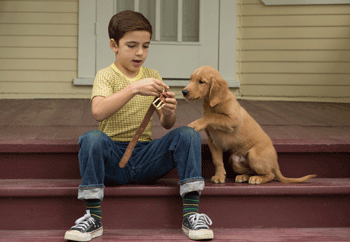 Costumes

Unlike Stacey, poetic license was not exactly granted to costume designer Shay Cunliffe at first. Given Lasse Hallström's desire to keep the costumes as muted as possible, it was a challenge to stay true to the director's wishes while also doing justice to the styles of the past.

'I gave Shay two rules: no headwear and stay real," says Lasse Hallström. 'If you want to state something with wardrobe, do not state it in my film. I want it to be subtle, and not take over and become theatrical and unreal."

That note aside, the late 1970s and early 1980s had clothing that was not exactly subtle. Lasse Hallström admits it was not easy to stick to his golden rule, 'It almost looks too loud and flashy when you go into period costumes, but it is a real thing. You look at photos, and the style of the 1970s and 1980s truly was the real thing."

Before Peggy Lipton was cast, Cunliffe, as her custom, was creating research binders for the various characters to share with Lasse Hallström. 'For Young Hannah, I found a picture of Peggy from her time during The Mod Squad, which in my mind perfectly captured the style and feel of the girl described in the script. Mind you, this was before Peggy was cast," recalls Cunliffe.

Robertson recalls the strategy of ensuring the look and portrayal of Hannah stayed loyal to the script: 'With every take and every scene, each detail was considered. It is not about finding the character and fine tuning it; it is about knowing the scope of where she comes from and where she is going. She is a young girl full of life."

Cunliffe had the treat of styling multiple actors as the same character in different phases of their life, and had fun tying it together. The costume designer explains: 'There is a jacket that each Ethan wears that reflects a choice made by another Ethan. I hope the audience does not notice it too obviously, but subliminally it feels like they are seeing through a line of all three actors."

Howell-Baptiste adds: 'My outfits were great; during fittings I felt like the more repulsed by something we were, the more perfect they were for my character," the performer laughs. 'Pooch had an outrageous sweater that I can still see in my head."

With the narration of Bailey as the throughline of the movie, Cunliffe had to give special attention to the shoes the characters were wearing…since the dog's point-of-view is highlighted from the lower leg on down. 'I definitely dressed the actors from the feet up and the hem lengths from the 1960s to today definitely changed, so we were rather fussy about that."


A Dog's Purpose
Release Date: May 4th, 2017