Kevin Hart The Secret Life Of Pets
Cast: Kevin Hart, Louis C.K., Eric Stonestreet
Directors: Chris Renaud, Yarrow Cheney
Genre: Family, Comedy

Synopsis: Taking place in a Manhattan apartment building, Max's life as a favorite pet is turned upside down, when his owner brings home a sloppy mongrel named Duke. They have to put their quarrels behind when they find out that an adorable white bunny named Snowball is building an army of abandoned pets determined to take revenge on all happy-owned pets and their owners.

The Secret Life Of Pets
Release Date: September 8th, 2016
Furry Featurettes
-A Look Inside'
-Duke'
-Snowball'


About The Production
The Story

In the heart of Manhattan, Max has an ideal relationship with his adopted owner, Katie. One day, when big-hearted Katie brings home a rescue"a giant, fluffy, unruly mongrel by the name of Duke"Max is stunned. Duke, however, happy to have a home of his own, immediately takes liberties and assumes that he and his new brother are going to share this comfortable life with one another.

As Max tries to hold on to his turf, Duke"who's really a big, sweet dog who's been through rough times"doesn't understand Max's rebuff and feels anxious that Max is trying to get rid of him. The one thing Duke knows is that he can't go back to the pound…he barely escaped the last time.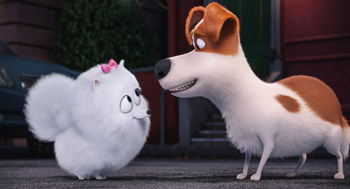 This conflict lands them locked up in an animal control van and on their way back to the pound. But when an ex-magician's bunny named Snowball"leader of a gang of pets abandoned by their former owners, who call themselves the Flushed Pets"breaks into the van to rescue one of his own, Max and Duke see their chance and negotiate their freedom.

In exchange, Snowball demands that they serve him in his army of Flushed Pets and live in the sewers underground"plotting revenge on the humans that abandoned them.

Once Snowball discovers Max and Duke are actual pets who live in the lap of luxury, he unleashes his soldiers to pursue them throughout New York City. Forced to tap into their primal instincts to survive, these unlikely new brothers must navigate the wilds of the urban jungle and make it home safe…all before Katie returns.

The Idea

Chris Meledandri, who as founder and CEO of Illumination Entertainment has built the company into one of the entertainment industry's leading producers of event animated films, discusses the inception of The Secret Life of Pets: 'The inspiration behind Pets was all of the pets that my family and I have owned since I was a little kid.

We grew up with a cat and dogs and a bird, and what I realised as I became a parent was that we all invested these pets with rich emotional lives. Whenever we'd come home we would be thinking about the joy in their faces in seeing us and thinking about them doing things that were a little bit naughty. We realised we were asking exactly what they had done while we were out.

'It struck me that I wasn't alone in wondering about what the inner lives of our pets were," he continues. 'The minute I started to look at my own pets that way, I realised that everybody looks at their pets through that lens. Whether or not it's a real emotional life or a projected one…it doesn't matter. We're fascinated with their inner lives and highly curious about what they're doing and thinking when we're not around."

While Chris Meledandri is based in Santa Monica, California, with a great deal of Illumination talent, producer Janet Healy, with whom he has produced all of the films in the Illumination canon, runs Illumination Mac Guff in France. He is adamant that no production is conceptualised without Healy's deep involvement, complimenting: 'Janet Healy is the best producing partner I could ever imagine having, and at this moment in time we're producing multiple films together. She brings a level of leadership, creativity and energy to every aspect of every movie.

'When you're taking on that many films at the same time, there has to be a seamless relationship," Chris Meledandri continues. 'I honestly believe that she has to be the best producer working in animation today. What's great is that we not only get to enjoy these films as producing partners, but we also get to enjoy the experience as friends."

For her part, Janet Healy sparked to the film's premise. 'Chris Meledandri's idea spurred all of us to remember those conversations with our families about what our pets really do all day," she reflects. 'We project so much character onto our pets"the things we want them to be. Even when those qualities aren't there, we continue to feel that they have this secret, full life that we're not a part of. When Chris Meledandri told us this high-concept idea, we thought it was amazing. He's a great leader because he's so decisive and understands animation and character like no one else."

Working with the writing team of Cinco Paul and Ken Daurio, with whom they have worked on the films in the Despicable Me franchise, as well as Dr. Seuss' The Lorax, Chris Meledandri and Janet Healy asked them to develop this idea into a screenplay. They then passed the baton to writer Brian Lynch, known for his work with Illumination on Minions and Hop.

Chris Meledandri can trace the different characters in the film back to the colleague whose pets inspired them. 'Cinco Paul and Ken Daurio shouldered the project initially, and Brian Lynch has worked with us for the last year-plus," he notes. 'A lot of the anecdotes of his life made their way into the film. It's been a great pleasure to watch as everyone has brought their individual experiences of pets, whether they're from childhood or from the pets that they have now, into this movie."

Ken Daurio explains how it all began: 'The first thing that Chris Meledandri pitched to us was the image of a dog watching his owner leave the house. As soon as the owner leaves, the dog dumps his food in the trash and opens the fridge to find something better to eat. That was the initial image that was planted in our head, and it stayed with us throughout this entire process."

Cinco Paul describes what drives the process he shares with Ken Daurio: 'The key to an Illumination film is lots of laughs and lots of heart. We want people to laugh as much as they possibly can, but we also want to make them cry a bit at the end as well."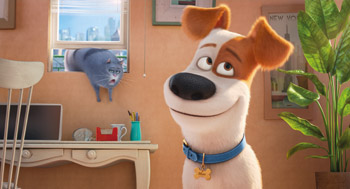 As they pondered upon the setting, the duo was drawn to a New York apartment building. 'Early on, we decided we wanted this story to take place in an apartment building," Cinco Paul says. 'That gave us access to a lot of pets and the idea that when the owners are away, they party. They gossip and drink out of the toilet; things they would never do if their owners were watching."

This is Brian Lynch's third collaboration with Chris Meledandri, and he appreciates Meledandri's character-centric approach. 'Chris Meledandri always says, -We'll come up with the story and the set pieces later. Let's work on who our lead character is, what happened to him or her before and what we want the audience to know about them and feel about them. We will go from there,'" offers Brian Lynch. 'It has always been helpful to work that way."

Brian Lynch loved extrapolating upon these pets' secret lives, revealing: 'This film is a salute to how much all of us love our pets. No matter what they do in the movie, the new friends they meet or the death they defy, they still have to be back at the end of the day to see their owners come home. Even if they go on crazy adventures during the day, the highlight of every day is when their owner comes home."

The moment that Max's owner brings Duke home from the pound has a special inspiration of its own. Laughs Chris Meledandri: 'I imagine Max feels a bit like my nine-year-old son must have when my wife and I came home from the hospital with a new baby: -Where did this guy come from? Who asked him here? My life was fine before he arrived and, no, I don't want to share everything that I've got that's so perfect.'"

The Filmmakers

Producers Chris Meledandri and Janet Healy have partnered with The Secret Life of Pets' director for many years. 'When I was running animation at FOX and executive producing movies, Chris Renaud was our star storyboard artist. Eventually, we gave him a short film called No Time for Nuts to direct," Chris Meledandri provides. 'He did a fantastic job, and when I started Illumination I asked him to join us with the idea that he would direct."

'We've worked together since the first Despicable Me, which he directed along with Pierre Coffin," says Chris Meledandri. 'Making an animated film like this involves thousands of decisions on a weekly basis. You're bringing together hundreds of creative members of your crew"who are all contributing on significant levels"and you have to find a way to not only guide them and nurture them, but also synthesize their contributions so that the movie feels like one holistic expression. That, plus you have to make the film charming and engaging, and distinctive. Chris Meledandri does that all and is just an enormous talent."

The next project Chris Renaud would helm for Illumination was 2012's Dr. Seuss' The Lorax. On that film, explains Chris Meledandri: 'Our production designer was Yarrow Cheney, who had also been production designer on Despicable Me. At the same time we were making these films, we realised that Yarrow Cheney also had a directorial side. We began to see that he had real potential as a director."

This potential was further realised when Yarrow Cheney directed Puppy, one of the sweetest shorts that Illumination has created, and the production team decided he was ready to co-direct. Says Chris Meledandri: 'Janet Healy and I consider him to be part of the foundation of this company. He is also a tremendously good-natured leader."

In fact, very few people at Illumination know the director and co-director as well as producer Healy. 'I've spent a lot of time with Chris Meledandri and Yarrow Cheney over the last eight years," she offers. 'They have incredible talents and very complementary skills. They're both so adept and experienced at animation, but Chris Meledandri comes from a storyboarding and comic-book background, so he's a master of timing and staging. He's got a comic sensibility that can be very irreverent and always fun. Yarrow Cheney, on the other hand, has an artistic background in fine arts. He's a beautiful painter and has one of the most precise and sophisticated color senses of anybody I've ever met. He's extremely good at conceptualizing environments, pinning down characters and arriving at a great animation color palette. Together, they're a full package that makes this movie wonderful."

Director Chris Renaud explains what drew him to the film: 'What I wanted to do was to portray pets in this very contemporary way. I also liked playing with this funny, very real idea that when you leave your dog, even if you come back 20 seconds later, they act like you've been gone for 24 hours. They're so thrilled to see you, and their short-term memory doesn't quite work. That's how we play Max, who sees Katie through that lens in his own life. She's the center of his universe, and he expects that's how she feels as well…until she brings home this other dog."

Co-director Yarrow Cheney discusses his inspiration: 'Every animal has their own personality, and there is so much humor in that. They aren't people, but it feels that way. To have the opportunity to capture that in film is what spoke to me, especially as a pet owner. When we leave for work or school in the morning, we are essentially handing over the keys to our pets. It is now their place, and for this universe we imagine that they have their own daily routines, just like humans."

Early on, Chris Renaud and Yarrow Cheney realised that framing the entire movie from the pets' perspective would not be practical. Still, in order to maintain a sense that the characters we are following are a group of pets"and that we're experiencing this journey through their eyes"the director and co-director judicially selected many 'pet-perspective" shots.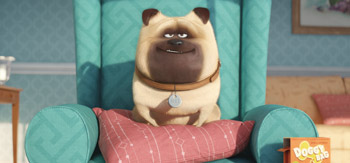 While so many films with animals anthropomorphize them, the team knew it was crucial that the characters maintain their animal characteristics so that the audience would relate to them as pets. 'What I wanted very early on in the animation style was to make the animals…animals, and not depict them in a wholly anthropomorphic way," provides Chris Renaud. 'When we look at animation problems, we would ask each other, -How does he get from point A to point B? How does she spin around or lift her paw.'" That extended to more complex scenes. 'For instance, we have a moment where a few dogs hear something that sounds like somebody's in trouble. But they're instantly distracted by a butterfly flying by and run off in the other direction."

Yarrow Cheney elaborates: 'We wanted to portray these animals as pets. Our goal was to have the audience look at the actions of these animals and think that is something their own pet would do. Instead of a film where the animals are wearing clothes and walking around on two legs, we wanted to make our animals act like animals."

When the production team set out to define the comedy's characters and their distinctive personalities, it was critical to strike a balance between a higher intelligence and one that felt like it was coming from the pet itself. They knew that the minute they crossed the line and depicted a human trapped in a pet's body, they lost the essence of the idea. It was crucial to make audiences feel: 'This is the way my dog or cat acts when I'm not around."

'The best example is what happens when we leave the house in the morning," notes Chris Meledandri. 'Our movie starts with Katie leaving, and Max is immediately struck with how much he misses his owner. His plan is that he's going to sit by the door all day and wait for her. Now, when Max expresses that to another character, yes, he's talking but you believe that; it's a doglike behavior. Many of us would fantasize that is what our own dog would do when we left the house. The goal has always been"in the writing, directing, and down to the animation itself"to always maintain those behaviors and nuance performances that are true to the pet."

The Characters Max (Louis C.K.): A pampered Terrier mix, Max will need to find his courage before he can find his way home.

Duke (Eric Stonestreet): A giant, fluffy, unruly rescue who Katie saves from the pound, Duke is going to be part of Max and Katie's family, whether Max likes it or not.

Snowball (Kevin Hart): An adorable and deranged Bunny who's building an army of 'Flushed Pets" who have been abandoned by their owners, Snowball is insanely cute…and also, insane.

Katie (Ellie Kemper): Max's devoted owner, saving the world one dog at a time.

Ozone (Steve Coogan): An alley Cat with an attitude, Ozone is ugly inside and out.

Tiberius (Albert Brooks): A lonely Red-Tailed Hawk, Tiberius has a sharp wit, and even sharper talons.

Pops (Dana Carvey): An old Basset Hound, Pops knows the city like the back of his wrinkled paw.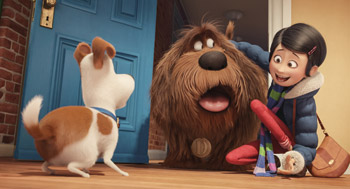 Mel (Bobby Moynihan): An optimistic, excitable Pug, Mel is a lady-killer on the inside, dopey pug on the outside.

Buddy (Hannibal Buress): A sarcastic Dachshund, Buddy is the first to arrive, last to leave.

Chloe (Lake Bell): A fat Cat, Chloe can't be bothered unless you've got food.

Gidget (Jenny Slate): A naïve, but gutsy Pomeranian who is 50% fluff, 110% tough, Gidget is Max's secret admirer.

Norman (Chris Renaud): An oblivious Guinea Pig, Norman has a brain the size of a pea, and chooses to use only half of it.

Sweetpea: A fearless Budgie, Sweetpea has two wings and no prayer.

Leonard: A posh punk Poodle, Leonard is a penthouse pet with a penchant for hard rock.

Tattoo (Michael Beattie): A Pot-Bellied Pig, he was used for practice at a tattoo parlor…until they ran out of room on him.

Ripper: No bark, just bite.

Crocodile: Snowball's scaly muscle.

Dragon: Cold-blooded…literally.

The Voice Cast

When the filmmakers sought out voice talent for The Secret Life of Pets, they found it wasn't difficult to pitch the project. Reveals Chris Meledandri: 'Everybody was excited for the same exact reason: We all love our pets and are absolutely convinced that they have a life beyond what we see when we leave them in the morning or come home at the end of the day. That's one of the great joys of pets"thinking about what their emotional lives are like and appreciating the unconditional love that we get from them."

Chris Meledandri states that Illumination also appreciates performers who can bring a bit of wickedness and slightly off-center vocal mannerisms to their roles: 'Steve Carell did a fantastic job of that in Despicable Me. Kevin Hart does this with Snowball, and this unexpected quality is one of the reasons why we love working with Louis C.K. At the same time, we're also not afraid of warmth. We always feel that if those feelings are authentic within the context of the movie that they enrich the film. There is no better example of that than Eric Stonestreet's persona of Duke."

As they wrote to Louis C.K.'s sensibilities, the team found that Max manifests the dry sense of humor that the comedian offers. 'Louis has such a unique and dry and distinctive personality, and it's the first time he has voiced a character in an animated movie," Chris Meledandri continues. 'He is one my favorite comedians, and one of Chris Meledandri's. Whether it was writing for him, animating to his voice or designing for him, the whole team loved working with him. He brings such distinction to the personality that it gave to Max."

A giant, huggable mutt with a big heart, Duke is up against tough odds because he doesn't have another chance if he ends up going back to the pound. The lovable mongrel is voiced by Eric Stonestreet, also new to vocal work in animation. Of Stonestreet's performance, Chris Meledandri raves: 'Eric Stonestreet is a big guy with a big heart who also happens to be an extremely talented actor. His spirit is undoubtedly in this character, and there's warmth to him that comes through in Duke…even when Duke's doing things that might not feel that likeable. The character always has an appeal and that comes from a combination of Eric's voice, the writing and animated performances that were informed by bringing Eric's voice to life."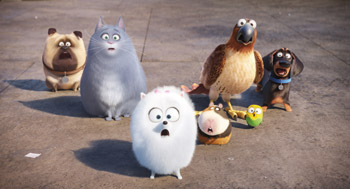 Because these two characters are initially at odds with one another, the relationship that forms between Max and Duke defines the heart of the movie. Max has no interest in having a fellow dog share his perfect home with his perfect owner, but by the end of the movie, they effectively become brothers.

Discussing the team's process with Louis C.K. and Eric Stonestreet, editor Ken Schretzmann explains: 'Louis C.K. and Eric Stonestreet weren't in the same room when they recorded the scene where Snowball confronts Max and Duke. So much of the scene is improvised, and it was my job to integrate those two sessions and make them sound like they were in the same room. There is a lot of overlapping, laughing and cajoling, and I love how convincing it is that they were in the same place."

Chris Meledandri raves that Snowball is absolutely one of the wildest, most imaginative animated characters on any film he has ever seen. He agrees with his colleagues that so much of that energy comes from the man who vocalises the wayward bunny. 'Just like with Louis C.K. and Eric Stonestreet, this is Kevin Hart's first voice for an animated movie," Chris Meledandri says. 'He loves Snowball, and it comes through in the performance. He has a blast as the character, and that is so apparent because the performance is filled with joy.

Snowball's a rascal, so it's hard to play a character who is somewhat wicked but is still so appealing every time he's on screen, but Kevin Hart embodies it. His voice for this fluffy, adorable bunny"who in a nanosecond can turn crazy"is phenomenal."

In fact, Kevin Hart actually said in one of his recording sessions with Chris Renaud that he was literally Snowball himself. 'Both Kevin Hart and Snowball are forces of nature," adds Brian Lynch. 'When you give Kevin Hart a two-line joke, he is able to turn it into an eight-line joke that is so much funnier than the one you wrote."

Gidget is voiced by Jenny Slate, an impresario of voices and a filmmaker in her own right, who returns to Illumination with Pets. Says Chris Meledandri: 'We've worked with Jenny Slate before, and she's so talented and vocally special. She's defined a personality for Gidget that is all about the unexpected. On one hand she's this adorable, fluffy, white Pomeranian, but she turns out to be our toughest character. She also has this massive crush on Max. She looks like the quintessential dog from a pocketbook in Beverly Hills, but she turns out to be hard-driving, unyielding and quite heroic."

Max and Duke's owner, Katie, is portrayed by Ellie Kemper, who has impressed audiences with her versatility and timing in films from Bridesmaids to her Netflix series, Unbreakable Kimmy Schmidt. All agree that Katie is a tricky role. While the movie follows groups of pampered pets and a gang of former pets who have been abandoned, we only see Katie in the beginning of the movie and then again at the end. She has quite a bit to do as a bookending character with relatively little real estate.

Katie is the exuberant character we immediately identify with the most because she is us. 'She is the pet owner who has a big heart," says Chris Meledandri. 'Katie is sweet, Max adores her and she wins us over as an audience almost instantaneously. Ellie has such a wonderful sense of humor that she brings to every line. She adds a personality that's infectious."

'Ellie Kemper is someone that you want to hang out with, and that is the personality we needed with Katie," notes Brian Lynch. 'The audience immediately understands why Max is so devoted to her, because she is the warmest and nicest person in the room."

Although condescending, elegant fat cat Chloe has a heart of gold buried beneath all that fur and bravado. The production team had a particular fondness for Chloe, as she embodies what all cat lovers know and love about their felines: They are dealing with a higher intelligence than perhaps any other pet. As well, cats give or withhold attention based on their good moods or perceived peccadilloes on the part of their humans. Still, cat lovers know that their cats love them.

Lake Bell, who portrays Dr. Cat Black on the longtime TV hit Childrens Hospital and has also directed a number of episodes of the show"as well as the critically acclaimed In a World"voices the voice of reason among the residents of Max's apartment building. Of Lake Bell's performance as Chloe, Meledandri lauds: 'Lake Bell captures that indifference and intelligence of a cat perfectly. She invests this character with personality simply by using her voice. She has brought this superiority indifference, at times condescending but ultimately lovable, in spite of all of those classic cat qualities. She nails those quintessential catlike moments and attitudes."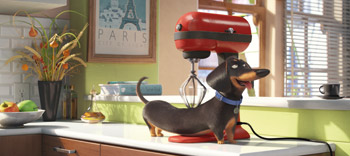 Janet Healy, arguably one of the biggest cat lovers on the team, has a special place in her heart for this pet. She laughs: 'Chloe looks so much like the cat that I had for 18 years, an 18-pound gray tabby named Binky. I remember when Binky did something that was amusing or when I'd wake up and there'd be this tiny pat on my cheek. There would be this cat in my face going, -Feed me.' So much like Chloe. When I hear Lake's laid-back -I don't really…' delivery, I know that Binky would have talked that way. She's a great choice and a good contrast with the other voices. She just is this cat."

The ancient Basset Hound called Pops is vocalised by Dana Carvey, the man of 1,000 personalities and voices. Chris Meledandri discusses their time together: 'I had the good fortune of working with Dana Carvey on the first film I produced, Opportunity Knocks, which was made for Universal and Imagine. I had been a fan of Dana Carvey's before that but got to know what he was capable of. He is one of the smartest, most inventive, consistently funny comedic voices that we have. This has been such a great reunion for us, and everybody in the film has fallen in love with Pops. Dana Carvey has done a marvelous job inhabiting with the voice of a cranky old man."

Brian Lynch provides that Dana Carvey served double duty on set: 'When Dana Carvey was in the room, I would write lines and give them to him, and he would deliver them right away like he had been rehearsing them for days. He came in with lines of his own and did my homework for me."

Writer/comic/performer Hannibal Buress, who is known for his deadpan timing and witheringly dry humor, was brought on board to portray the sarcastic Dachshund Buddy. Brian Lynch discusses Hannibal Buress' casting: 'Buddy was originally going to be a smaller character but quickly became the voice of reason because of Hannibal Buress's timing and his attitude."

Buddy's best friend, the lovable Pug Mel, is not the brightest bulb, but his infectious joy and can-do attitude make up for any shortcomings. We meet Mel while he's performing his daily ritual of sitting in his owner's favorite chair and barking at the squirrels outside the window. As Mel is mostly oblivious to the world around him, Chloe and Gidget find him a liability. Still, Chris Meledandri raves: 'Bobby Moynihan is simply hysterical as an actor and he has brought to Mel this infectious personality. When you add Bobby's voice and personality to Mel's walk, Mel becomes a character that you can't help but love."

Last, but certainly not least, is the wise Red-Tailed Hawk named Tiberius, played by the incomparable Albert Brooks, whose Marlin in Finding Nemo stands as one of the greatest vocal works in animation history. A natural predator whose diet is small animals, Tiberius manages to bond to this ensemble of characters and is able to refrain from his instinct of eating them. He has a particularly curious friendship with the guinea pig Norman, who in any other circumstance would make a perfect meal.

Chris Meledandri explains how the casting came about: 'I had lunch with Albert Brooks a few years ago, and he surprised me by saying that he was interested in exploring a voice if we ever had anything that I thought he might like. Tiberius was the first character we had where we immediately thought of him. Albert Brooks is extraordinary because of what he was able to do in virtually less time than any other actor I've ever seen."

Albert Brooks gave Chris Renaud and Yarrow Cheney endless choices for ad libs and grounded Tiberius with a singular personality. In between reading lines and inventing on top of them, the performer did his work very quickly"giving the director and co-director golden readings in a fraction of the time that one would expect.

Janet Healy agrees with her fellow producer about just how special Albert Brooks' work is: 'The moment Albert Brook's voice comes on the screen, I think about some of the great animation voices that I've heard in my life. He's got this resonant, strong, low voice that commands that screen. He is so different from everyone else, and I find the character he created to be riveting."

It is easy to assume that the animation team draws based on the performer chosen for each vocal role. Chris Renaud clarifies that misconception: 'People always think that we model the look of the characters based on the actors. It's not really true. What ends up happening is that the voice evokes so much of who those performers are that you can't help but see that emerge in the physical animation."

Inspiration from Pets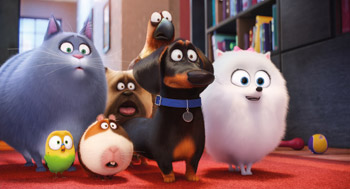 When Illumination began the process of drawing the characters who would populate this world, they started with brainstorming over what their own pets do when they are gone for the day. Shares Chris Meledandri: 'One of the great joys of making this movie was that everybody could bring their own stories of their own experiences with their pets and in some way contribute them to the film. We have two mischievous dogs, and we frequently will sneak up on them when they think we're out of the house. We will actually catch them red-handed living their secret life.

'When we leave the house in the morning, they're at the door as we leave. Then they walk into the kitchen and, jump on top of the kitchen table and vacuum the crumbs off it," he continues. 'After that, they end up in the master bedroom and take a nap on the pillows. There's some interaction and collaboration between them and our pet bird I haven't quite figured out. There's a lot of interaction with the dogs on the other side of our neighbor's fence and a lot of plotting that's happening. When given any opportunity, they bolt and you cannot stop them. Then you have some three-hour adventure while you're sweating, wondering what's happened to them."

In design, Max bears a strong resemblance to the Chris Meledandri family's wirehair terriers. As well, considering both Chris Renaud and Chris Meledandri are adamant bird lovers, it was important that they included Sweetpea in Pets. In fact, he is the one character who doesn't speak, he tweets. Throughout the comedy, the production team infused their own pets' moments, expressions and attitudes.

The team enjoyed exploring the pet behaviors that have universality, and they knew audiences will see their own pets in the characters depicted. One of the moments that particularly resonated with the filmmakers was the scene in which Max and Duke are staring at a man on a park bench eating a sandwich. You can see in their eyes how much they want it, and the dog owners on the production related to their own pets staring longingly at food. Together, the team found many moments that started from an individual's experience but grew deeper through their collective voices.

Chris Renaud agrees with Chris Meledandri that what influenced many of his decisions on this production were the memories of the pets he and his family have had. He laughs: 'My kids, my wife and I have had every pet under the sun: from an Irish setter, cat, lizard, gerbils, guinea pigs, fish to a turtle. They are part of my memory and my experience."

Imagining these pets was indeed inspired by the animals in Chris Renaud's own life"particularly Norman and Sweetpea"complemented by production designer Eric Guillon's design work. He admits that one of his favorite incarnations was Snowball, laughing: 'I was thinking about things you would typically see on an Easter card and that cute little bunny with Kevin Hart's voice. We went away from an idea that was a bit bigger and more intimidating to one that was super, super cute."

As was character inspiration, the intricate process of storyboarding was a pivotal one to the crew. 'In live action they shoot the film and edit it after, while animation is the exact opposite. I'm essentially editing the film before it is even shot," explains Schretzmann. 'We spend so much time in storyboards that I get a sense of the DNA and pacing of the scenes early on. When we get to layout and animation, I already know what we are aiming for."

Animated films involving humans are a study of faces and expressions, and the same may be said of one in which the stars are animals. 'We usually have six months to build the assets, characters and events to achieve the final product," explains CG supervisor Bruno Chauffard. 'What is interesting about this film is that we had to do a lot of research about animal behaviors. We worked together to discover the facial expressions and body language of animals."

Animating Characters

For the production team, it was critical to walk the fine line in which the characters' behaviors never strained believability, but they weren't simply treated like animals. 'Some of the pets play music, and some have wish fulfillment," Chris Renaud shares. 'For example, Sweetpea watches a movie and pretends he's flying amongst the fighter planes. The pets in this film experience everything from missing us to going to get the food they really want to eat to living out their dreams."

Every step of the design and animation process was overseen by producer Janet ealy, who manages the team with precision. 'Janet Healy's leadership in Paris, along with Jacques Bled, the partner of Mac Guff"the studio that we acquired and have now built into Illumination Mac Guff"is the best-led studio that I can imagine," offers Chris Meledandri. 'It's certainly the best-led studio I've ever had the pleasure of working with."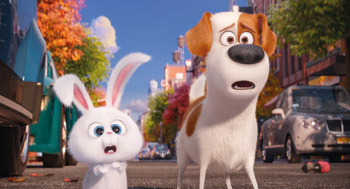 As a production designer who has been such a critical part of the films created, Eric Guillon is another secret weapon at Illumination. Starting with his collaboration with Chris Renaud and Coffin on the design of the Minions, Eric Guillon also designed the world of Despicable Me. Not only has he played a crucial role in Pets, he is still playing an important part in the studio's next film, Sing.

Chris Meledandri explains that Eric Guillon's imagination, which begins with general conversations about what the director is envisioning, allows him to bring ideas unlike any other designer with whom he's worked. He says: 'Eric Guillon always finds both the expression of what the director's looking for and an imaginative distinction that allows the character to feel like a character that you've never seen before. His flat drawings have so much personality in them that sometimes the challenge becomes capturing what he's brought to a drawing and bringing it to life."

Eric Guillon walks us through his process: 'As the production designer and character developer, my role is to simultaneously design the characters as well as create the general outline for the environment of Pets. I mapped out the visuals of the film, and oversee the creation."

Layout supervisor Régis Schuller discusses his work translating the production designer's team ideas into execution: 'The layout is the first stage of animation after the storyboards are created and is the beginning of staging characters into the 3D environment. Depending on the emotion the director wants to give in a scene, this is an important stage for the camera lens and 3D environment."

The film's heads of character animation, Julien Soret and Jonathan del Val, discuss the look of the characters and their development style. On Julien Soret: 'The peculiar look of the movie is based on stylised breeds of dogs that are recognisable. The directors wanted these recognisable breeds so people could see their own pets in the movie." Jonathan Del Val picks up: 'Every character is different from the next, and every character has a unique charisma. We wanted a clear identity for each one."

Down the animation chain from Regis Schuller's team, as well as the work of Julien Soret and Jonathan del Val, effects supervisor Simon Pate shares how his crew enhanced the characters in The Secret Life of Pets: 'It is important to have the effects, like fire and water, be believable and integrated into the scene. The characters are the focal point, but our goal is to enhance them. There are times where the laws of physics don't necessarily have to be obeyed, and we get to cheat a little bit."

One of the items that the director, co-director and producers focused upon was honing the performances from the characters in the background. When they discussed acting, they didn't talk about it in terms of voice acting, rather about what the actors and the animators brought to the characters. It was mandatory to find personalities expressed not just in the character who seizes the center of the scene, but the characters who are on the periphery as well.

With his 'characters first" approach, Chris Meledandri admits there's a never-ending source of discovery when you watch this film. 'When you watch Pets the first time, you enjoy the principal story and you get to know the characters. In going back and watching it again, there's so much more to discover," he says. 'We watch movies over and over again as we make them. We're watching scenes 30 and 40 and 50 times over a three-and-a-half-year period and you never get tired of watching them. You're always discovering something else in the frame you haven't seen before."

Designing Manhattan

When the production team began discussions about setting the movie in New York City, director Chris Renaud envisioned a romanticized version of the town. Co-director Yarrow Cheney and his team brought a visual style that is this idealised version of New York in autumn. With shimmering architectural masterpieces in the background and exquisite autumn trees in the foreground, an idyllic Manhattan was created.

'There's a sense of detail in the textures of the sidewalks and the benches that gives you a real sense of verisimilitude of my hometown of New York," Chris Meledandri reflects. 'It's this combination in many of the films we've made that is so wonderful. I credit Eric Guillon, who is one of our premier designers. In the case of Pets, he initially focused a lot on the character designs, which share a similar principle with the design of the movie: realistic details. When you see the fur on Snowball, you feel like you can touch it, but these details are placed in worlds that are stylised and on characters that are caricature. All the design choices are not photorealistic. You believe the world because of the detail specificity, but it becomes a place that you've never been to before."


In this film, audiences are given permission to believe in these incredible settings in New York, as they are populated with heightened versions of characters that one can look out a city window and see. One of the many opportunities in animation, marrying a degree of reality with a sense of discovery was a mandate for the artists.

'I was especially inspired by the drawings of Jean-Jacques Sempé [who created many drawings for The New Yorker] for the world of The Secret Life of Pets," explains designer Eric Guillon. 'What I liked about his drawings of the city was the poetry that comes through, certain lightness, and especially the contrast between the people and the city. I like this scale of a supersized New York City, so we created a contrast of these small animals lost in the middle of a giant jungle."

Producer Janet Healy explains that, because this New York is Max's New York: 'We start with his point of view. We actually began with some of the same elements we used in Minions, but we elongated them. This New York is more like Oz than the 1960s-set Minions. Here, New York is in autumn where we've got beautiful clear colors of oranges and golds and reds. It's very idealised and stylised. In all the backdrops, we have skylines in almost every shot. They're tall, elegant and romanticised."

Expanding upon his producer's note, Chris Renaud, who lived in New York City for 14 years, says: 'To give that artificial sense of height to our New York, we talked about the Emerald City in Oz, except we treated our Emerald City as alabaster, white, gleaming and vertically oriented. The other thing was having the film take place in the fall to take advantage of the beautiful colors."

Art director Colin Stimpson elaborates on the directive: 'It was our goal to make the characters look appealing, as well as the environment. I remember my first trip to New York City and how amazed I was at the size and scale of the buildings, so I wanted to capture that in the movie."

Colin Stimpson echoes his fellow filmmakers' directive that much of the film should be lensed 'at pet level." He says: 'Since this film is entirely from the pets' perspectives, we had to pay a lot of attention to the small details down low. The textures of the ground and the bottom of doors, the things we don't really notice in everyday life."

Lighting supervisor Thierry Noblet discusses his role in Pets as one of translation: 'As the lighting supervisor, my job was to lead my team to translate drawings from the artistic department into the 3D world. Our goal was to keep the beautiful pictures that the artists gave us, and keep the accuracy of light in those images."

On the leadership Yarrow Cheney provided, he notes: 'Yarrow Cheney created the look of the film, and gave great direction on what the color scheme should be. We had a goal of keeping a simple image to keep it true to a cartoon. That said, we were always trying to get extra light, just like on a regular movie set."

Compositing supervisor Céline Allegre explains her role in the production, and just how she brought Manhattan to life: 'Compositing is the final step in the animated movie process. We find the final look of the character by obtaining the most beautiful graphic image that we can. The effects department provided elements like rain or explosions, and the sky or clouds."

'When New York City is introduced, we are flying over the city," Celine Allegre continues. 'There are a lot of elements seen during this opening. There are reflections in windows and the water. There are a lot of layers, including the optical flare of the sun."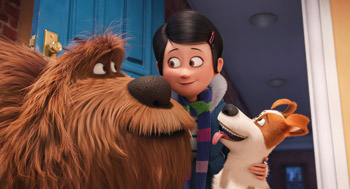 Across the board, the production team understood the importance of these layers. 'What is fun for the New York City setting is that The Secret Life of Pets takes place in the fall, not in the summer as usual," says CG supervisor Chauffard. 'There are orange, yellow and green leaves falling on the ground that move with the characters when they are running about the city."

The Music

Oscar®-winning French composer Alexandre Desplat, who has contributed stunning sequences to films from The Grand Budapest Hotel, Unbroken and The King's Speech to both chapters of Harry Potter and the Deathly Hallows, was brought onto the production to provide a distinctive New York-inspired score for The Secret Life of Pets.

From achieving quiet moments with his score to bringing the orchestra along on laugh-a-minute chase scenes, the composer's work is unparalleled. Indeed, Chris Renaud and Alexandre Desplat wanted Pets to be truly distinctive with every note and character theme. The filmmakers knew that they had ended up with a score that brings a personality to each of the characters and also serves as another tool for storytelling. It was crucial that the visuals and the dialogue achieve parity with the visual expression, and it is this music that drives the film.

Alexandre Desplat shared orchestration duty with fellow musicians Conrad Pope, Mark Graham and Jean-Pascal Beintus. Chris Meledandri praises his leadership: 'One of the great final surprises of this film has been the score. For the first time we're working with Alexandre Desplat, and he has brought energy and a style that is reminiscent of Gershwin but is at the same time this full-bodied, big-movie score. We have this beautiful orchestral score with wonderful jazz elements on top. It's one of the greatest scores I've had the privilege of being associated with, and it gives the film another expression of its style."

Complementary to Alexandre Desplat's work, The Secret Life of Pets features a soundtrack that includes modern flair"from Taylor Swift's infectious 'Welcome to New York" and Nappy Roots' 'Good Day" to new rock powerhouse songs such as System of a Down's 'Bounce," the Beastie Boys' 'No Sleep Till Brooklyn" and Andrew W.K.'s 'Party Hard." With classical work, including Vivaldi's timeless 'The Four Seasons -Spring,'" and rock and pop standards such as Queen's 'You're My Best Friend" and the Bee Gees' 'Stayin' Alive," audiences of all ages will find themselves humming along.

An Illumination Film

The films from Illumination Entertainment are deeply satisfying entertainment for all audiences. There is a caliber of talent involved with each project that signals the creative force, emotionality, subversion, relatability and edginess that is the hallmark of Illumination. Audiences have an elevated response both to the film and to Illumination as a participatory brand.

'At Illumination we have one central mission, and that is to tell stories with characters that bring smiles to people's faces," surmises Chris Meledandri. 'If we've done that, then we've accomplished our mission. We also do this in a way that has a real international orientation. That's not simply because our studio is based between Paris and Los Angeles, and there are more than a dozen different nationalities represented in our crew. This company is comprised of hundreds of talented people. It's their talent that allows a film to be great."

In fact, the first week of Illumination's existence nine years ago was spent across the world in Japan. 'We put a real emphasis on trying to see the world that was not simply true to an American's eyes, but also through the perspective of a complexion of different nationalities that represent who our audience is," Chris Meledandri states.

'Ultimately, in an Illumination film, the bond that the audience forms with the characters becomes the most important part of what we do."

That formed relationship is usually with somebody who is wonderfully imperfect. As Illumination sets out to tell stories about multidimensional characters, all of their films find humor in the characters' flaws. They become so relatable because the studio doesn't shy away from vulnerabilities and foibles…and Illumination does tend to like things that are a bit wicked.

Meledandri discusses the logic in creating each and every project for the company: 'The most important thing I do falls to picking the stories and the leadership of talent to work on them. Our faith as storytellers always comes back to this caliber and the excitement of the creative individuals who've come together to make the film."

The filmmaker enjoys shepherding stories that reach audiences across the globe, understanding that no matter how successful the studio has been in the past, this is no guarantee of future success. It is Illumination's commitment to remaining agile, curious and open, as well as embracing risk in order to end up with stories and characters that are going to excite the audience.

Chris Meledandri advises that animation is unquestionably the most collaborative medium he's experienced, and nowhere is that more obvious than at Illumination. 'It's significantly more so than live-action filmmaking, and the trick is to hire great artists in all roles"whether it's an actor, designer, musician or an animator," he says. 'What you end up with is this extraordinary army of brilliant creative talent, and the challenge becomes knitting all of those different contributions into one cohesive vision.

'There are two ways you do that," Chris Meledandri concludes. 'One is by our great directorial leadership, and the other is through storytelling. All need to be in agreement on the essence of the movie we are making and then see how the story reflects that essence and gives you the road map. There are plenty of times where you fall off the map. You struggle to get back on and find your way, or you take a new route. But you always come back to that central story, redefine it, make sure everybody understands how it's morphed and changed, and ensure it is still there as an expression of the core idea. If you can bring those elements into alignment"and you're fortunate enough to have chosen talented people"that gives you a good sense of how we tackle these films."

Janet Healy expands upon on her fellow producer's thoughts with what it takes to give Illumination the tools it needs to make intricate, brilliant films: 'We hire the best people we can in every leadership role"from directors to production designers to all the department heads. We have 20 departments that have to work in conjunction with one another…with lots of dependencies and computer graphics. It takes people of so many disciplines and backgrounds, all working hard, to make it happen. We are very fortunate that we have the best crew I've ever seen in Los Angeles and in Paris. It's amazing how well-oiled this machine is, which makes my job so much easier."

The Illumination method is infused throughout the divisions and channels. Chris Renaud explains how it extends to his team: 'Everyone gets together, the department heads, we watch the project we're creating, talk about it and then do another pass to improve upon it. That's the great advantage of animated filmmaking. You have that opportunity to see the end product through all the rough drawings and scratch dialogue." He pauses, dryly. 'We liken it to building an airplane while you're flying it."

Mower Minions

Illumination's inaugural theatrical short, Mower Minions"a never-before-seen short film starring the Minions"will debut with The Secret Life of Pets when it arrives in theaters all around the world. Correlating to the format in which The Secret Life of Pets is showing in specific theaters, Mower Minions will be available in both 3D and 2D.

The short film stars the iconic Minions, who first appeared in the blockbuster Despicable Me franchise and who most recently starred in 2015's massive hit Minions, which grossed more than $1.15 billion at the global box office and became the second-biggest animated title of all time. Continuing the unpredictable journeys of Gru's curious and subversively sweet band of yellow brothers, Mower Minions represents the first time ever that Illumination has released a short film theatrically.

Directed by Bruno Chauffard & Glenn McCoy, Mower Minions is produced by Chris Meledandri and Janet Healy and written by Glenn McCoy and Dave Rosenbaum. The executive producer is Chris Renaud, and the cast is Pierre Coffin as the voice of the Minions, while Jody Gelb plays Barb and Ella and Dave Rosenbaum portrays Dave. Additional voices are provided by Eric Osmond and Chris Renaud, while the associate producers are Robert Taylor and Brett Hoffman. The music for Mower Minions is by Michael Gatt, and it is edited by Gilad Carmel and Eric Osmond.

'It's been a year since Minions appeared on movie screens, and will be another year until they show up in Despicable Me 3 next summer. Fans are always asking us for more content with the Minions, so the timing felt right for them to star in an all-new short film right before audiences experience Illumination's newest original film, The Secret Life of Pets," said Chris Meledandri. 'The theatrical release of this short serves as an opportunity for some of the most talented storytellers, visual development artists, colorists and story artists in the Illumination family to flex their creative muscles and create a new piece of content for the big screen."

Production wrapped, Chris Meledandri reflects on how special the film's subject matter is to all of us, especially those who have made The Secret Life of Pets a labor of love. He concludes: 'At the heart of why pets are such an important part of our lives is the unconditional love they give us. We live in this complicated world that's moving at light speed where we may feel judged at school, at work, online"where we create impressions of ourselves that we hope others might like and try to conform or to differentiate ourselves. It's a complicated life that we all lead, and yet the relationship with our pets is simple: they adore us. The simplicity of this bond is at the heart of why they're such an important part of the global culture."


The Secret Life Of Pets
Release Date: September 8th, 2016