Mike and Dave Need Wedding Dates
Cast: Aubrey Plaza, Zac Efron
Director: Jake Szymanski
Genre: Comedy
Rated: MA
Running Time: 98 minutes

Synopsis: Hard-partying brothers Mike (Adam Devine) and Dave (Zac Efron) place an online ad to find the perfect dates (Anna Kendrick, Aubrey Plaza) for their sister's Hawaiian wedding. Hoping for a wild getaway, the boys instead find themselves outsmarted and out-partied by the uncontrollable duo.

Mike and Dave Stangle are young, adventurous, fun-loving and, some would even say, obnoxious. The 'some" would include other members of the Stangle family. So when their sister Jeanie announces she's getting married, the family holds an intervention, demanding that Mike and Dave bring dates. Respectable dates!

The reason for the intervention is revealed through quick flashbacks that recall the guys' antics over the years at Stangle family gatherings. Everyone's having a good time, things are going smoothly, and then Mike and Dave show up stag, get drunk, hit on the girls, act like idiots and ruin the celebration. Therefore, dates!

To fulfill their family's request Mike and Dave turn to the best source of decent, respectable girls they can think of: Craigslist. They place an ad promising that their selected companions will receive an all-expense paid trip to Hawaii and the chance to participate in all of the Stangle family wedding-related activities.

The ad goes viral, and the response is so overwhelming that Mike and Dave have no choice but to audition the candidates. They meet with nice girls, grungy girls, weird girls, paranoid girls, militant girls, twin girls that look like guys, girls that are guys.

The dates they hadn't counted on are Tatiana and Alice. They seek out the brothers and charm their way into the winning spot as wedding dates.

Weddings"and Mike and Dave"will never be the same.

Mike and Dave Need Wedding Dates
Release Date: July 7th, 2016
About The Production
The Real Story: It Started With A…Craigslist Ad:

As crazy as all this sounds, it actually happened. Keep reading…

TWO MEN NEED WEDDING DATES
My brother and I are looking for wedding dates.
We've been told by the bride that bringing dates is "mandatory" so we "won't harass all of my friends all night" and "stay under control." Rather than ask some fringe women in our lives to go and face the inevitable 'does this mean he wants to take it to the next level!?' questions, we'd rather bring complete strangers and just figure it out. Still reading? In anticipation of your questions we've developed an FAQ section below.

Dave, Mike... What's in it for me?
• An excuse to get dressed up
• Open bar & food all night
• Eccentric/downright dangerous bro-2-bro dance moves (may need to sign a waiver)
• Adventure
• Mystery
• Suspense
• True Love
• Royalties once our night's story is developed into a romantic comedy*
*if this happens (we estimate the chances at 85%) we refuse the right to let Ashton Kutcher play either of our characters, however, we will consider him for a supporting role.

SO - What are you fellas like, anyway?

Oh us? We're both in our 20s, single, dashingly tall, Anglo-Saxon, respectfully athletic, love to party, completely house trained, relaxed, passionate, smell great, have cool hair, clean up nice, boast great tie collections, will promise to shave, love our mother, have seen Love Actually several times, controversial, provocative, short-sighted (with a big picture mentality), raw, emotional, sensitive but still bad boys.

What should us ladies be like?

You should respond in pairs as you'll want to know at least 1 person at this wedding. Sisters (twins?!) are preferable, but we'll take friends, or even enemies. You should be attractive or our aunts will judge you, but not TOO attractive or one of our uncles might grope you. You should be relaxed and easy going as we'll probably make up flattering lies about you on the spot. You should own a dress, or be able to acquire one because we don't have any. If (when) you respond you should send some pictures of yourself so we know you've met the above requirements. Feel free to include a resume; this is a classy wedding and we're looking for well-rounded women. Interesting/unique pairings are encouraged; don't be afraid to make yourself stand out!

This feels kinda creepy, are you guys Craigslist killers?

No. Well, if you want to be techni.. nevermind. No, we aren't. We just genuinely want to do something different and we don't see any other way to approach it. What would verify our normalness? Facebook? Instagram? We can have a pre-date screening (interview) prior to the wedding and play 20 questions over a coupla cocktails if you'd like?

We're IN! What now?
First off -- smart thinking. Email us, send along some pictures, information, high school athletic stats, questions, etc. We'll take it from there.


The Real Stangle Brothers

When the above posting first went up on Craigslist at 9:13 AM on February 13, 2013, Mike and Dave Stangle were the first to be surprised by the response it received. As Dave points out: 'We thought the only logical way to get dates that knew each other, that would hang out with the two of us, was to (put) this on Craigslist. We wrote it, kind of thinking it was a joke that we could send to each other."

With literally thousands of responses, the brothers had soon attracted national attention, discussing their creative dating tactics with Matt Lauer on the Today show and with Anderson Cooper on CNN. The Stangles were, after all, only doing what came naturally. 'I mean, that was kind of the whole point," Mike says. 'We realised that people actually were paying attention to us and so we were cool for the first time in our lives. For a neat little month we went on as many dates as we possibly could."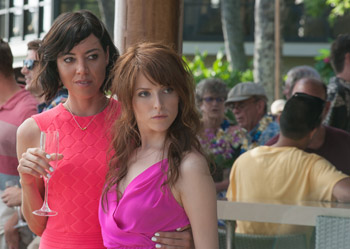 'We did a lot of double-dating," Dave confirms.

When tuning in to their back-and-forth banter, it becomes clear that the Stangles' primary interest is entertaining each other. If anyone else thinks they are funny too, well, so much the better. Before long the idea of a book emerged. Mike and Dave Need Wedding Dates (and a thousand cocktails) continues with the same volley of dialogue and ideas; Mike does a chapter, then Dave does a chapter and so on.

The Movie

The motion picture Mike And Dave Need Wedding Dates takes the intriguing idea of two brothers finding dates for a wedding and runs with it, adding unexpected layers of heart and two outrageous new lead characters.

'These two guys put an ad on Craigslist, trying to get dates for a wedding and I thought, -What kind of asshole would do that?'" jokes co-screenwriter Andrew Jay Cohen, who collaborated with Brendan O'Brien. But then we thought, what if the dates were crazier than the guys and the guys get their comeuppance."

For background, 'Brendan O"Brien and I had talked on the phone with Mike and Dave Stangle, and asked them stories about their life," Jay Cohen recalls. 'They feel like their entire life is a comedy bit, and there's something charming about that. Then there's something that makes you want to destroy it. That's what this movie is about."

The real Mike and Dave even visited the Hawaiian filming location during production. They made an indelible impression on the cast and filmmakers"and vice versa.

'I asked the brothers how much of the stuff in their ad was real," remembers Adam Devine, who portrays Mike, 'and they said, -Honestly, bro, like 85 percent.'"

While the filmmakers strove to capture specific aspects of the siblings' personalities, the physical differences between the real and reel Stangles were striking. 'I want to say that Mike and Dave are around 11 feet tall," Adam Devine notes. 'They made me and Zac Efron [who plays Dave] feel like little elf people."

The film's female stars were more interested in the size…of something else. 'The first time Anna [Kendrick, who plays Alice] and I saw Mike and Dave, Anna yelled to them, -Take out your dicks!'" says Aubrey Plaza, who plays Tatiana. Why? 'Because we thought they were crazy party guys who were going to show us their dicks."

'I'm not sure we made the best first impressions," adds Anna Kendrick

With the Stangles on set, no one was safe. 'They hit on me, and they even hit on my mom," says Alice Wutterland, who plays the movie's Mike and Dave's cousin Terry. 'But, bless their hearts, you know. They seemed like really sweet guys."

To some, including executive producer David Ready, Mike and Dave provided contrasting impressions. 'When I first met them, during the film's development, they were mellower than I anticipated," says David Ready. 'My second encounter with Mike and Dave was when they visited the set"and they were not mellow. They were very much ready to enjoy our location in Hawaii."

And what did Mike and Dave make of this whole 'Hollywood" experience? 'They got guys to play us who are not as good looking as us, or as tall, but they are better actors," says Dave. 'I'll give them that. And Stephen Root, who plays our dad, seems to like us more than our real dad."

The Heart Of 'Mike And Dave"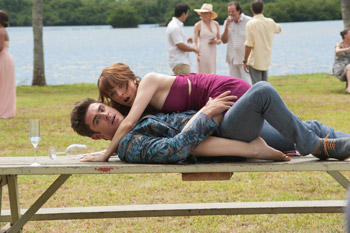 Along with its R-rated humor, Mike And Dave Need Wedding Dates has unexpected moments of heart. Jake Szymanski, who makes his feature directorial debut after helming hilarious short form comedies on Funny or Die, says: 'The Stangle family is very tightly-knit, even when they disagree. They're very proud of being Stangles, so they're just trying to have one family event that doesn't get completely screwed up by Mike and Dave."

The core of the film's comedy and much of its heart is the brotherly bond between the two guys. 'Mike and Dave are close," states Jake Szymanski. 'They've grown up together, still live together, work together, party together, and ultimately learn some lessons together."

One of those lessons stems from their determination to not screw up their sister Jeanie's destination wedding. 'Mike and Dave love Jeanie and Jeanie loves them, as well," Jake Szymanski continues. 'She just wants her special day to go without a hitch."

'Mike and Dave adore their sister," confirms Zac Efron. 'Their mantra is: -We're doin' it for Jeanie! Everything we do is for Jeanie!' They protect and love her and have put her on a pedestal. She forgives them for all the mischief they do."

To make this wedding go smoothly for Jeanie, Mike and Dave are told they must bring dates to the nuptials. 'So, Mike and Dave come up with a -foolproof' plan to find respectable dates," says Adam Devine. 'They troll for them on Craigslist"where they can also find lawnmowers and stuff."

Despite their good intentions, Mike and Dave face some formidable obstacles in ensuring the wedding is shenanigans-free"starting with their own natures. 'Mike is a bit of a hothead," notes Jake Szymanski. 'He's also impulsive, and a little selfish and inconsiderate."

'So I can relate to the character," jokes Adam Devine. 'Mike just likes to have the best possible time in any situation. He's the type of guy you'd have to know a long time in order to meet him and not think, Holy s***, what's wrong him?!"

Brother Dave is a little less prone to making trouble. Possessing a softer, artistic side, Dave enjoys a good party as much as anyone else, but, notes Jake Szymanski, Dave 'has a little more capability to reason than Mike."

'Dave is very much the younger brother and follows Mike's lead," adds Zac Efron. 'But as Mike starts to lose his mind over Tatiana, the roles of the two guys are reversed, and Dave has to take charge and be the big brother."

Whatever their differences, Mike and Dave are tight. 'They have a symbiotic relationship," says Zac Efron. 'They can't exist without one another. They're as much best friends as they are brothers."

The brotherly bond was also evident in the dynamic between Adam Devine and Zac Efron. 'Everyone was fascinated by how much Adam Devine and Zac Efron became like family," says David Ready. Fascinated, but not surprised. As Ready recalls: 'Just after we cast Adam Devine, we attended his stand-up show with Zac Efron. Zac Efron watched Adam Devine intently, and then told us, -I'm going to be his brother.' And he truly does that in the film."

Alice And Tatiana

Mike and Dave have reassured their sister and parents that they've got the wedding wired. There will be no craziness, stunts, mischief, trampolines (don't ask!) or fireworks. They've found the perfect dates to keep things under control.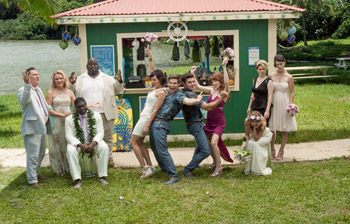 Or not.

'The dates, Tatiana and Alice, were fun to write because they're balls-out," says Jay Cohen. 'They're pretty intense, crazy, down-on-their-luck, tough chicks who decide they need a break and, after hearing about Mike and Dave's ad, they transform themselves into nice, sweet, respectable-looking women. But as soon as they arrive in Hawaii, they go into extreme party-mode and start ruining things."

Mike and Dave certainly know how to rock a room, but they're small-timers compared to their dates. As background to Alice and Tatiana, Szymanski observes that they 'have a history of misadventures that have taken them around the world. They can travel around the globe with only a couple of backpacks, and have stories to tell for ages."

'The characters were great inventions of our writers," notes David Ready. 'Tatiana is a mix of danger and sexuality, and everything she does is pretty extreme. Alice is a wild child who is always unpredictable. They are in such different places in their lives, and yet these wedding dates are just what they need."

When we meet Alice, she is heartbroken, having been left at the altar. 'So a wedding is about the last place she should be," says Anna Kendrick, 'and her downward spiral continues." Alice's coping mechanism: alcohol.

At her core, Alice is somewhat innocent. 'It's nice play such a naïve character," adds Anna Kendrick. 'And Zac Efron's character, Dave, is just as innocent. A surprising kind of gentle comedy comes out of that double-naivety."

Aubrey Plaza describes Alice's cohort Tatiana as a founding member of the 'Bad Girls Club. She's a tough bitch from Philadelphia who doesn't take s*** from anyone. Tatiana likes to party and go on adventures. She is the Alpha in any group."

Underneath that tough exterior, though, are some soft and chewy feelings about her pal Alice. 'Tatiana wants to help her best friend get her groove back after she's gone through a really bad breakup," offers Aubrey Plaza. 'Mike and Dave's ad for dates to their sister's destination wedding is a chance for a free vacay, to party endlessly and get that groove back."

Sis Gets A Massage

The other woman in the boys' life is, of course, their sister Jeanie, whose Hawaiian wedding provides the backdrop for the unexpected girls-gone wild / dates-gone-horribly-wrong hijinks. But Jeanie's big day is also ground zero for the guys' determination that Jeanie be happy"no matter how crazy things get.

'The film makes you care about the wedding and you do see that Mike and Dave really care about Jeanie's happiness," says David Ready. 'Enjoying all the s*** hitting the fan only works if you enjoy the relationship between the brothers and their sister."

After all, notes Sugar Lyn Beard, who portrays Jeanie: 'She's a Stangle, and that means, for her, it's all about love and family.

'Mike and Dave are party boys with good intentions," she continues. 'Jeanie was like that, too, when she was growing up with them. They've protected Jeanie her entire life, but now there's a new man in her life, her fiancé Eric, and he brings out her sweeter side."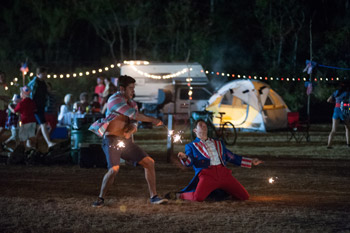 A special massage brings out yet another side of Jeanie. Having been accidently mauled by an ATV driven by…who else?...Mike, Jeanie is ready for some serious rest and relaxation. A nice massage seems like the perfect idea, but Alice has something a little more potent in mind for Jeanie. She makes arrangements with the masseur, Keanu, for him to go the extra mile. 'Without touching his clients, Keanu can manipulate their chakras in ways that give them release"over and over and over, again," says Kumail Nanjiani, who takes on the role. 'It's very important to him that his women clients leave the massage room happy."

Sugar Lyn Beard says filming the scene was a highlight for her"not only of the film, 'but of my life!" she exclaims with a laugh. 'My bare butt was exposed for almost an entire day's shooting, and I was being used like a slip -n slide. The scene was a little sweaty, a little oily, but all great. I was laughing so hard, which was interesting because Jeanie is getting so much pleasure out of the massage, that all the shaking of my body from laughter kind of worked for the scene."

Jeanie's fiancé Eric is blissfully oblivious to these goings-on. But even if he was aware says Sugar Lyn Beard, nothing would change between them. 'They're a very ooey-gooey couple, sickeningly sweet, and finish each other's sentences." Sam Richardson, who plays Eric, notes that the character is a 180-degree-turn from his future brothers-in-law: 'He's a clean-cut, pretty mellow dude. Eric is also very prudent and on top of things."

Sam Richardson agrees with Sugar Lyn Beard that Jeanie's life was turned around after meeting Eric. 'I think Eric came along at a point in Jeanie's life where she was -full-on Stangle' and trying to emulate her brothers. Now, they kind of complete one another."

Mom And Dad Stangle

Watching over the tight-knit, if off-kilter Stangle clan are parents Burt and Rosie Stangle. It is Rosie and Burt who insist that Mike and Dave bring wedding dates"a plan that backfires in every conceivable way. Still, a parent's love can withstand anything, even a catastrophic destination wedding.

Like many parents, Rosie sees only the best in her wayward offspring. 'Rose thinks her boys are good-hearted, and that no matter how horribly they act, there's a dearness to them," says Stephanie Faracy, who plays Rosie. 'Mike and Dave are just tripping over themselves in the nicest way, which gives the movie an unexpected dimension of sweetness. Even though Mike and Dave are impossible, she sees them in a pure way, even as they torture her with their antics."

Rosie's husband Burt is played by the respected character actor Stephen Root, fondly remembered for, among his many offbeat characters, the beleaguered, stapler-obsessed office drone Milton, in the cult comedy Office Space. For Root, the role provided a welcome change of pace from those for which he is best recognized. He let Adam Devine, Zac Efron, Anna Kendrick and Aubrey Plaza handle the out-of-control characters. 'I've played a lot of bent, oddball guys," he explains, 'but I hadn't played a straight-arrow dad in a while. That was a real attraction for me."

Root and Faracy, who had not met before production, quickly settled into their roles as a long-wedded couple. 'One day, Stephen and I were sitting in rockers outside the hotel, waiting for a van to take us to the shooting location," Faracy relates. 'I turned to Stephen and said, -We look like a married couple because we don't even speak to one another and still seem kind of happy." Adds Root: 'Rosie and Burt are hand-holders into their sixties; you know, that type."

Mike Versus Cousin Terry

A far less nurturing member of the extended Stangle clan is Mike and Dave's cousin Terry, played by Alice Wetterlund, who's always competing with Mike"usually over the same woman. Adam Devine describes the character as a 'pan-sexual playboy/businessperson." Adds Jay Cohen: 'Terry is a really exciting character because she'll go after anything and anyone, and will stop at nothing to succeed."

Terry is the film's villain"an ''80s-type bad guy" says Aubrey Plaza, whose Tatiana figures prominently in Terry's battle with Mike. 'Terry uses Tatiana to piss off Mike and basically gets to f*****-b**** her in a steam room," Aubrey Plaza elaborates.

Jake Szymanski notes that the film upends the typical guy versus another guy dynamic. 'We wanted to do something that hadn't been seen before and make it a competition with a sleazy female cousin, instead of a sleazy male cousin," he explains. 'Alice Wetterlund auditioned and just nailed it and had the perfect mix of confidence and smarm. It's creepy but great."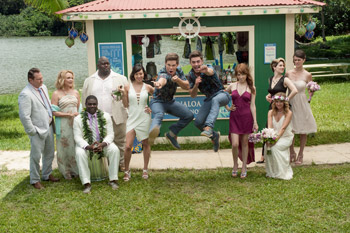 Alice Wetterlund agrees, noting that Terry is an 'Alpha-female with a lot of tricks up her sleeve. Terry can really get under Mike's skin. She really knows how to bust his balls, because she's sexually experienced, a real dynamo, and can zero in on a guy's weaknesses from a woman's perspective. That's Mike's worst nightmare."

Another troublesome wedding attendee is Jeanie's maid of honor, the perpetually-pissed-off Becky, played by Mary Holland. 'Becky is a little overbearing and treats the wedding almost like it's her own," says Jake Szymanski.

Adds Holland: 'Becky cannot filter her anger, and there's something very refreshing about that."

'Summer Camp"

The spectacular destination of the destination wedding in Mike And Dave Need Wedding Dates is the beautiful island of Oahu. Though the real Mike and Dave Stangle attended the wedding in the northeast U.S., the filmmakers decided this was the time to practice creative license. 'We had initially written a story set in northern California," recalls Jay Cohen, 'until one day Brendan and I looked at each other and said, -Do we want to go to the wine country, or do we want to go to Hawaii?'"

While every film production unit faces challenges"and this was no exception"Ready likens the experience to summer camp. 'The location provided a special kind of energy and a separation from the rest of the world, which allowed everyone to bond," he explains. 'It's one of the many reasons that the camaraderie and chemistry of the cast is so strong."

The burgeoning brotherly bond between Adam Devine and Zac Efron was facilitated by the opportunity to spend considerable time together on location. Says Adam Devine: 'Zac Efron and I arrived in Oahu two weeks before production started, and we didn't know anyone else there. Who else am I going to hang out with? So we obviously were just going to hang out with each other every day and that was great planning on Fox's part, because we became the best of buds. By the end of production, he says with a laugh, 'we finished each other's sentences in a weird way."


Mike and Dave Need Wedding Dates
Release Date: July 7th, 2016