Luke Treadaway A Street Cat Named Bob
Cast: Luke Treadaway, Ruta Gedmintas, Joanne Froggatt, Anthony Head, Bob
Director: Roger Spottiswoode
Genre: Biography, Comedy, Drama
Running Time: 93 minutes

Synopsis: Based on the internationally bestselling book, A Street Cat Named Bob is a moving and uplifting feel-good true story.

When James Bowen found an injured, ginger street cat curled up in the hallway of his sheltered accommodation, he had no idea just how much his life was about to change. James was living hand to mouth on the streets of London and the last thing he needed was a pet. Yet James couldn't resist helping the strikingly intelligent tom cat, whom he quickly christened Bob. He slowly nursed Bob back to health and then sent the cat on his way, imagining he would never see him again. But Bob had other ideas.

Soon the two were inseparable and their diverse, comic and occasionally dangerous adventures would transform both their lives, slowly healing the scars of each other's troubled pasts.

A Street Cat Named Bob
Release Date: February 9th, 2017
About The Production
One Man and his Cat

It was a gloomy Thursday evening when James Bowen found an injured cat prowling the hallway of his sheltered accommodation. Little did he know that this ginger tom " whom he named Bob " would bring light and hope to his life, changing his world forever.

James Bowen had spent the previous ten years living on the streets, or in temporary accommodation, and had slipped into drug use in a bid to escape the realities of homelessness. By the time he met Bob in March 2007 he had enrolled on a drugs programme and had found a humble home courtesy of a housing programme in North London.



Despite those tentative steps along the path to recovery, when James Bowen met Bob he was still living hand to mouth, struggling to feed himself, and to cope with life. The temptation to slip back into old habits was constant. On the face of it, the last thing he needed was a pet. Yet James Bowen could not turn his back on Bob; he felt compelled to help this injured animal.

Once Bob had healed, the pair became inseparable and their adventures together as James Bowen busked the streets of London transformed the lives of man and feline. Bob gained a loving friend, Bowen an inspiration to change his life. It is often said that ginger cats bring luck to their owners. Bowen is the proof. These two friends soon flourished. James Bowen committed his and Bob's extraordinary story to paper.

heir tale was published in 2012, when James Bowen teamed up with writer Garry Jenkins, and their debut publication together, A Street Cat Named Bob, became a UK bestseller. To date it has sold more than one million copies in the UK and over two million copies in Germany.

It has since been published in over 30 territories including the USA, China, and Japan, selling over five million copies worldwide and spent over 76 weeks at the top of the Sunday Times' bestseller list. In a list of the books with the greatest longevity in the Sunday Times bestseller list across the last 40 years, A Street Cat Named Bob was ranked 23rd and stands the book with the longest presence in the current decade to date.

Another book followed, The World According To Bob, which continues the story of James Bowen and Bob's lives, including the period leading up to James Bowen's meeting with his agent Mary Pachnos. And it is these two books that form the backbone of the film adaptation, which is directed by acclaimed filmmaker Roger Spottiswoode.

'I found the story really compelling," begins the director. 'I especially liked this relationship between a human and animal. We always think of pets as creatures that we feed and look after and who love us, and that it's all very simple. But for many people it's much more than that.

'Often, the animal becomes a friend and becomes someone with whom a person communicates a lot at a depth that we don't really understand," he adds.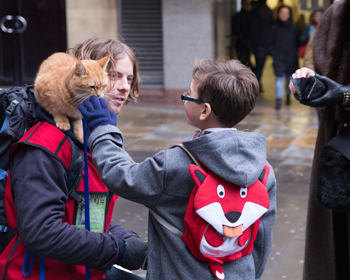 'And that is all embedded in this story. This story really happened and theirs is an amazing relationship. You can see that it is far beyond the usual and that both James Bowen and Bob accept the other on a different level, on an intuitive level, and that is just fascinating."

Roger Spottiswoode's introduction to the project came via producer Adam Rolston, who had acquired the film rights in March 2014. 'People kept saying to me, you are going to need to find a hip new young director to get this done," Rolston recalls.

'I said, -Well, I don't think so because you need someone who knows how to work with animals if this film is going to work.' You can easily find a director who can make James Bowen' story work as a drama, but Roger Spottiswoode is not only a great all-round film director, he is a director who has done films with real animals before."

Though he is perhaps best known for his directing on the 1997 James Bond film Tomorrow Never Dies, Roger Spottiswoode also shot 1989's Turner & Hooch, a buddy cop movie starring Tom Hanks and a sizeable French mastiff, and also 2014's Midnight Sun, which featured real polar bear cubs.

'There is no CGI in this film," notes Rolston, 'and we needed a filmmaker who can make that relationship between a human actor and a real animal really work on the screen. Otherwise, you have got a dud movie."

Roger Spottiswoode responded to the story immediately. 'What I found most interesting is that Bob and James are both in trouble," he says. 'The cat is alone and lost. When James Bowen meets Bob he is bleeding and he's a mess. He's a street cat. And whether the cat knows it or not, James Bowen is also on a descent and doesn't know how to turn himself around.

'Somehow they find each other. And James Bowen discovers that he needs to look after this cat " and that he can do it because it's not easy; sometimes he has to feed the cat instead of feeding himself. He found something inside himself that the cat probably knew about but that he didn't. It's a beautiful story."

One of the biggest challenges for the filmmakers was hitting the right tone with the narrative. They wanted the film to remain true to James Bowen's situation, and the difficulty he faced trying to kick his drug habit, but they also hoped that it would appeal to a wide, family audience.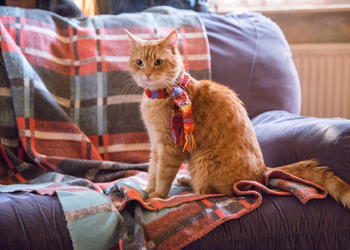 'It's a fascinating film on many levels and it is a really serious subject on every level," says the director. 'You have someone who is on the way down, using drugs, who's not found a way off them and who's not yet found salvation, despite having tried. People die in situations like that.

'Yet this is a film and a subject that appeals to young people as well as adults so finding a tone that is truthful and completely understandable and acceptable was very interesting. Young people should see this film, so it needs to be truthful but not gratuitously in your face."

Rolston agrees. 'The story is about recovery. Too many films try and make it look as though drug taking is cool. But we never did that."

And the producer is delighted that Roger Spottiswoode agreed to shoot the movie. 'Having Roger Spottiswoode there was vital for the actors," he says. 'He attracted a lot of other experienced people to the project."

The Star of the Show

Not only did Roger Spottiswoode bring brilliant filmmakers on board " from the DoP to the editor to the various heads of department " he also recruited the animal wranglers, Mark and Dawn Dumas, who proved crucial. 'I thought cats might be un-trainable," laugh Roger Spottiswoode, 'but you can go a long way with cats. They're interesting animals and they learn."

A number of different cats stand in for Bob at various points in the film. 'We have seven cats that we brought over from Canada," says Dawn Dumas. 'Their personalities range from very easy going and lazy and mellow, cats who like to lay around, to very explosive cats that don't like being petted. Some of them are more like stunt cats!"

Most of the on-screen work, however, Bob does himself. 'Originally, we planned to just give Bob a cameo," Rolston explains.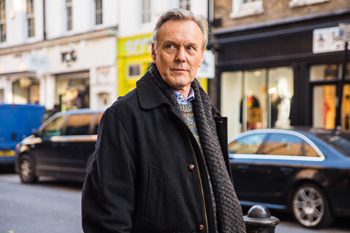 'It was an unknown factor as to how we were going to make it work with the cats. We didn't know if Bob would be able to be on screen because while he can go into Covent Garden and sit with James Bowen while he busks, we didn't know what he would be like on a film set. And would James Bowen be up for it?"

By the second day of filming, however, a new star was born. 'We were in Covent Garden and we were having a bad old time with some of these cats, trying to get them to stay still," continues Rolston.

'It was a bit of a circus! But James Bowen and Bob were on set that day so I said to the handler, -Why don't you try Bob?' and he did and it was miraculous. Bob just did it."

Bob, of course, was in his natural environment, sitting there quietly at a busker's feet " the busker being actor Luke Treadaway, however, rather than James Bowen.

'That is what James Bowen and Bob used to do," says Rolston. 'Bob used to sit there quietly in this busy environment while James Bowen played guitar and sang. From that day on, James Bowen and Bob became full time crew. They were on set every single day."

Bob's particular skill, he notes, was being still. 'He has the best quality an actor could ever have, which is stillness. Being in James's flat, and being in Covent Garden, just sitting still, that was his forte."

All of the close-up shots in the film are of Bob. 'But we did rotate the cats quite a lot," continues Rolston. 'Bob couldn't do things like running onto a bus, or running through Covent Garden. Some of those things he just wasn't able to do so we used the stunt cats for those scenes.

'There were some tricky days with all of those cats where they couldn't do it or the time or the weather was bad but that's to be expected working with animals!"

For actor Luke Treadaway, working with Bob was a real bonus. 'He's a lovely little guy," Luke Treadaway recalls. 'I've never worked with cats before but it was a lovely experience. They all have different characters and personalities and Bob is great." He laughs, 'Bob is Bob and he brings a certain gravitas to each scene."

Like any actor, though, Bob needed his down time. Cat handler Mark Dumas explains, 'Bob is not trained for film and he does get petted a lot. So in public you have to remind everyone to respect him. Animals get tired of constantly being petted. He is an older cat and he deserves some respect."

In real life, Bob spends much of his time on James Bowen's shoulders, a fact that the filmmakers were keen to replicate in their film. 'To get Bob onto my shoulders James Bowen would walk over and turn his shoulder towards me and would say, -Go on,' and Bob would walk across," says Luke Treadaway.

'I thought Bob would find that quite stressful and weird but, actually, he was pretty cool with it. Sometimes, if he had to go back and forth a few times he seemed like, -Okay, guys, can you just decide which one I am going on,' which was fair enough really!"

Several shots in the film are shown from Bob's perspective. 'We didn't mount cameras on the cats," smiles Rolston, 'but the camera guys made it work. Every day they enacted how the cat would walk a certain route."

Each time they filmed a cat scene, at least five cameras were used. 'It was fascinating the way that Roger Spottiswoode did it," he adds. 'And the 2nd unit were our cat unit. They did a lot of the cat shots.

'Normally, after we shot the main scene, they would stay behind and do the cat stuff. We needed to see the cat's point of view because it is different and adds a lot to the film. Bob is so vital to the story."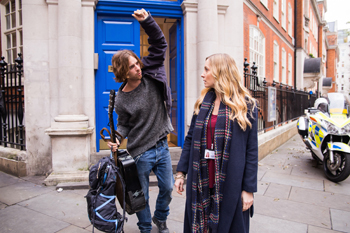 The Two Musketeers

For all Bob's star charisma it is actor Luke Treadaway who carries the film, appearing in every scene. 'He's a wonderful actor," Roger Spottiswoode says. 'He's done many wonderful things. He takes his work very seriously and I think we're very lucky to have him."

Roger Spottiswoode and Rolston thought of Luke Treadaway having seen the actor's Olivier Award-winning turn in the National Theatre's production of The Curious Incident of the Dog in the Night-Time.

'Roger Spottiswoode and I had both seen him at the National. He was 29 at the time but he convinces you that he was this 13-year-old autistic boy," says Rolston.

'And when we wanted someone to play James we knew that we needed someone who could really go at it and who the audience would believe in the role. Luke is a very good method actor and he loved the script."

Luke Treadaway says he found the story very touching. 'It's got a real purity to it," he notes. 'James Bowen and Bob beautifully balance each other in their worlds. They're both incredibly vulnerable but they come together and help each other. There's a transformation of fortunes. Their lives become so much better and happier once they meet."

The actor has played real-life people before " most recently starring as snooker ace Alex Higgins in The Rack Pack for the BBC " but he says that playing someone who was actually there on set was 'surreal".

He explains, 'James Bowen was brought in a lot to help Bob and it was amazing to have the person that you're playing right there with you. I've played -real' before but not when they're alive and on set, passing their cat from their shoulders to yours! It was quite surreal but also amazing."

As well as playing a recovering drug addict opposite a feline co-star, Luke Treadaway also has to sing and play guitar. 'It's the third film I've played guitar and sung in and I absolutely love it," he says.

'It was manic at times trying to do three different songs, leaping from one to other, and not always knowing which song we'd be doing at any given time but I'm really pleased with how it went."

When he was busking, James Bowen would play songs by the likes of Oasis and Nirvana but the filmmakers thought that he should have an original voice in their movie. They turned to singer-songwriter Charlie Fink, the former frontman from Noah and The Whale, to write a selection of original songs for Luke Treadaway to perform.

'The majority of the songs you hear in our film are Charlie Fink songs that are now being released by Sony Music," says Rolston. 'Luke Treadaway really plays all the songs and sings in the film and he does a wonderful job."

The Supporting Cast

Though James Bowen and Bob have taken centre stage, both are helped on their journey by a clutch of key characters. 'There are certain characters from the book that we developed a lot more in the film," Rolston says.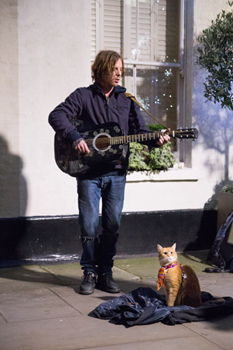 One of these is Betty, who is based on the character of Belle from the book. 'We develop that character a lot more and it adds a love interest to the tale," the producer adds. 'We didn't want to make it too schmaltzy so they don't kiss in the movie.

'They kind of just get together and we wanted to keep it a bit more chaste, and realistic. Because James Bowen is an addict, it would be unrealistic if suddenly he goes from that to being in a full-on relationship."

To play Betty, the filmmakers turned to English actress Ruta Gedmintas, who has starred in the likes of The Strain, Ripper Street, Spooks: Code 9, The Borgias, The Tudors, and Lip Service. 'I'd seen a lot of Ruta's work and I thought she and Luke would make a very strong pair with their great chemistry," says Roger Spottiswoode.

According to Ruta Gedmintas, Betty is a 'firecracker". She says, 'Betty comes into James Bowen's life with her own past that she's dealing with.

'She helps mend Bob and introduces a new side of life to James Bowen. Like Bob, she brings brightness in this world of darkness. She represents all the things that James Bowen could be. Both of them are intrinsically drawn to each other even though it might not be the right timing."

Ruta Gedmintas says that she was drawn to the warmth in the story. 'It feels like that warm feeling you get around Christmas time," she says, 'though the story is for any time. It's a story of triumph over addiction, loss and rejection and that's a story that can be told at any time to anyone.

'What's really beautiful is that idea of a connection," she adds, 'which can draw you out of a really dark time. I think that's why the book was so popular."

As well as forging a connection with Bob and with Betty on screen, James Bowen also works closely with a drugs counsellor, Val, who's brought to life by Downton Abbey star Joanne Froggatt.

'James Bowen had quite a few different counsellors over the years so our character, Val, is a made-up character," Rolston says. 'She represents all the help that James had. She is a much more prominent character in the film than in the books and it's a real coup to get Jo involved.

'Hers is one of my favourite performances in the movie. She came on board very quickly as well. She loved the part of Val."

Joanne Froggatt explains her role: 'Val is a key worker, a drugs counsellor, a support person, to guide James through the methadone programme and to guide him slowly off the methadone by reducing the dose very gradually over a number of months. My character is an amalgamation of lots of different people in James Bowen's life."

The actress thought A Street Cat Named Bob was inspiring and that it was 'a different take on a feel-good film." She says, 'It makes you feel good because it's real and you see this person overcome incredible obstacles through a connection with another being, and that's a very heart-warming story. It's a very inspiring story. And James Bowen is an incredibly inspiring person."

Another important character in the film is Bowen's father, played by Anthony Head. 'My character and James have an estranged relationship," he reveals. 'I was never a part of his childhood or growing up."

Head came on board 'almost instantaneously," says Rolston. 'Anthony loves animals and was very interested in playing the part. He actually met James' dad, too, and that was a bit of a coup. Anthony is terrific in the film."

The Streets of London

Another important character in the story is London itself. The filmmakers shot on location in Hackney and also in Bowen's former haunts in the centre of town, around Argyll Street, Covent Garden and Angel. 'I no longer live in London and found this a wonderful opportunity to re-discover London, and such a spectacular London," says Roger Spottiswoode.

'It is really flourishing at the moment, with this wonderful mixture of people, new buildings and art and galleries and music."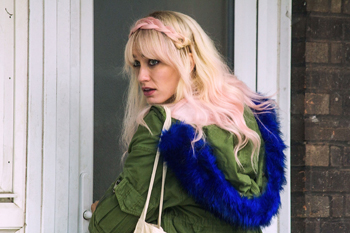 Shooting on location at such iconic sites was quite a challenge, however. 'Filming in Covent Garden was tricky," Rolston concedes. 'They'd had some bad experiences recently with other bigger movies where they hadn't complied with the rules.

'But we were very well behaved and we had a whole week shooting at Covent Garden with no rain, which was a miracle. Actually, in the whole production, filming across October and November, we never had bad weather. That was a real miracle."

According to Gedmintas, A Street Cat Named Bob captures London beautifully. 'It's a real London film, a really English film, and it represents the city so well," she says.

'And it was so exciting to be able to film in the centre of Covent Garden because that is so rare. It was great to have James there, too. It blew his mind because a few years ago he was there penniless and in a bad way. Then, suddenly, this whole film crew was there for him, to tell his story. To be able to do that in London is kind of magical.

'This was a wonderful experience," she adds, 'and I think it's a beautiful story that will appeal to all ages, all kinds of people." She smiles, 'Oh, and to all kinds of animals!"


A Street Cat Named Bob
Release Date: February 9th, 2017