James Franco Why Him?
Cast: James Franco, Bryan Cranston, Zoey Deutch
Director: John Hamburg
Genre: Comedy
Rated: MA
Running Time: 111 minutes

Synopsis: Over the holidays, loving but overprotective dad Ned Fleming (Bryan Cranston) travels to California to visit his daughter at Stanford"where he meets his biggest nightmare: her well-meaning but socially awkward Silicon Valley billionaire boyfriend, Laird Mayhew (James Franco). Ned thinks Laird, who has absolutely no filter, is a wildly inappropriate match for the apple of his eye. Ned's panic level escalates when the straight-laced Midwesterner, who finds himself increasingly out of step in Laird's glamorous high-tech world, learns that Laird is about to pop the question.

Why Him?
Release Date: December 26th, 2016
About The Production
'The Guy's An Octopus!"

Ned Fleming (Bryan Cranston) seems like a guy who's on top of the world. Owner of a mid-sized printing business in Grand Rapids, Michigan, Ned is genial, outgoing and adored by his employees, his friends and his close-knit family"wife Barb (Megan Mullally), daughter Stephanie (Zoey Deutch) and son Scotty (Griffin Gluck). But life becomes a little more complicated for 'The Big Cheese," as Ned is known, during his 55th birthday party when Stephanie joins the event via Skype to send well wishes to her dad from her Stanford dorm room. The Flemings and their party guests are surprised by an unexpected (and naked) introduction to her new boyfriend…or at least a part of him. Distraught over the fact that Stephanie has uncharacteristically been hiding something from him, Ned begrudgingly agrees to travel with the family to spend the holidays in California to meet his daughter's first serious boyfriend.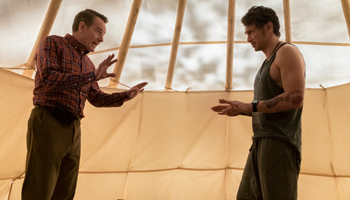 Expecting an unassuming college student, Ned discovers that Laird is actually a heavily tattooed, wildly inappropriate Silicon Valley tech magnate whose culture is completely foreign to him. Everything about Laird's world"his wacky, unfiltered nature, his sprawling 'smart home," his disturbingly paperless existence"conflicts with Ned's pragmatic meat-and-potatoes perspective. Despite Laird's repeated attempts to make the Flemings feel at ease during their stay at his Palo Alto estate, Ned only becomes increasingly uneasy. Before long, Ned is vowing to do whatever it takes to bring down the man he perceives as a rival"with the situation escalating even further once Ned knows Laird plans to propose to Stephanie.

Himself a father, Bryan Cranston could relate to Ned's struggle and his reluctance to let go. Ned is a good man motivated by a deep commitment to his daughter"and Laird is just not what he had in mind as a potential son-in- law. 'It's tough as a dad to see your child grow up and become an adult," he says. 'You've been responsible for them all of their lives and are expected to voluntarily let go of that grip and away they go."

The tense tug-of-war between Ned and Laird"small-town conservatism versus the anything-goes excess of Silicon Valley"forms the spine of the story. 'The whole show really is about these two men and their stubbornness about how they maneuver around each other for the favours of the daughter," Bryan Cranston says. 'Ned Fleming and Laird Mayhew are different in every way"level of education, where they were raised, who they were raised by, the principles by which they were raised"everything. The way they live, their taste in music, their generation"everything about them is a complete opposite of each other. Naturally there's going to be friction because they just can't relate to each other in any way."

That's not to say that Laird isn't well meaning. He's actually incredibly sweet and thoughtful and very much in love with Stephanie. But after a life spent writing code and designing apps"and a natural penchant to be completely honest at all times"Laird's a little clueless about how to read a room and appropriately modulate his behaviour. He consistently does all the wrong things for all the right reasons, and his misguided attempts to win over Ned only manage to push him farther away. 'I'm a little unpolished and rude, and I have a lot of tattoos and use crude language, so I'm everything that Bryan Cranston's character wouldn't want in a son-in-law," James Franco says.

Laird is honest"to a fault. 'What's great about Laird is that he is not capable of lying," Bryan Cranston adds. 'He is impulsive and socially crude and hurts feelings sometimes because he says what is honest and we know that that's not always the best policy. But on the other side, he also doesn't have the gear to be dishonest or deceitful, which makes Ned think he has an ulterior motive because no one is that good and must be up to something. He thinks Laird is going to do something and is going to get him before he does."

Not everyone responds to Laird so negatively, though. Barb, Ned's college sweetheart, is increasingly open to Laird's unconventional approach to the world, and she appreciates how far he's willing to go to gain Ned's affection. 'Barb is a little less buttoned-up than Ned and has a little bit more of an artistic bent so she's a little more open-minded to Laird than Ned is," says Megan Mullally (Will & Grace, Parks and Recreation). 'Laird keeps saying how sexy Barb is to her face. He talks about her slammin' bod and all this stuff, and she doesn't really know how to respond to it. But she kind of likes it, you know, in a very chaste way. She sort of blossoms and has a little bit of an awakening, if you will."

Also becoming increasingly swayed by Laird is Ned's 15-year-old son Scotty, who comes to Palo Alto a buttoned-up junior-corporate-executive-in-training and leaves a Silicon Valley beanie-donning hipster. 'Scotty starts off worshipping Ned and we see that he slowly starts to lose grip of Scotty because he's fighting a completely different battle," says Gluck (Middle School). 'I am a bit corrupted by Laird and want to be more like him."

For her part, level-headed Stephanie largely finds herself struggling to keep the peace, watching the father she adores gradually unravel and attempt to drive a rift between Laird and her. 'Stephanie just wants everyone to get along and ends up putting out fires all the time," says Zooey Deutch (Everybody Wants Some!!). 'At every point something goes wrong and she feels like she is watching these car crashes right in front of her. She is stuck in the middle and doesn't want to have to choose between her family and the man she loves."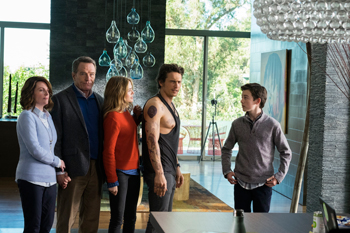 Through it all, Ned does, at the very least, have one unwavering ally"his best friend and colleague back home in Michigan, Lou Dunne, played by Cedric 'the Entertainer," who tries to help Ned cope with the unexpected chaos of the trip. 'I back my friend, like just one hundred percent," the actor says. 'I'm that kind of cool, calm voice that always keeps the troops in line, keeps everybody under control, keep them believing in the chief's"the Cheese, as we call him, the Big Cheese"goals and his plan and his dreams."

Working with co-screenwriter Ian Helfer (The Oranges), director John Hamburg crafted a hilarious, heart-felt script that perfectly captures the challenging transition parents face as they witness their kids creating lives and relationships of their own. 'To me, there's nothing funnier than the awkwardness of real life," says John Hamburg, who expertly mined real-world situations for laughs with earlier films such as I Love You, Man and Meet the Parents. 'As a comedy writer, you go through life thinking, what if this was a scene from a movie? Every day is full of tons of awkwardness and tension and miscommunication, and so that's where I like to pull from. This is a story about a normal family"they go into an abnormal world, but it is a world rooted in reality."

Adds producer Shawn Levy, the comedic powerhouse behind the blockbuster Night at the Museum franchise: 'I think John Hamburg is as great a filmmaker as we have in terms of grounded, character-driven comedy. Why Him? is funny as hell but very much anchored in authentic, relatable human relationships. I love that we're getting comedy out of circumstances that sometimes gets extreme but is always tethered back to character and to relatable human experiences."

About The Story & Characters

Why Him? was an idea hatched in a basement in Atlanta when producers Shawn Levy, Dan Levine, Ben Stiller and Jonah Hill were in production on the 2012 alien invasion comedy The Watch. 'We were all standing there in the dark on this wet, claustrophobic stage saying how great it would be to do a movie in Hawaii," recalls Shawn Levy. 'Shawn Levy and Ben Stiller and Jonah Hill came up with this idea called Aloha… We loved the idea and gave it to John Hamburg, who did an amazing rewrite and reconceived the whole idea. He really made it his own."

'The only downside was that he changed the location, so we're not shooting in Hawaii," Dan Levine says. "But everything else was perfect."

John Hamburg and Helfer were excited by the chance to put a fresh spin on the classic story of a concerned father clashing with his daughter's new boyfriend, but in crafting the script, they also made certain that both Ned and Laird are likeable and well intentioned to insure the audience is laughing with the characters, not at them. 'Laird's character, he's wealthy, successful, in some ways he has it all, but all he really wants is a family," John Hamburg says. 'Ned thinks Laird is trying to show him up, but in truth, Laird is in awe of Ned because of the life he's built for himself."

Why Him? is firmly rooted in Ned's perspective, however, with Bryan Cranston's traditional, small-town father forced to accept that his daughter is an adult capable of making her own decisions. But coming to terms with her love for Laird also means navigating a Silicon Valley culture entirely foreign to his more conventional sensibilities. Says Bryan Cranston: 'Ned is a straight-laced, Midwestern guy. He's an analog man in a digital world and gets completely lost in the conversation. He's not up on the jargon and isn't really sure where something's going or what it means. In my time, I've seen the milkman come and go and now records are a novelty."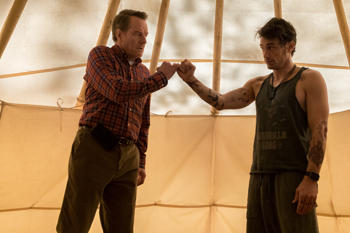 Adds John Hamburg: 'He gets out to Palo Alto, to Silicon Valley, and it's almost like a Wizard of Oz kind of thing. He hasn't really been exposed to this world, and it just feels like this surreal nightmare to him."

While Ned is fighting to keep his small independent printing press alive, Laird is making millions in the digital realm and living in an eco-friendly house that is entirely free of paper. 'While there is very much a war going on between these two men, the conflict also originates in a conflict we see going on all around us between the old and the new, the increasingly obsolete and the emergent," Shawn Levy says.

Finding the right actors to genuinely embody each of the generational perspectives was paramount. Bryan Cranston and James Franco had precisely the right chemistry. For Bryan Cranston, the project offered the opportunity to return to comedy after several years steeped in heavy dramas that included his masterful portrayal of chemistry-teacher-turned-drug kingpin Walter White on the hit series Breaking Bad, as well as his recent turn as Dalton Trumbo in Jay Roach's 2015 biopic about the screenwriter, for which he garnered an Academy Award® nomination. 'I love doing dramatic roles, but you don't have as much fun as you do on a comedy," the actor says. 'When the objective of your job is to go to work to find different approaches to making people laugh, that's a good gig."

Bryan Cranston's undeniable timing, nuance and personal insight proved to be comedic gold. 'Bryan Cranston is such a magnificent actor," Shawn Levy says. 'The guy doesn't hit false notes. He is able to play Ned so honestly and you feel this father's inner freak-out, but it is expressed in ways that are often misguided and as a result really comedic. He's pitch-perfect in this part."

With an established reputation in the comedy realm as a result of his extensive work with frequent collaborator Seth Rogen, James Franco, who earned a best actor Oscar nomination for his turn as hiker Aron Ralston in 2010's 127 Hours, was interested in exploring the genre further with a different dynamic under John Hamburg's direction. 'When I got into comedy, I was introduced to the importance of grounded characters who provide a real emotional through-line and not just a series of jokes," James Franco says. 'John Hamburg really subscribes to that idea and creates the kind of comedies that I gravitate toward because it doesn't feel like fluff. You're actually having something of an experience while you're laughing."

James Franco and John Hamburg's relationship actually began as professor and student when the actor was attending the graduate filmmaking program at NYU. 'Unfortunately, he was my teacher the semester that I was doing 127 Hours, so I wasn't there a lot," James Franco says. 'But we talked a lot and I got to know him on the phone. I liked his movies, I liked his writing and then he told me that he was thinking about Bryan Cranston for the father role. I didn't know Bryan Cranston, but I saw him backstage on the last episode of The Colbert Report, and he said, -Hey, I heard you might do this and I might do it. What do you think?' So we started talking and he's just the greatest human being ever, so great to work with and such a great guy."

For Laird, the wealthy tech magnate completely devoid of a filter who prizes free-flowing creativity over any kind of tradition or structure, multi-hyphenate James Franco was the ideal choice. He could really embrace Laird's uninhibited nature, says producer Dan Levine. 'James Franco really embodies that character given all the things he does as a painter, author, director, writer and actor"he is able to embrace the artistic sensibility of Laird who's a real dreamer," Dan Levine says. 'He doesn't have a filter but he's all about passion, and James Franco steps into that role so easily."

Although Laird is unruly and wild, he's also incredibly winning and likeable, qualities James Franco definitely brought to the role. Offers John Hamburg: 'He manages to get away with stuff that I thought he would never be able to get away with because he's James Franco and he's got this smile and this glint in his eye and this playfulness. So he can say some of the most offensive things to this nice Midwestern family, but he's not doing it to get a rise out of them. It's just that no one taught this guy how to act. He's just a guy who has no boundaries."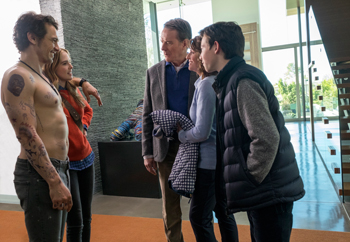 'I definitely think that there's a little bit of James Franco in Laird and there's a little bit of Laird in James Franco, too," adds Gluck.

To help develop the character of Laird, Franco Skyped with video game designer Cliff Bleszinski (known as CliffyB) for some real-world inspiration. 'He's sort of like a snowboarder pimp," James Franco says. 'That's sort of like his style. He talked really fast, he throws in a lot of cuss words but is also saying some pretty intelligent things, you know? I thought, oh, there's something of Laird in there that I can use."

Underscoring the great divide between the Flemings and Laird even further are the eccentric Silicon Valley characters the family meets while at Laird's estate. First among them is Gustav, played by Keegan-Michael Key (Key & Peele, Keanu). Sure to be an audience favourite, Gustav acts as a spiritual consigliere of sorts"he's Laird's life coach, martial arts trainer, and best friend, and he tirelessly tries to advise Laird on how to behave around Stephanie's family. 'Because of Laird's dicey upbringing, he doesn't know how to interact with the world in the best possible way, so Gustav has taken him under his wing and is trying to nurture him into adulthood the best way he can," Keegan-Michael Key says.

Keegan-Michael Key enjoyed the way in which the character's lengthy list of eccentricities grew as filming progressed. 'With each script revision, it's been interesting to watch things added on to Gustav," he says. 'He knows martial arts but he's also a chef and speaks six languages or seven or nine. Oh, and it would be funny if he was almost an Olympic swimmer and maybe he served at a Tibetan temple…the world was our oyster in regard to this character."

Keegan-Michael Key brought an energy and enthusiasm to the role that went well beyond the initial character description, says Shawn Levy. 'Keegan-Michael Key brings into every room such a force of positivity and such bold comedic instinct we knew he was going to take a big swing with Gustav," he says. 'For me, Gustav is a descendent of the Hank Azaria character in Along Came Polly and Martin Short in Father of the Bride, a character that is weird and often with an unintelligible accent but warm and with total devotion."

The production also cast some of the sharpest young comedians working today"including Adam Devine (Mike and Dave Need Wedding Dates), Andrew Rannells (Girls) and Casey Wilson (Gone Girl)"as upstart entrepreneurs Ned encounters at a massive, raucous holiday party Laird throws in honour of the Flemings' visit. The guest list is a virtual who's-who of tech world billionaires, people who, for Ned, seem to speak another language entirely. For the filmmakers, those key supporting roles gave them the chance to poke fun at established Silicon Valley stereotypes. 'When the supporting cast are comedy aces, you're in a good spot, and the movie has a plethora of comedic opportunities," Shawn Levy says. 'John Hamburg's casting instincts are very deliberate and the strength of the supporting cast adds to the comedic richness."

Devine plays brash tech mogul Tyson Modell, the 24-year-old creator of the wildly popular Ghostchat app where 30 million people 'boo" each other everyday. Modell is the epitome of the enfant terrible image often associated with the young billionaire set. 'As far as the billionaire tech stereotypes go, you're either an egomaniacal sociopath or the kind of chill guy who doesn't have an office and gets around on a long board," Devine says. 'Tyson is the guy who angrily yells at his driverless car that everyone has to put up with."

Ned also meets siblings Blaine and Missy Pederman, the creators of an online invitation company called StampFree Invites, the internet business most directly threatening the fortunes of his midsized printing press. 'Ned is in the printing business and here we are representing the future, which is paperless," Rannells says. 'We are the digital version of Ned's small mom-and-pop shop, so Ned looks at us as the end of days," Wilson adds. With such a rich landscape of characters, Hamburg set out to create an atmosphere that would unleash the formidable strengths and instincts of his talented cast. Improvisation was not suggested, but rather required"something the actors found thrilling. James Franco appreciated John Hamburg's total commitment to keeping the creative space open. 'It's important to feel like someone behind the camera can support you," he says. 'If you're riffing, you hope the director can build on it and guide you. John Hamburg leaves a lot of room for improvisation"you start with the script and then roll from there to see what you find."

'The permissiveness…we were like children," Bryan Cranston adds. 'We'd do the scene as written and were not only allowed to but were encouraged to go crazy and add whatever was appropriate to the character."

Confirms sketch-comedy veteran Keegan-Michael Key: 'I have never been involved in a production where I've had a director turn the cameras back around on something already shot to capture the other side of what was improvised. It made my eyes sparkle. From an actor's point of view, this has been a dream because you get to really feel it out. There will be moments in the film that will have been created completely organically. That is what John Hamburg was really looking for."

John Hamburg says the best comedy begins with a strong script, but maintaining an environment on set where unexpected ideas can thrive always yields exciting surprises. 'Throughout the day, you just discover certain veins of comedy that you didn't know were going to be there in the morning," he says. 'To me, it's a free-for-all. It's a very collaborative, open process where the actors yell things out, I'll yell out ideas during the take. They'll jump on it, they'll pitch ideas back to me. It's one of my favourite things to find something that didn't exist in the morning and by two o'clock, it's almost become a running joke on set. It just makes it, I think, fresh and funny and alive."

The process resulted in extraordinarily long takes, something rare given the breakneck pressures of film production schedules. While shooting one particularly uncomfortable scenario for Ned"in which Gustav must come to his aid while he sits on a high-tech Japanese toilet that's malfunctioned"Hamburg let the cameras roll for 46 minutes as Bryan Cranston and Keegan-Michael Key dissolved into laughter over and over again.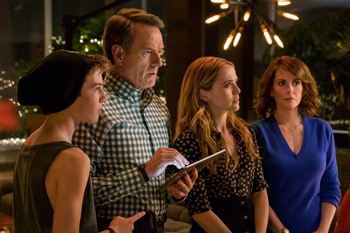 'It's fun to watch an actor of Bryan Cranston's caliber not be able to keep it together time after time," John Hamburg says. 'And then Keegan-Michael Key, who's used to being in these kind of comedies a little more, he couldn't keep it together. I kept saying, -Guys, do you want me to cut?' And they kept saying, -No, no, no, no, no.' It was mayhem but beautiful to watch two men make each other laugh that hard."

Adds Keegan-Michael Key: 'Every time we would reset, Bryan Cranston would say -I got it, I got it,' and I would move into frame really slowly as close to his face as possible and he would break every single time. He must have apologised 56 times. It was a 46-minute take and there are probably two useable minutes."

Relishing his return to comedy after so many years in dark, compelling drama, Bryan Cranston's enthusiasm was palpable. Keegan-Michael Key comments, 'This is a triumphant return to comedy for Bryan Cranston. He is in the pocket, in his element and he's been so much fun. Anyone who knows Bryan Cranston knows that he relishes and celebrates every moment he's on set and if they could catch on camera half the stuff he does off-screen…he has left people in tears on set."

Laughs James Franco: 'You wouldn't expect Bryan Cranston to be the one to push the envelope, but he's the one who most often makes the suggestion that's gone too far, for both the scene and for the actors. I love that the crudest one in the room is often Bryan Cranston."

About The Production

Filmed in Los Angeles over nine weeks, Why Him? required the production team to create two very different aesthetics"the cozy sweater appeal of Ned's Michigan home and the minimalist majesty of Laird's sprawling hipster estate in Palo Alto. To stand in for Grand Rapids during the holidays, the Universal back lot was transformed into a picturesque snowy suburban neighbourhood. Truckloads of ice were brought in to blanket the streets with snow and large hoses blasted trees with snowy foam to create the illusion of a winter wonderland. By contrast, Laird's home exemplifies the sleek, streamlined world of tech. Surrounded by vast lawns where he keeps an array of animals (lawn to table!), the expansive 'smart house" is completely paperless, bathrooms included. The home also features an omnipresent operating system named Justine, a virtual concierge voiced by Big Bang Theory star Kaley Cuoco, who can field questions, give feedback and track activity and conversations from room to room. The center of the home is an enormous great room that houses the pride of Laird's extensive art collection"an installation of a giant moose submerged in a tank of its own urine. The majority of the paintings on display are James Franco originals, however.

'A lot of the artwork in the movie is painted by James Franco, almost every piece," John Hamburg says. 'It seemed appropriate for the movie. I mean, Barb and Ned sleep under a big painting that says, -Humping Capybaras,' above an image of two animals, well, humping each other. It's very James Franco and very appropriate for the movie."

Laird's home is also where Gustav tutors him in evasive Parkour as a means of self-defense. The intensive training involves random sneak attacks (an homage to The Pink Panther and Kato)"the goal is to create an innate skill set that is instinctual, primal and can be appropriately triggered when necessary. 'Because Laird is a valuable asset he needs to know how to protect himself in case there was a kidnapping or something of that nature," says Keegan-Michael Key.

Gustav's training methods are put to the test, however, on an unfortunate recipient…his desired father-in-law. Convinced that Laird is a fraud, Ned enlists his trusty I.T. guy back home (Zach Pearlman) to hack Laird's computer and do some digging into his financial records. Armed with information he believes will finally expose Laird's intricate web of lies, Ned confronts Laird in front of the family, and that's when tempers finally bubble over.

Accusations fly, and things quickly turn physical. Trying to evade Ned's attacks, Laird's Parkour training kicks in, and he effortlessly climbs to the top of the moose tank installation.

With a nod to the growing pressures of the trip, the pressure of Laird's body weight against the glass causes the tank to explode, sending Laird flying across the room in a giant wave. 'The explosion is perfect because it's all the different threads that we've been developing throughout the movie that come to a head in such a great way there," James Franco says. 'The scene wasn't originally that way and to John's credit he is really good at developing ideas and allowing each scene to reach its max potential."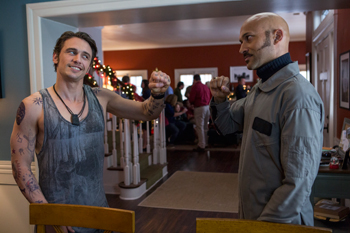 The notion of Laird bursting out of his giant art installation provided an opportunity for the filmmakers to wink to James Franco's public image in a subtle way. 'James Franco has this reputation as an artist and we thought it would be kind of funny to have James Franco explode out of this fantastic piece of art as a weird little meta-idea and it grew from there," Helfer says.

The stunt was undoubtedly the most complicated sequence to film. Why Him? SFX coordinator Jeremy Hays brought in several engineers to work through the logistics of the sequence involving an eight-foot tank filled with 2,900 gallons of water. 'It's funny because you first read the script and then go to meetings and try to convey what an engineering feat the sequence requires as well as the risk and danger while giving everyone the confidence it can be done," Hays says. 'I've done similar things with aquariums that are around three or four feet, but when you're talking about something eight feet, that's something completely different."

The first challenge was to build a structure on the set that would support the weight of the 5,000 lb. tank plus 3,000 gallons of water"the total weight was a staggering 17,000 lbs. The team then had to determine how tempered glass ¾'' thick could safely hold back the water inside the tank while the cast and crew shot around the installation for the several weeks leading up to the stunt.

Because a stunt performer would be submerged in the tank at the time of explosion, blowing out the glass using pyrotechnic devices was not an option. Instead, Hayes and his team used a high-pressure pneumatic cylinder that transferred roughly 8,000 lbs. of force onto a small point on the top corner of the glass to shatter the tank and flood the set with water. 'We had an idea of how far the water would go, and it went much farther and it demolished the set in a way we intended it to," Shawn Levine says. 'It was a pretty complex stunt for this size of movie and it was absolutely stunning."

John Hamburg says the sequence caused plenty of nervous moments, but he was thrilled with the final result. 'It was my most stressful day on a movie set ever," Hamburg says. 'Thankfully we did one take. It went off without a hitch. The stunt man did get a little scrape on his nose, but he went through a plate glass tank and survived and we had, I think, 11 cameras filming it. It's a really fun and exciting moment in the story."

But it's not just the film's outrageous stunts or wild physical comedy that's likely to stick with moviegoers. Bryan Cranston, for one believes the truly relatable story of a devoted father finding a way to embrace the unconventional tech billionaire his daughter loves that's at the center of Why Him? will resonate with viewers this holiday season. It's a funny family comedy about acceptance and connection.

'A lot of comedy is derived from the differences between us and is best when born in a sense of reality," Bryan Cranston says. 'If an audience leaves a theater and had a lot of laughs, that is a value in itself. If an audience laughed and actually felt something, that's the rich experience we hope to achieve."


Why Him?
Release Date: December 26th, 2016