Matthew McConaughey Kubo and the Two Strings
Cast: Matthew McConaughey, Rooney Mara, Charlize Theron, Ralph Fiennes, Michael Sun Lee, Art Parkinson
Director: Travis Knight
Genre: Family, Animation

Synopsis: From animation studio LAIKA, makers of the Academy Award-nominated Coraline, comes Kubo and the Two Strings, an epic original action-adventure and a cinematic experience that sweeps audiences into a world of wonders.

On the craggy shores of a fantastical ancient Japan, a boy named Kubo lives on a high cliff above the sea. A scruffy street urchin who is always clever and kindhearted, Kubo (voiced by Art Parkinson of Game of Thrones) ekes out a humble daily living, mesmerizing townspeople of a small fishing village with his magical gift for spinning wild tales out of folded origami. Among the villagers he enthralls with his stories are Hosato (George Takei), Hashi (Cary-Hiroyuki Tagawa) and Kameyo (Academy Award nominee Brenda Vaccaro). By night, Kubo tends to his fading yet regal mother as she slips into trances that seem ruled by the rising and setting moon.

This relatively quiet existence is shattered when Kubo accidentally summons a spirit from his past which storms down from the heavens to enforce an age-old vendetta. Now on the run, Kubo joins forces with the fierce, no-nonsense Monkey (Academy Award winner Charlize Theron) and the quixotic insect samurai Beetle (Academy Award winner Matthew McConaughey), and sets out on a thrilling quest to solve the mystery of his fallen father, the greatest samurai warrior the world has ever known. Kubo must find the coveted items left behind by his father: The Armor Impenetrable, The Sword Unbreakable, and The Helmet Invulnerable.

With the help of his new friends and his cherished shamisen – a magical musical instrument –Kubo's odyssey winds through howling blizzards in The Far Lands, the underwater Garden of Eyes, and the dangerous Bamboo Forest. Learning of his own magical powers with every new test of strength and character, Kubo must battle gods and monsters, including the vengeful Moon King (Academy Award nominee Ralph Fiennes) and the evil twin Sisters (Academy Award nominee Rooney Mara), to unlock the secret of his legacy, reunite his family, and fulfill his heroic destiny.

Kubo and the Two Strings
Release Date: August 18th, 2016



About The Production
Inspirations

Like its newest hero, Kubo, Laika has been on a journey. In 10 years, Laika's status in the world of moviemaking has grown from fledgling animation studio to one of the world's most admired producers of animated features. In 2016, the Oregon-based studio was honored with an Academy Award for scientific and technical achievement.

Laika's traditions of bold storytelling, technical innovation, unforgettable characters, gorgeous visuals, and bringing the art form of stop-motion animation into the 21st Century all coalesce in the company's most ambitious work to date, Kubo and the Two Strings.

The elements vital to this original story are love of Japanese culture and tradition, a boy becoming a hero, a quest packed with humor and action, and the self-discovery that we all seek.

Kubo and the Two Strings director/producer Travis Knight, an Annie Award-winning animator and Academy Award-nominated filmmaker who has produced, and been Lead Animator on, Laika's Oscar-nominated ParaNorman and The Boxtrolls, points out that 'stop-motion has been around since the dawn of cinema. Fundamentally, it's the same process that Willis O'Brien used in King Kong in 1933, but we've created technology and techniques that have completely transformed the medium. Our combination of art, craft, science, and technology makes for powerful visual storytelling."

Yet Laika eschews a 'house style" of animation, preferring instead to utilize those techniques, styles, and aesthetics that serve a particular story most appropriately – often blended together. What is consistent at the Oregon-based studio is its mandate to tell stories that are bold, distinctive, and enduring. Travis Knight says, 'We want to make movies that matter, and to do so in a way that truly pushes the medium of animation forward.

'We are heirs of a great tradition of storytelling. Whether sitting around a campfire, in an amphitheater in ancient Greece, or at the Globe Theatre in Shakespeare's England, experiencing stories in a communal setting is a powerful and timeless ritual. Now movie theaters are where we go for stories about who we are. It's an incredible privilege to assume that legacy. We take it seriously. We want to give the audience something new, a meaningful experience, something they can remember and carry with them in their lives."

Since storytelling forms the nucleus of the creative DNA at Laika, Kubo and the Two Strings could not help but appeal to Travis Knight, who, as President & CEO of the company, decides which tales will be told.

'I had been looking for something big and expansive and epic in nature that would also speak to deep truths about life and childhood," Travis Knight recalls. 'Growing up, I was an enormous, obsessive fan of fantasy epics. I was a voracious reader, devouring Tolkien, Greek and Norse mythology, L. Frank Baum, and the seminal manga series Lone Wolf and Cub. It's probably no surprise that I was a film geek as well, and I adored the epic works of Akira Kurosawa, Steven Spielberg, Hayao Miyazaki, Ridley Scott, David Lean, and George Lucas. In fact, Star Wars is the first film that I remember seeing in the theater.

'Laika had yet to tackle a big fantasy. Probably for good reason. It's really hard. Most stop-motion films look like they're shot on a table top, because they are. But an heroic fantasy demands scope and scale. To make a small-scale movie shot on a gussied-up slab of wood in a warehouse look and feel like a large-scale epic lensed on an endless majestic vista is a nigh impossible task. It's ridiculous. Nobody would do that. Which is exactly why I was excited to do it."

So it was that Travis Knight responded positively to a pitch from Shannon Tindle, who created the characters and the original story. 'For me, Kubo and the Two Strings is very much about family," says Shannon Tindle. 'It was inspired by my wife's relationship with her ailing mother. I wanted to tell their story through the prism of a fantastical Japanese-inspired folk tale. Drawing from such a personal place allowed the story to be an epic fantasy, but with a deep emotional core."

Marc Haimes developed the story with Shannon Tindle, and then wrote the screenplay with Chris Butler, who previously wrote and directed ParaNorman for Laika. Marc Haimes comments, 'One of the central themes in Kubo and the Two Strings is the redemptive power of storytelling. In her moments of clarity, Kubo's mother recounts stories of their lives together before his father's tragic end. But she is steadily declining, and Kubo becomes the storyteller to the villagers not only to earn a living to support them but also to keep the tales alive."

Arianne Sutner, who heads production at Laika and also produced ParaNorman, reveals that 'it is not explained where Kubo's magic comes from. Kubo is, from when we meet him, blessed with the amazing ability to bring his family's story to life using origami and his magical shamisen."

Over the five years it took to bring the project to the screen, Kubo and the Two Strings grew as a love letter to Japanese culture from the entire team of artists, technologists, engineers, and craftspeople. The look of the movie is inspired by classic Japanese art and, in particular, Japanese woodblock printing. The latter's sawtooth patterns, the strong linear striations, intense but simple color palette, and rough-hewn texture were inspired by the work of woodblock masters including Katsushika Hokusai and, in particular, Kiyoshi Saito.

Shannon Tindle created all the character designs, noting that 'the characters reflect a simple yet powerful silhouette quite different than anything we had seen in a stop-motion film before – and my appreciation of Japan and its art and culture."

Travis Knight's own reverence for Japanese art and culture dates back over 30 years ago. 'I took my first trip to Japan with my father when I was around eight years old. Growing up in America's Pacific Northwest, in many ways Japan felt like home, but in other, striking ways it was unlike anything I had ever experienced. It was beautiful, breathtaking, almost otherworldly. The architecture, the art, the style of dress, the music, the food, the movies and television shows and comic books…It was a revelation. I was utterly in its thrall."

Travis Knight amassed a collection of manga comics to take back home, 'riveted by the gorgeous illustrations and clarity of visual storytelling even though I didn't understand the language.

My childhood introduction was the beginning of a life-long love affair with a great culture. I couldn't wait to go back, and I have returned many times since."

He muses, 'It's no coincidence that my first film as a director combines all these things I've loved deeply since I was a child: epic fantasy, animation, samurai stories, and the beautiful, transcendent art of Japan, While other kids my age were running the soccer pitch or playing with their Matchbox cars, I was dreaming of Japan and imagining armies of stop-motion samurai. The great filmmaker Zhang Yimou once said that every boy either wants a train set or to make a martial arts movie. I never had a train set.

'In making this movie, Kurosawa towered over all other filmic influences. Spielberg has called Kurosawa a -pictorial Shakespeare' and I believe that to be true. Every frame in a Kurosawa film is like a painting. His composition, cutting, movement, lighting, and shapes were an aesthetic muse on Kubo. But it's not just how he made movies, it's what he made movies about – existentialism, humanism and the heroic ideal, such as in No Regrets for Our Youth [1946] – that spoke to me."

Long revered at the Laika studios, legendary animation filmmaker 'Hayao Miyazaki inspired me on this movie in a very different way," Travis Knight recounts. 'Hayao Miyazaki finds something that he has a fascination with, such as Europe, and he internalises it, synthesises it, and weaves it into his art. He's not documenting, or replicating reality. It becomes his interpretation as represented in his art, an almost impressionistic take that then becomes a leitmotif in a large work.

'The kind of prism that Hayao Miyazaki applies to Europe is what I wanted to apply to Japan, offering my view on a place and culture that have been vital to me for so long."

Travis Knight conveyed his enthusiasms to the Laika artisans, who looked to a wide array of creative sources for further inspiration. Head of costuming Deborah Cook studied the famous folding techniques of modern Japanese fashion designer Issey Miyake; lighting cameraman Dean Holmes watched a series of Japan-set documentaries; and the puppet team researched the construction of samurai armor at the Portland Art Museum.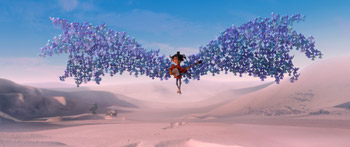 The extraordinary environments that were conceived, designed, and staged for Kubo and the Two Strings are also inspired by an English filmmaker, David Lean. The master director's movies took audiences to Earthly worlds of wonder for characters' quests, and Travis Knight wanted Laika to do the same for its epic movie.

Production designer Nelson Lowry, who crafted otherworldly activity for Laika's ParaNorman, found 'working on a film that is steeped in another culture to be very exciting. We really wanted to do the Japanese aesthetic justice. The woodblock printing of the Edo period became one key point of reference."

While neither a documentary-style account nor a replica of Japanese culture, the world of Kubo and the Two Strings reflects each crew member's own specific absorption, interpretation, and finally installation of that culture into a story set in a version of Japan. Early on, Laika invited accomplished Japanese artists of different mediums to enhance the daily creative process.

From 90-year-old choreographer Sahomi Tachibana, who would ultimately lead dancers to create the Obon Festival dance sequences in the movie, to consultant/interpreter Tarȏ Gotȏ, who was peppered with questions large and small from the crew whether on-set early on or by phone to Tokyo, Laika was constantly evaluating its aesthetic choices and cultural references for authenticity within an interpretive frame.

Art director Alice Bird recalls how Taro Gotȏ's input informed a scene wherein villager Kameyo, an old woman, communes with Kubo as he tells stories. The character was originally planned to be depicted sitting on the ground during the performance, but 'Tarȏ Goto told us that a woman, no matter her station in society, would never sit on the ground like that. It's just not something that you would see; it would be truly shocking. So we changed that; those small but telling details are incredibly important when you're trying to capture an authentic culture and a way of life.

'Working on Kubo and the Two Strings became inspirational for everyone. We wanted to go that extra mile to be true to Japanese culture and its philosophies."

The Obon Festival takes on significance in the movie as Kubo seeks healing from loss. Honoring deceased ancestors, the Japanese custom of Obon is rooted in Buddhist traditions and has become an annual holiday in Japan during which the spirits of ancestors are believed to return to this world in order to visit their relatives. Traditionally, lanterns are hung in front of houses to guide the ancestors' spirits; Obon dances (bon odori) are performed; graves are visited; and food offerings are made at homes, altars, and temples. The way Obon is followed varies from region to region. In some areas, floating lanterns are put into rivers, lakes, and seas at the close of Obon in order to guide the spirits back into their world. Spanning three days, Obon is observed in mid-August in many regions of Japan, and observed in mid-July in other regions.

A cultural icon, actor George Takei voices the role of Hosato, the village elder who guides his own child through Obon. 'In the film, I introduce my daughter to it so as to pay our respects to our characters' ancestors. We become one with the great oneness of the universe."

Sutner reveals, 'Hosato represents a guiding father figure in our story, and he stands as an strong example to Kubo of how a loving father would treat his child and uphold traditions and beliefs within the family. The idea of honoring family members, even after they are gone, is a central theme of the story – and one that each of us relate to in a very personal way."

'Death is that big transition when we become one with the universe," reflects Takei. 'For young people seeing this movie, we personify it as respect for our ancestors and it becomes a celebration as well, a ritual. Dancing is an integral part of the Obon observance. In fact, when I was a kid I thought Obon was essentially a dancing festival and later on my parents explained to me that it was how we paid respect to our family history."

For Takei, Kubo's caring for a mother in a fragile emotional state resonated powerfully. He remembers, 'My mother's health turned poorer, and she eventually moved in with me and my husband. She brought her Buddhist altar with her, and it remained there until she passed.

Remembrance and humanization of our ancestors is so important, as we are all constantly going through transitions in life."

Haimes feels that 'the story delved into some complex themes about the transformative magic of myth, and how stories can function as spiritual tools. The tales Kubo tells bring unity, connectivity, and truth.

'So his own tangible physical adventures absolutely needed to reflect that. As a result, our thrilling action scenes and spectacular set pieces have a kind of double meaning to them. Every -beat' of action had to reflect our young hero's deeper journey towards understanding."

Family Business

Kubo and the Two Strings is an epic quest movie with towering landscapes, exciting martial arts battles, magic, and fearsome villains. But it is also a story of maturation and forgiveness, the tale of one child attempting to define family and tradition and to understand how loss and healing reside side by side in the human heart.

'Laika movies always tell a personal story," says director Travis Knight. 'Paradoxically, the more intimate and personal a story is, the more universal it becomes. While that's been the case with all of our films, there's more of me in Kubo and the Two Strings than anything I've ever done. That can be a slightly terrifying prospect: revealing a part of yourself that you typically keep shrouded and protected. But it's what we need to do if we want to tell stories that have meaning and resonance and real heart.

'The emotional core of the narrative is about a boy and his mother. That connects with my own experiences. Like Kubo, I was a lonely kid, and my existence revolved around my mother. She was my closest friend, the defining relationship of my young life. This movie explores that time in our lives when those things began to shift, and then irrevocably change; when we learn a profound and melancholic truth that to love is to hurt. That's a hard truth, but it's a fundamental aspect of what it means to be human."

Artistic experiences came into play for Travis Knight. 'Having worked in animation for two decades, having long slogged through the mire of artistic creation and development and production and management, I finally felt I had acquired a degree of wisdom and perspective. Being a director took advantage of every single one of my earlier experiences. This film was technically demanding, but emotionally more so. As we developed the film I became increasingly aware of parallels between our characters and my own life. Life is fuel for art, and my experiences with my family combined with a life working in animation gave me confidence that I could do this story justice."

After producing and being Lead Animator on past Laika movies, Travis Knight was initially surprised at the role's demands. 'When you're the director, you're the nexus of everything. Every single creative, artistic, and technical decision ultimately piles up on the director's shoulders. Every scrap of fabric, every cut of every hair of Kubo's wig, every prop on every set, every cloud in every sky, and every single piece of music runs through the director's filter. It can be exhausting. But it's also exhilarating. You're surrounded by so many brilliant and passionate artists. You try to inspire them, but ultimately they're the ones inspiring you. It's a beautiful collaboration. Directing Kubo has been the most creatively satisfying experience of my life."

In keeping one of his cinema icons, Akira Kurosawa, front of mind, Travis Knight realised how 'Kurosawa often explored the heroic ideal, and how an individual, over the course of a film, must stand alone, opposing a corrupt system or a tradition or even a family itself to do the right thing.

'Kubo, in crossing this Rubicon from childhood to adulthood, is forced to confront tradition – and his own family history. Kubo and the Two Strings addresses what having a family even means, and how a family can define who we are and what we become. Those themes are inspired by Kurosawa's works."

The story's combination of rip-roaring adventure and emotional explorations of family appealed to screenwriter Chris Butler. He reports, 'One of the things that first drew me to this project was the relationship between Kubo and Monkey. There is a lot of humor in their interactions, but it is real character- and situation-based humor, as you find with families.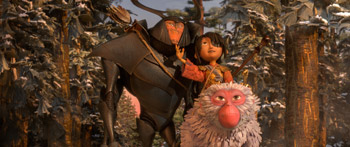 'In Japanese folkloric tradition, the hero in the quest often has a guide who is usually a male. It was wonderful to make Monkey a female figure."

Producer Arianne Sutner notes that Laika has introduced audiences to several strong female characters: 'First there was Coraline, a non-traditional female heroine for an animated film. In ParaNorman, there was Aggie, a character with powerful and intense emotions. In The Boxtrolls we had Winnie Portley-Rind, an audacious girl who drives much of the action. Now we can add Monkey to that list."

Academy Award winner Charlize Theron adds, 'What I love about the films that Laika makes is how they acknowledge that family relationships do not always come easy to us."

Charlize Theron agreed to take on the voice role of Monkey, eager to portray the character's traits of being 'fierce, funny, cynical, wise, unapologetic – and deeply caring for Kubo.

'I was thinking of my son a lot with regard to this story. There were very specific choices that I made for the character of Monkey that came from the mother in me that maybe I wouldn't have made if I wasn't a mom. The overprotectiveness that Monkey has towards Kubo was something that I definitely tried to celebrate fully and stay connected to much as possible because it just felt very authentic to me. Monkey believes in tough love, and I think of myself as that kind of parent. I was raised by my mom in a very honest way, and I think Monkey is very honest about all of the realities of life; it's not just a bowl of cherries, and you come up against a lot of obstacles and conflict."

She remarks, 'Being a mom now is also why I wanted to make Kubo and the Two Strings because I always joke that my kids won't see any of my movies until they're at least 55 and this is the one that they'll actually see before then…"

Another Academy Award winner, Matthew McConaughey, got the script and began reading it to his children each night as a bedtime story. He reveals, 'My kids' favorite movie characters are always the ones with buffoonery and physical humor; it's the underdog in the story who is the most goofball or the outcast that they will be rooting for.

'I had never done an animated movie before, and I sure as heck haven't made any films that are suitable for kids in a long time. So I said, -Let's go do one for my children.' I was excited to be able to play the comic relief in the story – an amnesiac samurai beetle!"

Digging deeper into the character beyond depicting the humorous surface, Matthew McConaughey notes that 'Beetle is a great warrior – in his own mind. The curse he's been placed under means that he isn't quite sure who he is or where he's from. Along the way, he starts to reconnect to his lineage and history in a conscious way. His delusional optimism makes him endearing – and ultimately sees him through some big challenges."

They may be, respectively, a simian and an insect, but Charlize Theron likens Monkey and Beetle to cinematic pairings of a bygone era. She reflects, 'In some ways it goes back to moviemaking from the 1940s: throwing two characters together on a moving train and watch them kind of have to face each other and get along. They have nothing in common other than their love for Kubo, and in order to survive monsters and storms and everything else that's thrown at them, they have to come to a meeting of the minds if they're to get through it together.

'Monkey is very much an A-type personality and everything has to go her way or the highway. That's why Beetle, who functions in a very, very different manner, frustrates her a little bit."

Matthew McConaughey laughs, 'Monkey is so suspicious of Beetle when he shows up; he seems like a real hazard at first! A lot of humor comes out of the back-and-forth between those two; Beetle needles her quite a bit while Monkey condescends to him. But you see their relationship evolve, as it must."

Because it takes years – not months – to make a Laika movie, the voice performances are recorded early on at intervals, to serve as a resource for the animators. Given the stories that Laika tells, 'we always want to have kids portraying kids in our movies," says Sutner. 'But the production time span can be a challenge.

'Fortunately, Art Parkinson had from the first a command of the Kubo character that never wavered, and his understanding of this young boy only deepened over the course of the recording sessions."

Art Parkinson, known to millions of fans as Rickon Stark on Game of Thrones, found himself in a different kind of epic with Kubo and the Two Strings. Like the other principals on the project, the young actor's way in was through the family ties. Art Parkinson muses, 'Kubo is really parenting his mom in the beginning of the story. He's had to be a very disciplined person, but he is naturally quite caring in the way he takes care of his mom.

'I'm quite close with my mom. So it was easy for me to connect with Kubo in that way. I also liked that he is so courageous, going off on this big massive adventure."

Art director Alice Bird became a mother right before beginning work on Kubo and the Two Strings, so the idea of a little boy going out on his own on a dangerous adventure suddenly took on new meaning for her. She points out why 'it's so important for Kubo to achieve what he needs to achieve: his entire village is depending on him. He has Monkey and Beetle aiding him, but in the end he has to stand up for what is right on his own."

'Laika really is a family of artists," Sutner says. 'There is nothing more creatively satisfying than seeing this huge group of people, over 400 at peak strength, slowly bringing the script to life. First, through sculpts of the puppets, then the sets and the lighting and the voice sessions. It's truly magical and always exceeds my expectations."

Concept artist Trevor Dalmer's daughter was born concurrent with his Kubo and the Two Strings stint, making the process of telling this story deeply emotional. He remembers, 'Early on we saw an animatic [interim rough cut of the movie with still images and storyboards accompanying already-recorded dialogue tracks], and I definitely got a little teary. I do feel that audiences are going to connect with our story's emotions in movie theaters."

Academy Award winner Dario Marianelli, composing an original score for a second consecutive Laika movie after The Boxtrolls, took his musical cues from the element of family as well. He reveals, 'I wrote a theme that could be played every time there were scenes discussing Kubo's family history, particularly his lost father. This is a big film, but I had to place that at the core."

Screenwriter Marc Haimes feels that audiences' need to make sense of the world through experiencing powerful storytelling is a unifying force. He says, 'It turns us from strangers into one global family. A good story functions as mirror that allows us to see past our ego and to realise that on some level we are all working together as part of that larger family."

Academy Award nominee Ralph Fiennes, who voices the Moon King, says that the movie is 'akin to a Greek myth or old legend. It doesn't feel like a traditional animated story. The design will appeal to younger people, but I think the scope of the art will appeal to an adult audience as well."

Travis Knight reflects, 'Everything in my life changed when I had children. That reality is at the heart of Kubo and the Two Strings.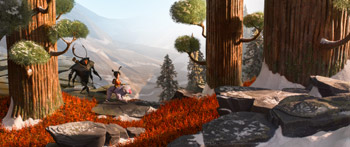 'Channeled into the movie are our lives; our relationships with our parents, our partners, and our children; and our abiding love for the transcendent art and rich culture of Japan. Kubo and the Two Strings is both a profoundly personal statement – a love letter to my mother – and a public pronouncement of Laika's commitment to tell stories that matter."

World Builders

Laika's first feature, Coraline (2009) was set in an alternate reality as well as in the rainy Pacific Northwest – the latter a locale the nearly 600 people at the Oregon-based studio were intimately familiar with. Laika's second feature, ParaNorman (2012), unfolded in a modern New England small town. The Boxtrolls (2014) unspooled in a whimsical Dickensian London.

Perhaps sensing that the Laika artisans were up for an even bigger challenge – and an artistic palette-cleanser – that would necessitate their creating a world even farther away, Laika President & CEO Travis Knight chose Kubo and the Two Strings to be the studio's fourth movie as well as his own his directorial debut. The story met his criteria of Laika films being 'bold, distinctive, and enduring, and revealing deep truths about the human spirit."

A classic hero's quest film, the action-filled epic's course was charted for a fantastical version of ancient Japan, one mostly inspired by the Edo period of the early 1600s to the late 1800s. Along the way, exotic locales were dreamt up, created, and filmed.

The production also had to conceive and craft the smallest stop-motion puppet ever made (out of origami), and the largest ever made, a 16-foot skeleton monster.

Then there was the sequence on Kubo's sailboat which took 19 months to shoot, with Canson Colorline paper laser-cut into nearly 250,000 leaves to cover the boat – or, boats, since there were two full boats and one broken-apart boat made.

'We Laikans like a challenge," says Georgina Hayns, who has been head of the puppet department through Laika's decade-long history. 'We're dedicated to doing everything we can to push the animation art form to new heights. That's the Laika way."

'Everything in this movie was ambitious, and the scope worried me a bit from the outset," admits producer Arianne Sutner, who is also head of production at Laika. 'At the same time, those were the challenges that excited me: water sequences are always a worry for stop-motion, and here we had a giant wave in the story's prologue. Then there were the monsters, which we wanted to make spectacular and fearsome but also scaled to believability.

'But at Laika, we won't be limited in what we can create. We rise to the occasion, which allows us to support all kinds of stories we want to tell. We work together in different ways, and usually, in the end, what ends up on the screen looks different than any other film out there because of those challenges we have met."

Butler recalls, 'On ParaNorman, I was writing about zombies, and seeing the undead animated – re-animated? – in stop-motion just instantly felt right. There are no zombies in Kubo and the Two Strings, yet stop-motion also felt right because this was a grand old-style epic adventure – swords and sorcery and big monsters, all part of a classic hero's journey. Even though the scale of this film had never been done before in stop-motion…

'Generally, if something seems like it can't be done, that's when Laika shows an interest in it!"

A key element of Kubo and the Two Strings, 'integral to our story and our aesthetic," notes Butler, 'is origami. In the early scenes, we see Kubo use his magic shamisen instrument to bring sheets of plain paper to life to tell stories about the origin of his family and the brave exploits of his father, Hanzo, the greatest samurai warrior who ever lived."

Traditional origami has been practiced since the Edo period in Japan. Origami, from ori meaning 'folding" and kami meaning 'paper," is the Japanese art of paper folding. The art of origami is transforming a flat square sheet of paper into a finished sculpture through folding and sculpting techniques. Modern origami practitioners generally discourage the use of cuts, glue, or markings on the paper. The small number of basic origami folds can be combined in a variety of ways to make intricate designs, but the best-known origami model is the Japanese paper crane. The paper's sides can be different colors, prints, or patterns.

Animator Kevin Parry worked on the bulk of the origami scenes, with Animation Supervisor Brad Schiff charging Parry to make the origami fully functional yet fantastical, beautiful yet believable.

Kevin Parry recounts, 'The first step in animating the origami was dissecting actual origami. I would research forms and folds similar to those we would be animating and also reference the work Georgina's team of puppet builders had done. With this information, the next step was to animate a very technical test as a starting point of how the animation performance could ultimately work. For example, if a sheet of paper needed to fold into an animal, I would try to animate the transition as truthful to that origami process as possible.

'The test would next get shown to our director, Travis Knight, who would give feedback – and, more importantly, discuss the emotional core of the shot. He would ask to make the origami more elegant, or angrier, or more sinister-looking. He had a very clear idea of how every piece of origami animation would be fitting into the bigger picture. So I in turn would come away with a very clear idea of how and what the animation performance beats should be."

The actual animation of the origami was a very organic process that relied heavily on the support of the props, puppet, and rigging departments. The latter supported Kevin Parry through hundreds of sheets of paper that he animated. He notes, 'It was up to me to cut the shapes and fold the paper for each and every frame. I would try my best to keep a single sheet of paper working through the whole shot, but I often used replacements - a fold would wear out or begin to fall apart, and I would have to swab in clean paper after a few frames.

'We had a very graphic approach to animating the origami, meaning that the folding only had to make sense from the camera's point of view. The key was to carry a few large shapes through the animation, so that your eye had something to follow; that allowed us to let a lot of the smaller details magically morph or disappear, and you wouldn't question what was going on!"

Hayns directed some of her puppeteers to enroll in origami classes. Others attended an exhibit of origami at the Oregon History Museum, 'Folding Paper: The Infinite Possibilities of Origami," which opened in October 2013 and which was one of America's first major exhibitions to explore the tradition of paper folding in Japan and Europe. 'We felt we needed to better understand this world of origami to unlock the key to making the puppets come to life," she notes.

The puppet department ultimately took inspiration from both origami and kirigami, the latter a variation of origami that includes cutting of the paper rather than solely folding the paper. Foil sandwiched between paper was used in animating the origami transitions.

All departments did a deep dive into Japanese art and culture. Never before had the arc of the storytelling in a Laika movie required such an expansive array of landscapes and environments, since Kubo travels great distances with his new companions. For production designer Nelson Lowry, art director Alice Bird, and cinematographer Frank Passingham, this necessitated conceiving and implementing a color palette, lighting aesthetic, and a portfolio of interior and exterior locations that would tell a tale while also respecting and integrating the art and culture that were guiding the production.

Nelson Lowry says, 'Since the story springs from reality and fantasy, that opened everyone up to new looks, and to new filmmaking approaches, at Laika. Kubo and the Two Strings ultimately called for 80 unique sets spanning numerous landscapes, from mountain ranges to the insides of a whale. The full emotional impact of Kubo's journey had to be preserved and not overwhelmed.

'The characters are off on a far-flung excursion to different land masses at different times of day, with shifting levels of both fantasy and realism."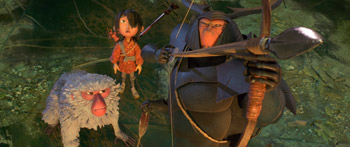 'From the producer's perspective, it's not ideal because you're not revisiting locations," smiles Travis Knight. 'Every single scene is essentially in some exciting new location, which means you're not reusing sets or even props. Every portion of the movie was different. But that's what our film needed to be. So these vast epic landscapes had to be figured out – and scheduled – in a sensible way. Many settings were built full-scale; others were a combination of miniatures, classic matte paintings, and CG set extensions."

The world of Kubo and the Two Strings comprises both intimate and expansive settings. The story hunkers down with the main characters – Kubo, Monkey and Beetle – as they convene for conversations that strengthen the bonds that will sustain them throughout their quest. Such quieter moments often transpire fireside in sheltered environments, safe places where they take respite from the rigors of their travels and/or hide from those who wish them harm.

'Alice Bird researched those more intimate environments with sensitivity, but also with an eye to natural beauty," notes Nelson Lowry. 'We make sure that the audience can concentrate on the characters and getting to know their stories."

Woodblock printing master Katsushika Hokusai, an artist and printmaker of the Edo period, is famous for his 'The Great Wave off Kanagawa," which served as the reference point for the prologue sequence in which Kubo's mother navigates a rickety raft atop a terrifying tidal wave.

But it was the more recent work of woodprint master Kiyoshi Saito that provided more frequent inspiration. Saito was a preeminent proponent of the sōsaku hanga school of woodprint blocking, which evolved in the early 20th Century and put forth the artist as the sole creator motivated by a desire for self-expression – as opposed to the shin-hanga movement that maintained the traditional ukiyo-e collaborative system where the artist, carver, printer, and publisher engaged in division of labor. Followers of the sōsaku hanga school distinguished themselves by creating art for art's sake.

Saito, known for his 'Winter in Aizu" series, developed a technique and style of creating woodblock prints with a reduced color palette and simplified forms. Instead of elaborate carving and color refinement, he worked with the grain pattern of the wood itself. The bold abstraction and spontaneous design gave his work a special quality. 'We incorporated Saito's beautiful wood finishes all through the film," says Knight.

The first stage in creating a woodblock print sees the artist creating a preparatory drawing, which is then taken to a block carver, who attaches the painting to a block of wood –traditionally, cherry wood – and then carefully carves it away to form a relief of the lines of the image. Finally, with all the necessary blocks – usually, one for each color – a printer will produce the print by placing printing paper on each block consecutively. The impression is produced by rubbing an implement called a baren over the back of the sheet. A great number of impressions, sometimes thousands, could be produced before the blocks wear out.

'The very act of making woodblock prints requires you to simplify nature," reports Nelson Lowry. 'The simplification of large, organic shapes that are prevalent in woodblock were imbued into our sets.

'We also used some of the wood-grained texture and the particulates that are in the inks and peppered those in throughout the movie. So, every single surface from wagon wheels to armor has that influence and texture imprinted into them."

A library of nearly 30 textures, referred to internally as the 'Saito pattern," was created at Laika. These were made using laser cutters and screen printing, and could be scaled up or down to accommodate different sets and applications. 'You could actually go up and touch the sets and feel that texture," marvels Nelson Lowry. 'In some cases, we used ground walnut shells to apply them. In other instances, we used scenic paint."

The scenic wonders were further enhanced by director of photography Passingham and his team of lighting camera operators. Passingham himself had been a lighting cameraman on Laika's first feature, Coraline.

'Frank understands the ballet of light, camera, and human performance that breathes life into a puppet," says Travis Knight. 'Working closely with Nelson Lowry, Frank and his team defined the look of Kubo and the Two Strings: the palette, the mood and atmosphere, and the movement in the frame. Frank and his team beautifully achieved what initially seemed impossible: the movie looks like a stop-motion David Lean film, a monumental Kurosawan myth in miniature."

Other details were brought forth by production's consultants, with Tarȏ Gotȏ coming on board in the early stages to keep the team on track with authenticity.

Schiff remembers, 'We studied, consulted with experts, attended exhibitions, did deep-dive research from source material. It was all in the service of being true to the culture that we so admire."

'Beyond authentic fighting styles and weaponry, the fight scenes needed to feel real with consequences."

To that end, the production enlisted the help of stuntmen as well as fight choreographer Aaron Toney, who had worked on the Marvel movies Guardians of the Galaxy, Captain America: Civil War, and Avengers: Age of Ultron. Toney advised on swordplay, complicated bow and arrow bits, and close-quarter combat.

Using dance and fight choreographers to heighten realism and inform dramatic sequences is another example of how Laika's 'hybridized" animated filmmaking closely aligns with live-action filmmaking. Sutner remarks, 'That old adage about Astaire and Rogers, how -Ginger did what Fred did, only backwards and in high heels?' Well, Laika does what live-action films do, but in miniature and with inanimate puppets!"

Even so, as Bird points out, 'We are never constrained by the sense that because we're working with stop-motion as our core format our work needs to feel small or contained in any way. I often feel that what we do is like learning a language, and when you start to dream in that other language you know you're almost there. Or when you're out for a walk, your eye focuses on all the patterns and textures that you've been immersed in at the studio. Everyone in the art department has had that experience, and that's when you know you've got it.'"

Notably, one guiding principle for Laika's world building on Kubo and the Two Strings was the Japanese tenet of wabi-sabi, a world view that centers on transience and imperfection. Derived from the Buddhist teaching, the aesthetic is sometimes described as one of beauty that is 'imperfect, impermanent, and incomplete."

In fact, Knight feels that the wabi-sabi principle can and does apply to everything that Laika does, and has done. He notes, 'Like so much of what we do, there's a family connection here. My mother-in-law and her family are Buddhists, so the notion of wabi-sabi, or -imperfect beauty,' resonated with me personally. Inherent in the idea is an understanding, acceptance, and appreciation of transience and imperfection. It encourages us to find beauty in those things that fall short of the ideal. That's not only a thematic foundation of our movie, it's an encapsulation of our entire production process and an articulation of the humanist philosophy informing every aspect of our work. It defines what we do: fusing art and science, the raw and the refined, the utterly perfect and the fundamentally flawed. We push for perfection but we embrace our humanity. That synthesis makes Laika films what they are."

The intermingling of live sets and visual effects (VFX) extensions and amplification reaches new heights – literally and figuratively – at Laika with Kubo and the Two Strings. Visual effects supervisor Steve Emerson – who has been on every Laika movie to date – clarifies that 'all the visual effects at Laika start with art work, animation tests, and real-world reference.

'So, for the wave sequence in the prologue, Nelson Lowry showed us the concept art and tasked our team with bringing it to life. We then studied animation tests that were created by [rigging supervisor] Oliver Jones and his team. Water is always a challenge for each of our movies, and Ollie created a practical water system that utilized an iron grid covered with various materials including fabrics and garbage bags. This yielded breakthroughs including a scoop patterning that we knew we would want to sustain through the final images."

With real-life waves studied at length by Emerson's unit, 'it took us about eight months to come up with a look for the roiling sea that combined realistic water motion and a heavily-designed surface.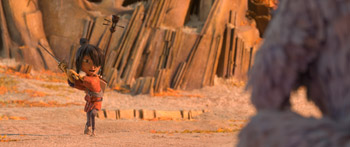 'The waves are beautiful and menacing, and most importantly they fit into Kubo's world and propel the story. For us, that's what it's really all about – shoring up the storytelling."

Emerson's group had to closely coordinate with Passingham's department, not least because of the production's carefully plotted-out shooting schedule: Passingham supervised five different camera lighting teams which, over the course of 94 shooting weeks, accrued 1,345 shots for Kubo and the Two Strings. 'We used 135 Canon cameras – 42 Mk2s and 93 Mk3s – and 267 lenses," reports the cinematographer.

Once Passingham's team had a frame shot and tagged, it went to Emerson's unit – 'almost immediately," notes Emerson. 'A big component of my responsibility is to make sure that the vision of the director and the performances of the animators are retained when VFX is used to augment a scene, whether it be an environment or crowd scene." His department's tool set includes – but is not limited to – Maya, Katana, Nuke, Mari, Houdini, RenderMan Reyes, and RIS.

As always with a Laika project, though, traditional materials and methods were always at the ready too. For the Far Lands, the snowy tundra where Kubo journeys with Monkey and Beetle, the art department prepared a rough template out of cardboard to define the topography for this specific environment.

Emerson reports, 'We always have to identify the particular parts of an environment that will be seen through the camera in a sequence. While the art department concentrates on building fully practical sets that we can photograph the puppets on and the cinematographer's team starts lining up cameras, we in the VFX department might notice that we're falling short in one area or another, and we start assessing where to add more elements to complement those sets. If it is decided that more environment is in fact needed, then that's when it comes over to visual effects department.

'Any and all miniatures that are created early on have been scanned so we know exactly what every topography is supposed to look like. We know the shape language and we have great in- camera practical references that we can use to make sure that everything that we're creating in visual effects is photorealistic – and matches what has been created on the soundstages with and around the puppets."

Butler notes, 'One of the ways we make our movies at Laika is encompassing many different disciplines with so many different artists who come with their own set of inspirations and references.

'I always say it's like walking around Santa's workshop, but the elves aren't quite as cute."

Creatures Feature

The inspirations for Laikans working to bring Kubo and the Two Strings to moviegoers worldwide take many forms – some of them scaly and scary.

For, in an homage to the extraordinary cinematic monsters that have startled generations of young moviegoers, not one but three bigger-than-life monsters stalk across the screen in Kubo and the Two Strings.

For many on the crew, Godzilla was a favorite movie monster growing up; production designer Nelson Lowry remembers watching the giant lizard's rampages on television and still being overwhelmed by this cinematic icon. Lowry recalls, 'Godzilla was terrifying and silly and awesome and sad, all at the same time. I just loved him."

Screenwriter Chris Butler had an entire menagerie in mind, noting that 'when thinking about our story, I kept coming back to a legend, Ray Harryhausen. His monsters were a stop-motion tradition, one we updated with zombies in ParaNorman. So, on this movie, I thought of how much fun we could have with creatures."

Like many a Laikan, Harryhausen built the armatures, sculpted the puppets, and would animate them himself. The visual effects pioneer whose 'Dynamation" would inspire generations of animators, he masterfully combined live-action and stop-motion animation to get humans and creatures interacting in such movies as The Beast from 20,000 Fathoms (1953), 20 Million Miles to Earth (1957), The 7th Voyage of Sinbad (1958), and Jason and the Argonauts (1963). Kubo and the Two Strings tips its hat to Harryhausen with scenes of humans and creatures together.

Though Harryhausen's influence has led to many iconic monsters being created or re-created through stop-motion techniques, Kubo and the Two Strings would be the first stop-motion feature to create monsters utilizing different techniques to maximize their impact.

Producer Arianne Sutner clarifies, 'We didn't want to create our monsters in CG, even though utilizing it would have been much simpler; many other studios would have done it that way. But as most of our crew has worked together since Coraline, the challenge was to find ways to build upon what we've learned on prior films to find the solution.

'We wanted the monsters to be created in the real world. That really energized our crew, because everybody wanted to show their respect for Harryhausen."

Lowry oversaw the look of the three monsters, or monster strains, in the story: the Giant Skeleton in the Hall of Bones, the spherical shaped giant eyeballs on stalks in the underwater Garden of Eyes, and the serpentine Moon Beast.

'As on every Laika movie, we had a number of firsts on Kubo and the Two Strings. When I first saw the designs for some of our characters, especially the Moon Beast, I was worried that we wouldn't be able to deliver to the director what he wanted," admits Director of Rapid Prototyping Brian McLean. 'We also had to make a 100% -- full size! – Moon Beast hand that grabs onto Kubo for a few shots. That hand was over three-and-one-half feet long."

The monsters became so big, and the mandate for them to be fearsome became so great, that Lowry's team had to rethink the landscapes they inhabited as suitably grand and significant in order that the monsters feel real to the audience. A significant amount of set extensions from the VFX crew in alignment with the art department was necessitated.

'Working with the character designer and the art department and making maquettes of these creatures was a definite highlight for me on Kubo and the Two Strings," enthuses Lowry.

Rigging supervisor Ollie Jones and his unit 'came up with three very different solutions for our three monsters. For the Giant Skeleton, we used an incredibly intricate cable system that elevated its arms. For the giant eyeballs in the Garden of Eyes we used an automated robot and a bowling ball. For the Moon Beast, we worked closely with the Rapid Prototyping [RP] department and provided extensive rigging to support the very long creature."

The inspiration for the Skeleton was derived from the famous triptych woodblock print 'Takiyasha the Witch and the Skeleton Spectre," by Japanese artist Utagawa Kuniyoshi, in which he depicted the 10th-century princess Takiyasha summoning a skeleton spectre to frighten an adversary. The giant skeleton rears out of a black void, just as the Skeleton does in Kubo and the Two Strings.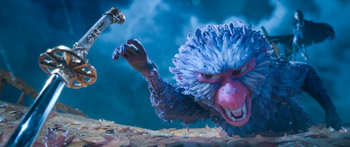 The Skeleton was built in different scales for varying shots, and its largest iteration was a 16-foot tall puppet that was animated by Charles Greenfield. Many departments had a hand in the science and aesthetics of the Skeleton; eventually, it became the largest prop or puppet – depending on your perspective – that Laika or anyone else had ever created for stop-motion, dwarfing the prop Mecha-Drill from The Boxtrolls, which loomed at just over five feet.

Greenfield animated the Giant Skeleton while on an elevated 1,000-square foot platform – atop which a ladder was needed – to animate the monster's head. Crash pads were placed flat for safety's sake. Sutner marvels, 'He would be up there and we would notice, for example, that Charles' head fit right into the Skeleton's eye socket, or that someone had enhanced the texture of the Skeleton's skull with an actual pork chop bone."

The various monsters together pushed the boundaries of puppet-making and technology. 'We had physical puppets, RP-printed puppets, and digital puppets," says Lowry. 'The size and the complexity of these monsters is unique to the medium and in realizing them Laika has set another high bar for the art form.

Seeing the Giant Skeleton monster wreaking havoc in the Hall of Bones provided art director Alice Bird with a visceral memory from her childhood. She recalls, 'When I see our Giant Skeleton I have the same reaction that I did when I first saw the skeletons' swordplay scene in Jason and the Argonauts: the hairs on the back of my neck stand up! You just can't tear your eyes away from this malicious presence."

The lighting department worked closely with Jones and his rigging crew to create the underwater creatures in the Garden of Eyes. The storyboards had called for what he calls 'enormous creatures adrift in an expansive water environment." In a pivotal scene, Kubo and Beetle confront these denizens of the deep who have the ability to hypnotize their victims – since they have, and are, giant eyeballs.

Balancing a giant eyeball on a stalk for each of these threats required incorporating an array of LED lights that sat behind each pupil. 'They cascade onto a giant Perspex ball," reveals Jones. The LED lights were installed in bingo balls behind the pupil of each creature and covered with metal fabric, which created tiny specks that produced tiny drops of light and a moiré effect that hypnotizes.

Lighting cameraman Dean Holmes recalls working 'for months to figure how to illuminate the eyeballs, since they had to be underwater as well. It was a very involved process to make the eyeball look like it sparkles and is electrified. I worked closely with Ollie Jones and the miniature lighting engineer Matthew DeLeu. Installing metal mesh in the eyeball mimicking the effect of electricity was a definite breakthrough."

As always on a stop-motion movie, scale has to be set for within scenes. With the Kubo puppet was approximately nine inches tall, the Eyes would have it at 11 feet for suitable intimidation. Ultimately, one practical puppet was made at that size, shot in multiple passes from multiple angles and put together via compositing.

Another first for Laika came with the practical Eye puppet being what Jones calls 'semi-automated. This means that instead of the animator moving it by hand, we devised a three-way axis device – using a garden globe, which was eventually superseded by a bowling ball. It was held in place by a rig, but could move in three different directions; our motion control department then developed an encoded system that employed two computer mouse devices to access the coordinates of the bowling ball – and move the creature remotely."

This semi-robotic system alleviated the need for an animator to move each and every tentacle of the creature one frame at a time as they would for a normal puppet. Jones reports, 'Instead of the traditional ball-joint system, we threaded a cable through, let's say, the arm of the puppet and that got pulled around by a series of motors that we installed internally. These creatures with long tentacles undulate in a huge body of water, so some of the automatic movement of the puppet was constant and could be pre-programmed on a parallelogram frame.

'There was even choreography, which we eventually called the Garden of Eyes dance."

McLean's department led the charge on the Moon Beast because, starting with Coraline, Laika has used 3D printers to revolutionize replacement facial animation by printing upper and lower portions of puppet faces to access an exponentially increased number of possible expressions for characters.

On Kubo and the Two Strings, Laika crew once again pooled their resources with those of the innovators at Stratasys, a leading 3D printing company; they had broken new ground together previously on Coraline, which marked the first time that a 3D printer was ever used in moviemaking. To create the Moon Beast and to refine Monkey and Beetle, Laika utilized the company's new Connex 3, a three-color resin printer. Stratasys and Laika co-developed software specifically for the movie that allowed modifications in the printer's software. This afforded the RP department the technical advantage to produce state-of-the-art color materials that no other studio in the world had the ability to produce. Laika's utilization of the technology has been at the crest of a 3D printing wave that is transforming almost every part of modern industry including automotive, aviation, medicine, retail, and defense.

McLean reports, 'The Moon Beast became Laika's first entirely 3D-printed puppet. The physical inspiration came from an actual prehistoric fish. The puppet was made up of around 881 individual parts: 130 color 3D-printed parts and 751 parts which combine metal body and leg armature components as well as internal dressing pieces."

'I believe that Ray Harryhausen would have gotten such a kick out of walking onto one of our sets and seeing these creatures ready for their close-ups," says Jones. 'We're proud to be carrying on his legacy."

Art and Science

Laika President & CEO Travis Knight, director and producer of Kubo and the Two Strings, notes, 'We continue to take this medium to places it has never been and expand the possibilities in animation. For this movie, we took techniques from the theater, from the stage, from woodworkers and machinists, from traditional artists and craftspeople, and futurists and technophiles…and maybe even some technophobes.

'But when what we need does not exist, we just invent it ourselves."

So it was that on the evening of February 13th, 2016, Laika was presented with a Science & Technology Academy Award for its innovative Rapid Prototyping (RP) process. Laika's Director of Rapid Prototyping Brian McLean and Coraline facial animation designer Martin Meunier were cited. The achievement was the result of a decade of research and development – begun during work on Coraline – on a process that originated in the manufacturing world for product prototypes. Laika ultimately reimagined the process to revolutionize facial replacement in stop-motion animation: for decades, the puppet's entire head was swapped out to change the facial expression, but with the breakthrough RP 3D printers could create upper and lower portions of faces. This innovation yields trays and trays (and, for archival purposes, rooms and rooms) of facial halves.

Laika's 'hybridized" filmmaking process succeeds because of the contributions of the traditionalist and the futurist, the craftsman and the engineer, the sketch artist and the Rapid Prototyping expert. It is this juxtaposition of old and new, legacy and innovation, old-school and cutting-edge, all at the service of storytelling, that pushes the boundaries of the medium.

Such advancing of the art form epitomizes a guiding principle behind Laika. When a visitor walks down the corridors of Laika's 151,140-foot studio building in Hillsboro, Oregon (just outside Portland), technological advancements and handmade artistic endeavors flourish side by side.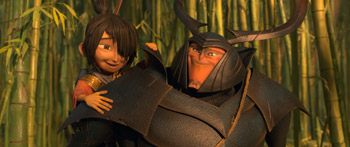 Knight places the tech advances of the past 10 years in perspective by noting that 'when we started on Coraline, 3D was just emerging in cinema; the industry was beginning to go from celluloid to digital; and rapid prototyping had never been used in a stop-motion movie before. Now we just do all that as a matter of course.

'Everything is in concert for us, in part because we have a digital pipeline that takes things directly from the soundstages into editorial and then into visual effects."

Because stop-motion animation, unlike CG animation, requires items to be seen on-screen to be created in the real world, Laika has work spaces designated for set building, painting, prop construction, costuming, puppet-making, facial animation, visual effects, practical rigging, and so forth. At the height of production on Kubo and the Two Strings, 35 animators worked on 70 stages, making magic one frame at a time behind black duvetyne draping by breathing life into inanimate objects to produce a live puppet performance.

Before that puppet moves from point A to point B on a set, an army of Laikans – sculptors, technologists, scientists, theorists, armaturists, wigmakers, sewers, set painters, set construction crews, and more – have all brought their unique skills to bear.

Stop-motion started as a special effect at the dawn of cinema over 100 years ago, largely as a way for magicians and stage performers to bring the tricks of their trade to the new medium of film. Laika has vaulted the enduring art form into the 21st Century by inventing new systems, repurposing existing technology from other industries, and integrating its visual effects department's work into every shot of a movie. It's what Laika has dubbed a 'hybridized" form of animated filmmaking; although stop-motion remains at its core, what Laika does can no longer be defined by that one term.

Knight remarks, 'Even though stop-motion has been in existence for over a century, it feels like we're just beginning to scratch the surface of what we can do in this medium. All our technology innovation supports what our stories need, and that's always what is driving its evolutions; we're not innovating for innovation's sake. Our movies reflect a convergence of different forms of filmmaking.

'Always at the core of it is the stop-motion legacy that dates back to when Georges Méliès sent rockets to the moon in his early films. We also integrate hand-drawn animation, CG, techniques from the stage, rapid prototyping, and invented technologies into our production mix. So the Laika -house style' is in fact nothing of the sort. It's an ever-evolving combination of tools, technology, and artistic techniques that gives our movies their unique aesthetic."

As the – quite literally – big challenge on Kubo and the Two Strings was how to make a small-scale movie look like a grand-scale epic, Laika's successful fusion of artistry and science would have to reach new heights of inspiration and execution. Supersized sets, miniatures, digital extensions and matte paintings were marshaled to create scope; technology was harnessed to showcase vast expanses of terrain and water in ways that had never been done before with stop-motion components.

'Pretty much everything we do pushes the medium into new territory," says Knight. 'With each new feature of ours, the stories have demanded innovation and radical new thinking. While we champion the hand-crafted philosophy and aesthetic inherent in stop-motion, we have reinvigorated it as an art form and brought it into a new era.

'We open up the potential of stop-motion by embracing the author of its purported demise: the infernal machine. By integrating the computer and technology, which had years earlier threatened to destroy it as an art form, we can truly give stop-motion new artistic life and create richer storytelling experiences.

Producer Arianne Sutner, who heads production at Laika, notes that the company 'brings people into the fold who are up for the challenge of constantly creating new art forms and refining existing ones."

Stop-motion is an established discipline: single frame by single frame (there are 24 frames per second in a motion picture), animators subtly and painstakingly manipulate tangible objects (characters, props, sets, et al.) on a working stage. Each frame is photographed for the motion picture camera – twice, if the camera is a 3D one as on the movies that Laika makes. When the thousands of photographed frames are edited and projected together sequentially, the characters and environment come alive. Movie magic is created by hand.

But at Laika, that is simply one facet of the studio's unique hybridization technique. The visual effects (VFX) team is at work on every frame as well, sometimes for environment expansion or crowd enhancement, and sometimes for intangible additions.

Knight states, 'With Kubo and the Two Strings, you can see our fusion of tools and evolution of craft in the giant scale of the sets, our massive 16-foot tall Giant Skeleton, the dynamic action scenes and high-energy cinematography, the delicate facial performances, the beautiful hair and fabrics, and the gorgeous animation. Every department pushed themselves artistically and technically for the benefit of this film. As a result, this movie looks unlike anything we've done and it represents a seismic shift in the art.

'People who work at Laika have an innate artistic restlessness, quieted only when a story challenge is identified and met. Our studio is known for challenging our teams in every cinematic way possible: in previously untapped storytelling, in unpredictable, non-traditional characters for an animated movie, and for blending light and dark, humor and scares, darkness and light, madcap antics with profound life truths."

'The Laika way is to push the art and technology behind – and beyond – stop-motion," says head of the puppet department Georgina Hayns, who has been with the studio since its beginnings and who saw her department surpass the 100-puppet mark on Kubo and the Two Strings.

'We plan out something that is impossible and difficult, and then we find a way of doing it," says Laika's longtime head of costuming Deborah Cook. Rigging supervisor Oliver Jones, who began at Laika as an animation rigger on Coraline, adds, 'Whether science or innovation, to us it's worth the risk to go out on a limb."

So it was with that up-for-a-challenge mentality that Laikans tackled the prologue sequence, which finds Kubo's mother navigating a rickety raft on a roiling sea. Water has long been a bête noire for stop-motion animation, one best avoided – but this sequence was pivotal to the narrative. Everyone was set on creating a dazzlingly beautiful and technologically groundbreaking sequence.

The visual reference for the opening scene, Katsushika Hokusai's iconic woodblock print 'The Great Wave Off Kanagawa," was published between 1830-1833. The sawtooth patterns, the strong linear striations, the bold but simple palette, and the rough-hewn texture of the wood were key ingredients that Laika identified in Hokusai's work.

Knight remembers, 'We knew that the sequence would be a high-tech hoedown, an artful convergence of the practical and the digital. We had a puppet, with rigged clothing treated to appear soaked with rain and seawater, and long hair fastened to wires and a gooseneck armature to mimic the swirl and undulation of being buffeted by the wind. We had a boat that we attached to a complex motion-control rig, programmed to move a frame at a time to simulate the erratic path of a vessel cutting through violent and variable waves. We had a sea floor and a rocky shoreline that our model and set departments fabricated."

Sutner adds, 'Which left only the biggest question: how would we create and animate the water – and rough water, at that?"

As a first step, Jones' unit carried out multiple in-camera tests of practical water. This entailed everything from panes of rippled glass to torn bits of paper to sheets of cloth fixed to metal rods animated one frame at a time to simulate wave movement. After an exhaustive series of explorations, the team came up with a basic look and behavior for the sea, and brought in the VFX supervisor Steve Emerson and his team to recreate the feel of the practical tests combined with the greater flexibility and nuance of CG simulations.

Sutner notes, 'The appearance of the water needed to be consistent with the overall production design."

Emerson clarifies, 'We had to introduce stylized elements into water that behaved naturalistically. Leading the charge was our brilliant lead effects artist David Horsley, who had previously done some extraordinarily beautiful water work on Life of Pi. But this style was a whole different challenge; we were trying to create a new reality.

'The astonishing results on screen are a testament to the skills and elbow grease of David and an army of exceptional digital and practical effects artists. The sequence is gorgeous and terrifying and ultimately moving – and you believe utterly in what you're seeing. It's truly movie magic."

As with people who overcome their fear of water by jumping in, concept artist Trevor Dalmer claims the water scenes as his favorites on Kubo and the Two Strings. 'Our production designer Nelson Lowry wanted to approach water differently than any animated movie before. I am an origamist, so I utilized folded paper in my overall design; this created a collage effect, and a strong graphic effect, in my concept designs. These designs felt really tactile and as they went through the pipeline to be translated into CG, that quality was fully retained."

When it comes to close-ups of the puppets' faces, the RP department is ready to realize the animators' most subtle performance techniques. McLean remarks, 'The difference in facial expressions from one frame to the next can -go big,' be less than the width of a human hair, or land somewhere in-between. Even the most subtle change of expression requires an entirely new printed face to be inserted onto the puppet.

'The RP team wants the audience to get immersed in the story to the point that they forget they're looking at puppets. We help convey the emotions to achieve that goal."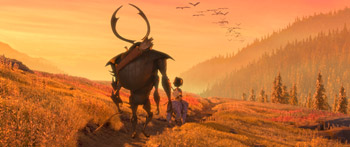 By way of example, Kubo's face goes through several transitions throughout the movie: clean, snow-covered, wet, scarred, and with and without dirt. The library of faces that was generated for the character encompassed 11,007 unique mouth expressions and 4,429 unique brow expressions, with a total 23,187 faces were printed. This in turn means there were over 48 million possible facial expressions for the young hero.

'On Kubo and the Two Strings, we produced both the largest and smallest replacement animation faces ever 3D-printed for an animated movie," says McLean. 'The largest were a series of double-scaled Kubo faces, used for an extreme close-up of a teardrop on his cheek. The smallest was a tiny Monkey face, used for when she is in the clutches of our Giant Skeleton monster – measuring just half an inch across."

The technical prowess of the RP team coexists with the age-old art of puppet-making. Hayns is particularly proud of her crew's work on Beetle. She laughs, 'He's half-beetle and half-samurai, so we had to make a shell and armor. An actual beetle's shell informed the look, and we drew a lot from woodblock master Kiyoshi Saito's artwork to help us with the overall finish of the surface texture. Surveying the way an actual samurai's garments and regalia would be worn helped us know how the puppet needed to move and therefore how he needed to be constructed."

Before the armor came armature: all of Laika's puppets made by Hayns' unit are first fitted an internal armature, or a metal skeleton, that allows them to be moved frame by frame. Even Beetle's feet were engineered with internal armatures, so they could be tied down to the set to support what was a very top-heavy puppet.

As for the armor, 'we were really lucky," Hayns recalls. 'Right before we started the build on Beetle, there was an amazing samurai exhibition at the Portland Art Museum. A whole team of us went there, keen to see how the metal plates of the armor were created.

'How were they backed? Was it leather or fabric? How did they interlock? We had our noses up against the glass display cases, trying to deconstruct these things."

The insect component of the beetle puppet was inspired by the Japanese rhinoceros beetle, or kabutomushi (kabuto means 'helmet" and mushi means 'bug"). 'That informed the shapes, especially the helmet area," reveals Hayns. The Kiyoshi Saito influence determining how we would paint the helmet and apply the finish. When we looked at pictures of some of Saito's prints side by side with pictures of kabutomushi, there were striking similarities and a natural unison between the two forms.

'We were keeping to the Laika aesthetic, but we always wanted to retain realism in the design. So we also brought in some dried beetles, framed beetles, even crabs' legs. We wanted to know how these creatures worked at a skeletal level. Finally, we found our Beetle."

Monkey's body was utterly unique among all puppets ever built at Laika; her body was designed by hair and fur fabricator TaMara Carlson Woodard, who comes from a live-action VFX background – and applied that field's 'body suit" or 'muscle suit" technology so that Monkey could move dynamically. The underlying skeleton was made by armaturist Brad Meyers, over which Carlson Woodard then applied, by hand, a network of hard fiberglass pieces, soft fabric covered shapes, and small beanbags to flesh out the rest of the body.

The final application? A four-way stretch fur suit pulled on over those hand-crafted muscles. With everything combined, animators could then stretch and twist and compress Monkey in all the ways befitting the butt-kicking character.

Another of the puppet department's proud achievements on Kubo and the Two Strings came with The Sisters, the twin goddess villainesses both voiced by Academy Award nominee Rooney Mara. The characters' appearance in the film strikes fear in Kubo, and the puppets were designed and made to instill just that. Character designer Shannon Tindle's original look was bold and graphic, and Knight and animation supervisor Brad Schiff took it further by envisioning the twins' capes to be characters on their own: beautiful, movable, and fully articulated whether furled or unfurled. 861 individual laser-etched feathers were used to create the cape for the Sisters.

'The Sisters puppet is one of the most magnificent that we have ever done," states Hayns. 'Her face is covered in a Noh-like mask. When she fully displays her cape she is both terrifying and spectacularly beautiful." 'Laika had never done a puppet like Monkey either," notes Sutner. 'She's a macaque – with elements of a baboon – who lives and is fully at home in a world not her own."

For Monkey, Hayns had her department 'built the armature, then added the bones, then made a fabric shirt – to simulate the musculature of the animal and the range of motion that a real monkey would have. Finally, we covered her in fluffy pink fur fabric, combing silicone through each strand of fur. She looks so cool!"

Once a 'hero" puppet (or, the first/template of the many replicas that will be needed for a movie) is completed, its cinematic life is taken up by the animator. At the start of each Laika production, the director and animation supervisor will meet to discuss what the look of the animation will be for a particular film.

With Kubo and the Two Strings, that meant migrating Laika's go-to naturalistic look into an epic quest movie. Working from Laika's own talent pool, Schiff started the process of 'casting" his animators. Like other artists, animators have their strengths: it could be big action sequences, or it might be small nuanced moments between characters in an emotional scene, or perhaps they favor animating multiple puppets within a single scene. Since at Laika the challenges for animators vary on a project, it is Schiff's responsibility to maximize an animator's talent by pairing him/her with the right scene assignments.

Ultimately, 31 animators were assigned to Kubo and the Two Strings: 29 from Schiff, plus Schiff and Knight themselves. The work is painstaking no matter what the assignment: a Laika animator averages 3.31 seconds per week, or 15.9 frames per day, of completed footage.

Needing to 'cast" the right processing of the images being captured, director of photography Frank Passingham and his camera/lighting worked on digital RAW full frame at close to 5K. Files were then off to the VFX for a final output at 2K. Passingham used predominately Nikon lenses, with the 55mm lens used more than any other, and over 84 weeks of production 1,345 shots were accumulated. He reveals, 'David Lean's Lawrence of Arabia (1962) is my favorite film of all time, and when Travis Knight told me that he wanted this movie to be Lean-like I took deep breaths."

'This was to be a very stylized movie even though we would employ Laika's naturalistic lighting style. It became even more important to push the natural light in many scenes because our film has plenty of magic; we wanted the audience to delight in that but still feel rooted in reality. Placing lights to mimic the sun or the moon and adding lights that moved in the scene to reflect clouds passing or the sun tracking became ways for us to heighten the dramatic temperature of a particular scene, especially a big action or fight sequence. For the quieter moments among Kubo, Beetle, and Monkey we often would bath

e the scene in the soft light coming from the campfires that were part of the set design." Early on in the process, Passingham created 'a color script," or palette. 'Whenever villains are threatening Kubo, we situated ourselves in the blue/green section of our lighting palette; there is something about a cold blue that adds even more danger to a scene…

'The color script was also a way in for me with Alice, Nelson, Deborah, and other department heads. It was important to understand what each character would be doing and wearing, and how we could use lighting and camera positions to underline the focus of each scene. On every scene, I would tell my crew to go back to the script and consider: Who is the scene about? What is the key piece of action?" Long before any lensing began on the 70 sets for the film, Passingham would bring completed puppets to them in order to see how they would look.

Cook's fabrics were ready early on as well. 'The scale that we work on in stop-motion films is unique," she notes. 'We work in miniature because our puppets are usually between 9 and 15 inches. So for the puppets, what they're wearing is approximately one-sixth the scale of a human-scaled costume. The considerations I have to make in the design differ from live-action."

Laika now sends fabric scouts to major cities on sourcing efforts, and Cook herself likes to go on these exploratory trips. Once the fabrics are brought back to Laika, there is a litany of engineering techniques that are used to make them camera-ready: dyeing, distressing, laser-cutting, embroidery, et al. No fabric makes it into an animator's hands without being treated by Cook's department. She demurs, 'We do hope that when people are watching our movies they are drawn into the story rather than noticing that every stitch on every costume was done by hand or that each stitch on each of the replica puppets is exactly the same distance apart."

For Kubo and the Two Strings, her unit researched the imperial history of Japan, most particularly the Edo period. Of enormous interest to Cook's team was the 'folding of fabric" that is emblematic of traditional Japanese clothing including the kimono. Old damask and old silk were observed for their folds, and for their shifts as the garments age. Shoes were surveyed because of how they impact people's gait and how they comport themselves. The traditional Japanese textiles Ikat weave, boro, sashiko stitching, and katazome inspired the department's costume fabrics.

Cook notes, 'I have a friend in Tokyo who was constantly sending me more research and vintage fabrics.

'When we start a new film, we're starting over, starting from scratch. So my research cannot be just about costumes. For this movie, it was crucial to study Japanese architecture, the politics of clothing, and Japanese culture as a whole. This will all inform the way we think about the costumes before we even start the design process. We worked with our art department to create all our own fabrics, designs, and embossments. Every piece of clothing is made by our department by hand."

As is often the case with the Laika costume department, creating a world for the story led to unique embellishments. Cook notes, 'We created an insignia that was an iris within a circle; we had seen similar images in vintage costumes we collected which would have different emblems with different flowers to designate seasons of the year. Those emblems also denoted social status or activity of the characters."

The research that informed the costume department's craft yielded deeper details. For instance, the design and construction of Kubo's eye patch was made to be reminiscent of the ones worn by two figures in Japanese history, legendary warrior Date Masamuné and master swordsman Yagyū Jūbei Mitsuyoshi.

The costumes in Kubo and the Two Strings are also closely linked to the internal state of a character. When Kubo's mother is in an almost trance-like state, the heaviness of her kimono and the many layers underneath require her to move very slowly, mirroring the strain she is under. 'Mother's costume was a huge learning curve for us," says Cook. 'We played around with different engineering to see how we could make certain fabrics move in a certain way. We did origami interpretations of how a kimono might sit on a figure that is only 11 inches tall. Then we looked at Issey Miyake's folding garments; he has dresses that just fold flat on the floor, but when you lift them up they cascade over the body in the most exquisite way and they drape upwards around a figure. Yet they have this weight at the bottom, so the gravity is there and the folds evolve. So the folding was key to almost everything we did."

Ornate gowns of the Edo period were studied to see exactly how and where the kimonos drooped with weight. This was in part because 'our kimono sleeves had their own armatures," explains Cook. 'These metal forms attached to the puppet's main armature through wire pieces called -snakes.' It may look free and flowing, but nothing moves on a puppet without armature to support that movement. On most garments in our movies, the sleeve moves at the same time as the puppet's arm, but with a kimono the garment had to move after the arm moves – and we have to engineer it that way.

'We used a lot of Tyvek [the high-density polyethylene fiber material so often used in building construction] underneath fabrics as well, because it has the dimpled surface of an older, richer fabric and resembles crumpled silk. We also used actual silks that were very fine grade so that the surface weave of the fabric looked good in our scale; these too had to be weighted and bulk out underneath."

What with loose flowing costumes and long hair for many characters, Schiff''s team of animators found new challenges on Kubo and the Two Strings. He remarks, 'There is a reason that costumes on stop-motion puppets are always tight-fitting and that's because tight-fitting is easy to control. Loose-fitting has a tendency to do weird things in our scale. It's a testament to our puppet makers, riggers, and animators all working together with the costume department that this was pulled off. We were able to handle and manipulate the kimonos without them – or the puppets wearing them – going out of control. There were tiny rigs on all the puppets to help the animators achieve the most subtle of movements."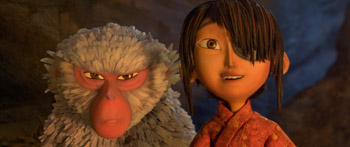 Words and Music

The animators' performance of the characters in a Laika project complements the actors' performances that have largely already been contributed. For some actors, working with just the voice can be a limiting experience, but the Laika movies have attracted talents who see it as a liberating experience.

Producer Arianne Sutner notes, 'Since we were making the animation equivalent of a David Lean epic, this meant the voice performances had to convey the array of emotions that would support such a big canvas."

Game of Thrones star Art Parkinson was identified by Kubo and the Two Strings director/producer Travis Knight as a young actor who could carry the film with his soulfulness, buoyancy, dramatic chops, and winning personality. 'Art is astonishingly good," says Knight. 'To shoulder the weight of the film and to hold his own in scenes where everyone around him has decades of experience and trophy cases full of Oscars and BAFTAs and SAG Awards and every other recognition you can think of, that's a tremendous burden for any actor. And yet he fits right in, beautifully. This film sinks or swims on his performance, and he's absolutely incredible."

Parkinson found that having the characters with him for the early voice recording sessions enhanced his vocal performance as Kubo. 'The emotional part, putting myself in the persona of Kubo did get difficult. But with the figurines, or maquettes, in front of me and with Travis explaining everything that he wanted, the ideas of how to play a scene came through."

Academy Award winner Charlize Theron, who voices Monkey, adds that 'when there is something that you can touch, and it's right in front of you with all the craftsmanship having gone into it, that is powerful."

Academy Award nominee Ralph Fiennes, cast as the Moon King, availed himself of the chance to see 'footage from the film. It was very rewarding to see where it's ending up, it is helpful to see where your work is going to.

'I feel that radio is the closest thing to voice acting. All the emphasis is on the voice, so a director will want as many variations of a line as possible. Beyond my own character, I always keep the whole story in mind."

Academy Award-winning composer Dario Marianelli observes the same mandate, which is one reason he composes parts of his scores earlier on in the filmmaking process. He clarifies, 'It started 11 years ago, on Pride & Prejudice; a lot of the score came out of some little piano pieces that I had to write very early on for the actors because they had to perform them on-screen.

'On this movie, there were several places where you see Kubo playing music and these pieces had to be written very early on because the animators had to animate to it, to move the puppet's hands. They needed to have the rhythm to animate to."

Marianelli adds, 'When you come up with such pieces, they have to be something you're confident in enough so that it can become one of the main themes of the movie later on. Yet, while I have read the script and I know the story, I don't fully know the emotional journey that the music is going to have. You hope that the little theme will be able to expand into emotional resonance.

'With every new version of the film that I screen, more scenes have been animated. There is a fluidity that makes the movie itself very musical, and I get inspired."

Following his work with Laika on The Boxtrolls, he was enticed to encore with the studio because of the Japanese setting of Kubo and the Two Strings. Marianelli smiles, 'Think of it: an Italian composer living in London and working with some Americans from Oregon on creating authentically Japanese music!

'I saw this story as being similar to the Orpheus legend. Our hero Kubo can do magical things with music, whether it is bringing origami characters to life or protecting people or creating an entire sailboat out of leaves. But with his family history, he has had to become mature beyond his years."

The composer has ascertained that 'you can be a little over the top with an animation score. I can wear my heart on my sleeve a little bit more. The Japanese tonalities and modality influences guided me nicely.

'My favorite musical moment in the film is when the newly assembled heroic trio of Kubo, Monkey and Beetle, off to find the fortress of Kubo's missing father Hanzo, suddenly come upon a beautiful huge landscape – and the music can finally soar happily for really the first time in the whole movie. It's a moment of pure happiness for Kubo, and the world just opens up and what I would call -Kubo's Theme' plays."

Reflecting the story's own powerful moments for the characters, Marianelli also composed 'a recurring theme for when we see Kubo's ancestors. The Japanese tradition of lanterns on the water representing ancestors is so poetic.

'It plays again during a scene where Kubo comes to a place where his father used to be, where he experiences so many emotions. In one piece of music, I bring in all of the themes from the whole score, shifting from one into the other. I always get quite moved when I see the scene, and see Kubo's eyes."

Ultimately, the composer feels a kinship with the Laika artisans. He reflects, 'I had told Travis on The Boxtrolls how there is a very musical quality to Laika's animation. I create this feeling of flow and movement that is resolved at the end of a piece. Scene by scene, what they do at Laika is very similar, creating a sense of direction and flow and movement – with honesty and a feeling of propulsion that you believe in and that carries you.

'There aren't many experiences that are going to match this one. It was joyful from beginning to end." The end was marked by Marianelli's original score for Kubo and the Two Strings being recorded in London by an orchestra of 75 musicians.

Music editor James Bellamy calls it 'the last piece of the jigsaw puzzle. We did have a few pre-existing elements: flutes and, of course, Kubo's shamisen. Those had been recorded beforehand by Dario.

'With Laika's projects, they're can't be too many changes after scenes have been shot; they're not going to just add 20 more seconds on the end because that's not how these movies are made. So it's a little easier because the picture doesn't change so dramatically between versions of the film as a live-action film can and does."

Nick Wollage, the score recording mixer, marvels that the orchestra had many more strings than Kubo's two: 'We had a string section of between 50 and 60 woodwinds, double woodwinds. Also, six horns, two trumpets, three trombones, a tuba, two harpists separated in the booth for sonic isolation purposes, and percussion in another booth. Oh, and some live percussion in the main orchestral room with timpani. All these elements were arranged geographically in a fairly standard orchestral manner."

Music buffs will note that the shamisen is in fact a three-stringed instrument; the titular reference to (only) two strings is deliberate, and will be illuminated for audiences before Kubo and the Two Strings is over. The shamisen's construction follows a model similar to that of a guitar or a banjo, with a (slimmer) neck and strings stretched across a resonating body. The body, called the dō, resembles a drum, having a hollow center that is covered on the front and back with skin, not unlike a banjo. The skin used depends on the genre of music and the skill of the player. The shamisen is played with a plectrum – sometimes referred to as a bachi – a small flat tool used to pluck or strum the strings.

In addition to the shamisen, other Asian instruments in the score include the shakuhachi, a bamboo flute which actual samurai often carried with them on their travels. The instrument was originally introduced from China into Japan in the 8th century and saw a resurgence in the early Edo period.

The prologue's Great Wave sequence summoned forth the power of the full orchestra. Bellamy remarks, 'It establishes the enormous scale of the movie because you've got this opening sequence out on the sea, waves crashing around to this enormous brass section, horns, three trombones, an adult choir and a boys' choir…it's exciting right from the start!"

Knight adds, 'Music plays such an important part in this movie and in our lives. We often have vague, inarticulate, but keenly felt emotions roiling around inside of us, aching for expression and understanding. And the thing that can give voice to those emotions is music. Like every artist, Kubo's art is a reflection of his emotion. In like manner, Dario's beautiful and evocative score captures the emotional core of this movie. It draws us in and immerses us in the world of our story and characters. We are hearing exactly what we are feeling. It's magic."

Fun Facts and Notable Numbers

Who is That?

A puppet likeness of story artist John Aoshima can be seen on-screen. He is one of the villagers playing a board game. John's nickname as a teenager was 'Kubo," which is also a surname in Japanese language and culture. John attended CalArts with Shannon Tindle, who borrowed his friend's nickname in creating the character.
Kubo's late father Hanzo's likeness is in homage to Toshiro Mifune, the legendary Japanese actor and film star who played arguably the greatest samurai character of all time in iconic Japanese filmmaker Akira Kurosawa's classic movie The Seven Samurai (1954).
During the end credits, character designer Shannon Tindle and character sculptor Kent Melton are depicted in caricature among a crowd of villagers as their titles appear on-screen.

What Were They Wearing?

Kubo's eye patch is an homage to Date Masumané, a Daimyo Lord and legendary warrior and leader in feudal Japan who was missing an eye; and Yagyū Jūbei Mitsuyoshi, a master swordsman of the Tokugowa Shoguns. Both were known for wearing an eye patch, and both inspired the iconography of the eye patch as a Japanese film tradition.
Kubo's warrior helmet markings were fashioned after the Jomon (cord marking) neolithic pottery markings created with rope and dating from 10,200 BC Japan.
Six different materials were used as backings in Kubo's sleeves so that they could fold precisely where and as needed; origami patterns were used in the sleeves design so that they would always hang the same way when his arms were down. Sheets of Tyvek, the high-density polyethylene fiber material so often used in building construction, needed to be crumpled and un-crumpled exactly 15 times to create the required flexibility.
There are 1,412 hand-drilled holes in Kubo's armor. As 13 Kubo puppets with armor were made during the course of production, the total of hand-drilled holes came to 18,356.
The Moon King's collar was inspired by Klaatu, the humanoid alien visitor in Robert Wise's The Day the Earth Stood Still (1951).
There are 176 individually shaped and laser-cut armor pieces on the Moon King's armor chest plate.
The Moon King's leather shoulder pads were created by press-molding the leather in Rapid Prototyping [RP]-generated molds.
There are thousands of tiny hexagons and triangles on the Moon King's skirt, each one carefully 'weeded" out of a single sheet of laser-cut vinyl.
The Sisters' costuming was inspired by Tomoe Gozen, a female samurai warrior, as well as by female ninja warriors. There were 861 laser-etched feathers on the Sisters' cape, each uniquely sized and shaped so that they could slide over each other without catching.
Kubo's mother's kimono was modeled after the many-layered ones worn by women courtiers of the Heian era. There are over 2,000 carefully designed laser-cut pieces of weighted lining in the kimono, enabling it to both fold and have gravity.

Face Facts

The Kubo puppet
Unique mouth expressions: 11,007
Unique brow expressions: 4,429
Total faces RP-printed: 23,187
over 48 million possible facial expressions

The Monkey puppet
Unique mouth expressions: 8,171
Unique brow expressions: 3,789
Total faces RP-printed: 15,581
over 30 million possible facial expressions

The Beetle puppet
Unique mouth expressions: 6,168
Unique brow expressions: 2,227
Total faces printed: 10,545
over 13 million possible facial expressions

Kubo has more unique smiling faces than all of the previous Laika movies' protagonists combined.
Every time Kubo's facial expression was to change even the slightest amount, the front of his hair had to be removed for the animator to gain access to the face; the same was true for Mother's hair and for the front of Beetle's helmet, known as 'the flip."
The printed hair around Monkey's face was extremely fragile and prone to breakage even in the most careful hands. If the hairs were located, they were painstakingly glued back on one at a time; if the tiny fragments were lost, substitutes had to be harvested from pre-existing faces that had already been filmed.
All character faces must go through a 10-step process to be ready for on-set use, including sanding, spray coats, magnetization, and hand-painting of tooth and lip gloss; a single face can go from RP printer to soundstage in about four hours.
The movie has both the largest and smallest replacement faces 3D-printed for an animated feature. The largest were a series of double-scaled Kubo faces, used for a close-up of a teardrop on his cheek, each measuring roughly 4.5 inches across; the smallest was a tiny Monkey face, for a shot when the Skeleton has her in its clutches, measuring just half an inch across.
It took 117 individual face parts for Monkey to yawn, but the most individual face parts in a single shot was 408, for when Kubo is being taught by Beetle how to use a bow.

Some of the varied supplies used by the face processing team were
1,050 sheets of sandpaper
9.700 X-ACTO blades
620 cans of Rustoleum crystal clear enamel
40,000 pairs of nitrile gloves
85 gallons of Dullcote
111, 195 rare earth magnets

Hair and Fur

Kubo's hair was made out of salon-type hair extensions that had silicone combed through them and were then dusted with colored powders to give him highlights.
On each Sister's wig, about three dozen small black rubber bands were placed at the base of the ponytail to help it swing around.
Mother's long ponytail contains 13 oz.' worth of powdered metal within its strands; this helped give it weight and gravity, aiding the animator in moving it and giving it a more a realistic feel.
Over 8 square feet of fake fur was used to create 19 Monkey puppets; Monkey's fur texture from the neck down was completely hand-trimmed, taking one artist several days to do.

Hall of Bones

The Hall of Bones encompassed 360 square feet of set covered with 380 clear resin tiles painted to look like jade. 200 gallons of clear resin was used for the making of the 12" x 12" tiles. It took approximately 75 minutes to make each tile, which were hand-painted in a four-step process.
A lower section of wall covered in jade tile was built that went around two-thirds of the set, with the visual effects [VFX] department extended the walls to a full height of 22 feet.
The set's base required 192 aluminum 'legs," or nearly 600 feet of aluminum pipe.

Hanzo's Fortress

The main fortress building was 6 feet tall and 13 feet long – and was built up only to the second level, with the third level a VFX extension.
The entire courtyard was about 660 square feet consisting of 500 resin-poured tiles; 220 ridge tiles lined the roof.
There were 26 columns along each of the 20-foot walkways
Nearly 1000 feet of horizontal wood trim, or 300 3-foot pieces, was applied.
The set was angled in two different directions plus there was a section separated by a crack through the set that placed it at a lower level.
The 150 pieces of bamboo stalk were made of resin with steel rod armature for tie-down securing.

Monster Rigs

The Giant Skeleton
The Giant Skeleton was shot in two scales. The full-scale one is the largest stop-motion puppet ever built, weighing 400 lbs. and standing at 16 feet from head to toe with a 23-foot wingspan; the lower half and upper half had to be filmed separately, with most shots capturing the upper body/torso. For some scenes, a one-sixth-scaled Skeleton was used; standing just over 2.5 feet tall, this is also among the largest stop-motion puppets ever made.
The Giant Skeleton was the first puppet to be rigged to a Hexapod, a motion-control table that enabled the torso to be moved on XY- and Z-axis, as well as pan, tilt and roll. It took 27 days to build the Hexapod.
The arms of the Giant Skeleton were incrementally driven via independent rigs, suspended from the ceiling and counter-weighted like an enormous marionette.
Each of his hands weighed 6 lbs. The elbow locks of the Skeleton, made from automobile brake pads, had to be replaced three times over the course of the shoot.
Instead of the traditional ball joints for stop-motion puppets, the arms and head were secured with clusters of magnets to provide maximum range.
70 unique swords were made for the skull, and over 1,000 bones were used to make the armor for the torso.

The Garden of Eyes
The Garden of Eyes sequence was populated by a single one-eyed puppet, with the eye approximately the size of a beach ball, that was shot from multiple angles and composited to permeate the underwater environment. The puppet stood 11 feet tall, with the eye measuring 30 inches in diameter, and was fully motion-controlled, with the option of pre-programming its performance.
The animators worked from a remote interface consisting of an array of encoders as well as a track ball made from hacked computer mice and a bowling ball. It took a total of 42 independent channels and motors to produce each frame of animation.
The tentacles were cable-driven and pre-programmed, producing subaquatic and cyclical gesticulations.
The eyes' mesmerizing moiré effect is an evolution of the caustics effects used in the sewer environment from Laika's The Boxtrolls; the advances were achieved by projecting LEDs through counter-rotating rippled glass bowls and onto the inside of the acrylic eyeball.

The Moon Beast
The result of a collaboration among the Rapid Prototyping, Rigging, and VFX departments at Laika, the Moon Beast was built at one-fifth scale. It was then composited into shots with the full-scale Kubo puppet; had it been made full-scale, it would have been 17.6 feet long.
A full-sized tail made for one scene and a full-sized hand made for another; the hand was over 3.5 feet long and was made up of over 58 color 3D-printed parts.
The Moon Beast is Laika's first fully 3D-printed puppet. It is made up of over 881 individual parts, 130 of which are color 3D-printed and 751 of which are a combination of metal body and leg armatures components as well as internal dressing pieces. Four Moon Beast puppets were made over the course of production.
Instead of a traditional ball-and-socket armature, the spine of the Moon Beast consists of a length of posable gooseneck tubing more typically associated with microphone stands and lamps.

Sailboat(s) Specs

Two full boats and one broken-apart boat had to be made. The boat was twelve feet long, fourteen feet high, and four-and-one-half feet wide. The mast was ten feet tall. Whichever boat being used for a shot was mounted to either a Duopod (two axis of movement) or Hexapod (six axis of movement) motion-control table, which raised it off the ground by three feet.
The boat hull and deck were made out of plywood and layered with bendable plywood skin to approximate folds.
The boat was made in nine sections so as to provide access for animators and camera. The underlying metal frame, consisting of laser-cut bulkheads and rectangular steel tubing, was made in five sections that could be removed for camera and animator access, then reattached.
The bow was made of laser-cut steel that was laser perforated to create bend lines - folded like origami, but with metal.
There were six versions of the sail: Hero Wet, Hero Dry, Billowing, Furled, Tear-Away, and Torn. All except the Furled sail were rigged to move, flutter and/or flap.
The surface of the boat was covered with Canson Colorline paper laser-cut into nearly 250,000 leaves, which took about 100 hours.
It took three carpenters, four landscape artists, four model makers, 2 scenic artists, a metal fabricators, and two Machinists about four months to complete the boat(s). The sequence took 19 months to shoot.

Shopping List Tallies

Tool steel: 1,092 feet
Drill bits: 1,014
Sculpey clay: 358 lbs.
Small precision scissors: 116 pairs
Poly 74-45 liquid rubber: 36 lbs.
Dow Corning 734 adhesive: 158 tubes
Specialty screws: 22,475
Calvin Klein hipster white underwear: 243
Resin: 358 gallons
Spray paint: 789 cans
Pros-aide adhesive: 52 gallons
English beading needles: 4,392
Cotton swabs: 177,187
Single-edge razors: 624
Insect pins: 48,150
Giant origami paper: 1,300 feet
Small plastic aquarium plants: 1,010
Wilton white nonpareils, 8 ounce size: 79 bottles
Dullcote: 85 gallons
Gooseneck tubing: 215 feet
Foam core: 475 sheets
Loctite super glue gel: 259 bottles
Classic Atari 2600 joysticks: 2
Tyvek paper: 16,725 feet
Sorta Clear 40: 150 gallons
Tungsten heavy powder: 183 lbs.
Rit Dye: 26 gallons
Ffine paintbrushes: 2,760
Socket head cap screws: 48,275
GI-1110: 275 gallons
GI-1000: 495 gallons
Kraft paper: 26,300 square feet
Breakfast burritos: 2,592

Measurements

Kubo stood 9 inches tall, and 30 Kubo puppets had to be made for the movie.
Made out of origami, Little Hanzo stood less than 2 inches tall, making him the shortest puppet ever animated in a Laika movie.

Final Figures

Kubo and the Two Strings is comprised of 1,359 shots; 133,096 frames of animation are in the finished movie, although the number of frames that was shot is higher because of frames of head and tail handles. The movie's full running time is 101 minutes and 27 seconds.
Production took 94 weeks. The estimated total number of hours worked was 1,149,015.
A Laika animator averages 3.31 seconds of finished footage per week, or 15.9 frames per day.


Kubo and the Two Strings
Release Date: August 18th, 2016