Ryan Reynolds The Hitman's Bodyguard
Cast: Gary Oldman, Ryan Reynolds, Samuel L. Jackson, Salma Haye
Director: Patrick Hughes
Genre: Action, Comedy
Rated: MA15+
Running Time: 118 minutes

Synopsis: The world's top protection agent [Ryan Reynolds] is called upon to guard the life of his mortal enemy, one of the world's most notorious hitmen [Samuel L. Jackson]. The relentless bodyguard and manipulative assassin have been on the opposite end of the bullet for years and are thrown together for a wildly outrageous 24 hours. During their raucous and hilarious adventure from England to the Hague, they encounter high-speed car chases, outlandish boat escapades and a merciless Eastern European dictator [Gary Oldman] who is out for blood. Salma Hayek joins the mayhem as Jackson's equally notorious wife.

The Hitman's Bodyguard
Release Date: August 31st, 2017


About The Production
'I have a job for you …"
- Agent Amelia Roussel


Nearly everybody the notoriously lethal hitman Darius Kincaid (Samuel L. Jackson) has ever met across the globe want him dead – but that's only if Michael Bryce (Ryan Reynolds), the vigilant bodyguard recruited to protect him at all costs, doesn't shoot him out of sheer infuriation first. The hair-triggering rivalry and potential joining of forces between a high-flying, Triple-A rated hired gun and a protection specialist results in an outrageous, fast-paced action comedy that twists and twines the hitman thriller, the bodyguard romance and the odd-couple buddy comedy into one irreverently fun ride. Featuring a hilarious 'bromance" between blockbuster stars Ryan Reynolds and Samuel L. Jackson, creatively choreographed fight scenes and exhilarating high-speed chases The Hitman's Bodyguard offers a non-stop mashup of laughs and outrageous action.



The wild chase begins when Interpol strikes a risky deal with a newly captured Kincaid: if he agrees to be a star witness against the bloodthirsty Belarusian tyrant Vladislav Dukhovich (Gary Oldman) in the International Criminal Court, they'll free Kincaid's cherished, and not-to-be-trifled with, wife Sonia (Salma Hayek) from jail. There's just one problem: Interpol has only 24 hours to transport Kincaid from the North of England to The Hague – knowing full well that cutthroats and assassins will be lying in wait to hit the hitman the entire way to Holland.

Things go wrong right off the bat, as Interpol Agent Amelia Roussel (Elodie Yung) leads the prison convoy transporting Kincaid into an ambush. Determined to get an unrattled Kincaid to his destination, she calls on the only guy she knows who can protect the unprotectable: her bitter, burnt-out ex-boyfriend and former hotshot bodyguard, Michael Bryce. Once Bryce was at the top of the executive protection game, but after a job gone sour he's lost his edge. He has everything to prove, but zero desire to prove it with Kincaid.

The two are not strangers. In fact, after a long career dodging Kincaid's bullets, the hitman's life is the last one on earth Bryce has any inclination of saving, let alone risking his own for such a scoundrel.

As the highly skeptical hitman and his completely unenthusiastic bodyguard embark on a race against henchman coming at them from every angle, they unwittingly forge their own hilarious, awkward bond. They may not trust the other any further than their trigger fingers can aim, but their volatile mix of aggravation and admiration might just fuel them to band together long enough to reach the Hague, rekindle a romance, save Sonia and at long last restore the triple-A rating of The Hitman's Bodyguard. Says Ryan Reynolds: 'I love the bond between Bryce and Kincaid. These two guys couldn't be more polarized but as we move through the story they start to acquire begrudging love and respect for each other. There's a bromance and several love stories all wrapped up in this incredible, crazy action story." Adds Samuel L. Jackson: 'Ryan Reynolds and I go on a crazy fun jaunt through the roads of Europe – and it's full of chaos and humor between two characters who have a very unusual chemistry."

J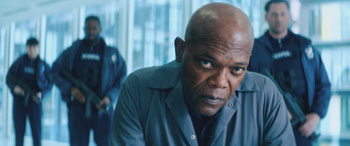 ackson Triggers Reynolds

Ryan Reynolds's Michael Bryce has hit rock bottom when he is called upon to take the most dangerous job of his life: to protect the very man he would like to see permanently out of action. A botched job and a broken heart have led the fastidious Bryce to a lonely existence that is a shadow of who he used to be, only now he is going to have to bring his best if he's going to get his worst rival to The Hague on time and preferably in one piece.

From the beginning, Ryan Reynolds played a big hand in carving out the character who disdains chaos but finds himself sucked into it. 'Ryan Reynolds worked very hard during pre-production, coming up with lots of creative concepts for Bryce and his whole philosophy of life," says Producer Les Weldon. 'Then he tapped into an intuitive comedic timing that really brings the character to life. He compels you to root for this character who was once Mr. Efficient but has kind of broken down and lost his way. His performance has an emotional core but it's also very funny."

Ryan Reynolds describes Bryce as 'a man who suffered from extraordinary hubris and took a fall from grace." He goes on: 'Bryce lost a client which has sent him into a downward spiral of shame. We find him two years after the incident and though he's probably still the best in the business, he's basically at a loss. Then his ex-girlfriend asks him to do this job he really doesn't want but that he needs. In a nutshell, he has to protect a man who has spent the better part of a decade trying to kill him."

That's how Bryce comes to accompany his insufferable foe Kincaid through a maze of lethal obstacles, and ends up confronting himself in the process. 'Bryce can be arrogant and prideful – and Kincaid pushes all those buttons," Ryan Reynolds explains. 'He's got Bryce's number whether Bryce would like to admit that or not. Therein lies the connection that happens between these two guys. In a weird way Kincaid ends up making my character look at himself, and in the unsettling way only Samuel L. Jackson can." The rapport with Samuel L. Jackson was immediate and led to both actors letting it fly, says Ryan Reynolds.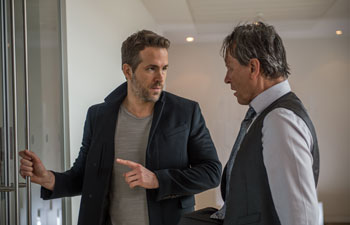 'Samuel L. Jackson and I have a lot of moments where we just get to play, and that was important to creating the unique bond between our characters. Samuel L. Jackson is so good at improv, he can play ball with the best of them, and that is my background as well so we just got out there and had as much fun as we could. We had a good thing going."

Samuel L. Jackson admits it was Ryan Reynolds's involvement that spurred him to sign onto the role. 'Ryan Reynolds had been attached to the film and when my name popped up, it made sense. It felt like a fun idea. I've enjoyed watching Ryan Reynolds, I've known him on a personal level and I like him, so I thought we'd have interesting chemistry on screen," Samuel L. Jackson says.

The other lure for Samuel L. Jackson was the chance to work with Salma Hayek as Kincaid's firecracker wife, Sonia. 'Sonia and Kincaid are kindred spirits who connected viscerally before we connected spiritually and she is the type of person that Kincaid can actually talk to about what he does," observes Samuel L. Jackson. 'Sonia loves Kincaid despite his many flaws – and because of her, Kincaid has learned a bit about romance, so he finds himself giving Bryce love advice, unlikely as that seems. Salma Hayek and I are friends so we had that and it was a great coup for everybody to bring her into this project."

No stranger to action, Samuel L. Jackson was all in, especially because Kincaid and Bryce are masters of their at-odds crafts. 'There's a lot of hand-to-hand in the film and it makes us look heroic which is part of the joy and what people want to see," says Samuel L. Jackson. 'It's a high-energy movie."

Although the focus was on anarchic fun, Ryan Reynolds also had to focus on some intense physical work, especially because he likes to do as many of his own stunts as possible – and there were plenty of them. He was thrilled to reunite here with legendary stunt coordinator Greg Powell, who had lots of wild ideas in store for the film.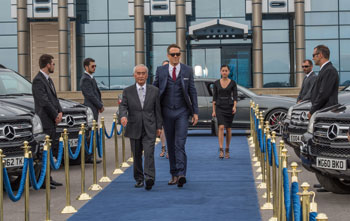 "I've done a few films with either Greg Powell or his brother Gary Powell before and with these two guys you always want to impress them and go as hard as you possibly can. The only problem is that sometimes I push myself a little too hard and forget that I am 39 years old and cement hurts," he quips. It might take a lot of bruises, to the ego as well as to the body, to convince Bryce that he and Kincaid can find common ground, but he starts to come around. That is in large part due to Kincaid's enormously charismatic persona, which can even win over a van full of nuns. Like Bryce, however, Kincaid starts out the story in a pickle. He's been caught by the Feds and his lady is in jail, a situation that is unsustainable – which is why he agrees to testify against the heinous Belarusian despot everyone wants to see get his comeuppance for crimes against humanity.

Sums up director Patrick Hughes: 'With a duo like this, I found the best idea was to just give Ryan Reynolds and Samuel L. Jackson the right environment and support … and then sit back and watch the magic show happen."

Supporting Cast

Surrounding Ryan Reynolds and Samuel L. Jackson in The Hitman's Bodyguard is an especially crack cast including Oscar® nominees Gary Oldman (Best Actor, Tinker Tailor Soldier Spy, 2011) and Salma Hayek (Best Actress, Frida, 2002), and rising French star Elodie Yung.

Funny as the story of The Hitman's Bodyguard is, it also feature a serious baddie, as Oldman sinks his teeth into another epic villain, the ruthless Dukhovich, who has evaded global calls for his downfall. 'I had a lot of fun with this role," confesses Gary Oldman. 'The script had a fantastic marriage of action and dialogue and Ryan Reynolds and Samuel Jackson are a great double act." Despite no prior knowledge of Russian, Gary Oldman was required to speak it expertly in the film. "I probably could have learned Hamlet measure for measure in the time that I've spent on my lines" he laughs. Nevertheless, working with a Russian coach daily, Gary Oldman did just that.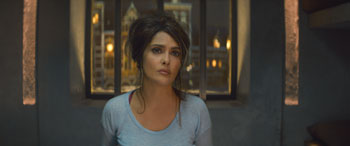 Adds Patrick Hughes: 'The minute Gary Oldman arrived on set, I knew we had a movie because he brought something terrifying for Ryan and Sam to unite around."

Like Gary Oldman, Salma Hayek had a blast going fully to town as Sonia, whose massive passion and personality cannot possibly be contained even in her jail cell. "Sonia is a fantastic character," says Salma Hayek of what drew her to the unconventional role. 'Her marriage is a little bit unusual because she's married to a hitman but she's really, really tough. If anyone can handle Darius it's definitely Sonia. With Sonia, you just never know what's going to come out of that mouth and that's what makes her so memorable. I have to say I just love her – yes, she's cuckoo and unpredictable but that is exciting to play."

As for what keeps Kincaid and Sonia together through ups and downs the life-threatening likes of which most couples will never face, Hayek says the bottom line is the same: 'It's love. They have the most amazing, passionate, crazy, mad relationship that is full of fire in every way. The best part for me is that notorious as Kincaid is you definitely get the idea Sonia is his match, and he knows it."

Working with Samuel L. Jackson was a delight for Salma Hayek. 'He is a legend and I was so very excited to finally work with him. It's been so easy and fabulous to be his wife, even if she's his crazy wife, you can see why they are meant for each other."

Perhaps the biggest challenge for Hayek was Sonia's epic bar fight, which convinces Kincaid she's the one for him. 'I was sore for a week after we shot that," she admits. 'But I'm so happy that at 49 I am still kicking ass and able to do all my stunts."

Hughes adored how completely Salma Hayek threw herself into the role. 'Salma is electrifying as Sonia. From the start, I could see that Salma Hayek and Sam were going to be an exciting pair. You might think that since he's this crazy hitman Salma Hayek would want to contrast that, but instead the fun is that she actually makes Sam's character look downright easygoing. They're two extremes who have fallen in love, but the way Salma plays it, you also realise their love is genuine."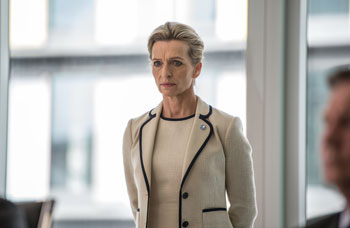 For Elodie Yung, who plays Bryce's ex, part of the fun was getting to break up what might otherwise be purely a boy's club between Kincaid and Bryce. 'I thought it would be great to be the girl in this boy's world," she muses. 'I found the script very funny to begin with, and once I was on set and began to improvise with Ryan Reynolds and Samuel L. Jackson it got even better. I was laughing all the time and I know people are going to have a great time watching these guys. They really love what they do and it's infectious."

'Ryan Reynolds brings his natural humor to this," she observes. 'But whether he's the Bryce who is at the top of his career or the Bryce who has become kind of a loser, he manages to make him feel real."

Yung has her own major fight sequence in The Hitman's Bodyguard and loved training for it. "I'm an Interpol agent, so Amelia has to be efficient. In this kind of role, you get dirty and bruised but it's part of the fun!"

How The Bodyguard Met The Hitman

Tom O'Connor's screenplay for The Hitman's Bodyguard took some of the most popular tropes of hit action thrillers – including the freewheeling hitman who can't miss and the dreamy bodyguard whose protection never fails – and irreverently crashed them right into one another. 'Balancing the comedy and the action was really tricky, and that was something I played with a lot in the very beginning of the script because I knew I wanted it to be funny without being goofy or wacky," Tom O'Connor recalls. Two of Hollywood's most sought-after stars signed up to take the lead roles, hurtling the production forward. The uniting of two of audiences' favorite and most unpredictable stars would next require a director capable of propelling the story's perpetual series of wild-eyed action sequences and comic scenarios. In the action-comedy tradition, the script offered a story of escalating stakes – but where one extreme situation after the next somehow brings the hitman and his bodyguard closer to the International Criminal Court … and each other. That's where Patrick Hughes came in; having worked with an all-star cast and plenty of action in Expendables 3, he had the high-adrenaline chops and was ready to try something different. 'Patrick Hughes was able to take the reins, be the field general with the actors and bring it all to life," notes screenwriter Tom O'Connor.

Patrick Hughes saw the potential for a chemical reaction between Ryan Reynolds as the tightly-laced, by-thebook perfectionist Bryce and Samuel L. Jackson as the madcap, no-holds-barred Kincaid. He was equally drawn by the fun of revisiting that staple of 80s and 90s blockbusters – the mismatched buddy comedy – in a fresh but cheeky way, replete with fast, frenetically calibrated action that could only be created in the 21st Century.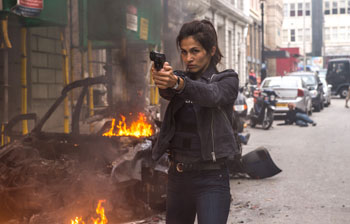 'The story of The Hitman's Bodyguard appealed to me in part because it's got that old-school, classic buddy-comedy flavor to it – with two contrasting characters with completely clashing life attitudes - and that's something I wanted to maintain, but in a modernised way," Patrick Hughes explains.

Early meetings with Ryan Reynolds helped to cement the dynamic between two men who believe – with good reason - they are mortal enemies, yet end up having each other's backs in spite of themselves.

'Ryan Reynolds and I both felt pretty adamant that at heart this is a redemption story for his character, Michael Bryce, facilitated by his job protecting Kincaid," Patrick Hughes elaborates. 'Bryce's problem is that he's way over-analytical about everything. He's been trying to control all the elements in his life, from his job to his love life. Kincaid is the flip side of that – he's loose and rock and roll and he always goes with his gut. Kincaid becomes a kind of unwilling mentor to Bryce on this crazy journey, as they go from absolutely intending to murder each other to actually understanding one another and begrudgingly even learning something about relationships."

The producers were thrilled by Patrick Hughes' winking but fun-loving approach. 'Patrick Hughes brought such a great sense of humor but also a sensibility for big entertainment," says Weldon. 'He helped to guide Ryan Reynolds and Samuel L. Jackson into the kind of timing that allows them to play off each other with verve and gusto. Not only does Patrick Hughes understand comedy, he was able to deliver some epically fun action at the same time."

Samuel L. Jackson says of what Patrick Hughes brought: 'It's always good to have a director who brings this much enthusiasm and energy to the set. Patrick Hughes kept us on our toes, yet gave us the freedom to just let go and do the things we needed to do to make this story work."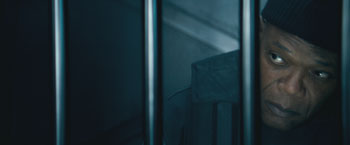 Adds Ryan Reynolds: 'Patrick Hughes's wisdom and style made him perfect for a movie like this, with its slightly heightened reality and playful tone. Patrick Hughes put that tone front and center and was the guy pushing us forward every day. He helped us to create incredible action sequences that are suspenseful but also uplifting and fun rather than dark. Each set piece is unique and it will be a real adventure for audiences."

Comments Salma Hayek: "Patrick Hughe's been a fantastic discovery for me. He set out to make a film that would be at once funny, electrifying, romantic and just a little naughty."

Road Trip: The Locations

As The Hitman's Bodyguard careens in near-constant motion from England to The Hague, erupting into outlandish chases by car, motorbike and boat, the production spanned iconic European locations. The breathless road trip nature of the film gave director Patrick Hughes what he calls 'an incredibly textured canvas to work with." In conjunction with cinematographer Jules O'Laughlin, production designer Russell De Rozario and Oscar®-nominated editor Jake Roberts (Best Film Editing, Hell or High Water, 2016), Patrick Hughes set out to capture the raw energy of live-wire performances set against an array of exhilarating stunts.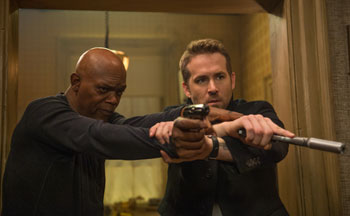 Much of the filming was shot in Bulgaria, which offered the production a wide span of landscapes able to double for the UK and Europe. Says Les Weldon, 'With the resources available in Bulgaria, we were able to transform sets more quickly than almost anywhere else in the world. We had so many complex action sequences and the technical crews in Bulgaria were phenomenal in pulling them off."

More filming took place in and around the iconic Rijksmuseum in Amsterdam, one of the globe's most breathtaking art and history museums, housed in a lavish 19th Century Gothic building. It is here that Kincaid leaves flowers so that Sonia can see them from her prison cell window. The art department even constructed a nearby flower stall where Kincaid stops to purchase the pink tulips. In Amsterdam's adjacent Museum Square, the production shot the scene in which Bryce drowns his sorrows in an openair bar, whilst Kincaid fights off mercenaries, mixing furious action with a photogenic setting.

A favorite scene for production designer Russell De Rozario is the bar fight that sparks the romance for Kincaid and Sonia, for which he created the fictional Cucaracha Bar from scratch. 'It's a fantastic scene with Salma Hayek and Samuel L. Jackson, and we built this amazing place out of neon signs and old American cars and it turned out quite painterly. When they shot it with all the stunts, it looked spectacular," he muses.

Russell De Rozario filled his sets with all manner of quirky details, ranging from a colossal Caravaggio reproduction for the office of Richard E Grant's dodgy businessman, to latex mannequins for the Amsterdam sex dungeon, to a sickly green wallpaper for the safehouse where Bryce takes Kincaid, echoing Oscar Wilde's deathbed retort, "My wallpaper and I are fighting a duel to the death. One or other of us has to go." The funky van of nuns in which Bryce and Kincaid unexpectedly find refuge was another fun design for Russell De Rozario – and as the cherry on top, Russell De Rozario himself took the role of driving the van.

While chaos prevails on the trip, and the design reflects some of the madcap places Bryce and Kincaid wind up, Russell De Rozario notes the entire production had to be designed like clockwork to come off without a hitch. 'Designing this film was kind of like designing a 3-dimensional jigsaw puzzle," he summarises.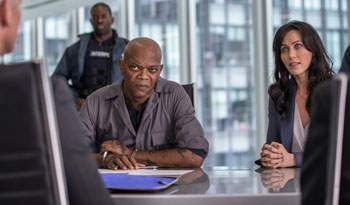 Cars and Action

Once the supercharged action of The Hitman's Bodyguard hits the open road, the film breaks out into a riotous array of sliding and colliding cars, as well as cleverly choreographed battles and set pieces. Says Les Weldon: 'On top of the film's comedy, there are great car chases, stunts and practical effects. Patrick Hughes is a director who likes to shoot in camera rather than green screen, as he really likes to let the audience feel part of the action. Our stunt team pulled that off heroically."

To create action that would meet a high bar – yet could be shot in-the-moment the way Patrick Hughes envisioned - the filmmakers recruited one of the greatest stunt minds in Hollywood: British-born Greg Powell, who hails from a whole family of stunt experts and whose long list of credits ranges from the Bond action of Skyfall to the Harry Potter series to the superhero feats of Avengers: Age of Ultron. Greg Powell has been performing stunts since the age of 14 and he has a love for coming up with inventive ideas in a field where surprise is everything - while also maintaining scrupulous safety.

Powell knew immediately that The Hitman's Bodyguard was going to be an exhilarating challenge. 'The script was truly action-packed and the sheer number of different stunts was quite exciting for me," he recalls. 'The biggest challenge was that with so many fights throughout the story, we had to find a way to keep each one fresh, different and fun." The stunt supervisor began by working with Ryan Reynolds and Samuel L. Jackson to match their character's fighting styles up with their divergent personalities – with Bryce dealing blows with clean precision while Samuel L. Jackson is more gut-driven in his reactions. 'They each see their characters in very specific ways so we really worked to design the stunts to match how Ryan Reynolds and Samuel L. Jackson see Bryce and Kincaid," he explains. Greg Powell was particularly fired-up by the chance to push the pedal to the floor with all the vehicular exploits in the film. 'We've got cars, motorbikes, SUVs, police cars and even speedboats racing through the canals of Amsterdam – which is something you've probably never seen on film," he muses.

To round up the team's menagerie of cars, the stunt-driving team coordinated with Car Casting Holland (Oceans Twelve), which purchased, transported and prepared each vehicle for their big moments. With so much complex choreography, the crew actually needed to double the already considerable number of stunt cars the script called for and had as many as 15 cars at one time speeding around Tom Holland's old razor-narrow roads. Cars seen in the film range from luxury speedsters to commuter classics, with the list including the Porsche Cayenne, BMW X5 V8, Audi A6 3.2, BMW 530, Cadillac Escalade, Volkswagen Touran police cruiser, Jeep Cherokee, the electric Smart car, as well as a Triumph motorbike.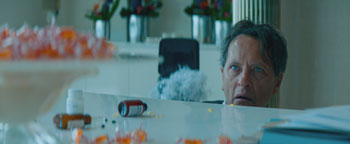 For Patrick Hughes, having so many talented stunt people working coupled with the fact that he could utilise numerous types of land and sea vehicles was like being a kid in the world's greatest toy shop. 'It was crazy fun," he admits. 'You really can't be unhappy when you're shooting in the middle of Amsterdam and doing boat, car and motorbike chases and shootouts. That's every kid's childhood dream. I've fantasized about this since I was in film school."

Yet for all the careful coordination of the action that hurtles the film forward at every turn, everyone agrees that the biggest focus of the production was on the fun and friction between Bryce and Kincaid. Concludes Les Weldon: 'You can have all the fireworks, water action and car flipping in the world but at the end of the day, if you don't have these very human relationships, the story wouldn't work. We wanted to thrill audiences with original stunts, while being focused on drilling down into the essence of these two characters, so that it's not only a wild spectacle but an emotionally satisfying story about two people who think they hate each other but discover there might just be more that unites than divides them."


The Hitman's Bodyguard
Release Date: August 31st, 2017