Soul:n. Spiritual part of man; moral and emotional part of man; emotional or intellectual energy e.g. as revealed in work of art
Decision:n. settlement(of question); making up one's mind, reslove (come to, make a decision); resoluteness, decided character.
We caught up with the cheeky and charming David Bowman from Vancouver based group: Soul Decision.
Here's what David had to tell us about life in the band and all that he and the guys get up to in their every day life!
- SOUL DECISION -

Full name: David Andrew Bowman
Nickname: (starts laughing!) Can't tell you my nickname!!! Sorry!
Star sign: Gemini
Fave Food: Anything
Fave Film: A good film
Fave Artist: Prince
Describe yourself in 3 words: Never know who you're gonna get from day to day - so I can't describe myself!
Best Feature: My Eyes
Worst Feature: My Gut
Height: 5' 9"
Your Ideal Woman: Someone who looks innocent, but is really wild!
Hobbies/Interests: Life in General. golf, soccer, tennis, going on dates, driving my car.
First Job: I was a short order cook.
A talent you wish you had: Speaking multiple languages.
The best advice given to you: I can't answer that quick enough -I don't know.
What cartoon character best describes you? The Tasmanian Devil.

GIRL: Okay David - give us your personal opinion and insight here - What is it that you really love about music and what you're doing ie: how does it make you feel?
David: Boy! I don't know - just being able to be creative. It's being able to watch something that you take from your mind - a melody - and finding a way to get that on tape and working with other people who come up with that hopefully ends up sounding good and then it becomes something that other people then enjoy. Obviously it's very self-satisfying - for the fact that you're doing it yourself and then to find that other people like it - it's a wonderful thing. The whole aspect of it all - I've never been a 9 to 5 person in my life. I don't consider it a job its always been something within me and it's the same with Trevor and Ken also. And to get to do this and actually get paid to do this - it's really an amazing thing. We're very lucky.
GIRL: Has it always been a dream of yours to be a performer and musician?
David: Yeah! I never planned to be a singer to be honest with you, but I always planned to be a keyboard artist who wrote the songs. Either that or a soccer player.
GIRL: Now I read that you are musicians and singers, not dancers - but do you think you guys will ever dance when you perform? Can anyone coax you into it?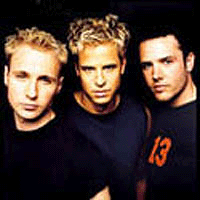 David: Umm - No! Never ever!
GIRL: Now your debut Album as Soul Decision is titled: "No one does it better" - is there a hidden statement in this title?
David - (Laughs out loud!) No - Definitely not that'd be a pretty arrogant thing to say! People would say "how about the Beetles, and the Rolling Stones?" No. It just happens to be a title of one of the songs. It's a song that was written about 7-8 years ago - one of the first songs we did. So it was just something that we did that we thought we would call the album, no arrrogance involved whatsoever. There are lots of people who do it better than us. We're still trying to get better.
GIRL: And you came to Australia to record the album, How long did it take you to complete?
David: Yes Mam, well a lot of the album was done before we got here. When we came here to work with Charles Fisher it was more just to change arrangements and change sounds get somebody else's fresh ears on it, to suggest things we should and shouldn't do - it took about 9 1/2 weeks.
GIRL: How did you find working with Charles Fisher?
David: He was great - he was wonderful. He pretty much let us do what the hell we wanted to do. He taught us to strip our songs down a lot, we're used to filling our songs up and he taught us to strip it down and let our songs do the talking. He taught us a lot of cool stuff, gave us some focus and direction.
GIRL: So give us the goss - what is it really like working with Trevor and Ken?
David: I don't know - it's hard to say. We've been together for 10 years now. It's more a family thing now, we know each other inside and out. We laugh a lot and that's really important cos if you don't laugh in life then it's really not fun.
GIRL: So is there a practical joker in the group?
David: (Laughing) Yeah - I've been known to pull a few once in a while.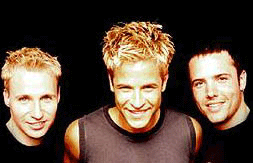 GIRL: Now I hear you nearly threw up once on the way to an audition - do you still get as nervous when you are about to perform now?
David: It was actually during the audition, not on the way there! No now, I never get as nervous - not at all.
GIRL: Do you prefer performing or recording?
David: I thoroughly enjoy both, they are totally different experiences. I really enjoy performing live, it is great fun, but being in the studio - well oh yeah - Rock and Roll! But I do love performing live too, I love to play loud. You know we pretty much put in a rock band when we get up there, people are kinda surprised. People expect 5 guys dancing in a line, singing to a tape, and that's not us.
GIRL: What was it like touring with Christina Aguilera, Destiny's Child and Nsync?
David: It was fantastic. It was a great way to expose ourselves. We played to over 750,000 during the summer. It was great to get our name out there, for people to find out what we're about.

GIRL: What have you found to be the most challenging thing about the music industry to date?
David: WOW. I think realistically it's the business end of everything, it's really not so much about the music of it anymore. It's all about the marketing and the business aspect of it all. It's such a shame but it's the reality of what it is. It's very competitive out there, it's very difficult. We could have all been doctors by now instead of musicians - it is very difficult.
GIRL: Now we, the public, often hear stories about pop-stars having particular demands & preferences, for example bottled water with no bubbles or fresh flowers every day delivered to the hotel room etc - Do you, Trevor or Ken have any peculiar or "out of the ordinary" requests when you are touring?
David: Yeah like no "red M & M's in the bowl". No we don't have any particular requests. We just ask for there to be a drink for us back stage. We're not too picky
GIRL: If you could meet any one particular person who would it be and why?
David: Any person? Wow - um..any person. There are so many... I don't know.
GIRL: David, What has been the most memorable part of your life with the band so far?
David: All of it. Probably touring with Destiny's Child and Christina Aguilera, you know getting to play live to all those people. Just getting to do what I love.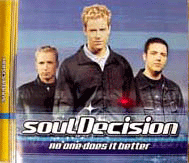 GIRL: Have you heard any funny rumours about yourselves yet, or had any strange encounters?
David: Yeah - apparently one of us is gay. Which is so not true. But it's really funny. And supposedly I am pretty wild and that's kinda true. I like to have fun.
GIRL: Do you have a website that fans can check out?
David: Yes we sure do;
www.souldecision.com
GIRL: Where do you see yourself and the band in the future?
Still playing, still together, a huge success playing songs. Doing what we love.
GIRL: Any solo aspirations?
No, not really.
GIRL: What advice can you offer to budding young artists out there?
David: Just believe in yourself and have a good time.
- Michelle Palmer