Troye Sivan Spud Interview
Cast
: John Cleese, Troye Sivan, Jamie Royal
Director
: Donovan Marsh
Genre
: Comedy
Running Time
: 107 minutes
Synopsis
: It's South Africa 1990. Two major events are about to happen: The release of Nelson Mandela and, more importantly, it's Spud Milton's first year at an elite boys only private boarding school. John Milton is a boy from an ordinary background who wins a scholarship to a private school in Kwazulu-Natal, South Africa. Surrounded by boys with nicknames like Gecko, Rambo, Rain Man and Mad Dog, Spud has his hands full trying to adapt to his new home. Along the way Spud takes his first tentative steps along the path to manhood. (The path it seems could be a rather long road).
Armed with only his wits and his diary, Spud takes us from illegal night swimming to the red-hot furnace of the cricket pitch, from ghost busting to a catastrophic family vacation. He also invites us into the mind of a boy struggling to come to terms with a strange new world, a boy whose eyes are being opened to love, friendship and complete insanity.
Release Date
: April 19th, 2012
Interview with Troye Sivan
Question:
Can you tell us about your character in Spud?
Troye Sivan
: Spud is a 14-year-old middle class boy who receives a scholarship to go to a very upper-class elite boys boarding school and the movie is about how Spud is thrust into very, very intense situations and circumstances. Spud is underdeveloped and not even close to hitting puberty yet and gets completely torn apart for that; along the way he meets crazy teachers. Spud is his journey, as a character, through his first year in this absolutely crazy school.
Question:
You were born in South Africa; did that make it easier to take on the role?
Troye Sivan
: Definitely! I moved to Australia when I was two.
First of all the role was never very far from me because both my parents are South African and I grew up in a prominently South African community in Perth and that definitely helped with the accent in that respect. Spud takes place in South Africa in 1990 when apartheid was coming to an end, Nelson Mandela was being released from jail and the film takes place against that backdrop and having an understanding, because I was from South Africa, really helped.
Question:
Did you read the book Spud before taking on the role?
Troye Sivan
: I did, once I got the first audition I read the book and the script and I loved both. I think they did a brilliant job of adapting the book into a screenplay. I was really excited to be attached and be a part of the project.
Question:
What was in like working with John Cleese?
Troye Sivan
: It's incredible! John Cleese is such a nice man, his obviously a great actor and a comedic genius and then he came in and did an incredible dramatic performance which will pleasantly surprise everyone. Getting to watch John Cleese act was absolutely incredible because he completely took me under his wing, his such a nice man and I think we have a very nice relationship.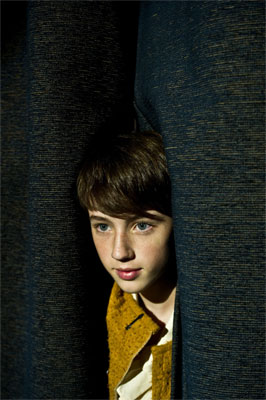 Question:
Can you talk about filming in Kwazulu-Natal, South Africa at the Michaelhouse School?
Troye Sivan
: That was incredible and really made the whole experience a lot more real and definitely helped with the acting. The school comes across absolutely beautifully in the movie; the scenery is absolutely gorgeous in the film. The author, John van de Ruit loosely based the book on his experience at Michaelhouse School and when you're reading the book, especially the scene where he describes feeling intimidated when driving through the big white gates for the first time, I felt the same especially because I was just about to shoot my first big movie, and I also felt that intimidation. There were little bits of Spud where I could really relate to the character because it's pretty intimidating to go to the Michaelhouse School.
Question:
What was the most memorable moment of filming?
Troye Sivan
: The most memorable moment was probably the night swimming scene because I was spending so much time and having an incredible experience with the seven other boys in the movie, all around my age, and we clicked from day one and then we spent the next eight weeks together having an absolute best time. They left the night swimming scene till the last night of shooting for the boys (I still had one more week of shooting) which made the scene so symbolic because night swimming is the crazy 8's thing, in the book and movie and because we had become the crazy 8 in real life it was great to be able to end an incredible experience with a very, very cold night swimming scene which was the funniest thing and a memory that will stick with me, for life.
Question:
How does it feel to see yourself on the big screen?
Troye Sivan
: At first it was really intimidating because I literally thought I was going to vomit on the red carpet at the South African premiere especially because between shooting and the movie coming out I hadn't seen any footage or anything which is why I was really nervous. When I saw the film for the first time, I literally breathed a sigh of relief because I was very relieved that it looked good and now I am really proud of the movie and I'd be happy to take the film and show it to everyone, in the whole world because I am really happy with how it came out and it's very close to my heart.
Question:
What inspired you to become an actor?
Troye Sivan
: Actually I am originally a singer and I was singing on YouTube and a manager found me although he was an acting manager and he said "I'm not really sure what to do with the music, right now, but have you considered acting?" and I hadn't at that point but I wanted to give it a go. The first audition that came through was for X-Men Origins: Wolverine and I got the part and that was my first entrance into acting and I haven't stopped since!
Question:
Can you share with us anything about working on X-Men Origins: Wolverine?
Troye Sivan
: It was the best first role anyone could have had! X-Men Origins: Wolverine was a big budget blockbuster film that I somehow got thrown into and it was really cool and I got to meet Hugh Jackman and spend some time with Will.i.Am and I will never forget that. My favourite part was the acting; I really enjoyed filming and making the movie. Staying in gorgeous hotels and meeting famous people is a really great bonus but the best part for me was definitely the filming process, I had such a good time.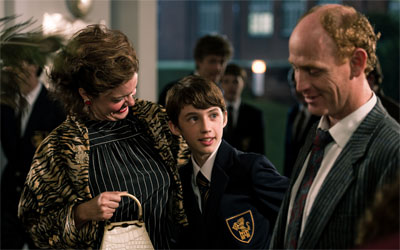 Question:
Are you working on any other acting projects, at the moment?
Troye Sivan
: I am focusing on music right now, I am working on original songs with producers in London and LA, and I'm hoping to get them completed this year. I just got back from China where I performed on a TV program that has 100 million viewers, every week, which is insane! We're also pushing really hard to make Spud 2 the sequel which would be incredible. I am also doing year 12 and trying to graduate, this year; I have being doing schooling via correspondence since year 9.
Question:
What genre is your music?
Troye Sivan
: I haven't perfected my genre as this is my first real opportunity to work with a producer to create original songs as I have only sang covers before. I think my music will be what I love to listen to which is pop infused jazz. I love jazz music and I grew up listening to the radio so I really understand and love pop music. My music has a jazz influence because I want to make interesting music because a lot of what is out today all sounds very similar and I think it will be interesting to do something that is a little bit different.
Interview by Brooke Hunter