Will Poulter Detroit
Cast: Will Poulter, Kaitlyn Dever, John Boyega, John Krasinski
Director: Kathryn Bigelow
Genre: Drama, History
Rated: MA
Running Time: 143 minutes

Synopsis: From Academy Award®-winning director Kathryn Bigelow (The Hurt Locker, Zero Dark Thirty), comes the dramatic thriller, Detroit, another vivid and all-too-relevant exploration of America's recent past. The film focuses on the events that transpired one terrifying evening during the civil unrest that tore apart the city of Detroit, and its traumatic aftermath.

The summer of 1967 was a pivotal moment in modern American history when the country was beset by growing political and social unrest: the escalation of the country's military engagement in the Vietnam War and decades of racial injustice and repression. The epicentres of all this discontent and simmering rage proved to be the nation's major cities with their systemic discrimination, racial disparities in housing and education, and growing unemployment in African-American communities.

Two nights after the Detroit rebellion began, a report of gunshots in the vicinity of a National Guard staging area prompted the Detroit Police Department, the Michigan State Police, the Michigan Army National Guard and a local private security guard to search and seize an annex of the nearby Algiers Motel. Flouting procedural rules, several policemen forcefully and viciously interrogated motel guests, conducting a 'death game" in an attempt to intimidate someone, anyone, into confessing. By the end of the night, three unarmed young men had been gunned down point blank, and several other men and women were brutally beaten.

No gun was ever found.

Detroit
Release Date: November 9th, 2017
Trailer


About The Production
Into The Cauldron

As director Kathryn Bigelow memorably demonstrated in the Oscar®-winning The Hurt Locker, and subsequently, in Best Picture nominee Zero Dark Thirty, she and frequent collaborator, Oscar®-winning screenwriter/producer Mark Boal, are no strangers to controversial subject matter. In their new film, the dramatic thriller Detroit, Bigelow adeptly balances an expertly crafted cinema verité filmic approach with Boal's tensionpacked 'you are there" narrative. Aided by a brilliant cast of film veterans and rising talent, including John Boyega (Star Wars: The Force Awakens), Anthony Mackie (The Hurt Locker, Captain America: Civil War), John Krasinski (13 Hours), Will Poulter (The Revenant), Algee Smith (Army Wives), Jason Mitchell (Straight Outta Compton), Jacob Latimore (Collateral Beauty), Hannah Murray (Game of Thrones) and Australian Ben O'Toole (Hacksaw Ridge, The Water Diviner), Bigelow transports us back to the summer of 1967 into the boiling cauldron of civil unrest that ripped apart the city of Detroit.

After decades of neglect and broken promises, the city's urban centre erupted in rebellious violence, and the militaristic response to the unrest further fanned the flames of discord. The combination of mayhem and might sometimes blurred the distinction between victim and perpetrator.

Beyond the egregious loss, the biggest casualty, however, was innocence, as demonstrated by the film's central dramatic story. The true-life events of what transpired one terrifying night at the Algiers Motel and its aftermath, though well-known at the time, have since been relegated to historical footnote.

In Bigelow's expert hands, the incidents of that fateful night and what followed are resurrected and vividly reconstructed. This up-close-and-personal approach mirrors the technique Bigelow mastered in The Hurt Locker and Zero Dark Thirty. The cinematic medium, she contends, 'speaks to the subconscious, inviting an almost active engagement from the viewer."

In The Hurt Locker, Bigelow successfully put our boots on the ground in Iraq and in Zero Dark Thirty, directly inside Osama Bin Laden's compound. 'In this case, I wanted to place the viewer inside the Algiers Motel, so that they're experiencing it in nearly real time."

In unearthing this largely forgotten but critical moment in recent American history, Bigelow and Boal sought to honour the survivors and those who perished in a way that was thoughtful and respectful. Boal, who first brought the idea to Bigelow and Annapurna Pictures through his Page 1 Productions, conducted exhaustive research into the incident and spoke to everyone he could find who was still alive and involved in the urban rebellion on the streets of Detroit.

Because Kathryn Bigelow and Barry Ackroyd utilized a familiar cinema verité docu-style camera, she and editor Billy Goldenberg made the decision to mix existing footage into the film to enhance the strong, central narrative and immerse the viewer. 'During the research process I found footage from the rebellion and it blended so perfectly with Barry's work that it could be inserted into the film and provide an almost tactile authenticity."

'On film, history can be a little antiseptic, especially if you are fifty years removed from it," according to Boal. 'Only when you meet the people involved do you begin to appreciate that history is really the story of the individuals. And that became the focus of my script."

Beginning in 2014, Boal and his team of researchers interviewed dozens of participants in the actual disturbance, from African-American residents of the community to police and military personnel. His team of six full-time researchers, led by Pulitzer Prize-winning Detroit reporter, David Zeman, uncovered a trove of materials, including newspaper, radio and TV reportage, court records, FBI and Department of Justice investigation materials, contemporaneous accounts, sociological research, as well as documents that have never been publicly released from the Detroit Police Department and the University of Michigan.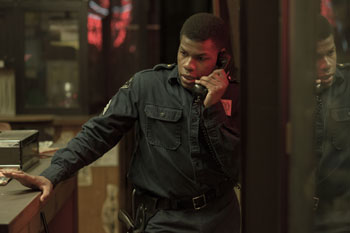 Of the dozens of personal stories Boal came across, one stood out, the historical record of Larry Reed (portrayed in the film by Algee Smith), the lead singer in a popular up-andcoming singing group, The Dramatics, who had booked a room for the night at the Algiers motel for himself and his close friend, Fred Temple (Jacob Latimore), in order to get them off the streets during curfew. 'Larry had been pulled into this true crime story," says Boal, 'and it altered the course of the rest of his life; and that, in my mind, would form the film's spine."

Boal tracked down Reed, who had not spoken publicly about the incident in decades. While initially hesitant, Reed eventually shared his wrenching experiences that night at the Algiers motel and Boal was so moved, he realized he had to bring this unjustly neglected moment of history to light. In addition to all the documentary evidence on the Algiers, he managed to find several other guests who also had been scarred into virtual silence by this terrifying incident.

Telling this ensemble story brought with it the onus of responsibility to tell it fairly and without judgment, says Bigelow, who also spoke to and spent time with the survivors. 'When you're making a story about a real-life event and you meet the witnesses to that event, you want to ensure that those experiences did not happen in vain; that you can convey the resonance of their story and impart it to the audience."

Adds Boal, 'When you choose to tell a real-life story such as this one, you have to come at it with a sense of personal responsibility both to history and even more so, the individuals involved, some of whom survived and others who did not. While we were making a fictional entertainment and not a documentary, we were freighted with the responsibility of honouring the past in a way that is thoughtful and respectful."

Prologue As Context

Before plunging into the Detroit uprising and the central narrative, Bigelow wanted to give the viewer some socio-historical background into what led up to the conflagration as well as some insight into the city's cultural landscape in 1967. 'Having been a long-time admirer of the work of the great African American artist Jacob Lawrence, his seminal series regarding the great migration seemed the right voice to describe the decades leading up to the civil unrest of the 1960's, so that the viewer can better understand the anger and inequity that had been building over so many decades and put this country on a collision course.

We approached the Estate of Jacob Lawrence with an idea, to blend the panels into one another, one leading to the next. When the time came to add text, again we were in awe of the scope and complexity of what led to the turmoil of the 1960's. This time we turned to Henry Louis Gates, Jr., Director of the Hutchins Centre for African American Research at Harvard University," Bigelow shared.

An Innovative Casting Process

In her search for the right actors to portray the guests at the Algiers Motel and law enforcement personnel, Bigelow engaged in semi-improvised role playing. 'I created scenarios that mimicked the script but were situational and was thrilled to find how nimble and imaginative the actors were," she relates, 'and how comfortable they were with situations that were always in flux and fluid. That's how I determined the casting. The actors who were chosen demonstrated, without exception, a densely rich and versatile emotional complexity far beyond their years."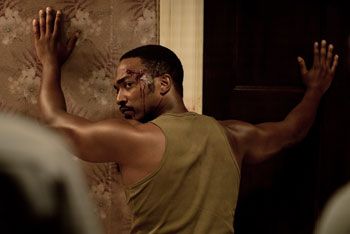 Bigelow's casting process was initially disorienting for Algee Smith, who plays the central role of Larry Reed, the lead singer for an up-and-coming R&B group called The Dramatics who has taken refuge at the Algiers motel with his friend Fred Simple (Jacob Latimore), thinking he'll be safe from the turmoil outside. Even after he was hired, Smith still found himself caught off-guard since he wasn't told which role he'd be playing until a week after he reported to location in Boston.

"At first it was confusing," he confesses, "but then I really got why Kathryn took this improvisational approach to casting and filming. It was genius. It was a way of keeping you off balance and drawing a spontaneous raw intensity out of you. I'd never filmed this way before, with no planning. When I'd get to the set she'd say, 'Okay, this is what you're going to do today. Let's go and do it. Now.' And that's how she captured the real moments so well. We didn't get to prepare for what was going to happen, so our reactions were always honest and in-the-moment."

Standing up against a wall being abused and brutalised for days on end, took its toll on Smith, and the other actors, he contends. 'I was genuinely terrified and, at times, it took me to some really dark places. It was so raw and relentless that we could all feel the pain and emotion, though it was lightweight compared to what happened in real life."

After learning he would be playing Larry Reed, the aspiring young singer, Smith got to meet and spend time with the real Reed and learned how that fateful night changed the course of his life. 'It was hard to hear his stories," Smith admits. 'He showed me the scars that he still had from that night. He showed me where his skull is still cracked." In the role of Melvin Dismukes, a security guard who is protecting a local grocery store from looters and is drawn into the mayhem of the Algiers Motel, Bigelow selected a rising star, the British-born actor John Boyega, known to audiences for his portrayal of Finn in the new Star Wars trilogy.

"Melvin Dismukes is an interesting character," observes Boyega, "a decent man who is in the wrong place at the wrong time. He went to the Algiers to serve as an unspoken guardian to those young men, thinking he could do good by being present to look after them and ultimately, being blamed for trying to do the right thing, not only by the law but by his own community."

As with Algee Smith, Boyega became consumed by Bigelow's immersive approach.

"Because of the intensity of the story and the care and respect everyone showed for it," Boyega continues, "every take mattered, from the moment you walked onto the set until the very last shot. It even followed you home."

Boyega also developed a bond with the real-life person he was portraying. He spent time with Melvin Dismukes, who, along with other survivors, served as a consultant on the film.

"I'd never played a real person before," he admits, 'and Melvin spoke about his experience at great depth. He spoke from the perspective of his feelings – how he reacted when certain things happened, and contradictions that were going on in his mind. He spoke movingly of how he felt misrepresented to his own people, as well as to the law. He was a man who was given a task he wasn't prepared to undertake and then condemned for it." The crucial role of Philip Krauss, the policeman who leads the 'death game" interrogation and cows his weak fellow officers into following his lead, was assigned to another Britishborn rising young star, Will Poulter, who most recently appeared in The Revenant. The character, he explains, is not based on any one individual but rather a character who reflects the behaviour of the police officers implicated in these events based on testimony from firsthand accounts of what transpired.

Poulter's biggest challenge, he says, was playing a character for whom he felt absolutely no connection. 'I couldn't relate to him at all. I couldn't find a parallel. It was all about understanding the negative, ill-informed thought structure that characterises such racist behaviour. I knew very little about American history and even less about African-American history and had to do some research. Still, it was difficult trying to embrace the kind of methodology that leads to the dehumanisation of African-Americans, and to be very honest about it, the role that white people have in promoting that kind of system."


While it was difficult to take pride in his work playing a man who callously brutalises others, Poulter felt a responsibility to expose that kind of aberrant behaviour and distinguish it from the actions of law-abiding policemen. Krauss' behaviour becomes all the more repellent when it infects his fellow officers whose training requires them to provide a united front and to back each other up, come what may.

'Krauss is the orchestrator of a method used by the police at the time in which they used antagonistic tactics to provoke an aggressive or violent reaction from African-Americans so they could justify arresting them," Poulter contends.

While he sensed the intensity of the story even from the written page, the burden of playing such an amoral person wore on Poulter, who off-set had befriended the actors playing the young men and women he had to abuse every day. Algee Smith relates that one day, it became all too much for Poulter.

"There was a moment on the set when Will broke down crying," says Smith. 'He looked at Kathryn and asked, 'How many more times do we have to do this scene because it's hurting me.' And that made the rest of us pretty much fall apart. I tried to give him a hug but then I just broke down with him. And I thought, if somebody can feel all that pain and emotion just acting, how much more painful must it have been in real life?"

'I was very aware of the emotional state of the cast, the toll on Will was especially great," says Bigelow. Sensitive to the toll it was taking, Kathryn quickly shifted, 'We wrapped the scene and moved on."

Cameras In Constant Motion

Director Bigelow's original intention was to shoot Detroit in Michigan and she and her team did extensive location scouting there. When Michigan did not renew its film tax incentives, shooting in Detroit became fiscally untenable and production was moved to Boston and environs. Filming began in July 2016 and continued for 52 days. The production returned to Detroit to shoot exteriors and other necessary footage for about a week.

The almost unbearable tension in Detroit, especially the interrogation scenes in the hallway of the Algiers Motel, derived equally from Boal's emotionally charged script and from Bigelow's ingenious technique in bringing it to life. Not only did she keep the cast in suspense as to what they would be shooting on any given day, she and director of photography, Oscar® nominee Barry Ackroyd (The Hurt Locker, Captain Phillips), utilised a unique way of capturing the chaos and disorientation of the key sequences, particularly the brutal, hours-long interrogation which was shot over a period of several days.

The hallway, in which the motel guests were stationed against a wall, was evenly lit so that multiple cameras could capture every crucial moment without having to stop to change angles and re-light. 'The cameras were never stationary," recalls Anthony Mackie who played Greene, a Vietnam vet who has moved to Detroit looking for work in the auto industry and is living at the Algiers Motel. Mackie was already familiar with Ackroyd's constantly fluid, unobtrusive moving camera from their previous collaboration on The Hurt Locker.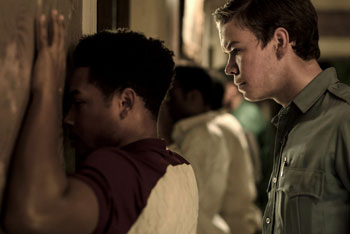 Additionally, he says, Bigelow's cameras being in constant motion recorded and captured the entire environment, which made for a fully immersive experience.

'This technique allowed you, as an actor, to create your own space. You weren't acting for the camera, you were acting in the scene like in a play. Since you didn't know what camera was on you and when, you had to be there a hundred and ten percent all the time. It took you out of your comfort zone, which is what every actor needs."

To help recreate Detroit in 1967, Bigelow turned to her Zero Dark Thirty production designer, Jeremy Hindle. 'The most important thing here was to create a seamless, authentic period environment that really resonated with the era but at the same time didn't feel artificial, mechanical or manipulated in any way," Bigelow says 'I think it's Jeremy's great artistry that made it work. That he was able to convey such an authentic period feel and at the same time do it within our fiscal parameters is an extraordinary feat. The attention to detail is extremely rigorous and I really responded to that."

'I started with real photographic references from the era from places like Time Magazine, Magnum," says Hinkle. 'There are so many great images and you can actually see the tension in the photographs – the streets, the people, the police, the military. Tonally it set the look, and it's how we made it really believable. Barry (Ackroyd) did the same thing to find his shots. I designed the sets and then Barry found them."

Finding the right 'Detroit" look when the film was being shot in Boston was an exhausting and painstaking task. 'But I think we did pretty well. We travelled the whole city of Boston from Lawrence down to Broxton. It was complicated because there were so many moving pieces. We couldn't find everything we wanted in one particular place. So we'd take part of one street and part of another and combine them."

The biggest challenge for Hindle and his crew was to recreate the Algiers Motel and its annex, which have since been torn down. Some luck helped. 'The annex interior was an amazing find, a rectory that was very similar and good to shoot in. The main motel was also a good find but we had to restyle everything, build a pool and another wall and have a giant neon sign custom built. We changed every door, every knob, every sign. Creating a period look is complicated, a lot of it involves altering or hiding things you don't normally think about like street signs, fire alarms, parking meters… it's just endless." The annex, where a large chunk of the shoot was centred, is actually a rectory and the owners at first refused to participate. 'I had already seen a couple hundred houses," says Hindle. 'I knew the size I wanted and what the hallway had to look like. It had to be a centre hall with enough room to block all nine guests, the police, the state troopers and military and it had to be the right width," Hindle recounts. 'I could tell from the exterior that it was the right house and they said no for days. And I said, -Keep pushing. This is the house.' They finally agreed. We spent seventeen days shooting in the house after we had transformed it. We took it down as far as we could go. It's a stunning house. If you see it now, it looks like a beautiful mansion."

Bigelow's costume designer Francine Jamison-Tanchuck was fresh off the Tupac Shakur biography All Eyez on Me and Nate Parker's Birth of a Nation, when Bigelow called her in for an interview and hired her on the spot. 'Francine worked closely with Jeremy to create these accurate environments that were rich and true in every detail, and did not call attention to themselves in an artificial way," Bigelow continues. 'That kind of depth transcends the surface of the screen."

As with Hindle, Tanchuck availed herself of the period research done for the film (photographs, news footage) and settled on a period colour palette of brick reds, mustard yellows, off whites and teal greens. 'The 60's is such a beautiful period," she says. 'The ladies were so feminine and the guys were so stylish. And in Detroit, Motown was in this height. It was so much fun recreating that in the Fox Theatre musical sequence."

In all, Tanchuck estimates that she and her crew dressed between 600 and 800 performers and extras, from the main cast to police, and National Guard to participants in the civil unrest and looters. Besides period research, she availed herself of several of the survivors of the motel, whom she spoke to at length about what they wore at the time, and specifically that night at the Algiers Motel.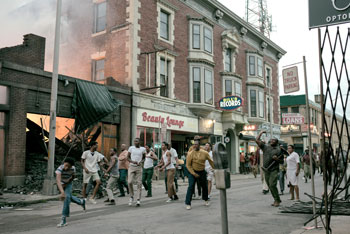 Up Close And Personal

In addition to the voluminous research they conducted, the Detroit filmmakers were fortunate to have three witnesses on hand, all of whom had been involved in the Algiers Motel incident that fateful night in summer 1967. Their accounts gave the filmmakers unique insight into the unfolding chaos that developed over the course of the brutal interrogation. Melvin Dismukes, Larry Reed and Julie Ann Hysell helped the film team piece together the events from differing perspectives. They were also brought on as consultants to help the filmmakers be as accurate as possible during shooting.

'I think one of the most important aspects of preparing for this movie – certainly for me – was to spend time with those individuals who actually lived through this incident," Bigelow said. 'They provided a profoundly detailed rendering of that night. Fifty years later, many are still visibly distraught by that event and understandably so."

Melvin Dismukes was part of the great diaspora of African-Americans who left the confines of the racism in the South for the lure of factory jobs and civil rights in the North. Though he claims to have dealt with subtle (and sometimes not so subtle) racism after his family moved from Alabama to Detroit, he was nonetheless able to become a certified union welder, a position largely closed off to blacks in that era and, subsequently, was employed as a private security guard.

During the 1967 uprising, he found himself defusing situations before they got out of control.

'My whole life I had been someone who tried to keep problems from escalating and there were several opportunities during the nights and days of the Detroit disturbances," he recalls.

Dismukes was guarding a grocery store when he heard a shot and, along with the National Guard, went to the Algiers Motel, the direction from which the shot was allegedly fired. When he entered the motel annex, he saw two young white women and several African- American men lined up against the wall in sheer panic being verbally and physically mistreated by the police. 'These guys clearly didn't know anything and weren't going to tell even if they did," he surmised.

Though his inclination was to leave, as the National Guardsmen did when the situation began to spiral out of control – abusive language, punching, striking people with the butts of rifles – he decided to remain. The decision cost him. He was arrested and accused of murder and, only after a shattering trial was he acquitted. Not only did law enforcement try to implicate him in the deaths that occurred that evening, but the black community turned on him as well. 'Trying to do a good thing during that kind of chaos doesn't matter," he claims. 'I could have stood up to the police officers, but they probably would have shot me and claimed self-defence. But no one was interested in hearing my side of the story."

Dismukes later left Detroit though he continued to work as a security guard until his retirement. He rarely spoke about the events of that evening and its equally traumatic aftermath because 'it brought back pain for me about the question of race and that there was nothing I could have done except help look for the guns," he explains. 'I had no authority to stop what was going on in the lobby. I just felt completely helpless."

After 50 years, however, the truth about that night and his part in it has finally come to light, he says. 'This movie, Detroit, will tell you what really happened." Melvin Dismukes is played by rising star John Boyega, star of the current Star Wars trilogy.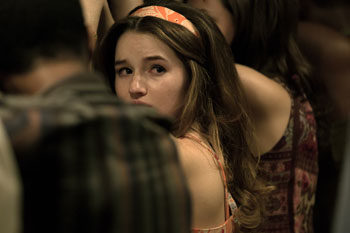 Larry Reed was a Detroit native and lead singer in an up and coming R&B group, The Dramatics. He was only a teenager when he and his best friend sought refuge at the Algiers Motel because getting home safely proved to be impossible. Instead, he and his friend and several others were lined up against a wall by police, brutally questioned and beaten. Half a century later, Reed, who since devoted his life to being a choirmaster, still has the emotional and physical scars to prove it.

'We were just in the wrong place at the wrong time," he says. 'I managed to get out alive and found a police officer who took pity on me and drove me to the hospital. But my friend was among those who were killed."

For Reed, Detroit is more than a film. It is a record of a pivotal moment in 20th century American history. While for many years Reed was reticent to talk about that life altering night, when he was approached by the filmmakers, he felt he owed it to his friend and the others who lost their lives to come forward. "My purpose in opening up now is that people need to know what happened," says Reed. 'I don't want this event to be forgotten, what my friend and I went through. It's something that should never have happened."

Algee Smith, star of the mini-series The New Edition, plays Larry Reed. Julie Hysell grew up in Columbus, Ohio, the adopted daughter of a fireman and a bookkeeper. A self-described 'party girl" in her teens, she and a school chum, Karen Malloy, went to Detroit to hear an R&B group, The Precisions, and stayed on. They quickly ran through all their money, and moved to the Algiers Motel where the rates were only six dollars a night. During the city's imposed curfew, they visited one of the Annex rooms that had a kitchen, hoping to score some food, only to be greeted by bullets strafing past them from the police and National Guard, who were reacting to possible gunfire.

Hearing mayhem erupt around them, they retreated to the room of an acquaintance they'd met by the pool whom they trusted. 'Then police came into the room and they asked me something," Hysell recalls, 'and because they didn't like how I responded, they hit me and tore our clothes."

Hysell and her friend were accused of being prostitutes and their friend was earmarked as their pimp. They were dragged down to the first-floor hallway 'and for the next two or three hours all they did was beat us and kill people," she says. 'You could hear people begging for their lives."

Hysell is thankful for the movie Detroit and the filmmakers' sensitive but honest handling of what transpired. "I thought I'd have a hard time during filming because I don't know that I've ever dealt with what happened that night. But Kathryn surrounded me with such a great group of people and they helped me through it. The only time I lost it was when they were filming the courtroom scene and the not guilty verdict was announced. I literally had to leave the set. I mean, those people were murdered. In cold blood. They were murdered and the cops were acquitted.

'That's why this was such an important story to tell. I'd like people to look at this story and say, -Yes, it's time that things changed.' That's what I'd like to see happen." Julie Hysell is played by Hannah Murray (Game of Thrones).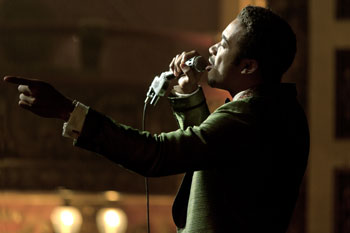 Holding Up The Past As A Mirror

Any similarities to the nation's present-day discussion of institutional racism and the events depicted in Detroit was purely intentional, say the filmmakers. 'I think this is an important story to tell," says producer/screenwriter Boal, 'because one of the values of looking at the past is that it enables you to look at the present from another perspective.

And to ask questions such as -How much has changed?' And -How much has not changed?'" The events of summer 1967 in Detroit and other major American cities 'were not a unique moment in time," Boal continues. 'They were part of a continuum. And to the extent that we are made aware of that continuum, maybe we can be more thoughtful about it." The principal cast in Detroit came away with their own take on the film. "I was very proud to work with filmmakers who are seeking to do more than simply entertain with their work, who are trying to raise awareness of real-life issues and problems in society," says Will Poulter. "In order for us to move forward, it's vitally important that the media and art highlight these issues."

'When the movie ended, I wasn't sure how I felt," admits Algee Smith. 'On the one hand, I felt happy to be a part of this important story. On the other, I felt sorrow for what the actual people had to go through and angry because of the injustice that followed. Let's just say I was confused, though ultimately I felt immense gratitude that this story was told."

According to Bigelow, 'If the purpose of art is to agitate for change, if we are truly ready to start addressing the inequity of race in this country, we need to be willing to listen. I hope this film will encourage some small part of that dialogue, and we find a way to heal the wounds that have existed for far too long in this country."

Detroit
Release Date: November 9th, 2017
Trailer