Steve Carell Despicable Me 3
Cast: Steve Carell, Kristen Wiig, Russell Brand, Trey Parker, Miranda Cosgrove
Directors: Kyle Balda, Pierre Coffin, Eric Guillon
Genre: Family, Animation
Rated: PG
Running Time: 90 minutes

Synopsis: Illumination's films have become a worldwide phenomenon. Across the globe, Despicable Me has permeated the zeitgeist, with the Minions alone having an astonishing 95-percent awareness. Populated with characters that are distinctive, comedic and authentic, the studio's $4.7-billion-grossing movies"including two of the top-six animated ones of all time"captivate audiences of all ages and cultures.

In 2016, Illumination, which was recently honored by Fast Company as one of the world's most innovative companies, launched two original properties that captivated audiences across the globe. Last summer, The Secret Life of Pets achieved the best opening for an original movie, animated or otherwise, in U.S. history. Likewise, the critically lauded holiday favorite Sing premiered to a standing ovation at the Toronto International Film Festival.

Now, Illumination, who brought moviegoers Despicable Me and the biggest animated hits of 2013 and 2015, Despicable Me 2 and Minions, continues the story of Gru, Lucy, their adorable daughters"Margo, Edith and Agnes"and the Minions in Despicable Me 3.

After he is fired from the Anti-Villain League for failing to take down the latest bad guy to threaten humanity, Gru finds himself in the midst of a major identity crisis. But when a mysterious stranger shows up to inform Gru that he has a long-lost twin brother"a brother who desperately wishes to follow in his twin's despicable footsteps"one former super-villain will rediscover just how good it feels to be bad.

Despicable Me 3
Release Date: June 15th, 2017
About The Production
Introduction To The Story

Illumination and Universal Pictures' blockbuster Despicable Me introduced global audiences to super-villain Gru and his mischievous Minions. After becoming a father to orphans Margo, Edith and Agnes, initially as part of an evil scheme to steal the moon, Gru ultimately gave up his life of crime and turned from Super Bad to Super Dad.

In Despicable Me 2, Gru was recruited by the Anti-Villain League (AVL) to put his skills as a former villain to use and brought the worst of the worst to justice. Never thinking romance was in the cards, Gru wound up falling hard for his super-spy partner, Lucy. To the delight of his daughters"who had always wanted a mom"he ultimately asked Lucy to marry him.

In Minions (which was released in 2015 but is a prequel to the Despicable Me franchise), we learned the origins of the lovable, yellow creatures and saw how Kevin, Stuart and Bob's comedically misguided quest for an evil leader ultimately led them to team up with a young Gru. The mischievous trio will return for Minions 2 in July 2020.

This summer, in Despicable Me 3, Gru and his new wife, Lucy, are unable to take down the latest villain to threaten humanity"an '80s-fixated former child TV star named Balthazar Bratt who was abruptly fired in that decade and is now obsessed with revenge on Hollywood. As a result, they are humiliated and fired by the new boss of the AVL.

The Minions hope Gru will use this opportunity to return to a life of crime, but when Gru makes it clear that he's retired from villainy, the Minions quit and head out on their own. Minion Mel, who led the strike against Gru, emerges as their new leader…of sorts. Meanwhile, Jerry and Dave"the two Minions who were accidentally absent during the strike"stay with Gru and the family throughout the story.

After being fired, Gru feels like a failure and struggles to figure out his next move. Just when it seems he has hit rock bottom, a stranger appears, informing Gru that his estranged father has died…and that he has a long-lost twin brother named Dru who would very much like to meet him.

Shocked to learn this, Gru confronts his mother, who confesses that she did, in fact, have twins. Shortly after the boys were born, she divorced Gru's father and they promised never to speak to each other again, each parent taking one child as they parted ways. She, of course, relishes informing Gru that she got second pick.

Initially excited about the prospect of having a brother, Gru takes Lucy and the girls to his father's homeland of Freedonia to meet his twin…only to find that Dru is seemingly better than him in every way. While Gru is bald, misanthropic and newly unemployed, Dru has a gorgeous, full head of hair, is effortlessly charming and has inherited their father's large fortune and pig farm.

Gru is quickly overwhelmed by a feeling of inferiority, but it isn't long before Dru reveals he has a secret desire of his own: to follow in their father's footsteps and become a world-class villain. Dru confesses that since his dad never believed in him, he lacks any basic villain training and needs Gru's help and knowledge to achieve his lifelong dream and carry on their family legacy.

Once Gru realises he can partner with his brother and use their dad's highly sophisticated, villainous gadgets to finally take down the elusive Balthazar Bratt, he agrees to form an alliance with his twin. But when that alliance is seriously tested by a delayed case of sibling rivalry, the brothers quickly find themselves in way over their heads, as Bratt proves to be Gru's most challenging nemesis yet.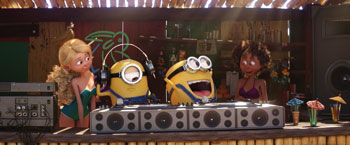 Development of Despicable Me 3

'In the first movie, Gru discovered what it is like to be a parent and what unconditional love is. In the second, we explored Gru falling in love. Now, we start off with Gru having an identity crisis because he finds himself fired from his job, as well as discovering a newfound sibling rivalry."
"Chris Meledandri

Founded with the mission to produce both original stories and adaptations of beloved classics, Illumination is known for developing dimensional and distinctive characters who embody both the sweet and the subversive. Their often mischievous antics are balanced by good intentions and innocence, making them lovable and relatable. As such, the Despicable Me franchise has become the defining DNA of the company.

Chris Meledandri approached Despicable Me 3 with two primary goals. 'One was to honor the elements that audiences love," he says. 'The second was to create new, fresh experiences and characters that make the film dynamic. The Despicable Me movies work because, while on one hand, they're broad, funny and fun….there's also an emotional resonance that runs through their center. They continue to resonate because of the characters. The Minions charm and delight audiences, and even though Gru was a villain, we still find him highly relatable and want him to succeed in any situation."

In Despicable Me 3, Gru discovers a family he never knew. 'While, narratively, movies are generally about protagonists overcoming obstacles, it's how they do that"and what happens along the way"that needs to surprise and delight," Meledandri continues. 'I'm especially proud that our team has been able to create a nostalgic pull toward characters we've all grown close to, as well as provide a sense of discovery with all these new elements."

Daurio, alongside writing partner Paul, has collaborated with Chris Meledandri since their days at 20th Century Fox on Dr. Seuss' Horton Hears a Who!. The writer offers that Chris Meledandri and Healy encouraged them to not only mine the humor of this world, but to give the story emotional resonance through the siblings' reunion. 'We thought it would be a great idea to give Gru another person to drive him nuts and make him wonder about his purpose," says Daurio. 'Dru gets Gru excited about the possibility of being in villainy again. It's very, -Come on…just one heist. It's in our blood. We're supposed to do this…'"

Paul was inspired that the series' longtime star would be tackling a new voice role. 'Our first idea was that Gru had a long-lost twin brother," he notes, 'and that it would be a great opportunity for Steve to play against himself."

'Once we opened the door to Gru's brother, we had a lot of storytelling terrain," Chris Meledandri says. 'The creation of Dru came down to a core idea: that we'd find expressions of a personality who looked like Gru, but was his opposite in every way. That defined the objective." The excitement of meeting his twin soon fades, and Gru experiences sibling rivalry that further complicates his mid-life crisis.

The other new addition to the franchise is Balthazar Bratt, a formidable super-villain who has been plotting to destroy Hollywood after his TV show was canceled. Bratt, who has been obsessed with the '80s since he briefly ruled as a child star in that decade, has never gotten over that disappointment"nor forgiven his audience for abandoning him. 'Once we heard Cinco and Ken's idea for Bratt, we connected with the humor and sadness of a faded child star from the '80s," explains Chris Meledandri. 'It's just too perfect of a place to go. Villains are critical parts of each of our films. You need to give Gru a worthy adversary"someone who presents a real challenge to Lucy and him, as well as someone who is worthy comedically. Gru is so fun and lively, that if you put a very straight villain against him, that character will just disappear."

Chris Meledandri admits that Gru's new nemesis is one of his favorite characters Illumination has ever created. 'Balthazar Bratt is such an original and funny villain. He can't get past the fact that his fans don't care about him anymore, and his motivation is seeking revenge on the world that turned its back on him…and doing it in the guise of a grown-up version of his childhood TV persona. When you take that wacky idea and bring Trey's voice to it, it brings a whole new attitude into the film. It's the design, the voice and spectacular animation; the nuance in this performance is exceptional. That's a tribute to an incredible group, a team who has pulled off one of the greatest animated performances I've ever seen."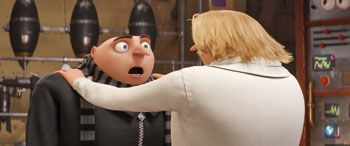 Paul discusses that, naturally, Bratt needed a tagline to accompany his cheesiness: 'Most '80s child stars had memorable catchphrases, such as -Whatcha talkin' 'bout, Willis?' which was how people identified with a certain show. Balthazar's is -I've been a bad boy!' and he still uses it today."

For Despicable Me 3, director Pierre Coffin"who helms his fourth film in the franchise"collaborates with fellow director Kyle Balda, with whom Pierre Coffin had partnered on Minions, and co-director Eric Guillon"Illumination's longtime production and character designer, who set the look of the Despicable Me films"from designs inspired by the works of Edward Gorey and Charles Addams.

Discussing the co-director and directors, Chris Meledandri lauds: 'Eric Guillon is an extraordinary designer who has created characters and environments on every film we've done. He also thinks like a storyteller. When he draws an image, frequently the image places the character in a place that suggests a very clear story. Likewise, Pierre Coffin is not only the voice and the soul of the Minions, he is a phenomenal artist and filmmaker. Early on, he introduced us to Kyle Balda, who was the head of layout on Despicable Me and brings this clarity of filmmaking that extends from the construction of a sequence. He's a very special filmmaker in his own right and a tremendous collaborator with Pierre Coffin."

'With the time between the films, we have been able to advance the character models," explains Pierre Coffin. 'For his part, Gru has softened just a touch since he became a dad. He's not the hardened super-villain we first met, but he still has that despicable edge to him. Lucy is extremely stylish, and even though it makes her harder to animate, her ever-present scarf just defines her. Margo is even more expressive and relatable in this chapter; Edith's mischievousness is even more subtle; and Agnes"if it is possible"is more adorable than we could imagine."

Kyke Balda reveals that because so much work occurs simultaneously, having three directing partners is advantageous. 'The acting is done at the same time as the cinematography and the story development. Multiple directors allow us to divide tasks in the creative process. Pierre is heavily involved in the animation process and the story, Eric is more involved in the visual concepts and character designs, and I focus on the storyboarding and editing."

Daurio reflects on the wily agent's evolution from single super-spy to new wife and mom: 'This is new territory for Lucy. She is adventurous and nothing scares her"except being a mom. This is the one time we have seen Lucy in a situation she is not sure how to handle, and it is fun to watch her navigate her new role as a stepmom."

Just as Lucy is adjusting to the new family dynamics, her eldest daughter is struggling in her own right. 'Margo goes from being the mom of these other girls to now, she's got her own mom who is going to step into that role," shares Daurio. 'That adds to a bit of conflict between Margo and Lucy, and it's interesting to see them navigate these waters."

While their older sister is shutting down the advances of a young Freedonian pig farmer several years her junior, Edith and Agnes are finding drama of their own. As her little sister sets out to find an elusive unicorn that supposedly lives in the Freedonian woods, Edith goes along skeptically, but is at the ready to post the video on social media for fame and riches…in case the legend turns out to be true.

No Despicable Me chapter would be complete without everyone's favorite mischievous henchmen, and with each subsequent film, we introduce new Minion co-stars. In Despicable Me 3, we meet Minion Mel, who begins the revolt against Gru and leads the Minions as they strike out on their own. 'In pure Minion fashion they end up getting in trouble and are thrown in jail," states Kyle Balda. 'They start out as underdogs, but end up being the big bosses of prison: the ones the prisoners are afraid of." Still, it's impossible to imagine a world in which Gru and the Minions don't miss each other and reconcile. 'Ultimately, it is reinforced that the Minions and Gru need one another."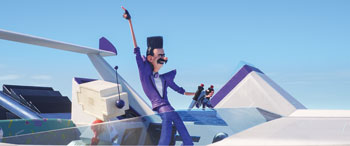 The Characters

Chris Meledandri believes that 'when we leave the movie theater, it is the relationship with the film's characters that determines how that film will live on in our imaginations."

Gru (Steve Carell) is unceremoniously fired from his job at the AVL, which sends his self-esteem crashing. When he discovers that he has a long-lost twin brother named Dru, Gru takes his family to meet his brother in the rural island country of Freedonia"where Dru has inherited the country's biggest pig farm. Upon arriving in Freedonia, Gru is hit with an immediate case of sibling rivalry when he finds that Dru"with his gorgeous head of flowing blond hair"is his complete opposite in every way. But when the outwardly perfect Dru asks his brother for help in pulling off the greatest heist the world has ever seen, Gru assumes the 'big brother" role and his descent back into villainy starts to restore his confidence. Charming, wealthy, larger than life, and with a full head of flowing blond hair, Dru (Steve Carell) , is Gru's opposite in every way. He is the life of the party and seems to be able to do everything his heart desires…except follow in the family tradition of becoming a world-class villain. Knowing that his twin is far more accomplished in that arena, Dru is able to talk Gru into pulling off one more major heist. But as the twins find themselves spending more time together, we begin to see that underneath all of Dru's bravado is a childlike yearning to be accepted by his brother, Gru.

After losing her job at the AVL for defending her husband, Gru, Lucy (Kristen Wiig) redirects her workaholic energy into becoming the perfect mom to their three girls. Masking her insecurity in this role with an overwhelming show of optimism and enthusiasm, Lucy is the first to pack her bags when Gru announces he has a brother in Freedonia. She encourages the girls to embrace the Freedonian culture by taking part in a local cheese festival with her, but Lucy's well-intended efforts only lead to disaster when she loses track of Edith and Agnes and then almost gets Margo engaged to a weird boy from the town.

Childhood prodigy, criminal mastermind…Balthazar Bratt (Trey Parker) is the former child star of the '80s TV show Evil Bratt, where he played a kid villain bent on world destruction…that is, until he hit puberty and the show was abruptly canceled. Clinging to the past with his fashion and hairstyle, Bratt has become obsessed with the villainous character he played on TV and is determined to exact revenge on the world that turned its back on him. Armed with his weaponized keytar and explosive Rubik's Cubes, Bratt proves to be Gru's toughest nemesis yet"as he attempts to re-create the world-ending events from his favorite episode of Evil Bratt and take revenge on Hollywood.

Margo (Miranda Cosgrove) , Gru's oldest daughter, may have all the angst of an adolescent, but she's still the most responsible of the three sisters and always puts family first. Despite her best protests, Margo is pushed by Lucy to take part in a traditional Freedonian dance which, it turns out, leaves her almost engaged to a local boy. Although Margo is initially embarrassed by and frustrated with her new mom, Lucy's standing up for her ultimately strengthens their bond.

Edith (Dana Gaier) , Gru's relentlessly devious middle daughter, is always looking for the next scheme…now fueled by Uncle Dru's encouragement! Between her comedic pranks on Dru's unsuspecting butler, Fritz, Edith agrees to chaperone Agnes' pure-of-heart quest to find a unicorn, realizing that a rare video of the mythical creature could make her fabulously rich! Or at least fund her next prank.

Agnes (Nev Scharrel), Gru's youngest daughter, is innocent and selfless. When she finds out that Gru and Lucy have lost their jobs, she does everything she can to help out her family, even if it means selling her favorite fluffy unicorn at a garage sale. Initially enthusiastic to travel to Freedonia to meet her Uncle Dru, her excitement goes through the roof when she hears that real unicorns may inhabit the nearby forest. Gru wants to protect his youngest daughter from disappointment, but ultimately doesn't have the heart to tell her the stories might not be true. And so, heeding the local legend that 'only a maiden pure of heart" can find a unicorn, Agnes sets out to fulfill her lifelong dream.

With a master who's no longer a top-secret agent in the AVL"nor interested in going back to his despicable ways"Gru's banana-loving Minions (Pierre Coffin) are left without any super-cool gadgets to test or any mayhem to be had.

Led by Mel, the Minions decide to revolt and make a go of it on their own. Their journey takes them to a studio lot in Hollywood, California, where"after wreaking havoc and drawing the attention of law enforcement"they accidentally wander onto the set of a singing competition show and are forced to perform. The Minions are then arrested and thrown in jail for breaking and entering. Realizing that simple survival without Gru is more challenging than they thought, the tribe decides to break out of prison so they can reunite with their former boss, unaware that he is about to face off with a very unhinged Balthazar Bratt.

Meanwhile, Gru puts Dave and Jerry"the Minions who accidentally miss the walkout"in charge of his entire home operation, and they accompany him on his trip to Freedonia. At first content with riding Freedonian pigs and helping Edith torment butler Fritz, Dave and Jerry are eager to join Gru when they discover he's not entirely done with his despicable ways.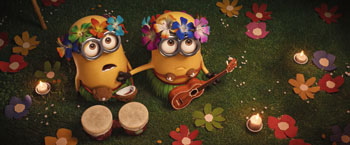 Gru's Mom (Julie Andrews) fills her golden years with swim lessons from her very hunky Italian instructors. When Gru confronts her about the twin brother he never knew he had, she begrudgingly divulges the details of Gru's earliest days: When she and Gru's father split, they agreed to each take one infant son to raise on their own, promising never to see each other again. Obviously, as she says, she got second pick.

Silas Ramsbottom (Steve Coogan) is the very British boss of Lucy and Gru at the AVL who recruited Gru because of the former super-villain's reputation in the field. Now, the portly head of the AVL is abruptly removed from office and replaced by someone younger and more ambitious.

Valerie Da Vinci (Jenny Slate) , Silas' young and ambitious replacement, has little patience for incompetence. When Gru and Lucy fail to catch Bratt, Valerie makes an example of them on her first day at the AVL, humiliating and firing them in front of the rest of their fellow agents.

Dr. Nefario has managed to accidentally freeze himself in carbonite, rendering him trapped and unavailable to Gru in his time of need.

Fritz (Steve Coogan) is Dru's always patient and often put-upon German butler. He is calm, collected and proper"even when faced with Dru's eccentric antics; the family pet, Kyle, taking a bite out of his leg; or being pranked by Edith and Gru's Minions, Dave and Jerry.

Clive (Andy Nyman) , the robotic villain sidekick on the TV show Evil Bratt, has remained loyal to Bratt all these years later, always there for whatever Bratt needs"whether that's an'80s soundtrack for their heists or a little ego boost for the aged child star who's been forgotten by his fans.

Cast of the Film

Illumination has long believed that the key to success is the unique talents of its creative forces. Despicable Me 3 brings back this world-class talent from its previous chapters, and adds unexpected new players to the franchise. Since he began voicing Gru, Steve Carell has grown to consider the former super-villain a member of his own family. Steve Carell's dedication has been felt by the entire cast and crew. Chris Meledandri, who has worked with him since their days together on Dr. Seuss' Horton Hears a Who!, compliments: 'Steve Carell is not only immensely likable as an actor, he is also funny, inventive and a consummate craftsman. His acting chops are precise, even though they feel naturalistic; there's nothing haphazard. I've never worked with anybody who has been a more significant creative partner as an actor than Steve Carell. He is very respectful of the words that have been written, but we encourage him to bring his own personality and his own voice"given that he's the architect of Gru"to these recording sessions. He's responsible for defining how Gru's continuing to evolve."

'In Despicable Me, Gru became a father, and in Despicable Me 2, he got married," Steve Carell states. 'His family has expanded exponentially, and he has become a member of the Anti-Villain League. A lot has transpired, but he is still feeling a bit of a tug to the world of villainy."

Inspired by the images of Eric Guillon, Steve Carell had given Gru a curious Eastern European accent almost a decade earlier. Similarly, Guillon's designs for Dru informed the persona and voice Steve Carell would create for Gru's twin brother. 'Once I saw what Dru was going to look like, I went from there," explains Steve Carell. 'He looks a lot like Gru and they have the same body type, but they move differently. Still, there are a few very specific exceptions. He has a lot of blond hair and dresses fashionably. The voice came out of who I thought the alter-ego of Gru was."

The film's directors were impressed by Carell's ability to capture such distinct voices for both Gru (with a deeper, cynical and methodical tone) and Dru (with lighter, more lively and joyous vocals), especially within a single recording session. 'There are many scenes where Dru and Gru are together, and Steve is doing both of their voices," says Kyle Balda. 'In order to stay in character, he would do all the Gru lines at the beginning, and then he would do all the Dru lines to give a separate feeling to them. It was fascinating to watch him go back and forth."

Although the twins were separated at birth, Carell points out that genetics seem to be all they share. 'When Gru brings Lucy and the girls to this faraway land to meet his brother, it seems like Dru is a parallel version of Gru. He is light, silly, extremely buoyant and effusive"all the things that Gru does not necessarily have as a part of himself." Still, as audiences will discover, the brothers share more than they know. 'What might at first appear like an opposite personality is not necessarily that."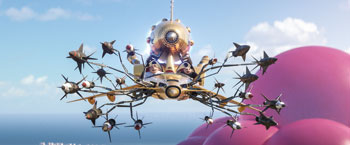 Another new character who required the perfect vocals was Balthazar Bratt. Once mocked and shunned after his TV series was canceled"due to his quick onset of puberty"Bratt has become obsessed with everything from his glory days. Now embodying his former role's villainous traits, Bratt surrounds himself with everything '80s"re-creating the show's gadgets and vehicles for plotting his revenge.

In classic Illumination fashion, the character is just as defined by his Machiavellian schemes as he is his ridiculousness. 'Balthazar Bratt has taken on this child-actor persona as his villain persona," says Carell. 'There is also a silly madness to him, and he uses '80s components as a part of his villainy. The bubble gum he chews become an extremely effective weapon, he dresses in a purple outfit with padded shoulders and parachute pants, and he dispatches people with dance fights."

Brought aboard to portray Bratt was Trey Parker, who was engaged by Guillon's distinctive character designs. Trey Parker has never lent his vocal talents to a tentpole animated feature that he didn't write, and"during his first recording session"he revealed that this was the first time he had been directed by anyone but himself.

In defining the role of Bratt, Chris Meledandri found Trey Parker to be a key collaborator. 'Trey is one of the great vocal actors of our time, and he brought a defined personality that was broad and -cartoony' in the best sense of the word, but one that also has vulnerability and intention in it," he says. 'You leave this film understanding why this character is who he is. Trey Parker has this ability to be wildly funny, but while you're laughing, you care about what is making you laugh. He is able to embody that, and it's invisible to you; you just feel it."

In developing Bratt, the team proposed what would happen if Gru had to face off against someone else who was struggling with the ghosts of his childhood. Kyle Balda notes: 'Trey had a lot of fun with the voice of Balthazar Bratt, a cheesy character who takes himself very seriously. Trey was able to turn himself into a guy stuck in the '80s almost immediately. Since he is an animator, he knows exactly what kind of energy is needed for a character. He delivered strongly when it came to giving dynamic, energetic performances."

As we turn to the core of Gru's family, we come to the most talented of super-villain foilers in the world: Lucy. Kristen Wiig, who returns to her role as Gru's better half, likes how the story doesn't shy away from the challenges of familial relationships. While Lucy was even more independent than Gru when they met, she found in the girls, the Minions and him the closeness she never knew she wanted. 'This film tells the story of a family merging together," says Kristen Wiig. 'It shows how it is to be a stepmom, and figuring out your relationship with the kids. I like that Lucy's struggle is shown, especially with a movie that kids will be watching. She is doing her best, and it is fun to see how she thinks she should be as a mom."

This is Kristen Wiig's second turn in the Despicable Me series, and she felt the creative environment to be as liberating as her co-stars did. 'Everyone has been so collaborative, and they have encouraged me to improvise and try things my way. It causes you to feel free, which is wonderful because that is not always the case."

Steve Carell raves about his on-screen co-star's talents: 'Kristen Wiig is never not funny; she is always good. Of all the people on Saturday Night Live"even if a scene didn't deserve to be good or it didn't deserve to work"if she was in it, it would invariably work. You have a level of trust with someone like that, and you know you are in good hands no matter what you do."

The star of the Despicable Me series isn't the only one who considers himself a fan. Discussing the franchise's leading lady, Chris Meledandri commends: 'Kristen Wiig is one of those rare voice actors who is incapable of giving a bad line read. She's charming, engaging and has brought so much to Lucy. I can't think of this wonderful, kooky character without thinking of Kristen Wiig's voice; they're inextricably attached. She has created this strong female who's the center of our movies and is in love with Gru, but she's also always game to take action."

Gru and Lucy's eldest daughter, Margo, is once again played by Miranda Cosgrove, who has long adored her character. 'I started working on the first Despicable Me movie when I was 13, and I am 23 now," she says. 'I love growing with Margo; she reminds me of my childhood."

Like Kristen Wiig, Miranda Cosgrove was very upbeat about returning for Despicable Me 3. 'I love the family dynamic in this movie," she praises. 'At the end of Despicable Me 2, Gru and Lucy got married. The audience now gets to see their life together and Lucy's relationship with the girls. Margo gives Lucy the hardest time in the beginning, and I enjoy that they get to know each other and learn to love each other."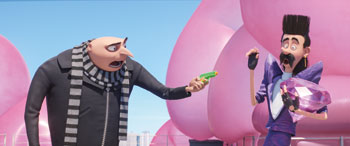 Miranda Cosgrove is joined once again by her on-screen middle sister, Dana Gaier, who reprises the role she began as a young girl in 2010. Now in her college years, she has maintained Edith's infectious independent spirit and droll humor. Gaier encapsulates Edith's status as the most rebellious of the trio, and the one always up for mischief…especially when it comes to harassing Fritz with the Minions or scheming to get YouTube-rich and famous.

Last, but certainly not least, the Despicable Me 3 production team welcomed young Nev Scharrel as Agnes. Chris Meledandri provides that this character has typified Illumination's mandate that there should always be sweetness to balance the subversive: 'The three girls worked their way into the audiences' hearts right away. For example, Agnes has this insane passion for unicorns. But she takes the initiative to have an impromptu garage sale after she learns that Gru and Lucy have been fired… and she sells her big, stuffed, beloved unicorn. Although her concern is over-amplified, it's understandable."

The filmmakers found that Nev Scharrel completely embodied Agnes. 'Nev is just this curious kid, and that comes across in her character," says Daurio. 'It was so fun to feel her naturalism. She would be literally running around the recording studio, and then boom, hit her mark and do a line. Then she went back to bouncing off the walls."

The final human member of Gru's immediate family is once again played by the legendary Oscar® winner Julie Andrews, who originated the role in Despicable Me. When not busying herself in retirement with swimming lessons from her buffed-out Italian trainers, Gru's Mom manages to let it slip that he indeed has a long-lost brother. Sadly, according to her, she kept the wrong twin in the divorce.

Once again, Pierre Coffin voices Gru's Minions…both the few who remain loyal and the majority who head off on their own. Paul recalls one of his favorite moments of production, when Pierre Coffin showed the team a roughly sketched musical scene of the Minions' 'Gilbert-and-Sullivan" sequence during the talent competition on NBC: 'When we first saw this storyboarded version, and Pierre had recorded all the voices, it was one of the funniest things I've seen. I'm so excited for people to see this scene in the movie."

Illumination stalwart Steve Coogan returns as Silas Ramsbottom, the head of the AVL…well, until he is decides to retire and is replaced by an ambitious new super-spy named Valerie Da Vinci. A veteran of The Secret Life of Pets and Minions, Steve Coogan also lends his vocal talents as Dru's unflappable butler Fritz, who is forced to suffer not just the antics of his boss, but now Gru's loyal Minions and three young girls who have stormed the village of Freedonia.

Valerie is played by Despicable Me series newcomer Jenny Slate, who has provided her voice to previous Illumination hits, including as the scene-stealing Pomeranian Gidget in The Secret Life of Pets and as Ted's Mom in Dr. Seuss' The Lorax. Valerie makes it her first order of business to fire Gru and Lucy, after their royal misstep involving Balthazar Bratt.

Design and Animation

Chris Meledandri and Healy are proud of the fact that the films Illumination makes are globally accessible. 'It was important to Chris and me when we began work on Despicable Me to have a global sensibility with these films," states Healy. 'Our present Illumination Mac Guff evolved from Mac Guff Ligne, a company that has been in Paris for 30 years, and one that has such a tremendous foundation. Daily, I am stunned by the level of talent that comes through our door, and our animation team"and each one of our films"has benefitted from French culture in such a unique way."

All involved in Despicable Me acknowledge the franchise's French animation influence, which is inspired by the physical comedy of Buster Keaton, Charlie Chaplin, Peter Sellers and Rowan Atkinson. Coffin discusses their muses: 'Being brought up with these inspirations, as well as graphic novels and comics, it has such a powerful influence on how this movie looks."

Claire Dodgson, who began her work with the company as an associate editor on Despicable Me, takes the reins as Illumination editor for a third time. 'There were so many people collaborating on this film that it was like an amazing, evolving relay race," she says. 'In animation, you have the chance to cut the film three to four times, because you're first cutting it as storyboards," she explains. 'It goes through many different layers, but it's essentially the same as live action, because it's always all about story and characters. We ask the same questions as live-action editors do."

To perfect the process, every six to eight weeks, the team would watch the film in its entirety. 'After those screenings, we would look at a scene and discuss if it was connecting emotionally with us, supporting the other stories, or keeping the tension going…or if it slowed the movie down," reveals Claire Dodgson. 'Everything was up for grabs, to make sure that it was all working the best that it could."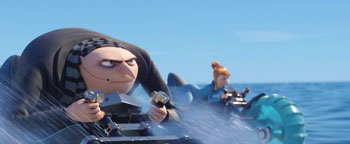 Claire Dodgson recalls the moment she realised Steve Carell found the voice for Dru: 'We'd done quite a few sessions, and I went back and listened to the second take Steve Carell ever did"when he was playing around with the voice. It grew from a laugh in the middle of the recording session. There was something so warm and genuine in it that, even though on the day he said, -I'm just goofing around.' I was able to play it back to the directors and Steve Carell and say, -There's something here…' It was the perfect foil to Gru"just this internal joy. Dru's voice grew out of Steve's laugh; that just embodied the character."

Guillon explains the process of finding Dru's look: 'This final version that plays with contrast"blond hair and a white suit"was one of the first designs I created," shares Guillon. 'We went through different options after that, but eventually came back to the first one where the personality of Dru was more defined."

Regarding Dru's hairstyle"with locks that were the instant envy of the bald Gru"there were so many possibilities. 'But the most difficult part was the shape of Dru's head," the co-director continues. 'How can we create a haircut on a head that doesn't have a forehead? I came up with the idea of a part in the middle, half-long hair"a bit cheesy, but it gives Dru a teenage look."

'It's not just his clothes; it's Dru's posture," shares animation director Julien Soret. 'Gru is more hunched, and Dru stands straighter. He's always smiling, and for graphic quality, we made Dru the yin to Gru's yang. In animation we went more into an energetic, frantic character. While Gru is contained and introverted, Dru is emotional and more energetic…he reminds us of guys we know from the south of France who talk with their hands and with a big smile."

For Balthazar Bratt, Guillon explored '80s music, fashion and hairstyle. 'If you google -haircut '80s,' you get a good understanding of all the different styles," he says. 'I had the difficult task of trying to combine them. I chose Bratt's erect hair and cut it straight on the top for a few reasons. Graphically, it's radical and square, like Grace Jones' style. When I was younger, I was fascinated by her and she is visually strong; I'm a big fan of Jean-Paul Goude [Jones' longtime collaborator]. The other option was a ridiculous French singer from the '80s: Desireless."

The creative team gave the characters little details that, as Meledandri puts it, 'sneak up on you emotionally." Guillon shares an example of how this applied to Bratt's character design: 'We gave him a bald spot to make him look older and to demonstrate a sign of weakness and relatability, while his mustache strengthens his personality and supports his expressions."

'Bratt is '80s in the way that Gru is Gothic and Vector is geek," says Guillon. 'His keytar is an emblematic musical instrument of the '80s, and it's also a secret weapon. By itself, the Rubik's Cube is graphically symbolic of the period. Chewing gum gives a cool attitude. Clive, his robot sidekick, and other details and textures round out those nods."

When it came to animating the Minions in any scene, it helped that their vocalist was just in the other room. Soret reveals: 'Whenever we had an idea, Pierre would say, -Okay, do your block. I will come back with a new voice,' and he'd have the voice back that same day. He gave us new ideas with each new take, and that allowed us to animate over the new voice, which helped our entire team to be very fluid in the process."

Pierre Coffin has been doing the Minions' voices for almost a decade, and the cast and crew remain fascinated by the director's ability to infuse them continually with something new. 'That's true whether it is a slightly unexpected vocalisation or a word that you think you might recognize," says Healy.

'This is juxtaposed with their delightfully expressive design"a simple yellow shape, big eyes, goggles and overalls that little kids would wear. They continue to be universally appealing, and we're all honored that audiences have embraced them as much as we all have."

One Minion in particular had a unique inspiration (and hairline): Minion Mel, who leads the revolt against Gru. 'I designed a birthday card for Chris Meledandri a few years ago," explains Guillon. 'I drew Chris as a Minion, and I used the same design and haircut for Mel that I used on the birthday card."

Chris Meledandri reflects on the character whose look he inspired, and admits that some of his favorite scenes in Despicable Me 3 are when the Minions become tough guys in prison: 'Mel is initially somewhat of an annoying ringleader who leads a mini-rebellion against Gru. Once he learns Gru has been fired from his job, his idea is that they should all go back to villainy and he encourages all but two of the Minions to leave. He starts out as a thorn in Gru's side, but at the end, they have a great bond."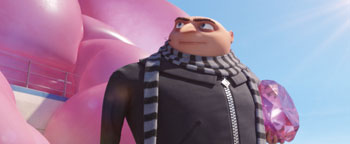 Music of Despicable Me 3

Chris Meledandri believes that filmmaking is defined by a combination of words, performance and music. 'If you embrace all three," he says, 'then you can create an experience that is singular in the way that it envelops you and carries you along through the movie."

The musical landscape of Despicable Me 3 is a synergy of the brilliant score from composer Heitor Pereira and the inimitable songs of 11-time Grammy Award winner Pharrell Williams. The two have collaborated on every one of the Despicable Me movies.

'They are tireless in finding a note that will work to convey an emotion or a feeling," says Chris Meledandri. 'From the beginning, the idea was to communicate story, emotion and feeling through traditional score"which Heitor continues to do a masterful job at creating"and through a song score that comes from the brilliant Pharrell Williams."

'We have Pharrell Williams back in full force," Heitor Pereira explains. 'He writes the songs, and I dedicate my time to the score. We then connect the score to the songs as if we were never separated in the creative process."

There are a total of eight of Pharrell Williams' songs in Despicable Me 3. Several are reprised from earlier chapters in the series, but five were written specifically for the film. 'When I think about Despicable Me, I think of the distinction that the Pharrell Williams songs give," states Chris Meledandri. 'If it's a lullaby while Lucy puts the girls to sleep, it's exquisitely beautiful and defines that feeling. If the Minions are breaking out of prison, it's giving the sequence a sense of energy, fun and a personality that makes the series. The combination of Heitor Pereira and Pharrell Williams in crafting the musical landscape has unquestionably created a very distinctive piece for our storytelling."

Heitor Pereira discusses his relationship with Illumination and the Despicable Me franchise: 'I have been able to travel through the reiteration of Gru and the Minions in each film, and I treat each of them with a different approach in every new installment. I thank Gru, the Minions and Lucy all the time for allowing me to be colorful and more musical."

For Despicable Me 3, the composer got to play with sounds that were unique to the personalities of the new characters: 'Balthazar Bratt definitely drove me into choosing instrumentation that belonged to the '80s." These sounds proved to be fascinating supplements to Heitor Pereira's more contemporary style. 'Music nowadays is not all about musical notes, it is about sound. One of the great things about film music is that you are allowed to use anything to create a sound. For Despicable Me 3"I not only used guitars and synthesizers, but I took my time to program crazy little sounds and melodies."

Balda enjoys that some of the best '80s references in Despicable Me 3 are found in the music. 'During a Balthazar and Gru fight scene, Van Halen's -Jump' plays. Another '80s song that means a lot to us is 'Take On Me,' by a-ha, because of the famous animation in the music video".

'Everybody walks out of these movies humming those songs," adds Daurio. 'Heitor's score is always excellent, and it just it pluses the whole film. Now with these songs that all of us parents grew up listening to, I think it's musically going to be the best of the series."

Chris Meledandri speaks to another unexpected musical collaboration. 'Pharrell Williams had come to me and asked if Trey [Parker] might be interested in singing on one of our songs," he recalls. 'They went into a recording studio for a couple of days, and came up with a duet that plays over a highly visual end-credits sequence. It's incredible."


Despicable Me 3
Release Date: June 15th, 2017