"Things change - and change is always a good thing". (Bardot, August 2001)
Fresh from the release of their new single ASAP, original Popstars
Bardot
return to the spotlight one member leaner, but bulked-up on determination and ideas for their second assault on the charts. ASAP was recorded in the UK and signifies a move into sophisticated up-beat pop, a direction the band would like to head towards. Group member
Tiffany Wood
stopped by the
GIRL
headquarters and chatted about Bardot's new direction and filled us in on what the girls have been up to in the last few months.
GIRL'S 60 SECOND QUIZFull Name: TIFFANY JANE WOODNickname(s):
Tiff
Star Sign:
Scorpio
Fave Food:
Chocolate
Fave Film:
A Chorus Line
Fave Actor:
Michelle Pfeiffer
Fave Animal:
Cat
Describe Yourself In 3 Words:
Honest, straight forward, down-to-earth
Best Feature:
Honesty
Worst Feature:
Honesty!
Person You Would Most Like To Meet:
Lionel Ritchie
Hobbies/Interests:
Movies, dinner, going out dancing, hanging out with friends
First Job:
Working as a waitress
A Talent You Wish You Had:
To be able to sing like Beyonce from Destiny's Child
The Best Advice Given To You:
To follow your dreams
If you were a cartoon character, which one would you be?
Minnie Mouse
If you were told you had a minute to live, what would you do?
Call up everybody and tell them how much I love them!
GIRL: How was the experience of recording the second time around different from the first? Was it more enjoyable?Tiffany:
It was really a mixed feeling, I actually preferred recording in Australia because after you finish recording you can go to your own home and fall asleep. Whereas overseas it's a bit more confined, you have to sit in the studios and wait around. I found recording the last album more relaxed, all the girls didn't care if you sat around and watched them, but now, they were more hesitant to do so.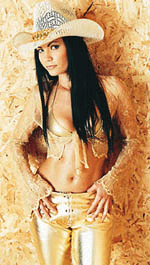 GIRL: Who have you recently been recording with?Tiffany:
ASAP was recorded with two guys from the UK and that's really the only song we've recorded so far for the second album, as we're songwriting at the moment.
GIRL: From the new sound of the single it seems that musically you have taken things to the next step. Was there a lot more preparation, research and refinement put into this process?Tiffany:
Not hugely, basically we said to management that we wanted a song that was (a) danceable because we can all sing and dance and (b) a song that was fun. Our last three singles were really mid-tempo - ones that you chill at home too. We wanted a song that people can also dance to in the clubs and so on. And that's all we really asked for, so we got given this song and we said, yes that's the one!
GIRL: The sound of ASAP to me is very reminiscent of Destiny's Child. Is this a group you look to for inspiration?Tiffany:
I personally love them. Beyonce has an incredible songwriting and vocal talent. I listen to their CD and I am trying to learn off her in regards to the trills in her voice and the way that she sings. They are so unique and a fabulous group. So when it came to our own music we wanted our own sound but I think we had to come up to speed with what the modern sound is at the moment.
GIRL: Have people been receptive to the new single so far?Tiffany:
From what I've heard and read the response has been positive.
GIRL: Tell us a little more about your new single ASAP?Tiffany:
It's basically a song about having a relationship with someone and his or her mother is constantly in your face. It's a song telling her to get out of your business and leave you two alone. Also as I said we wanted a song we could dance to and we definitely got that.
GIRL: Is ASAP indicative of the sound we can expect to hear from the second album?Tiffany:
I definitely say part of it, but also what we want to achieve is that diversity of our last album, which hopefully will carry over onto this album.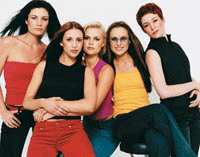 GIRL: When Katie left the group there was a lot of speculation that it may be all over for Bardot. Did this make the remaining group members more determined to stick it out?Tiffany:
Within the group ourselves when Katie left, we sat around and really got honest with each other, let our feelings out on what we thought and what we wanted for the future. We've been given this chance that so many girls would kill for, so we decided that we're not going to give up and we're going to go on, one member less.
GIRL: How did you feel about Katie's new challenge (HAIR) falling through? Did you think she made the right decision in leaving the band?Tiffany:
I was devastated when I found out and I spoke to her 3 hours after she was told. But she was okay with it all and Katie's the type of personality that doesn't regret her decisions, she deals with the choices she makes.
GIRL: What do you think of the new pop bands springing onto the Australian music scene at present?Tiffany
: I think it's great, the more the merrier. I think we were really lacking in pop and it was really evident when we were in the UK on the Pepsi Chart show where the main genre was pop music. Whereas here in Australia, we've tended to focus on rock. I think shows like Popstars should be applauded as it gives young people the chance to follow their dreams, it gave me my break.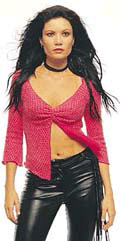 GIRL: Has your outlook on the music industry changed since joining Bardot two years ago?Tiffany:
I never really had an outlook on the music industry, I never made it my business, I was one of those girls who looked at fame as you see it, not what's behind the business. Now that I'm in it, it is a lot of hard work but I prefer to make the fantasy stay there.
GIRL: What valuable lessons have you learnt along the way on your rise to pop stardom?Tiffany:
Don't trust anyone, just be yourself, and keep true to your family and friends because that is where the support is.
GIRL: Bardot have been out of the public eye for a little while, was that a good thing for the group do you think? Did you feel you needed a little break from the pressures of leading a public life?Tiffany:
I've got to say it was good. Our first break came last Christmas, it was really good for us as individuals and as a group, we've come back a lot more dedicated and in a better mind frame.
GIRL: Who are you closest to the most in the band?Tiffany:
I am close to all girls for different reasons but probably Belinda and Sophie.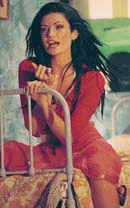 GIRL: Ultimately where would you like to see Bardot go?Tiffany:
As far as we can take it, I'm not going to reach for anything we can't do, but I think anything is possible.
GIRL: Has pop stardom lived up to its reputation?Tiffany:
I don't think you realise how much travel is involved and that is one thing that has been a reality check for me, that I had to leave my partner, family and friends. But like all jobs, you've got to give and take.
GIRL: What were you doing a year before you become a POPSTAR? Tiffany:
I was singing in a cover band and I had just started working at the Hilton and teaching Latin dancing.
GIRL: If you had a chance to perform at any place or country in the world where would it be and why? Tiffany:
It would be Sydney on the Harbor Bridge because everytime I fly home, there's no place like home.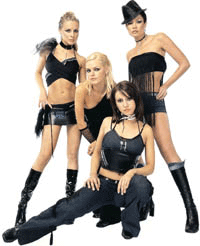 GIRL: Who was the stylist for your latest video clip?Tiffany:
We were! The girls, bar myself, made and designed their own costumes. They turned out really great and I think it's important to design your own gear because you feel comfortable with it. And I was lucky enough to get clothing from Morrissey - they've been really supportive with myself.
GIRL: Will you be co-writing on the next album?Tiffany:
Yeah hopefully, whether it gets on there or not is another story. We've done some individual writing and we're starting to write as a group but with any album, at the end of the day, only the best material makes the grade.
GIRL: Do you have a message for your fans out there?Tiffany:
Well I'd like to say thank you first of all for their support and lastly, "Don't dream of what you want to be, be what you've always dreamed."
- Annemarie Failla